Sacked Podcast: Former AFL CEO Andrew Demetriou opens up on the Essendon drugs saga
James Hird and Andrew Demetriou were cast on different sides of the Essendon drugs saga and they have not spoken in the years since.
Former AFL chief executive Andrew Demetriou says Jobe Watson deserved to retain the 2012 Brownlow Medal stripped from him for his role in the damaging Essendon drugs saga.
And the man who led the AFL's response to the injections regime believes the Essendon 34 were "hard done by" to be suspended by the Court of Arbitration for Sport after being found not guilty by Australia's anti-doping body.
Finally breaking a near-decade of silence in an exclusive interview for the Herald Sun's Sacked podcast, Demetriou says he has no regrets about the AFL pursuing Essendon for their conduct.
He denied he ever tipped off Essendon chairman David Evans about an impending Australian Crime Commission report, saying he had no knowledge of what was about to be dubbed "the darkest day in Australian sport".
Demetriou says sporting codes were used as "political pawns" by the Australian government after an investigation it claimed proved links between organised crime and performance-enhancing drugs in sports.
Watson handed back the 2012 Brownlow Medal in November 2016 ahead of the league's inevitable decision to strip it because he was serving a 12-month ban for taking a banned peptide.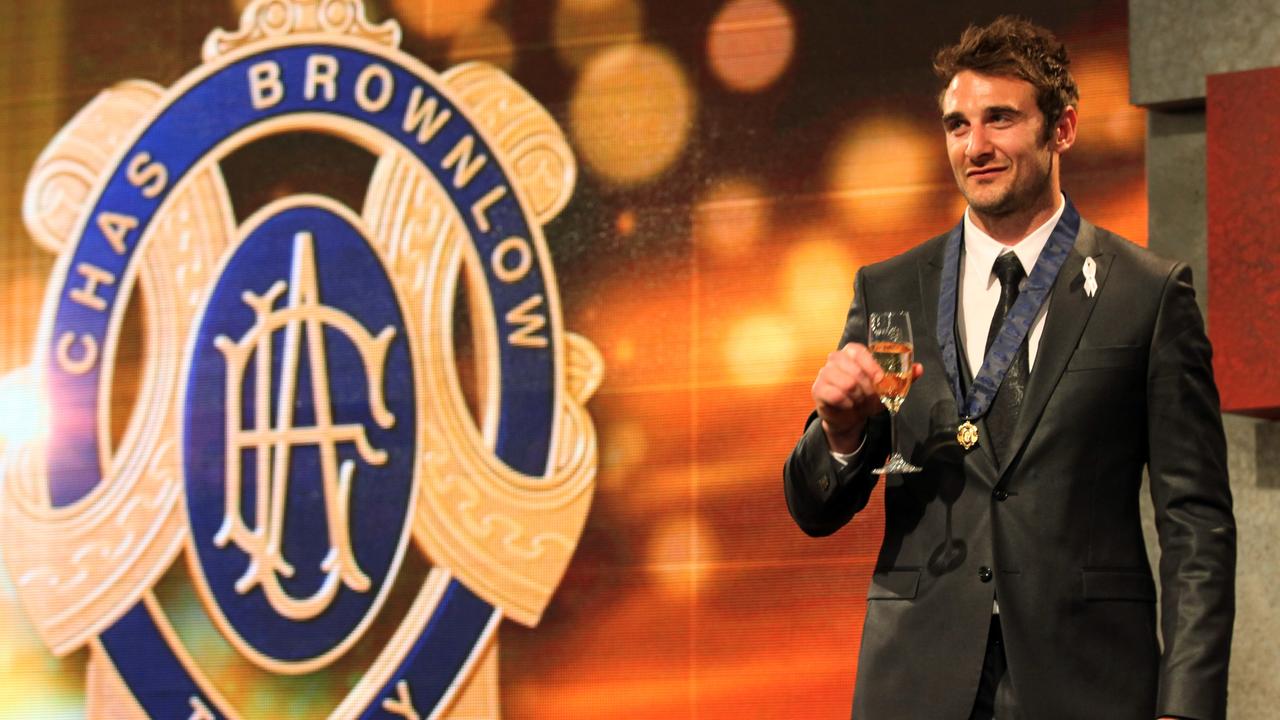 Jobe Watson at the 2012 Brownlow Medal. Picture: AAP Images
The AFL Commission stated: "The commission ruled today that Jobe Watson was not eligible for the 2012 Brownlow Medal."
Demetriou told Sacked that while he left the AFL in 2014 he would have done everything in his power for Watson to retain the award.
"I think he's been one of the great contributors of the game. The Watson family has been period," Demetriou said.
"I have got a lot of time for Tim and Jobe. He carried himself superbly well through that whole predicament.
"I was terribly sad to see him lose the Brownlow. And you know, I wasn't there when the decision was taken.
"But I would have fought very hard for him not to lose the Brownlow.
"You draw a long bow to say that his whole season was impacted by what may or may not have been. I wasn't privy to those conversations. I haven't got the information. But you can't help but feel for Jobe Watson."
Former president Paul Little still holds out hope Watson might have his 2012 Brownlow Medal reinstated after it was subsequently awarded to Trent Cotchin and Sam Mitchell.
The "Essendon 34" were not suspended by an AFL anti-doping tribunal after being issued with show-cause notices, but after a Court of Arbitration for Sport appeal were shocked to be suspended in January 2016.
Demetriou believes the players should not have been suspended on appeal given the exhaustive investigation had not found them guilty.
"I felt terribly for the players," he said.
"I thought they went through a proper process with the AFL tribunal. And the club had been dealt with by the Commission. The people on the tribunal are honourable people, they are ex or current judges.
"There is no bias. And then after a period of time to be appealed by CASA who let a 15-year-old perform at the Winter Olympics is just nonsense. I felt and I still feel they have all been hard done by."
The Court of Arbitration for Sport allowed Russian Kamila Valieva to compete in the Winter Olympics despite testing positive for a banned substance, ruling a suspension could cause her "irreparable harm".
Watson said recently he still deserved to retain that medal, stating: "If I felt I had cheated, then I wouldn't have accepted the medal in the first place."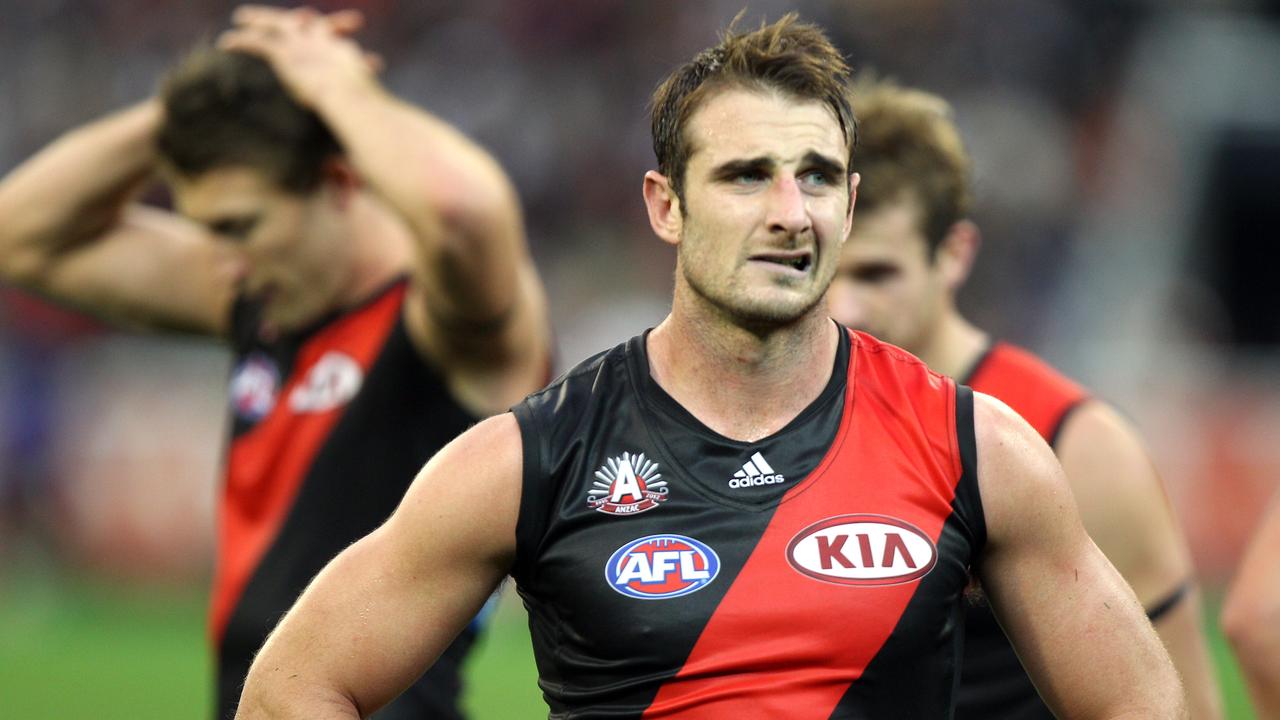 Jobe Watson was stripped of his Brownlow Medal after the Essendon drugs saga.
INSIDE THE AFL DURING FOOTY'S BIGGEST SCANDAL
It was footy's biggest scandal and the tumultuous nature of the Essendon sports supplements program of 2012 left a damage toll almost unprecedented in the game.
The pain of the scandal pushed one-time Bombers coach James Hird to breaking point — he overdosed on sleeping pills and his depression almost crippled him.
Essendon president of the time David Evans collapsed in the rooms following a Bombers game and suffered a breakdown that saw him relinquish the role.
Mark Thompson descended into a dark spiral in the years following, diagnosed with post-traumatic stress disorder and using drugs to dull his pain.
The Essendon 34, the players who were banned for a year from the game in 2016, have also had their challenges in the years since.
But it wasn't just those from within the club who faced some tough times during what turned out to be a protracted saga.
Speaking at length for the first time about that difficult period, then AFL chief executive Andrew Demetriou has told the Herald Sun's Sacked podcast about death threats he received as a troubling by-product of a saga that had precious little middle ground.
"The Essendon saga was volatile and you know (I got) death threats and all that sort of stuff," Demetriou said.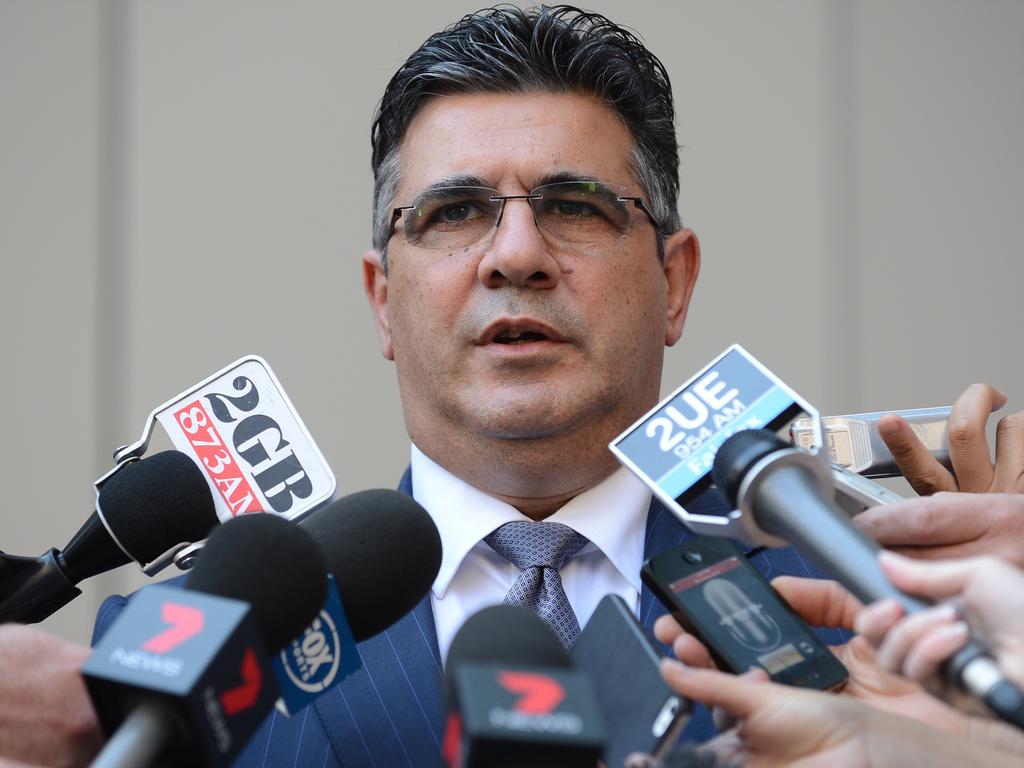 Andrew Demetriou addresses the media during the supplements saga. Picture: AAP Images
"But whether they (the death threats) were meaningful or not, who knows?
"I got text messages, anonymous text messages; I got phone calls, people hanging up."
He doesn't reveal this for any reason other than to highlight it was a tough time for all, saying Victoria Police was called in to look into the threats and extra security was detailed.
"Yeah, we did all that … you have to (when) you have a young family," he said in regard to reporting the threats to the authorities.
"It has a significant impact on (your) family."
For all the victims, Demetriou makes it clear the greatest travesty was that the chief architect of the program, Stephen Dank, effectively went unpunished.
"I still think it is incongruous that Stephen Dank has never been held to account at any level," he said.
"The hurt he inflicted upon players, coaches, people, administrators, the board, supporters … it's reprehensible.
"He's never been charged with anything. It's taken the Essendon Football Club a long time to recover. I hope they are on the right track (now), nothing would be more satisfying than to see a successful Essendon club."
WHAT ARE PEPTIDES?
Demetriou had become concerned about the growing influence of sports science in AFL in the years leading up to the scandal.
"We didn't know. You hear things about all clubs and you ask questions, and sometimes you get responses and sometimes responses aren't truthful," he said.
"But the level of what was going on at Essendon just shocked us. You know, once we started to get a clear picture of what was going on, there was just nothing nice about it.
"I can't say anything other than it just disgusted a lot of people."
Demetriou said the first time he had heard the word "Peptides" in regard to Essendon was "shortly before" former Bomber Kyle Reimers claims on The Footy Show that the supplements used in the program in 2012 were "right on the edge".
Asked what his response was, Demetriou said: "I am asking questions, what are peptides?"
Then came the dramatic fallout of February 5, 2013 when Essendon "self-reported" to the AFL and ASADA, asking the league to investigate concerns over the use of supplements during the 2012 season.
At the press conference that followed, Hird said: "I'm very disappointed, shocked is probably the best word.
"As a coach I take full responsibility for what happens in our footy department.
"If there have been goings on within our football department that are not right we want to know."
It would set in place a period that almost tore the heart out of the game, culminating in the January 2016 moment when the Court of Arbitration for Sport upheld a Court of Arbitration for Sport appeal and handed down a guilty verdict for the 34 Essendon players, banning them for 12 months.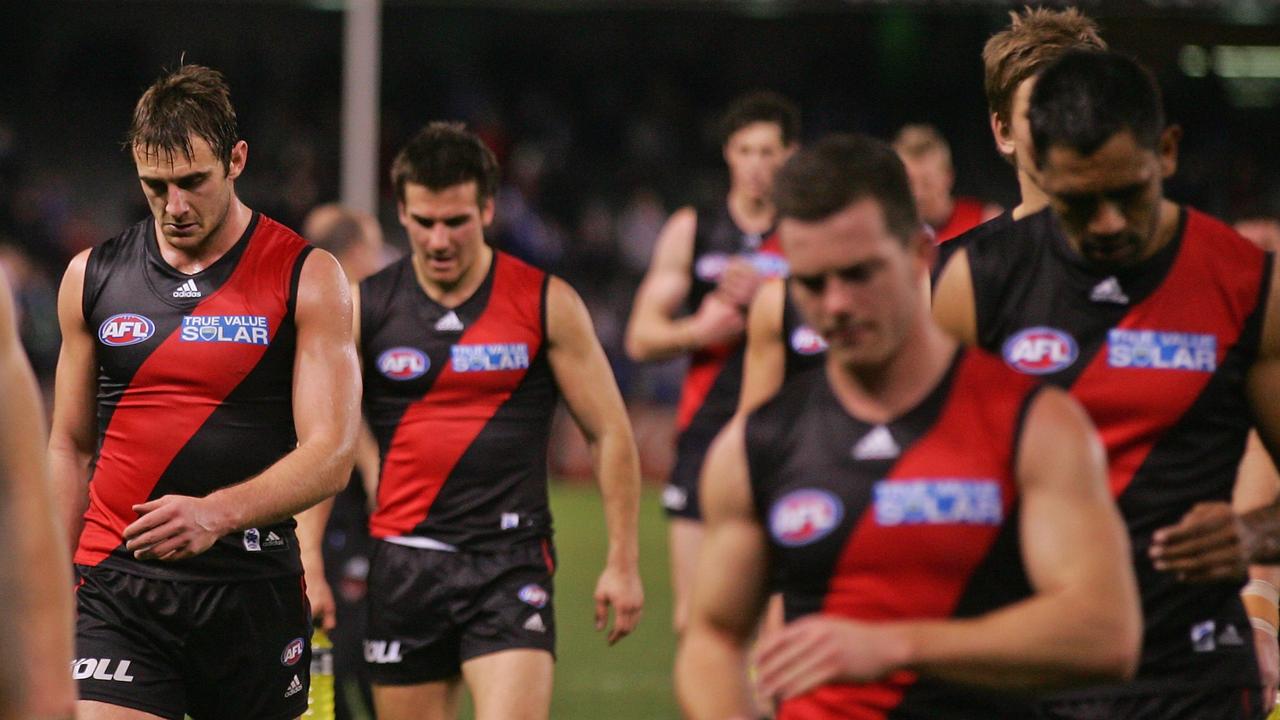 34 Essendon players were suspended by WADA. Picture: Getty Images
WE WERE HOODWINKED BY THE GOVERNMENT
In the immediate aftermath of the Essendon scandal breaking, Demetriou was asked to fly to Canberra for a briefing on the Australian Crime Commission's Project Aperio which identified widespread use of prohibited substances including peptides, hormones and illicit drugs in professional sport and highlighted links to organised crime.
Nine years on, Demetriou maintains the AFL and other sporting codes — who were thrust into the press conference with only a moment's warning — had been used as "political pawns".
"Looking back, I think we were hoodwinked by the Government," he told Sacked.
"We all got called to a briefing (about the link between performance-enhancing drugs and underworld figures) … one minute we are having a briefing and the next minute we're being hauled before a press conference.
"I mean if you roll the tape back, what's come of it all? Who did they charge? Who were the underworld criminals? Who were those people?
"To this day, I'm convinced we were used as political pawns for some political gain.
"To this day, I don't even know whether the two (peptides and underworld figures) are connected.
"I don't even know whether that darkest day in sport is connected to the Essendon saga.
"There is no evidence there is, not that I know of, unless they can produce something."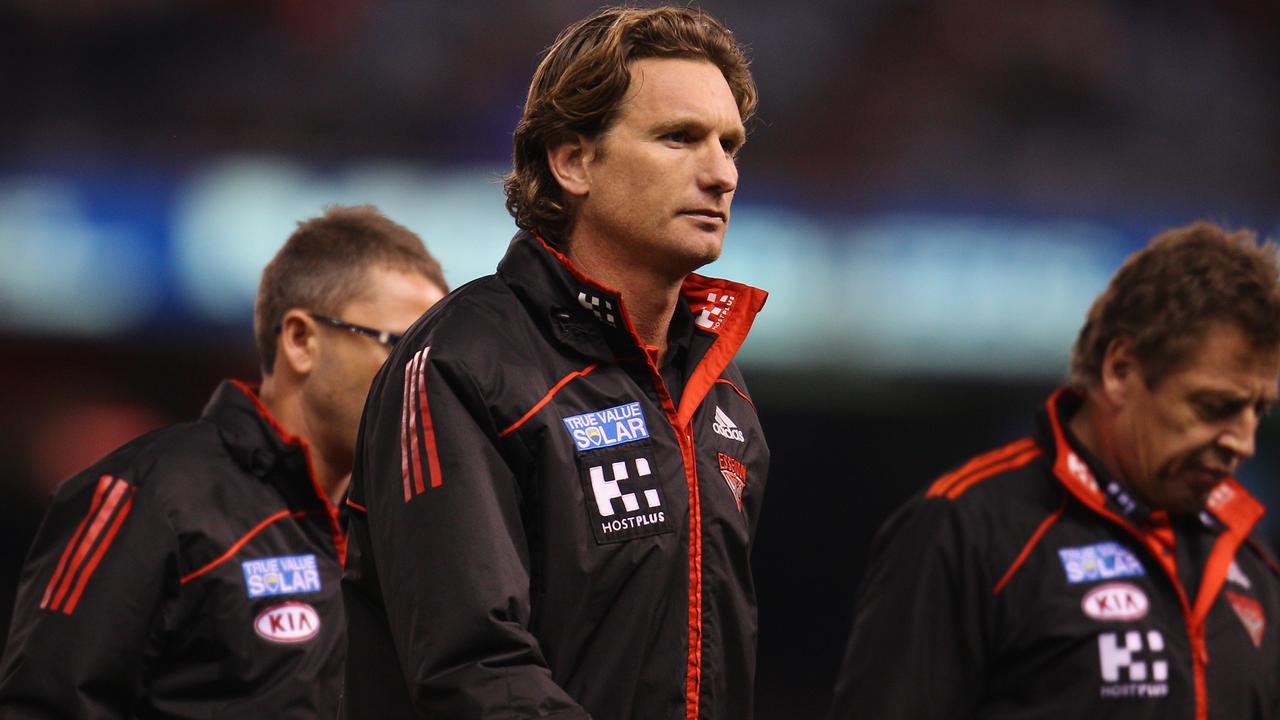 James Hird and Andrew Demetriou have not spoken about the Essendon drugs saga. Picture: Getty Images
SETTING THE RECORD STRAIGHT
Demetriou is happy to set the record straight for what he hopes will be the last time on a number of allegations aimed at the AFL over its handling of the Essendon investigation.
He reiterated it was impossible for him to have tipped off Evans and Essendon about a Crime Commission briefing on the night before the Bombers self-reported.
"It never happened because I wasn't privy to the information," Demetriou said. "We weren't given the information at the briefing we had.
"So I couldn't have told them. I must have told Mark (Robinson) about 56 times and he's never believed me.
"So it was impossible to tell David Evans something that I wasn't privy to because I didn't have the information."
He added: "In fairness to the Essendon Football Club, they were collaborating with the investigation … saying we had made some mistakes and needed to deal with whatever is coming our way.
"Then (they) went through a phase of 'We will take on City Hall'."
But Demetriou could not be more disappointed with the way it all worked out for the Essendon players who were ultimately banned for 12 months by the Court of Arbitration of Sport.
"The AFL was helpless in the end," he said.
"Once it was taken out of our hands, there was no looking back. But it doesn't mean I think they were right."
Hird and Demetriou were cast on different sides of the saga. They have not spoken in the years since about what happened, even when they have seen each other out and about walking their dogs.
"I've seen him walking around the streets because we live close to each other," Demetriou said.
"(But) I haven't spoken to him."
Asked what he would say to Hird if the chance arose, the former AFL boss said: "I would say that I'm glad you are back in football and I think it is great the Giants have picked him up (in a leadership role) because he's made a significant contribution to the game and has been one of (the AFL's) great players.
"The fact that now the club's giving him an opportunity is a good thing.
"He's still got a lot to contribute to football and he shouldn't be penalised and have a life penalty because of something that happened and has been dealt with."
Originally published as Sacked Podcast: Former AFL CEO Andrew Demetriou opens up on the Essendon drugs saga