Hawthorn AFL board: Peter Kankivell endorsed to takeover as president, Hawks for Change criticise process
A powerful supporter group has hit out at Hawthorn's presidency succession plan, declaring it was "deeply concerned" and considering a bid to shake-up the board.
Grassroots supporters group Hawks for Change is considering contesting up to three board seats at the club's December annual general meeting as it hit out at a "flawed" process to replace Jeff Kennett.
The Herald Sun revealed this week that Kennett's successor would be vice-president Peter Nankivell, who was the head of the club's nominations committee but instead was elevated to president-elect.
The Hawks for Change group lobbied to successfully elevate Ian Silk onto the board last year and described the process for Kennett's succession plan as "flawed, failed and wrong".
Kennett told the Herald Sun's Sacked podcast this week Hawks for Change did not like his politics or his tendency to speak out about the Victorian government.
He will step down at the December annual general meeting where the members can vote for the president.
Watch every blockbuster AFL match this weekend Live & Ad-Break Free In-Play on Kayo. New to Kayo? Try 14-Days Free Now >
But Hawks for Change said all the promises handed to it when Hawks premiership player Andy Gowers was told he would be thee nomination's committee's chair had not been fulfilled.
"The Board's decision to do away with proper process and nominate current Vice President Peter Nankivell as the Board endorsed candidate for Club President is flawed, failed and wrong," it said in a statement on Friday night.
"Thanks to the work of Hawks For Change's thousands of supporters, all Hawthorn members were promised an independent Nominations Committee, led by premiership player Andy Gowers.
"Acting in good faith, Hawks for Change took the Board's representations about the role and composition of the Nominations Committee at face value.
"However, the Board instead decided to appoint Mr Nankivell to Chair the Nominations Committed, then decided to endorse Mr Nankivell as its preferred candidate, without any meaningful regard to the process it had promised to members.
"We are deeply concerned about the continuing implications for good governance, transparency and accountability brought by this conduct."
Hawks for Change believes the decision for Nankivell to take over is an endorsement of the status quo when fresh ideas and energy is needed at the Hawks.
The group is deeply worried about the club's governance when the head of a nominations committee somehow finds himself as the new president.
"Without Hawks For Change, there would not have been a contested election in 2021 and Jeff Kennett would still be at the Club next year," it said in its statement.
"We remind the Board and all Hawthorn supporters that three Board seats and the Presidency are up for election at this year's AGM in December. Hawks For Change is actively considering our approach to these elections."
Jeff Kennett will be replaced at the end of the year. Picture: Michael Dodge/Getty Images
HAWKS REVEAL ENDORSED KENNETT SUCCESSOR
Jay Clark
Hawthorn vice president Peter Nankivell is set to take over from Jeff Kennett as the club's new president at the end of the year.
News Corp can reveal the Hawthorn nominations committee has strongly endorsed Nankivell, 59, to lead the club beyond this year after months of work.
But there was a significant twist in the process as Nankivell, who chaired the nominations committee in search of a new leader, was not satisfied with the initial group of candidates.
Board member Ian Silk, who was widely touted to be the next president, did not pursue the position.
Watch every blockbuster AFL match this weekend Live & Ad-Break Free In-Play on Kayo. New to Kayo? Try 14-Days Free Now >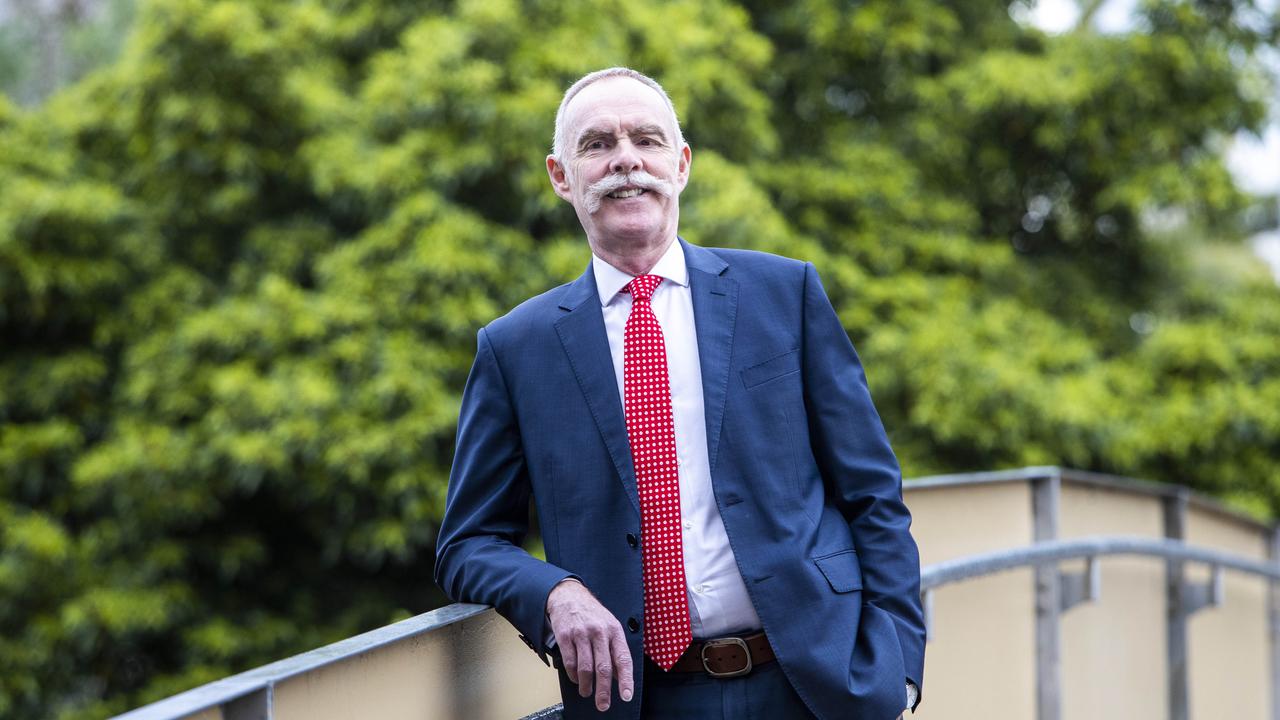 Ian Silk did not pursue the Hawthorn presidency. Picture: Aaron Francis/The Australian
It meant Nankivell, who initially did not want to pursue the job, put his hand up to lead the club after reconsidering the position more recently with his family.
The long-time Hawthorn supporter and successful commercial lawyer, who fully supports Tasmania's bid for a 19th licence, said he was a different style of leader to Kennett.
He said he was "thrilled and excited to receive this nomination by the board to take on the role".
"It is different from Jeff's. I am, by nature, more consensus-oriented," Nankivell told News Corp.
"I have made a living over 35 years as a lawyer and you have to be able to put yourself into the shoes of the other side when you are trying to get an outcome.
"But at the same time you have to be able to make tough calls, so it will be a consensus-style (of leadership) designed to drive the board to deliver the best they can offer the club."
Nankivell is a highly respected commercial lawyer for Thomson Greer with more than 30 years' experience in large-scale corporate finance and mergers and acquisitions.
The father-of-three has been a Hawthorn supporter since the age of five, helped the club rise up off the canvas amid the merger bid in 1996, joined the board in 2014 and had a brief stint as chief executive in 2017.
Nankivell said he was thrilled to receive the nomination committee's backing and was excited about the challenges ahead as the Hawks attempt to climb the ladder, mend its relationship with premiership hero Cyril Rioli and move into its new training base in Dingley by the end of next year.
He said he initially did not covet the presidency but changed his mind.
"My ambition was to serve and play my role and I didn't go into this with that degree of ambition (at first)," he said.
Nankivell, whose fondest memories include representing Hawthorn in a 1973 little league game at Victoria Park, said Hawthorn was in his blood.
His father, Bill, was a former Hawthorn mayor in the late 1970s, and there were former players and club staff among their family friends.
"What that gave me from the age of 5 was a pretty memorable inner sanctum experience being involved at Hawthorn Football Club," he said.
"I had a pretty full autograph book full of all of the stars of the day and those impressions last a lifetime.
"Your world revolved around that and I went to the footy with my Dad and that was what we did.
"My background runs deep with the club and the thrill of going to Glenferrie Oval for the last training session before the Grand Finals in the golden era of the 70s and 80s was remarkable.
"But what renewed or drove my engagement with the club was probably 1996.
"The club almost merged with Melbourne and my family all rejoined because we got very complacent and we could have lost something special."
Sacked: Bruising year at Hawks has taken 'flesh' for Kennett
- Jon Ralph and Glenn McFarlane
Hawthorn president Jeff Kennett will walk away from his post in December, resisting demands from the 'Hawks for Change' group to depart next month.
Kennett told the Herald Sun's Sacked podcast he would leave Hawthorn in excellent shape having exited its poker machines, installed Sam Mitchell as senior coach and set up a Dingley headquarters that he says will one day be worth $100 million.
LISTEN TO THE SACKED PODCAST WITH JEFF KENNETT ON FRIDAY
He admitted the bruising nature of the past 12 months had taken a "bit of flesh out" amid the coaching handover from Alastair Clarkson to Mitchell and Cyril Rioli's complicated relationship with the club and allegations against Kennett.
While Kennett had previously stated he would be "open" to moving on a year ahead of his term finishing in 2023, he had also made clear if a successor was not found he might remain in the job.
The Hawthorn nominations committee will put forth a potential successor for Kennett by June 30, in a timeline that will see him serve five years in his second term.
Kennett told the Herald Sun the 'Hawks for Change' group had not found a way to force him out early, adamant he had driven the timeline for a handover at the December annual general meeting.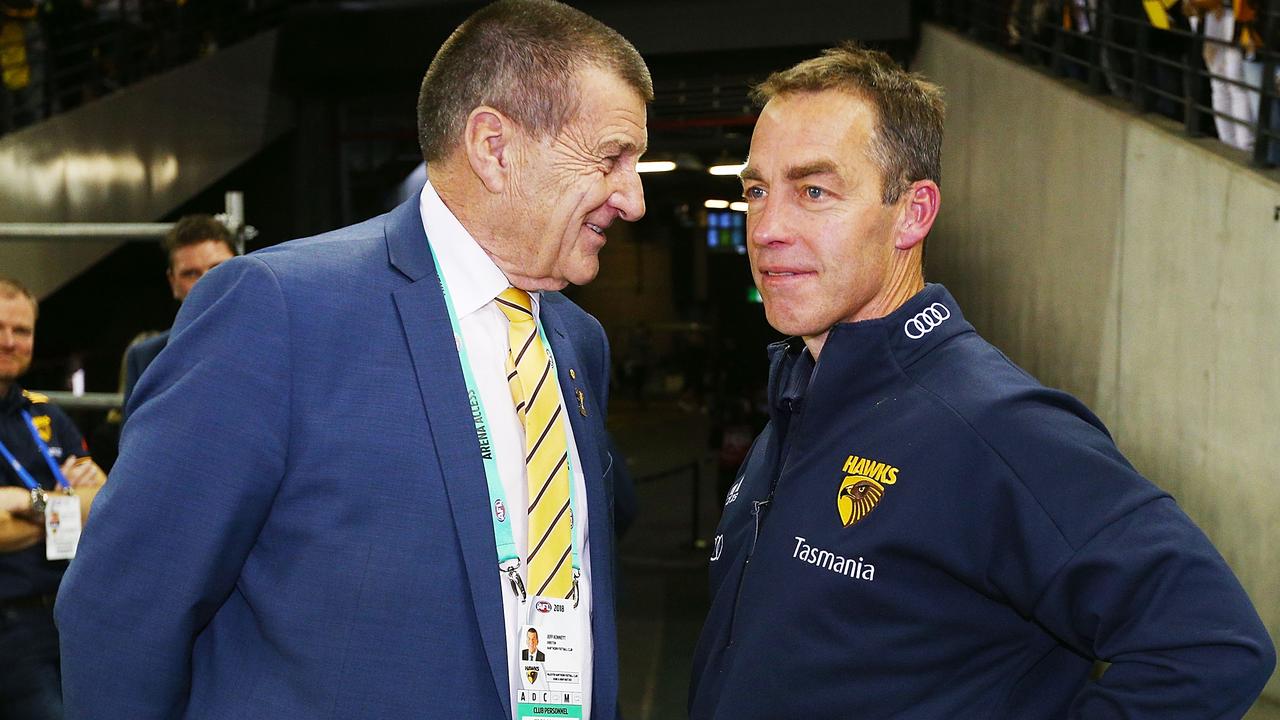 Jeff Kennett celebrates a 2018 Hawthorn win with former Hawks coach Alastair Clarkson. Picture: Getty Images
Said Kennett of the 'Hawks for Change' group's attempts to drag him out kicking and screaming: "They ain't done it."
"It's been a different period than the first six years, and I will go at the end of this year," Kennett said of his second stint as Hawthorn president.
"The group (Hawks for Change) are set up for political purposes, they are not set up because they are upset with the management. They wanted to (disrupt) because I was commenting on things of a political nature that were not their flavour."
"So I had that to deal with personally, I had to deal with the movement of Clarko (Alastair Clarkson). And more recently I've had to deal with the Rioli situation, all of which have been very personal. And I deal with the issues every day, get up the next day fresh, but they all take a bit of flesh out in some way.
"I have a sense of calmness now, because by the end of this year the decision on Dingley has been made, the investments we made in the gaming venues have proved to be not only highly successful from a revenue point of view outside of Covid.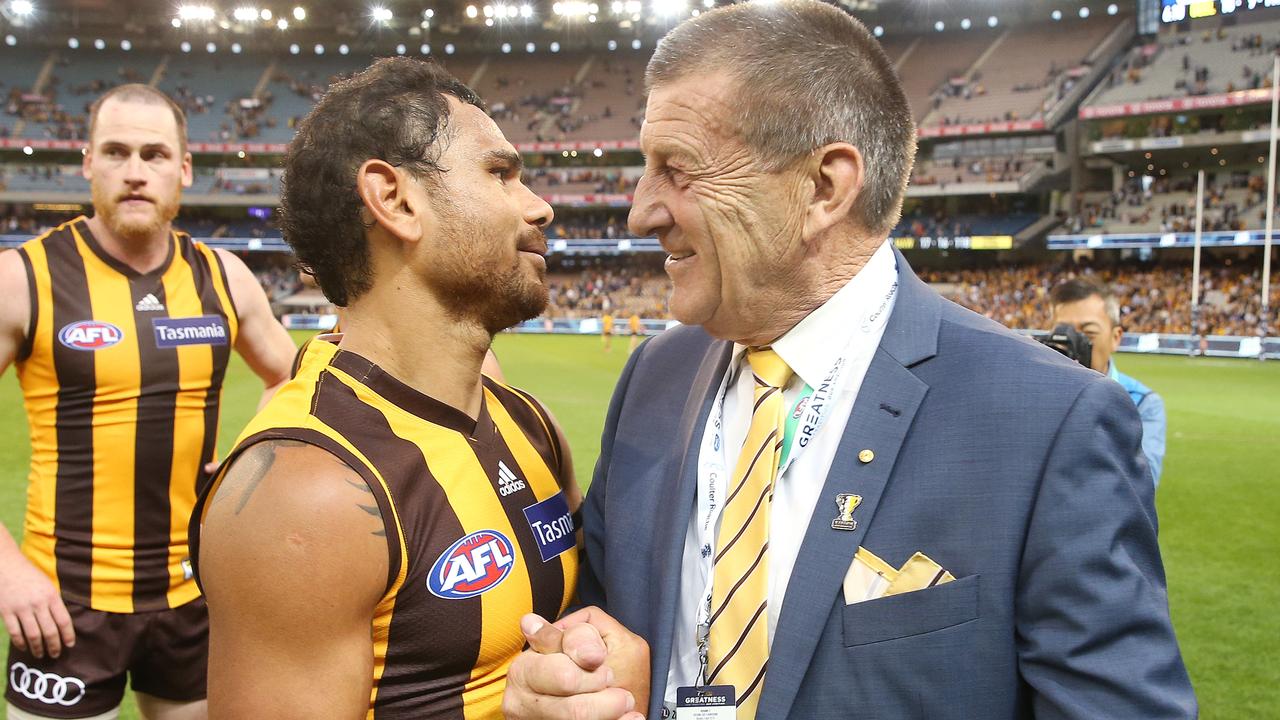 Cyril Rioli's strained relationship with the Hawks has taken its toll on president Jeff Kennett. Picture: Michael Klein
"But they've given us great capital appreciation.
"And that capital appreciates and will go into establishing a foundation to help generate more non-football income, but also into building Dingley.
"So we are going to have a facility that will be world class, and will be the only club in the AFL that totally owns its own facility and land. That will be an asset worth over $100 million. So that'll be done. The football decision (on Sam Mitchell) has been made and is looking good. So (myself and Gill McLachlan) are walking the plank together.
"He could go at the end of the Grand Final whereas I will go to the AGM which I think will be early December."
The Hawks sold their gaming facilities in May in a decision that will net as much as $40 million, which will help the club's world-class training facilities at Dingley in a build to be completed by next year.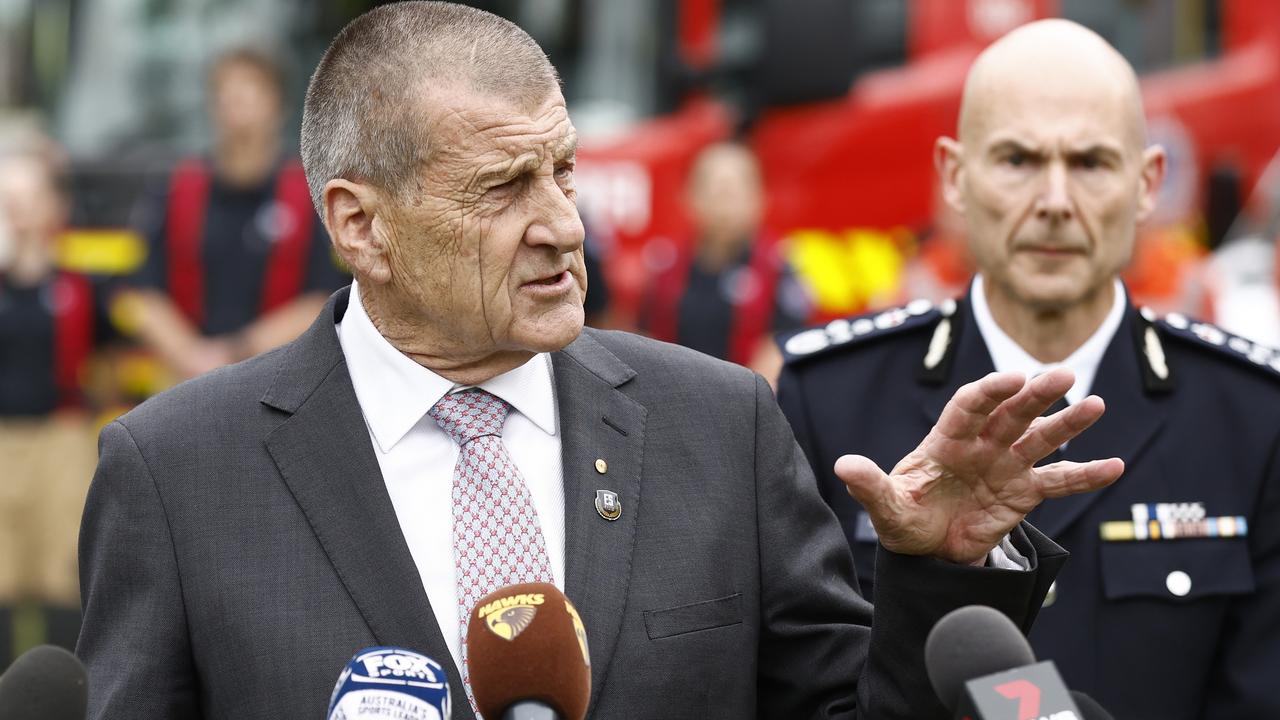 Kennett has put an early December timeline on his exit from the club. Picture: Getty Images
The 'Hawks for Change' group describes themselves as a grassroots organisation attempting to rebuild the club's greatness after helping vote candidate Ian Silk onto the Hawks board.
They called on Kennett to resign in the wake of Cyril Rioli's accusations about the president's comments about his wife's ripped jeans at a Tasmanian game.
Hawthorn has since made progress in its attempts at a rapprochement with four-time premiership player Rioli and says its only priority is helping the Darwin-based former star.
Said Kennett of the timing of the orderly transition: "What is the (AGM), five months away? It will be a transition under our system. The president is voted for by the membership, not the board. So you've got to get to that position where it's a vote. And as I say, the 'Hawks for Change' were never about the running of the club. We are highly successful. We're potentially very successful on the field and the outcome of the work of the board and the administration is second to none."
Originally published as Hawthorn AFL board: Peter Kankivell endorsed to takeover as president, Hawks for Change criticise process