Sacked podcast: Jeff Kennett on his two stints as Hawks' president, the 2008 flag, run ins with the AFL and the club's future plans
The race to find a successor to Richard Vandenberg as Hawthorn captain in late 2007 ended in a deadlock. But one option was never on the table for Jeff Kennett.
It was the seismic 24 hours that rocked Victoria's political and sporting landscapes in the form of two spectacular boilovers.
But one of the key figures who featured that day didn't know the other one was happening.
September 18, 1999 was the day Jeff Kennett was effectively sacked as Victorian Premier in an election bombshell, though he sees it more as the democratic process at work.
It was also the same afternoon a star-studded Essendon blew what many pundits considered the unlosable preliminary final against Carlton in one of the biggest finals shocks.
Kennett told the Herald Sun's Sacked podcast this week he was so focused on the election that he didn't even know about the footy match taking place that day.
Almost a quarter of a century on, he is reminded almost on a weekly basis about the parallel between the Liberals' shock to loss to Steve Bracks' Labor and Essendon's stunning defeat.
Watch every blockbuster AFL match this weekend Live & Ad-Break Free In-Play on Kayo. New to Kayo? Try 14-Days Free Now >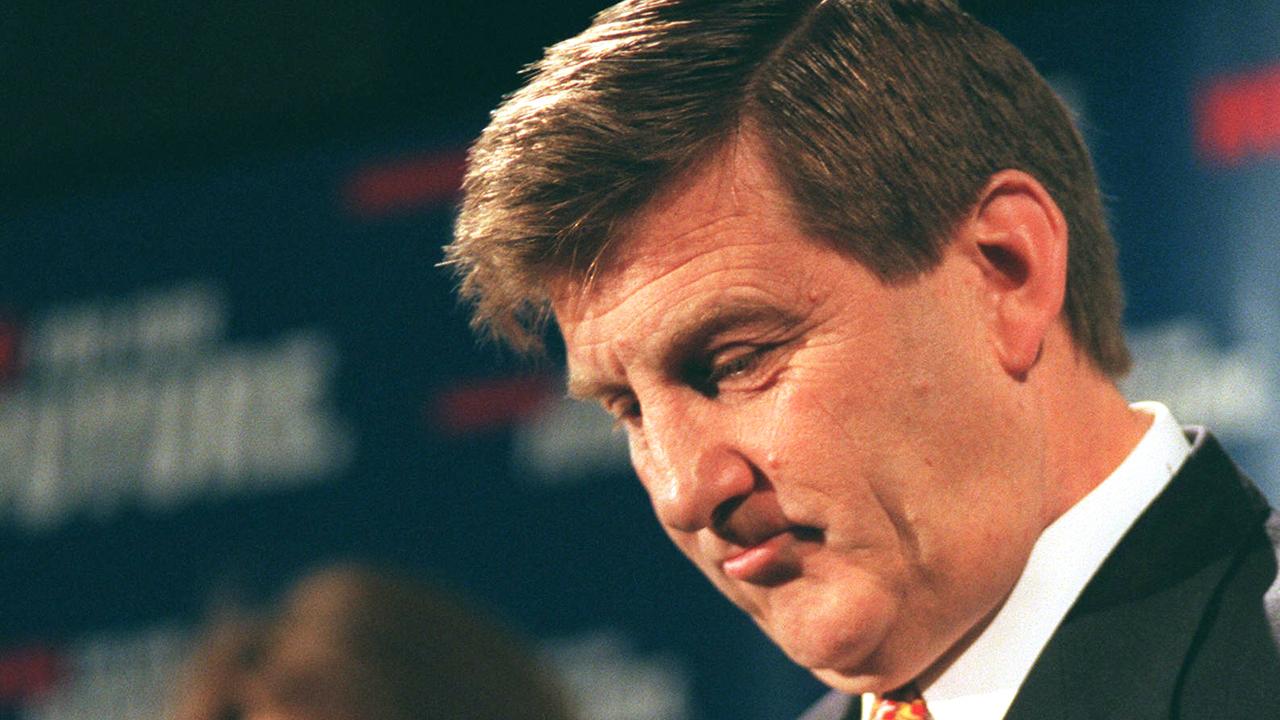 Premier Jeff Kennett at Sofitel Hotel on Victorian state election night in 1999 when the Libs were rolled in a boilover.
Asked with the benefit of hindsight whether he would have had his last dollar on the Liberals or the Bombers winning that day, Kennett said: "On that day, I didn't even know who was playing (in the AFL preliminary final).
"I was focused (on the election). But I cannot tell you the number of people who the next day, and still to this day, keep talking about two surprises — that was the outcome of the football match and the outcome of the election."
Kennett feared a week out from the election that a political upset was in the wind.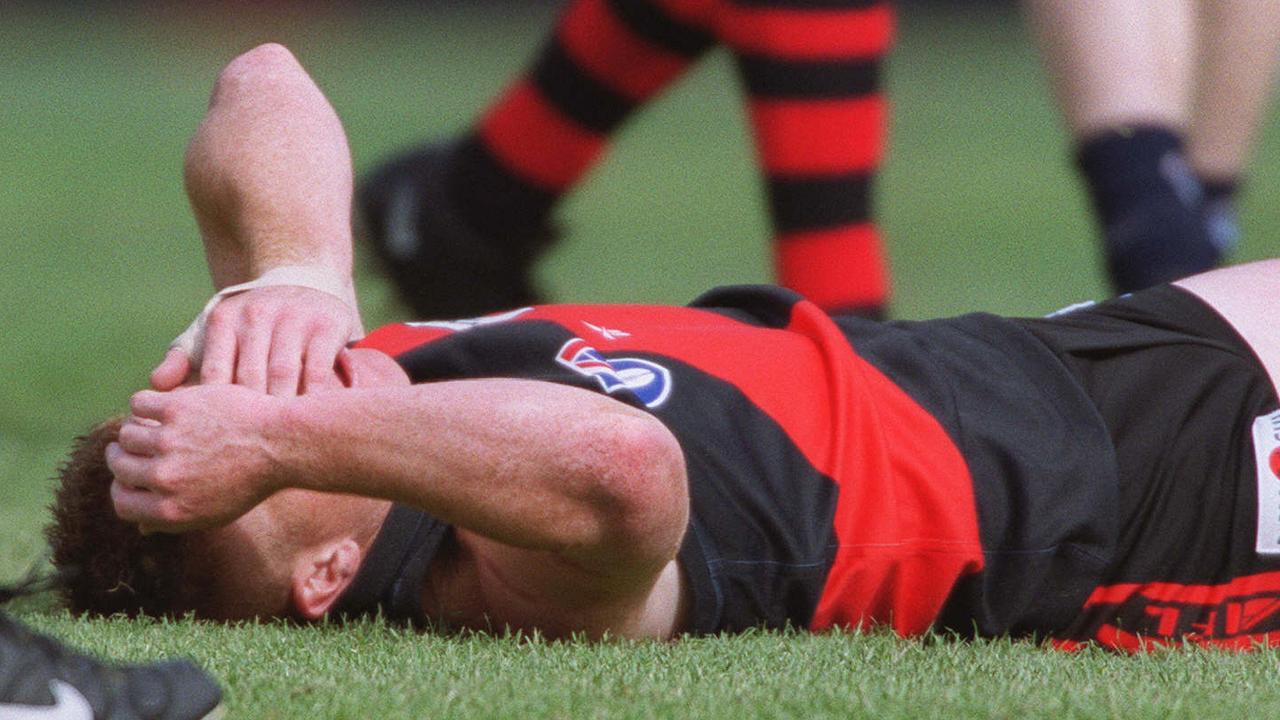 Kennett's stunning defeat came on the same day as Essendon's stunning upset to Carlton in the second preliminary final at the MCG.
"I called your colleagues into my office and said 'we could lose this!," Kennett said.
"They all burst out laughing like 'There is no way you can lose this.' They were laughing so much I had to bite my own cheeks, to stop laughing with them.
"But on the night of the election, that's exactly what happened. Sadly, a member of parliament died that day … we had to wait another month or so until the by-election could be held for Frankston East, but that went to the Labor Party."
Kennett's time as Premier was over, but he says he was "in no way overly distressed, I saw it as part of the democratic process. To be honest, I've never had a regret since."
Little did he know that his "sacking" would pave the way for one of footy's most colourful and controversial presidents.
JEFF KO'ED
A young Jeff Kennett loved football, even if the sport didn't necessarily love him back.
He was, in his own words, "shocking … I was no good at football."
"I played with a school that was fortunate enough to have enough people in my age group where we had the eighths. I remember on one occasion I was elevated to the fourths.
"I was so excited. I ran onto the field, ran into someone, was concussed, carried off and was never elevated to that level again."
Kennett loved Hawthorn, even if his parents barracked for Melbourne. His dad used to take him to Glenferrie Oval to watch his beloved Hawks.
"My father was asked to join Hawthorn … old Dr Jonah (president) tried to get him to join but he had to go off to war," Kennett said.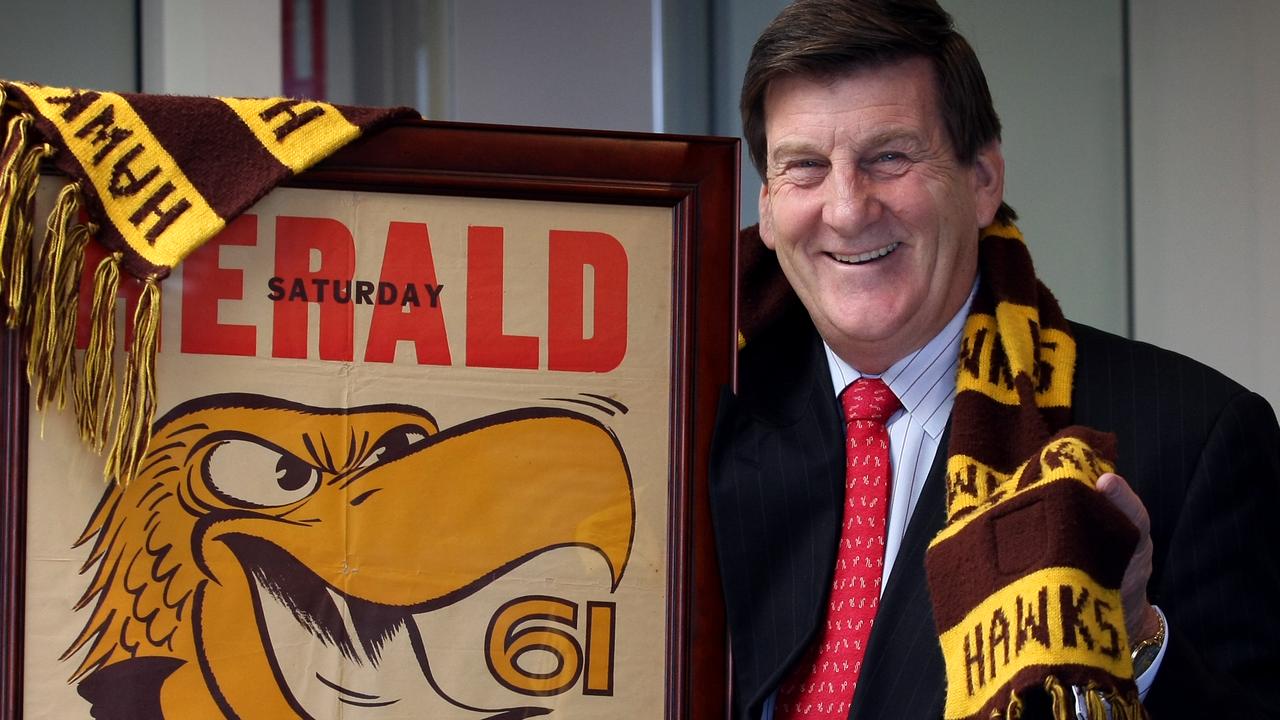 Jeff Kennett barracked for the Hawks from a very young age despite his parents following Melbourne. Here he is with a poster from the Hawks' 1961 grand final win.
"I loved the ground that didn't have a blade of grass on it, (even) in winter. It was a wonderful environment. All that has changed now and to some degree, while it's what people want these days, it's a bit antiseptic.
"In one way, the closest thing to that these days, although it is much better presented, is the ground at Launceston."
TAKING ON THE HAWKS PART I
Six years after he lost the election, Kennett was appointed to the Hawthorn Football Club board, taking over from club president Ian Dicker in late 2005.
He set out on two tasks.
The first was to reunite a board he felt had fractured and had too many leaks coming from it.
"It wasn't a collegiate board when I took it over but it became one very quickly," he said.
"We had some wonderful people on that board, but we had very few sponsors. We hadn't won a premiership in many, many years.
"We established a theme — Five2Twenty — which was the years of my term (five), we wanted 50,000 members when we had about 28,000, and we almost got the two premierships we were chasing.
"It gave people something to aim for. The media understood it, our players understood it, our members understood it."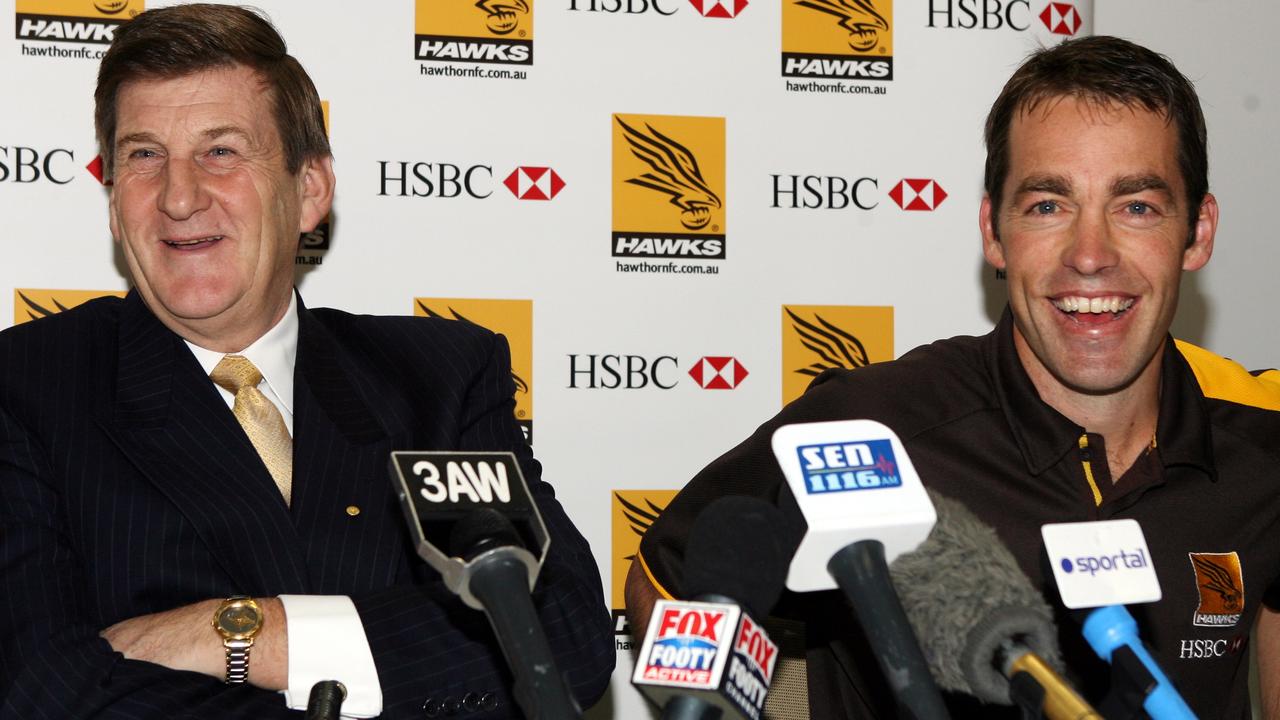 Hawthorn president Jeff Kennett at the announcement of the contract extension of coach Alastair Clarkson in 2006.
Within 12 months, Kennett's board secured a deal to play a handful of games in Launceston, taking over from St Kilda, who had pulled out.
"Well, I can't speak for St Kilda, except to say thank you," Kennett said this week. "I say thank you for a couple of reasons.
"One is that the Launceston oval surface is the best we play on anywhere in the league. And I also say thank you because, even though I'd been going to Tasmania in my political roles for years, I've now gotten to know Tasmania and their community a lot better.
"When we go down there, (wife) Felicity and I often just drive around for a week and there's people there talking about Hawthorn. It's that community spirit you don't find here or in Sydney, Brisbane, Perth or Adelaide. There's only two places in Australia that have points of difference now. One is up north and the other is down in Tasmania."
'THAT'S NOT THE HAWTHORN WAY'
The race to find a successor to Richard Vandenberg as Hawthorn captain in late 2007 ended in a deadlock between Sam Mitchell and Luke Hodge.
But Kennett insisted on a tie-breaker. He refused the idea of dual captains, saying multiple skippers at clubs was "madness, sheer madness".
"They (Mitchell and Hodge) had come in (to a board meeting in Swan Street) and I said: 'All right guys, what have you got?' They said: 'Well, the players have voted and we're going to be joint captains'. I said: 'No, you're not … that's not the Hawthorn way'.
"(I said) 'Go away and come back and tell us what you want to do'. They talked about it and came back and said: 'It's Sam (who will be captain)'."
Kennett embraces Luke Hodge after the Hawks won the 2008 premiership.
Mitchell would go on to captain the Hawks to success in the 2008 Grand Final before later handing over to Hodge, who led a three-peat of triumphs from 2013-15.
"Sam won the 2008 flag and there was an agreement that he would step down at some stage and Hodgey came in and they kept building and we went on to win another three flags,' Kennett said.
Unlike the Kirribilli Agreement between Bob Hawke and Paul Keating in 1988 which was never enacted, the Hawthorn agreement between the two captains proved a success.
"You can't have two Prime Ministers, you can't, in real terms, have two CEOs," Kennett said.
"I am a great believer that you can't have two generals at the top of an army. Sport is competitive, administrations are competitive. You need to have someone to bear the responsibility of leadership and if you make a mistake, then so be it.
"But at the end of the day, there has to be a chain of command. I guess that came from my experiences in the army where regardless of what you thought of the person wearing the uniform, you always saluted the uniform."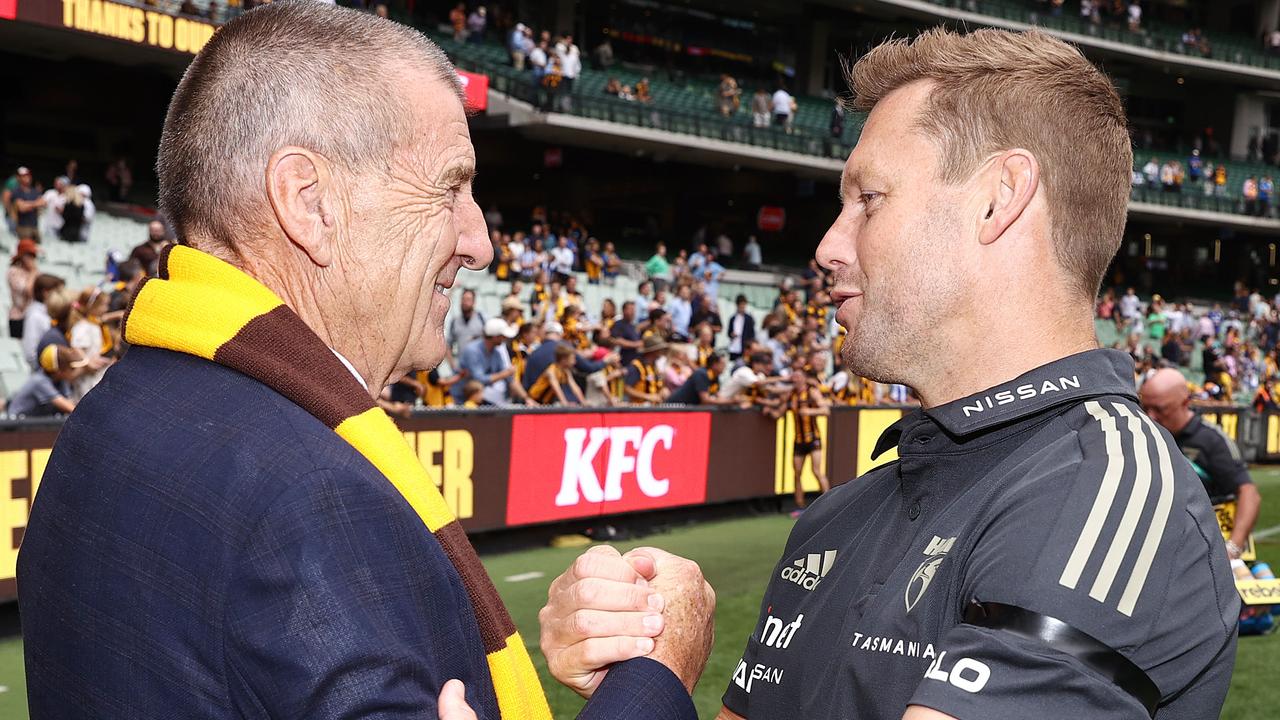 Full circle as Sam Mitchell, now senior coach of Hawthorn, shakes hands with Kennett after their round 1 win this year. Picture: Michael Klein
Of the Mitchell-Hodge handover, Kennett added: "There is a lot to be said for the phrase 'everything happens for a reason'. Everything turns out for the best. And in so many cases that is correct. That was correct — as a more recent decision has also been correct."
2008 FLAG
Halfway through the 2008 season, Kennett met Clarkson in his Cremorne office and asked the coach if he needed anything to win a flag.
When Clarkson said 'No, I'm right', it gave the president enormous confidence that something special was about to unfold.
That's why Kennett maintains Hawthorn's grand final hijacking of a seemingly invincible Geelong on grand final day 2008 wasn't an upset in his eyes. It was all pre-planned.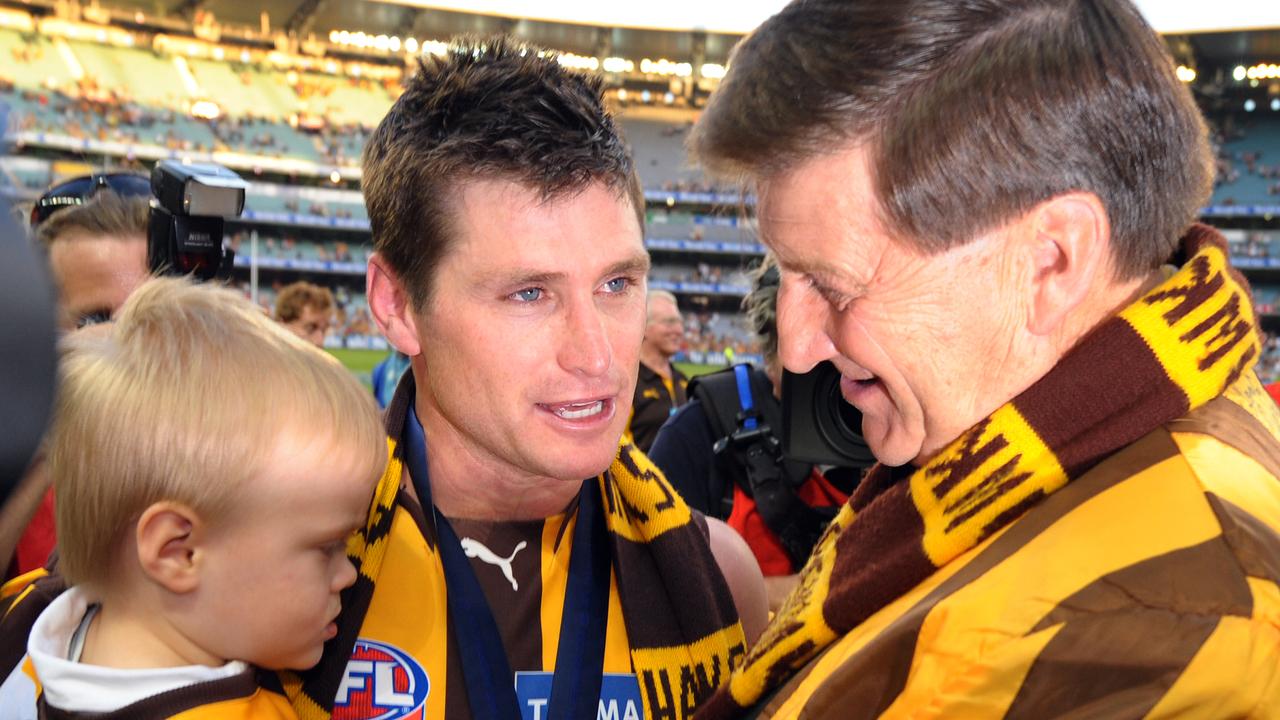 Hawks favourite Shane Crawford celebrates the 2008 premiership in his final game at the club.
Hawthorn's 10th premiership success over the Cats was a triumph for Clarkson and the team, including Shane Crawford in his final game,
Kennett soaked up the moment in the stands.
"Even when we won, I didn't see it as my role to go down onto the ground," he said. "I stayed in the stands; I drank in the pleasure.
"It reinforced in my mind again the importance of AFL football — to see people happy and to see our players happy. A lot of our staff and other board members went down there (to the ground) which is good. But for me, it was a matter of observing."
TAKING ON THE HAWKS PART II
Kennett was lying in bed one night in late 2017 when he tentatively broached an awkward subject with wife Felicity.
"I waited until we were in bed and Felicity was on her iPad," he said. "I said: 'Look, I think there's something I should tell you … there is a chance tomorrow I might become president of Hawthorn again'.
"I can't tell you what word she used. She was not overly excited. She didn't say 'don't do it', but it wasn't what she was planning."
He still insists he never intended to return for a second stint as Hawthorn president in late 2017, but he says the club was in trouble.
Then president Richard Garvey had resigned just days after short-lived chief executive Tracey Gaudry had been sacked.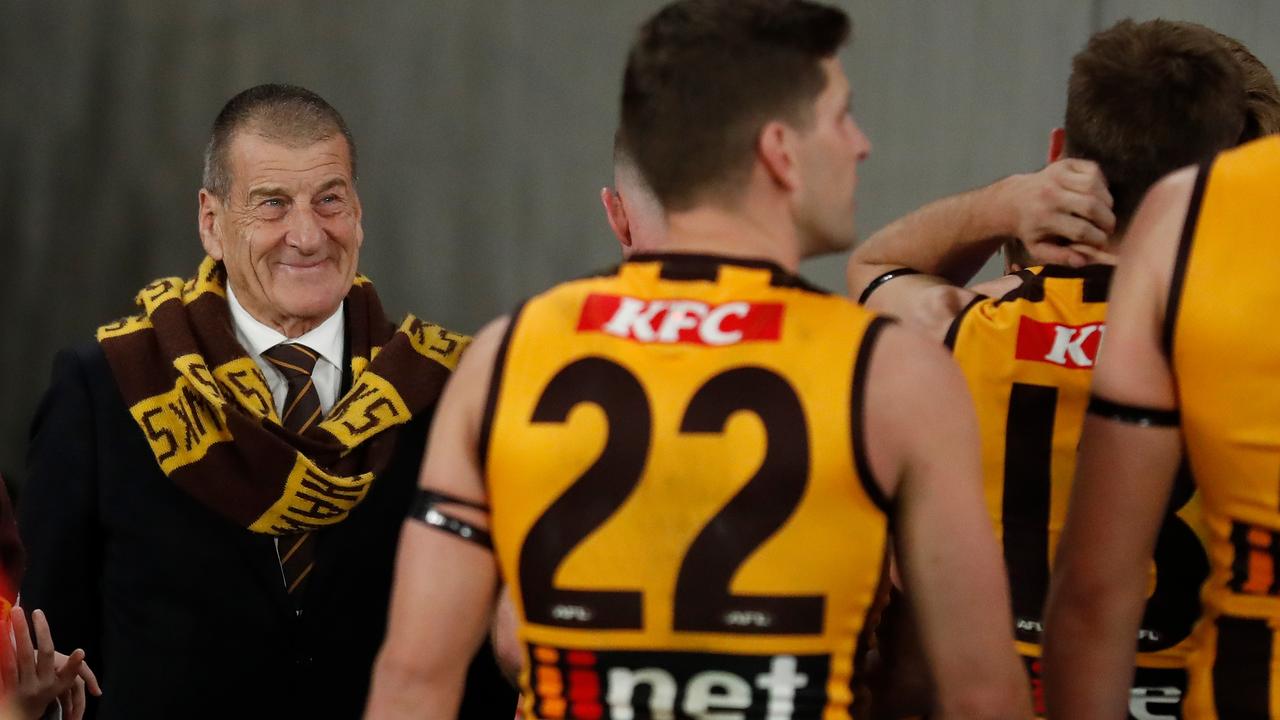 Jeff Kennett watches his players after taking on the Western Bulldogs at Marvel Stadium on Thursday night. Picture: Michael Willson/AFL Photos via Getty Images
Gaudry this year admitted the Hawks' period was "a big learning curve" and said that despite the club's best intentions, their desire to employ her, change things up and bring diversity hadn't realised the outcome either party had hoped for.
Kennett said this week: "She had never been involved in our sport before, although she had been involved in another (sport).
"I think the place where she was working before only employed five or six people. And her style of management was such that it was not appreciated by the administration or the football department.
"After a period of time … the chairman and the deputy chair came and saw me and said: 'Look, I'm sorry, this hasn't worked. Would you come back?"
Kennett's second period as president hasn't been without controversy or challenge.
The playing list has been radically reshaped; the Hawks and the AFL have travailed the uncharted waters of the Covid pandemic; Kennett oversaw the coaching handover from Alastair Clarkson to Sam Mitchell which blew up in spectacular fashion; and the Hawks For Change group agitated to try and fast-track the president's exit.
Kennett has now agreed to depart at the club's annual general meeting later this year.
"I would have gone two years ago had Covid not come," he said. "We thought we should stay and get us through Covid, and I have worked not only with the club but also with the AFL on that one."
TAKING ON THE AFL
Kennett raised the ire of former AFL chief executive Andrew Demetriou when he launched Michael Warner's book 'The Boys' Club' last year.
But he makes no apology for wanting to hold the league to account.
"I had a couple of people who are a part of the AFL ring up and have a go at me," he said. "And yet I've done enough interviews with enough of the staff to know there was truth in it.
"I think that has led to some change and certainly it's led to a review by the Commission itself, which is always a bit dangerous, and senior management.
"I've read the review and I think there'll be some more changes in the future.
"Not that anyone has drawn the parallel, but I think what gives that book and its contents credibility is what we've since found out about women's umpires.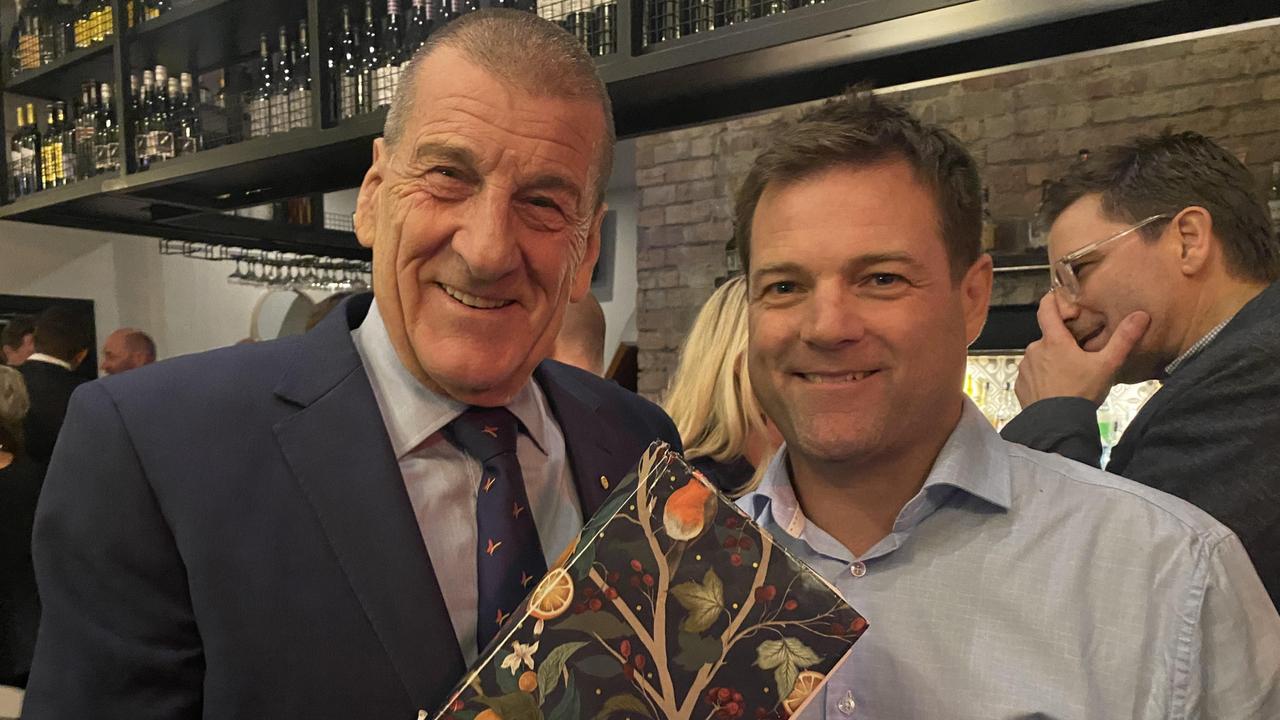 Jeff Kennett and Mick Warner at book launch 'The Boys Club'. Picture: Alice Coster
"Somebody has done a report there and it's gone to the person and he shared it with two or three people and it hasn't gone anywhere.
"We have been told time and time again that the biggest challenge we have is with umpires at all levels of the game. Yet here there are a number of umpires, women in particular, who have been abused and when I challenged (AFL CEO) Gill (McLachlan) and (AFL chairman) Richard (Goyder), they said they'd never seen the report, never been handed the report.
"(It is) absolutely astonishing.
"I would be furious if as head of an organisation that had commissioned a report that indicated such a breakdown, that no one had brought it to my attention."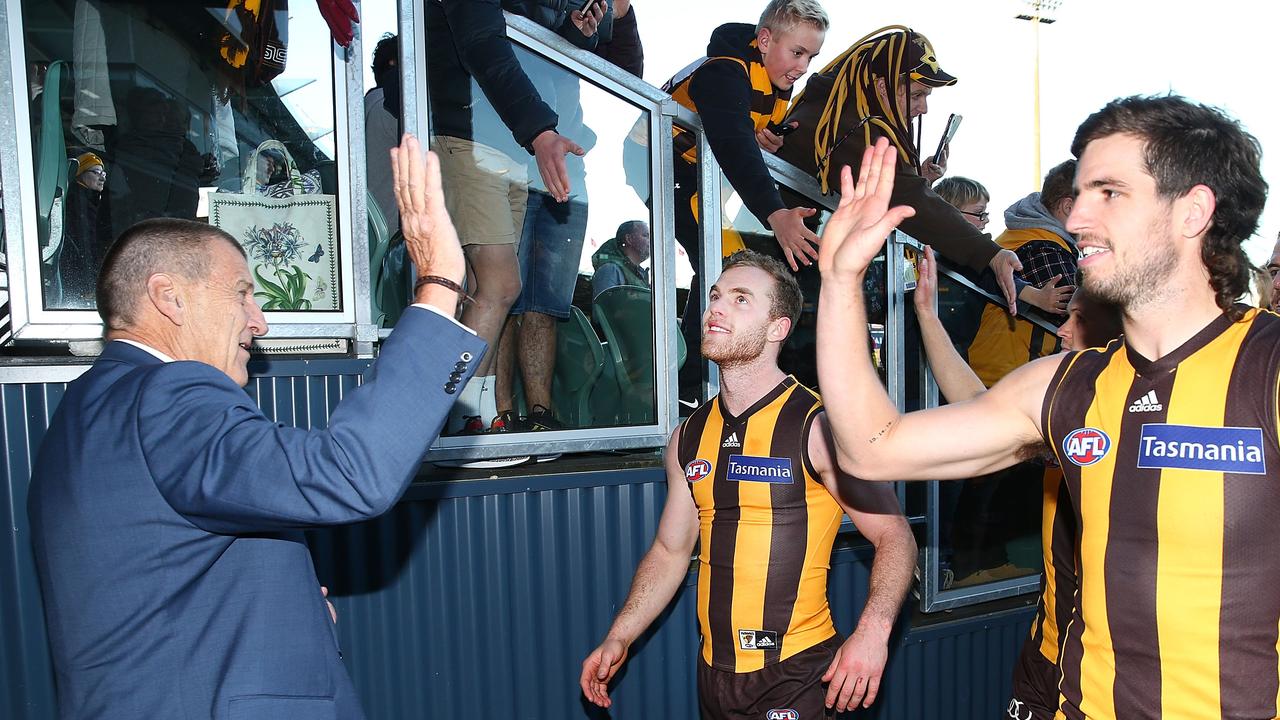 Jeff Kennett celebrates a Hawks win with his players in Launceston this year. Picture: Michael Dodge/Getty Images
REGRETS
Kennett has been at the heart of countless controversies, but he says he has no regrets.
"I mean that sincerely," he said.
"I've come through life to this stage. I've had reasonable health. I've had a lot of experiences, met a lot of people. In any occupation, there are changes from time to time and that's probably been added to by my experiences when we set up Beyond Blue.
"Yes, there have been challenges.
"I've been fortunate that I have that mechanism, where I've been able to deal with some of the most pressure situations. I deal with them before I go to sleep in my own mind, in order that I can sleep well and get up the next morning."
Jeff Kennett says he has no regrets as he takes time out in his garden. Picture: Tim Carrafa
Kennett added: "People often ask me what's the worst thing that has happened? Or what's the best thing that has happened? There are no worse bits.
"That's not to say my life has been flatlining. It hasn't.
"The most important thing about my 23 years of political life, and the last seven or eight as premier, was not about a building here or anything like that. It was about restoring confidence among the people we were charged to administer, being the people of Victoria, giving them confidence back in their community.
"If you don't have confidence, it's hard to change, it's hard to believe in yourself and it's hard to keep moving forward."
So what's next for Kennett after he leaves the Hawthorn presidency later in the year?
The only certainty is that he won't be completely sailing off into the sunset anytime soon.
Originally published as Sacked podcast: Jeff Kennett on his two stints as Hawks' president, the 2008 flag, run ins with the AFL and the club's future plans