Sacked: Tony Cochrane on the challenges of trying to fix the once ailing Gold Coast Suns
Outspoken Gold Coast boss Tony Cochrane commends the AFL for setting up the new franchise, but says the league then dropped the ball. Read his amazing story.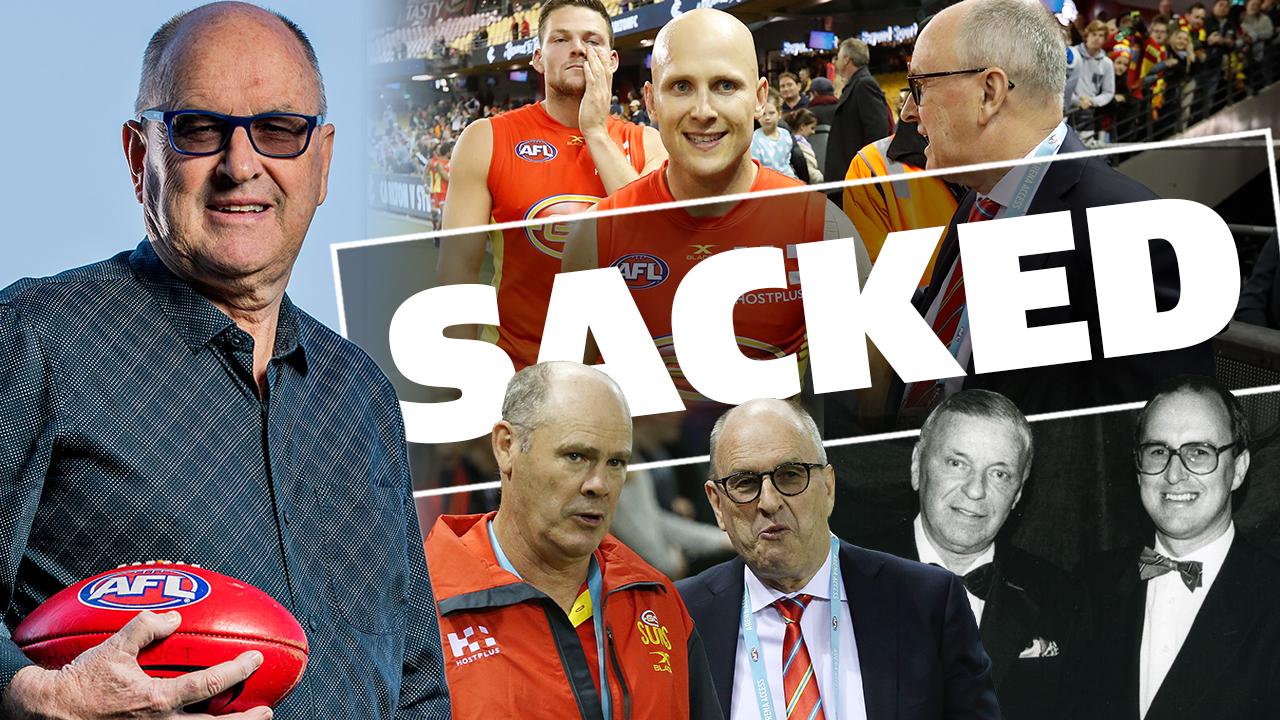 He's known in footy circles as the man charged with turning the Gold Coast Suns into an AFL powerhouse, but Tony Cochrane is so much more, revealing his wonderful life to this week's Sacked Podcast.
Tony Cochrane's lifetime CV attests that he doesn't believe in Mission Impossible.
The man who coaxed Frank Sinatra back to Australia when the charismatic, combustible crooner insisted he would never return simply doesn't believe in taking no for an answer.
Having ticked off a myriad of accomplishments in four-and-a-half decades of business, Cochrane is knee-deep in his next venture – trying to turn a once-lampooned Gold Coast Suns into an AFL success story.
Since their 2011 debut, the Suns have churned their way through hundreds of millions of AFL dollars, a few coaches, countless players who have come and mostly gone, and more negative headlines than positive ones across their 250 games.
But Cochrane is convinced that under CEO Mark Evans, coach Stuart Dew and the current playing group, the Suns are not only on the ascent, but edging closer to a maiden finals berth and maybe in time a first grand final.
Stream Over 50 Sports Live & On-Demand with Kayo. New to Kayo? Try 14-Days Free Now >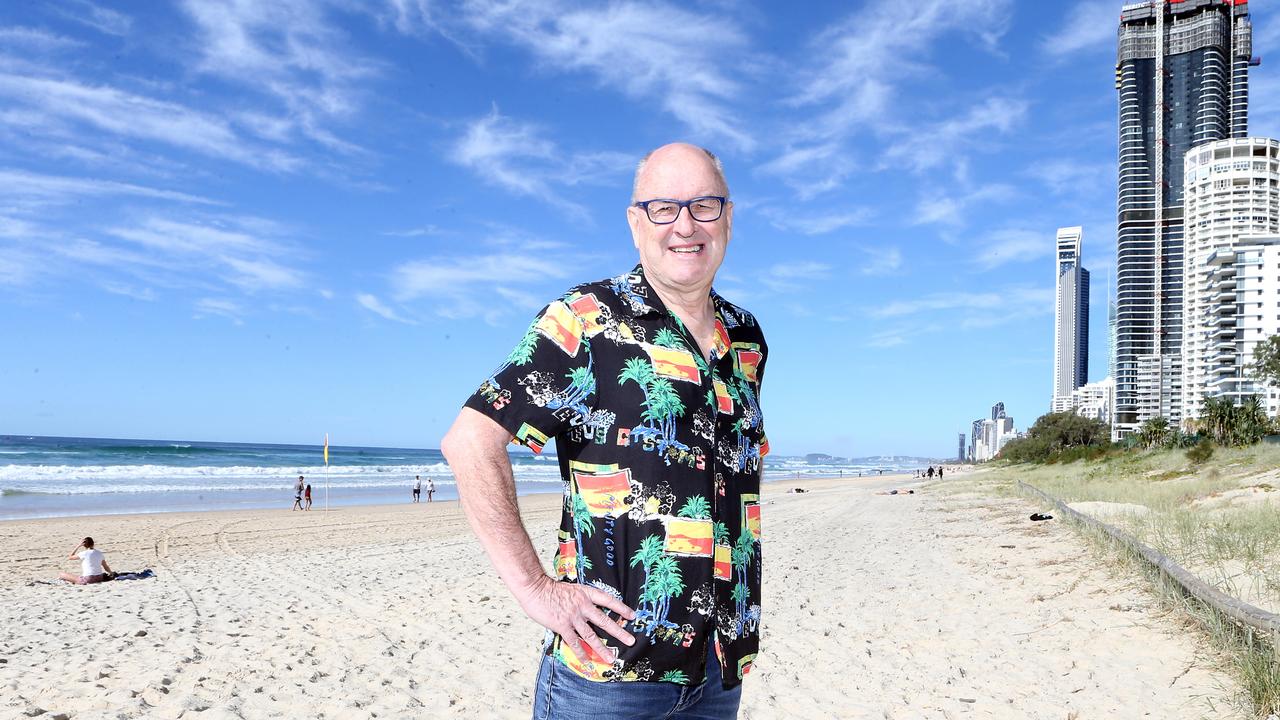 Tony Cochrane doesn't believe in Mission Impossible. Picture by Richard Gosling
"I never like to talk about 'can you win a premiership?' … What I like to talk about is 'can you make a grand final because grand finals are a weird beast," Cochrane told the Herald Sun's Sacked podcast.
"It's been a tough gig, but my focus is: 'Can we get to a grand final (in the coming years)? Yes, I believe we can."

Love him or hate him, and he knows there are more than a few in the second camp, Cochrane doesn't care what you think of him.

Whatever you think of his endless enthusiasm, his crash-or-crash-through manner and his excitable voice, he makes no apologies for his approach.
Cochrane is part showman and spruiker, a born promoter, a can-do visionary, a businessman with a network of contacts at government, business, sporting and entertainment levels; and a man of eclectic interests, including the arts.
In his own words, he just "gets s — done".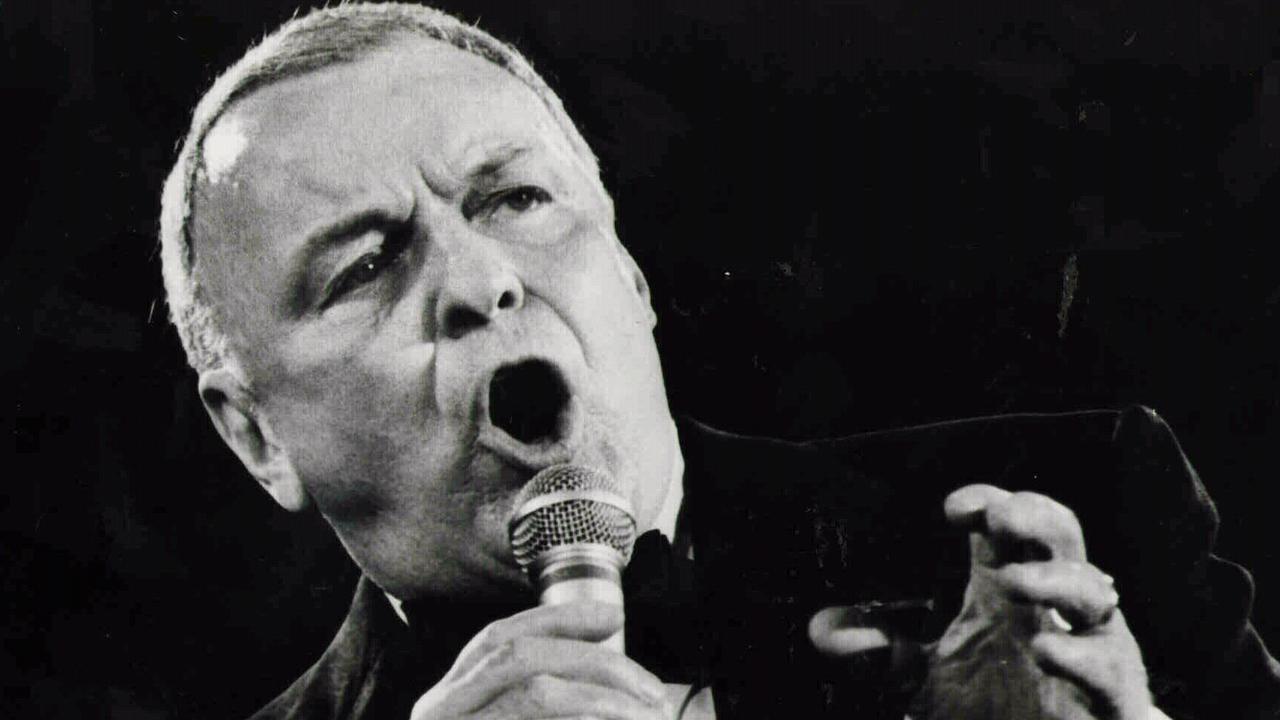 Tony Cochrane was able to convince Frank Sinatra to return to Australia for the opening of Sanctuary Cove on the Gold Coast.
OPERATION: GET SINATRA
It was the epic knock-back that led to one of Australia's biggest show business coups.
Cochrane was in his early 30s when engaged by resort developer Mike Gore to find a standout act for the $16 million, five-day Sanctuary Cove opening, "The Ultimate Event" in 1988
"He (Gore) really wanted Neil Diamond, which I singularly failed to achieve for him," Cochrane said. "I had a serious crack … (but) I simply got nowhere.
"I had to let Mike down and tell him I hadn't achieved Neil Diamond. Mike was able to speak to me from Brisbane without the aid of a phone … and I was in LA at the time."
Thinking on the 'fly', he said to Gore: "Let me try for the 'Chairman of the Board', Frank Sinatra!"
Given Sinatra had left an Australian tour 14 years earlier vowing to never return, calling the media "pimps and hookers" and getting into a slanging match with then ACTU secretary Bob Hawke, it was going to take some of Cochrane's finest negotiation skills.
He tried initially through Sinatra's LA management office before flying to Fort Lauderdale, Florida, to chase a meeting with Sinatra's manager Eliot Weisman.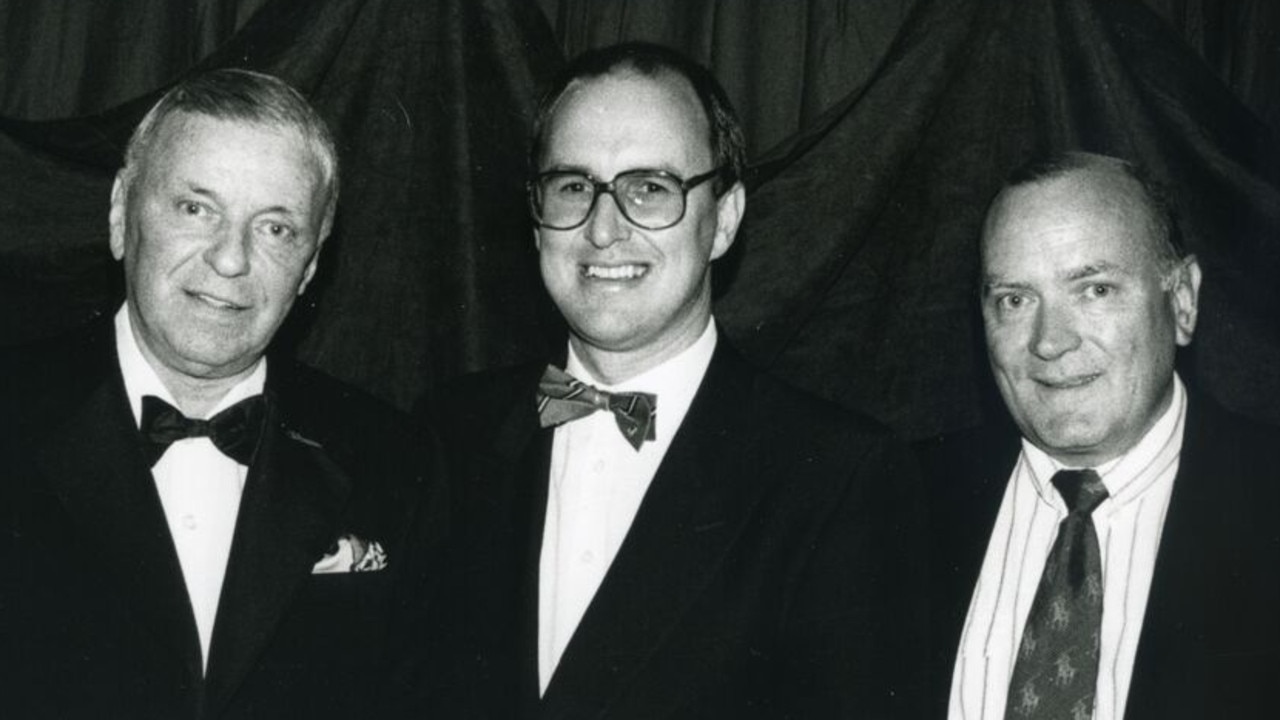 Frank Sinatra, Tony Cochrane and Michael Chugg in the 1980s.
"I fronted there at nine o'clock on Monday morning to have a meeting only to be politely told that there would be no such meeting," he said.
Cochrane stayed the entire week in the foyer, returning to his own hotel only to sleep.
"Eventually on Friday, out of sheer frustration, they granted me a five-minute meeting."
He walked in, shook Weisman's hand and sat down.
That was his first mistake.
"He (Weisman) said to me, 'Why the eff are you sitting down? This meeting is only going to take five minutes … no one needs to sit down.'"
Two hours later, Cochrane exited the meeting having sealed the deal. He broke the ice by identifying the SO Model Trains in Weisman's office, an interest the pair shared.
"He (Sinatra) was dogmatic about (never coming to Australia), but money is a powerful thing," Cochrane told Sacked.
Cochrane rang Gore, saying: "I will fax (the contract) in the next hour and you will have to sign it and furthermore you have got to put a million dollars US into their account in 48 hours."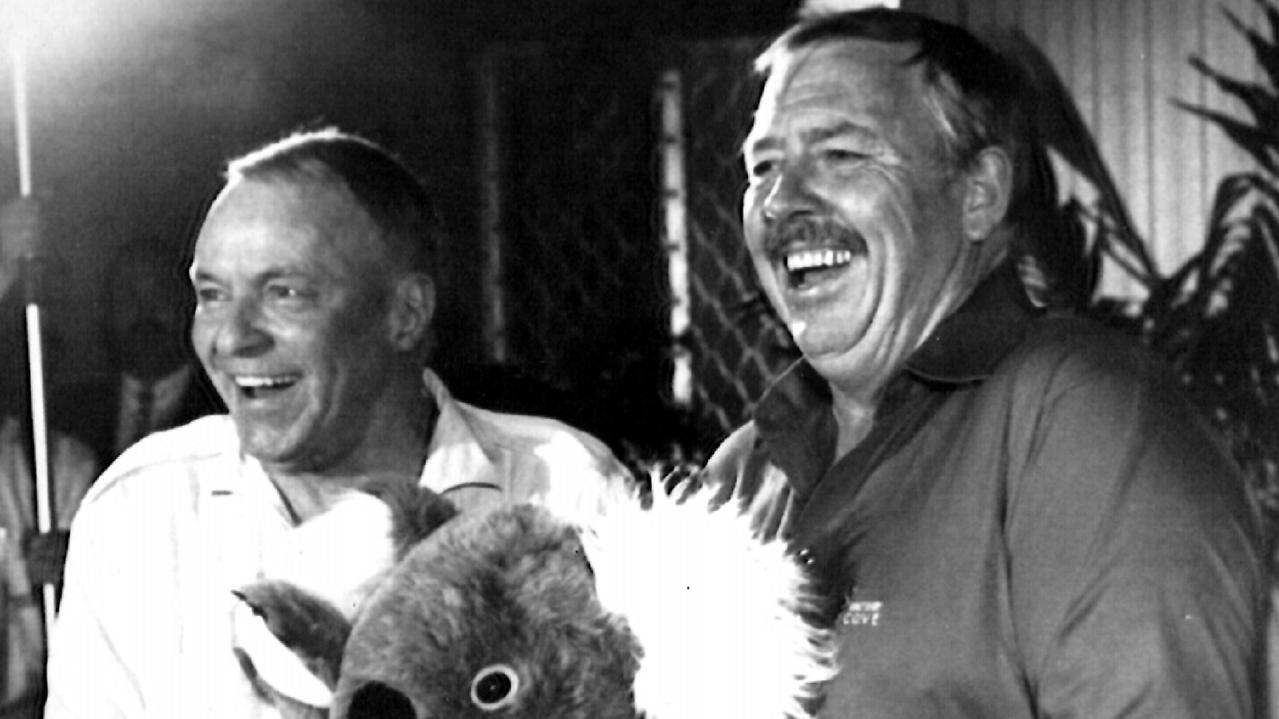 Frank Sinatra with developer Mike Gore at the opening of the Sanctuary Cove Resort in 1988.
Gore initially baulked at the speed of transferring the funds, but at Cochrane's urging, changed his mind.
"Of course, I didn't understand that he (Sinatra) was all part of the mafia. Looking back in hindsight, how naive was I? But everything got signed and the money all went through."
In his discussions with Sinatra – whom Cochrane called Mr S – the singer asked him what had happened to Bob Hawke, who had organised the unions against him back in 1974.
Cochrane gritted his teeth and said: "He's our Prime Minister now".
HIGHS AND LOWS
In more than 45 years of business, Cochrane and his partners have produced or promoted more than 400 sporting and entertainment events, selling in excess of 25 million tickets with ticket sales grossing more than two billion dollars.
He has won a Tony Award (for Producer, Hairspray on Broadway) as well three ARIA's and three platinum albums.
"Any promoter who tells you they've only had successes, that's full of bullsh –. I had some massive failures. I did my shirt two or three times."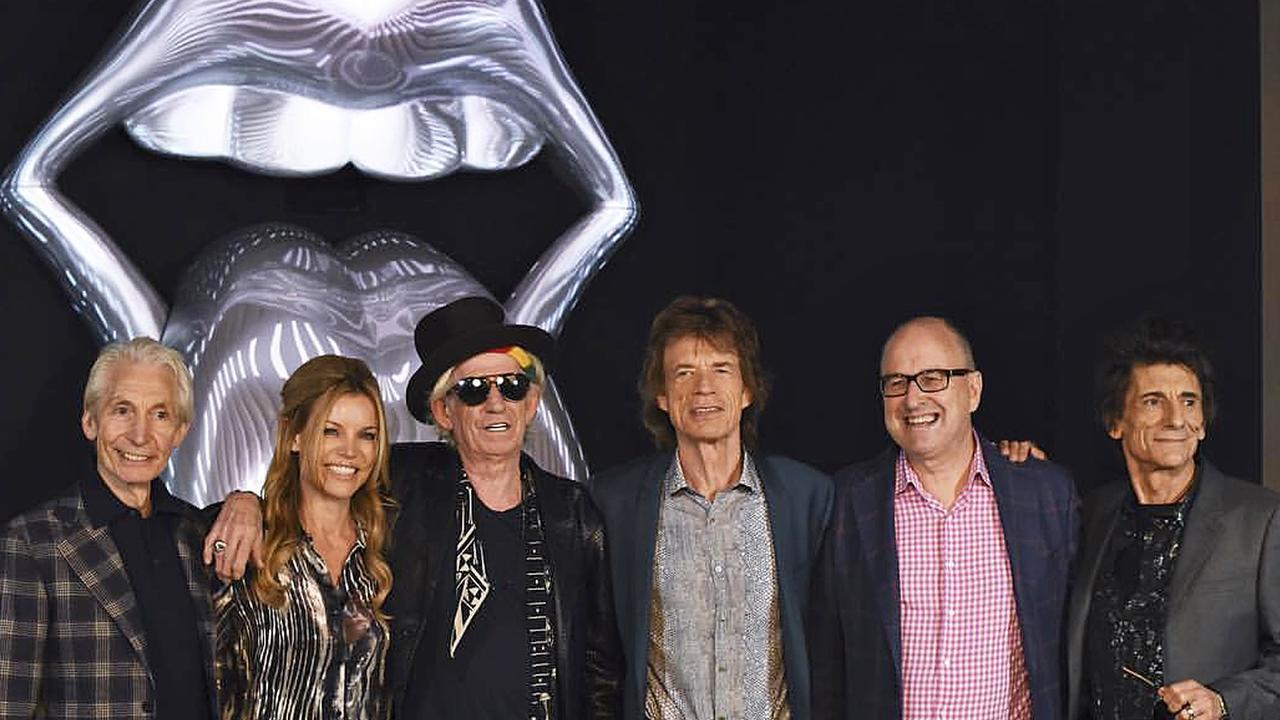 Tony Cochrane with the Rolling Stones. Picture: Thea Jeanes-Cochrane
"The financial bomb" that hurt most was an Australian tour by Steve Winwood.
"It was just a complete failure," he recounted.
"I remember sitting in Perth thinking I had personally lost about $1.2 million. The only concern with that at the time was I probably didn't have more than say half of that.
"He was an industry icon … but the fan base wasn't there to support that."
One of his most enjoyable highs was staging 'The Main Event', starring John Farnham, Olivia Newton-John and Anthony Warlow.
"Farnham is without a shadow of a doubt the greatest entertainment talent the country has ever produced," he said.
"He has an extraordinary voice and knows how to use it. He has had so many great songs written for him. He has turned them into a tour de force of the Australian catalogue of music.
"On top of that, he is just a great Aussie. The 'Jack the Lad' you see on stage is John Farnham. He shares a passion for drinking red wine and we're both good at it."
Tony Cochrane with Good Charlotte frontmen Joel Madden and Benji Madden at the Gold Coast 600.
V8 SUPERCARS
Cochrane and a few investors bought the rights to what would become the V8 Supercars for $52,000 in 1996. Sixteen years later, the group would sell the business venture for $305 million.
In between, he turned it into one of Australian sport's biggest success stories.
Having helped the NSW government run a 500cc motorsport event (now MotoGP) and Queensland stage an IndyCar event, he turned his eyes to Group A Touring Cars.
Cochrane talked the team owners into his vision, which included changing the name to V8 Supercars because Group A Touring Cars sounded "like a blood disorder."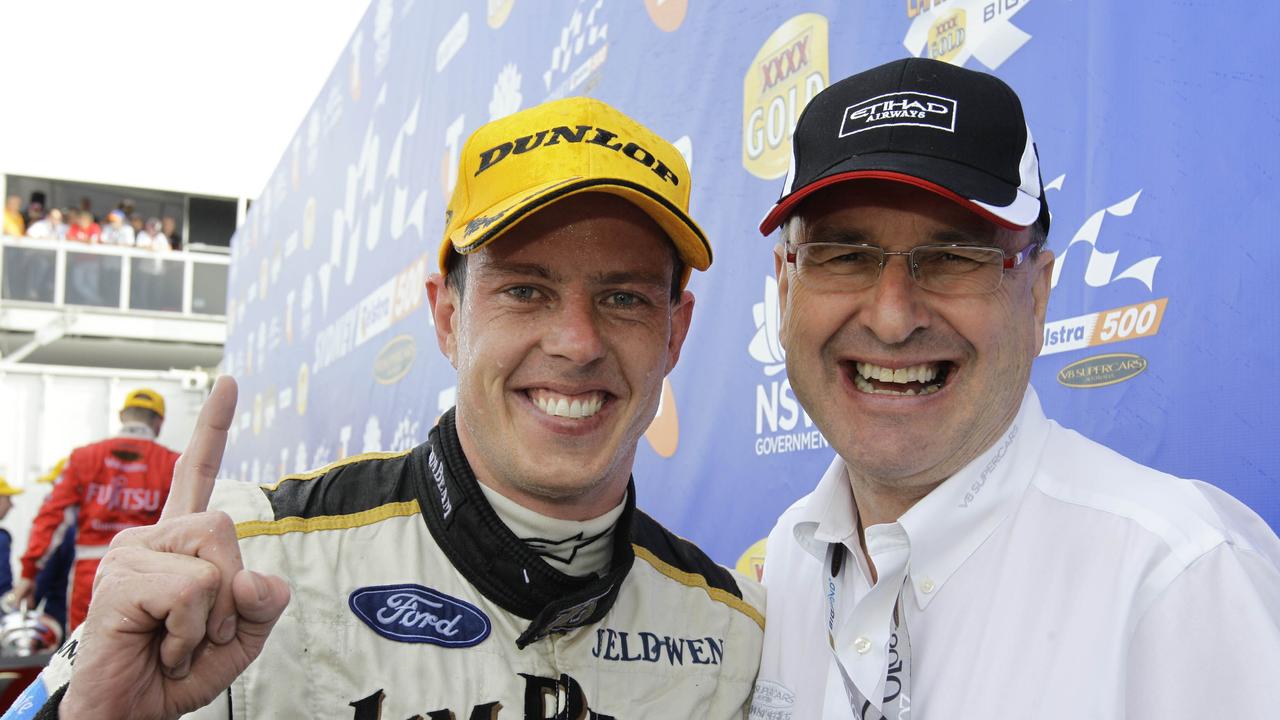 Tony Cochrane made V8 Supercars 'bigger than Ben Hur'.
He transformed the sport from TV production, to innovative new locations, to event management and new on and off track strategies.
He even took a street race to Adelaide after a discussion with then SA Premier John Olsen, who is now the Crows chairman.
In a meeting in the Premier's office, Olsen asked him what would happen if the street race was a dud. Cochrane joked: 'I don't know what you'll do, but I'll be in South America.'
The race and V8 Supercars became "Bigger than Ben Hur."
'MURDERED FROM THE OUTSET'
He is scathing in his assessment of how the AFL set up its 'multimillion baby', Gold Coast.
"They were murdered from the outset," Cochrane said. "The AFL did a great job in giving a licence to the Gold Coast and then failed them in so many areas.
"They had a first-time coach, a first-time president, a first-time CEO, a first-time head of fitness and a first-time you name it, they had it.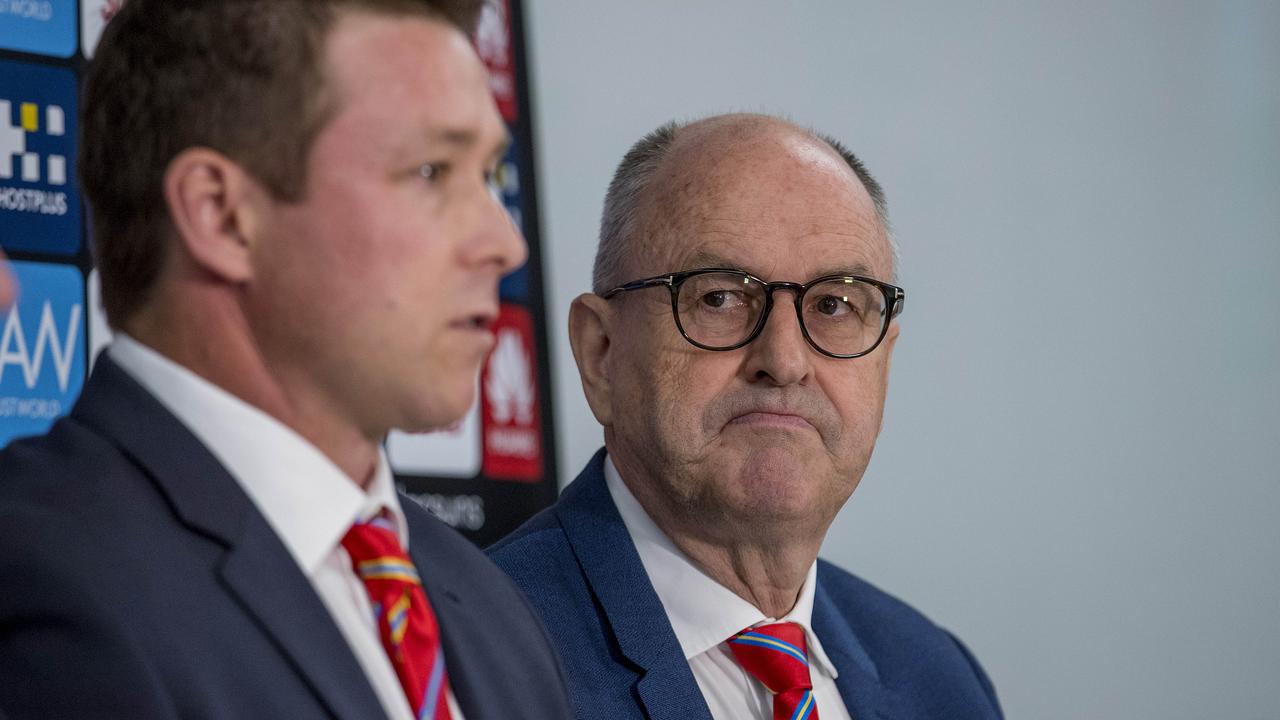 Tony Cochrane at the announcement of Stuart Dew as Suns coach. Picture: Jerad Williams
"The AFL woke up to that 12 months later. They made sure that people like Kevin Sheedy and Mark Williams and other experienced people were there (at Greater Western Sydney)."
Cochrane conceded the Suns made their own mistakes, questioning recruitment strategies.
The Suns made eight off-contract signings from other AFL clubs in their first season – Gary Ablett Jr, Nathan Bock, Jared Brennan, Campbell Brown, Josh Fraser, Jarrod Harbrow, Nathan Krakouer and Michael Rischitelli – as well as a host of talent via the draft.
"There were a lot of very good people at the Gold Coast Suns who tried very, very hard to get us on the right journey."
"But in hindsight, did we choose wisely with some of the senior players we brought to the club? No, we did not. Some of them had real issues in the way they went about things."
CULTURE CLUB
His friend John Witheriff was first president of the Suns and it wasn't long before AFL chief executive Andrew Demetriou approached Cochrane about joining the board.
He held out for a season, while closing off his commitment to the V8s, and was shocked by what he found when he joined.
The facilities were dreadful.
"I said to John, 'the oval is great, but the team and the admin are in portables'," he said.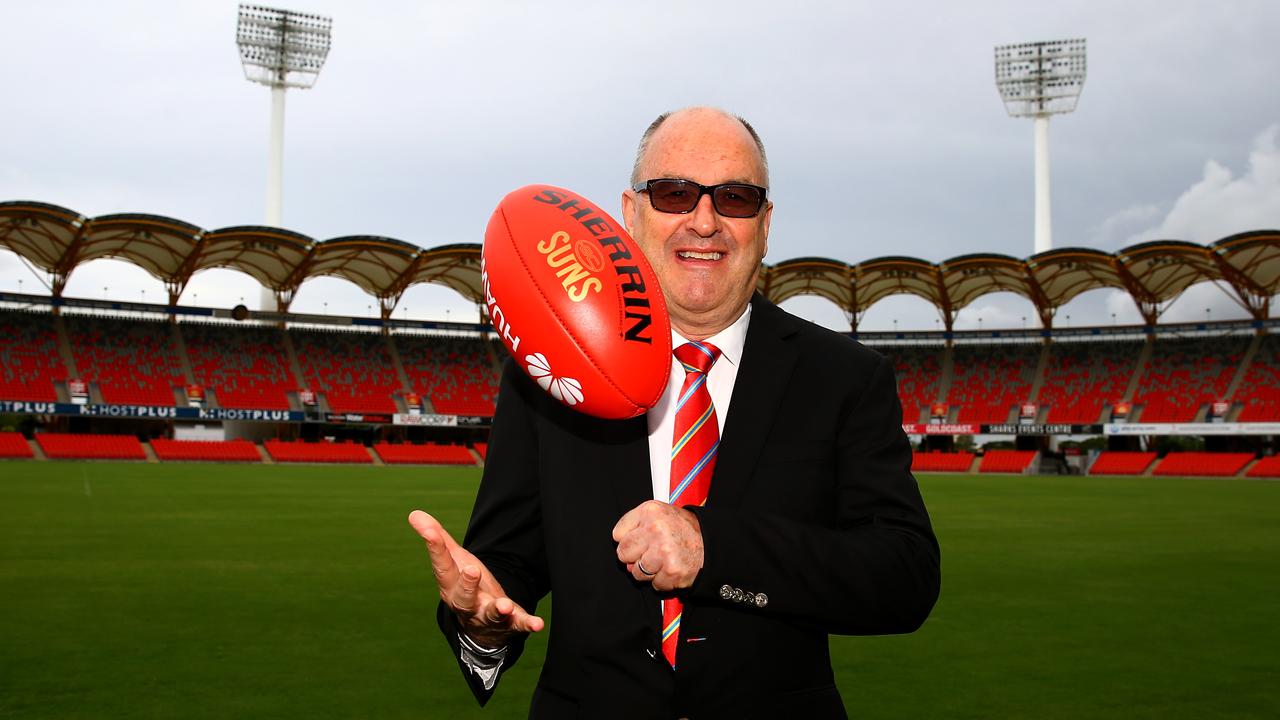 Tony Cochrane was shocked by the facilities at the Suns when he first joined the club board Picture: David Clark
"The gym was in a tin shed on the Gold Coast … we didn't have to worry about people putting on weight.
"He (Witheriff) said: 'We are going to build a new facility'. I said: 'Great, can I help?'"
Cochrane became a committee of one who sourced $15 million from the federal government, $5 million from the AFL and $2 million from Gold Coast City Council.
Changing the poor culture was something money couldn't fix.
"We had to change, "Cochrane said. "Unfortunately, you just can't move one person to one side and repaint the furniture.
"You've got to make some pretty tough decisions."
Cochrane's view of culture had been shaped by his experiences as a young kid growing up in Adelaide watching the Sturt Football Club.
"Sturt was my whole life back then."
"We not only had a great side, but we had great personalities, great characters and a terrific culture. If I've learnt anything in life, culture is so important for any club."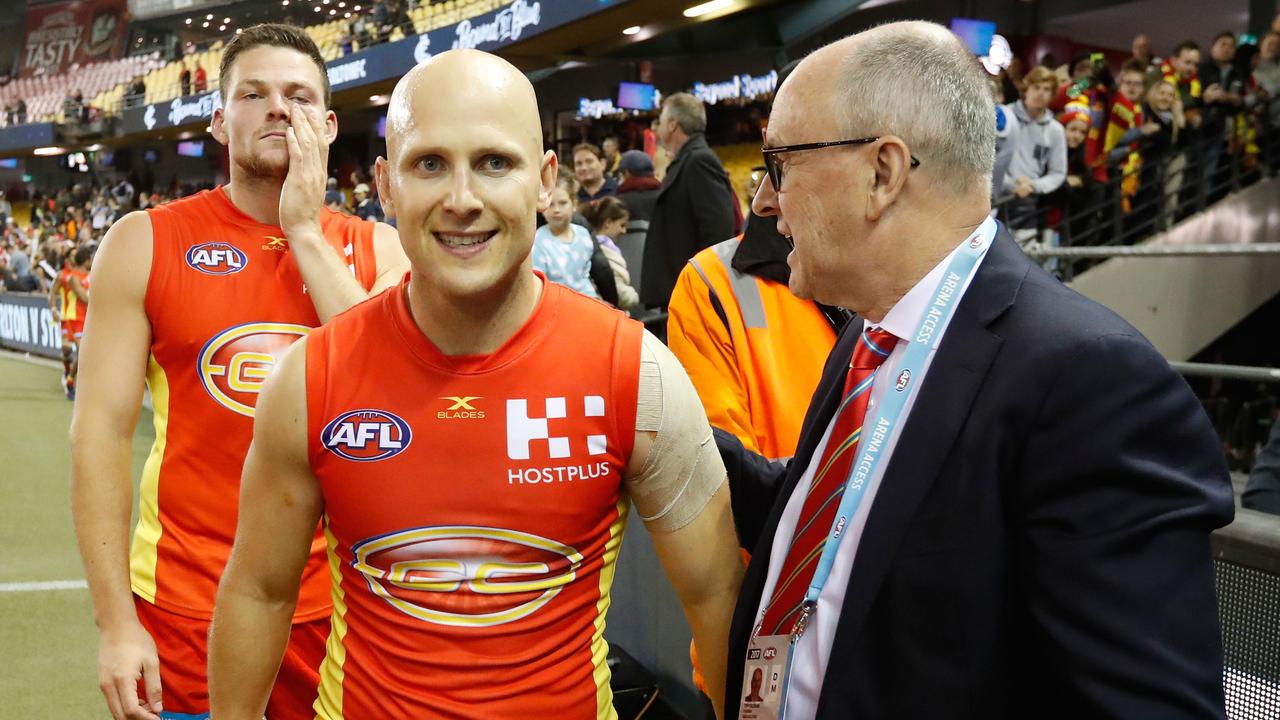 When Tony Cochrane became Gold Coast president he had to make tough decisions to change the culture of the club. Getty Images
WRONG GUYS
Cochrane had been on the board less than six months when the Suns sacked inaugural coach Guy McKenna.
"I don't back away from that decision," he said. "He'd had five years."
"I've never met a coach who doesn't say 'if I had another year, we'll go premiers'. But I really felt, as did most of the board members, that in five years, we hadn't got the results.
"A lot of it wasn't Guy's fault. But I was not at all convinced he was the guy to take us forward. And without naming names, we also thought we could get someone else.
"The truth was we did think we had a chance of landing a big fish (as coach) and we didn't, so we had to go into the open market. I was part of the subcommittee that made the decision to go for 'Rocket' (Rodney Eade).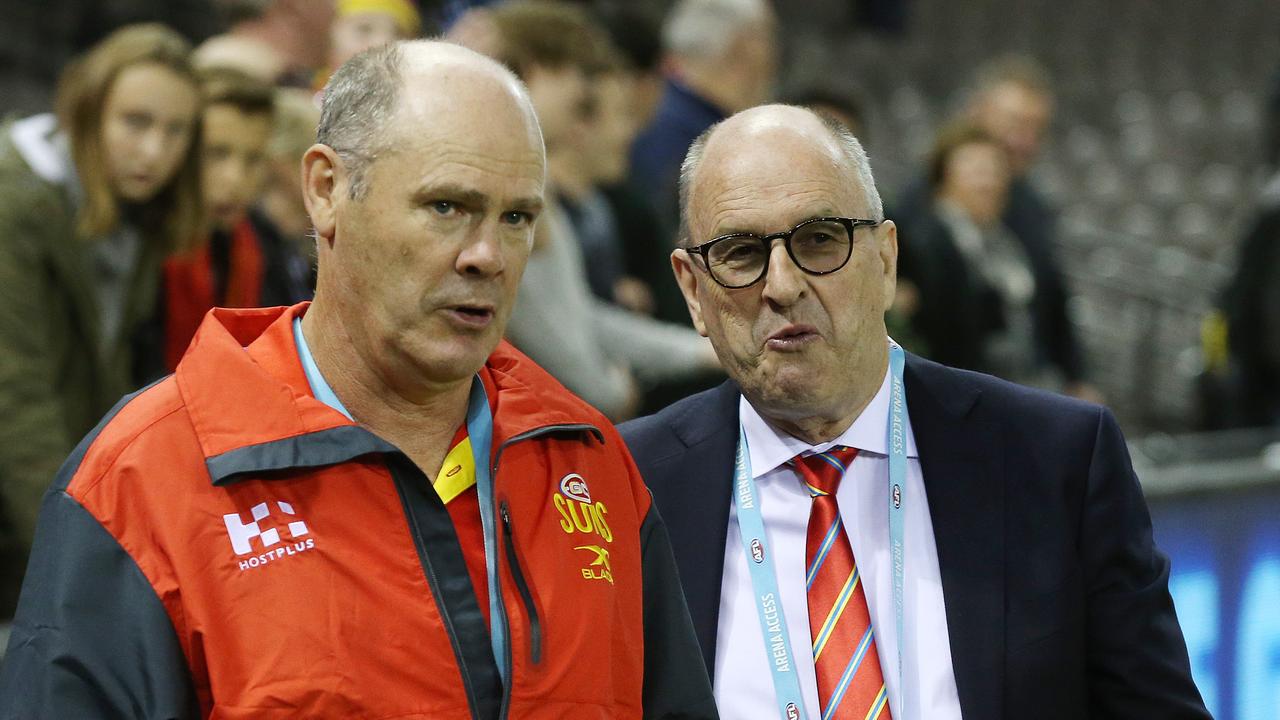 Rodney Eade's three seasons at the helm proved a frustrating period for Cochrane Picture: Michael Klein
Eade's three seasons at the helm proved a frustrating period for Cochrane, who took over as president for the start of the 2016 season.
"I'd come from situations where I was really the boss and I wasn't afraid of making wholesale changes … you know, moving people on and getting replacements in," he said.
"I had to learn to temper my kind of push-or-be-pushed (mentally) because I'm a kind of break-down-walls guy normally.
"We weren't making progress. I think even Rodney would admit today, if he was going to be honest, that he made a fatal mistake of not moving up (to the Gold Coast) permanently."
Eade was sacked close to the end of 2017, but not before Cochrane says he was able to secure the best recruit in the club's history – chief executive Mark Evans.
"I could see we needed a really strong leader … with really, really strong AFL roots," he added.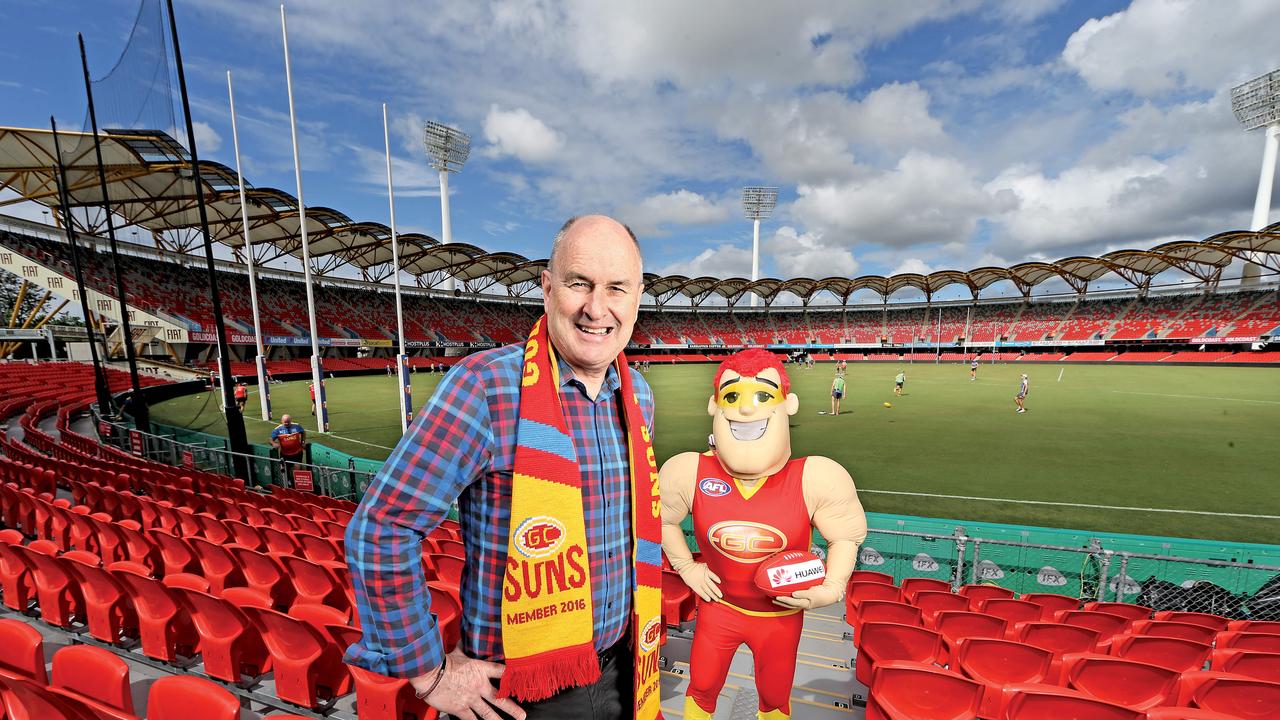 Tony Cochrane believes the Gold Coast Suns were 'murdered' in how the club was set up by the AFL. Picture: Luke Marsden.
"People ask me 'who do you think has been the best acquisition to the Gold Coast?' They are talking about the playing list, of course. But my answer is Mark Evans."
"We got a two for one deal because we got Mark and Lynne (his wife). As a husband and wife team they have been extraordinary."
He says the hard work put into the Suns is starting to bear fruit, which is "a reflection of the quality of the guys" (at the club).
He doesn't want to individualise, but notes "Jarrod Witts has made a massive difference to the club".
He says David Swallow is "the heart and soul of the joint", sticking around when others didn't. He also acknowledges Jarrod Harbrow's contribution from the start until his retirement at the end of last season, saying he brought "so much to our club … we've got such a great indigenous culture now."
Cochrane is just as buoyant about the next generation of stars including great mates Matt Rowell and Noah Anderson, and injured young gun forward Ben King.
He said: "Once you're starting to get more and more success, instead of losing players, the (rival) players coming off contract will go to their managers and say 'Can you get me with that group up at the Suns, because they are going places?'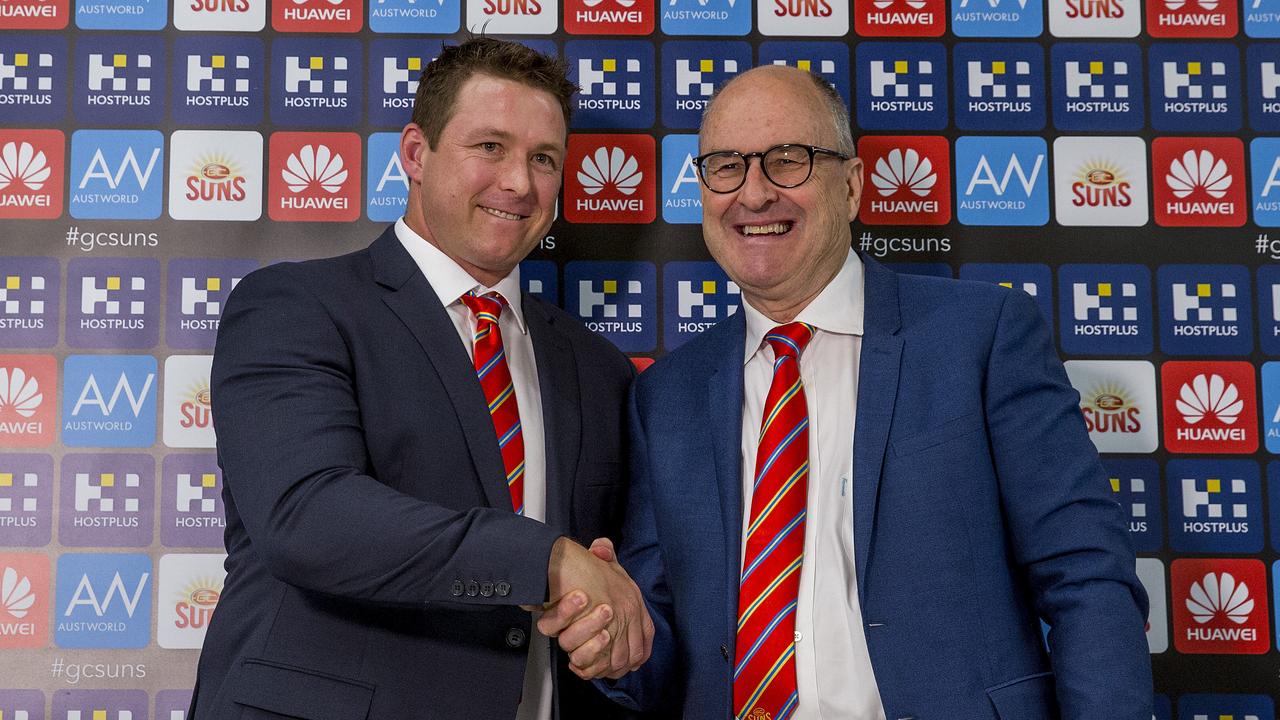 With Stuart Dew as coach, Tony Cochrane believes the Suns are going places. Picture: Jerad Williams
GRAND FINALS, TV RIGHTS AND CROWDS
Cochrane cannot fathom why the AFL chose to have a day grand final this year, saying the Brisbane (2020) and Perth (2021) experiences made a twilight or night timeslot a no-brainer.
"There is no doubt in my mind that the future is a twilight grand final," he said.
"The truth of the matter is that the AFL stands for Australian Football League. When we don't do a twilight grand final, we secede viewer numbers huge in the northern states.
"We know we can beat the NRL grand final by circa a million a year … Now we are going to go back to an afternoon grand final, we will drop a million versus the NRL.
"That to me is dumb with a capital D."
He is also confident the AFL will get a bumper new TV rights deal, saying live sport content will remain king, insisting AFL is the No. 1 sport in the country.
He's not worried about crowd numbers, saying people are still coming to terms with the impact Covid has made on their lives and other sports would kill for AFL crowds.
Originally published as Sacked: Tony Cochrane on the challenges of trying to fix the once ailing Gold Coast Suns