Cameron Mooney enjoyed a decorated career at Geelong, punctuated by three AFL premierships. But it didn't always looks so promising. He joins the Sacked Podcast to speak about the ebbs and flows of his footy life and the spray that changed the course of his career.
It's a part of footy folklore that Denis Pagan delivered one of the great coaching sprays to young forward Cameron Mooney in the dying minutes of the 1999 grand final.
Pagan was moments away from becoming a dual AFL premiership coach, yet imminent glory didn't stop him admonishing Mooney for giving away a careless free kick.
The 11-game North Melbourne forward started the match on the field before quickly being benched. He had only been back on the field for 30 seconds when his free kick offence late in the final term ensured he finished with NO kicks, NO handballs and NO marks.
But as Mooney revealed in the Sacked podcast, Pagan's comments that day in 1999 – as painful as they were – became a source of inspiration and strength for him in the same Grand Final cauldron eight years later.
Watch every blockbuster AFL match this weekend Live & Ad-Break Free In-Play on Kayo. New to Kayo? Try 14-Days Free Now >
Cameron Mooney as a fresh-faced Roo in 1999.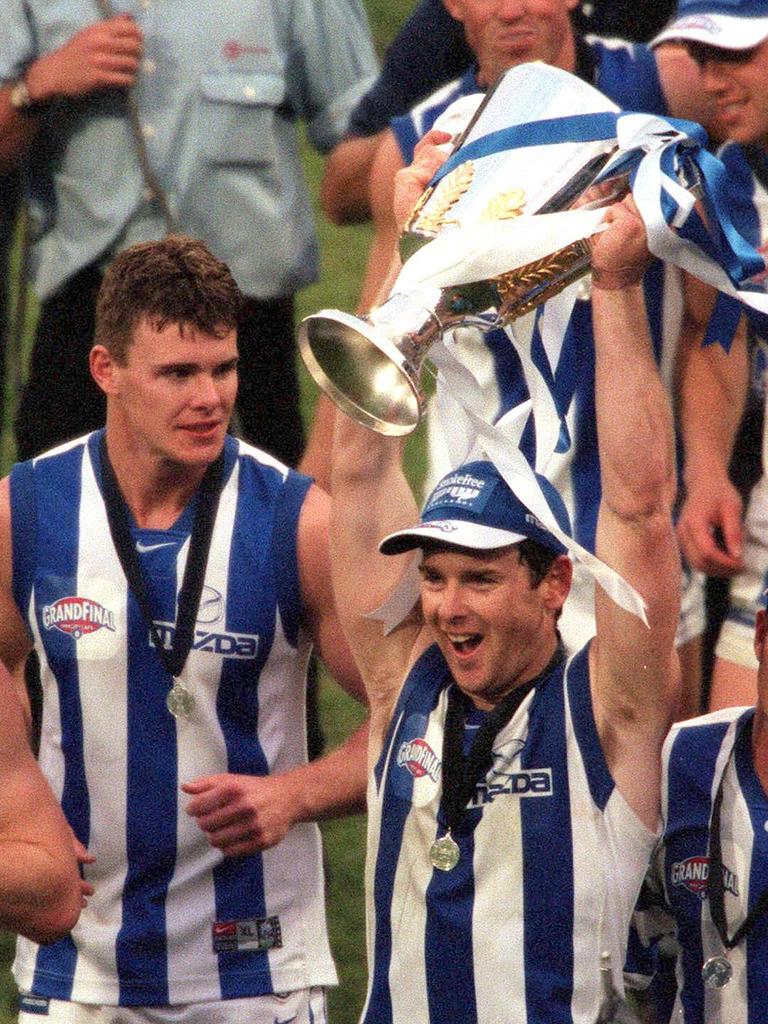 Mooney looks on as Adam Simpson holds the 1999 premiership cup.
Mooney said of that 1999 spray: "As I ran on, (Carlton's) Simon Beaumont ran in front of me and I lifted my elbow and clipped him in the back of the ear."
"The umpire saw it … free kick. The bench sends out a message, 'Moons get back off'. They dragged me straight back off. I've got the phone handed to me.
"Denis has given me the greatest cook known to man. He has called me everything under the sun. I remember throwing the phone down in disgust.
"I was so angry, I was sitting (on the bench) next to 'Horse' (John Longmire) and (he) said: 'What's all this bloody noise?'
"It was Denis, still spraying me through the phone (even) after I had thrown it down."
There was a suggestion the tirade may have even questioned why Mr and Mrs Mooney decided to have baby Cameron all those years ago in Wagga Wagga.
"It was brutal," Mooney said. "I didn't think it was warranted as the game was won."
"After the game … I remember watching him hugging everybody. He wouldn't come over to hug me. We got our medals. I was on the dais with the boys, and I am a 19-year-old boy from Wagga who had never even dreamt of playing an AFL game, let alone a Grand Final.
"As we were walking off, (Pagan) grabbed me on the arm and he goes 'Just learn something from today, son', and he walked off."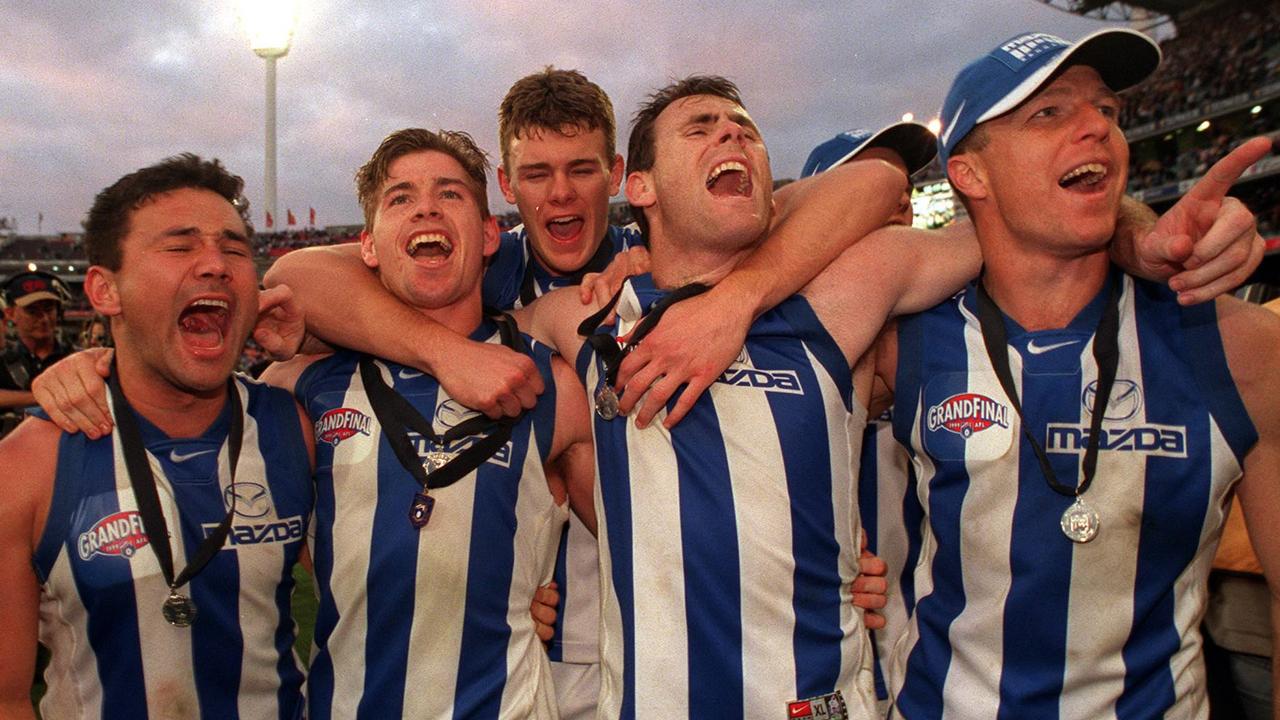 Mooney celebrates his first premiership with Roos teammates.
Fast forward to Mooney's next Grand Final appearance – in a Geelong jumper – in 2007 when the pressure of performing on footy's biggest stage almost made him physically ill.
The Pagan words about never wasting another Grand Final steeled him for the challenge.
"I remember walking onto the ground on the 2007 Grand Final day and I don't know why, but they were the words that rang through my head," he said.
"I said: 'Right, I'm not going to waste another Grand Final."
"In the first contest of the game, I go for a mark and the ball splits my webbing. I've got blood pouring out of my hand.
"Then I remember Paul Chapman kicks that one in long and I end up taking a mark on the line. It's funny because my mate texted me the night before and said 'I've had $100 on you (for the first goal) and you are paying nine bucks'.
"So as the ball was coming in, did I let it go? Sorry Chappy, I had to take this one."
Mooney kicked the first goal of the game, made his mate some cash, finished with five majors and was among Geelong's best players in the club's flag success in 44 years.
And his former coach's stinging 1999 message played an unexpected part.
WHY MOONS' CAREER BEGAN 'WITH MY HEAD UP MY BACKSIDE'
Mooney is a welcome antidote to an endless core of players saying they have no regrets.
Despite three flags and a mountain of memories, the former Geelong and North Melbourne big man says he would love to change a few things about his career.
"I look back and think the early part of my career was horrible," he said.
"I was a young, 19-year-old, immature, unprofessional kid who was lucky enough to fall into a premiership side after Jason McCartney got suspended (in the 1999 preliminary final).
"Then I spent a couple of years at Geelong probably with my head up my backside.
"When you finish your career, you start looking at your achievements and stats, and I think I should have been a better centre half forward a lot earlier than I was."
Asked why it took so long for the penny to drop, he said: "I distracted myself just trying to hold up a bar."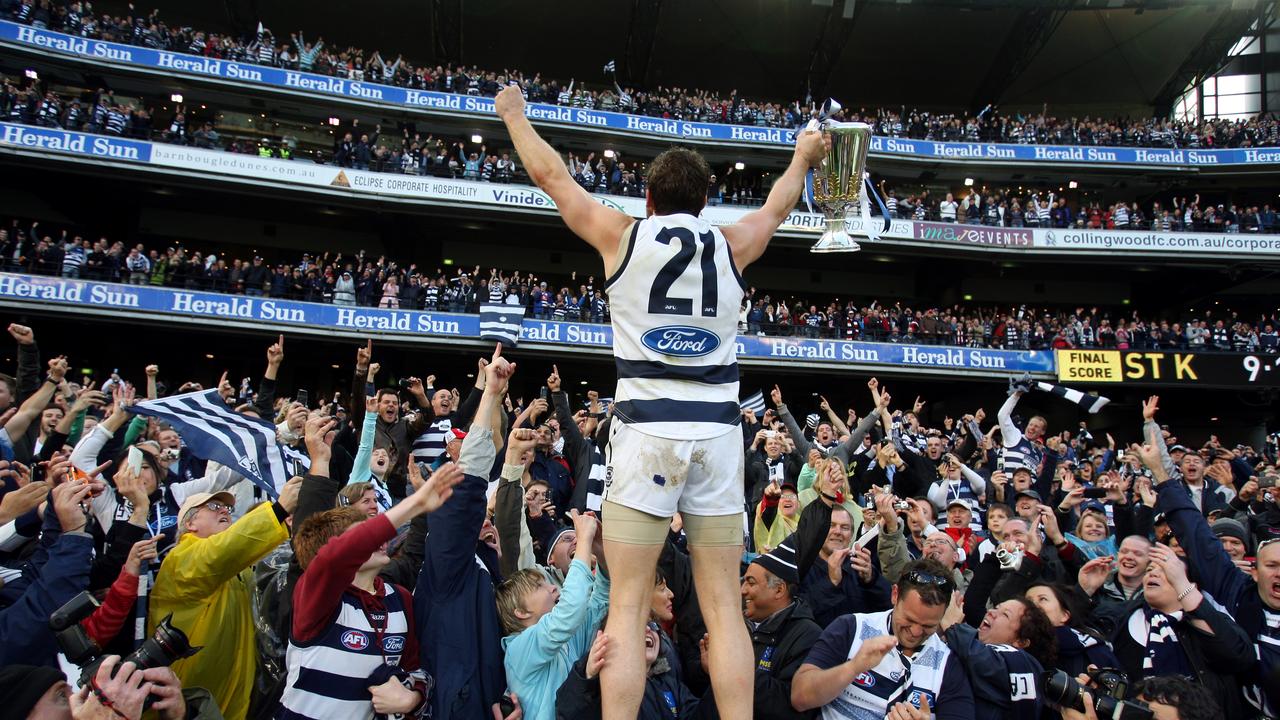 That's more like it: Mooney celebrates with the crowd after the 2009 grand final win over the Saints.
"I was a young boy from Wagga who enjoyed a good time. Then I got to North Melbourne.
"Every club's got a culture, whether it is good or bad and North Melbourne's culture was a p — drinking culture, as you did back in the late '90s. I didn't need much of an arm twist."
Mooney suffered an ACL injury in his first intra club for the Kangaroos in 1997, sidelining him for a year.
"I saw big Corey (McKernan) coming out of the corner of my eye … and I will be honest, I s — myself," he conceded.
"I've ducked my head, I've dropped the mark and Kingy (David King) sprayed me. Two minutes later, the ball is coming into the forward line. I'm running back with the flight. I've jumped off, crashed into the pack and got smashed up and I've popped my knee."
His solace for not playing was keeping a connection with his teammates off the field.
"I was going out most weekends with the boys with my knee brace, trying to get into The Tunnel and all those types of places."
'WAR' WITH HORSE
As North Melbourne searched for the last remaining tall in its 1999 flag pursuit, Pagan pitted an inexperienced Mooney up against a hungry, battle-hardened John Longmire.
"Denis used to pull us out of training halfway through and we used to do one-on-one," Mooney recalled.
"Horse (Longmire) missed the '96 Grand Final, so he was desperate.
"I was this young, stupid kid who didn't understand the magnitude of the situation.
"He (Pagan) would call us out and say 'Right, one-on-one, who wants it?'
"I was 19 and 90 kilos wringing wet; 'Horse' was about 110 kilos and a decade into his career. He knew this was his last shot (winning a flag) because he was about to finish up.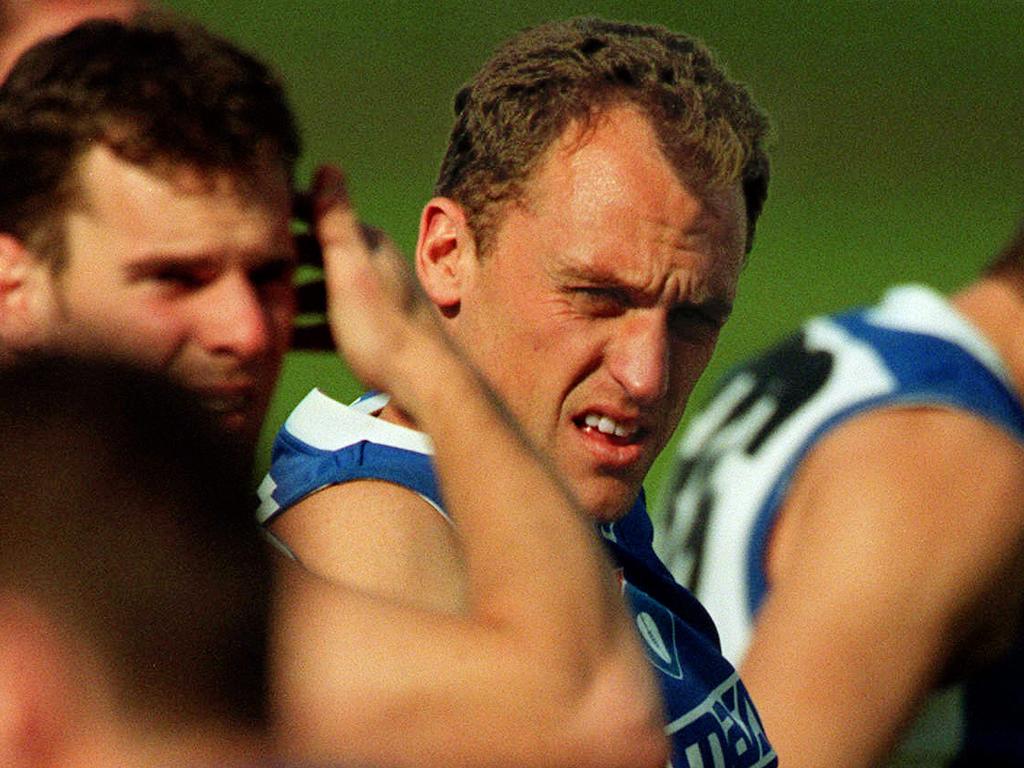 Mooney and Longmire fought a brutal battle for the last grand final spot.
"Denis would be going: 'You don't want it, John, you are getting beaten by a young man' and 'Horse's eyes would be rolling in the back of his head. Then Denis would turn to me and go 'You don't want it young fellow, you're being soft'.
"For a whole month he just tormented us trying to get that final spot."
Mooney played in the qualifying final; Longmire replaced him in the preliminary final.
"I've gone to the (preliminary final) thinking my season was over … then (with) five minutes to go Jason McCartney smacks Clark Keating on the chops and gets (suspended). Everyone in the stands was going 'Oh, no, Jase'. I jumped up in the air and said 'Yes, you beauty'. I didn't want Jase to miss out, but I knew I was the next bloke in."
Mooney and Longmire got to play in the premiership playoff after all.
Mooney considered giving him his medal: "There was always a bit of me thinking 'I should just go over and put my medal around his head and give it to him'. Being him, he wouldn't have taken it."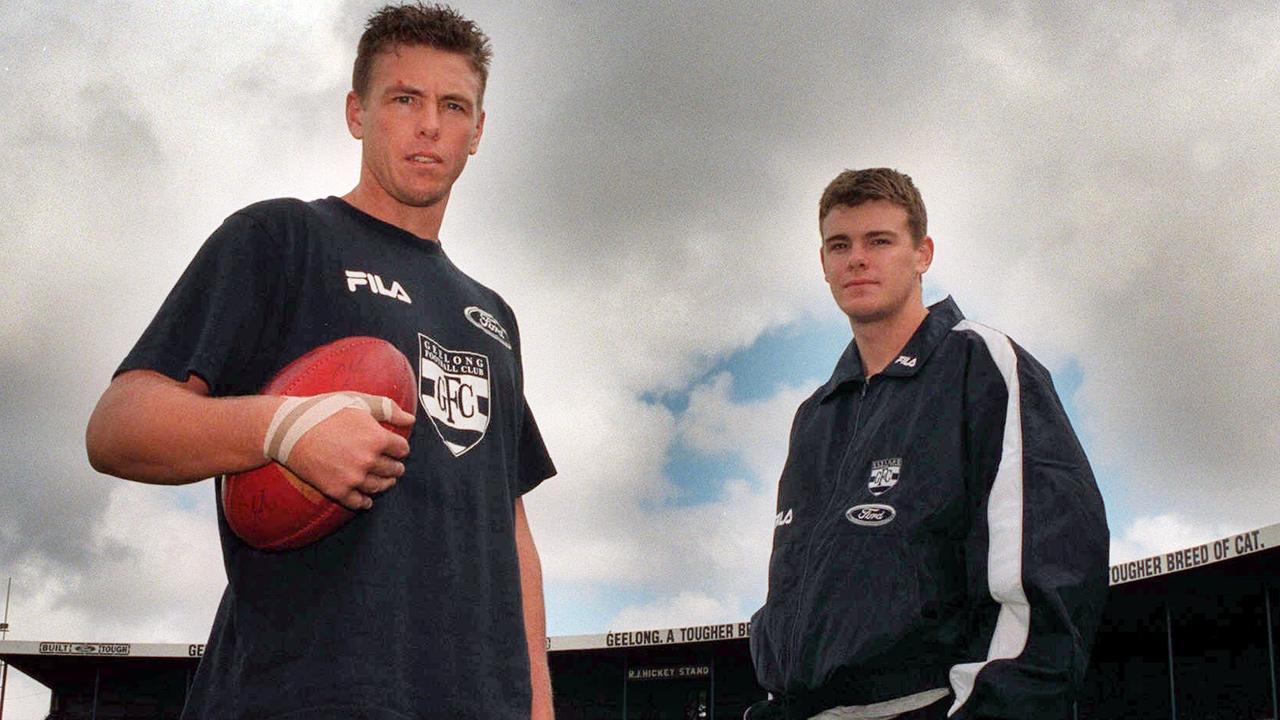 Cam Mooney joined brother Jason at the Cats.
'I DON'T WANT TO LEAVE': ROOS BOOT MOONS
Mooney was partying after his premiership cameo when a phone call from his manager Ron Joseph shook his celebrations.
Cat Leigh Colbert wanted to play for North Melbourne. Mooney had been put forward as a trade option.
"I went and saw Ronny … and I said 'I don't want to leave … I'm a premiership player and all my mates are here'."
He spoke with Mark Thompson, who had been an assistant coach at North Melbourne, but had just been appointed coach of Geelong.
Then he met with Denis Pagan, who said: "We would never ask you to leave North Melbourne because you're a premiership player and you've got your name on the locker, but geez wouldn't it be great to play with your brother (Jason) down the road (at Geelong)'."
Mooney knew the Kangaroos wanted to trade him. "Denis goes: "With that (Geelong) contract, we can't offer you that contract, but it's your choice."
"As he (Pagan) walked out, I looked at Ron and said: "Looks like we are off to Geelong."
NEVER FAR FROM THE TRIBUNAL
Mooney was a frequent visitor to the AFL tribunal with 16 appearances for 18 matches suspended.
He said the discipline at the Cats wasn't strong enough early on for someone to confront him.
His biggest regret of those bans was his 2001 three-week suspension in an incident with North Melbourne's Jess Sinclair.
"I made a really bad decision and swung an arm and hit Jess right in the head and got three weeks for it," he said.
"Bomber (Thompson) … left me on the bench for the rest of the game. He didn't even let me go into the huddles at quarter-time and three -quarter-time."
Having played senior football with Turvey Park as a 15-year-old, Mooney was happy to "throw my weight around". But a tipping point was coming.
Mooney, in 2001, nearly took Jess Sinclair's head off.
THE 2006 NIGHTMARE
A "three-day bender" and a bizarre father-son dinner at a German restaurant summed up Geelong's disastrous 2006 season – and proved a catalyst for change.
"In 2006 we won the (pre-season) NAB Cup and I think we went on a three-day bender," Mooney recounted. "We carried on like we had won the whole bloody thing.
"We carried on like we were kings.
"Then we started the season and won our first two games combined by 20 goals."
The Cats then staged a fun father-son theme night at the Rheingold Restaurant in Geelong.
"It was one of the best nights ever," he said. "The sons dressed up as the dads and the dads dressed up as the sons. It was a belter of a night … and the year went to s--- after it."
The Cats missed the finals, discipline waned, and the coach was distracted in a season where everything went wrong.
It almost cost Thompson his job before a searching review and brutal honesty sessions turned the club's fortunes around.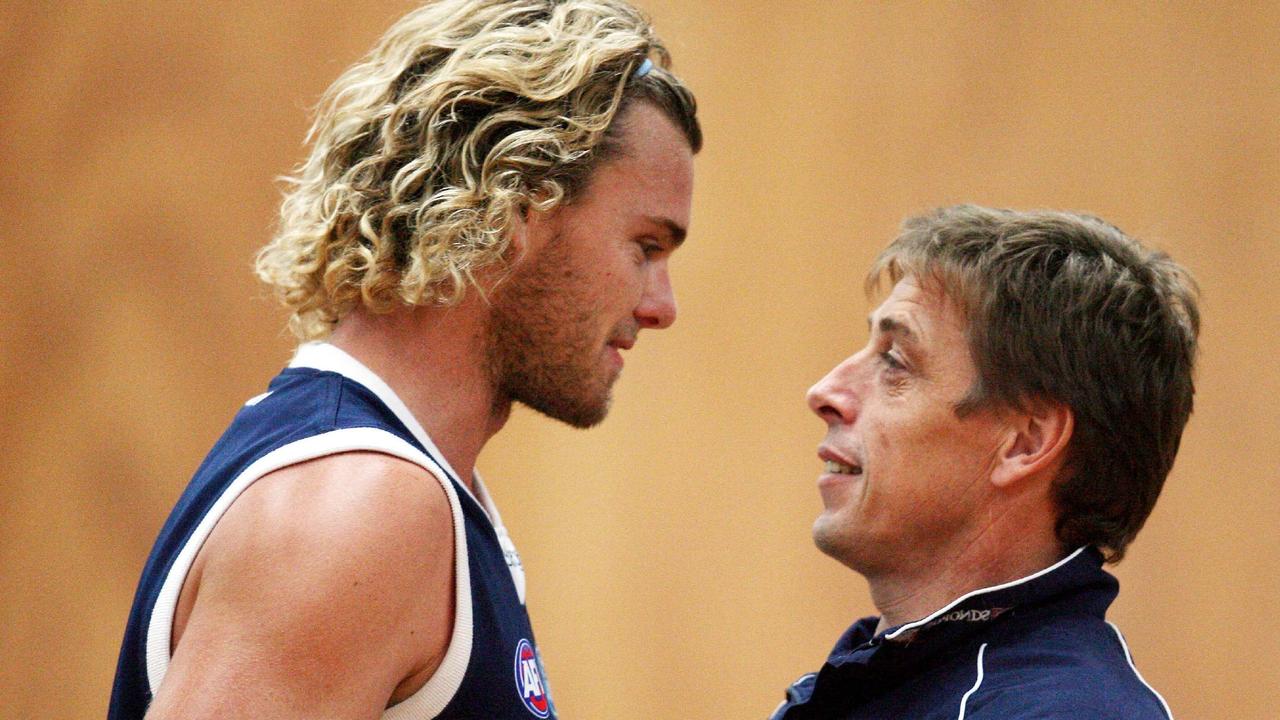 Mooney and then-Geelong coach Mark Thompson.
"We didn't know how to train professionally on a daily basis. We didn't know how to hold each other accountable on a daily basis. When you are like that, you fall apart quickly," Mooney said.
"We didn't have a platform for people to vent their frustrations on each other and if someone did, then we probably cracked the shits … and (we) would probably start a fight."
Mooney's teammates were tough on him in the reviews, particularly on his suspensions. But they stressed they saw him as a leader.
It led to him becoming deputy vice-captain to Tom Harley.
Mooney and Matthew Scarlett bought into change at the football club, which coincided with their partners becoming pregnant.
Harley would joke later that the Cats' dynasty was partly created by two pregnancies involving two of the big personalities within the group – Scarlett and Mooney.
Mooney added: "Scarlo wanted success. When he bought in, everyone else bought in."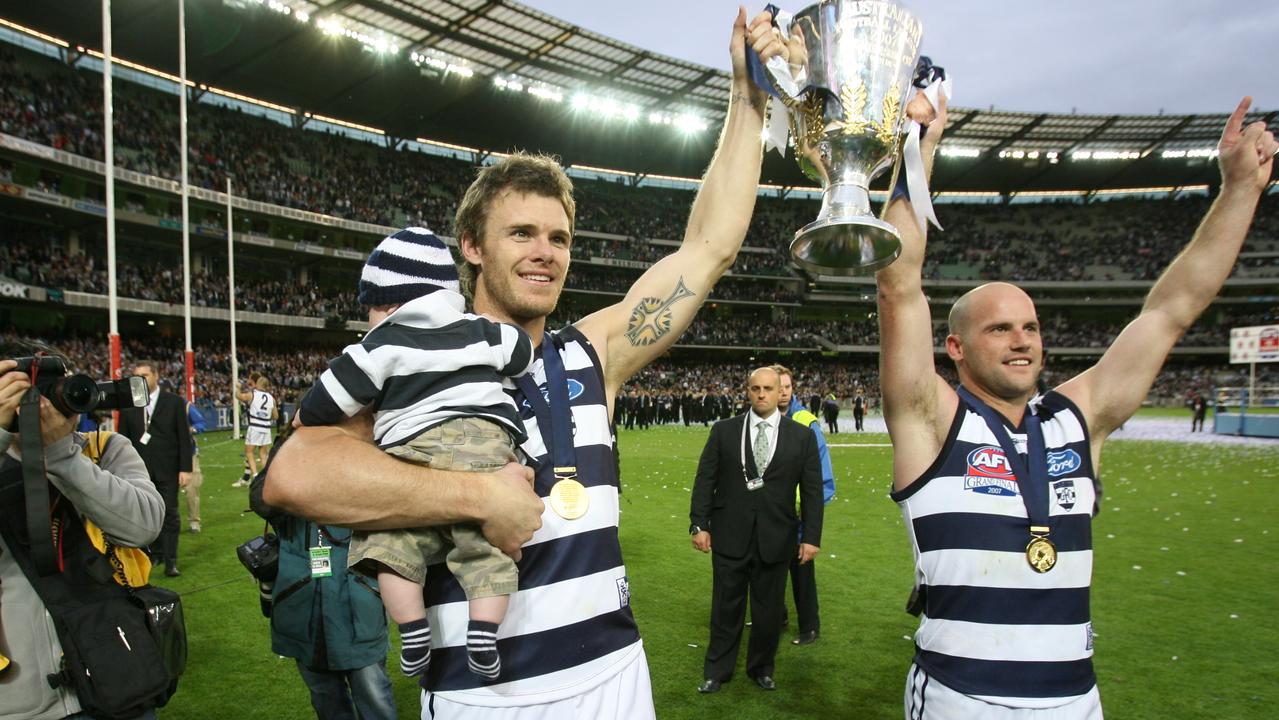 Mooney, in 2007, enjoys the fruits of his labour with son Jagger and teammate Paul Chapman.
FLAG-MOONEY
Geelong would play in four of the next five Grand Finals with Mooney playing in three for two more flags.
He won two premiership medals in 2007 and 2009, adding to his 1999 success at North Melbourne to cap a wonderful career.
While he was heartbroken by two bad misses at goal in 2008 against Hawthorn, and was overlooked due to his failing body in 2011, he looks back on those Geelong years with pride.
"I came to realise the club is the lifeblood of this town," he said. "Off the back of the success the club has had, I think the town has grown.
"A week (after the 2007 flag) I ended up getting a tattoo with Stokesy (Mathew Stokes) and there were a couple of 65-year-old grandmothers sitting in the chair next to me getting their Grand Final tattoos."
After the Cats won the 2007 flag by a record margin he thought "Line up the next four (in a row)."
"But for the club to play in four Grand Finals in five seasons is incredible.
"We lost the unlosable one (in 2008) … we weren't too far away from putting ourselves as the greatest team of all-time, but I still put us up there as one of the greatest of all-time.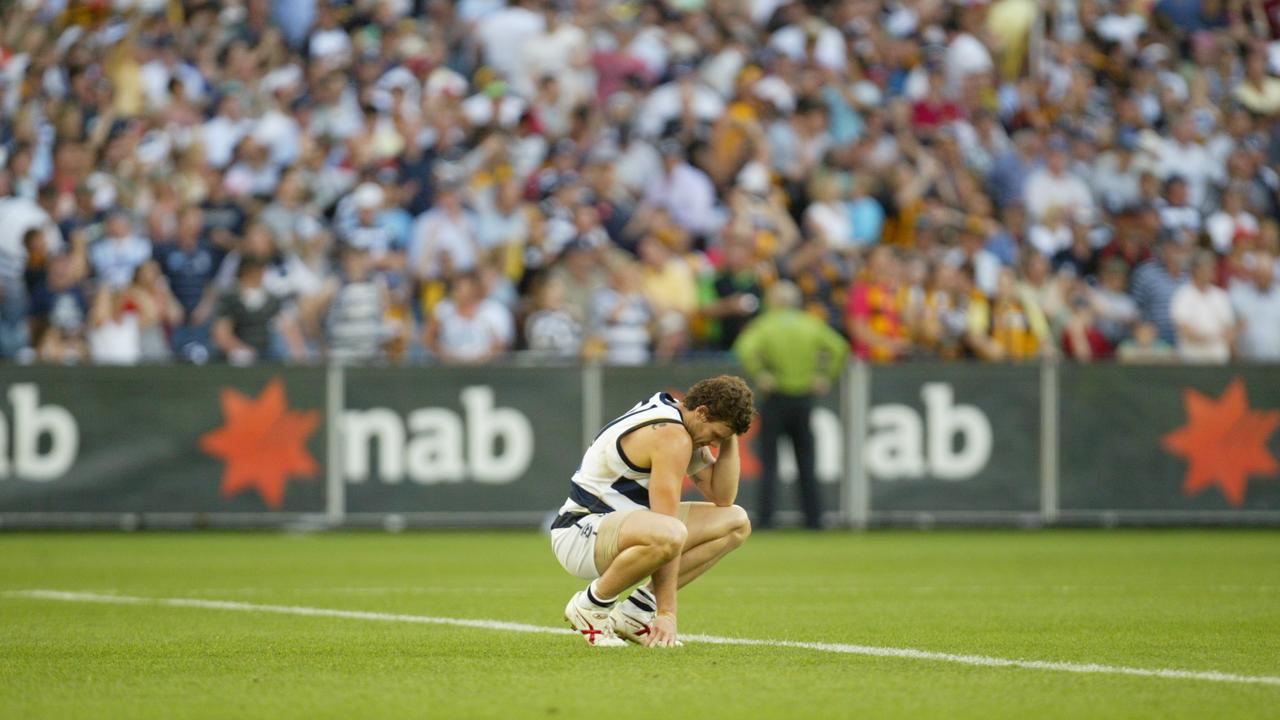 Mooney says the Cats, in 2008, lost the unlosable.
REAL ESTATE, THE RING
Mooney still pinches himself that more than a decade after his footy retirement that he still makes a living out of the game as part of Fox Footy's on-air talent.
"I was never a great player, I was just lucky enough to be in this amazing side," he said.
Mooney has recently gone into the real estate business with 1999 premiership teammate Anthony Stevens.
He has joined Stevens as part of the Ray White Rural Victorian team, selling properties in Geelong and Bellarine Peninsula.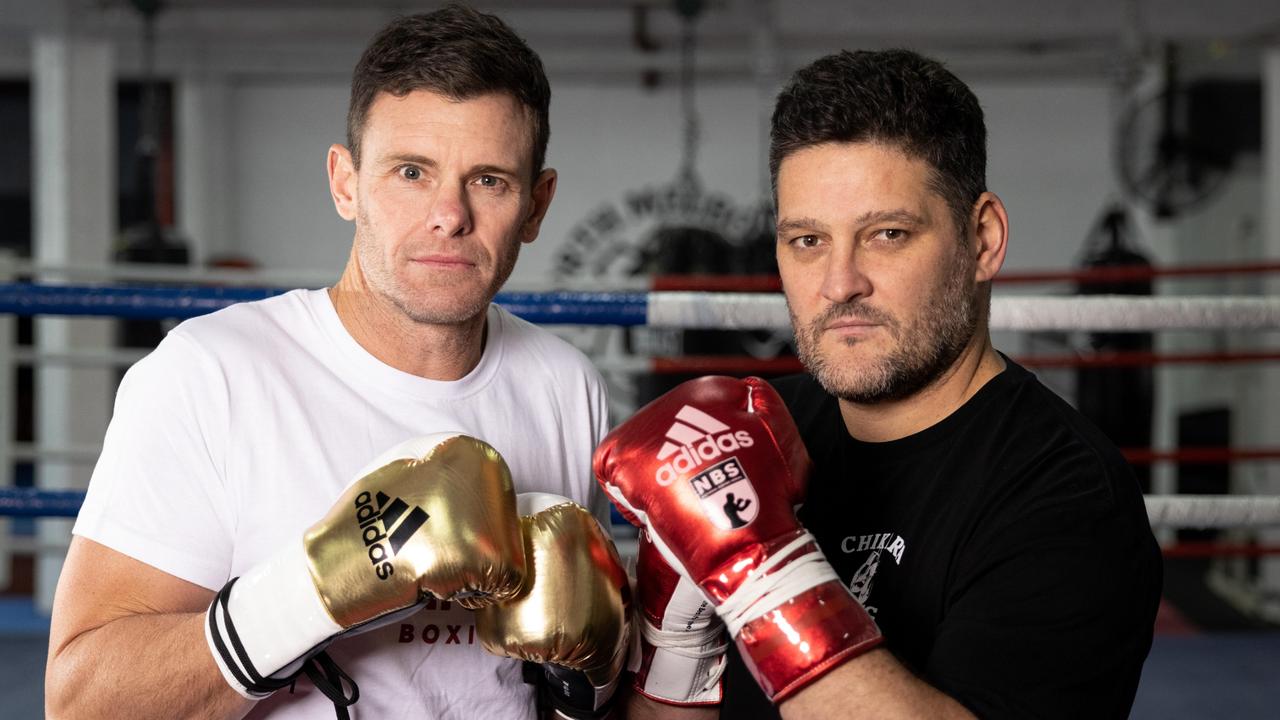 Moons has agreed to fight former Blue and radio personality Brendan Fevola, in June. Picture: Fiona Hamilton
Mooney's dad has run John Mooney Real Estate for more than three decades and Pagan also moved into his own real estate business with his son Ryan after his coaching career.
"Stevo is one of the great men," Mooney said.
"Now he's down here at Geelong. I am lucky enough to work alongside him at Ray White and I'm having a ball doing it."
Mooney will also be stepping into the ring in August to take on Brendan Fevola in the all-star boxing night dubbed Footy Fight Night.
"We have eight weeks of solid training ahead … I don't want to embarrass myself. The way (Fevola) is hitting the mitts, if he lands one of those I'm getting carried out on a stretcher."