Sacked with Jeff Kennett: How Hawthorn's bungled succession plan unfolded
Jeff Kennett might not want to settle scores for Hawthorn's coaching change, but he is certainly aware of those who changed their tune after savage criticism.
Hawthorn president Jeff Kennett says the club would have allowed Alastair Clarkson to depart having paid him the $900,000 salary owed to him if he had made clear the Sam Mitchell succession plan was unworkable.
Kennett told the Herald Sun's Sacked podcast that despite the bruising nature of Clarkson's departure last year, the results of Mitchell's first season meant it was worth the pain.
Kennett said he remained "terribly disappointed" about the messiness of the departure given Clarkson's status in the game and his service as a four-time premiership coach at Hawthorn.
Kennett diplomatically refused to discuss where he believed the leaks that brought down the succession plan originated from despite wide speculation Clarkson himself blew up the arrangement.
Hawthorn was forced to deny claims Mitchell demanded "clear air" in a mediation meeting but it became obvious the club's only option was to pay out Clarkson instead of him coaching in 2022 with Mitchell as his understudy.
The club has paid Clarkson's salary over two seasons in a deal that allows them to minimise their exposure under the AFL's football department soft cap.
But Kennett said he did not foresee the issues that ultimately tore apart a succession plan he believed in.
"Once he (Clarkson) decided that he was better for the club that he leave we entered into negotiations with he and his manager. We would never not going to pay him," Kennett told Sacked.
Watch every blockbuster AFL match this weekend Live & Ad-Break Free In-Play on Kayo. New to Kayo? Try 14-Days Free Now >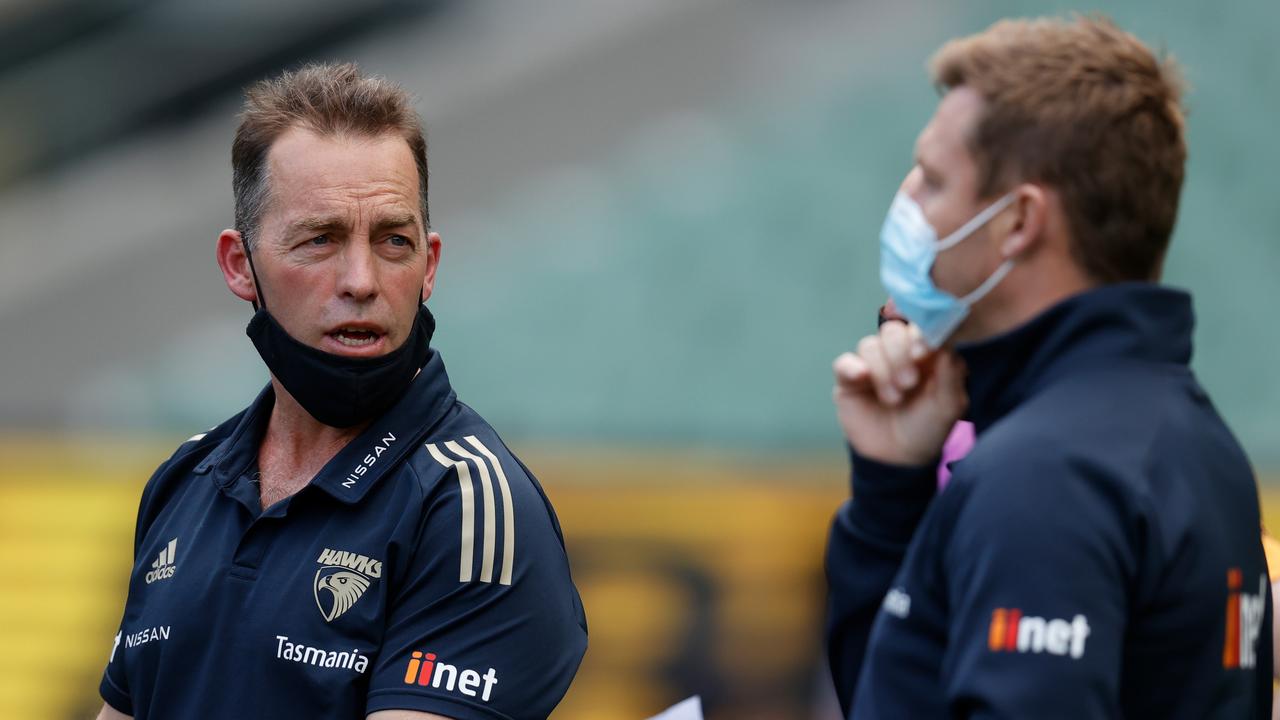 Alastair Clarkson left the club in a messy exit last year. Picture: Michael Willson/AFL Photos via Getty Images
"The man had given us four premierships, it was never a question. Never ever a question we wouldn't pay out his contract.
"If he'd just come to us and said, 'Look, I'm tired. I need to change. I've got to go', we'd say, 'OK Clarko, we will pay you out until the end of 2022'. To be quite honest, it's a bit like a bonus. It's a bit like long service leave for a person who had delivered for the club the thing that the membership wants more than anything else (in premierships). So there was never any doubt that we're gonna pay him."
Kennett told Sacked he entered into negotiations over the succession plan in good faith, confident Clarkson would be part of the arrangement given his huge role in bringing Eagles assistant coach Mitchell back to the Hawks.
Asked why he couldn't foresee the arrangement blowing up, he replied: "No, it didn't blow up. Well, sorry. Yes, it did blow up in one sense, but it wasn't our fault.
"Clarko asked. We weren't going to discuss his contract until the end of the year. And that was working well. And all of a sudden he came to us and he said, 'We better talk about my contract'. So out of respect for him, we talked about the contract. And the board decided to take into account all things going on.
"He was due to coach another year, which would have been this year, and had we reappointed him, then I think he would have completed 18 years, it would have been a three or four years. So that would have been 21 or 22 years of the coach.
Luke Hodge and Clarkson with the 2015 premiership cup. Picture: Colleen Petch
"And given other things that were happening, that was not a correct managerial decision. And so therefore, we have to inform him as we did.
"But we thought it through and we thought, well, he's on contract for '22. We want to keep him, we'd like Sam to take over, Clarko having brought him back from Western Australia to be his assistant coach.
"And as Clarko has said to us at the time, not necessarily to be coach of Hawthorn, but to test Sam and to give him the experience that he might enter a football club as a coach.
"So we thought all right – Clarko, continue, keep working together, Sam continue. Then Clarko, having accepted that, changed his mind and said, 'No, I think it's better for the club ...'
"So we then had to respond to that. And again, out of respect for him and what he'd achieved at the club we wanted to do it amicably, and respectfully. But then there was discussion through the media. And you know where it came from."
Asked where those damaging leaks came from that forced the Hawks' hand, Kennett replied: "Not answering. I was very disappointed because everything we had done up to then apart from not saying to Clarko we will reappoint you to 2025, everything we had done was to meet his request, his demands. And it was hard."
Told the 2022 season with both as coaches would have been a cluster***, Kennett laughed.
"It may have been, but it may not have been ... But it may have been …" (laughing).
"In the moment of time there are often waves created, there are difficulties. But I always judge things as the outcomes. Was the outcome worth the hiccup? Absolutely. Absolutely."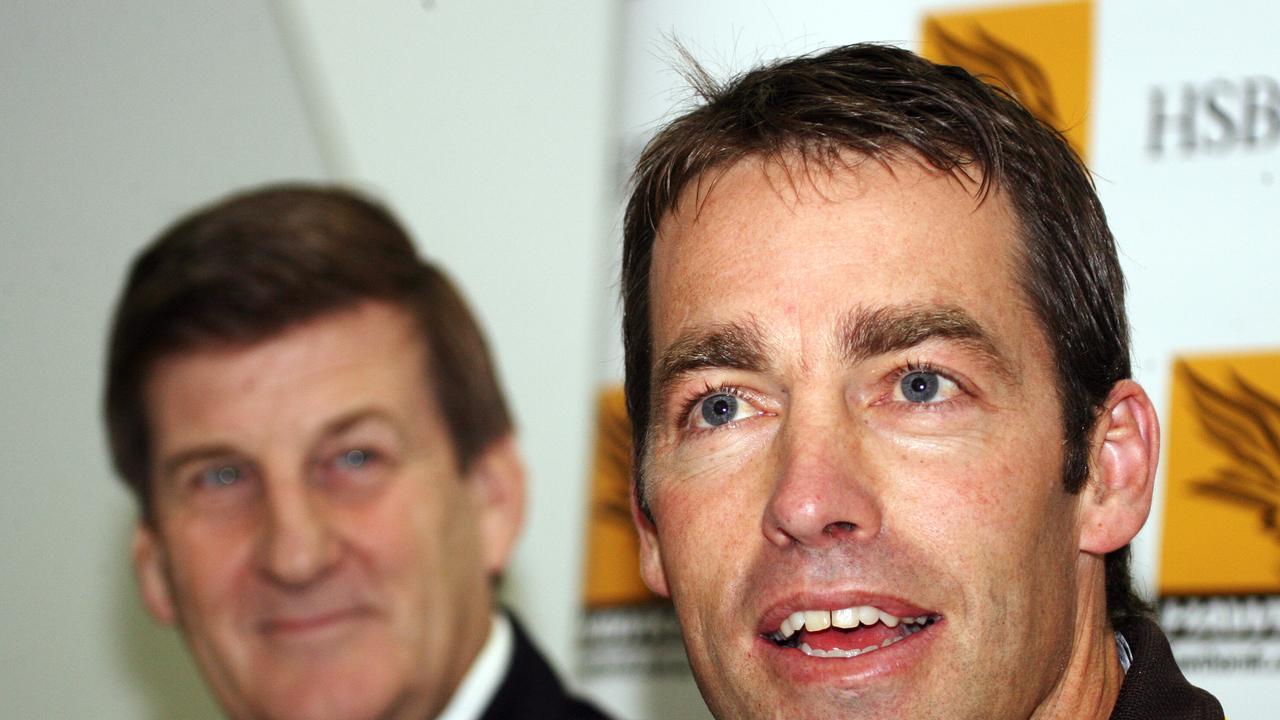 Clarkson with Jeff Kennett in 2006.
FRUITS OF HAWTHORN'S LABOURS
KENNETT isn't interested in settling scores after he was the subject of savage criticism in the wake of the club's decision to move on Clarkson.
He says he and the board simply had to make a decision for the long-term future of the club.
"Once Clarko changed his mind it became very difficult and I appreciate this," Kennett said. "Once we'd made a decision not to extend this contract, a lot of the membership were going to be very upset by that decision. Because he had won us four flags. He was the pre-eminent coach of his time.
"And I think to a degree I had to wear most of that. It was aimed very much at me. Because everyone thought Clarko and Kennett don't get on, and Kennett has finally got his way and Clarko had a couple of cracks to that degree. But it was disappointing. And I regret it.
"If I thought it was going to go that way I think we would have probably handled it differently, or we probably would have said to Clarko, all right that's the end."
A low-key pre-season game against Richmond gave Kennett a small reminder about why the club had made such a significant decision on its coaching future.
"The more we saw of him (Mitchell), the more we were convinced that he certainly has the know-how, he certainly has the value system that the club would want," Kennett said.
"He is like Clarko in many ways, and he has very different views. And when he presented to us in terms of how he was going to play the game, it was very different from Clarko's at the time.
"The first time I saw Sam coach the senior team was when we went to Devonport, with Richmond to play that game in support of the (bouncing) castle that had tragedy down there. And I went into the rooms afterwards and he talked to the players.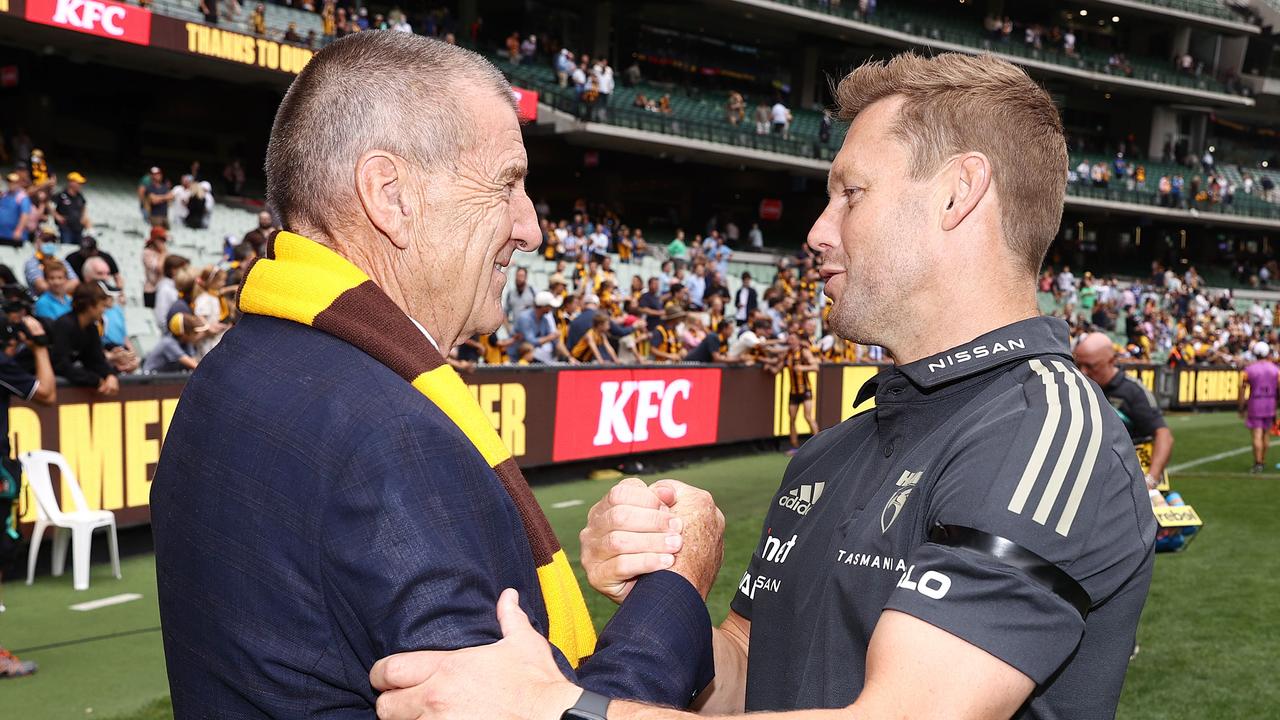 Kennett and Sam Mitchell after Hawthorn's round 1 win this year. Picture: Michael Klein
"And I've been to two or three other rooms since then, he talks to the players. He asks them their opinion. He doesn't overly swear.
"It's a very different style. Now whether it stays that way or not? But it is different. And you need to have change."
Kennett might not want to settle scores but you can bet Clarkson is aware of those who dumped the proverbial pile on him and have swiftly changed their tune.
"What I would invite you to do is go back and have a look at some of those of your colleagues who at the time we made the change, who were so critical on television shows," Kennett said.
"And they were vitriolic, and they weren't just vitriolic about the change. It was very personal against me. And yet, now more recently, they are saying that we've clearly made the right decision."

THE SLIDING DOORS MOMENT
KENNETT and Clarkson were good for each other, sparring and poking and prodding and getting the best result for the club despite that natural friction.
It led to that remarkable 2008 premiership, with Kennett in between presidential stints during the three-peat from 2013-15 but still owning some of the legacy of those achievements.
He says their relationship was always professional – Kennett wasn't a liniment sniffer, didn't crowd Clarkson's style in the coaches' box, saw it as his governance role to help but not become too matey.
"There are many shades to Clarko. He was very professional, He has a big heart for those in need and will often go out of his way, privately, to help people. He has a temper when he doesn't get his own way. And he was very much a bit like that Essendon game, white line fever at times," Kennett said.
"But as you know, he introduced a new style of play. I have always said, and I'll continue to say, regardless of where we are today, he is probably the best educated coach in the league."
Yet only 18 months after the 2008 flag Kennett had seen enough.
The Hawks missed the finals in 2009 and after a round 1, 2010 victory over Melbourne lost six games in a row.
History will show that Sam Mitchell's drag-down tackle on Shane Tuck saved Hawthorn in round 9 and perhaps saved Clarkson's bacon.
Kennett said the club would never have sacked Clarkson, but admitted he threw up the possibility of him coaching Box Hill for a week, demoting him like an out-of-form player.
"I did say it. We talk about relegating players and we talk about relegating people. I have a look at the new Labor administration in Canberra, which I think has started very, very well," Kennett said. "But they've gone and reduced the former education Shadow Minister (Tanya Plibersek) to environment without responsibility for climate change. So in my opinion the public would say she's been relegated.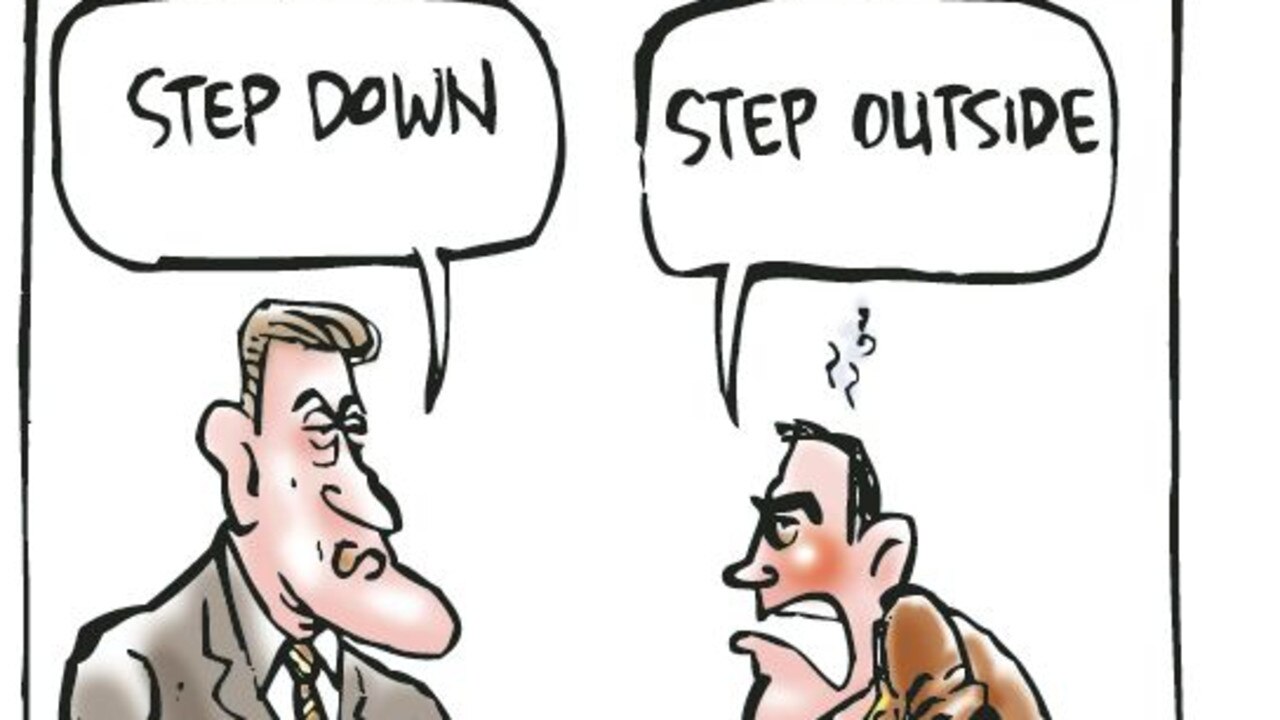 A David McArthur cartoon on the drama.
"I think I said what I said out of frustration. But it had some merit in it. Because it made people focus again, right?
"It made people focus and did it work? Well, we went on and we won three premierships, I argue very strongly. Yes, it worked very well."
"I think Felicity said, 'God, do you know what you've done?' But again, I have no regrets. You know, life is becoming so bland. It's why I like coaches with character. It's why I like players with character. I even like journalists with character. I am not sure if I know one, if I find one I will let you know."
Was he ever serious about sacking Clarkson so recently after a premiership triumph?
"No. It was a burp of frustration," Kennett said.
"I think I was in Wellington Parade on the way home. Collectively, we weren't doing what we wanted to do. We always knew that 2009 was going to be a tough year. We had expectations. But when Croady (Trent Croad) went and Crawf (Shane Crawford) went, it was going to be a different year. But we actually thought we would perform a bit better. But we didn't and it ran away from us for a while.
"As I say, a burp of frustration. But it had a purpose to it, in actually getting people just asking and thinking again, but at no stage then did anyone think of sacking him. Did anyone think of putting him down to the twos or Box Hill, I don't know, I think there were a couple of board members at the time who suggested it wasn't a good idea."
Originally published as Sacked with Jeff Kennett: How Hawthorn's bungled succession plan unfolded