Spud's Game 2022: All the latest news, scores and reaction from a special clash between St Kilda and Essendon
St Kilda delivered one of their worst performances in Brett Ratten's tenure according to the coach who was left flat by the Saints capitulation to Essendon on Friday night.
St Kilda coach Brett Ratten has torn shreds off his side after its shock loss to Essendon, describing it as one of the worst defeats he has had as coach of the Saints, especially given the significance of 'Spud's Game' for the club.
Watch every blockbuster AFL match this weekend Live & Ad-Break Free In-Play on Kayo. New to Kayo? Try 14-Days Free Now >
Rutten branded the 35-point loss to the 16th-placed Bombers as a "reality check" for the playing group and was left shattered by his side's performance in a match dedicated to St Kilda legend Danny Frawley's legacy and mental health advocacy.
He lamented his side's turnovers by foot, lack of hunger for contested possessions, and low tackle count, with the Saints laying just 38 tackles to Essendon's 51 for the match and winning 23 fewer contested possessions.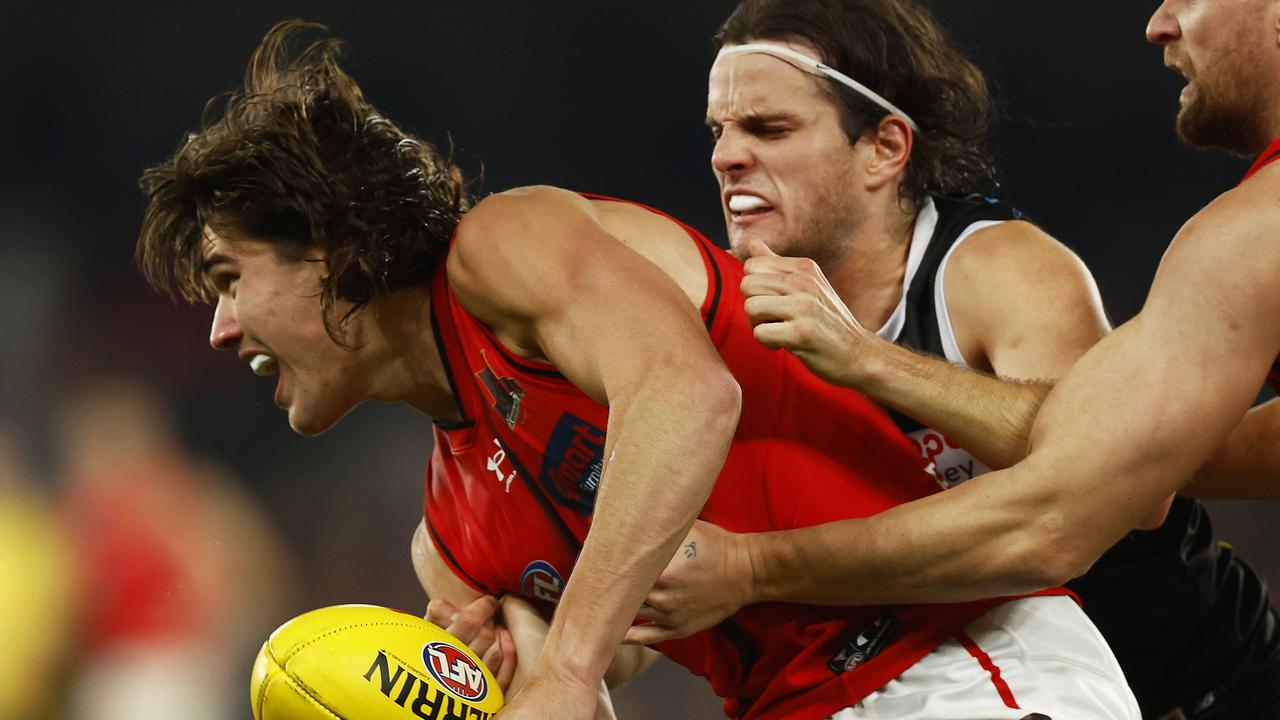 Hunter Clark attempts to lay one of just 38 St Kilda tackles on what was a dirty night for the Saints. Picture: Getty Images
Ratten gave his side a "rocket" at halftime after trailing by 28-points at the main break and it looked to have an impact with the Saints drawing level halfway through the third-term, but the Bombers piled on six-consecutive goals in response to put the result beyond doubt.
Asked if the loss was the most difficult he has during his time as St Kilda coach, Rutten said: "Probably because I didn't see it coming, that's what stung our coaching group the most."
"It's just a bit hard to swallow today on a Friday night, and Spud's Game, and our supporters, we dedicate our game to a legend of our footy club and the legacy that he has left around mental health and we produce that. Well, it makes you a bit flat for the day.
"I think it's a reality check for our players - you're never as good as you think you are. Tonight's performance was very, very bad."
"To lose contested ball by 23, which then fuels the uncontested ball. That was as hard to watch for a while that we've been involved in.
"Especially with where we're at a group and the game and what it meant to us in regards to Spud's game and that was really below par. Execution by foot, three versus one and we miss a target, we squandered so many opportunities.
"But then you look at the other side of the coin and say, 38 tackles for a game, isn't where we're at and defensively is unacceptable.
"We conceded 61 inside 50s. Good luck trying to win games when you concede that much.
Ratten said blaming his side's six-day break and injuries from their loss to Brisbane at the Gabba last week would be a "cop-out" and questioned whether of his players beat their opponent on the night.
"We could use (the six-day break and injuries) as an excuse, but that's just a cop-out really. Everyone's gotta travel, everyone has a six-day break, and everybody has a few injuries. It's not like we were decimated by injuries.
"We were below par in nearly every aspect. And then trying to work out, did we have a winner on the ground? A clear winner, (Josh) Battle was the only one, outside of that it was Essendon everywhere."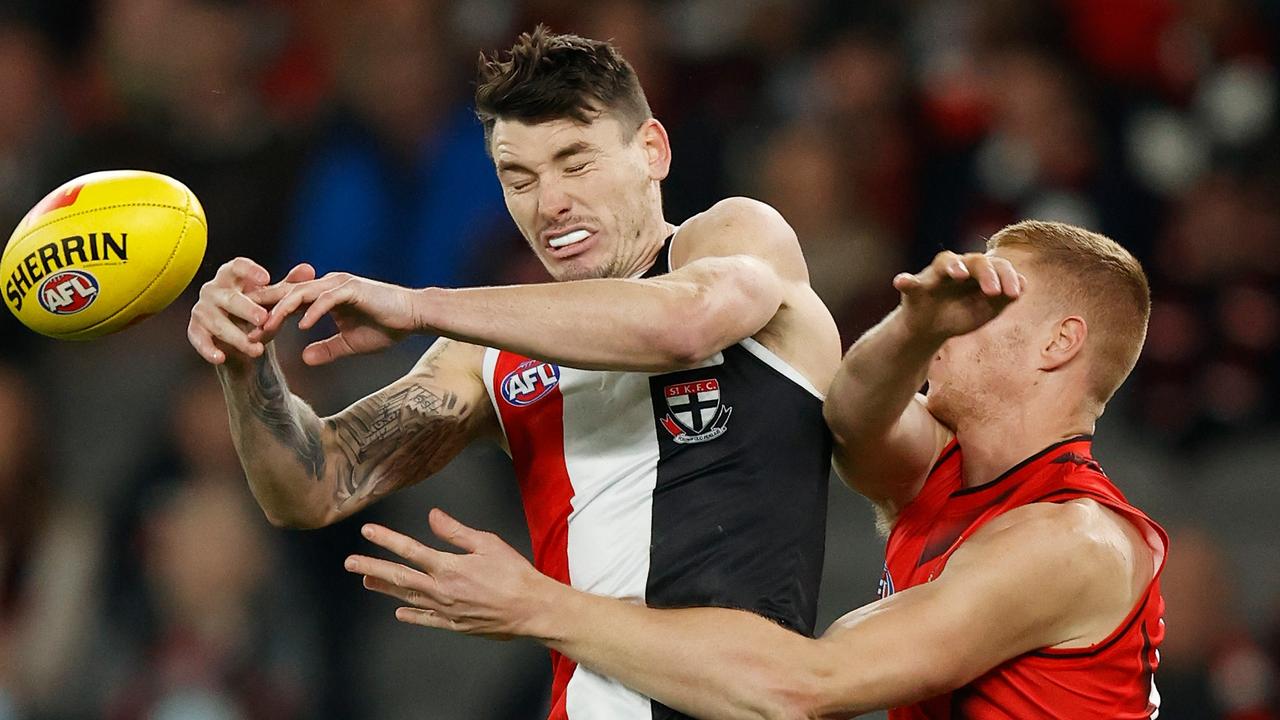 Brett Ratten declared Josh Battle as the Saints' only clear winner on the ground. Picture: Getty Images
Ratten shed light on "pointed" feedback he gave highly-touted first-year player Nasiah Wanganeen-Milera, saying that he told him to lift his intensity and he responded instantly after the halftime break.
"I asked him to lift his intensity at the contest so, I think most coaches if something sticks in their head they'll point it out and try to get a response and Nasiah's work at the start of the third was fantastic, a great tackle, got a free kick at the centre bounce," he said.
"As a coach or as an assistant coach you try to shape the player as early as possible to get them to play the way you want to play.
"Sometimes they are harder conversations and a bit more pointed but he's going to be a very good player, so we might have saw a bit today that we go 'lift the bar on', but maybe next week you don't see any of it.
The St Kilda coach dismissed suggestions about his difficult upcoming month, facing Sydney (away), Carlton, Fremantle and the Western Bulldogs proclaiming that the competition is as hard as it's been and that his side has to be ready for every game, regardless of the opposition.
Ratten said opposition sides certainly wouldn't be fearing the Saints after a disappointing display.
"I think we just go back to what we know works for us and how we want to go about it. Everybody keeps talking about the tough draw - every game is tough. No matter who you play it's tough," he said.
You don't walk into any game and go 'here's four points, we're taking it today', this year is harder than ever with the competition so you've got to be up every week.
"Whoever plays us it is going to be tough, hopefully.
"But with what we dished up today they wouldn't be too scared, would they?"
Ratten expects the Saints to be boosted by the return of captain Jack Steele for its important clash against Sydney on Saturday night.
He said he could have faced the Bombers, but the club opted for a cautious approach with the midfield star.
Donslaught: No deja vu as Saints dusted in Spud's Game
Eight minutes into the third term, it would have felt like deja vu for Essendon fans.
With the Bombers holding a 28-point lead at halftime, St Kilda piled on four goals from five inside 50s, with a Jack Higgins major from a harsh free kick levelling the scores midway through the third term.
It was up to the Bombers to stop the momentum of the surging Saints, the top ranked third-quarter side in the competition.
And the response was resounding.
SCROLL DOWN FOR STUNNING PHOTOS OUT OF THE PRE-GAME TRIBUTE TO DANNY FRAWLEY
Sparked by a resurgent Jake Stringer – who racked up nine disposals, four tackles and kicked two goals in the third quarter alone after a quiet first half – the Bombers blew the Saints out of the water with six-straight goals and 11 of the next 13 inside 50s.
It put the result beyond doubt – even for the most pessimistic of Essendon fans – at three-quarter time as the Bombers stepped up to the plate in a scenario where they've often wilted this season, claiming a 35-point win at Marvel Stadium.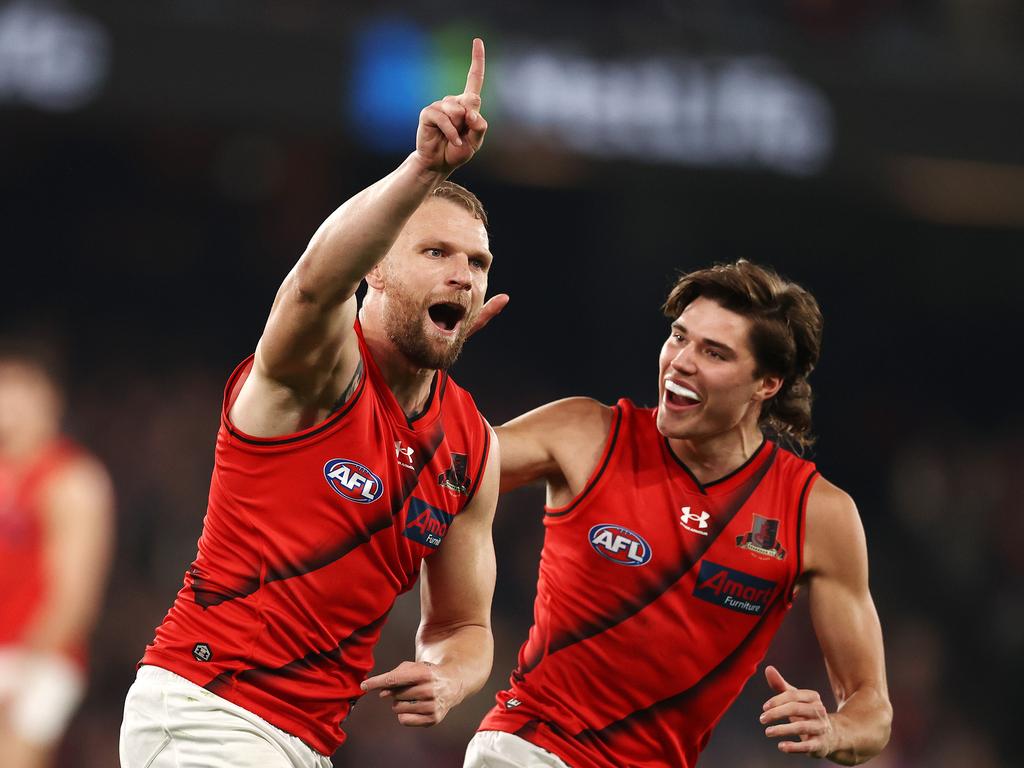 Jake Stringer booted three goals for the Dons. Picture: Michael Klein
"Our effort has been there for a while, it is good for the belief," Bombers coach Ben Rutten said.
"There might have been five goals kicked against us (in the third quarter), but we still ended up winning the quarter.
"We have been trying to keep evolving all parts of our game and that's what we were able to do tonight."
Coming into the match as the worst pressure side in the competition, the Bombers brought the heat in the first term, forcing the hurried Saints to make 19 turnovers and taking a 16-point lead into quarter time, despite missing several early chances.
Errors marred the Saints' play and the loss leaves their top-eight chances hanging in the balance with a difficult month ahead, facing Sydney (away), Carlton, Fremantle (home) and the Western Bulldogs in their next four matches.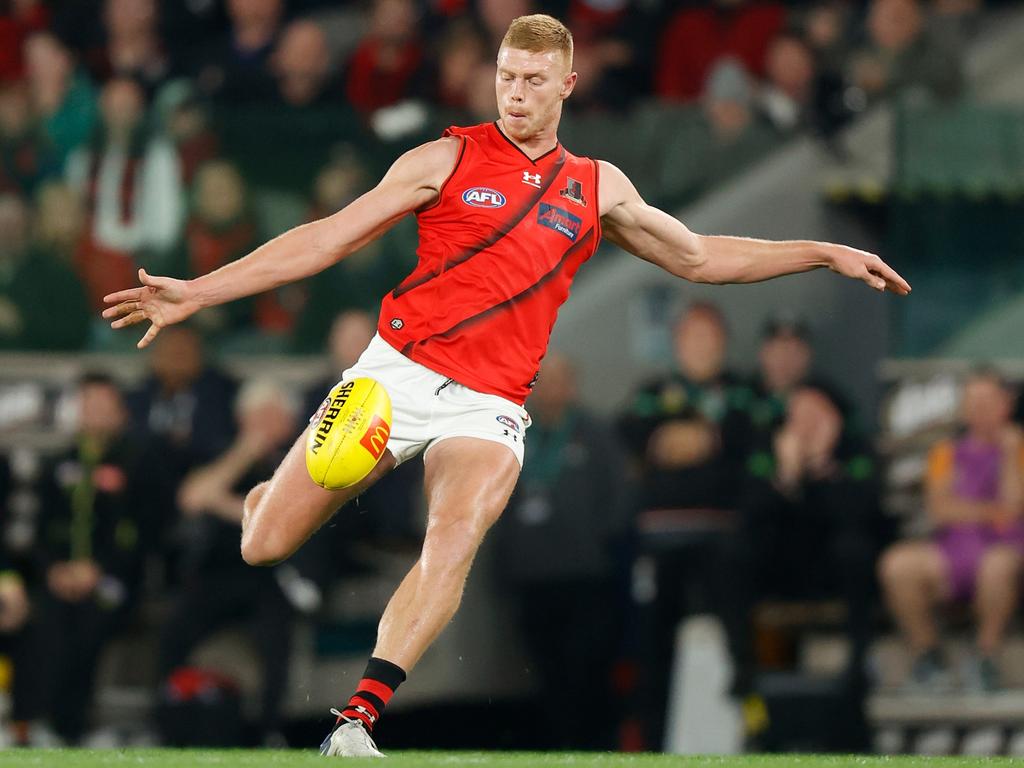 Two-Metre Peter Wright had his kicking boots on. Picture: AFL Photos/Getty Images
Defender Mason Redman played a career-best game with his rebound, elite skills and intercepting making him a springboard from the back 50, while Jye Caldwell (team-high contested possessions) lifted in Darcy Parish's absence and Archie Perkins provided plenty of spark.
Perkins (19 disposals and 1.2) could have ended up with a couple more goals, providing the kind of forward half X-Factor that was promised when he arrived as a top-10 pick in the 2020 draft.
Milestone man Peter Wright was rewarded with two late goals to finish with four in his 100th career game, breaking a three-game goalkicking drought and showing a major presence up forward.
Saints spark plug Jade Gresham played a lone hand for the Saints with 28 disposals and three goals, two of those coming in the final term.
Mason Redman had a mountain of it for the Dons. Picture: Getty Images
Bombers selection gamble pays off
Eyebrows were raised when an undersized Bombers side dropped young key defender Zach Reid.
While Max King threatened to take the game away from the Bombers early, Jordan Ridley (195cm) and Jayden Laverde (193cm) punched above their weight to combat King and the resting ruckmen.
King finished with the one major for the match as the Bombers' run and carry off halfback from its smaller defensive unit proved to one of their keys to success.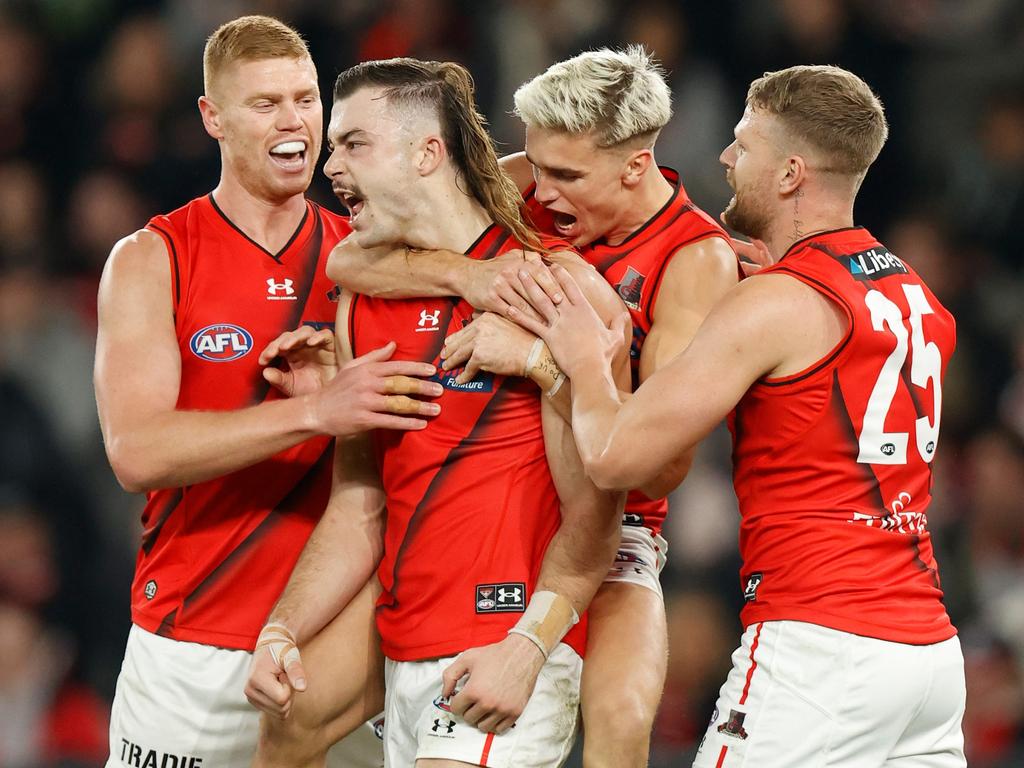 Peter Wright, Sam Draper, Matt Guelfi and Jake Stringer celebrate a goal. Picture: AFL Photos/Getty Images
Membrey magnet swing
Saints coach Brett Ratten has swung Tim Membrey into defence on the rare occasion but never has the move had such an immediate impact.
Membrey switched ends midway through the second quarter and within 10 minutes he clunked four intercept marks as the loose man – two of those contested.
It was as if the Bombers were targeting the 188cm-Saint instead of Peter Wright and Harrison Jones.
But Membrey wasn't able to stop Wright hitting the scoreboard in his 100th game, slotting a goal in the shadows of halftime to extend the Bombers' lead to 28-points at the main break – his first major since round 9.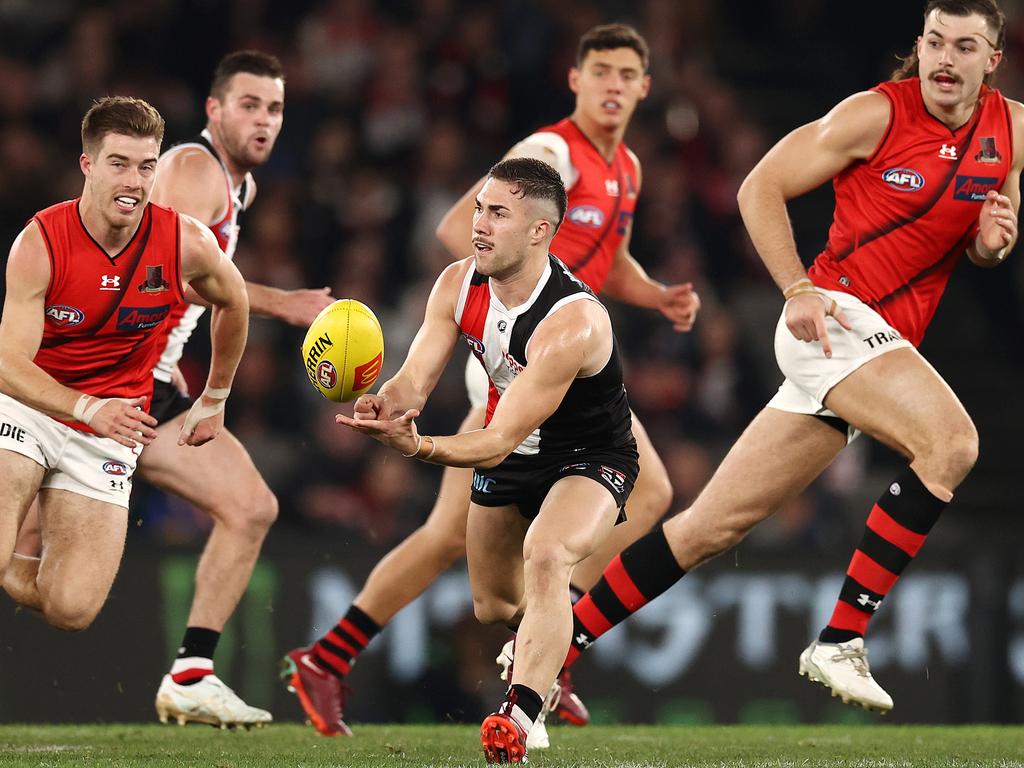 Jade Gresham was brilliant for the Saints in a losing effort. Picture: Michael Klein
Impressive returns
Silky saint Jack Billings has battled injury and been dropped this season, and after a strong game in the VFL last week, he proved to be one of his side's best.
The highlight was a miraculous banana goal deep in the pocket, with his second goal a gift from a 50m penalty.
It was a slight surprise to see Andrew McGrath lining up in defence in his return from injury with ball magnet Darcy Parish sidelined, but the No.1 pick had a strong game in the back 50.
McGrath, who has copped his fair share of scrutiny like Billings as a top draftee, had some important moments in defence and was often matched up against dangerous small forward Jack Higgins, who kicked two goals but had a limited influence on the contest.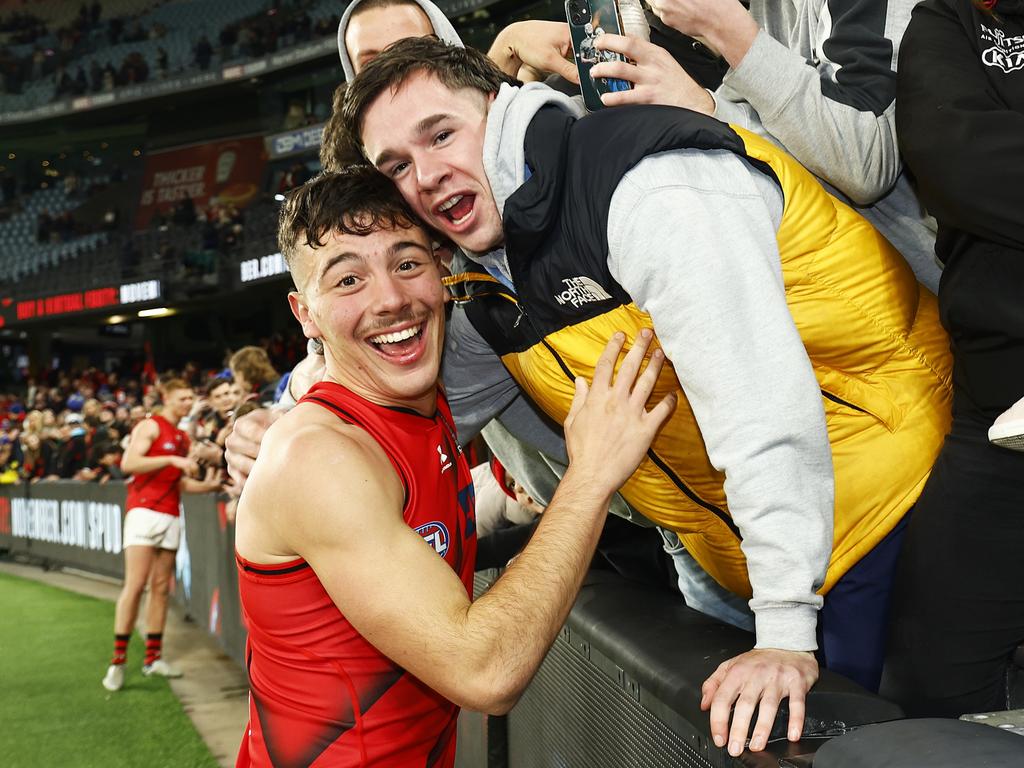 Massimo D'Ambrosio celebrated the win with mates after his AFL debut. Picture: Getty Images
SCOREBOARD
ST KILDA 2.1 3.3 8.4 11.6 (72)
def
ESSENDON 4.5 7.7 13.11 15.17 (107)
GOALS
Saints: Gresham 3, Billings 2, Higgins 2, King, Marshall, Ryder, Long
Bombers: Wright 4, Jones 2, Stringer 2, Draper 2, Durham, Martin, Guelfi, Perkins, Guelfi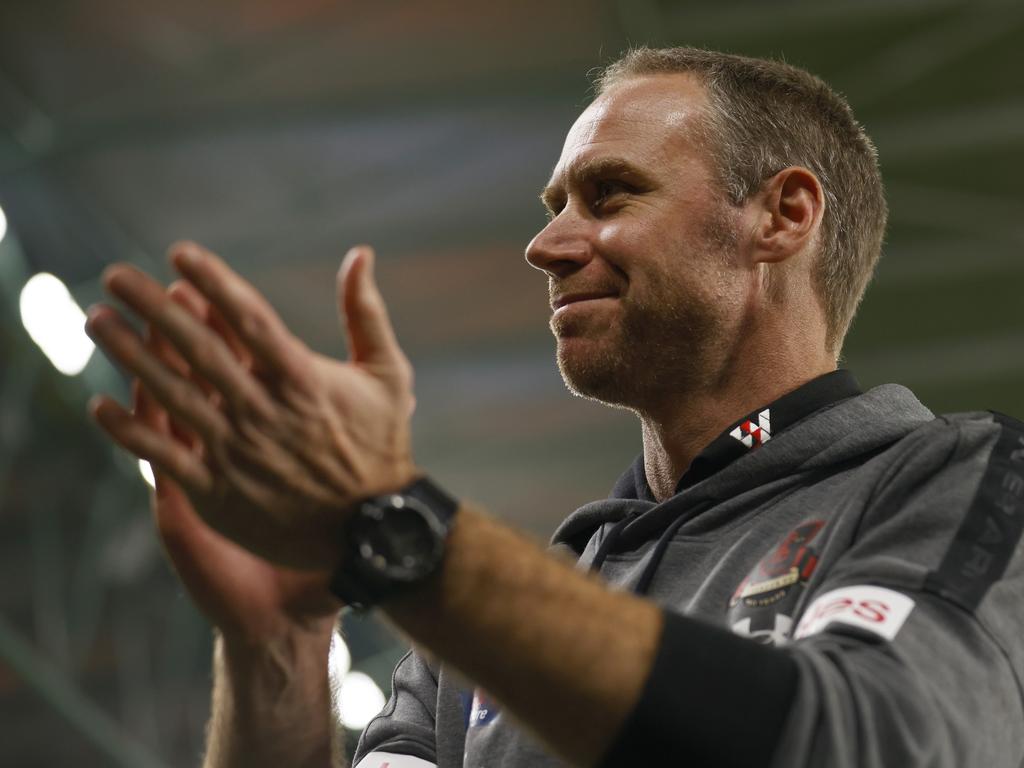 A little pressure release for Essendon coach Ben Rutten. Picture: Getty Images
DAN BATTEN'S BEST
Saints: Gresham, Billings, Sinclair, Hill, Wanganeen-Milera
Bombers: Redman, Wright, Perkins, Hind, Caldwell, Draper
DAN BATTEN'S VOTES
3 — Mason Redman (Ess)
2 — Jade Gresham (St K)
1 — Peter Wright (Ess)
INJURIES
Saints: Nil
Bombers: Nil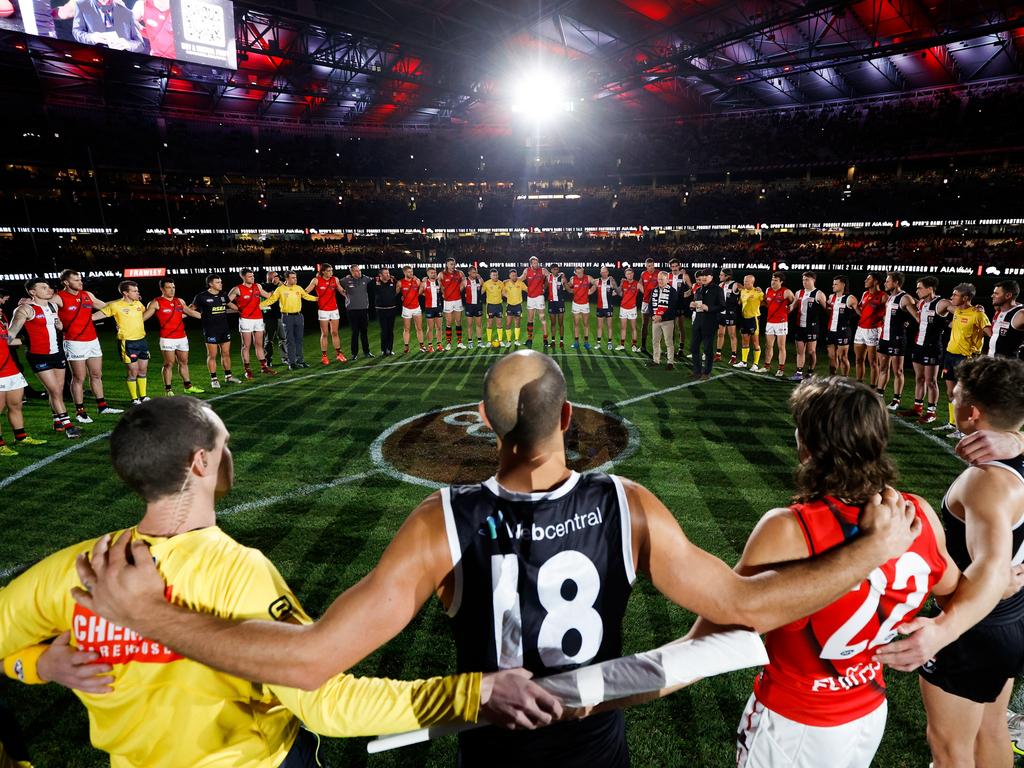 The Saints and Dons come together as one in the middle of Marvel Stadium. Picture: AFL Photos/Getty Images
Saints, Dons invoke 'Spirit of Spud' in emotional tribute
—Glenn McFarlane
St Kilda and Essendon players linked arms in an emotional pre-game show of unity as former greats Nathan Burke and Tim Watson urged them to play with the 'Spirit of Spud'.
In a stirring moment before Friday night's clash at Marvel Stadium, the game was delayed for two minutes in honour of the late Danny Frawley, who wore No.2 for the Saints.
Frawley, who tragically died in 2019, was a passionate advocate for mental health awareness.
St Kilda's annual Spud's Game: Time 2 Talk not only honours Frawley's legacy, it helps to initiate conversations to help destigmatise mental health.
Burke was one of Frawley's teammates in the 1980s and '90s and he urged the current-day Saints to channel the attributes of the former long-time St Kilda captain in this contest.
A show of unity before battle. Picture: AFL Photos/Getty Images
"To the St Kilda boys … I want you to channel the spirit of Spud," Burke addressed the group out on the ground. "The spirit of Spud is courage; it is fearless; it is relentless; it is about making your teammate the best player on the ground; it is selfless.
"Wherever you can in a contest tonight, I want you to carry that spirit of Spud with you and if you do that, nothing can stop you from greatness."
Burke also urged footy fans to have difficult conversations with friends, family and workmates.
The Saints donned the No.2, made famous by Frawley, on their warm-up jerseys. Picture: Getty Images
"Danny Frawley was my captain for nine years … (with) no leadership group, just one man out the front leading the way," he said.
"He led with passion, with loyalty, he wore his heart on his sleeve.
"He carried a large burden on his shoulder, he did it so well that we thought he didn't need help. Now he needs help more than ever, he needs help from us to continue the fight."
Proceeds from Spud's Game: Time 2 Talk raises funds for mental health and suicide prevention programs delivered through the Danny Frawley Centre for Health and Wellbeing.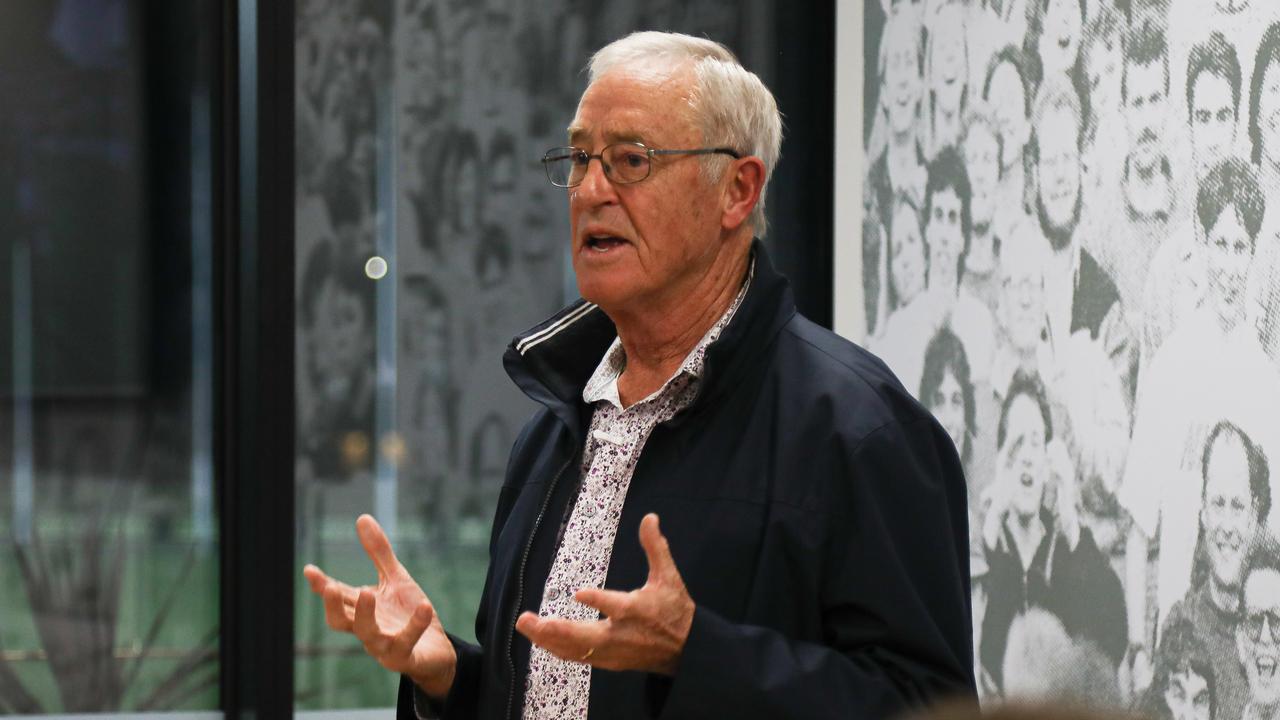 Former St Kilda coach Stan Alves detailed his pain and experiences of grief. Picture: Corey Scicluna
How St Kilda gave grieving Stan Alves the gift of family
—Lauren Wood
Stan Alves' life had become a "charade".
Danny Frawley's former coach Alves returned to Moorabbin this week to address the playing group, for the first time since he departed the helm in 1998.
You could have heard a pin drop as players, staff and Frawley's daughter Chelsea heard his story of heartbreak, harrowing grief, hauling himself back from the brink and just how Frawley had opened his eyes to his own players and their battles.
Alves, a Melbourne champion, lost his son Matthew — who was just 13 — in 1989 when he was hit and killed by a train while riding his bike.
Grief consumed him.
Former St Kilda coach Stan Alves addressing the Saints playing group ahead of Spud's Game. Picture: Corey Scicluna
"All my strengths evaporated. All of my things that I thought were good went out the door … but I was a brilliant actor," Alves told the Saints.
"In front of other people, it was 'how good is he handling it?'.
"But I'd go to work, I'd close the door and I'd bawl my eyes out.
"I was living a charade."
Alves considered taking his own life in a battle with darkness that lasted months.
"I got to the point where I thought 'the only way I can fix this situation is to join my son', and I found myself standing by a river out near Seymour thinking 'this is the way to go'.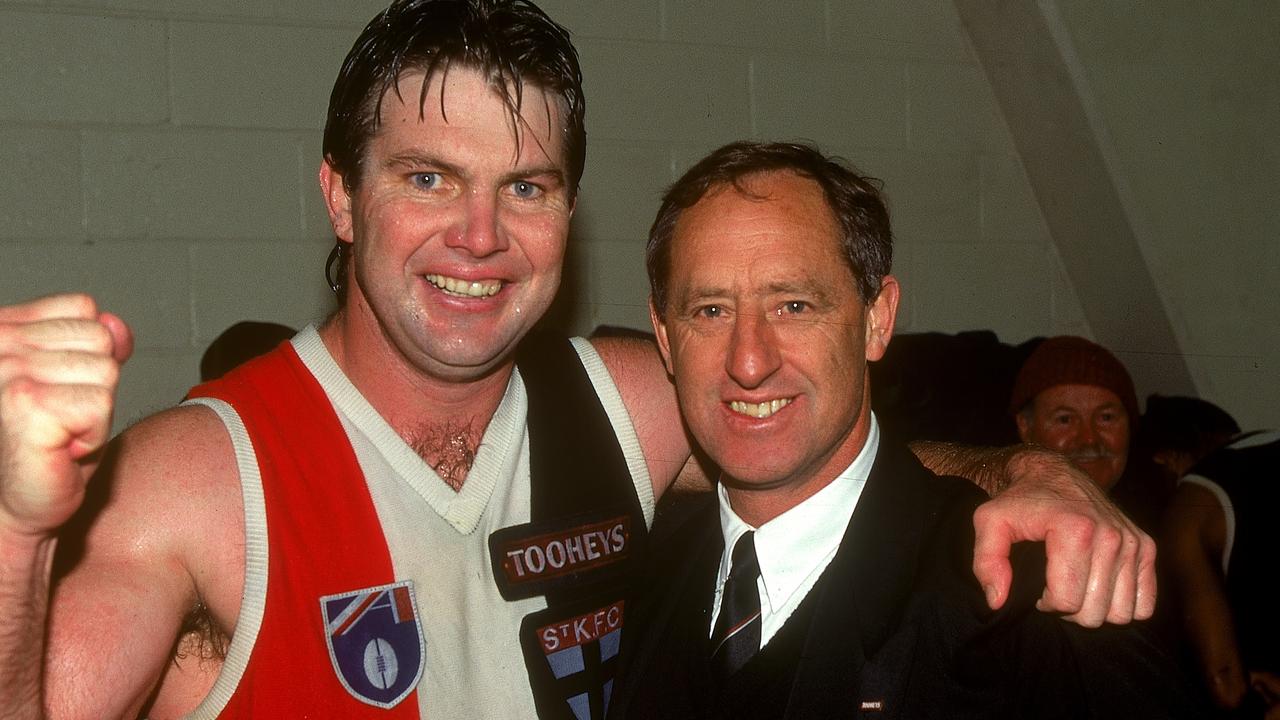 Danny Frawley and Stan Alves.
"Lucky for me, somebody came around the corner at that point of time and made me step back and I got in my car and I drove home," he said, the feeling lasting months.
When Peter Hudson rang about joining Ken Sheldon in a role at the Saints, Alves initially told him to "nick off".
But Hudson was insistent, rallying Alves to do it for his wife Judy and their daughter, telling him he could turn up whenever and that his family would be catered for at games and functions. A purpose.
"I didn't just get back into football," Alves recalled.
"I got back into life.
"(They) brought me into the St Kilda family … brought me back and gave me a meaning.
"They (the players) were my sons. I lost my son, but I got a family back because of St Kilda footy club."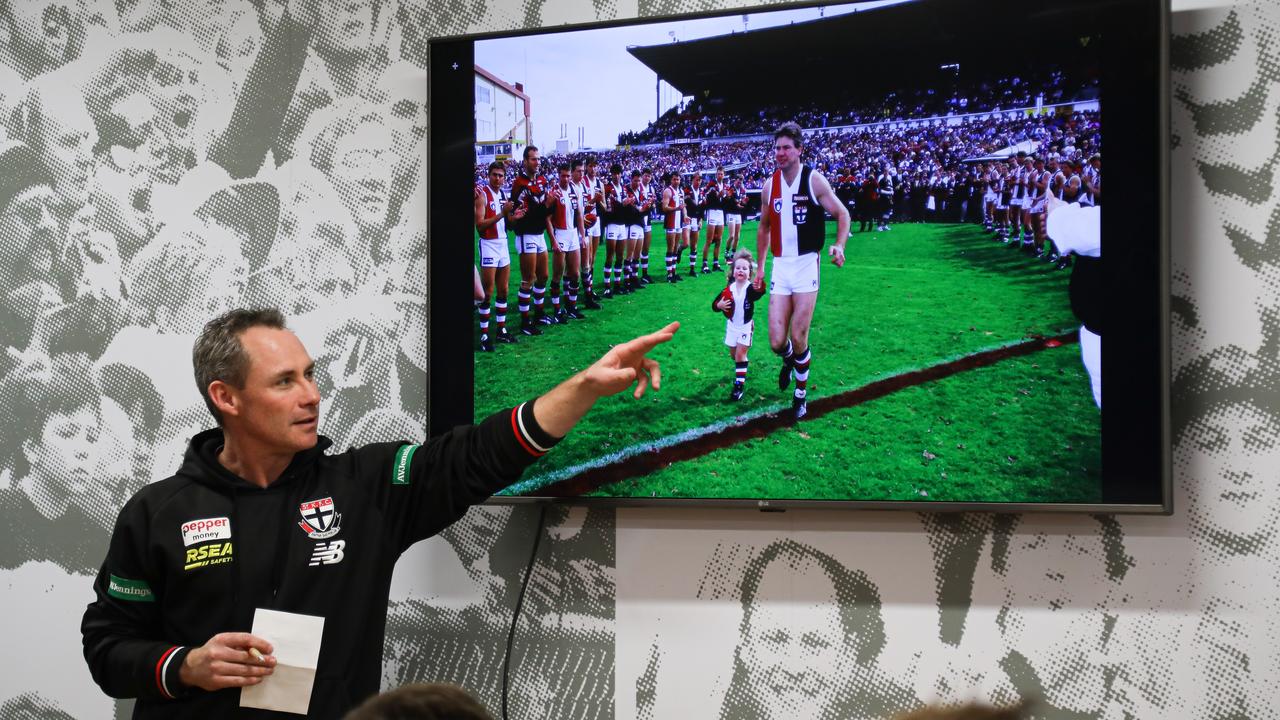 Former St Kilda player and now development manager Tony Brown speaking at the club. Picture: Corey Scicluna.
Judy became vital, working with the AFL herself to facilitate players' families to be able to sit together at games, join in at functions and be part of the club.
It was a cause Brown said was heavily supported by Anita Frawley, as Danny worked closely with Alves to bring talking to the fore, to be as important as training.
"He looked after his teammates," Alves said.
"When a youngster came in, Danny put his arm around him.
"Danny created great relationships with the other players. Things that even players wouldn't know about … how Danny would come to me and say 'you better take this player out for a coffee'. You need to have a chat. But he'd say 'don't you ever tell him that I told you!'.
"He was a relationship builder. That's why he could ask something of somebody.
"He set a standard … for others to follow him."
Alves said relationships had not only defined Frawley's impact at the club, but were a reminder of his legacy and to current players.
"Relationships will get you through tough times," he said.
"But the great thing is, getting through the great times with great relationships, you enjoy the highs. Because you know that you were part of it."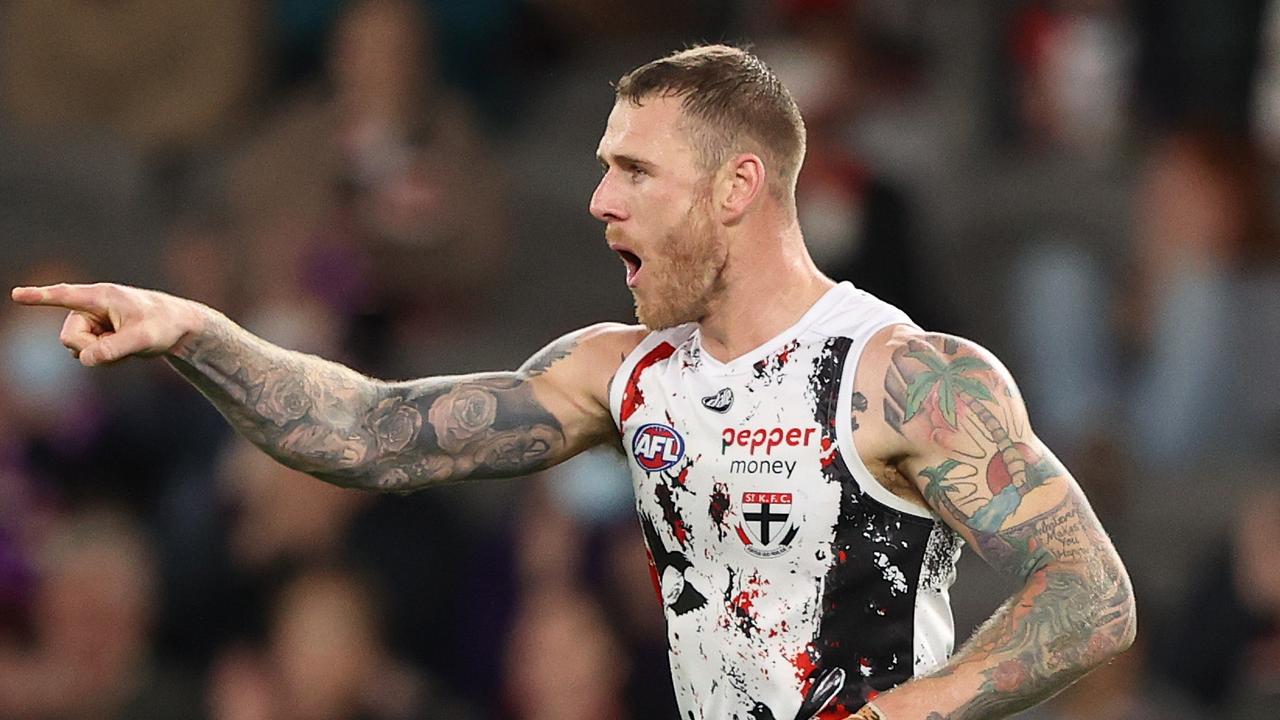 Tim Membrey says his perspective has changed since becoming a father.
The mental game
Current Saint Tim Membrey can't believe how far the game has changed on mental health.
Full-time club psychologist Ben Robbins has emphasised meditation and mindfulness at St Kilda, while Membrey – who has seen first-hand the impact of mental health within his own family – says treating mental issues like injuries in a "safe environment" has only normalised tough conversations in the locker room.
Becoming a dad to Wren, who turns one this week, has also changed his perspective on the importance of seeking help and talking to mates when you need it.
Ruckman Paddy Ryder and midfielder Zak Jones – who will return for Spud's Game – are two Saints who have taken time away from the game to deal with personal issues in recent months, which Membrey said was a sign "it's come a long way".
"If you have a tight calf or hamstring, you go and see the physio to get it fixed. It's a similar thing to if you're struggling, you go and see the psychologist.
"For us as players, we just want to have the tools to know what to say or how we can help.
"Often, you want to help so much but you don't want everyone (all over them). But we do a lot of work in that, if someone is struggling, how to ask the right questions and what to do and what to say.
"You don't know who it's going to be next, you know."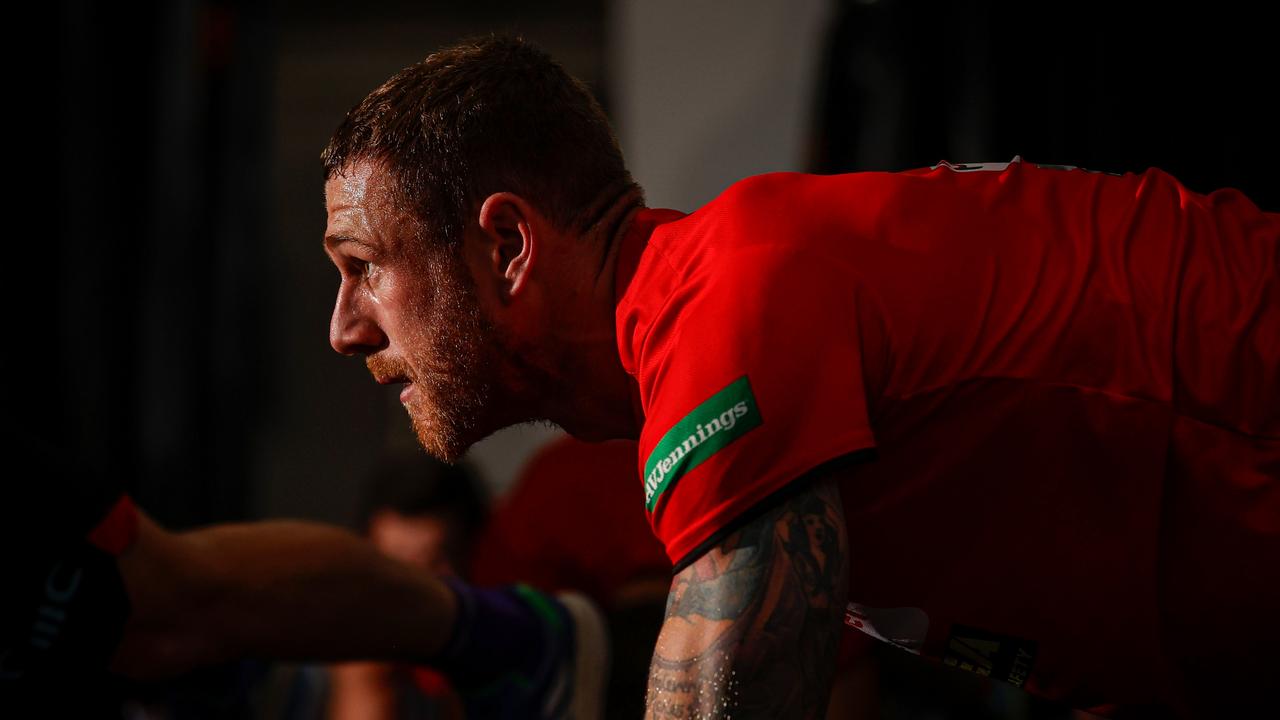 Tim Membrey says he was proud of a teammate who reached out for help.
Sharing the load
Former Saint Tony Brown thinks of Frawley every time he fires up the barbecue.
When he opens the hood and the charcoal from the last cook-up greets him, it's a moment that still brings a smirk to Brown's face.
The barbecue had been a central element to Brown's induction at St Kilda at the end of 1994, with then-captain Frawley – the renowned "relationship builder" – having led the charge to show new players the ropes.
He recalls one of the Moorabbin champion's many trademarks.
"We went up to Hamilton Island many years ago, and Spud and Anita and their girls were up there," Brown recalled this week.
"They invited us around for a barbecue, and I still remember him saying that he never cleaned the barbie afterwards – he always cleaned it before he was going to use it again.
"It's funny what you remember."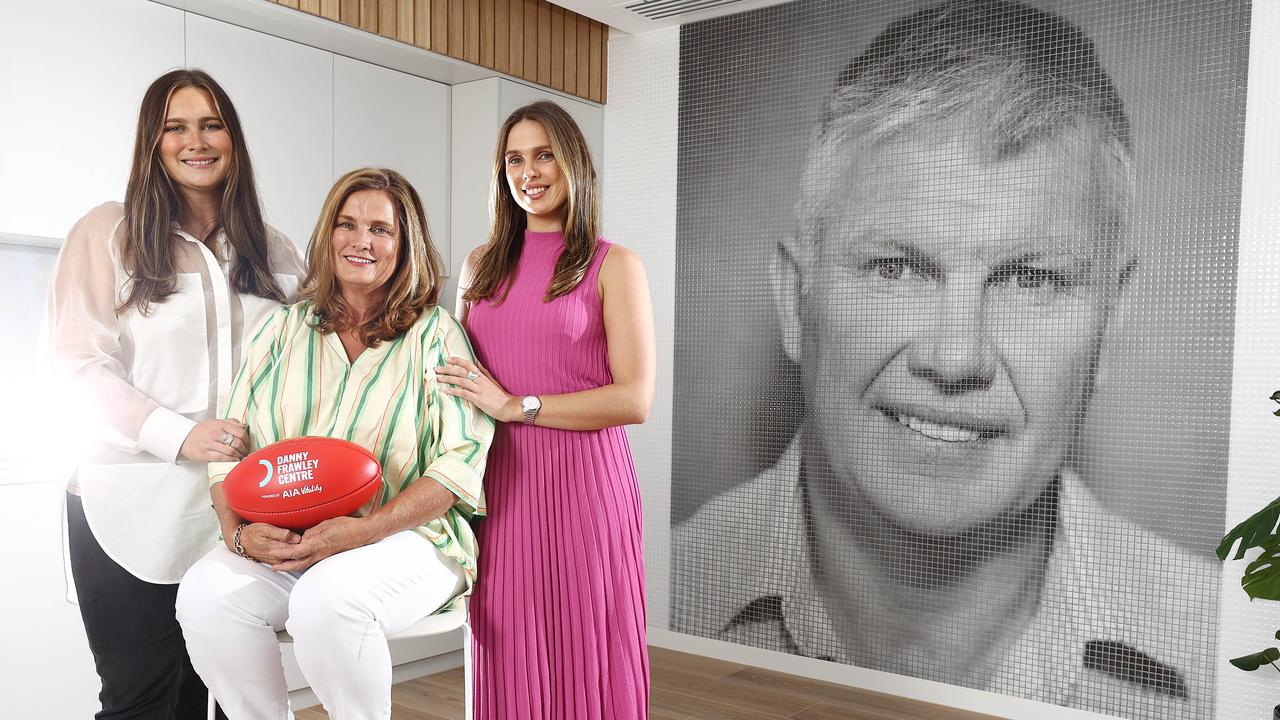 Danny Frawley's wife Anita and daughters Chelsea and Daniella at Moorabin's Danny Frawley Centre. Picture: Michael Klein.
It's a habit that has crept into Brown's own barbie routine to this day.
"Spot on (I do it)," he laughed.
Brown and good mates Aussie Jones and Joel Smith found that out the hard way, with Brown's sense of punctuality another hallmark of his time spent with Spud.
"He was putting on a do on a Sunday afternoon … we turned up late and he had a crack at us, like 'if we're going to put a barbecue on for the players, you don't just rock up whenever you want – it's not good enough'," Brown said.
"He pulled us into line from day one, and really set the tone.
"After that, we were there with plenty of time to spare. Whether it was dinners or the footy trip in our first year to Cairns, Spud was leading the charge.
"He just loved bringing people together and would always be the life of the party. If you gave him any feedback, he would shoot it straight back at you and cut you off at the knees if you were speaking out of turn."