St Kilda wingman Mason Wood discusses his career revival and the Saints' robust feedback
Mason Wood was let go by a cellar-dwelling team. He's now getting a regular game with a finals aspirant that is encouraging players to speak up on behaviours that need lifting, writes DANIEL CHERNY.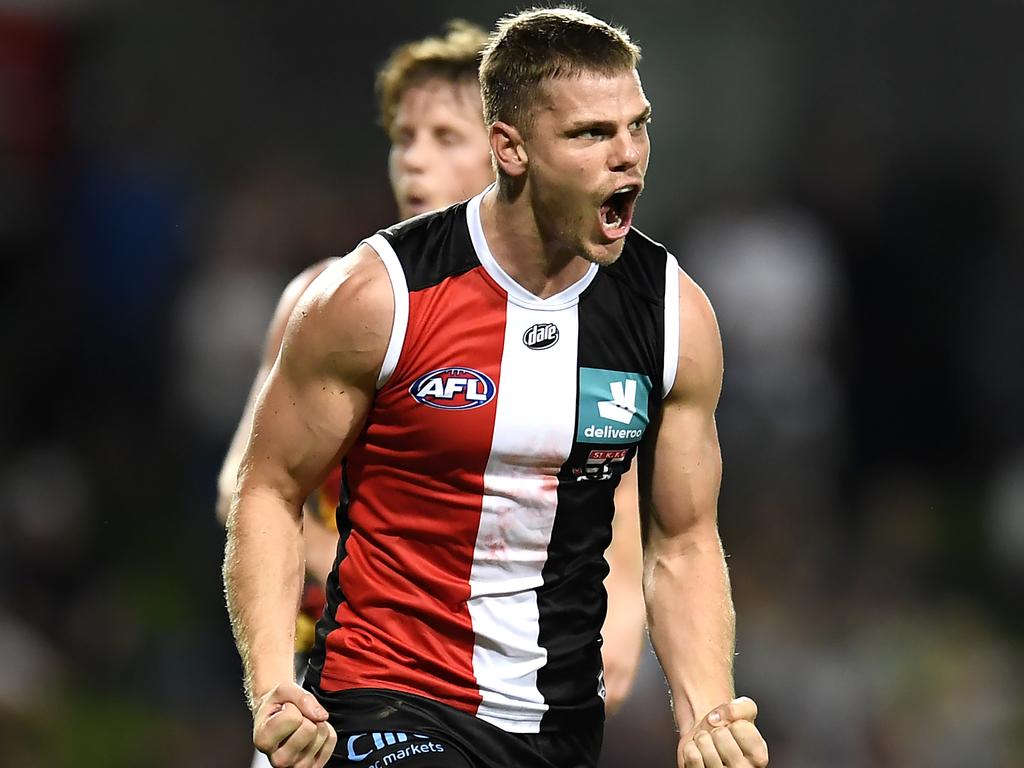 Mason Wood has been in fine form for the Saints. Picture: Albert Perez/AFL Photos via Getty Images
Mason Wood's dad noticed the difference. It hadn't been in his son's nature to give a teammate such a robust talking to, but this is what St Kilda wants.
The Saints have made a concerted effort over recent weeks to call each other out when they see a behaviour which needs to be lifted, and no one is off limits, not even one of the league's brightest young stars.
So when Max King opted against looking inboard to instead take a speculative shot from the boundary, an effort which missed wildly, during the last quarter of St Kilda's win over Hawthorn last week, Wood made it abundantly clear to King that there were better options.
"It's doing ourselves a disservice to not give feedback on things that need to be improved," Wood says.
"It's a space that we've had to get better in. Certainly a stark difference from 18 months ago.
"We're getting a lot more buy-in in this space. It's been super encouraging."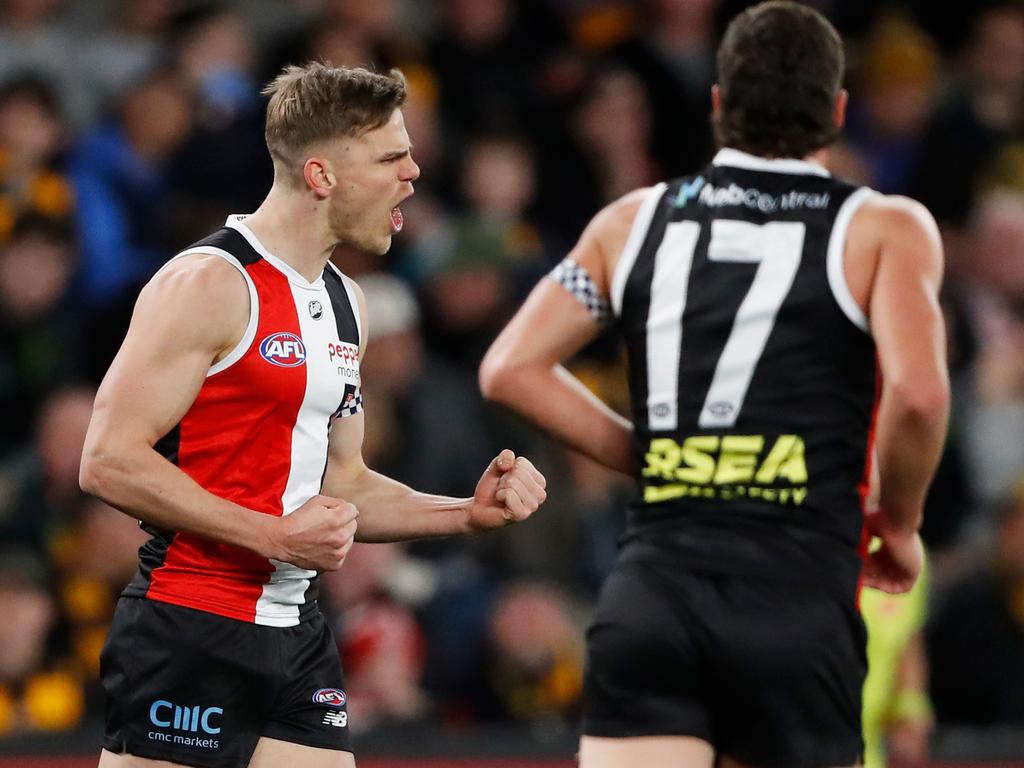 Mason Wood has found his voice at St Kilda. Picture: Dylan Burns/AFL Photos via Getty Images
Wood had been on the other end of the equation on several occasions. Contested ball had never been a major strength of his across a decade in the AFL system but you're never too old to improve.
"I've been hit up a few times this year in certain spaces and I'd like to say I've gone to work on them and got better," Wood says.
"A lot of contested work … I've just got to better in those contests and certainly feel like I've done that. It's not something that comes super naturally to me. There's plenty of guys that have done the same. If we keep glossing over things, then potentially [guys] don't put in the focus that they need to on that area. It's just about getting better."
So to Marvel Stadium and what was looming as a comfortable Saints' victory. King vied for a spectacular attempt from the pocket, only to spray the chance. A year earlier and Wood might have just looked the other way. Not anymore. But after the stern words came the follow-up conversation.
"My dad said, 'It was good to see you give feedback.' I don't think I've ever given such strong feedback, put it that way. I go, 'I really gave Max some strong feedback there and I need to follow this up'," Wood says.
"I said, 'Mate it's super hard. I've been on the receiving end from multiple blokes when you do that type of thing inside 50. You're thinking, 'I need to kick a goal, I'm a forward'.
"The best players are really good at making those decisions on the fly. And Max will get better as he gets on. And there's plenty of times when Max doesn't give a handball and slices through and kicks a goal. And you think, 'Wow, how's a guy that's bloody 6'7 doing that, it's phenomenal'.
"And I said, 'I'd hate for you to lose that because of what's been said, it's just finding the balance when you have to and when you can back yourself in'. Because at the end of the day he's going to get better and better and want the ball in his hand more often than not."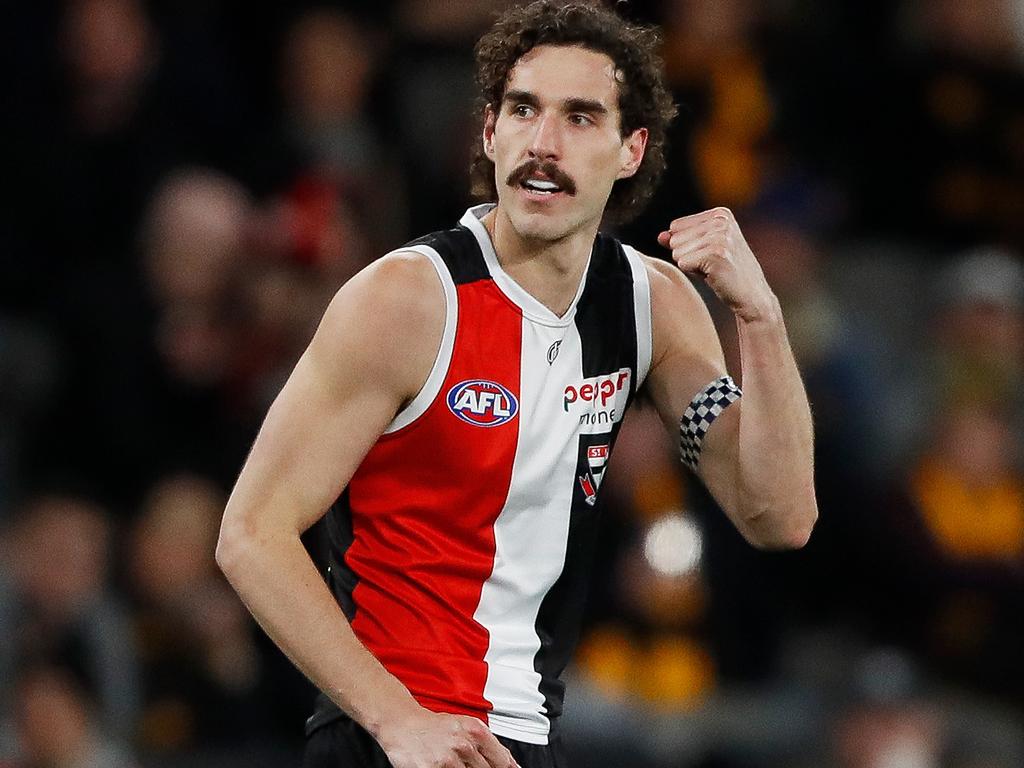 Mason Wood is expecting big things from Max King. Picture: Dylan Burns/AFL Photos via Getty Images
Wood appreciates that in one sense he's fortunate to be able to have that conversation with King. A little under two years ago he was one of 11 players delisted in the immediate aftermath of North Melbourne's horrendous hub stint. Cut from the team that finished second-last, what had once looked a promising career was no guarantee to continue.
"If you're playing good footy then things work out. And I certainly wasn't playing good footy when I got delisted. Which is why I said I was so lucky to get another opportunity. I probably hadn't played a really decent game of football for probably 18 months at that stage," Wood, who played 65 senior matches at North, says.
The situation was compounded by the fact that list sizes were being squeezed. Wood went untouched throughout the delisted free agent period and was content to try to force his way back into the league via the VFL.
Then, an old ally came in handy.
"My old coach [Brad Scott], I hope he doesn't mind if I say this. Brad Scott's good friends with [St Kilda chief operating officer] Simon Lethlean. I don't know the extent, but I think he just put my name forward and said, 'I think he's still got footy left in him'.
"I'm sure that there was a lot more that went on behind the scenes."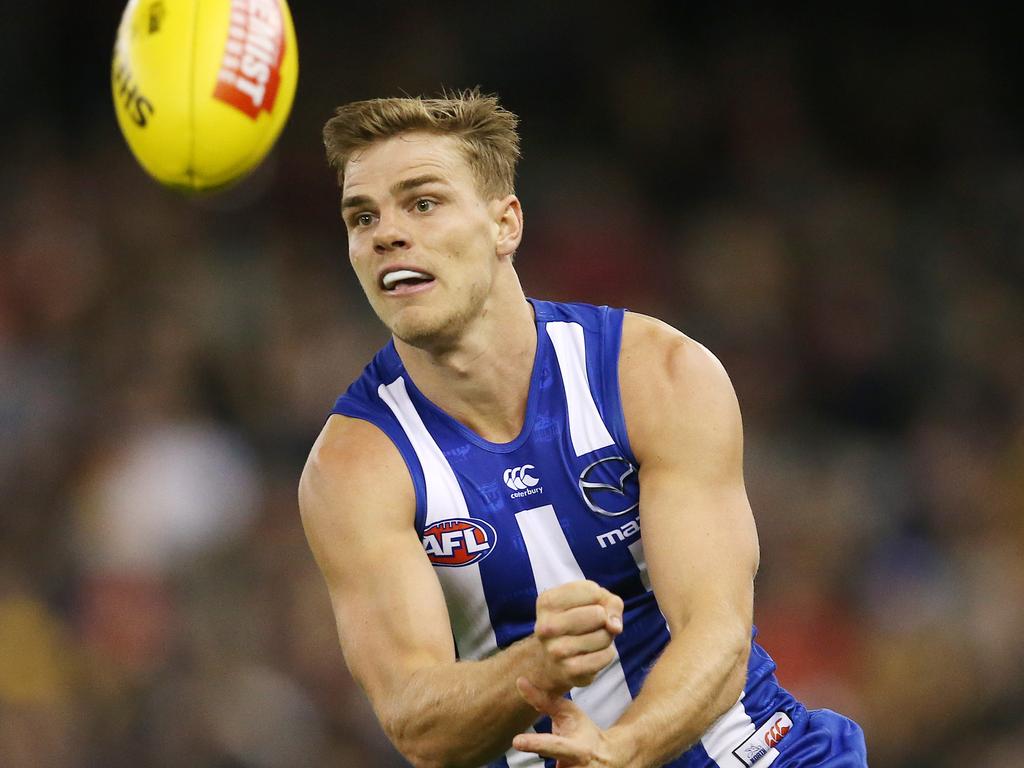 Mason Wood was delisted by North Melbourne in 2020. Picture: Michael Klein
Wood was invited to train at Moorabbin and added to the Saints' list ahead of the 2021 season. He played nine AFL matches last year and Saturday night's game against Geelong will be his 18th for the 2022 campaign, equalling the most had across his time in the league.
His body, often an enemy at Arden Street, has held up well.
"Surprisingly good. I've very rarely made it to this time of year in my career," Wood says.
"It's definitely not luck. A change in program. Not having to feel like I have to go over and above, training-wise."
Having played perhaps his best footy at North as a hard-running half-forward, Wood has settled on the wing at St Kilda, but ultimately is happy to be anywhere, as long as it's on the field.
"The wing's certainly set up for reasonably hard-running players. The wing's sort of changed. Dan Hannebery coming back in, he was sort of worried that they were asking him to get forward and get back. He's like, 'This wasn't the wing when I was playing!' He adapted really well because he's such a supreme athlete and professional.
"I still pitch-hit up forward where I need to.
"As I get older, flexibility's one of your greatest assets."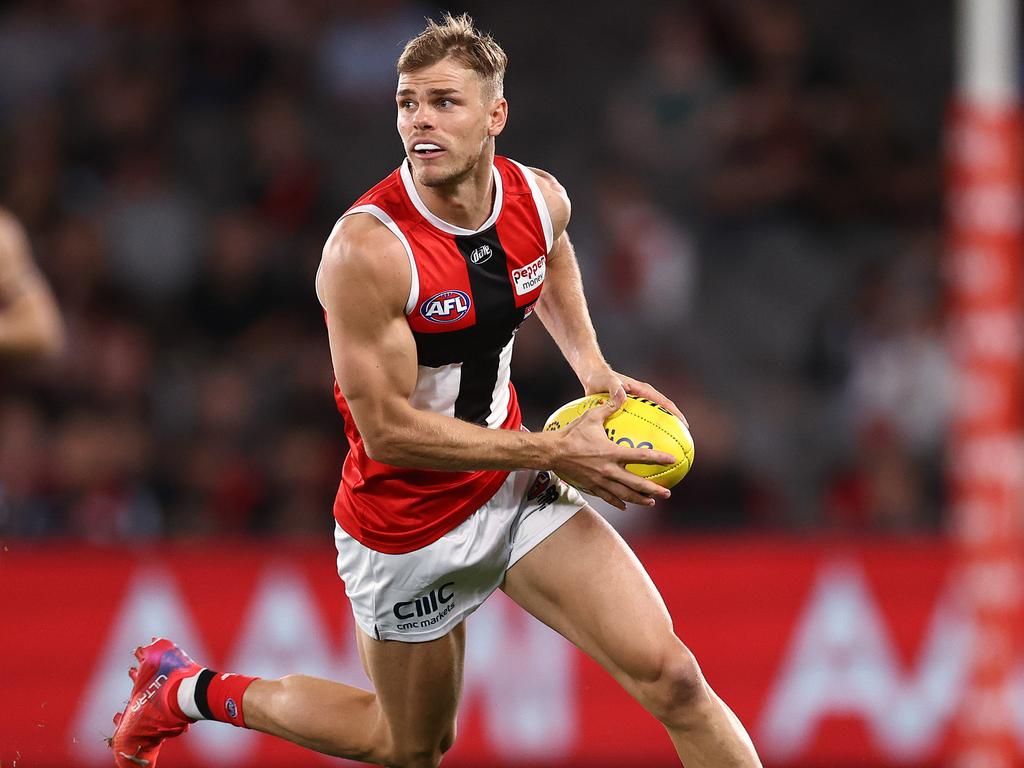 Mason Wood is enjoying the best season of his career fitness wise. Picture: Michael Klein
This reached extreme proportions in round six when injuries to Jack Hayes and Rowan Marshall meant the 192 centimetre Wood was briefly thrust into the ruck.
"I said to Steeley [Jack Steele] during the week [before that game], 'Before my AFL career is finished, I'd love to get a centre bounce'. I wasn't thinking rucking, I was thinking more like, 'I've been playing a bit of wing, they might think oh s--t, somebody needs to go in for a centre bounce and just find myself in there'. By that weekend I think I rucked the last centre bounce of the game.
"I didn't jump, the ball came to me, I fell over and I nearly had a clearance!"
As his former club careers towards a second-straight wooden spoon pushes for a priority selection while also looking to bolster its list with mature-age players, the question can reasonably be asked whether the likes of Wood would have been useful to help arrest North's slide.
Nasiah Wanganeen-Milera (2R) was living with Wood for much of the past year. Picture: Michael Willson/AFL Photos via Getty Images
But while the man himself continues to watch Roos games, invested in the fortunes of his old mates, he says he doesn't begrudge the call that was made to move him on.
"I finished up at North and respected decisions that were made. I moved on pretty quick and thought, 'How do I get back in?'"
It's an attitude that has served him well so far. As he returns to his hometown on Saturday night, a first AFL career final next month remains up for grabs. And a stay at Moorabbin that could have lasted only a handful of weeks is go for another 12 months.
"I think things are looking reasonably positive [for a new contract] but we still have to wait and see … I am turning 29 in a couple of months."
However long Wood stays at the Saints, he will have in part shaped the club's next generation. Top draftee Nasiah Wanganeen-Milera spent much of the year living with Wood and his girlfriend Mikaela, a dancer, before the South Australian recently moved out.
"But there's not a lot he's picking off me now that he hasn't seen," Wood says.
"It was good fun looking after him."