Steven May-Jake Melksham fight: Gillon McLachlan reserves right to increase Demon penalties
The AFL will investigate what they describe as more information that has come to hand in the fight between Melbourne teammates and will not hesitate to increase penalties if required.
The AFL has the power to increase the penalties handed to Melbourne teammates Steven May and Jake Melksham as its integrity department investigates "more information that's come to hand" over last weekend's fight between the teammates.
'Shut the f*** up or you're sacked': Gill's call on Demons crisis: READ HERE
Watch every blockbuster AFL match this weekend Live & Ad-Break Free In-Play on Kayo. New to Kayo? Try 14-Days Free Now >
Melbourne coach Simon Goodwin on Friday denied that there was a "divide" within his playing group after an "embarrassing" week which led to May receiving a club-imposed one-match suspension and Melksham undergo two rounds of hand surgery following their scuffle last Sunday.
The AFL on Thursday launched their own investigation into the incident, coming on the back of Melbourne's own investigation which was concluded earlier in the week.
League chief executive Gillon McLachlan would not say whether CCTV footage from the Prahran restaurant that the Demons players had been dining at had been obtained, but said the integrity department would "get to the bottom of" what had occurred and would have "the discretion to change" the penalties handed down by Melbourne if required.
"I think they're always looking at this stuff and when more information comes to hand then I think there's always an open book," McLachlan said on 3AW radio on Friday.
"There's more information that's come to hand than earlier in the week and that's why they're having a look at it."
McLachlan said the AFL launching its own investigation did not mean it did not trust Melbourne.
"We work in partnership with the clubs and obviously sometimes there's differing views about what the consequences should be and things are coming to hand and we'll work through it," he said.
May arrived at Casey Fields for training shortly after 8am on Friday, telling waiting media only: "I said what I said".
The comment referenced the key defender's prepared statements made through the club's website on Tuesday.
Speaking for the first time since the incident, Goodwin said culture at football clubs was "never perfect".
"These things always come up and it's what you do about them, how you react to them, how you learn from them and how you get better," Goodwin said.
"And that's what we've done internally as a playing group. It's been a great chance to reset ourselves as a playing group internally about what we really want to stand for and continually stand for, and use this as a lesson to get better."
Goodwin said May had worked hard to better himself "over a long period of time", but he had "made a mistake".
"He has enormous trust and respect within our playing group," Goodwin said.
"He knows that he's let them down and he's broken some trust within the playing group and he'll work hard to build that back up. But knowing the character of Steven, he'll go about that in the right way."
The incident last Sunday came about after comments were made about those who did not play in last year's premiership, with questions raised about whether there is a divide among the Demons over their breakthrough flag.
"That hasn't been a topic of conversation internally," Goodwin said.
"Internally, we're incredibly united and the people that didn't play in the premiership last year are fully committed to try and get better and be involved in something pretty special moving forward. So that's the challenge for everyone. There's no divide. They're united and we'll continue to forge ahead."
Goodwin would not comment on whether the Demons had discussed a booze ban with May.
"We'll work with Steven around his personal situation," he said.
"It's certainly not something for the public domain. Steven is a quality person, he's worked really hard on himself and he'll continue to do that. What I do know about Steven is that he will continue to build the trust and do whatever it takes to help this footy club and to help this playing group moving forward."
Dees confident fight will withstand probe
The AFL integrity team will step in to investigate Melbourne's boozy bust-up given the serious nature of the fight outside a Prahran restaurant.
The AFL told the Herald Sun on Thursday that its integrity team would double-check the version of events as stated by Melbourne.
The league is expected to speak to both Steven May and Jake Melsham, who fought on Sunday night.
The Demons have not accessed any potential CCTV footage and it is not known if the fight in the park on Greville St was even captured on tape.
But the Demons had so many witnesses they were adamant the fight between Steven May and Jake Melksham is as reported.
Melksham punched May in the mouth after a heavy drinking session with the Demons defender consistently making verbal cracks at his teammates, including Joel Smith after he missed out on the 2021 Demons premiership.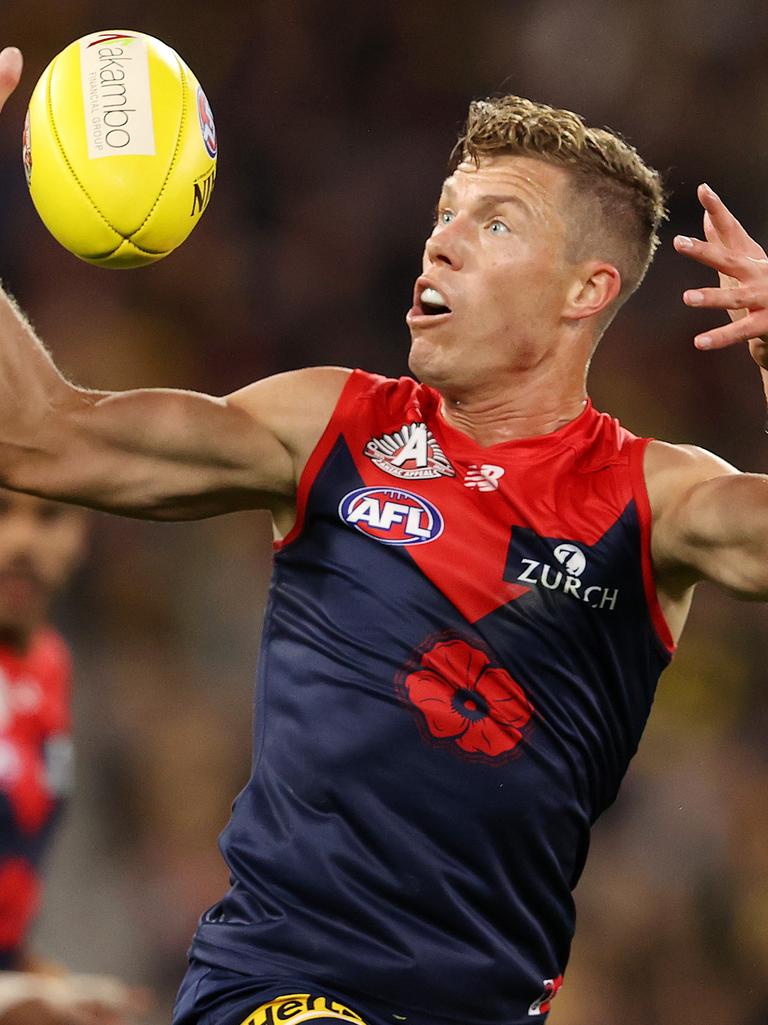 Jake Melksham.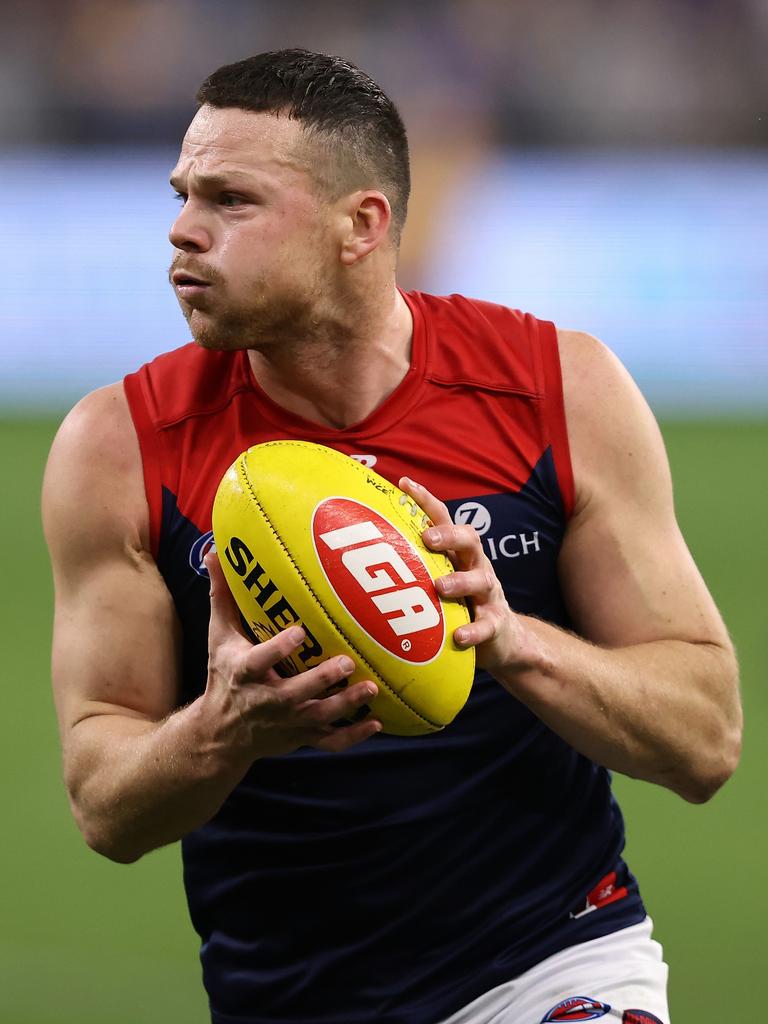 Steven May.
AFL chief executive Gillon McLachlan said on Thursday in Tasmania he was disappointed with the incident.
"It's a poor look. Max Gawn said he was embarrassed and it's unacceptable. Max is one of our great leaders and I agree with him."
The AFL later said in a statement: "The AFL confirms it is looking into the incident between Steven May and Jake Melksham that transpired on Sunday evening.
"No matter what the situation or circumstances, violence is never the answer. As professional footballers, as people, we expect better and while the Club has taken the matter extremely seriously, the AFL is currently conducting its own investigation."
The league's integrity team also investigated last year's nightclub stoush that saw Richmond's Shai Bolton fined $20,000 by the Tigers after punching a patron who made inappropriate comments to teammate Dan Rioli's girlfriend.
Melbourne will not force an alcohol ban on suspended All Australian Steven May despite the latest incident.
May was hit by teammate Melksham in a park outside a trendy Prahran restaurant Entrecote in a punch that required surgery after an infection developed.
The Demons believe both players are legitimately contrite after a series of internal discussions between senior figures and leadership group members given the dramatic fallout for the ladder leaders.
May has had several issues involving alcohol but the Demons hierarchy will leave it up to the senior player leadership to decide whether a booze ban is appropriate.
Collingwood's Jordan De Goey has this year decided to swear off alcohol and also did so in 2018 after a pair of worrying incidents when under the influence.
May will be at the Queen's Birthday clash with Collingwood sitting in the stands for a Demons side that has been opened up to a week of ferocious criticism.
Originally published as Steven May-Jake Melksham fight: Gillon McLachlan reserves right to increase Demon penalties