KFC SuperCoach 2022: Ambassador Heath Shaw unveils his pre-season team
It helps to have friends in high places in KFC SuperCoach. Heath Shaw has spies across the AFL and they have fed him some juicy pre-season intel on who to pick in 2022.
It's the year of redemption for Lord Shaw.
Let's be honest, last year I wasn't the greatest KFC SuperCoach ambassador, but I am going to be doing things differently this year.
I've changed my team about 100 times and I have been on the phone hunting intel – it helps knowing people in high places.
I've got my brother Rhyce on the Gold Coast and a few old teammates at Collingwood and the Greater Western Sydney giving a little bit of inside info on who is burning up the track, or who is a sniff for Round 1.
Rhyce Shaw is in a key role at the Suns. Picture: Chris Hyde/Getty Images
But as we all know and are told, apparently every player from every team is the fittest they have ever been and are having their best pre season to date ….
There are no secrets at football clubs – it's a far cry from a racehorse doing a sneaky backstreet trial in Kyneton.
Another KFC SuperCoach lesson I've learned is you've got to do your homework and actually watch some football before the season starts – admittedly, something I didn't do a great deal of last year.
The guys that I'm going to be watching this pre-season are the potential bargains and those coming back from injury. The likes of Matt Rowell, Patrick Cripps, Matt Crouch, and my former teammate Stephen Coniglio.
Forget about the Walsh's and Petracca's. I don't know if Dane Swan ever played a good pre-season game in his life, but you knew when it came to Round 1, he was getting you 35 disposals.
Without further ado, here is my first team for 2022 – hopefully the year I can turn it around.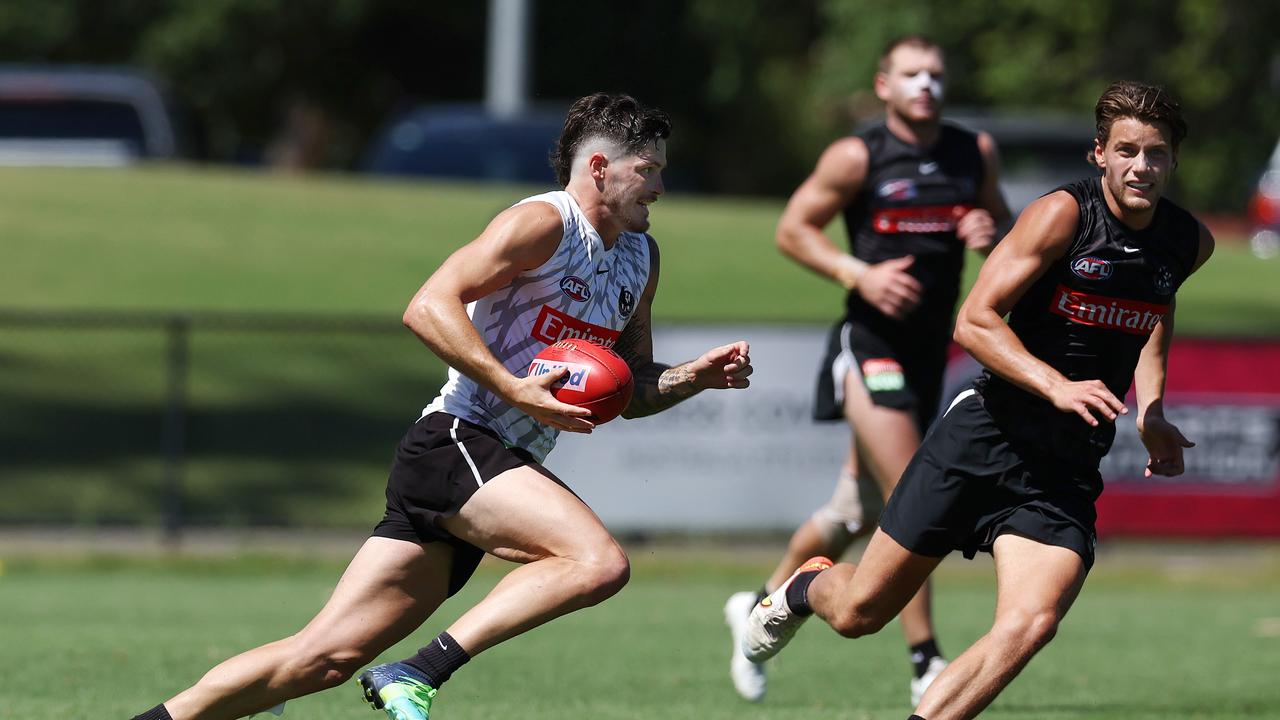 Jack Crisp is Heath Shaw's top-priced defender. Picture: Michael Klein
DEFENCE
Jack Crisp $571,000, MID
Caleb Daniel $510,900
Lachie Whitfield $502,600, MID
Will Day $345,700
Jake Bowey $265,600
Josh Gibcus $171,300
Campbell Chesser $148,800, MID
Will Gould $123,900
My first picked was definitely Lachie Whitfield, he's one of my good mates and when he's flying, he's very good player and SuperCoach scorer. He had a few injuries last year but hopefully he has a bruise-free run.
Jake Bowey played seven games and won a premiership, and is a nice ball-user off halfback. The way Melbourne set up helps players like him to use their skills and run. For about $250k he is a good little sneaky buy.
Richmond had a disappointing year so I think their first pick Gibcus is a chance to play Round 1 and he's been training well.
Sidenote: Back in the day while still lacing up the boots at the top level, I definitely made shaw (pardon the pun) I picked my myself in my own KFC SuperCoach team. This year I did stumble across a 'Shaw; who plays for the Giants, but hedoesn't wear the No. 23 and he is yet to register his AFL debut. Couldn't find a spot for young Will.
MIDFIELD
Sam Walsh $637,100
Christian Petracca $606,200
Lachie Neale $543,200
Matt Crouch $482,000
Patrick Cripps $454,800
Matt Rowell $342,900
Jarrod Berry $268,500
Jason Horne-Francis $207,300
Charlie Constable $213,400
Nick Daicos $193,800
Greg Clark $117,300
I picked Cripps last year, which was probably one of my main mistakes, but I'm willing to take the risk and back him in – again. Injuries do a play a part in form, so I'm tipping Patty to bounce back this year.
Carlton has brought in some midfield support and more attention on Walsh, who is also in my side, should also help him out.
Crouch obviously didn't play a game at all last year for Crows but at his best he is consistently winning 30-plus possessions. I also thought he was a lot older – he looks like a 40-year-old man but he is only 26.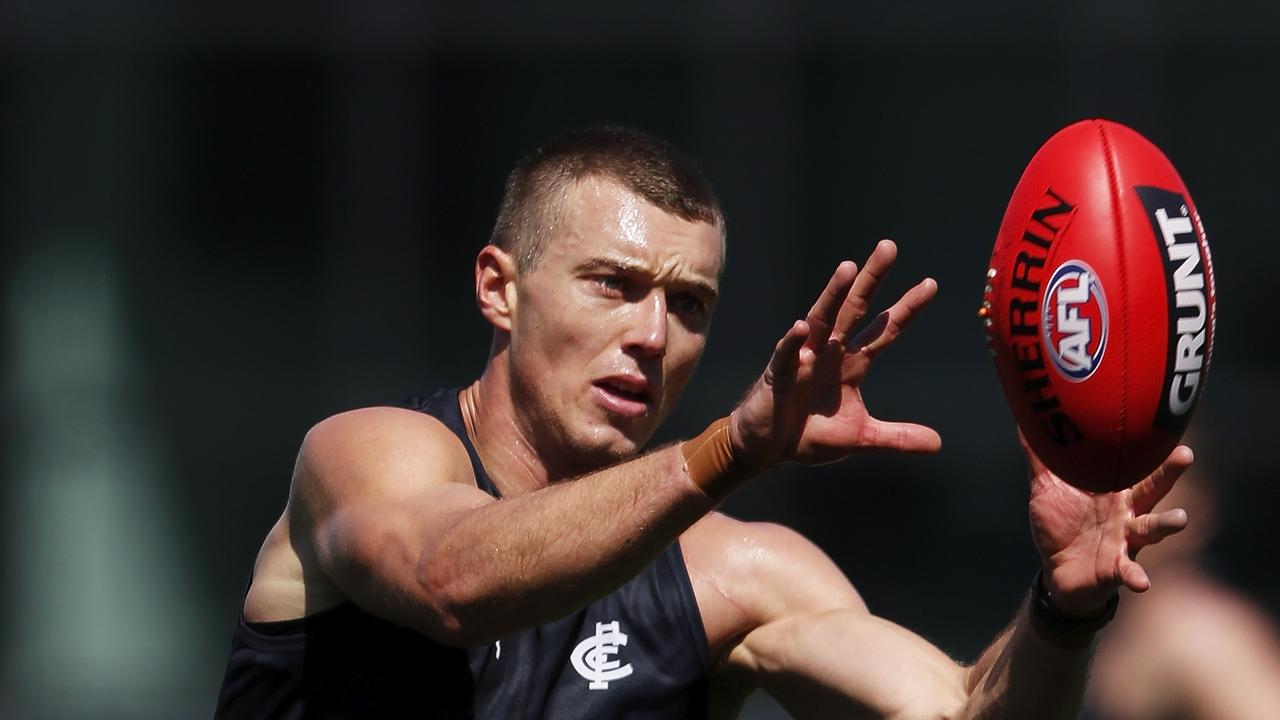 Can Patrick Cripps be trusted? Picture: Getty Images
Rowell was a lock after his few games of football but he has had some injuries since. The No. 1 draft pick is a contested beast, and he shapes as a nice little pick. The Suns also added Charlie Constable to their on-ball brigade. The ball-magnet is pretty cheap and we assume he will play the midfield role left by Hugh Greenwood.
There's a fair few draftees that are going to play straight off the bat, so I've tried to find a way to get them all in.
I was hesitant early on to pick Daicos as I thought he might play mostly half-forward – it can death's corner if your team isn't going well. But I'm much more comfortable picking him after hearing that he might be played across halfback and on the wing.
I think Horne-Francis, whether he plays half-forward or midfield, will find a way to find the footy because he's played against men in the SANFL. I'm confident having him in my team from the word go.
RUCK
Brodie Grundy $627,100
Braydon Preuss $204,700
Max Lynch $207,700
The area that is giving me the most headaches this pre-season, besides the rookies, is the rucks.
Grundy is my No. 1 man and obviously flying, with reports suggesting he has trimmed down. He is the lock for me, with a return to his 2018-19 form looking likely.
It's a little bit of a risk in the next two slots with the two $200k ruckman, but it can really set up my team if it comes off.
Preuss and Lynch are good value and if both get consistent games, I'll be able to cash them in and buy another of the big boys. That's the long-term plan – another area I didn't consider much last year!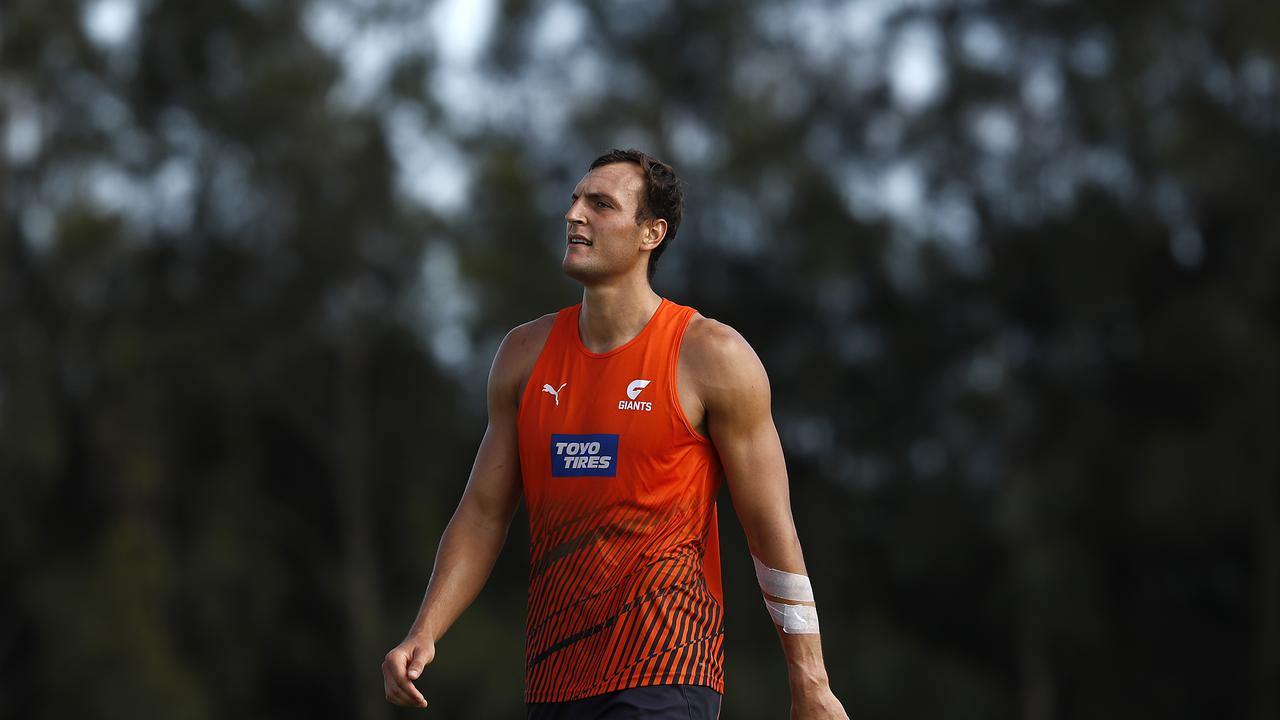 Braydon Preuss can provide scoring potential and cash generation at the Giants. Picture: Getty Images
Preuss, who has been injured for pretty much his whole career, is sitting on nearly a rookie KFC SuperCoach wage. But when he does play, he is going to be their No. 1 ruck, having shown glimpses he can mix it with the best.
Mumford has had that ruck spot since the Giants were in existence – and he is still hanging around.
I think Lynch, who the Hawks went out of their way to snare from Collingwood in the trade period, will get every opportunity in the pre-season to have a crack at playing Round 1.
FORWARD
Josh Dunkley $558,200, MID
Jordan De Goey $463,500, MID
Lachie Weller $403,300, MID
Stephen Coniglio $261,300, MID
Josh Rachele $184,800, MID
Elijah Hollands $123,900, MID
Charlie Comben $123,900, RUC
Jesse Motlop $117,300
De Goey is locked in my side, and If he can tick that consistency box, he can be a really big scorer in 2022.
Now for one out of left-field – Weller, who currently resides in less than one per cent of KFC SuperCoach teams.
I have a sneaking suspicion he may venture down back and rumour has it he has been watching a few of my old tapes to maximise his SuperCoach output. Weller is a very good runner, and good skills are what Gold Coast need out of defence, I also assume the ball will be down there in the back-half a fair bit.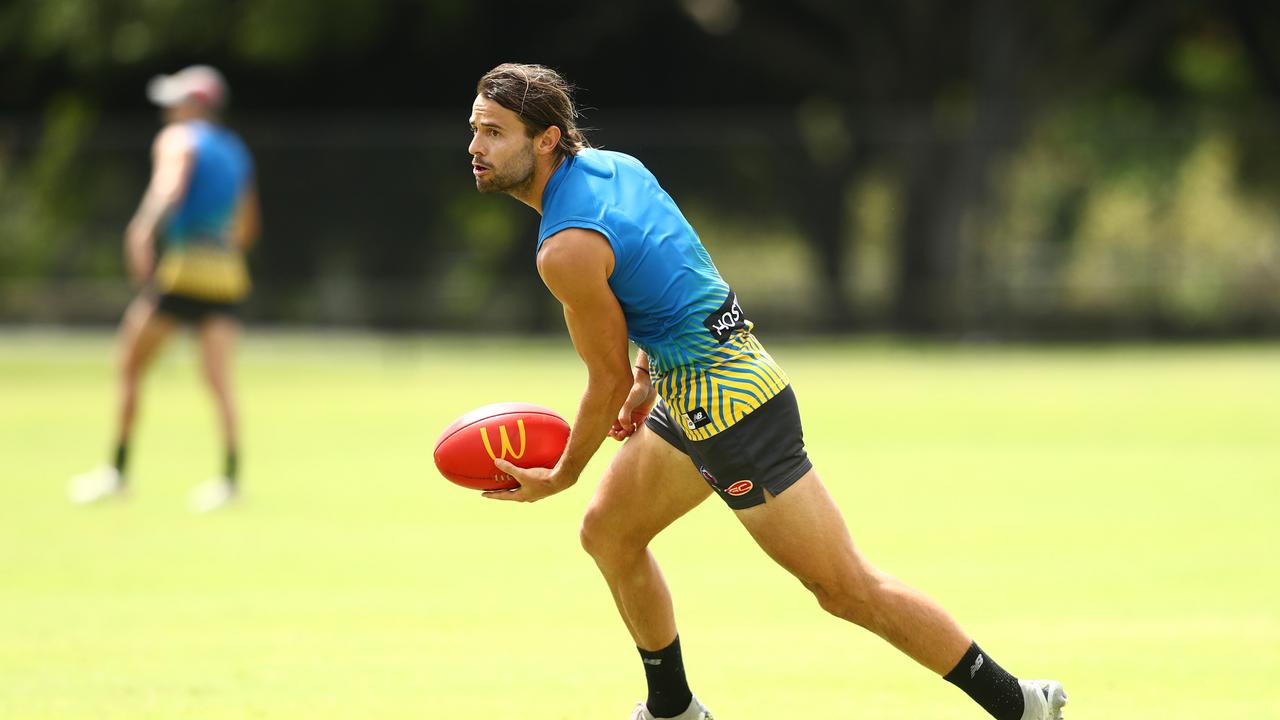 Lachie Weller is tipped to spend more time in defence this season. Picture: Chris Hyde/Getty Images
Big wraps on Hollands as a high draft pick, with injury has stalled his AFL career to date. I can see him playing some games this year.
Unless Rachele does something really wrong in the pre-season, he should be playing for them in Round 1. Adelaide has said it's going to be a rebuild, and the club will get as many games into the kids as humanly possible.
And if I have a bit of money in the bank I reckon Toby Greene will be coming into my team upon his return – he will be like a caged animal ready to go. You'd be spewing if you were the opposition.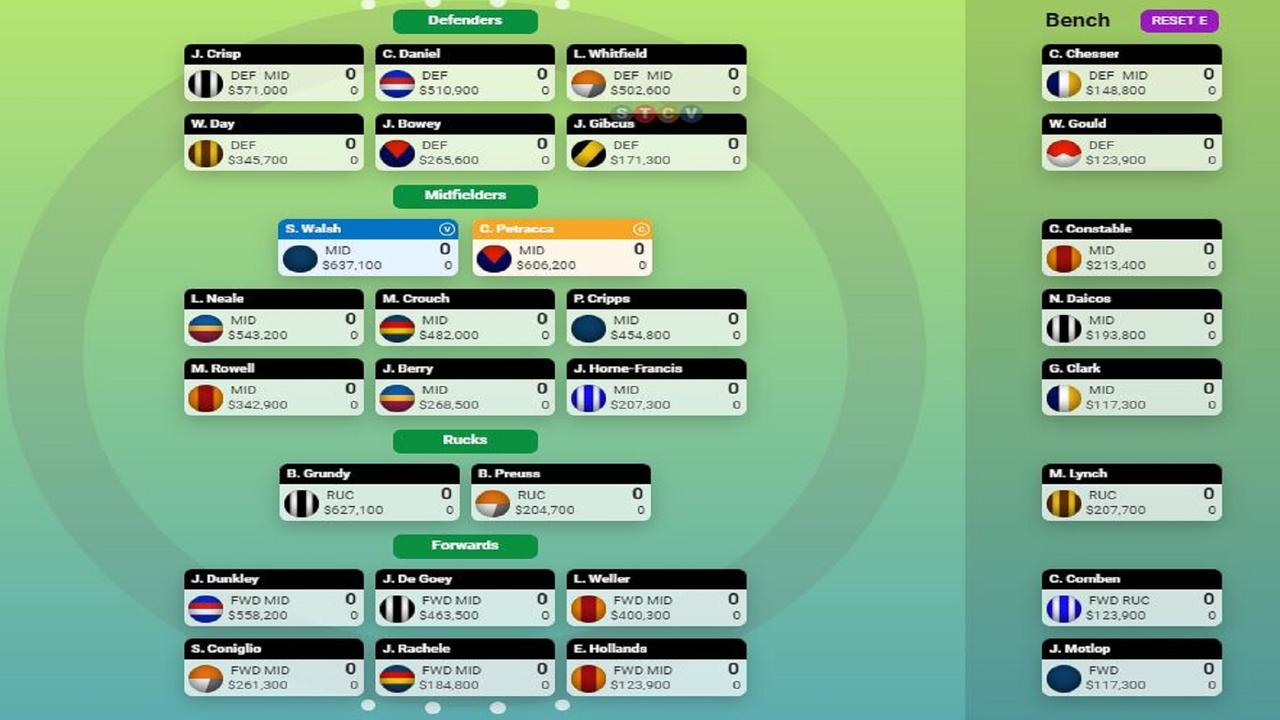 Heath Shaw's first 2022 KFC SuperCoach team.
CLOSING STATEMENT
I'm here for redemption. Last year wasn't a great one for LORDHEATHSHAW, but I put that down to Covid — or first year blues.
Originally published as KFC SuperCoach 2022: Ambassador Heath Shaw unveils his pre-season team