KFC SuperCoach 2022: Best trade targets and who needs to go for round 7
It's time to make some big KFC SuperCoach moves and that means cashing in starting rookies. Which cash cows are ready to sell? Plus this week's top targets.
It's upgrade season and a host of KFC SuperCoach cash cows are ready to be put out to pasture.
But where are the bubble boys?
That's the question on coaches' lips as they enter round 7, with only two notable rookies set to play their third game: one who teams may not be able to squeeze in, and another who is under an injury cloud.
SCROLL DOWN FOR THIS WEEK'S TOP TRADE TARGETS
The latter, Gold Coast forward Malcolm Rosas, threw a spanner in the works on Sunday when news broke that he was set to be a late out, and hours later the Suns confirmed his withdrawal with a calf issue.
Some were forced to update their trade – a new feature in KFC SuperCoach - and go early on Essendon rookie Ben Hobbs, who was the best option in the circumstances, but he may not get a third game this week after failing to reach 40 points.
Stream every match of every round of the 2022 Toyota AFL Premiership Season Live & Ad-Break Free In-Play on Kayo. New to Kayo? Try 14-Days Free Now >
The former is 23-year-old Sam Hayes, who presents as the clear standout cheapie this after thriving as Port Adelaide No.1 ruckman, with Scott Lycett sidelined for at least the next two months.
Those with Braydon Preuss could consider partnering the two rookie rucks alongside a big dog like Max Gawn.
While the likes of Jason Horne-Francis, Josh Rachele, Paddy McCartin and Jack Hayes are all on the chopping block due to their rising Break Evens or injury, we have to be careful of getting rid of too many reliable rookies, a process that can compromise our on-field scoring.
Offloading injured and non-playing rookies should be our priority, and it may mean having to wait a week on getting that uber-premium.
BUBBLE BOYS
Sam Hayes (PA) $123,900 RUCK
Average: 84.5 BE: -97
Waiting in the wings for four years without playing a senior game, Hayes has taken his opportunity with both hands after Scott Lycett's long-term injury. His tapwork has been the area where he has shone with an elite 41.8 per cent of his 67 hitouts being to advantage in his first two matches. He recorded 47 hitouts, 17 hitouts to advantage, 11 disposals, seven contested possessions and 94 points against the Eagles, leaving him with a mouth-watering Break Even of -97. Hayes will face a tougher test against Paddy Ryder and possibly Rowan Marshall this week, who struggled to finish the Saints' win against GWS due to injury, but his run of games is inviting. The 23-year-old will face the Western Bulldogs (Tim English or Stefan Martin), North Melbourne (Tristan Xerri) and Geelong (Rhys Stanley) in the next month, none of which rack up big hitout numbers. The only problem is those who have Braydon Preuss on the ruck bench finding a spot to get him in.
VERDICT: MUST-HAVE … Trading Jack for Sam Hayes (no relation) looks to be trade of the week. Is it worth trading the injured Brodie Grundy to him and playing him on-field? Yes, particularly if you can use the cash to upgrade another rookie.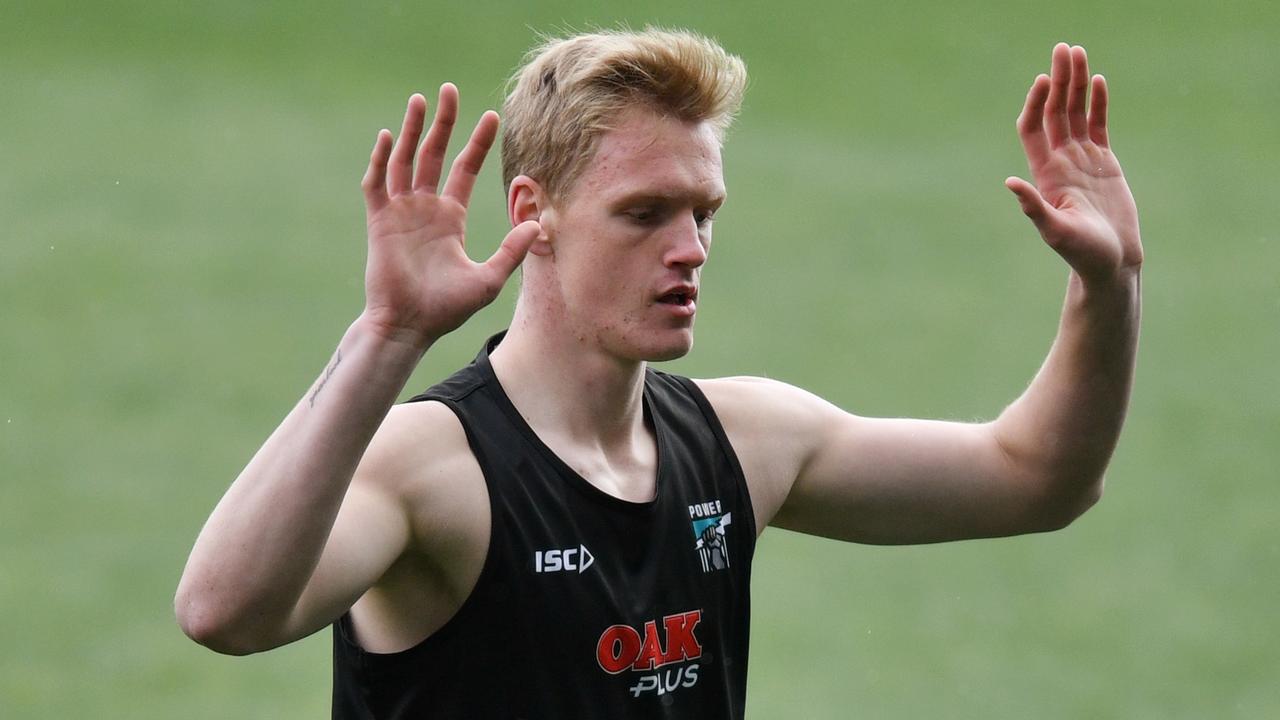 Port Adelaide ruckman Sam Hayes is this week's top KFC SuperCoach rookie target. Picture: AAP Image/David Mariuz
Malcolm Rosas (GC) $130,600 FWD
Average: 73.5 BE: -71
Rosas sent KFC SuperCoaches into a frenzy on Sunday when he was withdrawn from the Q-Clash with a calf injury, but Suns coach Stuart Dew said he should be available this week. The small forward looks to have improved considerably after averaging just 28.6 points from three games last year, opening his 2022 account with scores of 74 and 73. Rosas kicked three goals in his first game and had seven tackles in the other, showing he has multiple scoring avenues. Before earning a senior call-up, Rosas churned out scores of 116 and 124 in the VFL, where he kicked seven goals and averaged 19 disposals, 11 score involvements and four tackles in the first four rounds.
VERDICT: WAIT… The jury is out on Rosas, as a stinker could come any week. But he presents as the next best option behind Hayes – if he is named.
Finn Callaghan (GWS) $198,300 MID
Average: 62 BE: -9
There was a case for Callaghan being the No.1 draft selection last year, possessing dangerous attributes as a tall midfielder that saw him compared to Marcus Bontempelli. An injury interrupted first pre-season left the No.3 pick out of round 1 contention but after averaging a formidable 25.7 disposals, 5.2 clearances, 107 KFC SuperCoach points and a goal per game at VFL level, Callaghan has transitioned smoothly to senior footy. Callaghan has posted scores of 48 and 76 in his first two matches, showcasing his decision making and ball-use against the Saints, hitting the target with 15 of his 18 disposals. The talented youngster looks to have settled into an outside midfield role and across half-back for the Giants, but his price tag is daunting.
VERDICT: CONSIDER. We probably needed to see a little bit more to justify the elevated price, but he is a rookie with definite upside, considering his early VFL form.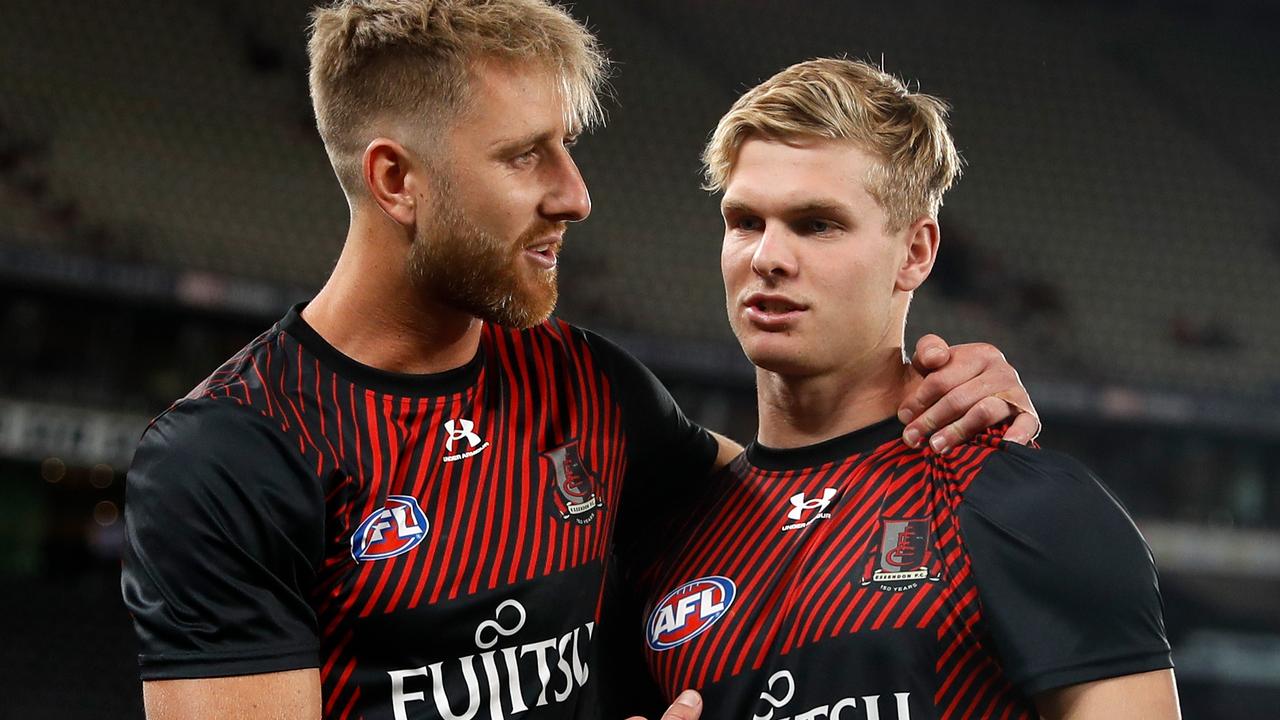 Essendon skipper Dyson Heppell with Ben Hobbs before his first game. Picture: Dylan Burns/AFL Photos via Getty Images
Ben Hobbs (Ess) $153,300 MID
Average: 49.5 BE: -10
The inside midfielder was a KFC SuperCoach machine as a junior, averaging a whopping 147.2 points from his non-injury affected games, but the midfield squeeze at the Bombers has hurt his scoring. Hobbs finished with nine touches and 34 points on Anzac Day, spending most of his time as a forward. His low output means he may struggle to hold his spot despite a promising 65-point debut.
VERDICT: PASS… He has plenty of potential in a midfield role, but that appears unlikely for now.
WAIT
Oliver Dempsey (GEEL) $102,400 FWD | R7 score: 65
Paul Curtis (NTH) $117,300 FWD | R7 score: 58
Greg Clark (WCE) $117,300 MID | WAFL average: 99.5
We may all be brandishing 'I love Dempsey' on our bare bodies if Dempsey keeps this form up, as his mates did down in chilly Hobart on Sunday. Dempsey and Curtis both showed promising signs on debut, and Curtis' 58 point effort could have been bigger given he kicked 1.3.
The big watch for KFC SuperCoaches is pre-season lock Greg Clark, who has been confirmed to make his AFL debut after two strong weeks in the WAFL. The mature-age midfielder returned from his shoulder injury that he suffered in the pre-season with totals of 99 and 105, at an average of 23 disposals, 10 contested possessions, nine tackles and 5.5 clearances. Expect him to get midfield minutes in a lacklustre Eagles side and considering he averaged a whopping 121 KFC SuperCoach points in the WAFL last year – including an injury affected score of – you can be forgiven for jumping on him as early as this week.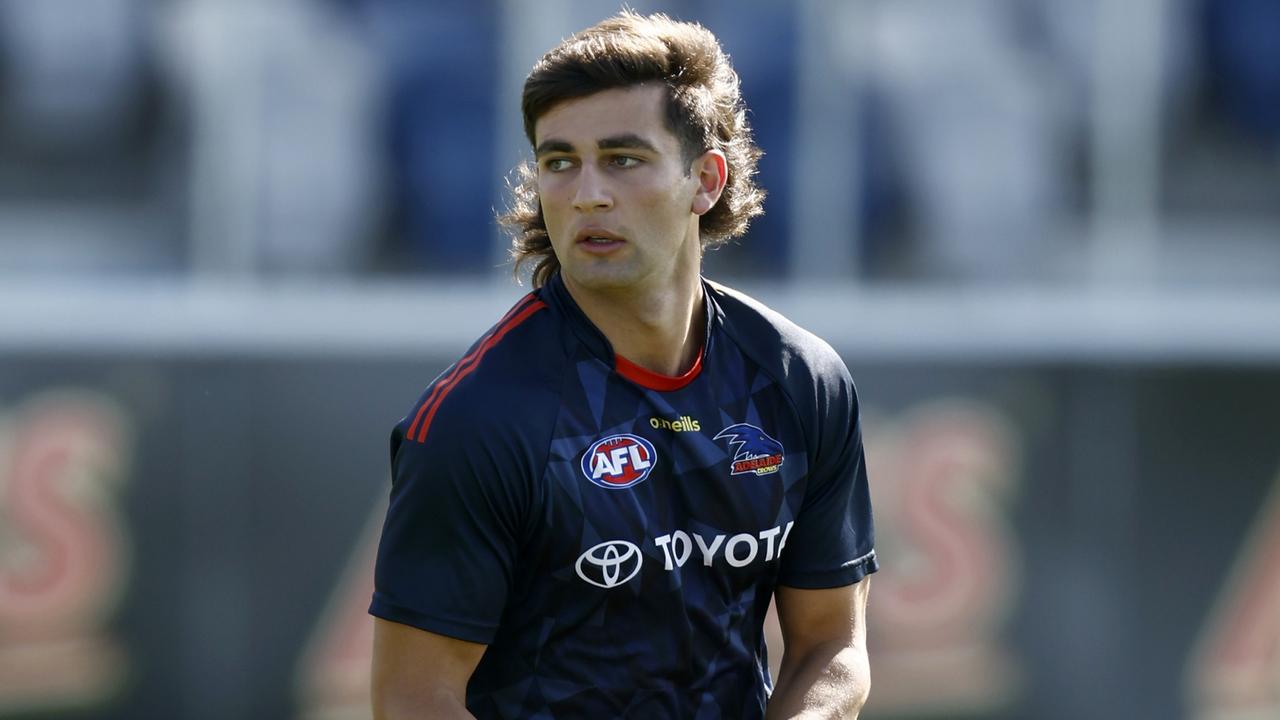 Time may be up for Josh Rachele in KFC SuperCoach. Picture: Darrian Traynor/Getty Images
SELL
Jack Hayes $258,800 RUC-FWD
Thomson Dow $283,300 FWD-MID | Ave: 59.8, BE: 97
Corey Durdin $205,200 FWD | Ave: 45.4, BE: 60
Josh Rachele $290,600 FWD-MID | Ave: 67, BE: 85
Jason Horne-Francis $322,200 MID | Ave: 72.8, BE: 83
Hayes is top of the trade list after his season-ending ACL blow. Dow (12 points, subbed out with injury) and Durdin (14 points) appear unlikely to hold their spots.
There is certainly a case for holding Jason Horne-Francis, but his midfield minutes were down against the Cats, attending less than half of North Melbourne's centre bounces on Sunday and recording just 72 per cent game time. With his Break Even now above his average, you can afford to trade him if it gets you a premium like Patrick Cripps.
Rachele has shown he can produce spike games but is averaging just 42 points from his last two matches.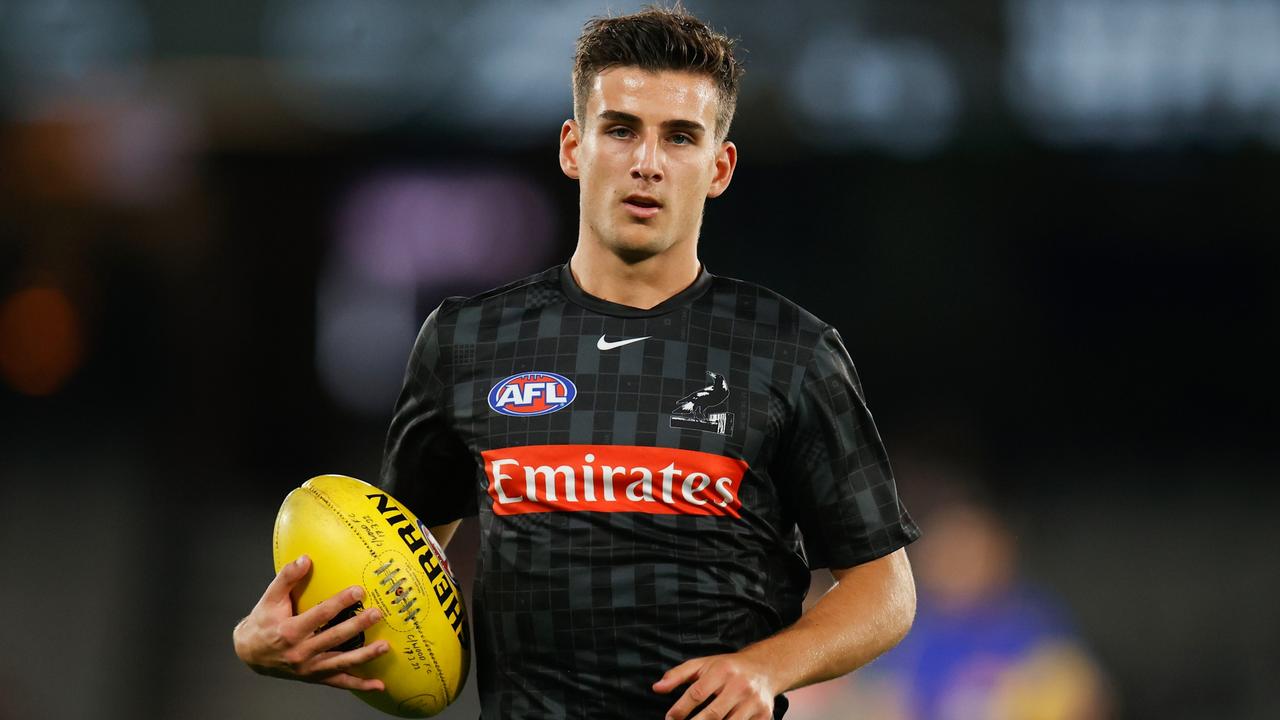 Nick Daicos took a while to get going on Anzac Day. Picture: Michael Willson/AFL Photos via Getty Images
HOLD
Nick Daicos $380,700 DEF-MID | Ave: 84.8 BE: 80
Paddy McCartin $268,700 DEF-FWD | Ave: 63 BE: 44
Hugh Dixon $216,300 RUC-FWD | Ave: 63.3 BE: -24
Hold up. Why are KFC SuperCoaches tradiing Nick Daicos? The father-son gun has gone below his usual output with back-to-back scores of 71 in the past fortnight, but surely you have bigger problems than trading out the No.1 rookie in defence and the midfield. Daicos hasn't fallen below 22 disposals in his six senior games to date and will continue to be a reliable on-field scorer.
McCartin does have a history with concussion but the intercept defender is expected to only miss a week and is worth holding. He is still scoring well – he was on track for another 70-plus total on Monday before he was subbed out.
Dixon was listed to return this week or in round 8 from a calf injury and is projected to rise $40k when he next takes the field.
TOP UPGRADE TARGETS FOR ROUND 7
Welcome to upgrade season!
It's time to turbocharge our KFC SuperCoach teams by cashing in rookies from our starting squads for rolled gold superstars.
So, who goes and who should you bring in?
After six rounds many of our starting cash cows have gained enough value to take to market, with evidence several popular selections have peaked in price, at least for the foreseeable future.
After scoring 65 points in round 6, No. 1 draft pick Jason Horne-Francis is set for a modest price increase, but his Break Even score next round is likely to be in the 80s – higher than his season average of 72.8.
That's the magic threshold that sets off alarm bells at KFC SuperCoach trade headquarters. If Horne-Francis hits his average against Carlton, he'll lose value – so cash him in now if you can to make the most of his price gains so far.
It's a similar story with several other popular starting picks. Adelaide's Josh Rachele is averaging 67 and might have to post a 90-plus score to continue making cash. Carlton's Corey Durdin is in a similar position after scoring just 14 on the weekend – if he keeps his spot.
You get the idea.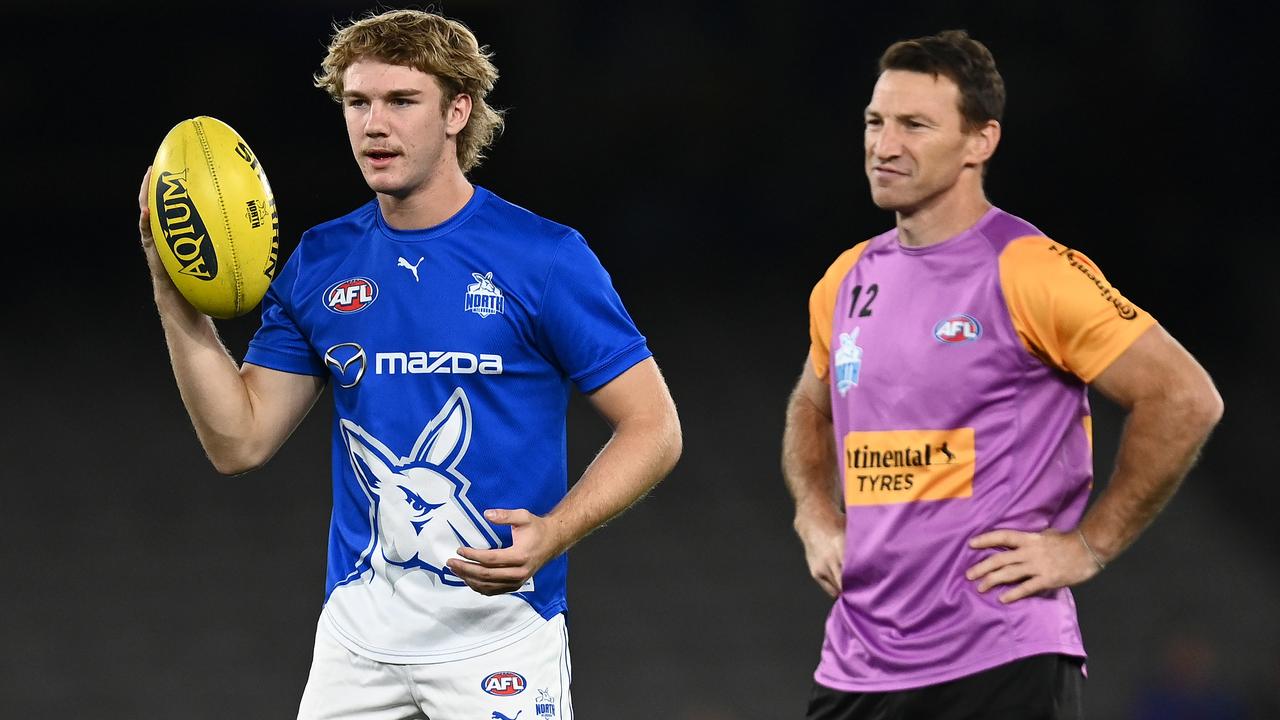 Jason Horne-Francis gets some tips from Kangaroos legend Brent Harvey. Picture: Quinn Rooney/Getty Images
The most popular trade this week is likely to be replacing one Hayes with another. Saint Jack Hayes is out for the season with an ACL injury, a terrible blow for the rookie star. He has been one of the KFC SuperCoach buys of the season and now must be traded out of more than 116,000 teams.
The obvious replacement is Port Adelaide's Sam Hayes ($123,900 RUC), who is about to shoot up in price after scoring 75 and 94 in his first two matches.
That move would free up over $100,000, and another downgrade of a fattened-up cash cow to a bubble boy like Essendon's Ben Hobbs ($153,300 MID) would give you enough money to activate a Trade Boost and turn another rookie or mid-pricer into a top-line gun.
The aim of the KFC SuperCoach trading game is to fill our teams with as many of these top-end scorers as possible, ideally grabbing them at a discount price then watching the big scores roll in.
And with a great sense of timing, there are some fantastic options this week. Here are the players who should be on your trade hit list.
CLAYTON OLIVER (MID) $618,900
Bargain hunters have had a close eye on Oliver since he dropped a rare low score against Port Adelaide in round 4.
That 68-point outing sent his Break Even through the roof and resulted in a big price drop last week, even after scoring 118 against the Giants. And a BE of 173 entering round 6 would ensure Oliver would be available for under $600,000 this week … or that was the theory, anyway.
The Demons bull blew those predictions out of the water with a monster game on Anzac Eve, collecting 41 disposals and 13 clearances on his way to 168 KFC SuperCoach points against the Tigers.
That will likely result in a modest price drop – not what shoppers were hoping for, but still resulting in a price tag more than $50,000 under his round 1 value.
Given his huge scoring power, durability – he hasn't missed a game since 2016 – and general consistency (he seems to have one bad game a season and this year's may have already happened), he should be your No. 1 target this week – if you've got the cash.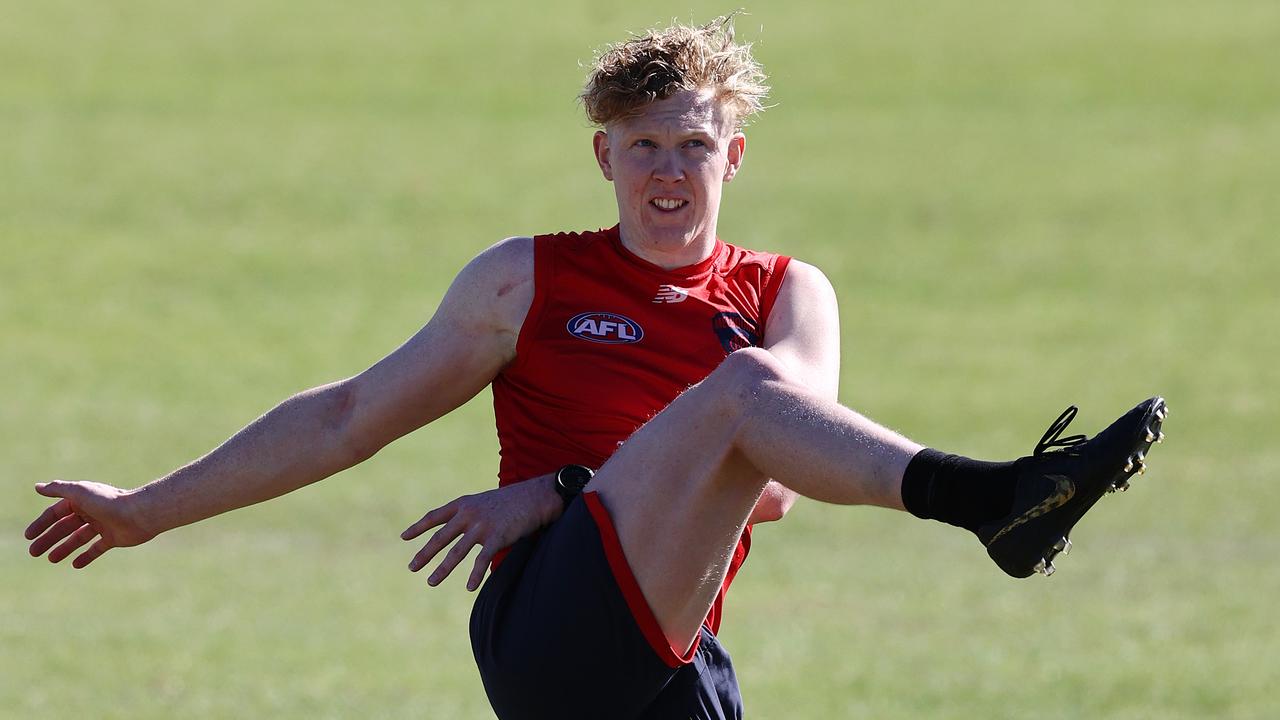 Clayton Oliver was best on ground against the Tigers. Picture: Michael Klein
TOUK MILLER (MID) $578,600
Two rounds into the season Miller looked like he could be the topscoring midfielder in KFC SuperCoach this year, if not the topscoring player overall.
At that stage he was on a run of 18 straight 100-plus scores (20 if you include two huge pre-season matches) and his price looked all but unattainable for anyone who didn't start him.
Then came a mini form slum – double-tagged against GWS for a score of 76 then 105, 107 and 99 in his past three games.
That means Miller will be priced at about $580,000 when lockout ends on Monday night, a discount of about $100,000 since round 1.
His price could fall even further, but he faces Collingwood at the MCG on Sunday and his numbers are still good – 26 disposals against the Lions and ending his tackle drought with eight. A big score is just around the corner.
PATRICK CRIPPS (MID) $521,100
Well played to the Cripps owners who held their nerve and backed in the Blues' assessment of a one-week hamstring injury.
More than 35,000 coaches pulled the trigger and traded out the Carlton skipper after he was subbed out against Gold Coast in round 4.
After a week out he returned against Fremantle and showed his super powers have not diminished, racking up 32 disposals, five tackles and another three goals (that's 10 for the season) to post 139 KFC SuperCoach points.
The injury-affected round 4 score means his price will drop a little, but not much. And if he keeps scoring like this his value will be heading north again very soon.
Take out the hammy game and he is averaging 139 points per match – No. 1 in the competition, so anything under $600k is excellent value.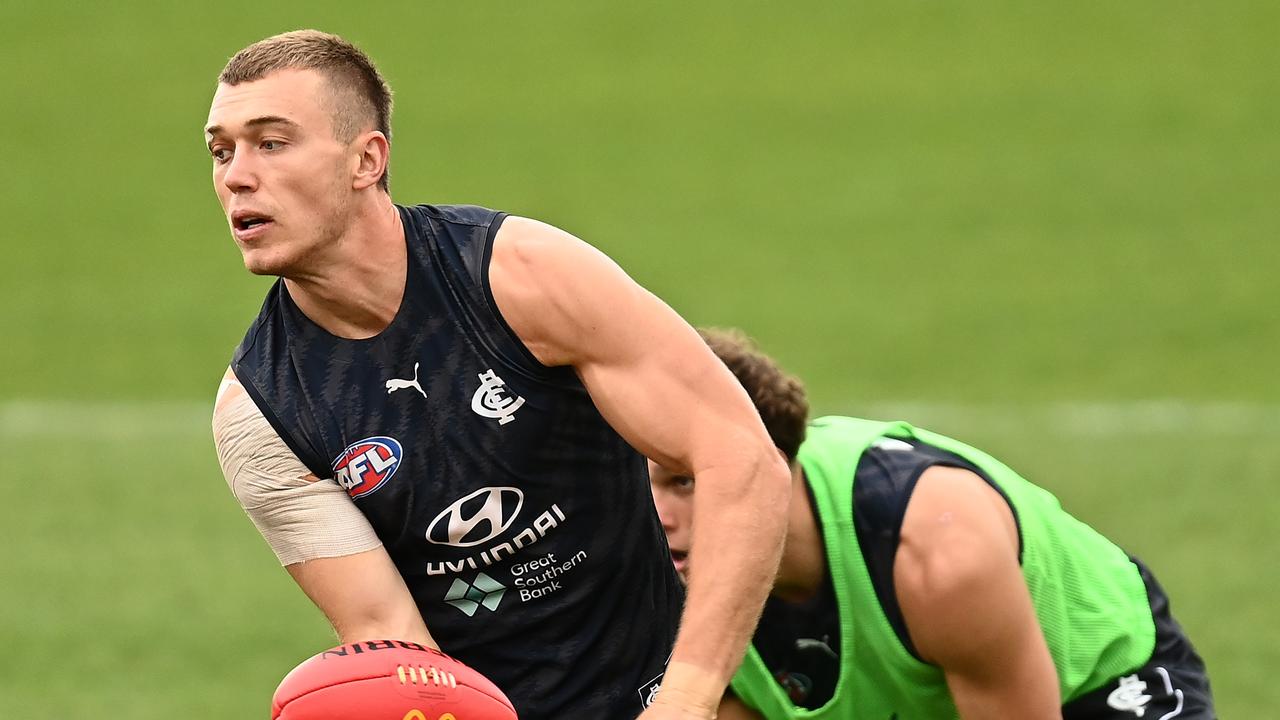 Patrick Cripps didn't miss a beat in his return from injury. Picture: Quinn Rooney/Getty Images
TOM GREEN (MID) $546,000
The young Giants midfielder blew the lights out with scores of 164 and 147 in the opening three rounds, when he was priced at just $430,000.
He's now in the mid $500k range but that could still be terrific value for the seventh-ranked midfielder after six rounds (average 122).
His scoring since then has been a little more modest but arguably more sustainable, scoring 115 and 108 in the past two rounds without kicking a goal (nine tackles against St Kilda helped).
Leon Cameron has been known to cause plenty of headaches for KFC SuperCoach players but he seems sold (after years of lobbying from The Phantom) on Green as the Giants' best ball-winning midfielder.
ALEX WITHERDEN (DEF) $569,800
Entering round 6 Witherden was in just 313 KFC SuperCoach teams (by comparison George Hewett, the most popular premium defender in the game, is in over 102,000).
But surely that's about to change.
The former Lion has a golden role in the besieged Eagles backline, doing all the things KFC SuperCoaches love. Against Port Adelaide he had 34 disposals at 82 per cent efficiency, nine intercepts and took seven of West Coast's nine kick-ins – playing on from all seven.
The result – a score of 152 and an average of 129.8 over his past four games.
Likely to be priced around $570,000, Witherden isn't exactly a bargain, but if you're in a position to upgrade a mid-priced backman or an underperformer like Lachie Whitfield, he could be your man. He's likely to be priced at well over $600k in a few weeks, and there's an excellent chance your league opponent won't have him.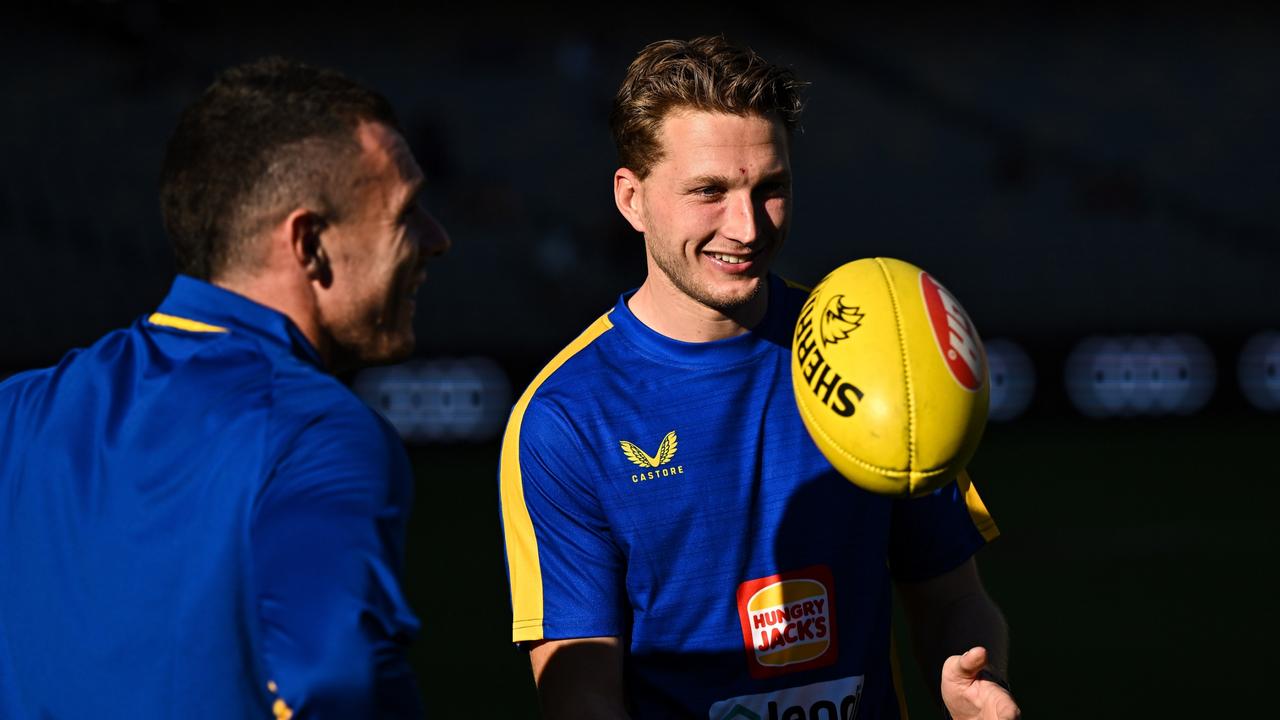 Alex Witherden (right) has taken his game – and KFC SuperCoach scoring – to a new level. Picture: Daniel Carson/AFL Photos via Getty Images
CHRISTIAN PETRACCA (MID) $555,200
If you were told after round 1 – following consecutive 160-plus scores – you could get the Norm Smith medallist for close to $550,000, you would lock it in and throw away the key.
Petracca hasn't quite hit those scoring heights since then, averaging 113 but posting three sub-100 scores including 87 against Richmond.
But that's Petracca in KFC SuperCoach. Last season he posted scores of 78, 83, 86 and 87 – as well as 173, 146, 145, 148 and 160.
You need to be prepared to ride the rollercoaster, but if he goes on a hot streak he can score like few others, and the name of the game is selecting players at their optimum price. This is likely to be as cheap as he gets.
MARCUS BONTEMPELLI (MID) $597,400
If you're looking for proven elite scorers who have dropped significantly in price, The Bont has to be on your watch list.
He has already fallen $40,000 from his $651,700 starting price, and a score of 88 points against the Crows is set to send his price under $600,000.
But this is a watch and wait situation. Bont has been used mainly as a forward by Luke Beveridge in the past two weeks, with just 10 centre bounce attendances in each game as Bailey Smith and Tom Liberatore take the lion's share of midfield minutes.
That's not good news for Bont owners, but if the role continues it could be a huge bonus for everyone else.
Scores around the 100 mark (he's averaging 107.3) will result in a price of about $550,000 in three weeks. At some point Bevo is likely to throw him back into the guts and that could be the perfect time to snap up a bargain premo to complement your midfield.
And he could be a MID/FWD by round 12, too.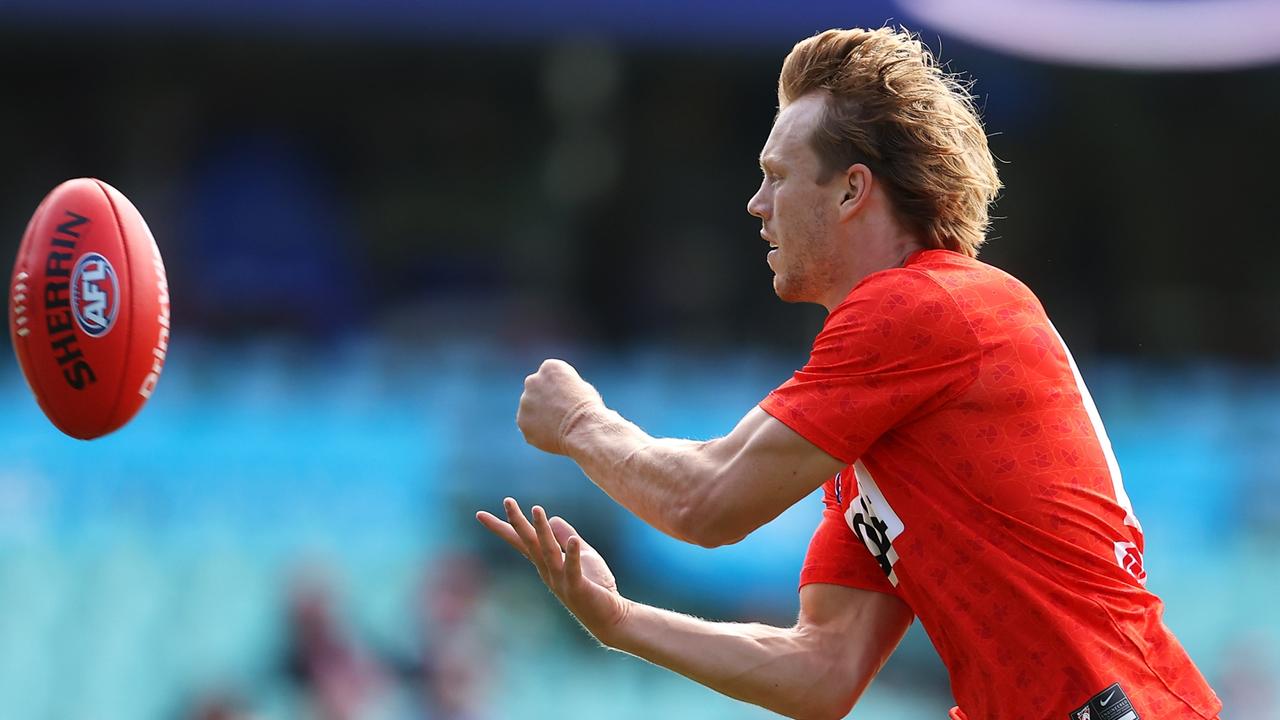 Callum Mills is the hottest player in KFC SuperCoach.
CALLUM MILLS (MID) $632,900
Those coaches who were eyeing the Swans gun for less than $600k will have to pay top dollar now after his incredible 214 against Hawthorn.
That score rocketed Mills to third overall for points this season, behind only Lachie Neale and Jack Macrae.
Most importantly for potential buyers, it caused his price to spike by $56,700, which likely pushes him down the list of potential upgrades with so many fallen premiums available.
This is the week to jump on if you're desperate to add Mills as his break even is only 32 and he's projected to rise again by almost $50k — that will make him one of the most expensive players in KFC SuperCoach after seven rounds.
Mills has gone 130, 117 and 214 in his past three matches for a crazy average of 153.7.
DARCY PARISH (MID) $594,400
The Bombers ball magnet is still available for less than $600k despite racking up 133 KFC SuperCoach points from his 44 disposals on Anzac Day.
Parish bottomed out last week at $581k and despite Essendon's early-season struggles, four of his six scores have been 110 or better and he hasn't scored less than 97 points.
His ball-gathering ability all but guarantees triple figures in KFC SuperCoach but he hasn't been hurting teams as much as his premium rivals this year who have gone massive — see Mills.
Parish had 310 metres gained for his 44 disposals on Monday, whereas Mills had 660 from 37 disposals.
Metres gained isn't the be all and end all and doesn't indicate KFC SuperCoach scoring, but it does go some way to explain why Mills scored 81 more points than Parish.
Now it's up to you whether you value sheer weight of numbers or prefer to target impact players.
Parish is averaging 112.2 which ranks 17th for midfielders this year.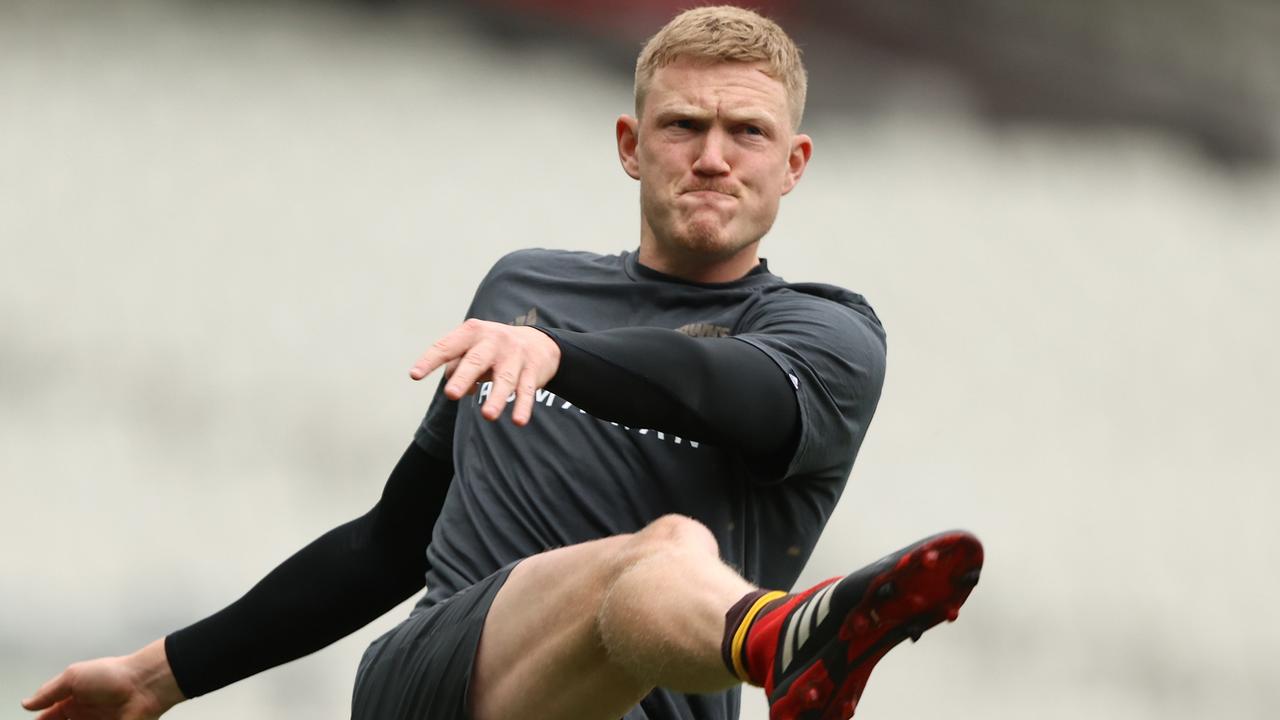 James Sicily is shaping as one of the must-have defenders of 2022.
JAMES SICILY (DEF) $532,000
Sicily has proven to be one of the buys of the season for those who locked away a premium scorer in their starting teams at $448k.
Returning from a knee injury, the star Hawk has five tons in six matches and is on a run of 105, 113, 126 and 113 after tallying triple figures on Anzac Day against Sydney.
Sicily showed just how quickly he can accumulate points in that game.
Three uncharacteristic errors in the opening quarter hurt his scoring, but by halftime he had recovered to 44 KFC SuperCoach points.
He launched in the second half with several important intercept possessions, which are one of the highest-rated acts in KFC SuperCoach scoring.
Few players in the AFL boast Sicily's intercept marking ability and it's what makes him such a reliable scorer.
The past two weeks factors have been against his No. 1 trait (rain against Geelong and Sydney playing three talls) yet he has posted 15 and 11 marks respectively.
His price continues to rise and although you're paying more than others, Sicily is shaping as a must-have with an average of 107.7 after six rounds.
Originally published as KFC SuperCoach 2022: Best trade targets and who needs to go for round 7