KFC SuperCoach 2022: Champion Data stats guru Fantasy Freako reveals his team
Champion Data expert Fantasy Freako finds the stats that matter to put together his first KFC SuperCoach team for 2022. And there are some big surprises.
In the 2022 AFL pre-season SuperCoaches have to be more on the ball than ever.
Unlike in previous seasons, when we had up to three pre-season games of data to analyse, this year we only have one match of numbers to scrutinise as we pick our starting team, with the 2022 pre-season comprising of just one official AFL AAMI Community Series match.
Fortunately, we don't need to see the likes of Marcus Bontempelli and Tom Mitchell play and rack up huge pre-season scores, as we know they are proven KFC SuperCoach scorers.
The pre-season is all about the second-fourth year players as they are given a chance to shine, while first-year players will also put their hand up for an early debut.
In 2022, there will also be three new coaches at the helm, as Michael Voss, Craig McRae and Sam Mitchell take the reins at their respective club. With any new coach comes a new game style as well as positional changes, and with just one match of data, it makes it a little harder to identify any trends.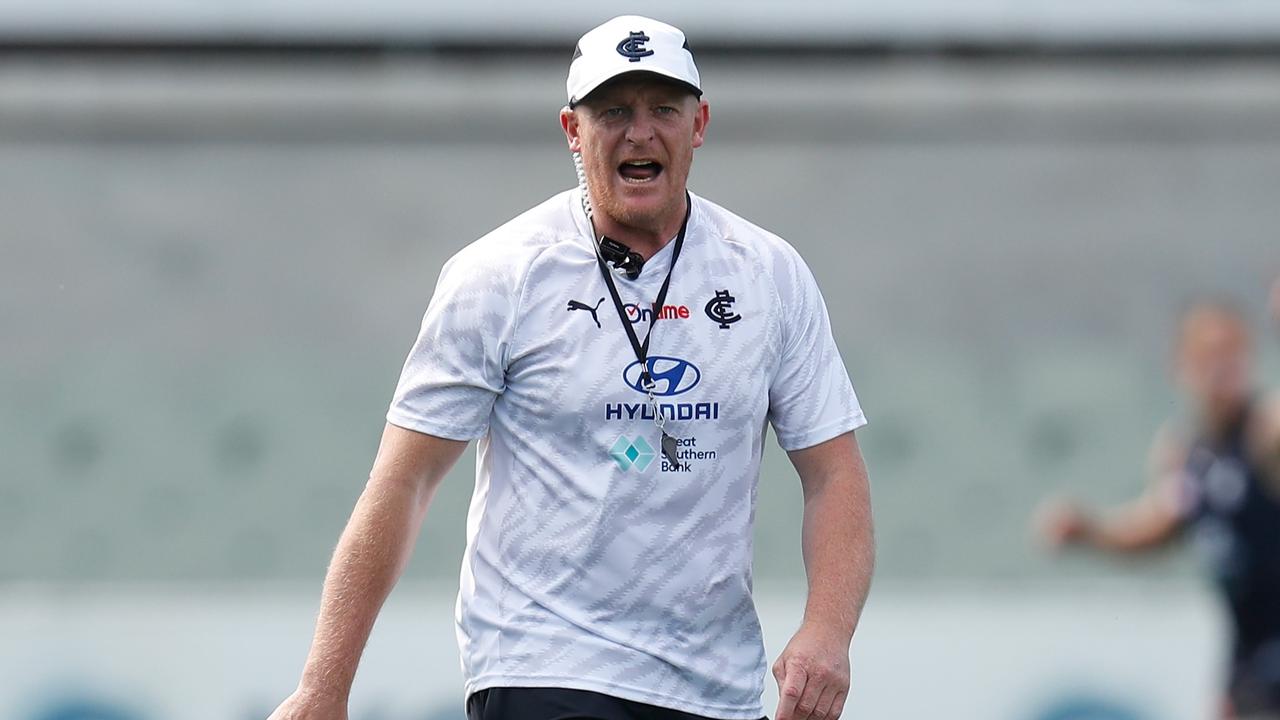 Michael Voss's new game style could impact the KFC SuperCoach scores of Carlton players. Picture: Michael Willson/AFL Photos via Getty Images
Nevertheless, my first draft team is a relatively safe one and it adopts a similar structure to previous seasons.
Most of the rookies are just placeholders for now, as we await to see which cheap players we can target for Round 1.
The premiums once again pick themselves in what is a balanced team. By no means is this set in stone, as there will be plenty of tinkering along the way as I look to pick the best possible team ahead of Round 1.
DEFENDERS
Structure: Three premiums and five rookies.
The one staple in my defence over a long period has been Jake Lloyd. He's my first-picked defender once again on the back of dropping below 90 points just once in 2021 and finishing in the top-three ranked Sydney players nine times – a team-high return. He played on from 125 of 127 kick-ins and is one of the most reliable scorers in any position in the league.
I found it difficult to split Tom Stewart and Aaron Hall with my next pick, and have opted for the latter after an outstanding breakout season. Hall averaged 117 points per game after the bye in 2021 – ranking sixth overall in the league for total points scored over that period. He dropped below 100 only once in that time and scored 120-plus in four of his last five appearances.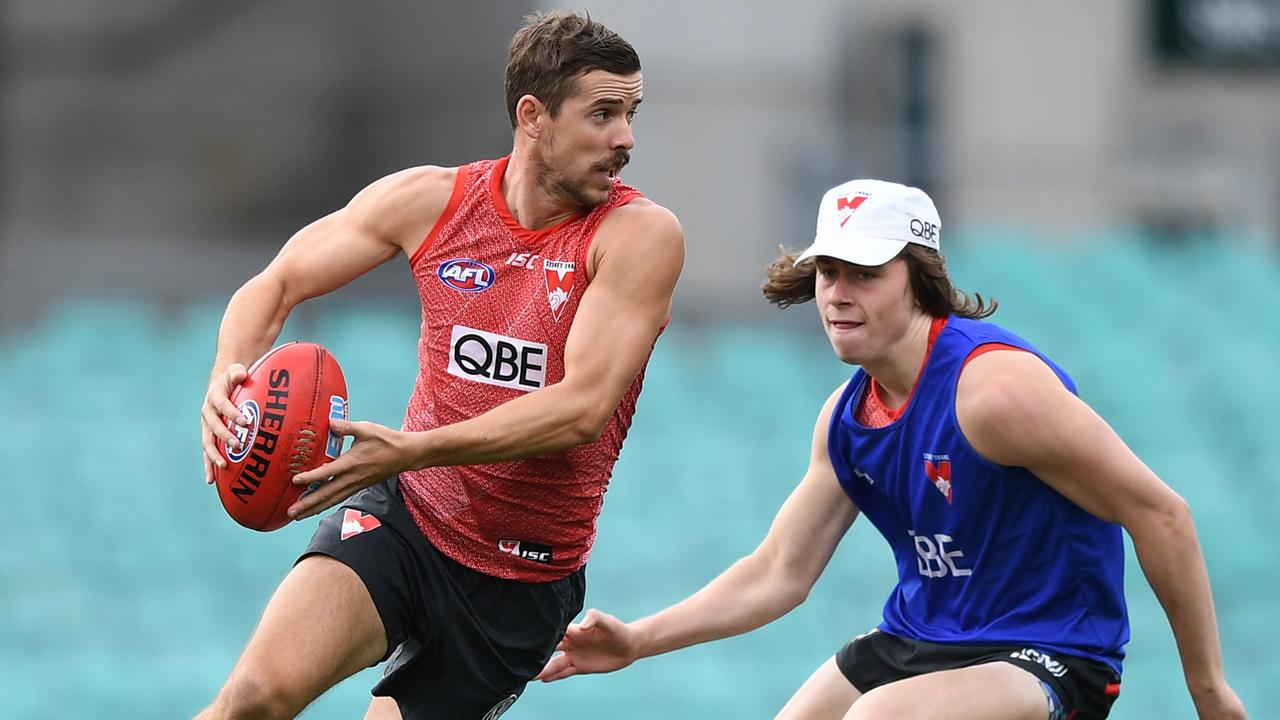 Jake Lloyd is one of the most reliable players in KFC SuperCoach. Picture: AAP Image/Joel Carrett
After the arrival at Essendon of experienced defender Jake Kelly, Jordan Ridley is my other premium pick. With Kelly likely to play the lockdown role, Ridley will be allowed to play his natural game and intercept. Ridley averaged 133 points over the opening month last season before getting injured.
Connor Budarick is the standout in his price range and I'm content to pay a bit more for job security, although if money wasn't an issue, I would've preferred Wayne Milera in that position. Milera is on track to return to the Crows side in what will be his first game since Round 2, 2020.
The four remaining rookies are just placeholders at this stage.
MIDFIELDERS
Structure: Four premiums, one mid-priced and six rookies.
From a structure point of view, nothing changes in the midfield. After not starting with a Bulldogs midfielder last season, I won't be making the same mistake again. Jack Macrae is as close to a must-have in KFC SuperCoach as anyone, scoring the most points of any player in the competition across the past three seasons.
With a low score of 97 last year, he pumped out 15 scores of at least 120 – the most of any player. With an average of 138 across the finals series, Macrae's ceiling ensures he's in the captaincy mix every week.
Jack Steele is a player I wasn't able to own last season, and I've made him a priority in 2022. He went on a scoring spree from Round 11 lastseason, averaging a competition-high 138 points including 10 scores of at least 120. A lot of Steele's points come from defensive efforts and he smashed his previous tackle numbers – averaging a career-high 8.5 per game.
On the back of averaging 143 points in Melbourne's successful finals series, Clayton Oliver picks himself. He ticks every box in KFC SuperCoach, one of which is impeccable durability, last missing a match way back in Round 10 in 2016 – his debut season. Oliver is worth every dollar, exceeding 130 points on nine occasions in 2021.
Jack Steele is a KFC SuperCoach scoring powerhouse. Picture: Michael Willson/AFL Photos via Getty Images
Lachie Neale earns a reprieve after a subdued 2021 season which was largely impacted by a limited pre-season and injury riddled home-and-away campaign. He never got going, having to wait until Round 5 for his first SuperCoach ton and reaching three figures just five times in 15 regular season games. We have to go way back to 2015 for the last time he averaged under 105 points, which makes him an absolute bargain. Neale is almost $200,000 cheaper to start with compared to 2021.
I always leave room for one punt and in 2022 that player is Jade Gresham. He started last year with scores of 83 and 104 before going down with injury the following week. In the absence of Brad Crouch, he was handed a centre bounce role in the opening two rounds – attending 28 in total, ranked equal-second at the club.
Moving forward though, it remains to be seen if Gresham will enjoy as much time in the middle this season, but at his price he has a lot of upside. Add to that his dual-position status and he can also provide a vital link between my midfield and forward line.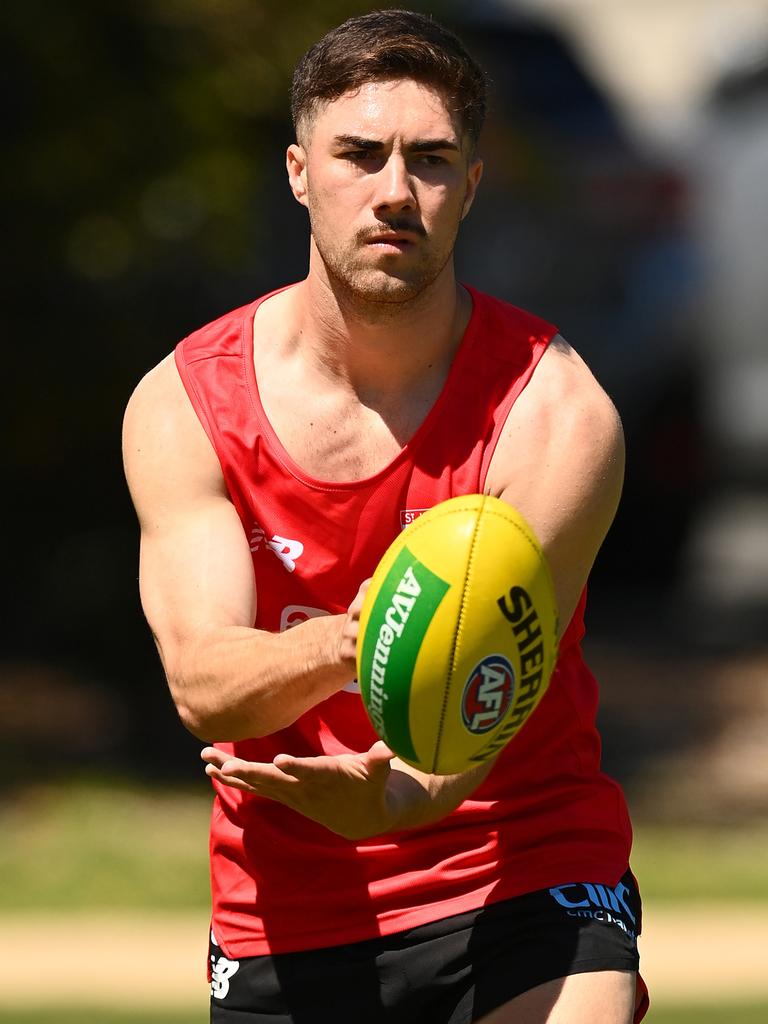 Jade Gresham could be a bargain pick in 2022. Picture: Quinn Rooney/Getty Images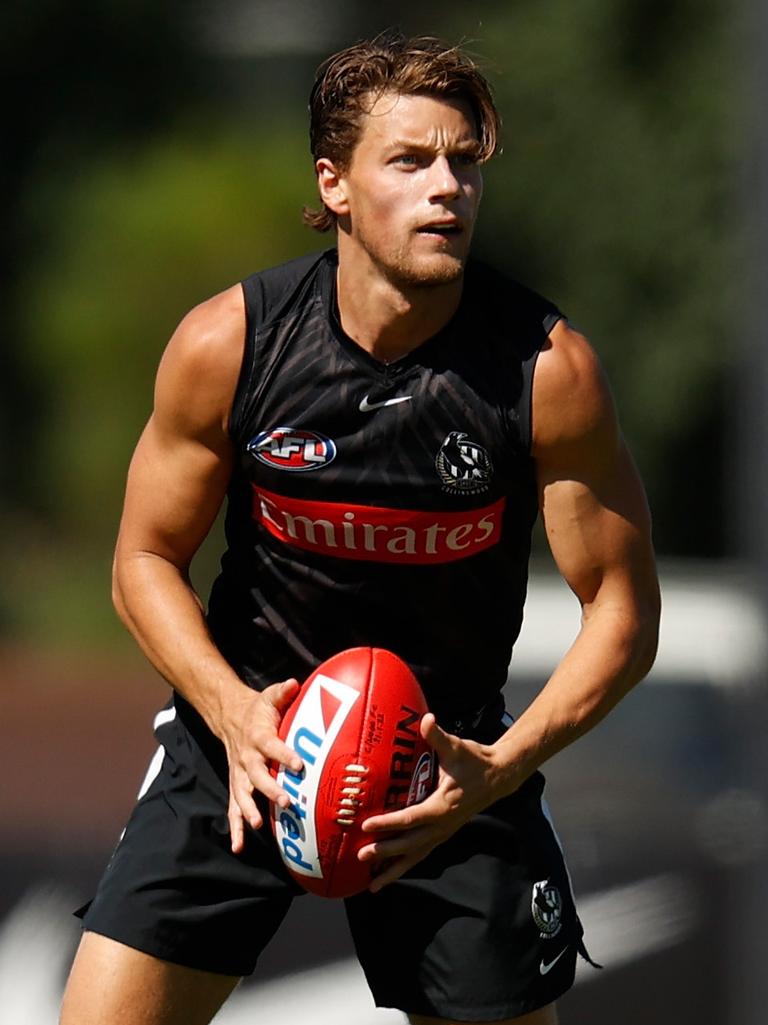 Patrick Lipinski should get a lot more opportunity at the Magpies. Picture: Michael Willson/AFL Photos via Getty Images
Another player I'm quite bullish on is Patrick Lipinski. He'll have a greater role in the Magpies side, and based on that alone a career-best season is a near certainty. He was rampant in the VFL last season, averaging 156 from four games and is an alternative to Gresham in that midfield slot.
Gun draftees Jason Horne-Francis and Nick Daicos are both locks at this stage. I've also selected Dylan Stephens. Cheaper than the above duo, Stephens is every chance to become a regular in 2022 after Jordan Dawson vacated one of the wing positions, while the other one is also up for grabs after Sydney moved Justin McInerney to defence late in the year. Oliver Florent is the only other recognised wingman on the Swans' list.
The three remaining rookies are placeholders.
RUCKS
Structure: Two premiums and one floating doughnut
The ruck position will once again be an intriguing one. If we get a fully fit and injury-free Braydon Preuss, there will be a temptation to start with him on the field at his low price.
Starting with Preuss opens the door to add a premium in another position, but at the time of writing, I'll once again be going with the Max Gawn and Brodie Grundy combination.
Despite the emergence of Luke Jackson, I still believe that Gawn will finish in the top-two scorers in his position, barring injury. With only three scores below 100 last season, Gawn's reliability is one of the reasons we pay top dollar for him and based on that alone, he's in my team.
Grundy, on the other hand, limped to the line last year, but his overall average of 115 is nothing to be sneezed at. There could also be a bit of recency bias with Grundy after averaging 103 points from Rounds 11-23, compared to 126 in the opening 10 rounds.
With a new coach in charge, Grundy is a value pick considering there are three ruckmen ahead of him from a price perspective.
Can Brodie Grundy return to his best in 2022? Picture: Michael Klein
One of those rucks is Sean Darcy. SuperCoaches will be flocking to him after his breakout season, and rightly so. He was the No.1 ranked player in the competition from Rounds 15-22 with an average of 138 points – scoring 189, 182 and 156 points in that order in a three-week block from Rounds 16-18.
Sam Hayes is the standout bench option, especially after Charlie Dixon went down with an injury. Hayes averaged 14 disposals, 10 hitouts-to-advantage and 100 points in the SANFL last season and the Power are keen to get games into him.
FORWARDS
Structure: Three premiums, one fallen premium and four rookies.
For the first time in a long time I won't be starting with Dustin Martin in my team. Depending on form, he'll always be an upgrade target later on.
Generally speaking, though, there is never a shortage of viable options in the forwards and I'm happy to back Josh Dunkley once again despite his poor numbers post-injury in 2021, averaging just 70 points from Rounds 18-23. He started the year in blazing fashion, averaging 30 disposals, 12 contested possessions, six tackles and 128 points in the opening six rounds before the injury.
Teammate Adam Treloar comes into calculations this year after earning DPP status. His debut season with the Bulldogs was an indifferent one, missing nine games through injury – averaging his fewest points since 2013. Despite the Bulldogs midfield being stacked with talent, I'm prepared to pick him in the forwards.
Alternatively, I could back Kangaroos youngster Tarryn Thomas who is a prime breakout candidate. He averaged 109 in his last five appearances, which included kicking four goals from 23 disposals in Round 19. Another player to earn DPP status is Mitch Duncan, who is enjoying his first injury-free pre-season since 2019. I haven't hesitated in picking the versatile Cat despite his durability concerns last season. In his best run of form, he averaged 26 disposals and 109 points from Rounds 3-13 before a nine-week injury lay-off ahead of the finals.
Bulldogs Adam Treloar and Josh Dunkley can both be selected in the forward line in KFC SuperCoach this year. Picture: Michael Klein
Stephen Coniglio's starting price is a fair indication of his output in 2021 as he missed a total of 15 games through injury and posted career-lows for disposals, contested possessions and KFC SuperCoach points. His role wasn't fantasy conducive either, spending 52 per cent of game time up forward. Coniglio is way too cheap not to start with if he's in the GWS team in Round 1.
Cam Rayner and Will Brodie are alternatives to Coniglio in that forward slot.
Finn Maginness and Elijah Hollands round out my on-field forwards, while there are also two bench placeholders.
Money in the bank: $14,400
How Fantasy Freako's 2022 KFC SuperCoach side looks in early February.
FINAL WORD
If you have a proven formula that works for you – stick to it.
There is also plenty of time between now and the season opener so don't expect to go into Round 1 with your first draft team. Be open to making changes and keep a close
eye on the rookies, as you don't want to start the season with four or five kids that won't be playing. Your rookies are as important as your premiums as they'll be the driving force behind your cash generation and future upgrades.
Make sure you follow me on Twitter during the pre-season and I'll be tweeting key stats from all the AFL AAMI Community Series matches.
Best of luck for 2022!
Originally published as KFC SuperCoach 2022: Champion Data stats guru Fantasy Freako reveals his team