KFC SuperCoach 2022: Dan Batten reveals his final team
Dan Batten has been tracking KFC SuperCoach rookies all pre-season, and he has some concerns. It's led him to a surprise late change — and not where you might expect.
Call it a worst case scenario team.
Or a 'Will Brodie is dropped' side.
The stressed, pessimistic KFC SuperCoach in me is concerned about Brodie's place in the Dockers side with Nat Fyfe returning.
I also have my doubts about how many defensive rookies will be named — we already have Mitch Hinge, Paddy McCartin and Sam De Koning, but will any more pop up?
It means I've drawn up a contigency plan.
And it's meant adding one of the pre-season hype players from Carlton — but not where you might expect.
But it's come at a cost: No more Touk Miller.
DEFENCE
Jake Lloyd (Syd) $586,600
Jayden Short (Rich) $535,200
Lachie Whitfield (GWS) $502,600, MID
James Sicily (Haw) $448,100
Mitch Hinge (Adel) $180,900
Paddy McCartin (Syd) $157,800, FWD
Sam De Koning (Geel) $123,900, FWD
Mitch Cox (Bris) $123,900
So … about that rookie crisis.
Currently I have two on-field – Hinge and McCartin – who should be steady enough scorers as mature bodies.
But with Hinge under an injury cloud, first-round draftees Josh Sinn and Josh Gibcus are on standby. While Gibcus has the better job security, my gut-feel says Sinn will show too much to be dropped once he gets his chance – but will it be in Round 1?
Carlton mid-season draftee Jordan Boyd is another in consideration if he gets a call-up for the Tigers' season-opener.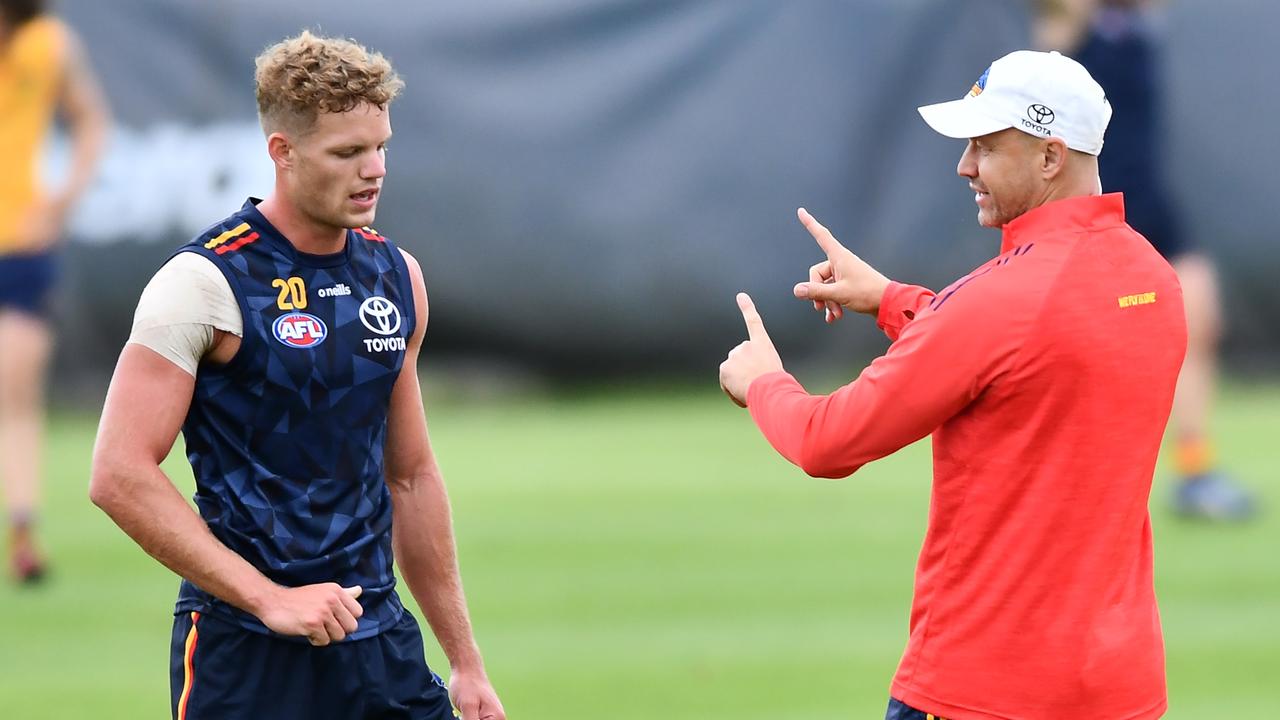 Mitchell Hinge remains in some doubt. Picture: Getty Images
De Koning was super impressive in Geelong's Community Series match and is right in the mix for the Cats, but Jack Henry's imminent return from injury complicates things.
But De Koning appears set to play for the Cats in Round 1, which is good news for KFC SuperCoaches.
Cox is the wildcard here. The mature-age recruit was picked up via the supplemental selection period and I think he could play at some stage down the track, but that's not his primary use. He will act as a DEF/MID swing if things go wrong with my three rookie defenders.
Heath Chapman is a potential option as a mid-pricer, but after starting Hayden Young last year, I'd want to see more before taking the punt.
My D2 slot has been a revolving door, but I have eventually settled on Short, who averaged 104 points with the now retired Bachar Houli out of the side last year. He showed signs of that potential with a monster 138-point total in the Community Series.
Lloyd hasn't left my side this pre-season, while Whitfield and Sicily are extremely underpriced. The upside outweighs the injury (and suspension) risk, and their popularity means you could be left behind if you don't start both.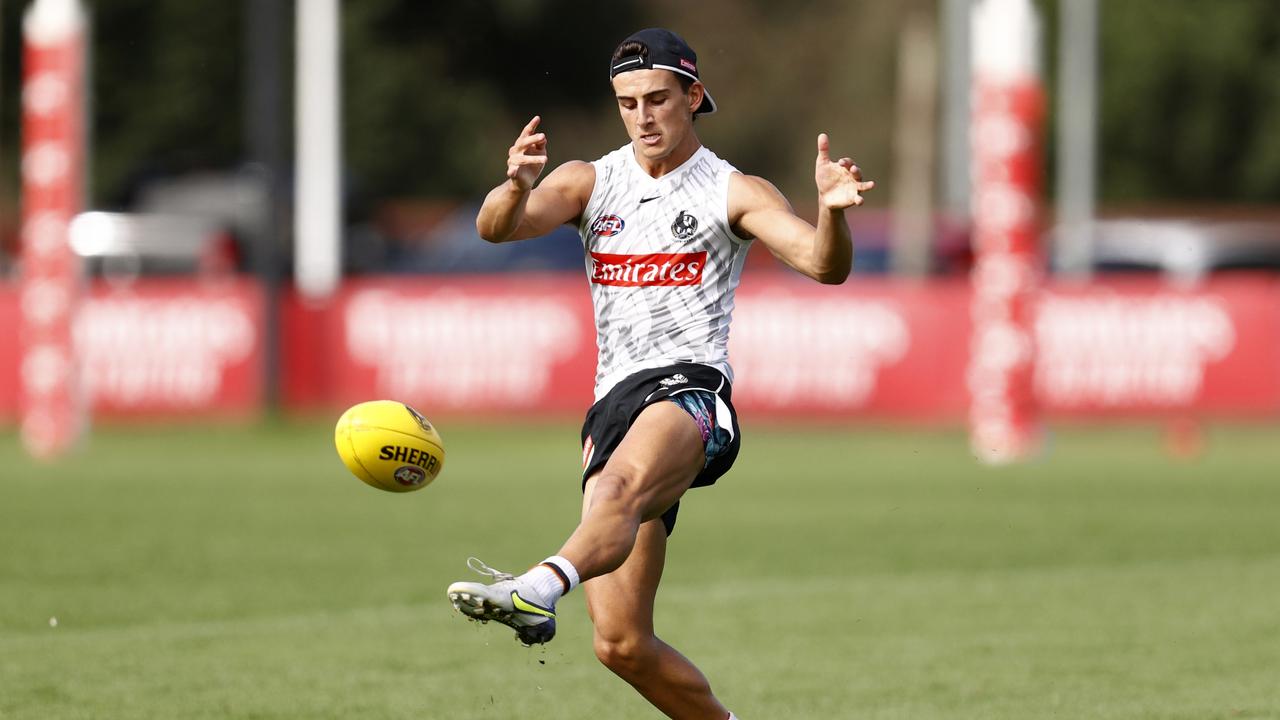 Nick Daicos is one of the most popular picks in KFC SuperCoach. Picture: Getty Images
MIDFIELD
Jack Macrae (WB) $699,900
Jack Steele (StK) $685,800
Lachie Neale (Bris) $543,200
George Hewett (Carl) $399,000, MID
Matt Rowell (GC) $342,900
Jason Horne-Francis (NM) $207,300
Nick Daicos (Coll) $193,800
Josh Ward (Haw) $180,300
Dylan Stephens (Syd) $167,800
Connor MacDonald (Haw) $117,300
Brady Hough (WCE) $117,300
OUT: Miller
IN: Hewett
About that big (potential) change. Hewett is now in nearly a third of KFC SuperCoach teams, and I have opted to pick him in defence to support the rookies in the backline.
Additionally, it will allow me to choose each week whether I wish to field McCartin or Stephens, giving me greater flexibility.
Hewett posted two KFC SuperCoach tons in the pre-season and while 100-average may be his max, he won't be in my midfield for long.
Horne-Francis and Daicos. Name a more iconic KFC SuperCoach rookie duo, I'll wait.
I expect both to average above 80 points this year and in an added bonus, both are a good chance of snaring dual position status after Round 6 – Daicos as a defender and JHF as a forward.
Ward showed he could join these two in the elite rookie bracket with his imposing 124-point display in the pre-season.
Unfortunately, very few discount cash cows have presented themselves in the midfield, meaning Stephens is a viable M9 option. MacDonald looks the best of the bunch, while Hough has been touted as ready to go and should be used off halfback for the Eagles.
Rowell was one of the most prominent centre-bounce players for the Suns during the pre-season and as we saw in his first four games, he has the tools to be a SuperCoach uber-premium – it's just a matter of when.
The two Jacks have been mainstays this pre-season – I didn't have Steele at all last season and I am not making the same mistake twice.
I had jumped on the Touk train late, but I may
The Touk Train is gathering steam and I have jumped on the bandwagon, with the reliable Sun one of the latest inclusions. The likes of Clayton Oliver Sam Walsh, Tom Mitchell and Darcy Parish have been in that spot, but I am siding with Miller after a stern reminder of his scoring power during the pre-season.
I still think Oliver will average more than Miller, but nabbing him as an upgrade target looks to be a better play with Melbourne facing Oliver's kryptonite – Greater Western Sydney – in Round 5.
However, if other rookie options aren't around in defence I may have to take Parish instead, or downgrade Rowell to Berry.
RUCK
Max Gawn (Melb) $657,400
Brodie Grundy (Coll) $627,100
Hugh Dixon (WCE) $102,400, FWD
I'll keep this one short and sweet – set and forget.
I had entertained Braydon Preuss at R3, but being rubbed out of Round 1 with suspension was a blessing in disguise.
I also had Darcy instead of Gawn in my last team reveal, but an injury interrupted pre-season saw me turn to the bearded giant, who doesn't look like slowing down in 2022.
Dixon's spot could be in danger with word that Jack Darling is set to return to the Eagles set-up, but the recent Eagles mature-age recruit is in there for now.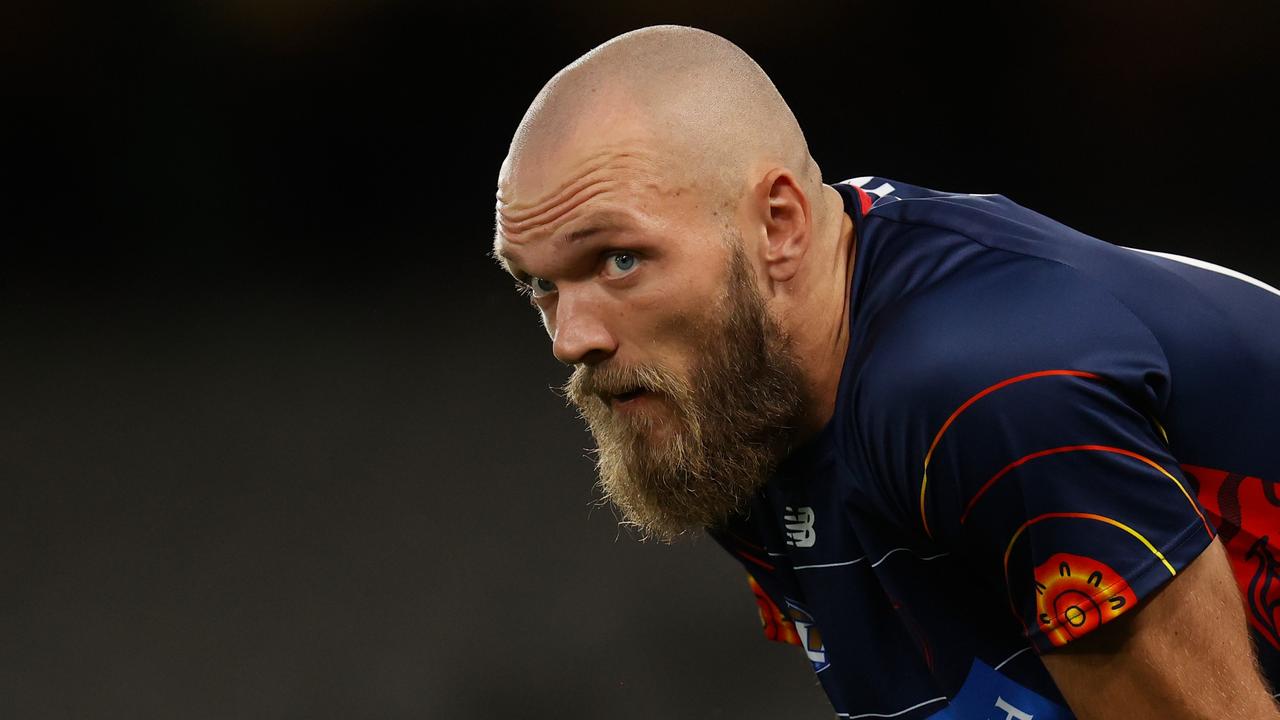 Max Gawn has had a strong pre-season. Picture: Getty Images
FORWARDS
Josh Dunkley (WBD) $556,200, MID
Jordan De Goey (Coll) $463,500, MID
Zak Butters (PA) $443,600
Stephen Coniglio $261,300, MID
Josh Rachele $184,800, MID
Nicholas Martin (Ess) $102,400
Jed McEntee (PA) $123,900
Jack Hayes (St K) $102,400
OUT: Will Brodie
IN: Jordan De Goey
This line shouldn't change a great deal besides the rookies. I have flirted with an expensive option at F2, like Dustin Martin, Isaac Heeney or Jordan De Goey, and I have gone with De Goey.
De Goey averaged well over 100 after moving into the midfield last season and while there were plenty of headlines around him over the off-season, I think he can continue in a similar vein as a centre-bounce mid for the Pies.
I had initial doubts about Rachele's scoring in a struggling Crows side, but he dispelled those concerns emphatically with two 85-point totals in the practice matches. Lock him in.
Bomber Martin racked up 16 disposals in a half in the Community Series, which should earn him a Round 1 spot. A mature-ager at this price can't be ignored if selected.
McEntee has bolted into KFC SuperCoach contention after a promising outing as a small forward. And in the absence of Orazio Fantasia, still recovering from a knee injury, McEntee should get the opportunity to prove himself in the senior side.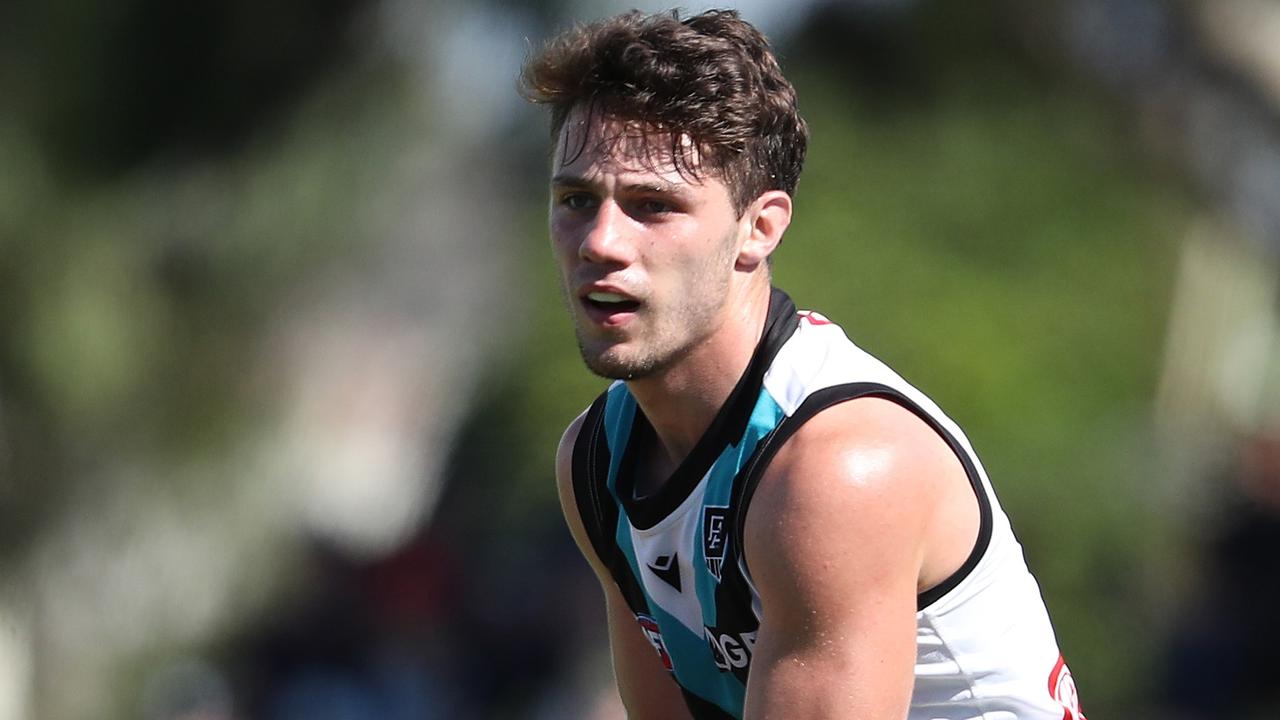 Jed McEntee is a rookie bolter. Picture: Getty Images
I would love to pick him in the midfield to allow for a MID/FWD swing, but it would mean selecting Essendon cheapie rookie Kaine Baldwin, a key forward, instead Hough in the midfield.
With Harrison Jones set to miss the first month after an ankle blow, Baldwin should have solid job security and I may end up bringing him in.
With Paddy Ryder still in doubt for Round 1 with Achilles soreness, Hayes could get the chance to partner Rowan Marshall in the ruck. He may become my R3 if he isn't named.
Brodie was locked in, but as I mentioned above, I have my doubts.
At the expensive end, Brodie is at a mouth-watering price with his scoring potential. But will he have the same role, or be a certain starter, when Nat Fyfe returns? For that reason, Hugo Ralphsmith and Tristan Xerri are on standby.
Xerri's potential is enormous having averaged 120 points as a ruckman in the VFL last year, but I am not convinced Todd Goldstein will allow him to prise the No. 1 ruck role just yet. Ralphsmith on the other hand looks to be a more consistent option with a new role across halfback.
It looks like a one-horse race for the top scoring forward, but Butters could be one to challenge Dunkley with his move into the midfield.
And last but not least, Stephen Coniglio. He is in everyone's side anyway, as he is a no-brainer.
Dan Batten's final contigency KFC SuperCoach team.
Dan Batten's final team — if things go to plan.
Originally published as KFC SuperCoach 2022: Dan Batten reveals his final team