KFC SuperCoach 2022: Heath Shaw reveals his final team
Heath Shaw has picked plenty of bargains in his final KFC SuperCoach team and taken several risks. And the biggest of them all is in the ruck.
My final KFC SuperCoach team is in and I have made a big change.
I've got a bunch of discounted players who I am backing to bounce back from injury or form, and I'm relying on the medical staff of a few clubs to get it right in 2022.
My former Giants teammate Stephen Coniglio, Blues skipper Patrick Cripps, 2020 Brownlow medallist Lachie Neale, and that big change: Gold Coast ruckman Jarrod Witts.
As much as I wanted to have two premium rucks, I felt more comfortable going with the Suns big man to put some extra cash into my defence – an area that is causing trouble this pre-season.
Here is how 'Lord Heath Shaw' is shaping up entering season 2022.
DEFENCE
Jack Crisp $571,000, MID
Lachie Whitfield $502,600, MID
George Hewett $399,900, MID
Nick Blakey $325,100
Jake Bowey $265,600
Josh Gibcus $171,300
Paddy McCartin $157,800, FWD
Sam De Koning $123,900, FWD
I was probably one solid scorer short without picking Witts, so now I am more balanced and can get more consistency across the board. And it's allowed me to upgrade a rookie to a point-of-difference pick in Blakey.
Previously, Blakey was a winger, a forward and he struggled to find consistency. But he managed to find his spot as a running defender before he got injured last year.
With the McCartin brothers down there as the lockdown defenders, Blakey will be free to be an offender, which is always good for KFC SuperCoach.
Along with Hewett and Blakey, I've picked Bowey as another mid-pricer. He is cheap and speaking to my former teammate Adam Tomlinson, he'll play most games.
He's not going to be someone who scores 100 every week but if he gets his average up to 80, then I'll be able to cash out on him down the track.
De Koning, McCartin, Gibcus are the rookies. I liked what I saw from De Koning and McCartin down back in the Community Series and hopefully those three will be able to put up some decent scores.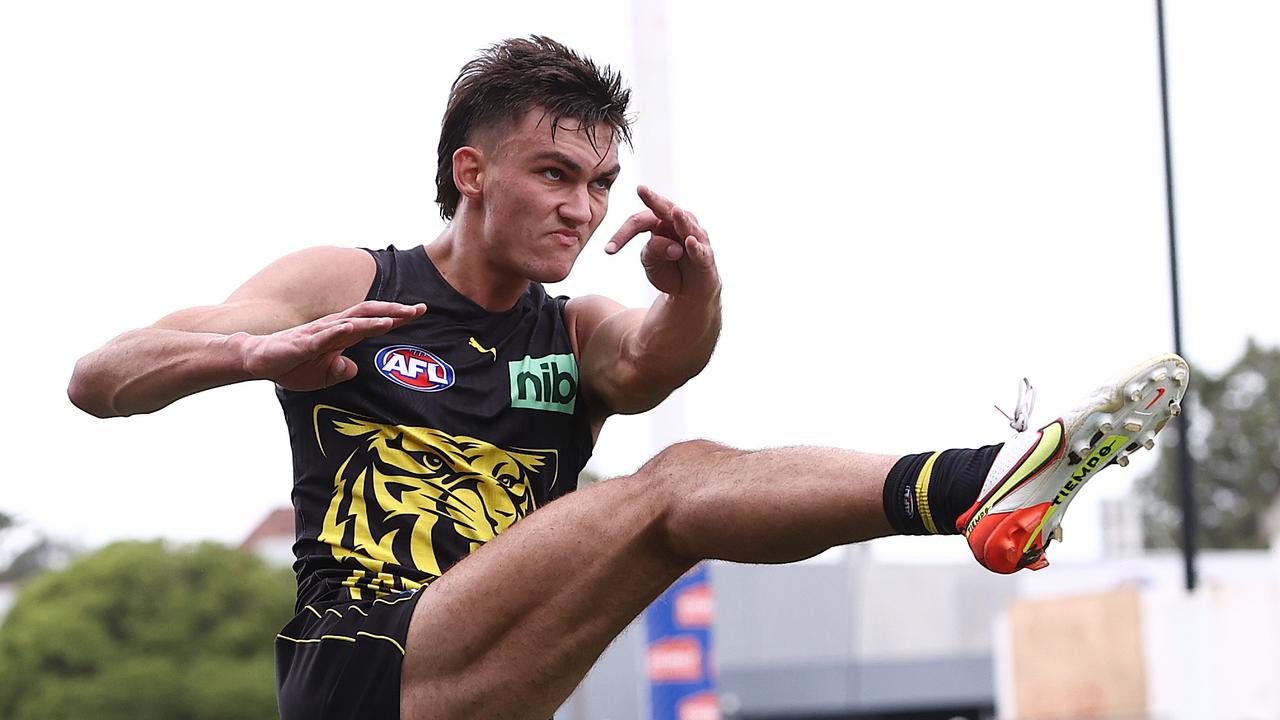 Josh Gibcus will debut for the Tigers in Round 1. Picture: Michael Klein
MIDFIELD
Christian Petracca (C) $606,200
Josh Kelly $582,200
Lachie Neale $543,200
Matt Crouch $482,000
Patrick Cripps $454,800
Matt Rowell $342,900
Jarrod Berry $268,500
Jason Horne-Francis $207,300
Nick Daicos $193,800
Josh Ward $180,300
Connor MacDonald $117,300
I am pretty happy with the mids that I've got in there.
Everyone has jumped on Cripps after his big Community Series game, but history will show I had him in my first team this year.
As my old man always says, 'when you pick a horse, there's a reason why you picked it the first time. Don't lose faith in the horse you back'. Cripps is that horse.
I am putting trust in medical teams as I mentioned above, selecting Cripps, Crouch, Rowell and Berry.
My former teammate Kelly is the main change in my midfield. He should spend 80 per cent of his time in the middle, and he can play on both the inside and outside.
We did used to joke with Josh that if he wasn't 99 per cent right, he wouldn't play. But he has found that consistency in what his body can and can't take.
When you get older, you get smarter. But you get to 30, you've got to do something exercise every day – I'm finding that out the hard way.
I've gone with Horne-Francis, Daicos, Ward and MacDonald as rookies. I am backing Hawthorn coach Sam Mitchell to play the kids.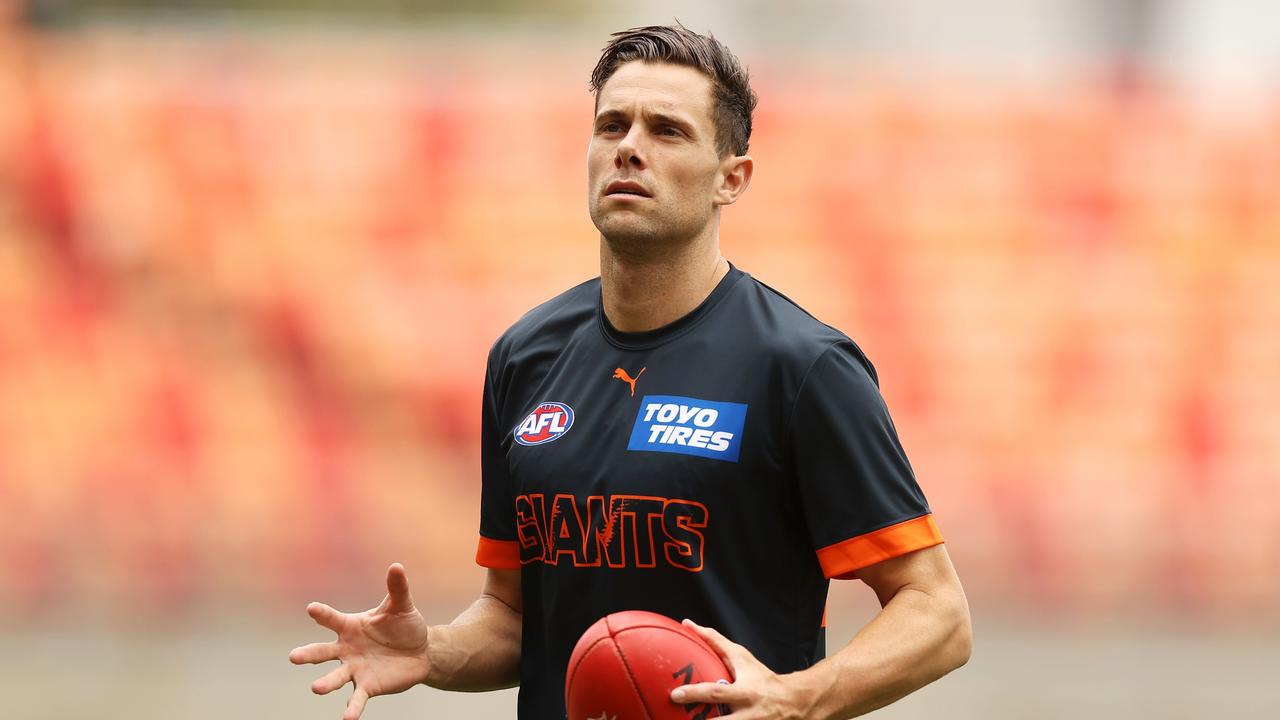 Josh Kelly is in Heath Shaw's midfield. Picture: Getty Images
RUCK
Brodie Grundy (Collingwood) (VC) $627,100
Jarrod Witts (Gold Coast) $380,300
Jack Hayes (St Kilda) $102,400, FWD
I had Goldstein as my second ruck but Witts has replaced him. It's allowed me to free up a couple of hundred grand and when he's up and going, he will get his hand on it more often than not.
Witts posted season averages between 88 and 99 points from 2017-2020, so he is underpriced after his season-ending injury lsat year.
I was umming and ahhing about Goldy with Tristan Xerri competing for the No. 1 ruck role and Witts is a cheaper alternative.
Mature-age cheapie Hayes slots in on the bench.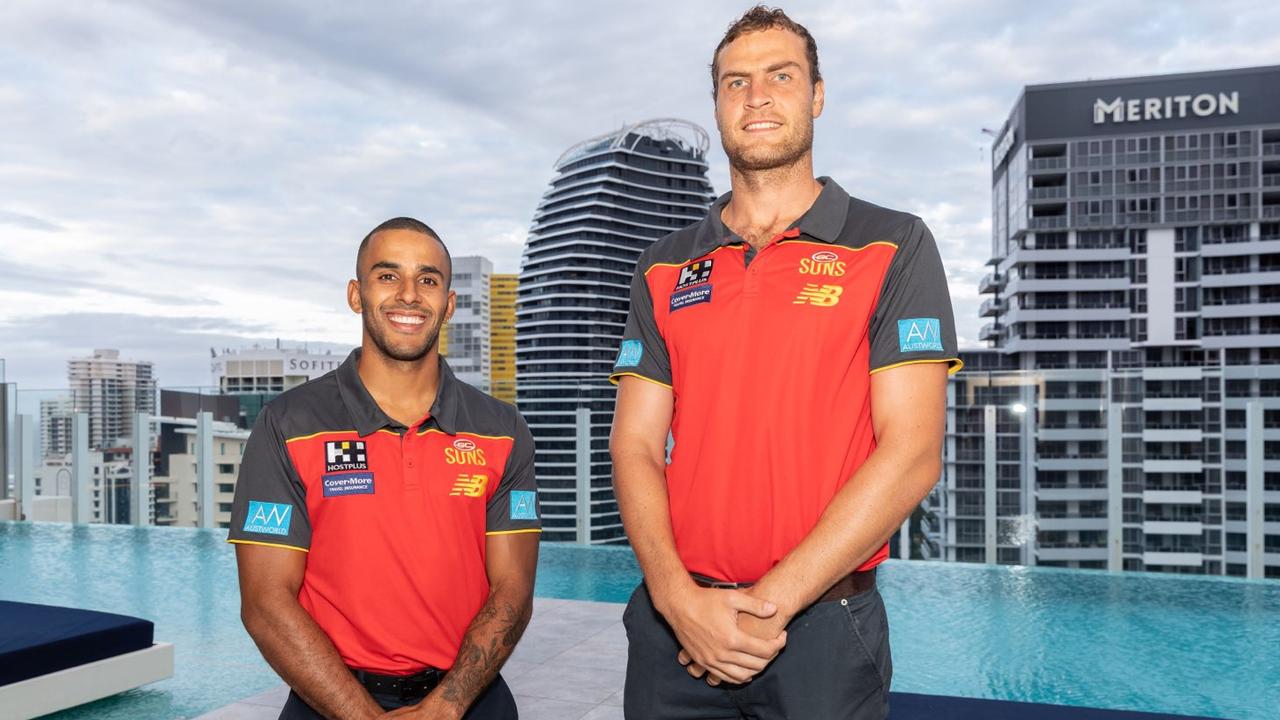 Jarrod Witts (right) is Heath Shaw's big change. Picture: Gold Coast Suns.
FORWARD
Dustin Martin $503,500, MID
Jordan De Goey $463,500, MID
Lachie Weller $400,300, MID
Jade Gresham $299,000, MID
Stephen Coniglio $261,300, MID
Josh Rachele $184,800, MID
Hugh Dixon $102,400, RUC
Finn Maginness $143,700, MID
I don't think I've actually got a 'forward' in my KFC SuperCoach forward line.
Dusty is a midfielder, De Goey more of a midfielder than a forward, Weller is now a halfback flanker (as I broke in my first team reveal).
Gresham is probably the most forward of the lot of them, and he'll most likely be playing a 50/50 split between the attacking 50 and the midfield.
Lot of teams have jumped off De Goey. Maybe I'm stubborn, but I like to back in someone who has a bit of a point to prove.
You've got to go with the Corey McKernan theory – you always play well when you're in a contract year. I'm backing De Goey to have a good year and make it hard for the Pies' list management team. If you play well, you don't have options whereas if he has a big season, he will have plenty of options.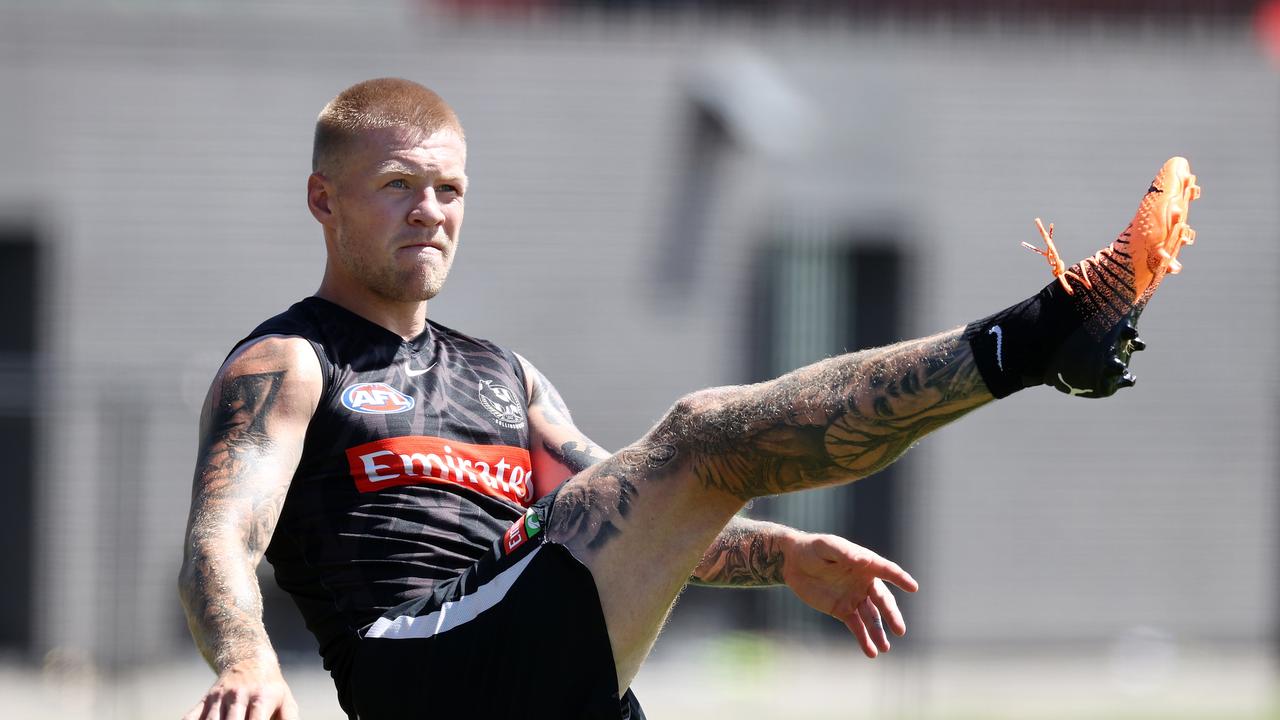 Are you picking Jordan De Goey? Picture: Michael Klein
Dixon is a late in for Elijah Hollands. With many Eagles out including Jack Darling with injury, he should get a good run.
Some might not agree, but I reckon Darling may be one of the smartest AFL player going around – he missed 99% of pre-season and still got paid the same. He's got it all figured out.
But he got injured straight away when he was coming back, so maybe it wasn't so smart …
Originally published as KFC SuperCoach 2022: Heath Shaw reveals his final team