KFC SuperCoach 2022: Round 15 trade guide, how to survive injury crisis
Champion Data guru Fantasy Freako explains why you should consider trading Tim English and rates the best ruck trades, including an unsung Tiger. TRADE GUIDE
Historically, the ruck position has been one of the most settled in SuperCoach.
Going way back, the Dean Cox and Aaron Sandilands duo was a staple in many teams. Then we had Todd Goldstein and Max Gawn, while more recently the Gawn and Brodie Grundy combination has been a fruitful one over many seasons.
The fantasy term "set and forget" was often used to describe the ruck position, but not in 2022. That term is obsolete this year after the top-five ranked ruckman in the competition from last season have all succumbed to injury.
On the weekend, many KFC SuperCoaches were delighted after Matt Flynn was a late out, which enabled Braydon Preuss to play as the solo ruckman. But that joy was short-lived after
Preuss injured his ankle and was ruled out of the match just after quarter-time. Preuss has now also been handed a one-match suspension after a strong tackle on Tim English prior to the injury.
To add insult to injury, English suffered delayed concussion and has been ruled out of this week's match against Hawthorn. There is also some doubt as to whether he plays the following round, when Dogs play on a Thursday night.
English missed four matches with concussion last season, so one would expect the Bulldogs to be cautious with his return.
So, where does that leave SuperCoaches ahead of round 15?
English is the second-most selected ruckman in the AFL behind Jarrod Witts, but given his DPP status, he is also in many forward lines.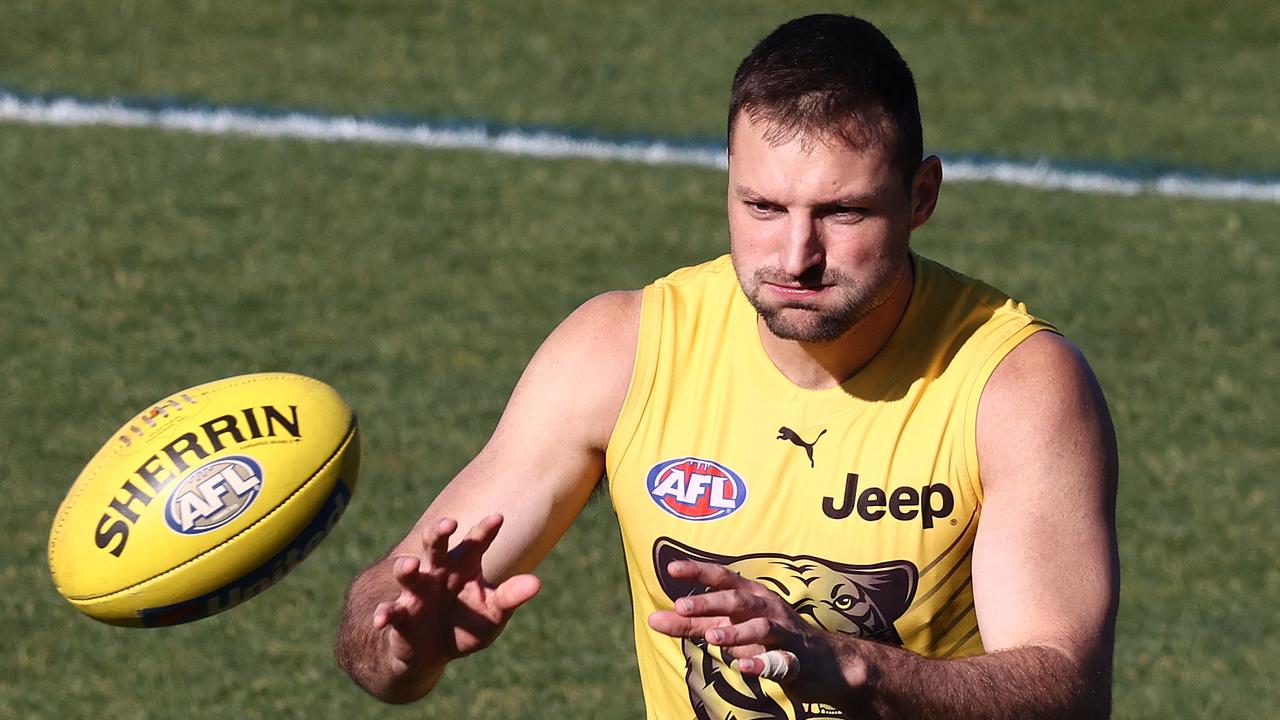 Toby Nankervis has been in fine form for the Tigers. Picture: Michael Klein
With trades running low, if your sole intent is to win your league, then if you have any sort of cover for English, you could potentially hold him until he returns. If you're at the pointy end of the competition or are chasing overall rank, then I'd be trading English.
If we search the league for a replacement and we're solely looking at rucks, then Jarrod Witts is the obvious choice. He has eight scores of 110-plus points to his name and is averaging a career-high 116. I would disregard the fact that he scored just 68 last week against Adelaide. Hopefully, it's just an outlier more than anything.
Witts aside, Toby Nankervis is the dark horse after averaging 115 since round 8 – ranked No.1 in the competition among rucks – averaging 19 disposals, 12 contested possessions and five clearances. He has scored 100-plus in all but one game over this period.
Sean Darcy is also in the mix, but his fantasy worth does depend on whether Lloyd Meek plays. In the two games they have played together this year, Darcy has posted just 72 and 59 points respectively. Not ideal.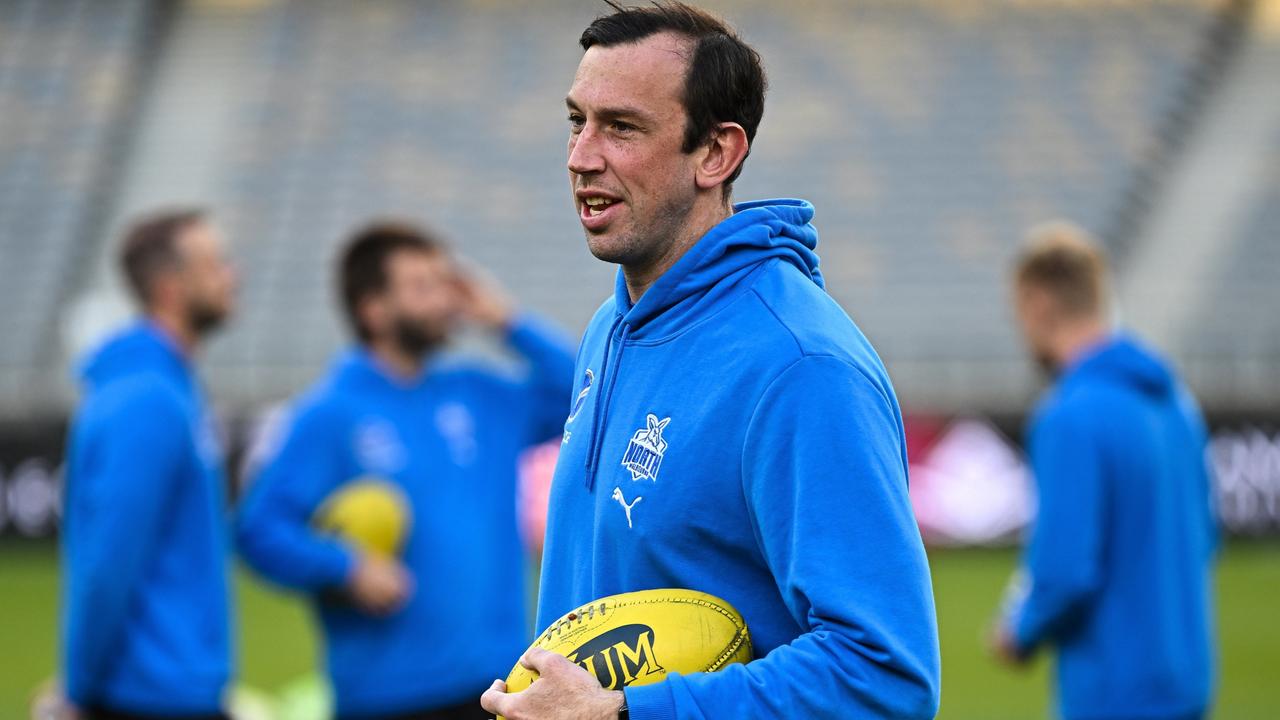 Veteran Todd Goldstein is still putting up big KFC SuperCoach numbers. Picture: Daniel Carson/AFL Photos via Getty Images
Another option is stalwart Todd Goldstein. He is sharing the ruck duties with Tristan Xerri, but despite that has posted solid scores of late – averaging 13 disposals and 103 points since Round 10. Goldstein has spent at least 35 per cent of game time up forward in each match, which is the only concern.
The Crows have a generous run home and Reilly O'Brien is worth a look, while if you have Darcy Cameron in your forwards, then you could always swing him into the ruck and replace English with a forward instead.
One player that doesn't appear in the top 10 ruck scorers is Luke Jackson. One would expect his numbers to spike now he becomes the No.1 ruckman in the absence of Max Gawn, so as a short-term option he ticks plenty of boxes. If you have plenty of trades up your sleeve, going for Jackson is appealing.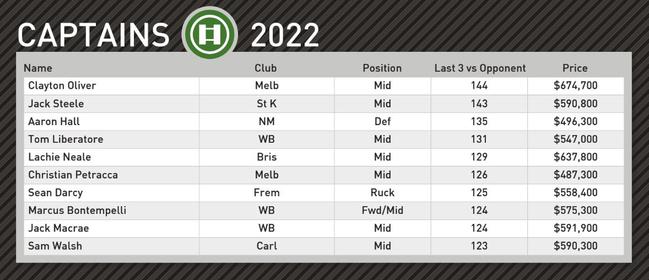 Champion Data's top captain picks for round 15
ROOKIE WATCH
With most KFC SuperCoaches fielding full teams ahead of round 15, the need for cash cows isn't the same as earlier in the season, but in saying that, we always need depth and least one active player on our bench in each line.
The two standout options this week are Judson Clarke from the Tigers and Patrick Parnell from the Crows. Clarke scored 45 points against the Blues from 10 disposals and four marks, while Parnell impressed against the Suns, finishing with 14 disposals, 10 marks, two tackles and 70 points. He's currently keeping Luke Brown out of the team and looks to have the backing of coach Matthew Nicks.
Picking a one-gamer at this stage of the season isn't an issue, which bring Massimo D'Ambrosio into the mix after he debuted against the Saints. He didn't look out of place in defence and collected 51 points from 12 effective disposals, three intercept possessions and one tackle. He was overzealous on a couple of occasions and gave away two free kicks, which counted against him.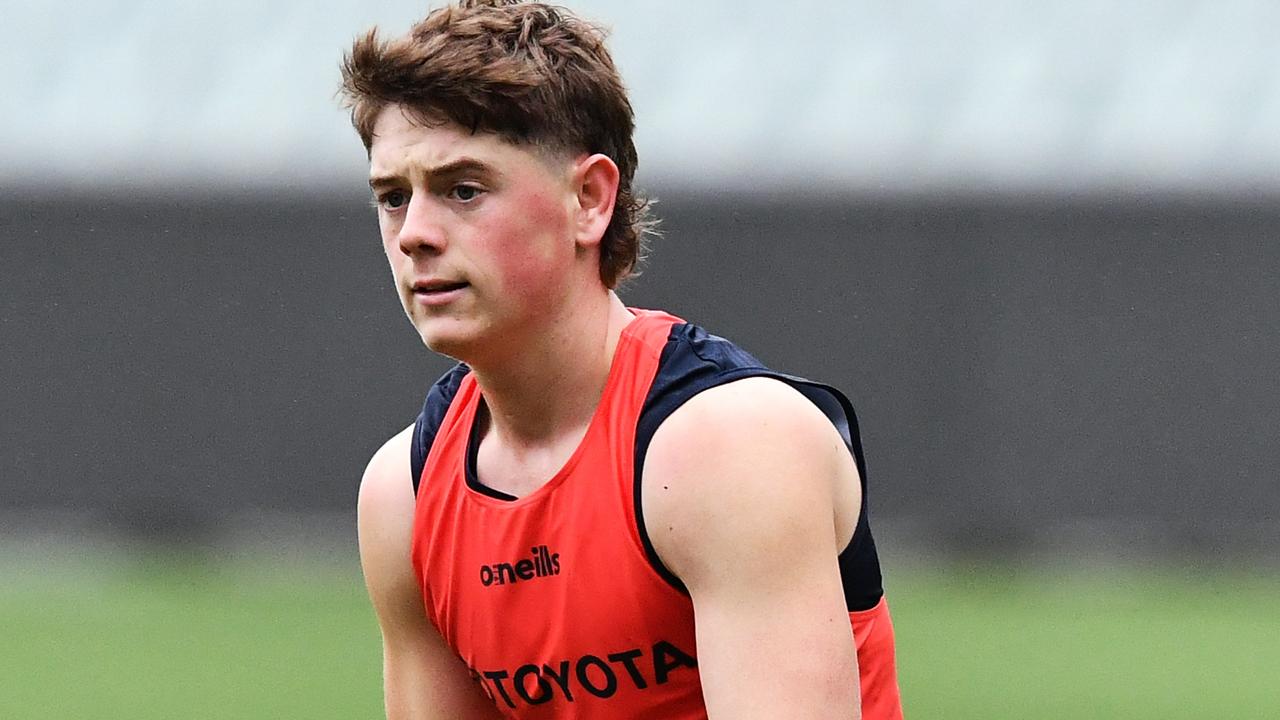 Adelaide youngster Patrick Parnell is set to play his third game this weekend. Picture: Mark Brake
Another one-gamer, Sam Durdin, was snapped up by close to 5000 SuperCoaches ahead of his Carlton debut, but he has cruelly been struck down by injury and will spend several weeks on the sidelines. Even when he is fit to return, Jacob Weitering should be fully recovered by then anyway.
If you're banking on Sam Hayes returning as potential cover for an injured ruckman, he did his chances no harm on the weekend in the SANFL, finishing with 11 disposals, 11 hitouts-to-advantage, two tackles and 93 points to go with the 73 points he scored one week earlier. Considering Port Adelaide come up against the might of Jarrod Witts, Ken Hinkley could decide to turn to Hayes.
As always, best of luck for the round ahead and if you are trading, make sure you do it wisely!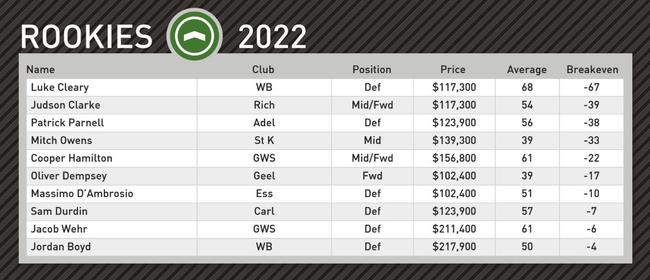 Champion Data's top rookie picks for round 15
Trade guide: How to survive injury crisis
– Al Paton and Tim Michell
The KFC SuperCoach gods are a cruel bunch.
As if a bye round wasn't tough enough, a spate of injuries to popular players has left many SuperCoaches short on points this round and wondering how they will field a team next week.
Spare a thought for the 3500 coaches who traded Braydon Preuss in before he faced the Bulldogs. The GWS big man lasted barely a quarter, scoring only 17 points, before being subbed out with an ankle injury.
That already made him unlikely to play Collingwood next week, but to make matters worse, in his 16 per cent of game time Preuss somehow found time to lay a big tackle on Tim English that has resulted in a one-match ban from the match review officer.
And if you were looking for cover in the form of mid-season draftee Brynn Teakle, he will miss the rest of the season after surgery on a broken collarbone.
And Port Adelaide has more injury worries with Zak Butters finishing the win against Sydney in a knee brace. After a blistering start he was subbed off when his leg buckled under a tackle – in some good news, he appears to have dodged an ACL tear, but suffered a likely medial ligament injury.
"We all understand how good Zak can be, he's a pretty important player, but he'll miss some time no doubt with his knee," Port coach Ken Hinkley told reporters.
BURNING QUESTIONS: HOW TO DODGE SUPERCOACH RUCK DISASTER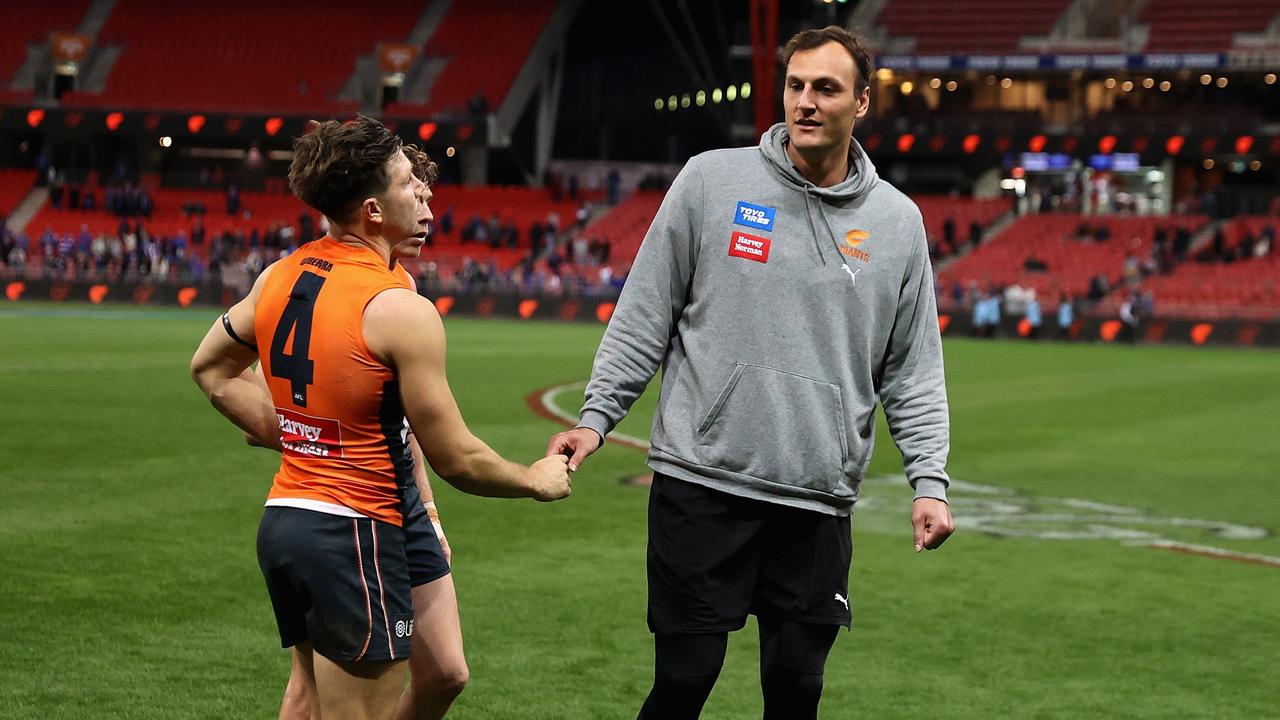 More than 48,000 KFC SuperCoach players are likely to need a replacement for Braydon Preuss. Picture: Cameron Spencer/Getty Images
Owners of all three players are entitled to some time to lick their wounds, but round 15 will be here soon enough – Melbourne hosts the Lions on Thursday night – and with the bye rounds over (thank goodness) we'll need 22 scoring players available to generate the bet possible score.
The return of Lachie Neale, Clayton Oliver and Co will be a big help, but we won't have Max Gawn, leaving the ruck line absolutely decimated. So how do we deal with the crisis?
BEST RUCK REPLACEMENTS
Tim English reinforced his status as the No.1 ruckman in KFC SuperCoach in 2022 with another ton against the Giants on Saturday night. If you're one of the 60 per cent of teams without English, he has to be the No.1 target – but he'll set you back $605,100.
If you've already got English in the forward line, use Teakle's dual-position swing to bring him into the ruck line and replace Preuss with a bargain forward – there are lot more of them on offer (see below).
If you need a straight swap to another ruckman, Jarrod Witts is a bit cheaper than expected after posting a season-low 68 points against the Crows on Sunday. He is now valued at $591,200 with a season average of 115.5.
But those prices could be a major problem for coaches looking for a ruck replacement for Preuss, who dropped $13,000 to $444,100 (with a Break Even of 125).
One option is to downgrade a cashed-up rookie to a cheapie like Richmond bubble boy Judson Clarke ($117,300 MID/FWD) or Essendon first-gamer Massimo D'Ambrosio ($102,400 DEF). Clarke couldn't back up his two-goal debut performance but did some nice things against the Blues and will hope to keep his spot in the Tigers' best 22, while D'Ambrosio looked sharp scoring 51 points against St Kilda.
That could be enough to get you from Preuss to a top-end ruckman ... assuming you have a rookie worth downgrading and don't have a Zak Butters-sized problem in your forward line to deal with.
If you can't get to the big two, here are some more affordable ruck solutions for the run home.
Todd Goldstein $532,900 RUC
The veteran started the year slowly as North Melbourne handed Tristan Xerri the ruck reins but since round 6 he has scored five tons in seven games (the other two scores were 98 and 88). Xerri's return from injury hasn't slowed him down, with a three-round average of 108.3. But the biggest tick – especially this year – is Goldy's durability. He hasn't missed a game for five seasons and has played at least 21 of 22 possible matches in 11 of the past 12 full seasons.
Toby Nankervis $566,600 RUC
The former KFC SuperCoach favourite is having a career-best season with six tons in his past eight matches, during which time he has averaged 110.1. He's not that much cheaper than the big two, though. Sean Darcy ($558,400 RUC) is slightly cheaper and has a huge scoring ceiling, but has already missed three matches himself through injury this year.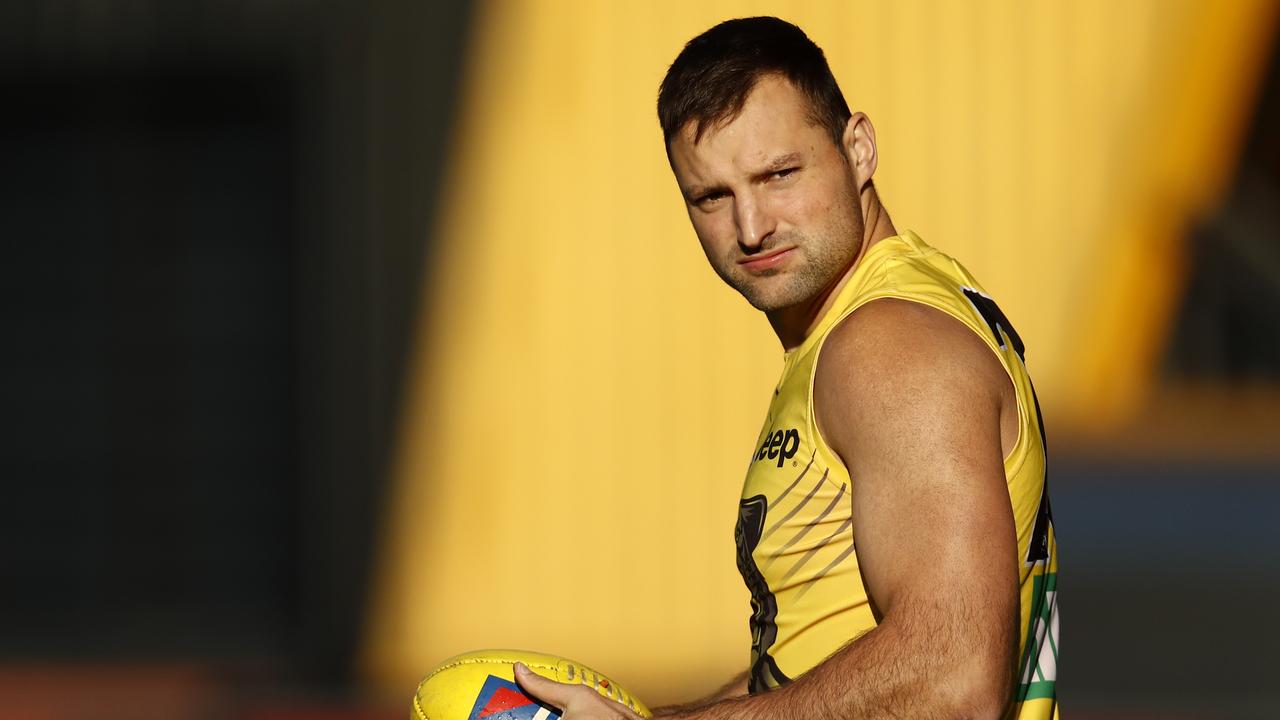 Toby Nankervis has lifted as Richmond co-captain. Picture: Darrian Traynor/Getty Images
Mark Blicavs $535,900 DEF/RUC
Blicavs scored 101 against the Eagles, his sixth ton in seven games and ninth this season for an average of 98.2. He can play just about any position but has settled as the second ruck this year, forming a strong partnership with Rhys Stanley and providing a consistent source of KFC SuperCoach points. And who knows, that dual-position flexibility could be useful at some point.
Darcy Cameron $519,000 RUC/FWD
One of the surprise success stories of 2022, Cameron has been a brilliant pick-up for coaches who grabbed him at $330k after Brodie Grundy was hurt. Since then Cameron has jumped in value by almost $200k on the back of five tons and an average of 109.7 points a game. His two sub-100 scores were 93 and 90, and next week he faces a Giants team likely to be without Braydon Preuss and possibly Matt Flynn, who was a late withdrawal on Saturday night with a quad injury. The only worry with DC is Grundy is listed as four weeks away from returning from injury. In the first six rounds playing alongside Grundy, Cameron averaged 46.6 points per game.
Ranking points from Round 7:

Jarrod Witts 125 🔥
Tim English 120 💪
Max Gawn 114 🚑
Todd Goldstein 113 🤔
Toby Nankervis 111 👀

Is it time to go back to a one-time favourite? Goldy last missed an H&A match through injury way back in Round 2, 2017.#SuperCoach

— Fantasy Freako (@FantasyFreako) June 18, 2022
Reilly O'Brien $544,100 RUC
'ROB' responded to being dropped from the Crows team in round 9 with an insane 250-SuperCoach point game in the SANFL then scored an almost as crazy 175 points on his AFL return. He couldn't quite back it up with a 78-point return the next week but took the honours against Jarrod Witts in round 14. It all makes sense – he's improving, can score a lot of KFC SuperCoach points and is the clear No.1 ruck for his team. But the results haven't always matched the theory. Looking at their fixture, the Crows should win a few more games in the run home.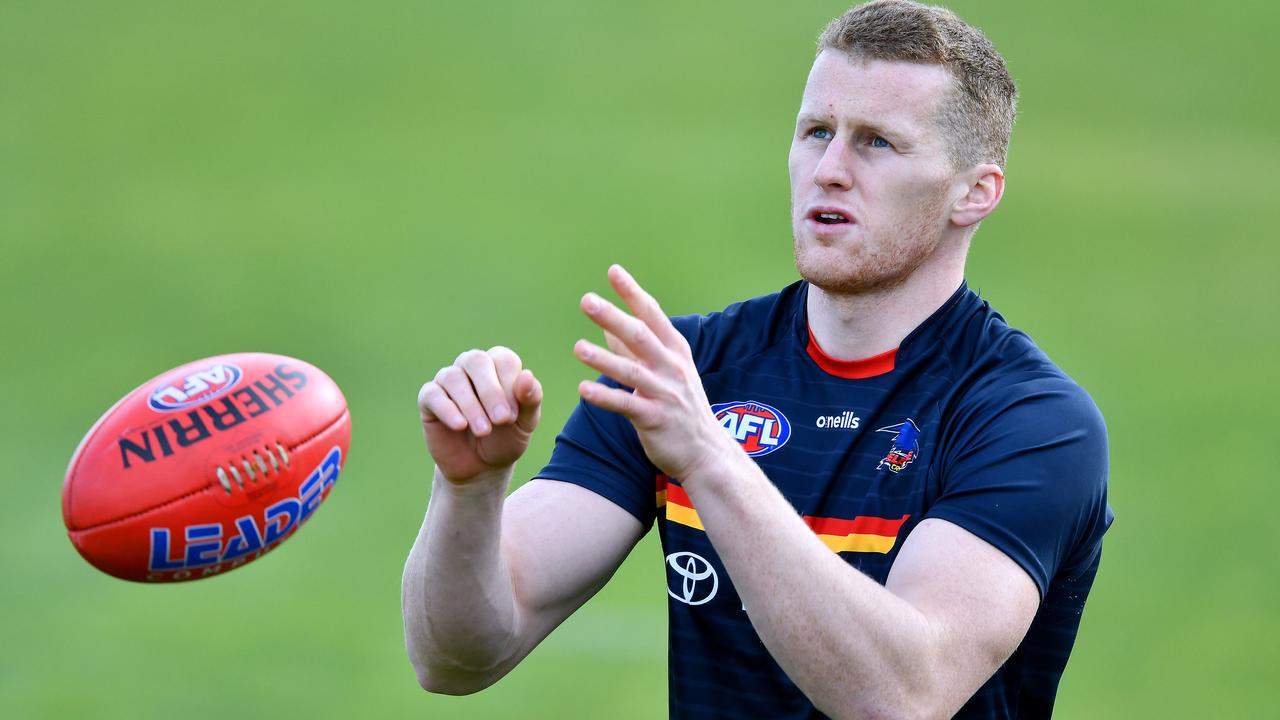 Crows big man Reilly O'Brien. Picture: Mark Brake
Oscar McInerney $481,500 RUC
A big finish to 2021 fuelled hope of a dominant season from the Big O but it hasn't materialised – not yet, anyway. McInerney's average of 86.8 is seven points per game down on last season, and he has just three tons in 12 matches, although one of them was a 142. There's no question he has an A-grade midfield to tap the ball to, and his next three opponents are Luke Jackson, English and Sam Draper.
Luke Jackson $381,200 RUC/FWD
Jackson showed his huge talent with scores of 137 and 126 in the opening month of the season, but he hasn't hit three figures since. In fact, he has reached his season average of 82.8 only twice since round 4. Still, he's about to get a lot more exposure in the No.1 ruck role. He's also DPP. And very cheap.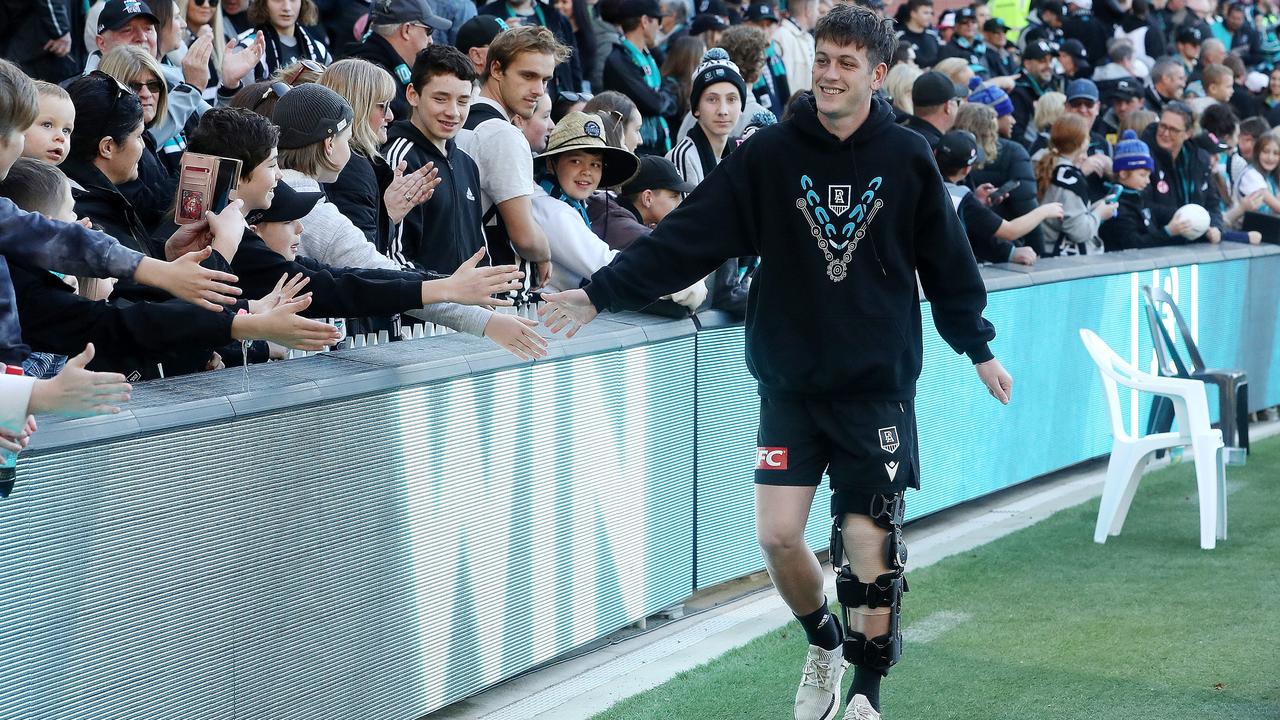 Zak Butters in a knee brace. Not what we wanted to see. Picture: Sarah Reed/AFL Photos via Getty Images
BARGAIN BUTTERS REPLACEMENTS
There are more options here if the Port Adelaide gun is ruled out for three weeks or longer (if it's less the best move is to bring a player off the bench as cover and save a trade).
Butters lost $11,100 after his injury-affected score of 68 and is now priced at $471,000, slightly up on his round 1 value after a rollercoaster season.
The boldest play would be to trade Butters to a rookie like Judson Clarke to fund a big ruck upgrade, but you would want a strong scorer on your forward bench – and some big cajones – to pull it off.
Isaac Heeney $453,100 FWD/MID
Likely to be the No.1 choice for anyone who was watching the Power v Swans game. Heeney was back to his early-season best, mesmerising opponents and kicking four goals on his way to 124 KFC SuperCoach points. Heeney has now bottomed out in price with a Break Even of 47. His long hoped for midfield role hasn't happened and he can drop a low score, but you will struggle to find a better player for around $450k.
Isaac Heeney was clearly Sydney's best player against the Power. Picture: Matt King/AFL Photos/via Getty Images
Dustin Martin $466,400 FWD/MID
If you've read Tiger diehard Chris Cavanagh's run home specials in recent weeks, you'll know Richmond has one of the best finishes to the home-and-away season of any side. Martin has missed matches this year for personal reasons and then illness, having the most interrupted season of his decorated career. Although he hasn't hit the heights of previous campaigns, Martin reminded KFC SuperCoach's of his scoring power with 119 points in round 9. There's no doubt his selection would come with risk, but with an easy draw and the Tigers pushing for a finals berth, Dusty will no doubt have a major role to play.
Jeremy Cameron/Tom Hawkins FWD
Take your pick of the Cats big forwards. Cameron is priced at $513,600 and Hawkins at $459,300 after both scored in the 90s against West Coast. They are both subject to the key forward rollercoaster, but you would hope for more ups than downs in a run home that includes five more games at GMHBA Stadium including match-ups against North Melbourne and the Eagles again in round 23 – grand final day in KFC SuperCoach.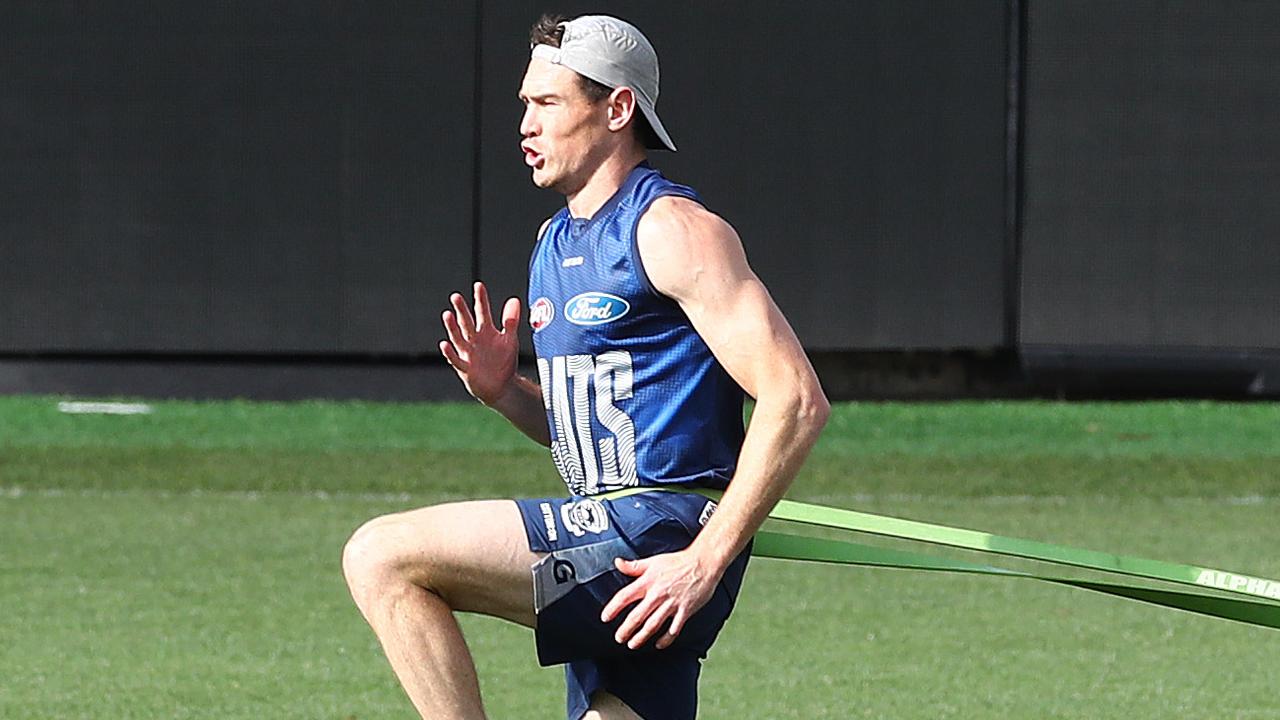 Jeremy Cameron has a five-round average of 103. Picture: Alison Wynd
Mitch Duncan $451,700 MID/FWD
See notes above re Geelong's fixture, and add a proven KFC SuperCoach star who is almost $100k cheaper than his starting price. Duncan scored 90 against West Coast and 117 before the bye against the Bulldogs. Is he back? For around $450k you could definitely take a chance.
Taylor Walker $488,400 FWD
Speaking of risky key forwards with a good run home, 'Tex' has three games to come against North Melbourne (who the Crows play twice, starting next week) and West Coast, offering the chance for some big KFC SuperCoach totals. We know what he can do when he catches fire – when the Crows faced the Eagles before their bye he piled on 22 disposals, three goals and 150 KFC SuperCoach points. And he was pretty handy with 91 points in a loss to the Suns.
Jade Gresham $490,000 MID/FWD
The one shining light on a dark night for the Saints against Essendon, Gresham's 125 KFC SuperCoach points continued a hot run of form that included three scores of 99 or more in his previous four games. The Saints have a much tougher fixture than the teams mentioned above and Jack Steele is due back from injury in the next couple of weeks. Still, he's a bargain for under $500k.
... AND EIGHT MORE BARGAINS TO FINISH YOUR TEAM
Lachie Whitfield $432,700 DEF-MID
Tens of thousands of coaches endured a frustrating run without a ton until round 10 when Whitfield went down with an ankle injury. The signs were positive on his return in round 13, recording 29 disposals and 14 marks, albeit against North Melbourne. Then he backed it up with 101 points from 30 disposals against the Bulldogs. Those stats are much more like the Lachie Whitfield who looked a steal at $502k at the start of the year. Mark McVeigh has already reignited Stephen Coniglio, maybe Whitfield is next. There's no shortage of defensive options, but with DEF-MID swing Whitfield could be an option as D7/M9 cover. That mitigates the risk if it doesn't work out as hoped.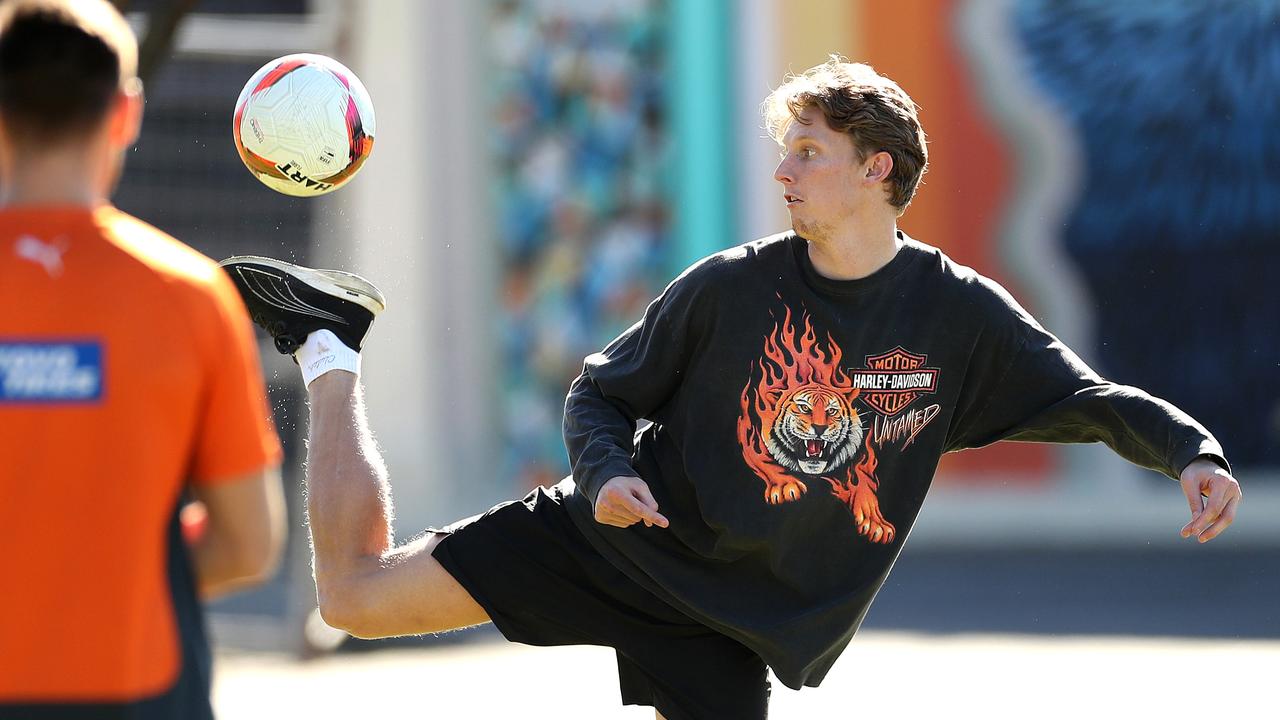 Lachie Whitfield has found his mojo in the past two weeks. Picture: Phil Hillyard
Aaron Hall $496,300 DEF
Hall has become the forgotten man in defence after a hamstring injuries in pre-season and round 5. The day he suffered the second injury blow he was on track for a monster score against the Bulldogs, racking up 71 points in a half. That would likely have been Hall's third 120-plus score in five matches. One of the heroes of 2021 in defence, Hall returned with 19 disposals and 94 KFC SuperCoach points against GWS Giants in round 13. He peaked at almost $600k last season after averaging 105.3 – which included a run of eight tons to end the year. He comes with injury risk which might scare some coaches off as trades run dry. But, if you have enough to take the risk, you could be handsomely rewarded.
Luke Ryan $508,500 DEF
The Fremantle interceptor got as cheap as $426k before hitting his straps in the past month. Ryan has been one of the best-performed KFC SuperCoaches defenders in the past four weeks, tallying 102, 141, 84 and 119 points in consecutive matches before his round 14 bye. Buying at that $426k quote would have been ideal, but getting a defender who has averaged 107 and 99 in the past two seasons for only $509k is still good buying. Like Hall, Ryan has a huge ceiling thanks to his precision kicking and intercept ability. In his stretch of improved scores between rounds 10-13, Ryan averaged 8.5 intercepts and went at 81 per cent or better by foot in every match. His 29 disposals against Melbourne came at 100 per efficiency.
Luke Ryan is a proven KFC SuperCoach performer. Picture: Paul Kane/Getty Images
Daniel Rich $510,900 DEF
The star Lion is quietly putting together a very strong KFC SuperCoach season, averaging 99.2 with only two scores of 81 or under. Rich has averaged 105 in his past six matches, despite posting 55 points in Round 11 against GWS. Either side of that game he has recorded totals of 117, 93, 127, 119 and 119 – yep, that's four scores of 117 or better. Rich fits the same mould as Hall and Ryan, recording most of his KFC SuperCoach points with elite ball use and defensive intercepts. His lowest kicking efficiency in the past month was 84 per cent against Fremantle in round 12.
Travis Boak $496,100 MID
Boak missed round 14 after entering health and safety protocols, giving KFC SuperCoaches another opportunity to jump on at under $500k. The ageless Port Adelaide star had the best average of any player under $500k ahead of Round 14, highlighting his value. Given, that average is largely down to four massive scores of 133 or better, three of which were in the opening three matches of 2022. Since he opened the year with four straight tons, Boak has four hundreds in eight games, including two in his past two outings. He might average five or 10 points less than the top dogs in midfield, but is still a very reliable option to consider for the run home.
Christian Petracca $487,300 MID
Petracca is one of seven players who were averaging 100 or more than were available for under $500k in round 14 – when Melbourne had the bye. His past three games have been poor by his lofty standards, scoring 53, 70 and 99. He was sick for most of the week leading into the match he posted 53, so there are excuses for that performance. Petracca's price got as high as $620k earlier this season but has likely bottomed out now. He will be at his cheapest either this week or next, with a Break Even of 113 going into round 15. It's a different year –and there's no Max Gawn for the next month at least – but Petracca averaged 119 after the bye last season. If he can produce anywhere near those numbers, $487k will be an outrageously good price.
Remember this guy? Picture: Quinn Rooney/Getty Images
Patrick Dangerfield $435,800 MID
If you thought Martin was risky, we present to you the ultimate risk in this week's trade guide. Round 3, 2012 was the last time you could get the Cats champion this cheap. To put that into perspective, he still had another three years left at the Crows then. Dangerfield has been restricted by injuries this year, only playing eight matches for one KFC SuperCoach ton – a score of 155 in round 1. He is expected to return against Richmond this week but KFC SuperCoaches would rightfully be wary of Geelong managing Dangerfield through the rest of the campaign, especially as its draw opens up and a possible top-four spot could be secured. Despite this, he needs mentioning at $435k as an option for those stuck with rookies who haven't added much value.
Steven May $435,600 DEF
The star Demon – suspended for his run-in with teammate Jake Melksham – is only going to get cheaper due to a score of 15 in his last match when he got injured. To put his value into perspective, coaches who have held onto Nick Daicos could make a profit in coming weeks by trading the Magpies rising star to May. A similar scenario to this played out last year when he suffered an eye injury, scored seven points and bottomed out at $407k. From that point, May averaged 102.6 in his next 10 games. He's the designated kick-in taker at Melbourne and a renowned intercept marker, both leading traits for KFC SuperCoach scoring.
Originally published as KFC SuperCoach 2022: Round 15 trade guide, how to survive injury crisis