KFC SuperCoach 2022: Round 9 trade guide
Patrick Cripps' 'ridiculous' KFC SuperCoach numbers, this week's top bargain buys, rookie intel and more. Plus see which trades our experts are making this week.
In the blink of an eye, the bye rounds are just around the corner.
Taking stock of your team balance before committing to a player is paramount in the coming weeks, otherwise you'll end up with a lopsided team and run the risk of playing with 13-14 players when others have planned ahead and have at least 18 playing across all three bye rounds. Planning is essential!
With most KFC SuperCoaches looking to upgrade on a weekly basis, value is something we all look for as we are reluctant to pay top dollar for blue chip assets.
The $500,000 to $600,000 price bracket is generally where all the bargains are, and if we look at the highest scoring player from this range ahead of Round 9, the name Patrick Cripps sits atop of the list.
Currently in career-best form, if we take out the match he injured his hamstring in, his numbers are ridiculous – averaging 33 disposals, 17 contested possessions and 140 points.
Cripps' work in the clinches has been huge, averaging 11 pre-clearance contested possessions – the most of any midfielder in the competition. His impact on the scoreboard has also been important and he has been able to compliment his contested numbers with goals, booting 13 in seven games – equalling his previous best goal tally for a season already.
If you want Cripps in your side, then this is the round to pounce as he has a Break Even score of just 50.
If you already own Cripps, then Andrew Brayshaw is the next-best target. His Break Even score is much higher (122), but that shouldn't deter you in any way as he has already exceeded that figure in four games.
Brayshaw has just one blemish to his name this season, scoring 77 points against the Cats in Round 7 when his ball use was poor. He also has a tremendous ceiling, scoring 189 against the Saints in Round 2 and 190 against the Tigers in Round 20 last season. With Sean Darcy feeding him at stoppages, Brayshaw is an excellent buy this week.
If you traded out Patrick Cripps, trade him back in! Picture: Michael Willson/AFL Photos via Getty Images
Other midfielders to target include Christian Petracca, Ben Keays and Zach Merrett.
In defence, it's hard to bypass Jayden Short or James Sicily at this stage. Shorts looks set to continue playing as a centre bounce midfielder, attending 15 centre bounces on the weekend to complement his 23 in Round 7. He also scored 109 points against the Magpies in Round 8.
Sicily continues to score well and has just one score under 100 all season which came back in round 2. He's averaging an equal career-high 23.3 disposals and a career-high 112 points. Sicily has also played on from 27 of 29 kick-ins, which is a huge bonus.
Other defenders to target include Nick Vlastuin, George Hewett (if named) and Sam Docherty.
LEADING SCORERS IN $500,000-$600,000 PRICE RANGE
Patrick Cripps (Carl) $580,700 MID, Av 126, BE 50
Travis Boak (Port) $587,300 MID, Av 125, BE 107
Tim English (WB) $572,700 RUC/FWD, Av 122, BE 100
Nick Vlastuin (Rich) $503,300 DEF, Av 121, BE 29
Andrew Brayshaw (Frem) $570,700 MID, Av 119, BE 122
George Hewett (Carl) $536,500 DEF/MID, Av 117, BE 88
Ben Keays (Adel) $584,000 MID, Av 117, BE 138
Tom Green (GWS) $546,900 MID, Av 117, BE 116
Christian Petracca (Melb) $559,200 MID, Av 114, BE 89
Sam Docherty (Carl) $562,500 DEF, Av 114, BE 122
Jayden Short Rich $560,100 DEF, Av 112, BE 66
James Sicily Haw $569,900 DEF, Av 112, BE 84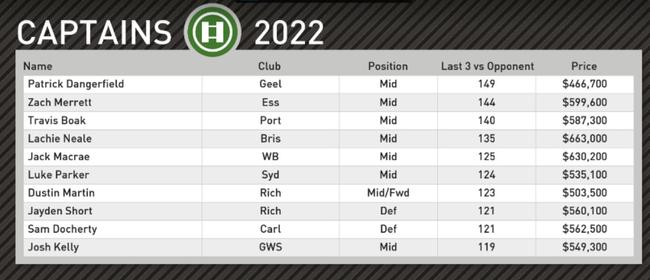 Champion Data's top captain picks for round 9
FREAKO'S ROOKIE WATCH
There are plenty of trade-down targets to consider ahead of Round 9.
Greg Clark missing last week under the Health and Safety protocols was a blow to trade plans across the board, but hopefully he's back this week and is deemed fit to play Melbourne on Sunday.
Looking at this week's bubble boys, Maurice Rioli looks to be the buy of the week ahead of Richmond's clash against Hawthorn. He boasts a Break Even score of -92 and has won 14 disposals and eight contested possessions in both of his games. He has also hit the scoreboard, booting three goals in Round 7, while having three score assists in Round 8. Rioli's pressure has also been exemplary, ranking second at the Tigers for forward-half pressure acts across the past two weeks.
With Josh Rachele (BE 63) still owned by over 58,000 SuperCoaches, a swap to Rioli looms as a shrewd move this week. Josh Ward (BE 46) and Jason Horne-Francis (BE 59) are two other rookies to consider offloading.
Jack Carroll will also rise in price after his next match, scoring 59 points in round 8 to go with his 95 on debut in Round 7. He had 18 disposals, eight contested possessions and two score assists on the weekend, while he was also handed a brief stint in the middle – attending seven centre bounces. With a Break Even of -82, expect a healthy rise after his next match.
Cooper Hamilton will also move in price, but job security under Leon Cameron is never assured. However, that could all now change after Cameron stepped down.
A MID/FWD in KFC SuperCoach, Hamilton has been deployed in defence, scoring 68 and 55 points in his first two matches.
If you're looking to jump early on one-gamers, then Cooper Stephens could be the one to target. He split his time between the wing and centre bounces against GWS Giants, finishing with 19 disposals, four clearances and 66 points on debut.
With Joel Selwood expected to return from injury. Stephens' job security will become a lot clearer this week.
As always, best of luck for the round ahead and trade wisely!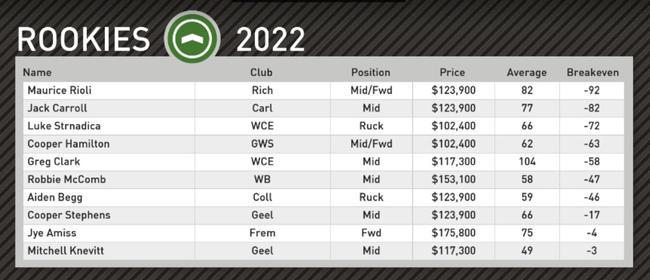 Champion Data's top rookie picks for round 9
Experts reveal their round 9 trades
KFC SuperCoach teams are nearing completion, a great crop of rookies are on the bubble, trade boosts are dwindling and the byes are looming.
There are big decisions to be made leading into round 9!
See what moves our experts are making this week and scroll down for full rookie rankings and this week's best trade targets.
AL PATON
Out: Josh Ward, Connor MacDonald, Nick Daicos
In: Maurice Rioli Jr, Greg Clark, Dayne Zorko
Taking a punt on Zorko (and his dodgy achilles) in defence at $522k after he was so good for me last year, with a move back to his mid-forward role delivering 120-plus scores the past two weeks. Trading out Ward, CMac and Daicos isn't ideal for my bye structure but they are the only rookies with any value I'm happy to part with (after JHF and Rachele went last week). I love watching Maurice Jr and if he can keep up last week's level of forward pressure he should keep his spot in Damien Hardwick's best 22.
Greg Clark gets a starting spot in my midfield and next week I really need a defensive rookie to appear to unlock $200k by downgrading a Gibcus/Sam De Koning/Nathan O'Driscoll type to fund another upgrade ... a big second game from Buku Khamis or Rory Thompson would be great!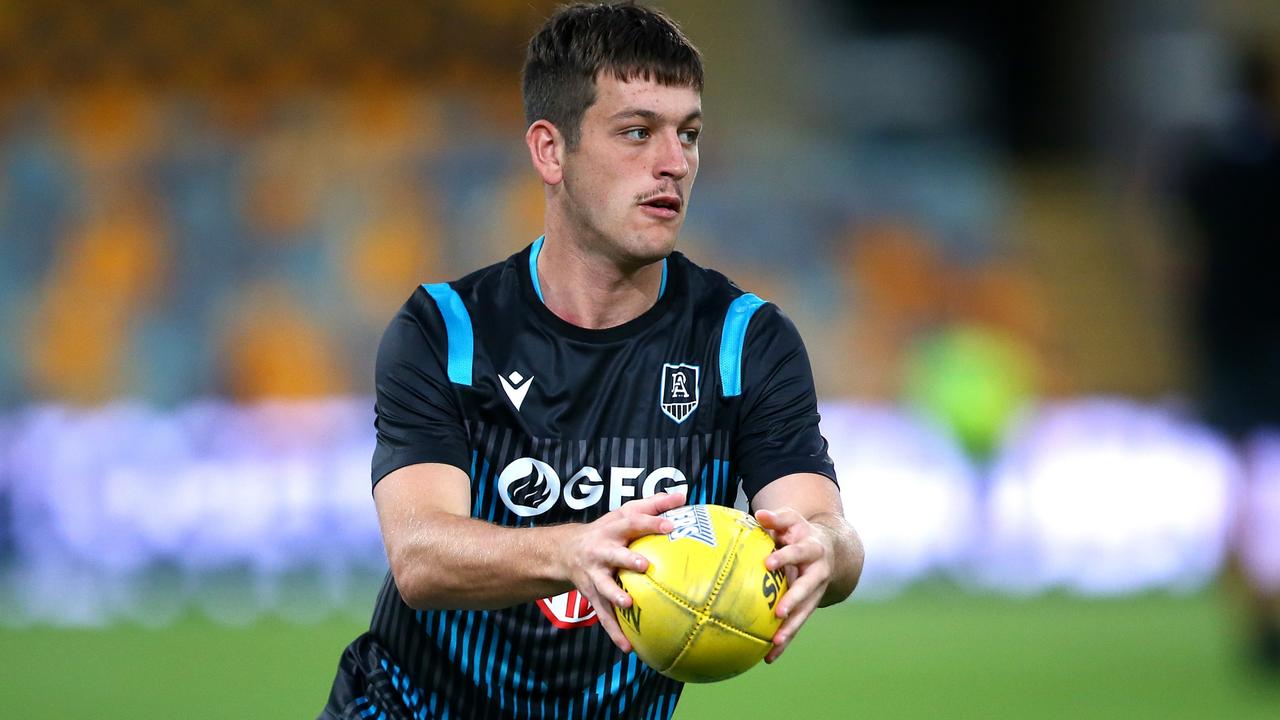 Tim Michell has run out of patience with Zak Butters. Picture: Jono Searle/AFL Photos/via Getty Images
TIM MICHELL
Out: Jake Bowey, Nathan O'Driscoll, Zak Butters
In: Greg Clark, Heath Chapman, Touk Miller
Most top KFC SuperCoach teams now have seven or even eight premium midfielders, but I only have six before this round. The two missing are Miller and Andrew Brayshaw, who would both be top buys this week. Miller hasn't been at his best for the past 5-6 weeks yet is still averaging 118.3, underlining his scoring power. Brayshaw has been incredible but has a tough draw before his round 14 bye, with a likely tag against the Suns this week and games against top-two sides Melbourne and Brisbane Lions. Based on Break Evens, Miller is the better option this round – unless Brayshaw scores 150-plus again.
Sadly, Bowey has to go after his Break Even lifted to more than 100, and I need to sacrifice O'Driscoll rather than punting Hugh Dixon to pull off these three trades. Butters out is a move I am still deciding on, but after bringing Darcy Cameron in last week it gives me some flexibility. Yes, some of you may remember I traded Heath Chapman in Round 2 – to Bowey. But three of his last four are hundreds and his form reminds me of Jordan Ridley's breakout season. If I don't trade Butters, my likely moves due to budget are Bowey and O'Driscoll to Cooper Hamilton and Miller.
You put your Chapman in you put your Chapman out you put your Chapman in and he averages 60 or about

— Tim Michell (@tim_michell) May 9, 2022
THE PHANTOM
Out: Nathan O'Driscoll, Jack Hayes, Jackson Mead
In: Andrew Brayshaw, Luke Strnadica, Bodhi Uwland
No time to waste in The Lair, I'm on the cusp of the top 500 and I'm going to have a crack. Although his Break Even is 120, meaning his price could remain steady, I'm planning to jump on Andrew Brayshaw this week to complete my midfield – $570k is great buying for a player who has posted scores of 189 and 190 in his past 11 matches. Trading Brayshaw means Will Brodie can swing back into the forward like, allowing me to loop on a struggling Zak Butters or Stephen Coniglio, who isn't part of the Giants' centre bounce set-up.
At this point, though, I'll have to throw D8, given the lack of suitable options, but I'm happy to take the punt. It should allow me to get the best score out of Paddy McCartin and Sam De Koning until I upgrade D6 over the next couple of weeks.
DAN BATTEN
Out: Josh Rachele, Jack Hayes, Matt Rowell
In: Maurice Rioli, Greg Clark, Sean Darcy
A double downgrade is locked in for this week, the move that could change is a trade for underpriced Dockers ruckman Darcy. I will wait to see how Sam Hayes fares on Saturday afternoon before pulling the trigger, with Darcy acting as a way to counteract not owning Max Gawn – or gain an edge if he is ruled out.
If Hayes goes gangbusters I may opt to bring in a midfielder like Andrew Brayshaw for Rowell, who is chugging along OK but definitely isn't a keeper.
It is worth breaking the rookie rule with Clark considering the round 12 bye bubble boys, and his on-field scoring is a big plus.
Trade guide: Rookie rankings, bye beware
Whether you like it or not – and whether you're ready or not – the byes are coming.
This year will be the first time KFC SuperCoaches will have up to four trades to use in each of the bye rounds, if they use a boost on top of their three permitted trades.
That seems like a luxury that will make fielding 18 players in each of the bye rounds pretty simple (remember in bye rounds only your top 18 scoring players count to your weekly total).
But, if history has taught us anything, it's that by the midpoint of the season, injuries, team chaos and Covid protocols will wreak havoc.
That's why KFC SuperCoaches should be looking at the bye rounds when considering their trades in the next three rounds.
Try to avoid trading in players with a round 12 bye, unless you're in a position where fielding 18 scoring players that week won't be an issue.
Unfortunately this will be tricky when picking up rookies, where the choices are far more limited and you don't want to miss out on the best money-making prospects for your bench.
When it comes to premiums, most KFC SuperCoaches will target round 14 players, therefore adding to their possible 18s for round 12 and 13.
That strategy means you can use up to eight trades (with boosts) to bolster your side in preparation for round 14 bye players missing.
Stream every match of every round of the 2022 Toyota AFL Premiership Season Live & Ad-Break Free In-Play on Kayo. New to Kayo? Try 14-Days Free Now >
Andrew Brayshaw (right) is a great KFC SuperCoach option this week.
For example, if you load your team with players who miss in round 14, you could trade in three or four round 12 bye players ahead of round 13 to compensate.
Then, ahead of round 14, you can trade in players coming off the round 13 bye.
It will make fielding 18 in round 14 a much easier task and should set your team up for the run home.
For this reason, coaches should be prioritising round 14 bye premiums over the next three weeks to ensure they are ready for the most important stretch of the season.
Here are this week's top rookie options to free up cash to grab a top-liner – and the best round 14 premiums to have at the top of your shopping list (plus a couple of other trade targets we couldn't leave out)
ROUND 9 BUBBLE BOYS
This could be a great week to cash in maxed out or underperforming rookies to grab the next wave of cheapies who will fund our final premium upgrades.
There are a number of great options and these don't include Greg Clark, who is set to return for his second game for West Coast after sitting out round 8 due to Health and Safety Protocols. He won't be on the bubble this week but factor him into your plans even if it's leaving a spot to grab him when he's on the bubble before round 10.
Any rookies we trade in now are likely to be in our teams over the byes so they should also be part of your bye strategy. Annoyingly, all of Rioli, Carroll and Hamilton share the round 12 bye, so it might pay to check how many of your players will already be missing that week before committing. Here are Al Paton's expert rankings.
1. Maurice Rioli Jr $123,900 MID/FWD
Scores: 92, 72. BE -92. Bye: round 12
As a small forward scoring can be very up and down (see Malcolm Rosas) but he has the best job security of the rookie crop which will be crucial when we need every player available during the bye rounds. Rioli Jr followed up a three-goal effort against the Eagles with an elite pressure game against Collingwood, scoring 72 points without hitting the scoreboard and delighting coach Damien Hardwick. "Maurice, in the first half alone, (he had) two of those chase-down tackles – it might've even been three – that we haven't seen since Daniel, his cousin, was there," Dimma said after the game. "He's really growing. He's a guy that we drafted, what is it, two, nearly three years ago? He's just improved every single year and that's what you love as a coach and an organisation." Rioli Jr the lowest Break Even in the competition and is projected to make $65,000 next week if he can score 53 against Hawthorn.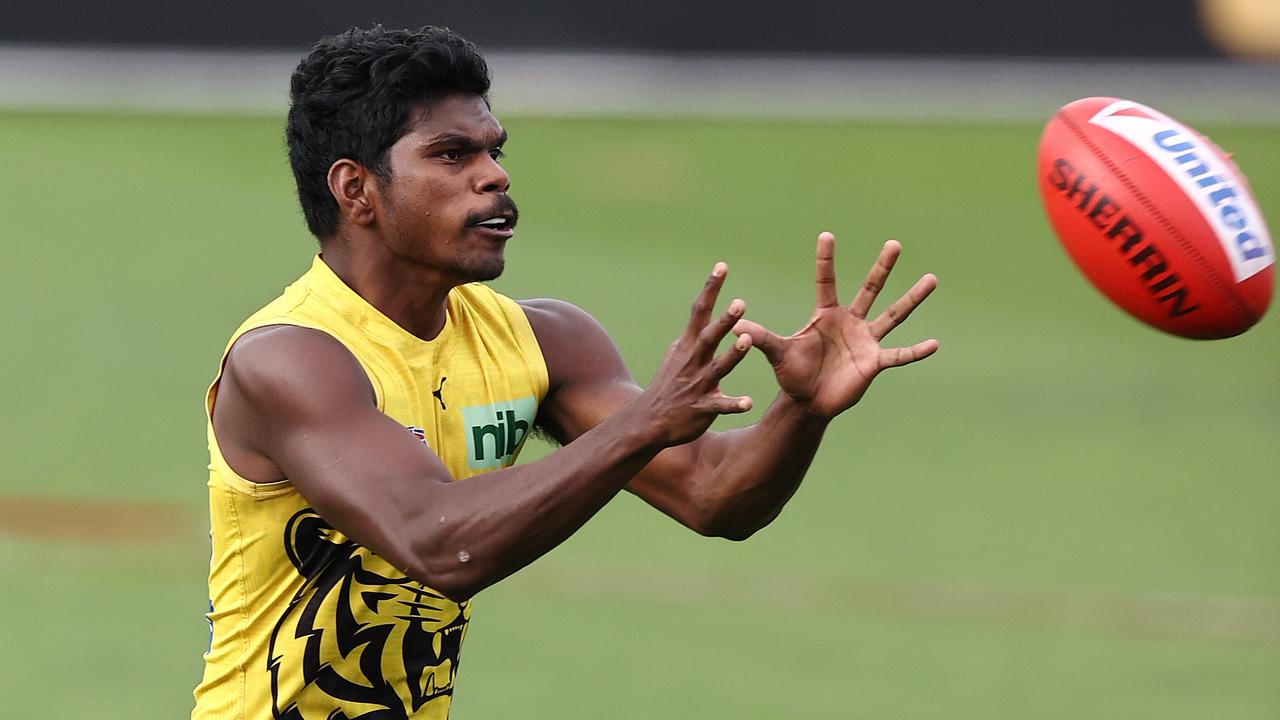 Maurice Rioli Jr is putting smiles on Tiger faces. Picture: Michael Klein
2. Cooper Hamilton $102,400 MID/FWD
Scores: 68, 55. BE -63. Bye: round 12
Hamilton is a MID/FWD in KFC SuperCoach but he has played as a small defender for the Giants, picking up 10 disposals at 80 per cent efficiency plus three tackles and three intercepts against Geelong. Leon Cameron's selection plans are always cause for anxiety but the price and dual-position flexibility put him at No.2 – if he keeps his spot this week.
3. Greg Clark $117,300 MID
The mature-age Eagle won't be on the bubble until next week but bringing him in a week early is a very viable plan given his scoring capacity – you would definitely rather have him on field than either of the players above – and the fact the Eagles have a bye in round 13 when most teams will have better coverage plus the option of trading in players that week who had their bye in round 12. But take a look ahead – if you will need to downgrade a rookie next week to keep adding premiums and Clark is already off the table, the options could be a bit thin.
4. Jack Carroll $123,900 MID
Scores: 95, 59. BE -82. Bye: round 12
Didn't touch the ball in the first quarter against Adelaide but picked up 18 touches in the final three terms following 19 disposals and eight marks (plus a goal) on debut against North Melbourne. He can clearly find the footy and should score more than the two players above but the worry is what his role will be when George Hewett returns to the Blues midfield.
5. Luke Strnadica $102,400 RUC
Scores: 56, 76. BE: -73. Bye: round 13
Would be ranked higher if you have the option of bringing in a rookie on your ruck bench. Strnadica missed the Eagles' loss to Brisbane after being placed in the AFL's Health and Safety protocols but should return to take on Max Gawn on Sunday. With Nic Naitanui out for at least two months the former Fremantle rookie is West Coast's No.1 ruckman and should make plenty of cash.
6. Aiden Begg $123,900 RUC
Scores: 81, 37. BE -46. Bye: round 14
Couldn't back up his impressive debut in game two, recording just two hitouts from 32 ruck contests. If you're looking for a cheap ruckman, pick Strnadica. If you're interested in a Pies big man, Darcy Cameron looks great value as a forward while Brodie Grundy is out.
First-year Giant Cooper Hamilton. Picture: Phil Hillyard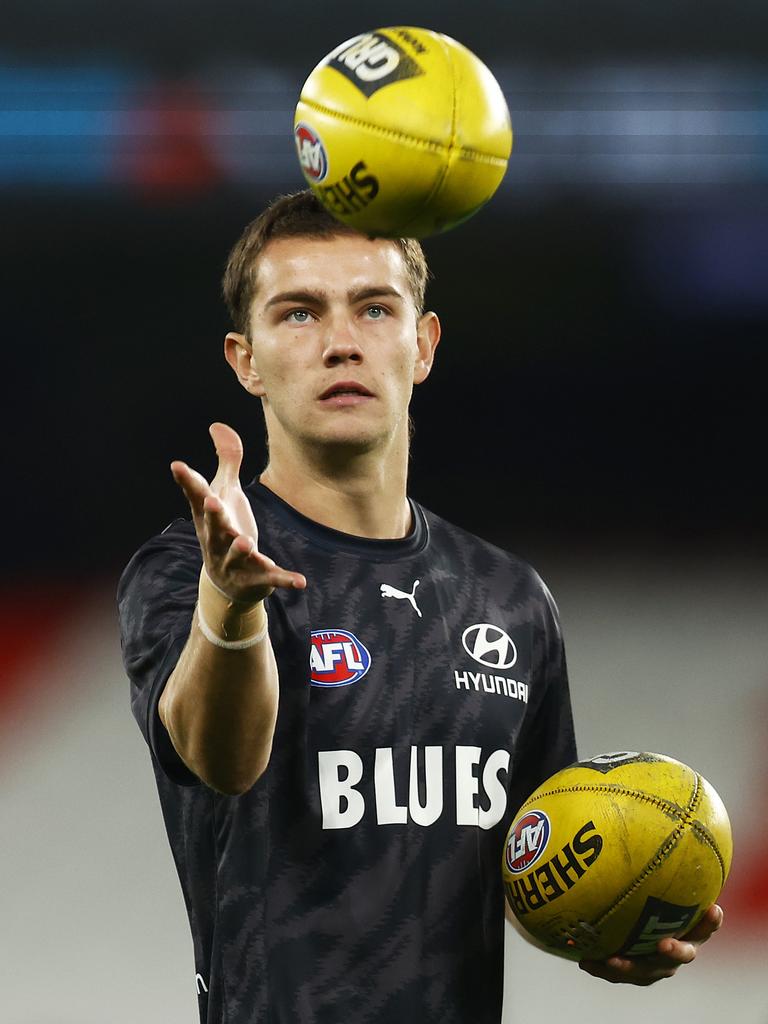 Jack Carroll of the Blues. Picture: Daniel Pockett/Getty Images
PREMIUM TRADE TARGETS
Andrew Brayshaw $570,700 MID
The star Docker, considered by many to be a Brownlow Medal contender this year, has bottomed out in price after his 134 against North Melbourne on Friday. Brayshaw is available for less than his starting price despite scoring five tons plus a 96 and a 95 in the opening eight rounds. Brayshaw has stamped himself as one of the next elite midfielders and his run before the bye features Gold Coast, Collingwood, Melbourne, Brisbane and Hawthorn. The Hawks clamped down on Brayshaw last year, but even then, he has got off to the leash when teams have tried to tag him this season. A great buy this round if you need a seventh premium midfielder to sit alongside Greg Clark at M8.
Max Gawn $669,400 RUC
The Demons skipper has been one of the most dominant players in KFC SuperCoach this season and has made a mockery of coaches who traded him out early in the season. Gawn was a bit quieter against St Kilda but he monstered the Hawks in Round 7 with 177 points and will again be a popular captaincy option in Round 9 when Melbourne takes on West Coast. The Eagles are without Nic Naitanui and have had their ruck stocks carried by top-up players including one-time KFC SuperCoach favourite Luke Strnadica this year. The depleted Eagles will be ripe for the picking and coaches without Gawn in their teams might have to deploy a boost this week to ensure they don't miss out on one of the biggest scores of the year. Just keep an eye on Demons selection after Gawn copped a knock to the knee in the first half against St Kilda.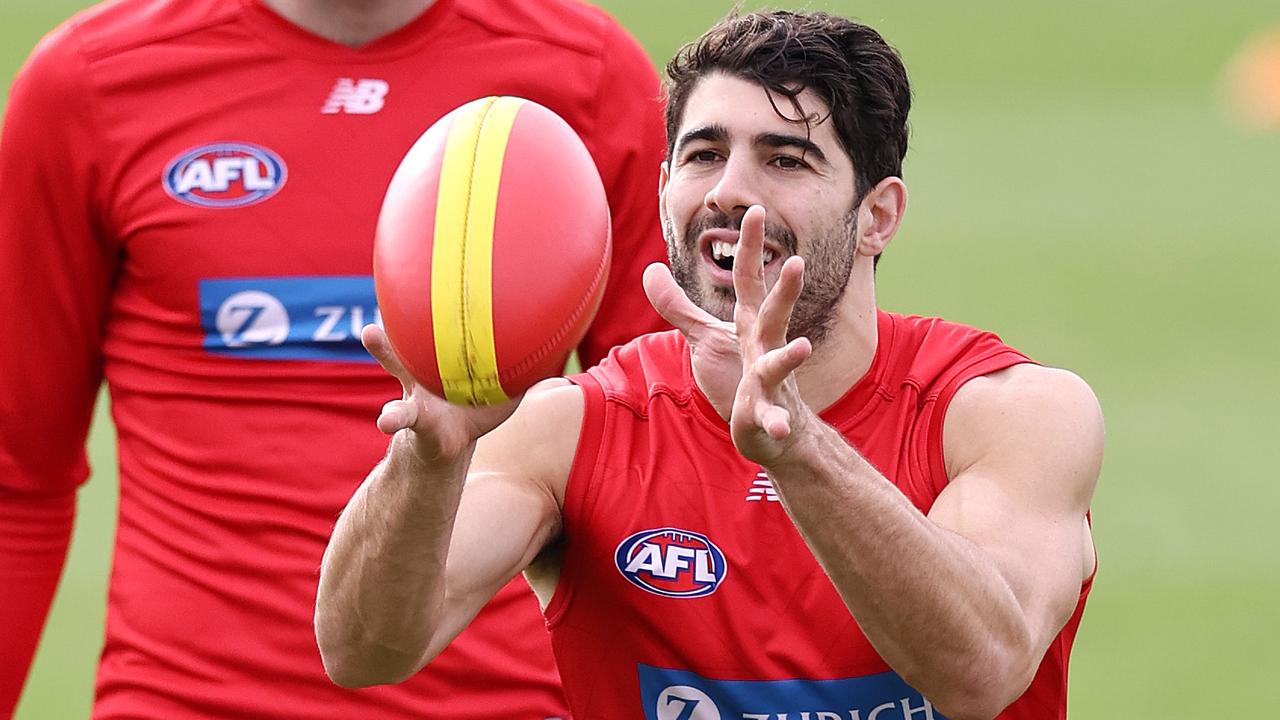 Christian Petracca is a great price for a player averaging elite numbers.
Christian Petracca $559,200 MID
For a player with one of the highest ceilings in KFC SuperCoach, Petracca is available for a very attractive price. As mentioned with Gawn, the Demons take on West Coast and North Melbourne in the next two rounds and it seems inevitable several of their big guns will post massive KFC SuperCoach totals. Petracca is almost $50k cheaper than his round 1 price and if you can't find the money for Touk Miller (Round 13 bye) or Clayton Oliver, he looms as the perfect substitute. Petracca had four 116-plus scores and a low of 85 in the opening eight rounds. Chosen in about 25 per cent of teams, he's still one of the most-unique uber premium midfielders too if you need a slight point of difference.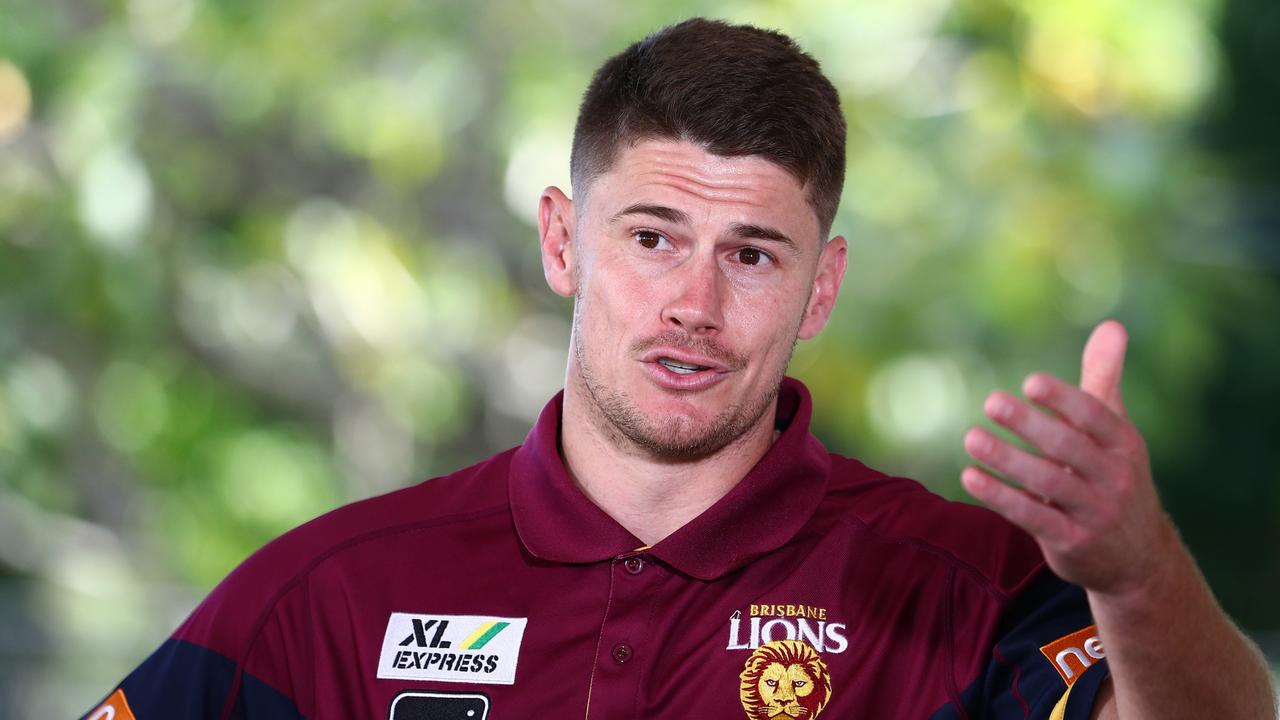 Dayne Zorko is back in the centre square but available as DEF in KFC SuperCoach.
Dayne Zorko $522,900 DEF/MID
There was a noticeable shift when Keidean Coleman returned to Brisbane Lions' side in Round 7, with Zorko attending 11 centre bounces against Sydney and booting two goals. It was a similar on Saturday night, with Zorko recording another 11 CBAs and finishing with 26 disposals and his second consecutive score of 120 or more (123). It appears Coleman's return will enable Chris Fagan to use Zorko in more of the FWD-MID role which made him a must-have in KFC SuperCoach last season. Most coaches will not need reminding of his scoring power and at a price considerably lower than his starting value, Zorko needs to be considered. The only concern is he has reportedly been carrying an injury. The last thing coaches need is to lose a premium late in the season, should Zorko be managed if the Lions had secured a top-four spot – a scenario which appears likely.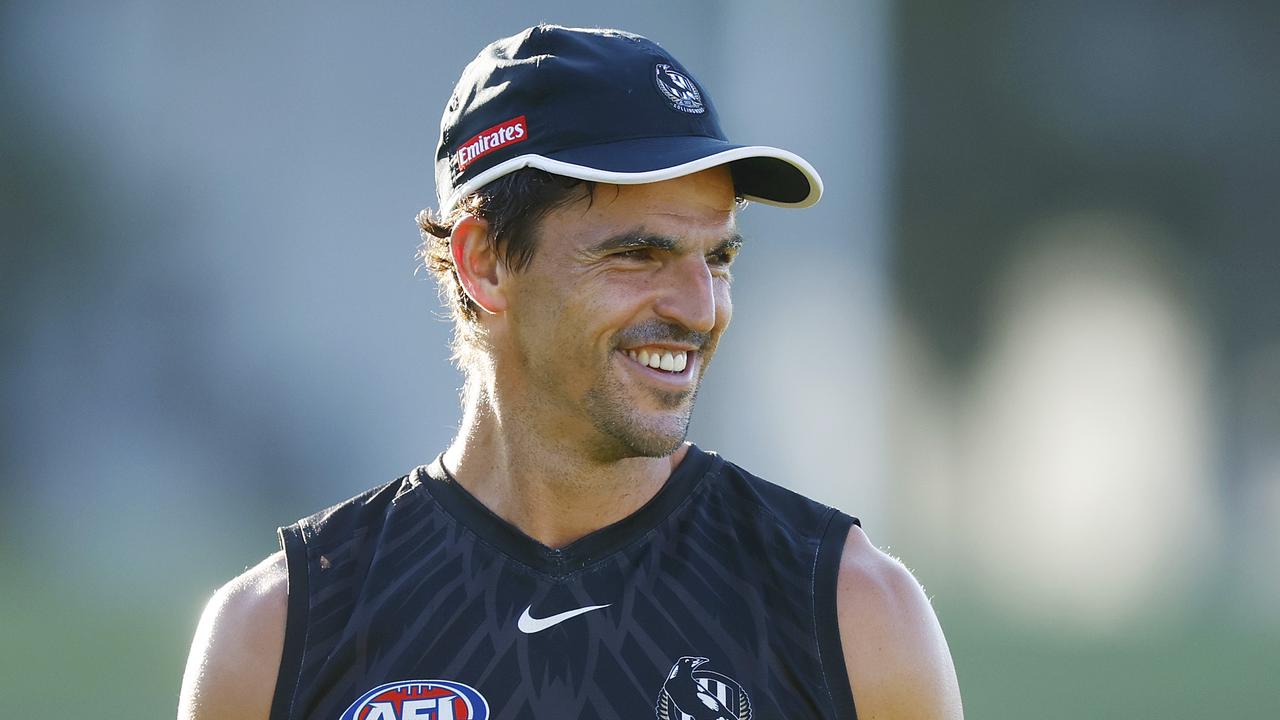 Scott Pendlebury is back in fashion after gaining DEF status at Round 6.
Scott Pendlebury $544,700 DEF/MID
Many of those on DPP watch early in the season were waiting for Pendlebury to gain DEF status, which he did after round 5. The Magpies skipper was the fifth-ranked defender for total points after seven rounds, averaging 106.9 points with five hundreds, an 87 and a 98. It seemed certain the switch to defence would suit Pendlebury's silky skills and that has proven to be the case. To round 8, he was averaging 25 disposals with an elite kicking efficiency of 79.3 per cent (83.1 per cent for overall disposals). Then, in the loss to the Tigers on Saturday, he tallied another 24 disposals and, importantly, zero clangers, to finish with 97 points to underline his consistency. It might not be at the very high end scoring that we enjoyed during his midfield prime, but it doesn't need to be any more. Just when many coaches had written off Pendlebury as a KFC SuperCoach option in the twilight of his career, gaining DEF status has made him very relevant. Despite his age, he's very durable and a hero of past years in KFC SuperCoach is suddenly right back in vogue.
Clayton Oliver $661,400 MID
The Melbourne star is averaging 123.4 points per game this year, but Oliver should still be available at less than his starting price ahead of round 9. In the next two rounds the Demons take on West Coast and North Melbourne, teams that have given up big KFC SuperCoach scores this season. And, on his day, Oliver has the highest ceiling of almost any player in the competition – do you really want to miss out?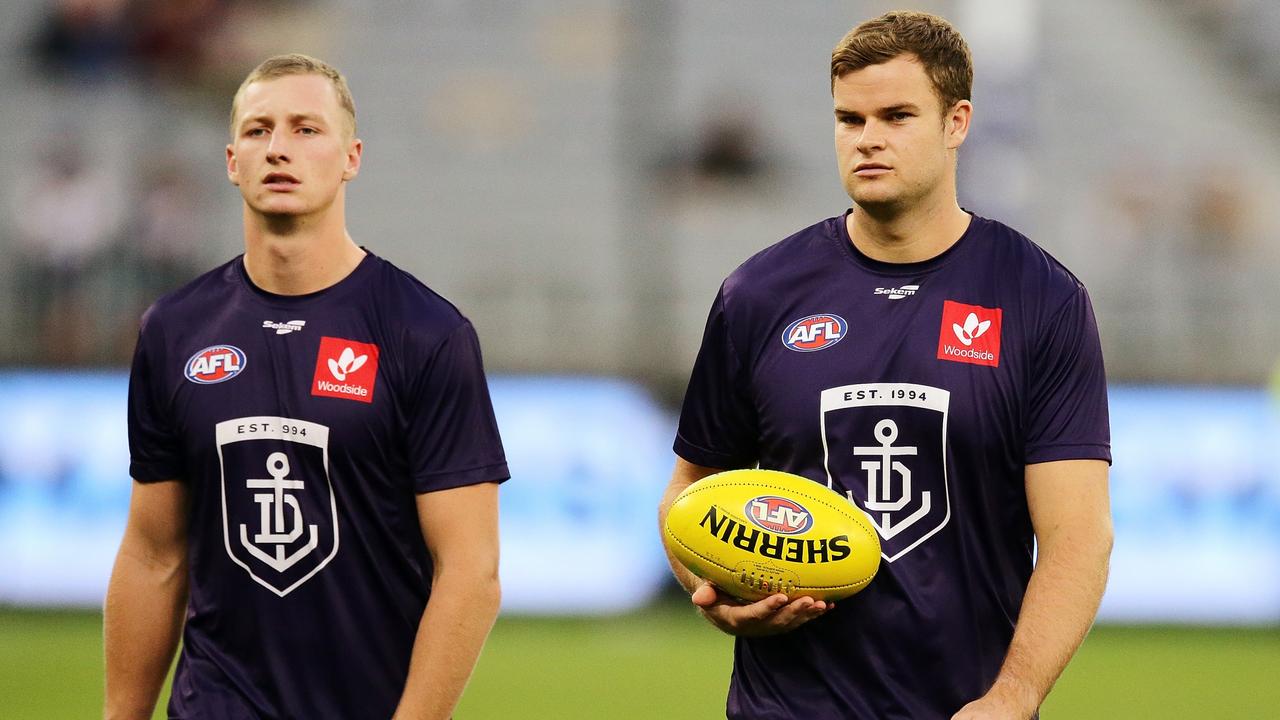 Sean Darcy scored a huge 178 points against the Kangaroos on Friday night. Picture: Will Russell/AFL Photos
Sean Darcy $595,600 RUC
The Dockers big man has finally found some consistency in his body in 2022, and it's starting to show. After scoring 121 and 91 in the previous two matches, Darcy exploded against North Melbourne on Friday night, tallying 20 hitouts-to-advantage, 17 disposals, 10 contested possessions, four contested marks and a game-high 178 KFC SuperCoach points. It was a performance reminiscent of his form last year, when he averaged a huge 144 points between Round 16 and 22. In the middle of that run, Darcy's price peaked at $716k. Thanks to an injury-interrupted start to 2022, he's still available for less than $600k, if you prepared to take the risk and can't afford Gawn.
James Sicily $569,900 DEF
With six KFC SuperCoach tons from the first seven games, and an average of 109, Sicily was the fourth-ranked defender in the competition ahead of Round 8. Then he tallied another 22 disposals – at 90 per cent efficiency – nine spoils, seven intercept possessions and 132 points against the Bombers. The star Hawk takes kick-ins, is a brilliant ball-user and wins it back off the opposition – often in the air – making him one of the most KFC SuperCoach-friendly players in the game. Forget his starting price, he's still reasonably affordable.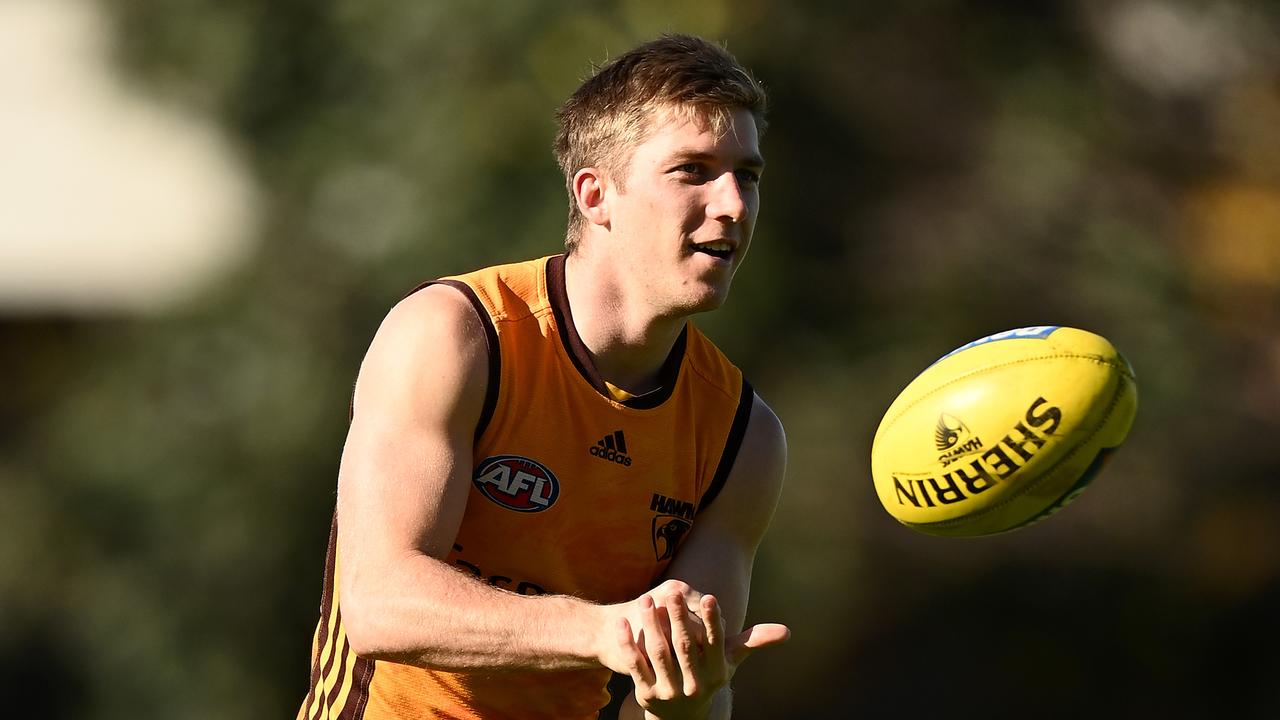 Dylan Moore has been the surprise packet of the KFC SuperCoach forward line. Picture: Quinn Rooney/Getty Images
Dylan Moore $503,200 FWD
He may have dropped his lowest score for the year – 72 points, thanks, largely, to just two contested possessions, zero tackles and a 60 per cent disposal efficiency – against the Bombers, but Moore has been one of the most consistent KFC SuperCoach forwards of the year to date. Before Round 8, the breakout Hawk was owned by just 1117 teams, despite ranking fourth for total points in his position after posting scores of 90, 103, 94, 105, 90, 88 and 147 to start the season.
Jordan Dawson $519,900 DEF/MID
The Crows' star recruit has the round 13 bye but could be a smart pick because there aren't many other premium defenders missing that week apart from Tom Stewart, Bayley Dale and Jake Lloyd. Dawson is available for $30,000 under his round 1 price despite only dropping under 90 once this season (81). After a brilliant 134 against the Blues he has a Break Even of 75 and is set to shoot back up in price. A season-high 30 disposals (23 kicks) plus 10 marks hints at a more prominent role on a wing where he can use his left-foot to its most damaging effect, and he presents as a rare affordable defensive premium.
Jordan Dawson at Crows training.
Tom Lynch $491,700 FWD
The Coleman Medal leader shares the round 12 bye with forwards Zak Butters, Stephen Coniglio and Nic Martin but demands inclusion as arguably the hottest KFC SuperCoach player in the AFL right now. Lynch booted seven goals and scored 167 points against West Coast and went even better against Collingwood, kicking another six goals and logging 184 points. That means he has a eye-popping Break Even of -64 going into Saturday's clash against Hawthorn – SuperCoach Plus projects a score of 115 and a whopping $80,000 price rise. In just 1 per cent of teams he could be the ultimate POD.
Originally published as KFC SuperCoach 2022: Round 9 trade guide