KFC SuperCoach 2022: The Phantom's early rookie bible
Starting to pick your 2022 KFC SuperCoach squad? You need rookies! Get the early mail on the young guns and bargain-priced players we need in our teams this year.
Happy New Year, KFC SuperCoaches!
Is your resolution to nail all of your rookie picks in 2022?
Well, you've come to the right place.
From mature-age recruits and the top draftees to recycled players and second-year stars, the next crop of cash cows is starting to emerge.
With the game now open for 2022, here's a look at all the best cheap options ($230k or less) on every line.
DEFENDERS
Garrett McDonagh (Ess) $117,300
You don't pick 25-year-olds from the VFL to develop them. And Bombers list boss Adrian Dodoro confirmed just that post-draft, declaring the long-kicking defender "could possible play very early on in the piece". McDonagh, a terrific runner who is a great ball user by foot, averaged 21 disposals, five intercepts, five rebound-50s and 84 KFC SuperCoach points in the VFL last season.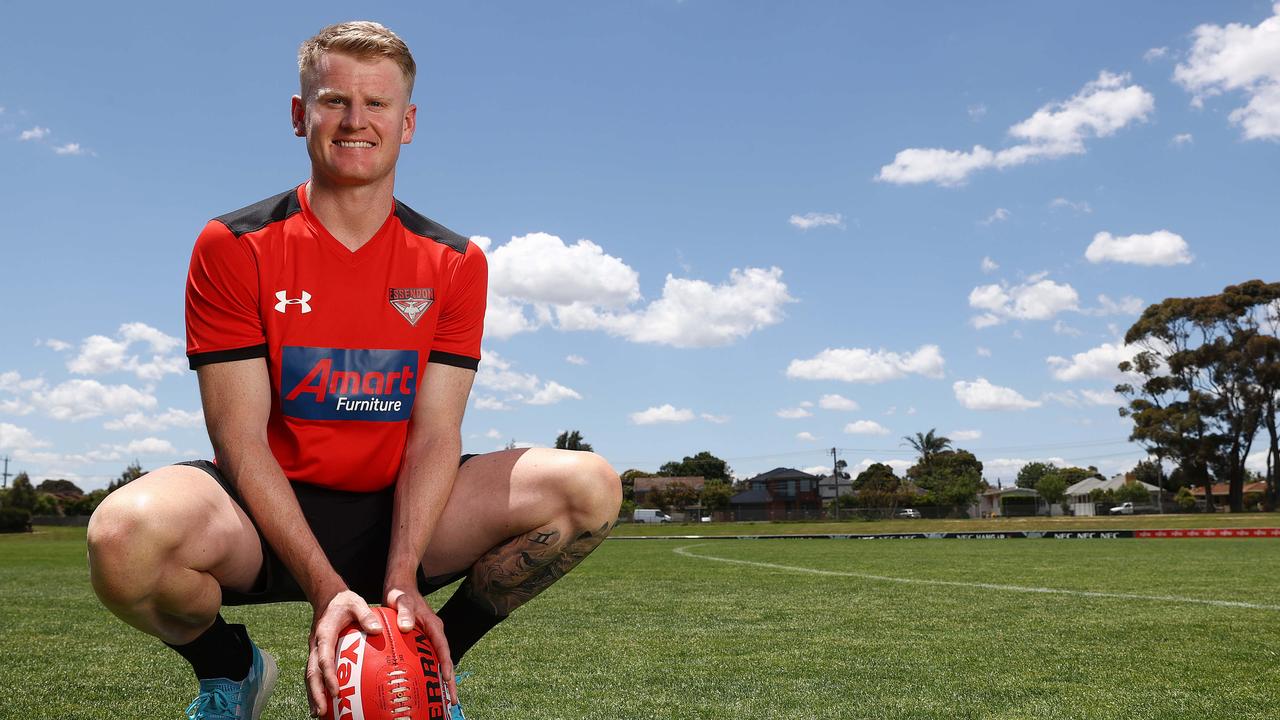 Mature-age draftee Garrett McDonagh could have an impact in 2022. Picture: Michael Klein.
Charlie Dean (Coll) $102,400
A mature-age intercept defender, who won the Fothergill-Round-Mitchell Medal as the VFL's best young player? Yes, please. And, no, I'm not talking about KFC SuperCoach star Luke Ryan, who did just that in 2016. The ready-made Dean averaged eight intercepts and 85 KFC SuperCoach points per game for Williamstown, and made it all the way through to Collingwood in the rookie draft, meaning a basement price tag in 2022.
Sam Skinner $123,900 (Port), Fwd
Sticking with the mature-age theme, the former Lion is another who could have an impact in KFC SuperCoach in 2022. Skinner was signed by the Power as a delisted free agent after a switch to defence saw him dominate the back-half of the SANFL season for South Adelaide. After shifting back, Skinner, who played three games in five injury-ravaged seasons at Brisbane, averaged 19 disposals, 11 intercepts – seven of them marks – and 113 KFC SuperCoach points between Rounds 16 and 21. The 24-year-old took a remarkable 41 intercept marks in the final seven matches for the year, patrolling the air for the Panthers in a similar way Tom Highmore did before he was drafted. Another who is ready to step in, if Port Adelaide needs.
Bodhi Uwland (GC) $102,400, Mid
There's been little talk about Uwland, who was pre-listed by Gold Coast under the club's draft concessions. But he's a competitive beast who is ready to go after mixing it with the bigger bodies at VFL and QAFL level in 2021. Uwland averaged 63 points in six VFL matches, with his 19-disposal, 10-intercept, 112-point performance against Sydney the highlight. And the teenager also posted KFC SuperCoaches scores of 151 and 120 in his two NAB League appearances. The make-up of the Suns' 22 will be interesting, but he's one to keep on the radar.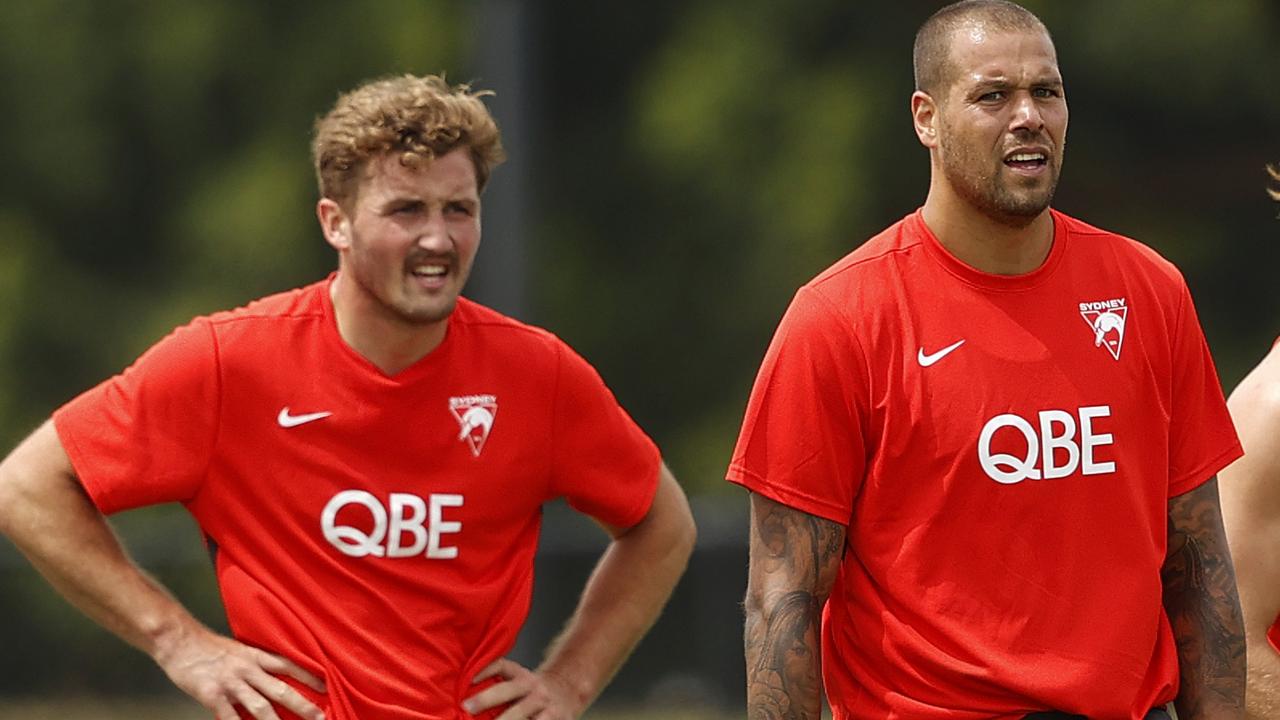 Will Gould, left, with Lance Franklin at pre-season training in December. Picture: Phil Hillyard
Will Gould (Syd) $123,900
Surely this is the young Swan's year. Surely. We've been talking about Gould ever since he starred at SANFL level in his draft year, but, mainly due to concerns over his fitness, he failed to make a senior appearance in his first two years at the club. It won't be easy breaking in, but with Braeden Campbell and Justin McInerney a chance to be used further up the ground to help fill the Jordan Dawson void, Gould, who averaged 83 points in the VFL last season, is in the mix. You've heard that before, I know, but 'new year, new me' and all that.
MIDFIELDERS
Jason Horne-Francis (NM) $207,300
The No.1 pick could've played for North Melbourne last season and, barring injury, is a certainty to debut in Round 1. And you need to start him in KFC SuperCoach, too. No, he's not too expensive. And, no, it doesn't matter if he spends plenty of time forward. Horne-Francis played the midfield-forward role at senior level for the past 18 months and averaged 16 disposals, nine contested possessions and 88 KFC SuperCoach points, while also booting 15 goals, in 20 matches last season. In his last appearance at SANFL under-18 level, the explosive teenager posted scores of 117, 141, 172, 166, 181 and 167 in his only six matches as a bottom-age player in 2020.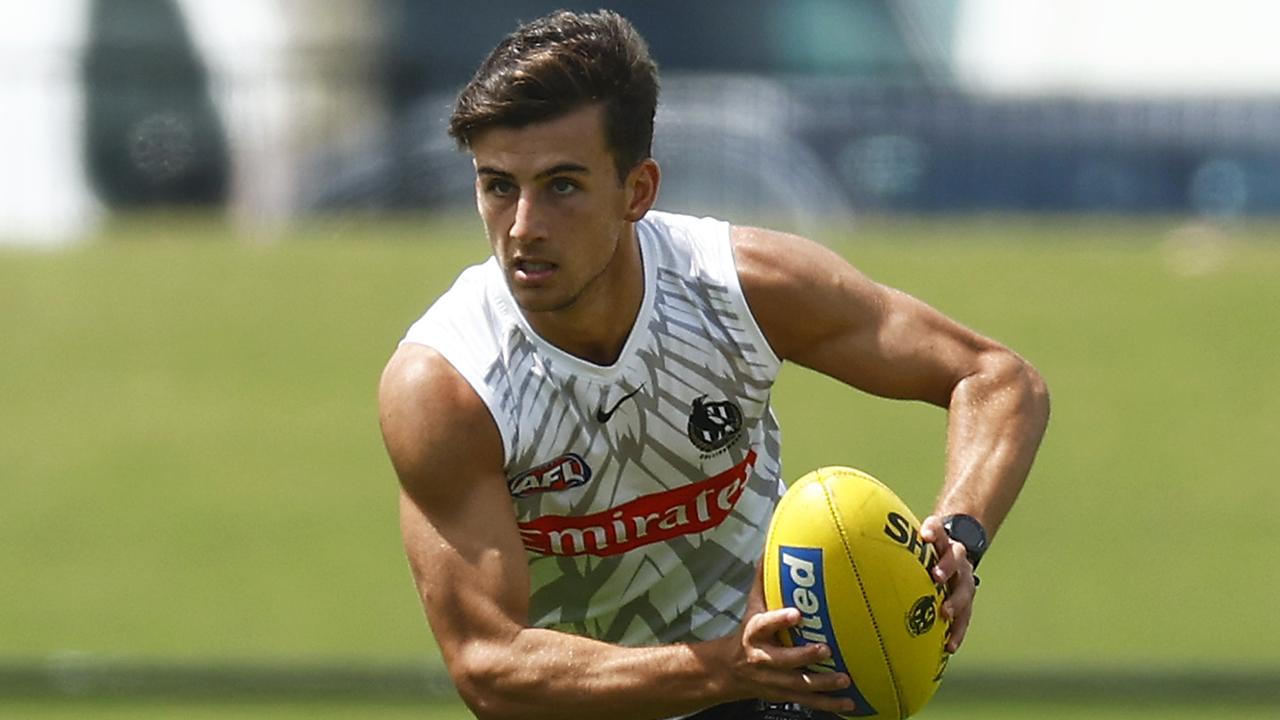 Can you afford Nick Daicos and Jason Horne-Francis in KFC SuperCoach? Picture: Daniel Pockett/Getty Images
Nick Daicos (Coll) $193,800
Daicos, too, could've featured for the Magpies in 2021 and is another who looks set to be worth the top-end rookie price tag in KFC SuperCoach. The big talking point over the pre-season, however, will be can you afford to start both? The father-son selection, who has the versatility and skill set to be used on each line, averaged 36 disposals, two goals and 159 KFC SuperCoach points in five NAB League games in 2021 and, despite his ability to win so much of the ball, is a player who should still score well early in his career with fewer touches.
Greg Clark (WC) $117,300
He's a little older, but the mature-age Eagle is another who could have an instant impact and be KFC SuperCoach gold in 2022. In a phenomenal WAFL season, Clark averaged 27 disposals, 11 contested possessions, seven tackles and a huge 128 KFC SuperCoach points in 18 non-injury-affected matches. The strong-bodied, 192cm midfielder capped off the year with a 181-point performance, on the back of 25 disposals, 14 tackles, six clearances and two goals, to win the medal as best afield in the WAFL Grand Final.
Matty Roberts (Syd) $117,300
If we're picking on numbers alone, Roberts would have to be the first rookie picked in most KFC SuperCoach sides. The ball magnet impressed in South Adelaide's senior side in 2021 but in his 10 under-18 matches in the past two years, Roberts posted scores of 240, 188, 175, 139, 208, 146, 120, 125, 160 and 104. Yep, two KFC SuperCoach double tons. And given there was some concern of his athletic ability, he slid to the Swans' pick 34, giving him a very appealing price tag in 2022. His ability to have an impact forward of centre in the SANFL late in the year will help his chances of breaking into the Swans' side, but there is plenty of young midfield talent in Sydney already.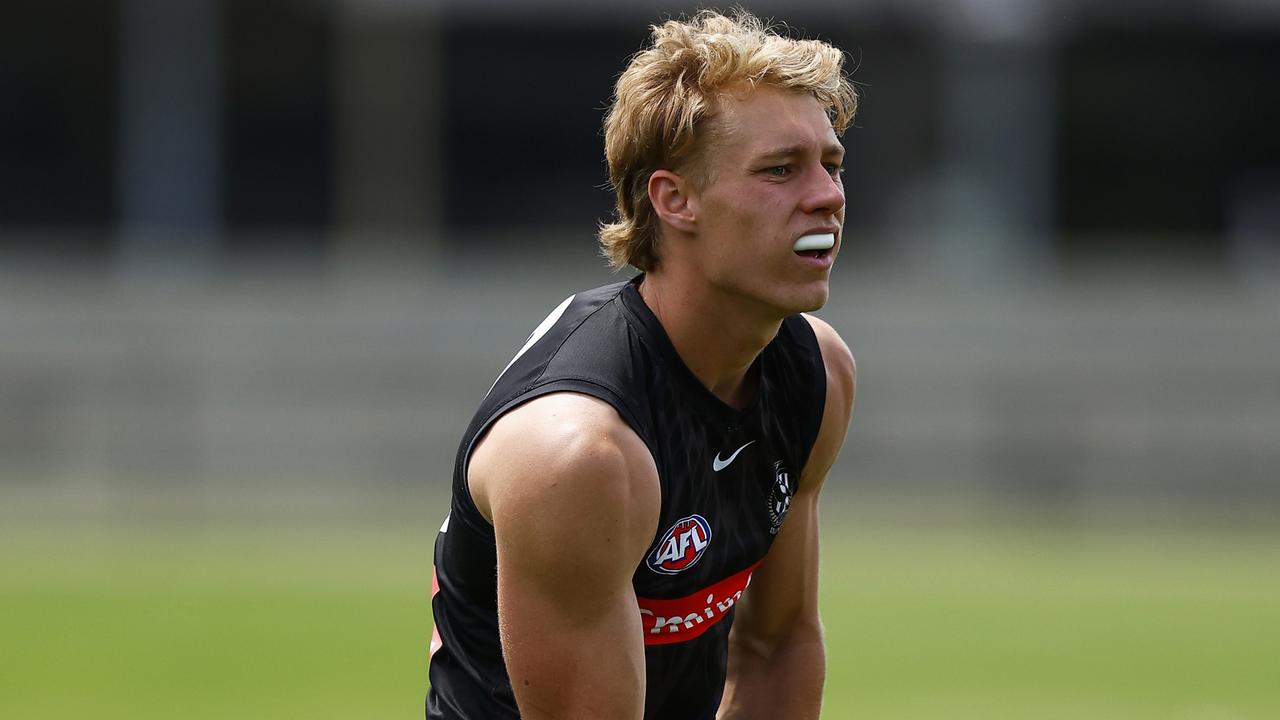 Finlay Macrae struggled for consistent opportunity in his debut season. Picture: Daniel Pockett/Getty Images
Finlay Macrae (Coll) $206,800
It was a frustrating first KFC SuperCoach season for Macrae, who battled for regular opportunity in Collingwood's best 22. But he showed in spurts his elite ball-winning ability, highlighted by his 20-disposal performance in just 61 per cent game time against the Hawks in Round 21. Remind you of anyone? A consistent midfield role for Macrae could bring a serious KFC SuperCoach spike, quickly.
Josh Ward (Haw) $180,300
Hawthorn's top pick is another with terrific KFC SuperCoach potential and, in a developing Hawks engine room, could feature early in his debut season. The midfielder, in the mould of Essendon star Zach Merrett, finished the NAB League season with scores of 136, 124, 174 and 140. In a performance which highlights his multiple avenues of scoring, Ward tallied 34 disposals, 17 contested possessions, eight clearances, eight tackles, five intercepts and five score involvements in the final game of the year.
Robbie McComb (WB) $102,400
Luke Beveridge gave mature-age recruits Anthony Scott and Lachie McNeill a Round 1 debut in 2021, with both going on to be significant KFC SuperCoach cash cows. McComb, plucked from the VFL in the rookie draft, could be set to follow a similar path if he can impress over summer. The 25-year-old won Footscray's best-and-fairest after averaging 26 disposals, 10 contested possessions, five tackles, five clearances and 106 KFC SuperCoach points. McComb is an elite runner, and energetic around the contest, with his ability to hit the scoreboard also likely to keep him in Beveridge's thinking.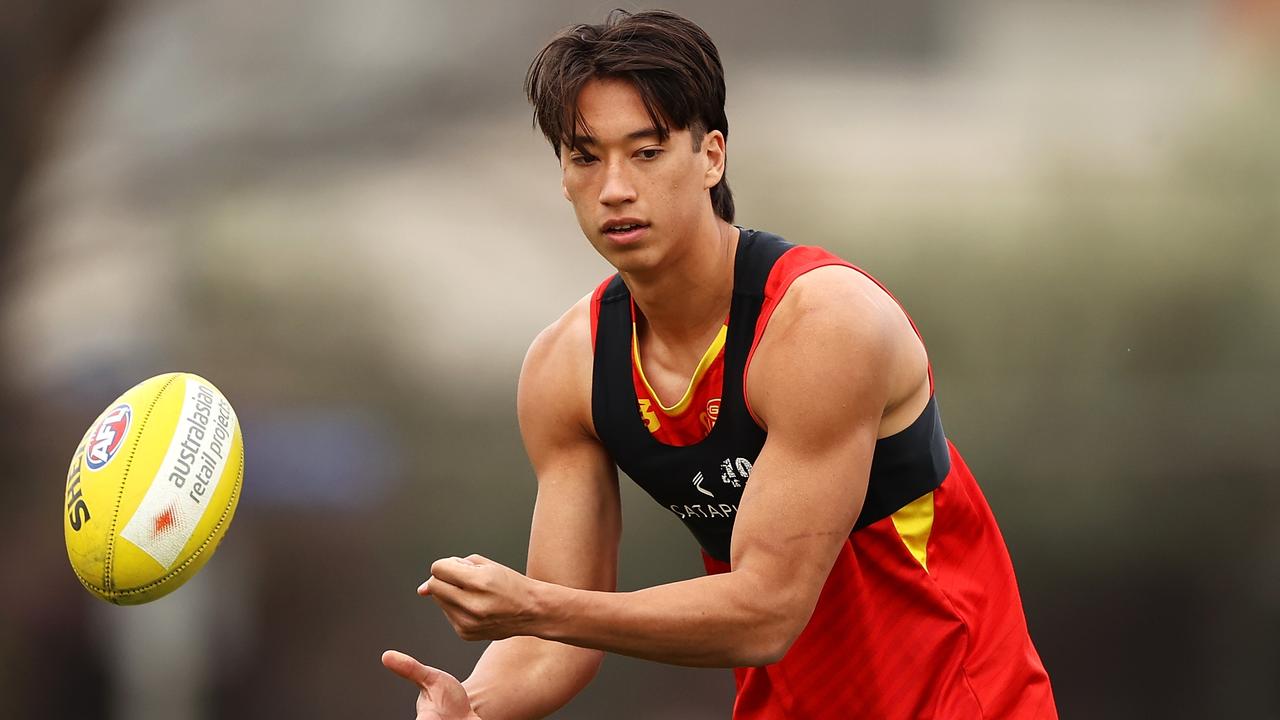 Gold Coast midfielder Alex Davies impressed on debut in 2021. Picture: Robert Cianflone/Getty Images
Alex Davies (GC) $202,500
Gold Coast has a Hugh Greenwood replacement waiting in its wings. Davies, a 191cm midfielder, is a contested-ball star, who hunts the body when he doesn't get his hands on it first, like Greenwood did during his time at the Suns. On debut in the final round last season, Davies won 14 of his 17 possessions in a contest and applied six tackles, on his way to 62 KFC SuperCoach points. In his final four VFL matches before the season was called off, the 19-year-old Suns Academy graduate averaged 21 disposals, 14 contested possessions, seven clearances, seven tackles and 111 KFC SuperCoach points.
Charlie Constable (GC) $213,400
Suns coach Stuart Dew also has big-bodied midfielder Constable to help fill the Greenwood void after the former Cat was given a lifeline by Gold Coast in the national draft. Numbers have never been a problem for Constable, opportunity – and maybe what he does without the ball – has. He scored 90 KFC SuperCoach points on debut and had 31 touches in his second game but was dropped after his fourth. That was in April 2019, and he's made just eight senior appearances since, despite being a class above a stage league level. The 22-year-old averaged 113 in Geelong's reserves side during that strange debut season and finished his time at the Cats with scores of 175, 132 and 146 before the VFL season was called off in 2021.
Jackson Mead (Port) $123,900
After battling hamstring injuries during his first season at the club in 2020, Mead was pressing for a debut last season before he collapsed during a SANFL game and missed 12 weeks with a lacerated spleen. But the left-footer finished the year strongly at state league level, tallying 27 disposals and six clearances through the midfield in Round 15, before showing his versatility behind the ball, recording 15 intercept possessions and KFC SuperCoach scores of 107 and 93 in the final two rounds. The 20-year-old is also strong overhead and can play forward, as he proved at junior level. But a fully-fit Mead, who averaged 106 points for his state during his draft year as onballer, could be the one to add something different to Port Adelaide's midfield in 2022.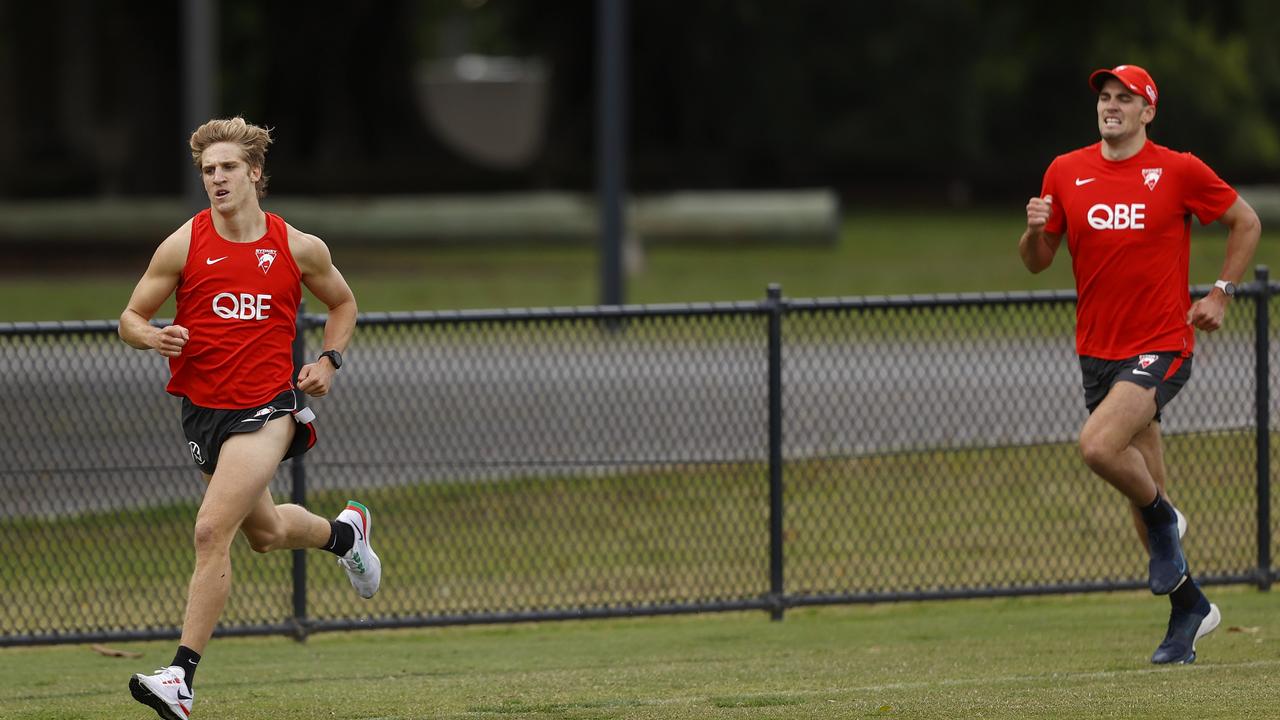 Dylan Stephens wins Sydney's first 2km time trial of the pre-season. Picture: Phil Hillyard
Dylan Stephens (Syd) $167,800
A hard-running, skilful midfielder, Stephens was in and out of the Sydney side last year, robbing him of any sort of consistent opportunity. But with Jordan Dawson moving to the Crows, there's a vacant spot on the wing and the left-footer, who is heading into his third season at the club, could be the one to benefit. Stephens, who won the club's first 2km time trial of the pre-season, averaged 104 KFC SuperCoach points in eight VFL games in 2021 and 82 points at SANFL level as a 17-year-old before he was drafted.
RUCKS
Braydon Preuss (GWS) $204,700
If you were interested last year at $303k, after he joined the Giants looking for more opportunity, during the trade period, Preuss should be high on your radar at a heavily discounted price in 2022. He didn't play a game due to injury last season but the cheap R2 strategy could be back on. Remember, in the three games he played without Max Gawn at the Demons, Preuss posted scores of 84, 85 and 140. And in his two at North Melbourne without Todd Goldstein, he scored 111 and an injury-affected 39.
FORWARDS
Elijah Hollands (GC) $123,900, Mid
As a $123k dual position midfielder-forward, Hollands looms as a popular rookie-price pick – and rightly so. The pick 7 from last year's draft hasn't played a senior game but he's on track to feature early in 2021, after an impressive finish to his debut season at VFL level. After working his way back from an ACL tear, Hollands, an explosive 188cm midfielder who can play forward, tallied 27 disposals, 11 contested possessions, five clearances and 112 KFC SuperCoach points in his third and final game for the year.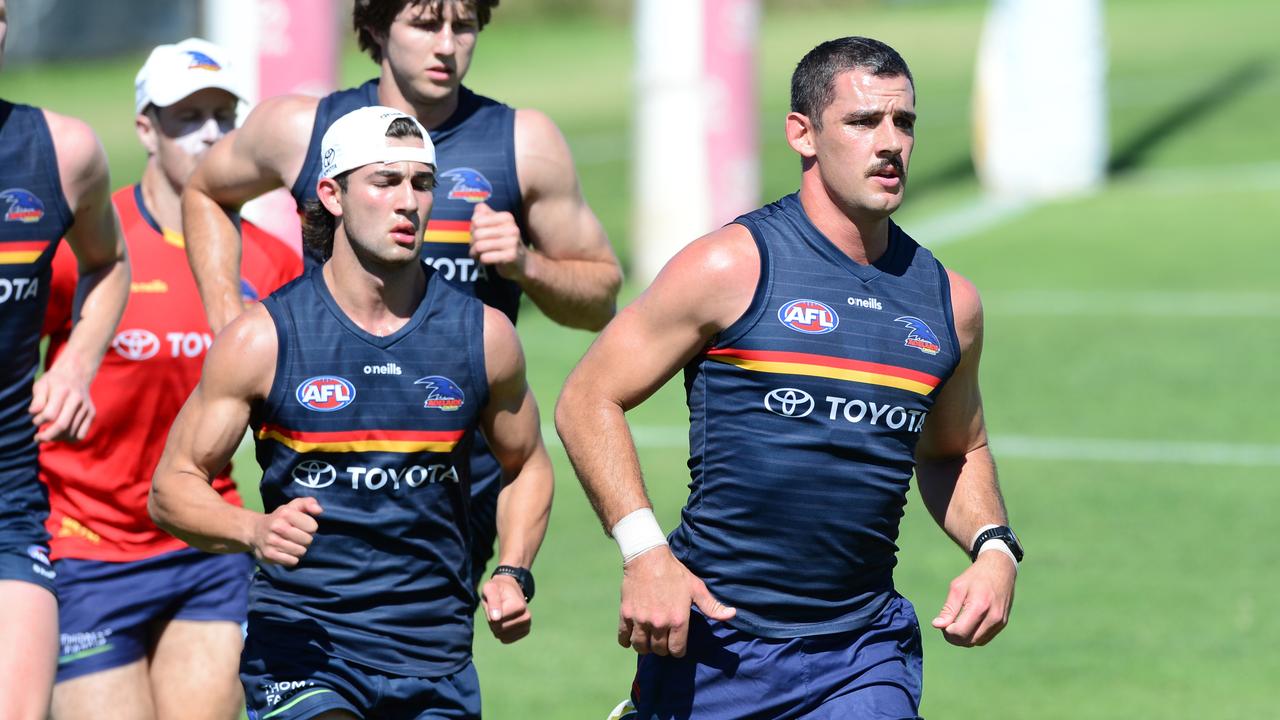 Crows draftee Josh Rachele running alongside Taylor Walker at pre-season training. Picture: Michael Marschall
Josh Rachele (Adel) $184,800, Mid
The Crows need class, skill and x-factor forward of centre, and Rachele fits the bill right away. Adelaide's top pick has already impressed on the track and if all goes well over summer, will improve Matthew Nicks' side offensively from Round 1. The 18-year-old averaged 129 KFC SuperCoach points and booted 11 goals in four games, playing as a forward, in the NAB League last year. In 2019, he averaged 26 disposals, 11 contested possessions, six score involvements and 124 points for Vic Metro as a midfielder. He'll start forward for the Crows but so creative and smart is Rachele, he won't need a lot of the ball to score well.
Will Brodie (Freo) $224,300, Mid
In four VFL seasons at the Suns, Brodie averaged 121, 127, 124 and 100. But he managed just 25 senior appearances at the club after being drafted in 2016. And that's despite ranking first at the Suns for hardball-gets, second for tackles and handballs, third for disposals, fourth for clearances and fifth for contested possessions in the final six games of 2019. Yes, I've been unhappy about this for a while. New coach Justin Longmuir likes Brodie's strength – so will that be enough? I've got my fingers crossed.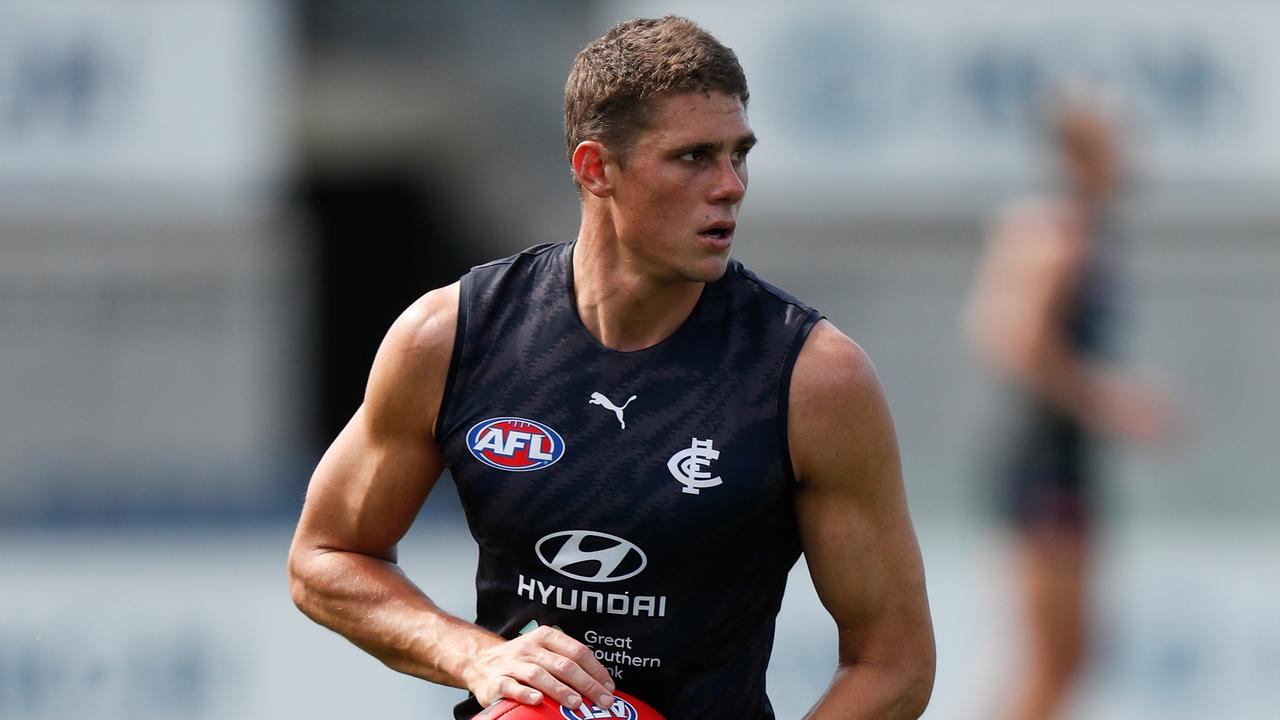 A fit Charlie Curnow is a bargain in KFC SuperCoach in 2022. Picture: Michael Willson/AFL Photos
Charlie Curnow (Carl) $224,300
A fit Charlie Curnow, who averaged 74 and 77 in his last two injury-free years – his second and third in the competition – is almost a no-brainer. And the signs are good so far this summer, but the fact is the talented forward has played just 15 games since 2019.
Kaine Baldwin (Ess) $123,900
Baldwin join the Bombers as an SSP signing in early 2021 after being overlooked in the draft. In terms of talent, the Glenelg junior was on par with fellow South Australians Riley Thilthorpe and Lachie Jones, but two knee reconstructions saw him overlooked. He's on the way, however, to completing a full pre-season and could be one to surprise in 202 – and not just in KFC SuperCoach.
Charlie Parker (WB) $102,400, Mid
In a similar story to McComb, the Bulldogs pick mature-agers to play them. And they love Parker's kicking and run – two traits that would add another layer to an impressive line-up. The 24-year-old, who was playing amateur footy in Adelaide two years ago, wasn't a huge ball-winner at SANFL level in 2021, averaging 14 disposals and 68 points in nine games for Sturt. But, with a booming right-foot and dual-position status as a basement-price rookie, keep him on the radar.
Originally published as KFC SuperCoach 2022: The Phantom's early rookie bible