KFC SuperCoach 2022: The Phantom's Round 7 trade advice and burning questions
What to do with Brodie Grundy – it's a question more than 60,000 KFC SuperCoaches are asking themselves this week. The Phantom looks at all the best options.
Upgrade season in KFC SuperCoach is here.
Easy week – Jason Horne-Francis out, Clayton Oliver in. Improve team, watch the points flood in.
This game is fun.
Yeah, nah.
That's the way the week was supposed to go until Collingwood confirmed the news Brodie Grundy will "miss a number of weeks" after injuring the PCL in his right knee on ANZAC Day.
It leaves more than 60,000 KFC SuperCoaches with a big decision to make ahead of Round 7 – and that's where we'll start this week's burning questions.
Stream every match of every round of the 2022 Toyota AFL Premiership Season Live & Ad-Break Free In-Play on Kayo. New to Kayo? Try 14-Days Free Now >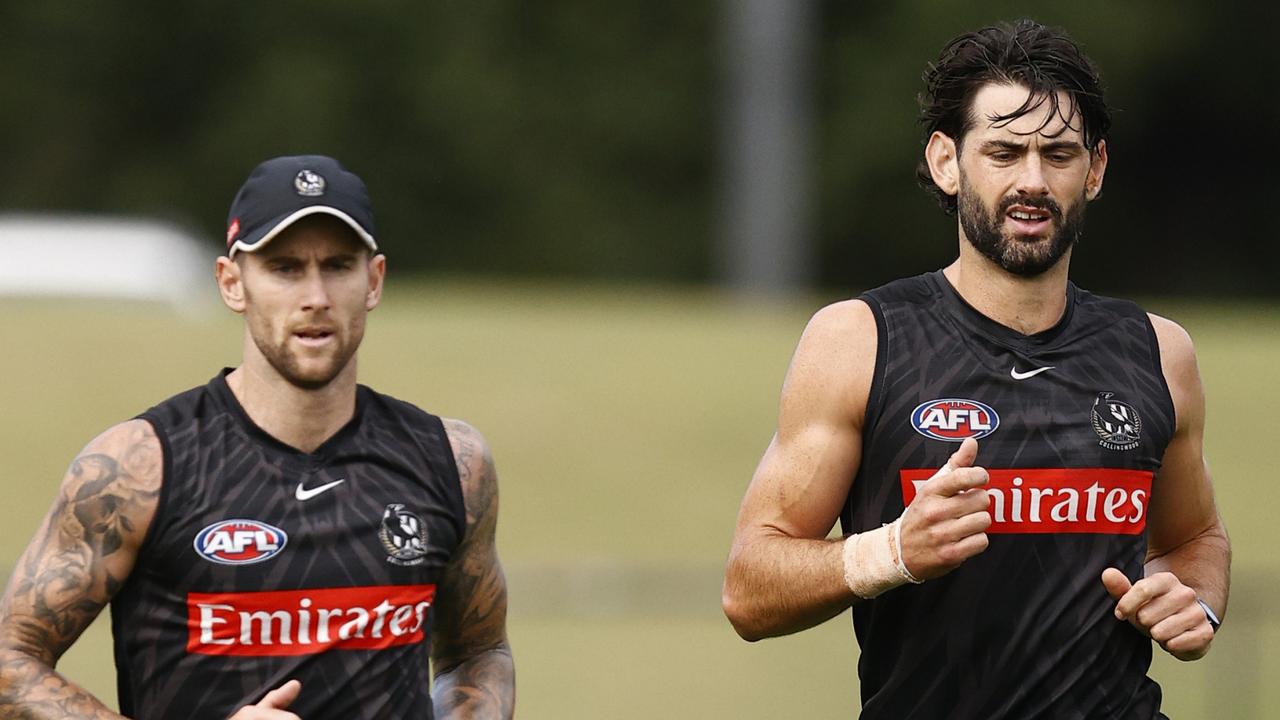 Brodie Grundy, right, will miss an extended period with a PCL injury. Picture: Darrian Traynor/Getty Images
What to do with Brodie Grundy?
Firstly, we must thank him for playing through the injury to post a season-high 129 points against the Bombers – heroic.
But, sadly, weeks could be months so it's a must-trade.
There are two obvious options.
If you've overlooked Giant Braydon Preuss to this point, he is the perfect replacement.
Surely, after three consecutive KFC SuperCoach tons, you don't need any more convincing.
And at $298k, with a breakeven of -46, he's still worth trading in for the cash generation, let alone his on-field scoring.
Against the Saints, Preuss had 16 hitouts-to-advantage, 12 contested possessions, seven score involvements and four contested marks to highlight his scoring avenues.
In the current ruck climate, what's wrong with Preuss at R2 for the rest of the year?
I know you will say his injury and suspension history, but the reward outweighs that risk – given the other options – for me.
TRADE GUIDE: ALL THE BEST SUPERCOACH OPTIONS FOR ROUND 7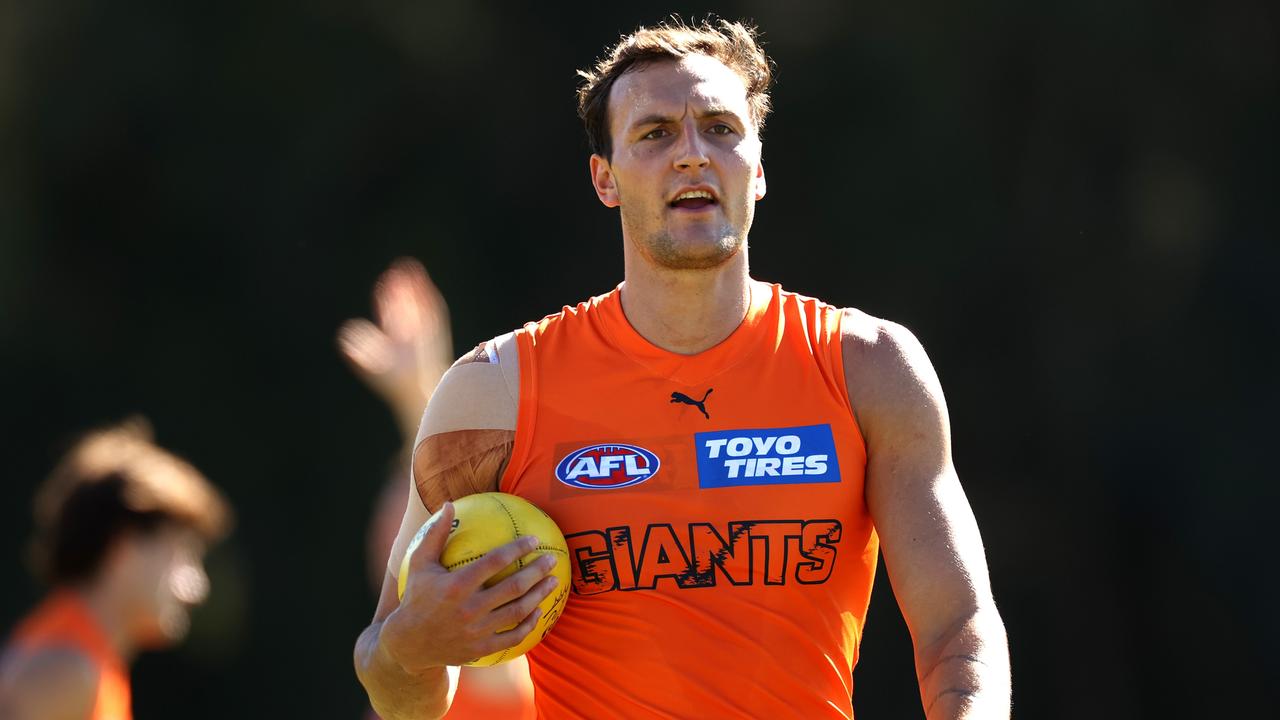 Braydon Preuss scored his third KFC SuperCoach ton in Round 6. Picture: Phil Hillyard
And the other obvious option?
It's, of course, Max Gawn.
This is the chance for non-owners to grab the No. 1 KFC SuperCoach ruckman ahead of games against Hawthorn, St Kilda, West Coast and North Melbourne.
Sure, it will cost you $114k, and put a halt to your upgrade plans, but every good KFC SuperCoach team will have Gawn by the year's end.
And, really, it's only Round 7, waiting one more week won't put you too far behind the upgrading pack.
It's the logical, put-your-mind-at-ease call.
What if I ain't got no time for that?
Well, let's talk.
And it's my turn to ask you a question.
Why are we comfortable playing a rookie with a great role, solid scoring potential and terrific long-term job security on field in, say, the midfield or defence, but not the ruck?
Because, after scores of 75 and 94, and with No. 1 ruckman Scott Lycett out for three months, Port Adelaide's Sam Hayes is close to the best on-field rookie selection – the Nic Martins of this world aside – at the moment.
Yes, we only have two on-field spots in the ruck so, if one is filled by a $123k player, it looks weak.
But I'm saying you can be comfortable doing so – for the short-term at least.
I'm not talking a keeper here, but you could roll with it until bye time and then go up/down with Tristan Xerri and Hayes to get Gawn then.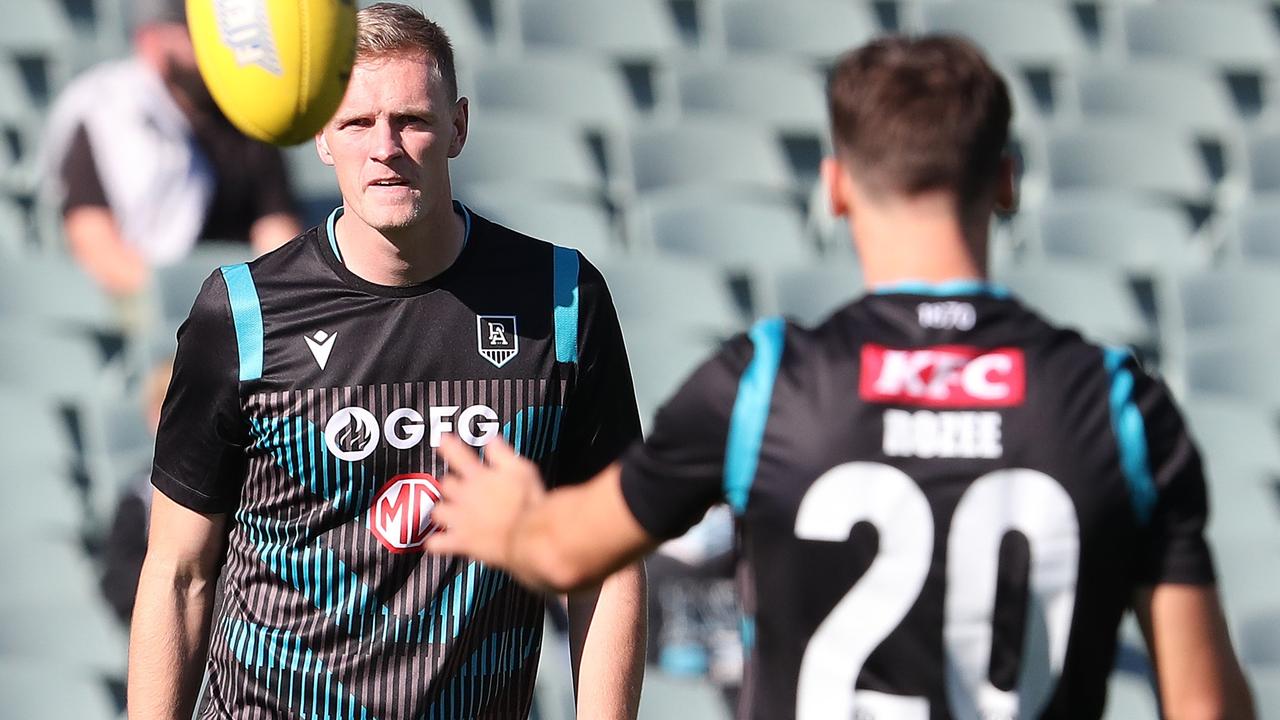 Rookie Port Adelaide ruckman Sam Hayes impressed again. Picture: Sarah Reed/AFL Photos
With Malcolm Rosas battling calf soreness and Giant Finn Callaghan priced at $198k, Hayes is the best on-the-bubble option this week by a street.
I'll use my trade idea as another way of reinforcing the point further.
By trading Grundy for Hayes, I can upgrade Dylan Stephens to Clayton Oliver, who, after a season-high 168-point score and subsequent breakeven of 73, is unlikely to be available for a $50k discount on his starting price for much longer.
Basically, I'm trading Grundy for Oliver but, as a combination, I prefer Oliver and Hayes, over Gawn and another on-field rookie in the midfield.
Are you trying to convince us, or just reassure yourself, Phant?
Bit of both, maybe. It's definitely not a put-your-mind-at-ease call but ignoring those can sometimes make your season.
Any other options?
Gold Coast Jarrod Witts gives you the best of both worlds.
He's the second-ranked KFC SuperCoach ruckman for total points and he's available for $13k less than Grundy, meaning you could also make an upgrade, funds permitting, with your two other trades, using the new trade boost feature.
Witts, who has now posted three scores of 130 or more for the year – but also three of 95 or less – faces a Grundy-less Collingwood this week, followed by a Sydney ruck brigade led by – an albeit in-form – Peter Ladhams.
What about Ladhams?
He's scored 117 and 164 in the past two weeks, following a 63-point score on debut for the Swans, and he scored well at Port when Lycett was missing.
But I just still want to see more.
On the weekend, he rucked against Max Lynch and the week before, Ladhams was up against Eagles Bailey Williams and Hugh Dixon.
Brisbane pair Oscar McInerney and Darcy Fort aren't a big threat either, with Witts dominating in the Q Clash.
And then on the other side of a clash with Witts, it's potential match-ups with inconsistent Bomber Sam Draper and a Marc Pittonet-less Carlton.
Hmm, so maybe I will get to see more.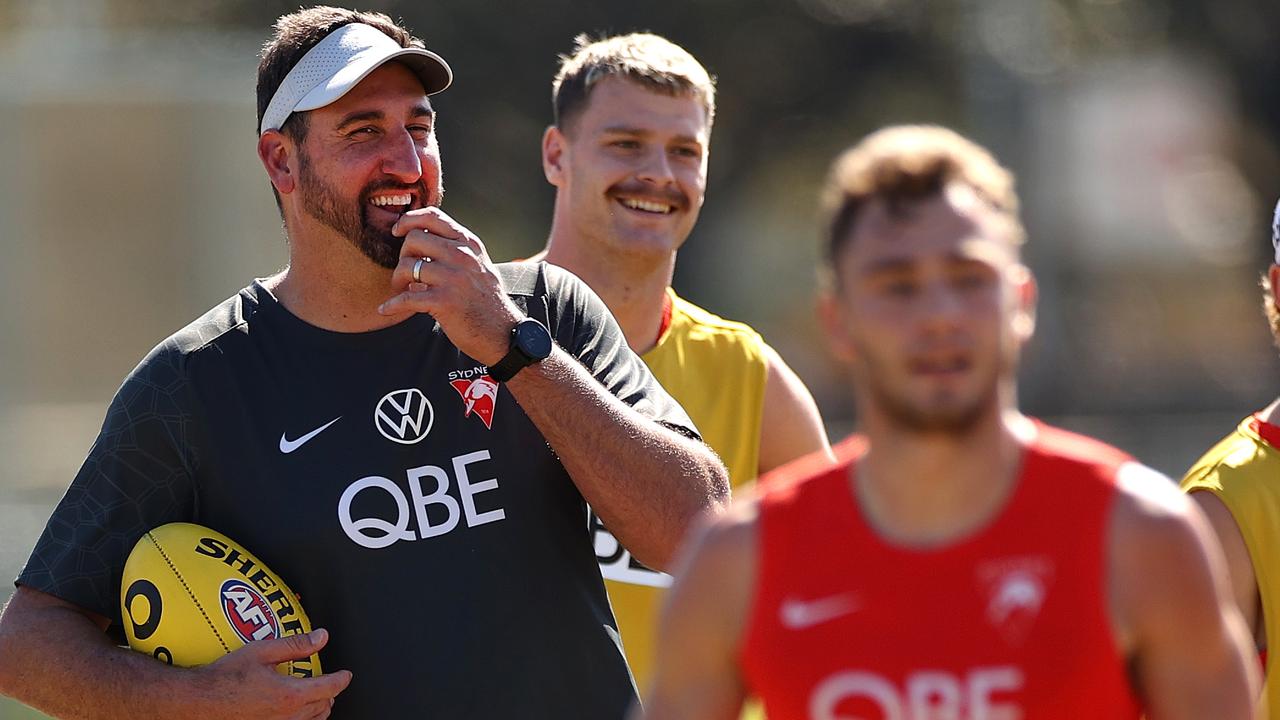 Peter Ladhams, middle, is starting to make his mark at Sydney. Picture: Phil Hillyard
Phant, you did say you don't win by always going the put-your-mind-at-ease call?
Good point. I'm not going there, but I'm not against it, either.
I already have Oliver, which other premiums should I be targeting?
Starting with the value options, new dual-position forward Luke Parker has well-and-truly bottomed-out and looks a great buy at $475k following consecutive KFC SuperCoach tons.
Despite a 39-point score in Round 4, Parker is still the ninth-ranked forward for overall points and he's averaged 103 or more in each of the past four seasons.
Sure, he's spending more time forward than in previous years, but the 29-year-old attended another 16 centre bounces against the Hawks.
In the midfield, Patrick Cripps lost $4k off his already bargain price tag, despite tallying 32 disposals, 19 contested possessions, eight clearances, three goals and 139 KFC SuperCoach points in his return from a one-week hamstring issue.
Despite the injury-affected 39, Cripps is still averaging 118 points per game.
Take that score out and the average is 138 – $520k is great buying, even if you traded him out last week.
With a breakeven of 125, he hasn't fully bottomed-out in price but the Blues take on North Melbourne in Round 7.
Speaking of 138-point averages, that's exactly what Eagle Alex Witherden is averaging over the past three rounds.
After glimpses of huge KFC SuperCoach scoring potential in the past, the former Lion looks to have finally settled into the fantasy friendly role we've all wanted him to play at West Coast.
Against the Power, Witherden tallied 34 disposals – 28 of them effective – 11 rebound 50s and nine intercept possessions. He also – just as we liked to see - played on with all seven of his kick-ins.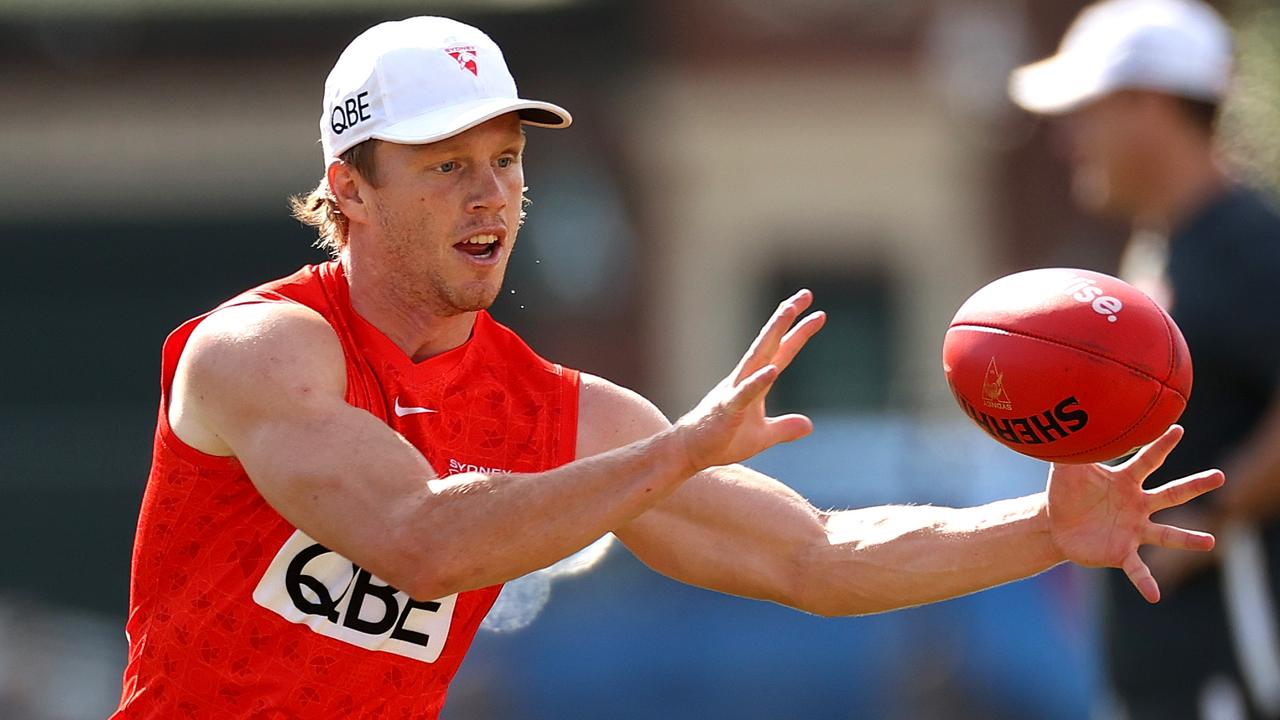 Callum Mills tallied 214 KFC SuperCoach points against the Hawks. Picture: Phil Hillyard
What about Callum Mills?
I thought you'd never ask. Yes, I traded him in this week and enjoyed his monster 214-point perfo…..
Phant, no, I mean, should we trade him in?
Right. Sorry.
Mills always shown a tremendous scoring ability, he'd already posted scores of 147 and 130 this year, despite a very limited pre-season.
On Monday, his array of scoring avenues was, again, on show, with the star Swan tallying 37 disposals – 34 of them effective – 17 contested possessions, 11 marks, 11 score involvements, nine intercepts, nine inside 50s and five tackles, on his way to the first KFC SuperCoach double ton of the year.
But his price shot up by $56k and, while it could reach $700k very soon, given a Round 7 breakeven of 36, I'd still opt for a cheaper Oliver instead.
Originally published as KFC SuperCoach 2022: The Phantom's Round 7 trade advice and burning questions