KFC SuperCoach AFL: Zak Butters, Tim English, Braydon Preuss and the burning questions of Round 15
With injuries and forced trades hitting KFC SuperCoaches hard, some serious surgery is required to put the best scores up this week. See our experts' big moves.
What a week in KFC SuperCoach.
Many top players 'finished' their team last week only for that final squad to be decimated by injury days later. So, where do we go from here?
Here's how our experts are trying to navigate the crisis.
SCROLL DOWN FOR ALL THIS WEEK'S BURNING QUESTIONS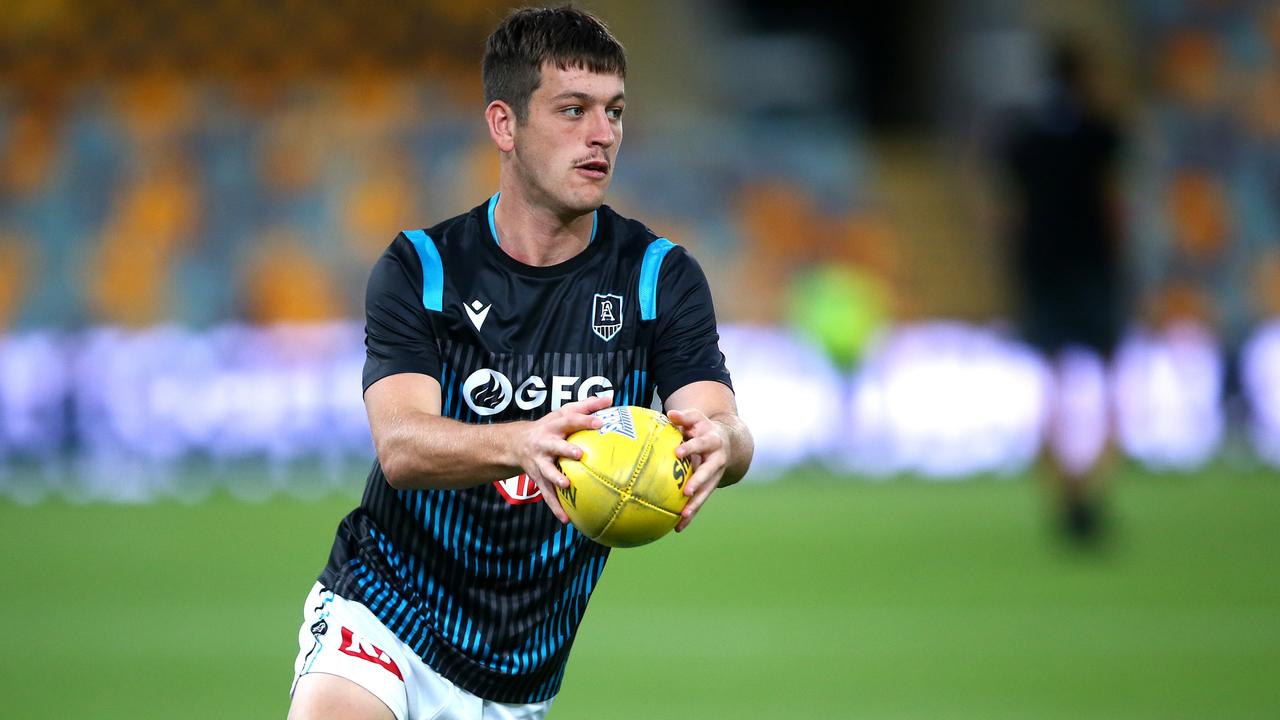 Zak Butters is likely to miss several weeks with a knee injury.
THE PHANTOM
OUT: Zak Butters and Ben Hobbs
IN: Luke Jackson and Jed Anderson
We – well, a lot was me – begged for Mark McVeigh to pick Braydon Preuss again. He did, and the Giants big man hurt his ankle and played a part in Tim English's concussion, with the dangerous tackle resulting in a one-game suspension. I think I have to hold the bloke just to keep things interesting. Sure, there's entertainment purposes but I also think he's more likely to play next week than Port Adelaide's Zak Butters, who never got going again late last season after the same injury. So to deal with the missing trio of English, Preuss and Butters, I am going to trade Ben Hobbs – the Bomber I was planning to hold as swing cover – to Demon Luke Jackson who is set to take the ruck reins while Max Gawn is injured. The young big man has scored well at times with Gawn in the side during his short career – I'm expecting some big numbers over the next few rounds. Going up from Hobbs means Jackson will act as the swing cover in the run home, once English and Preuss – hopefully – return. Before English's delayed concussion was confirmed, North Melbourne's Jed Anderson piqued my interest for either Preuss or Butters. And I think I am still going to go through with it – I'd have a 0 otherwise. The young midfielder has tallied 10 contested possessions or more in each of his past four matches and applied a total of 27 tackles. He might turn it over a bit, but he wins first possessions, drives the ball inside-50 and, when he doesn't have it, hunts the opposition, leading to some big KFC SuperCoach numbers when it all comes together. Anderson, who has played just 80 per cent of game-time just once this season as he builds back after an interrupted start, posted four scores of 140 or more and averaged 114 points in the final 10 games of 2020. He burst out of the blocks with 123 last year, before getting injured again.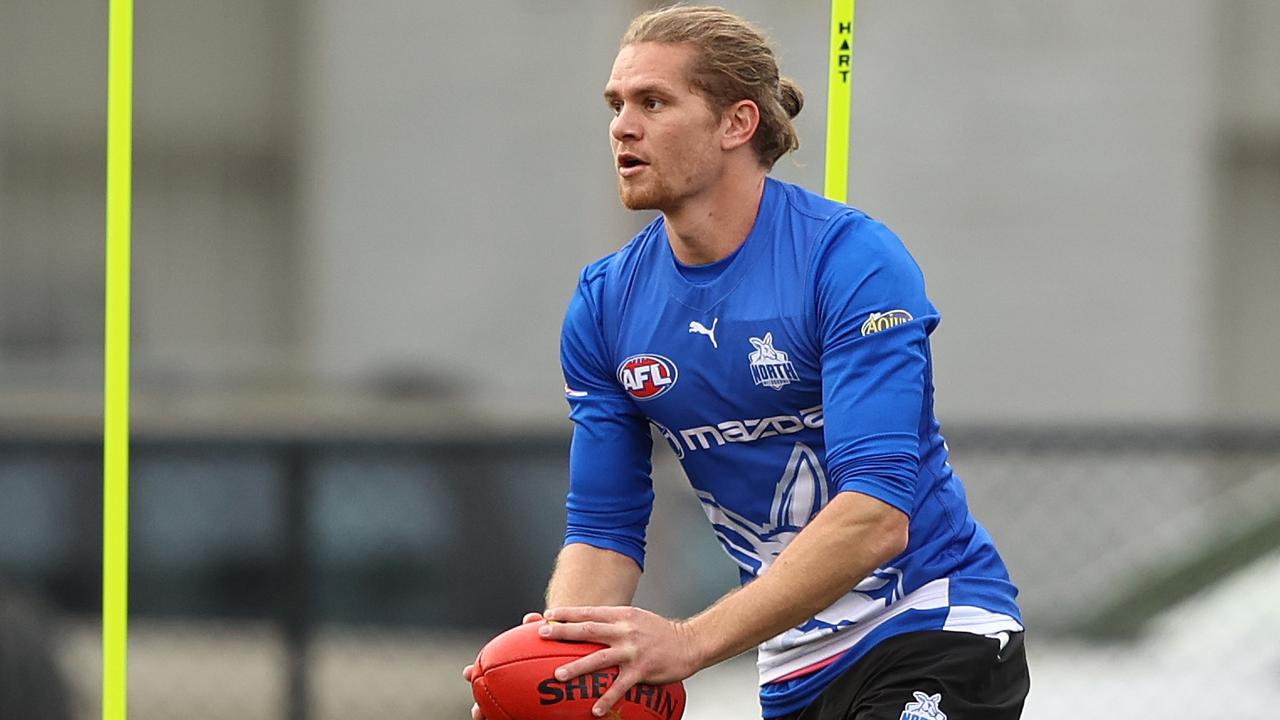 The Phantom is taking a punt on Jed Anderson. Picture: Robert Cianflone/Getty Images
AL PATON
OUT: Zak Butters and Tim English
IN: Todd Goldstein and Sean Darcy
I had a real nice finished team for a few days. Then I copped the full force of last week's injury storm, losing my entire ruck line plus Butters in the forward line. I'm staring at two doughnuts in the ruck in round 15 and have thought about copping one by holding Tim English, who I've been looking forward to getting in my team all year. But the worry is his absence stretching to two weeks or even longer – remember when he was out earlier in the year? He also missed four weeks with concussion last year, so expect the Dogs to be cautious.
As much as Braydon Preuss has single-handedly torpedoed my team, he appears a more likely chance to return in round 16 – saving me two weeks of doughnuts – and his upcoming ruck run is promising especially with Matt Flynn out injured.
I could trade in Luke Jackson for Butters and swing him into the ruck but I've got enough to afford Goldstein in the same role. He's an all-time KFC SuperCoach favourite who has RUC/FWD status for the first time and has averged 112 over the past seven rounds. He can cover a hole in the ruck this week then swing back to F6, where I think he'll provide much more reliable scoring than Jackson – and hopefully become English or Gawn at some point.
That leaves a straight swap for English in the ruck. I can't afford Jarrod Witts, so I'm going for pure upside in Darcy, who could go absolutely massive in his next two games against Carlton and Port Adelaide. Or – more likely based on recent experience – break down with injury.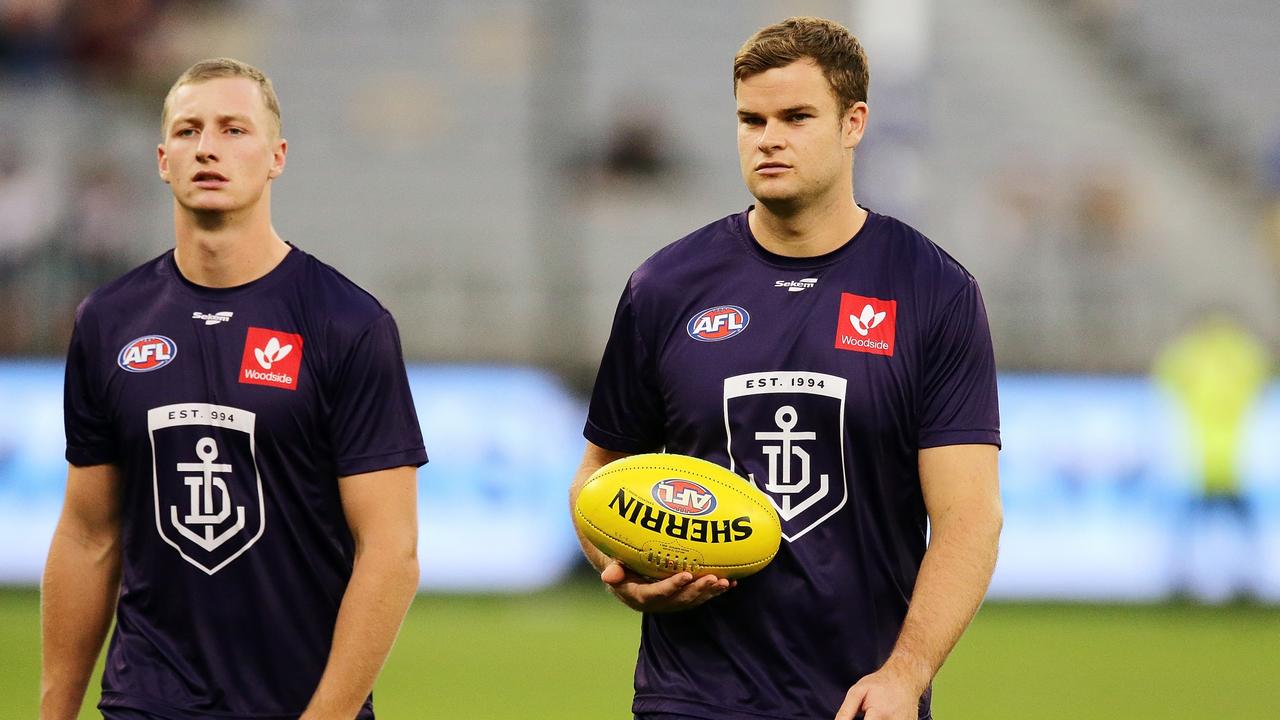 Sean Darcy (right) comes with high risk but possibly high upside. Picture: Will Russell/AFL Photos via Getty Images
TIM MICHELL
OUT: Ben Hobbs and Zak Butters
IN: Isaac Heeney and Luke Jackson
I have tried many combinations this week, but this is the one I keep coming back to. Jackson can hopefully score a couple of 90s while Max Gawn is out and in place of Tim English, who I'll swing to F7. I've toyed with trading English but even if he misses the next two weeks with concussion I would be no hope of getting him back if I traded now.
If he's back in round 17, that's hopefully seven tons you can bank on during the run home. These trades will eventually leave me with Jackson as a R3/F7 swing and Nick Daicos to cover M9/D7. I hate still not having Stephen Coniglio, but I feel like I need to just let that one go. Maybe I will in a few months' time. Please give Tim Taranto all the CBAs, Spike.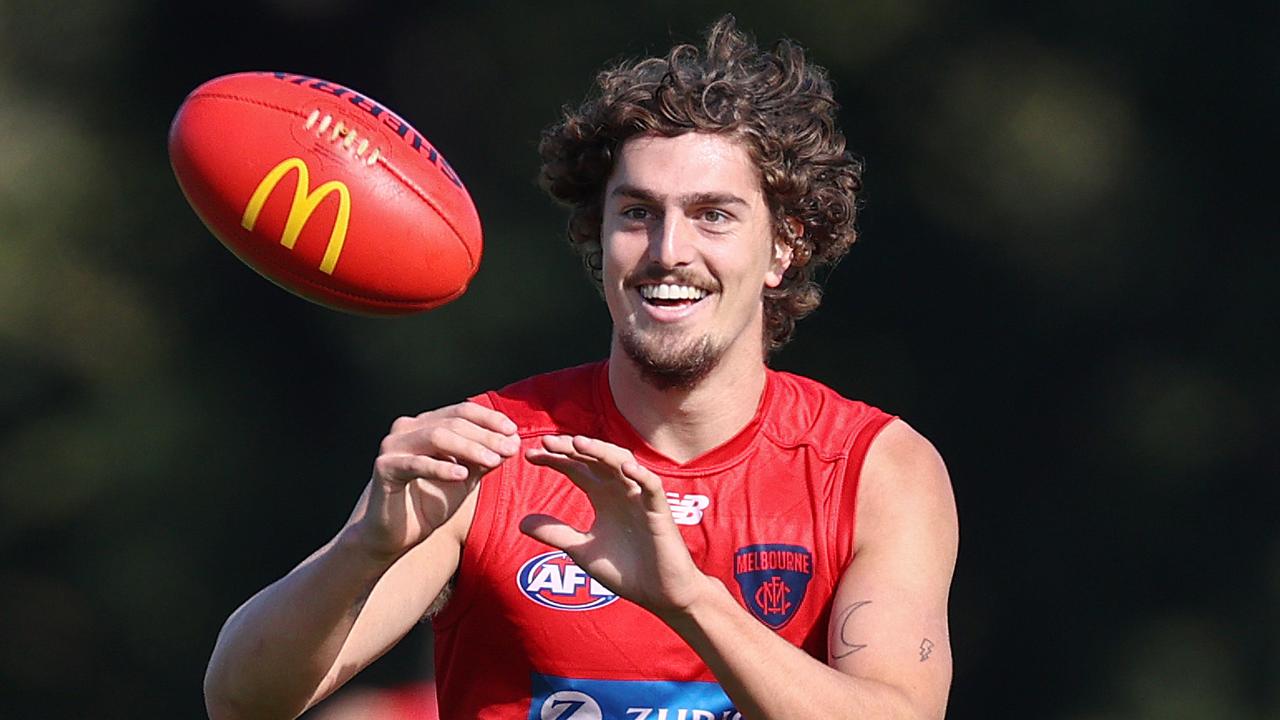 Luke Jackson will lead the Demons' ruck division with Max Gawn injured. Picture: Michael Klein
DAN BATTEN
NO TRADES
My trade moves this week will (Mitch) hinge on whether Judson Clarke plays for the Tigers and what Port Adelaide's ruck line-up looks like. I have managed to dodge most of the injury carnage, not owning Butters or English and with Darcy Cameron as a ruck-fwd swing, but I created a problem for myself by trading in Preuss last week.
With seven trades left, is it worth burning two trades to bring in Jarrod Witts for Preuss, when he is expected to return as the sole ruck next week – at least for a week or two – after serving his suspension? At my Witts' end trying to figure this one out, but at this stage I figure those two trades may be more valuable at the end of the year with nine rounds still to go.
This week's KFC SuperCoach burning questions
– Tim Michell
The KFC SuperCoach Gods have struck again.
Just when coaches were planning to launch into round 15 with full-premium teams and projected scores well above 2500, three key injuries have derailed those dreams.
Thousands are dealing with the problem of Zak Butters' knee, Tim English's concussion and Braydon Preuss' suspension/injury.
Neither Butters or Preuss aren't worth enough to sideways trade to a top-line premium either, so the prospect of spending another two trades in round 15 looms large. English is expected to miss only one week, so sit him on the bench if you can.
For many, moves this week will mean running the gauntlet in the last two months with four trades or fewer.
It's a daunting prospect, but with some luck, you just might survive.
The Phantom is still on leave, allegedly spending time with his family.
His KFC SuperCoach results suggest he might be spending his time elsewhere though.
Tim Michell is back to answer all the burning questions ahead of round 15.
Watch every blockbuster AFL match this weekend Live & Ad-Break Free In-Play on Kayo. New to Kayo? Try 14-Days Free Now >
How do I replace Zak Butters?
If you're like me, you were close to pushing Butters to the F7/M9 insurance spot and his knee injury couldn't have come at a worse time. If you're also like me and traded Stephen Coniglio 4-5 weeks ago, here's your opening to bring him back. It'll cost you $80-100k more than you sold him for but swallow the humble pie and pay up. Coniglio's last month under Mark McVeigh has been incredible and he's playing like he'll be a top 3-4 forward for the rest of the year. If that means burning two trades, so be it. The best one-trade option is Isaac Heeney, although you could consider Tom Hawkins too with Geelong's friendly run home. Heeney now has six tons and five scores of 112-plus this year after his 124 against Port Adelaide.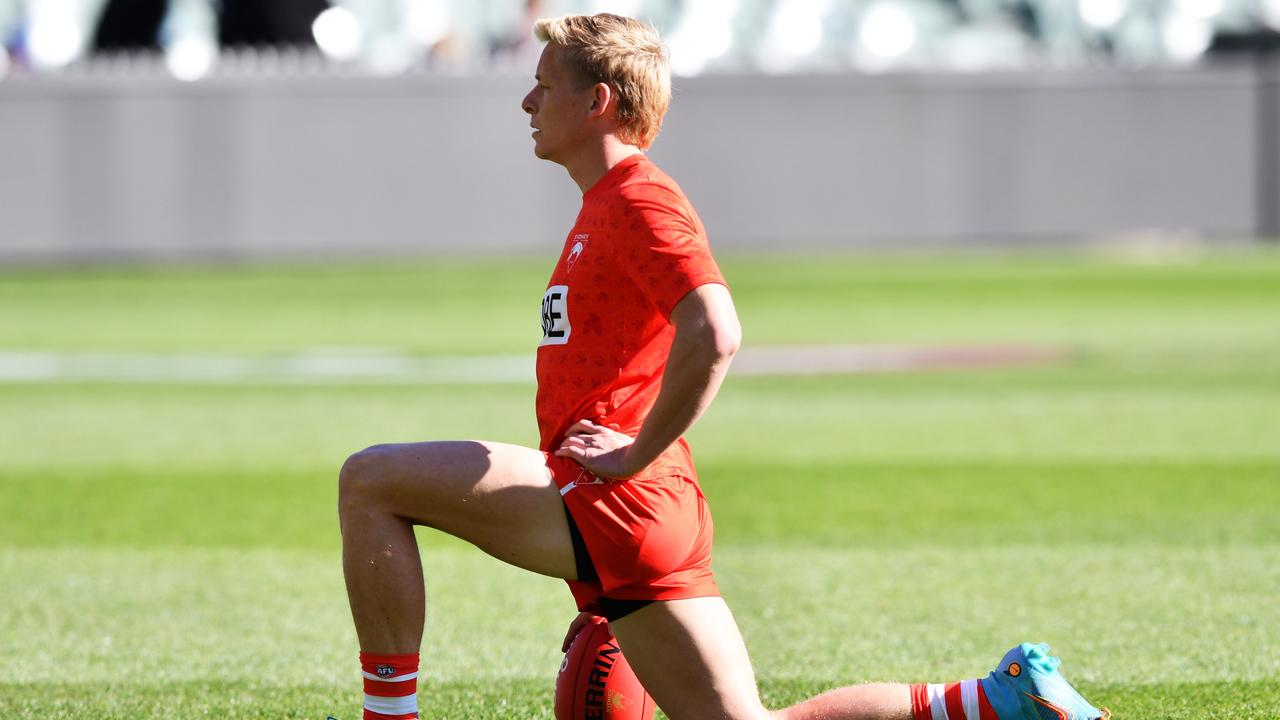 Isaac Heeney might be the perfect trade option for Zak Butters.
I can't really trust Heeney, can I?
We've almost all been burned at some stage by his injuries, role changes and form slumps. But Heeney has only really had one stinker this year and has only scored less than 81 twice. He's a brilliant player and if you think the extra trade (by not going one up one down to upgrade Butters) will help in the run home, I'm a fan of the Butters to Heeney swap.
How do I cover Tim English this week?
In one scenario, you could use Luke Jackson as a stop-gap option for English this week by trading him into your side for Zak Butters. That trade would net about $90k and open up a RUC/FWD swing to use Jackson at R2 this week. Then one of your bench forwards can cover for English. You would then have the option of using Jackson at F6 or looping him from F7 until Max Gawn returns. Jackson's PPM as a ruckman this year has been 0.91, which isn't far behind Darcy Cameron's 0.93. If he steps up as the No.1 as expected, scores of 80-plus should be the minimum for the next month.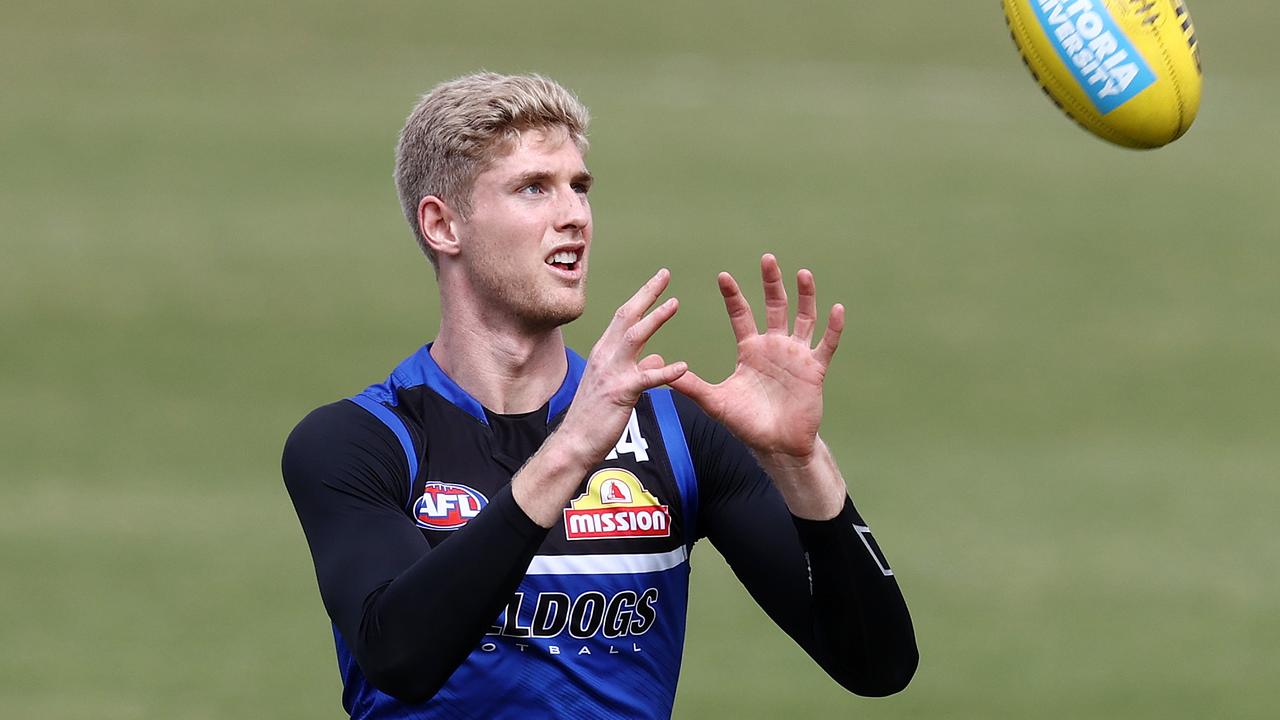 Tim English has been ruled out of round 15 with concussion. Picture: Michael Klein
What about Braydon Preuss?
At $444k, there's not really any good answer here. If you have Darcy Cameron forward, you could swing him to your rucks, trade in Heeney and solve your issue in one move. But if you need a ruckman, the top alternatives now are Jarrod Witts (+$147k), Toby Nankervis (+$122k) and Sean Darcy (+$114k). If you don't have much cash in the bank, that means finding a rookie to cash in and there aren't many left who will make a profit to get you to Witts, Nankervis or Darcy. If you're willing to take the riskier path, Luke Jackson is $381k and about to be Melbourne's No.1 ruckman for a month.
Can we just scrap the ruck line next year?
Anyone else at their Witts end? See what I did there? OK, bad puns aside, the KFC SuperCoach ruck carnage has been unprecedented this year and even 2022's most reliable big man Jarrod Witts battled to 68 points against Adelaide on Sunday. My ruck line is currently Tim English, Darcy Cameron and Brynn Teakle. At the start of the year Cameron was FWD only and Teakle was a WAFL player not listed in KFC SuperCoach. Grundy injured. Gawn injured. English injured and sick – and now injured again. Nic Nat injured. Preuss injured and suspended. Even Teakle got injured on debut and won't play again this year. The rucks have been a disaster. The only plus side is your two starting rucks will likely be much cheaper next year, when unfortunately we will have to pick ruckmen again.
Injured rucks in KFC #supercoach

Max Gawn
Brodie Grundy
Tim English
Sean Darcy
Jack Hayes
Braydon Preuss
Nic Naitanui
Braydon Preuss again#setandforget

— Tim Michell (@tim_michell) June 19, 2022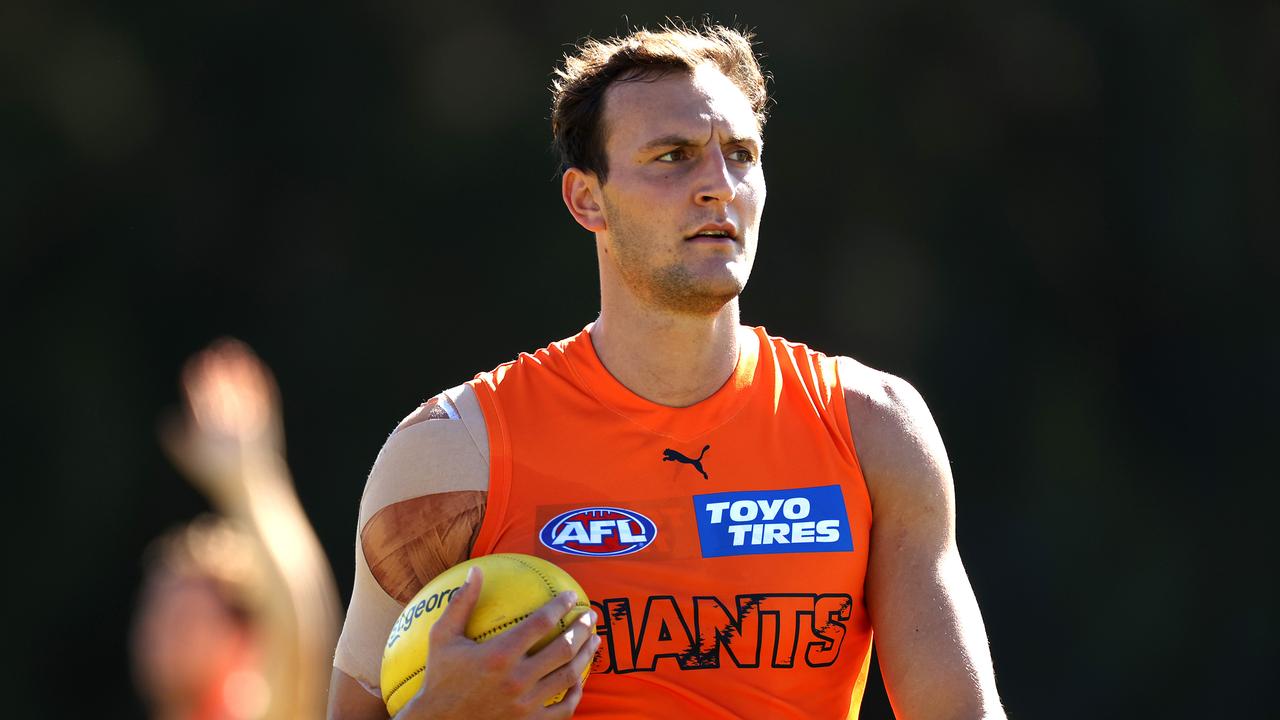 Braydon Preuss' injury and suspension troubles have left coaches with a big problem.
So considering all this carnage do we need to re-evaluate our definition of a true premo?
If you've got someone averaging 90-95 at D5 or D6 and less than eight trades, just roll with them. The Butters and Preuss blows in Round 14 were a timely reminder we're going to need to make forced trades during the run home. Yeah, Jayden Short has a three-round average of 90 and Patrick Cripps is averaging 96 in his last five. But unless you've got more than eight trades, you shouldn't even be considering trading them.
And are you worried about Patrick Cripps though?
Not enough to burn one of my remaining six trades. He's in 59 per cent of teams so if he has a down week, it's unlikely to impact your rank significantly anyway.
Is Judson Clarke a must-have rookie?
No. If you need a FWD-MID this week then by all means jump on put I prefer Massimo D'Ambrosio or Patrick Parnell.
Best DEF downgrade for R15?

— Tim Michell (@tim_michell) June 19, 2022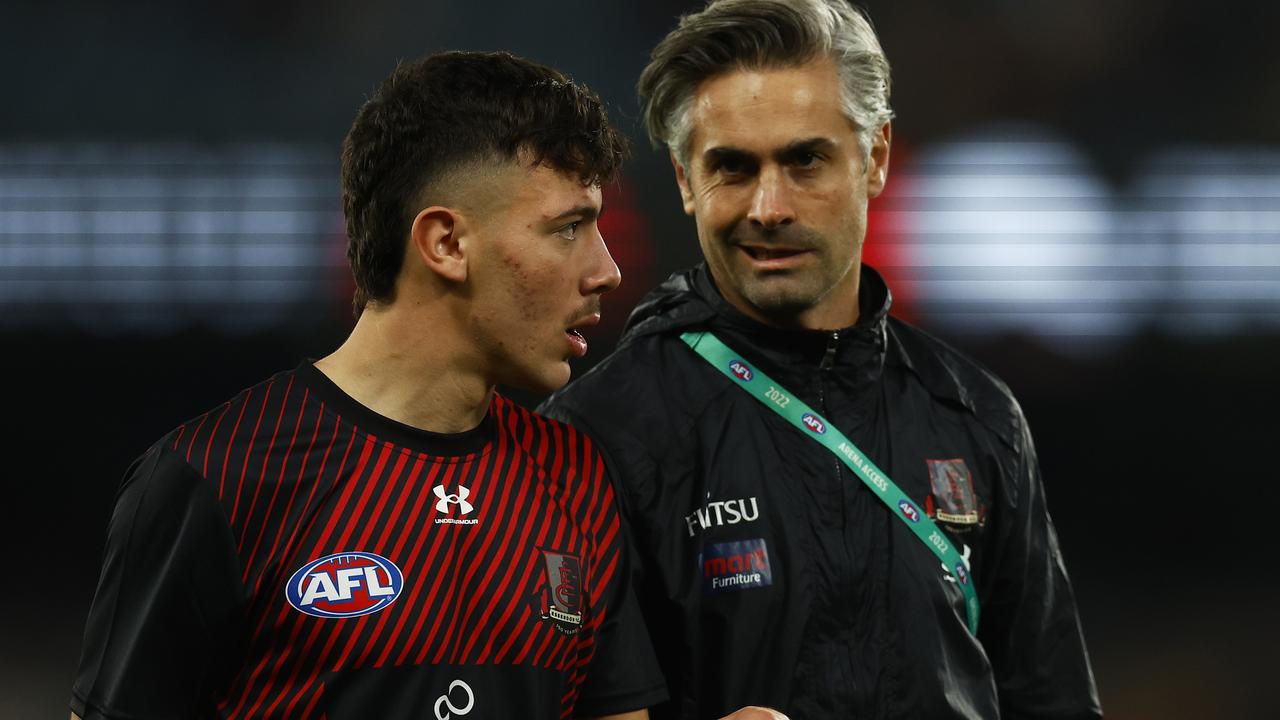 Massimo D'Ambrosio chats with assistant coach Daniel Giansiricusa before his debut.
How good is Massimo?
Both D'Ambrosio and Parnell have looked like little pocket rockets in defence. D'Ambrosio had some really nice moments against St Kilda and the assured ball use he displayed in the VFL translated to the AFL. Parnell is on the bubble, unlike D'Ambrosio, but he has Luke Brown breathing down his neck. Chayce Jones also played SANFL at the weekend. Keeping his spot after being subbed in Round 12 was a promising sign, but I still need convincing about Parnell's job security. After all, you aren't picking a rookie for cash generation at the point of the season. You want to know they'll be playing and can provide at least 50 points in the event of an injury or Covid. I'm more confident Massimo will be there later in the season when we'll probably need him.
Is Patrick Parnell really 20 years old?
He might look about 10 years younger, but I highly doubt the Crows would pick a 10-year-old in their senior team. The kid can seriously play.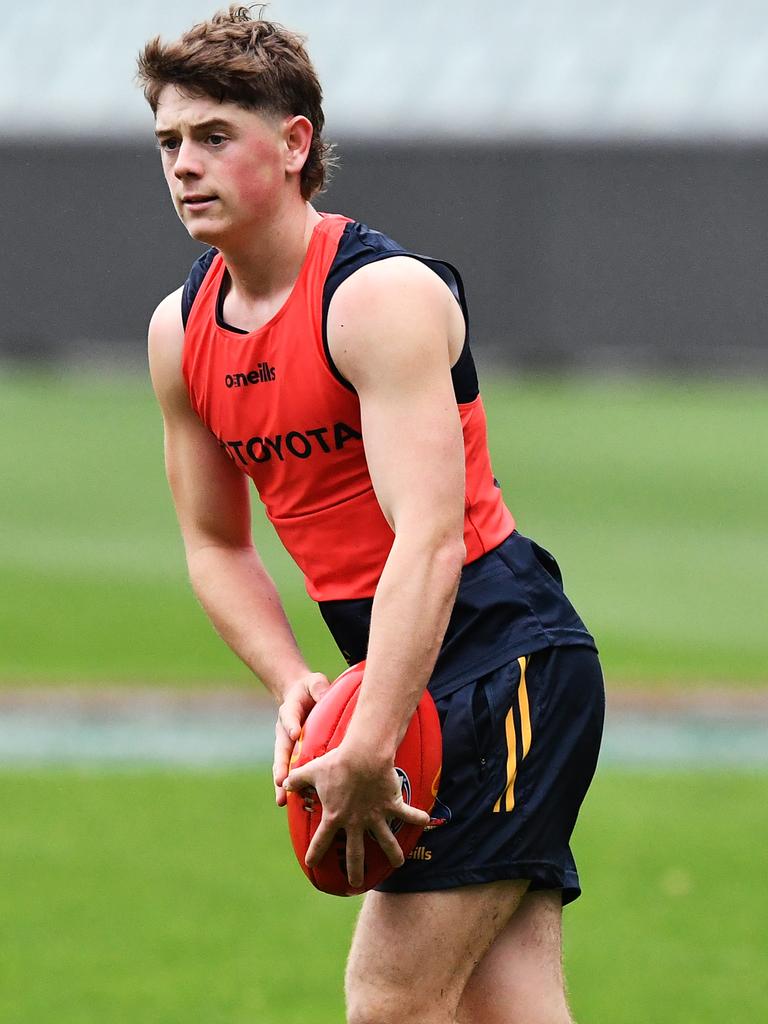 Patrick Parnell has impressed in his first two senior games for the Crows.
How and why did Greg Clark get dropped?
How — you'd have to ask Adam Simpson. Why — I can only assume because of all the midfielders brought back to face Geelong. He was subbed into the game early enough to score 44 against the Cats, but the issue now is his break even is 52. SuperCoach Plus has Clark peaking at $286k in Round 20. He should be the next midfielder in should West Coast cop an injury and has shown he can score well. If you can, continue to hold for midfield cover. He might get picked the week you need him.
He'll be back in the 22 soon, right?
The Eagles were pretty good for most of the game against Geelong. Assuming the injured Jeremy McGovern is replaced by Harry Edwards or Josh Rotham, Simpson would need to swing another change to get Clark back into the team in Round 15. He should be your M9 anyway, so it won't be as annoying as being named sub last weekend if Clark doesn't make the cut.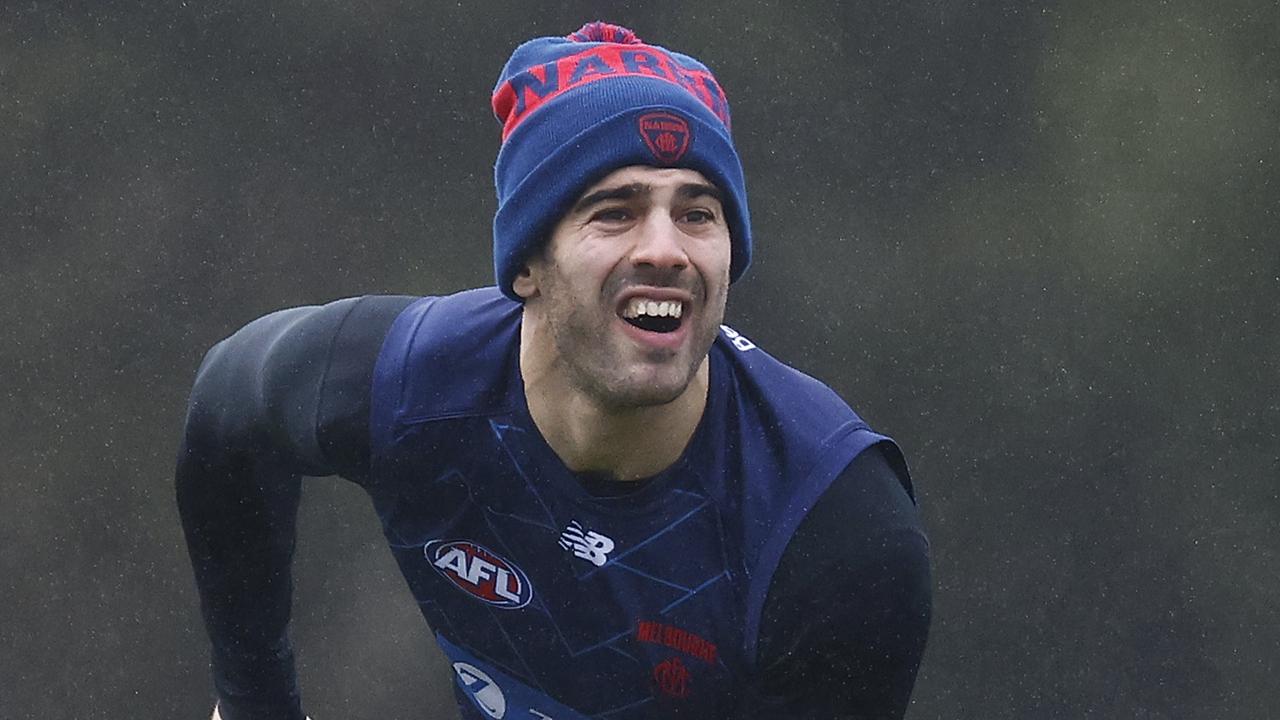 It could be worth waiting another week before buying Christian Petracca.
I'm thinking of buying Christian Petracca this week. His form has to turn soon right?
I hope so. I intended to trade him during the Round 14 bye but then Max Gawn got injured and my plans were torn up. He has a break even of 118 so take the opportunity to have a look at how the Demons midfield fares without their regular service from Gawn. Even if Petracca pumped out a 150 against Brisbane you would only have to pay about $500k next week.
I still have Nick Daicos, is he a season keeper now?
Cover for your defence and/or midfield is going to come in very handy in the next nine rounds. Especially cover as good as Daicos. Forget cashing him in, Daicos has a more important role to fulfil now.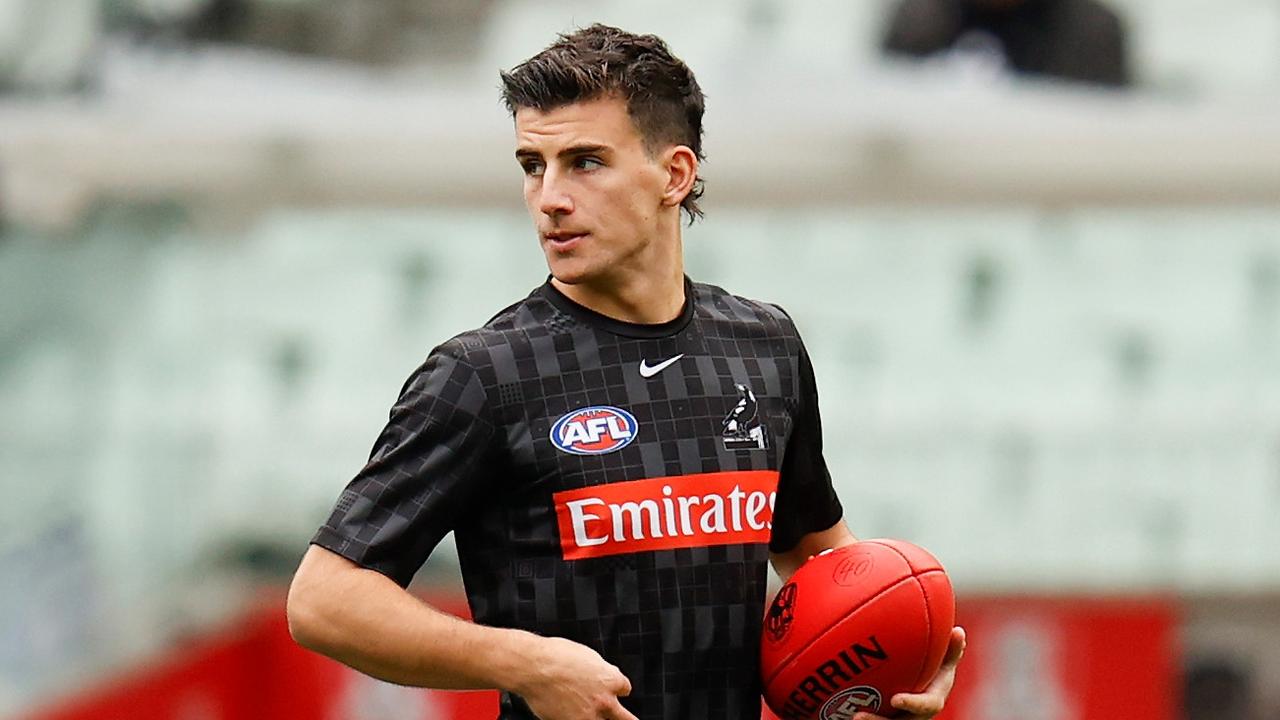 Nick Daicos could provide valuable cover during the run home.
How many trades should I have left?
More than me. An absolute minimum of four after this week, when most coaches will have to move Butters on. If you have six or more, you're in a much healthier position than most. If you've somehow still got eight or more, can I borrow one?
My team isn't finished. Should I be worried?
What does a finished team actually look like this year? The rucks have been a mess, injuries and Covid have caused chaos and there's still nine rounds to go. It's been a bumpy ride but with a bit of luck you can still jump up the ranks or succeed in league finals — with a team full of premos or one still carrying a few dodgy mid-pricers.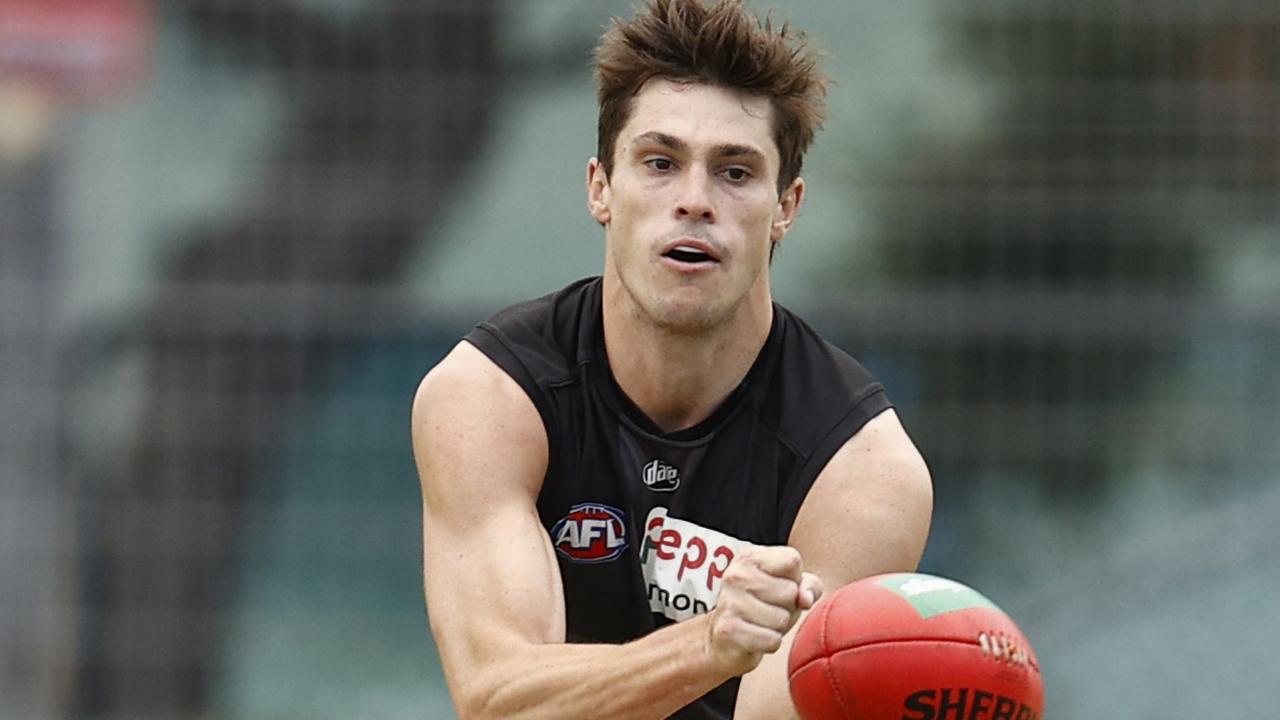 Jack Steele is set to return from injury this weekend.
Jack Steele is back this week. Should I be planning to bring him back?
If you have the luxury, why not? He's projected to be about $542k in two weeks. If Petracca doesn't lift or Zach Merrett is still scoring 90s, it's going to be mighty tempting.
What about Gawn and Grundy?
Who could have predicted they would be PODs for the run home? I don't see a scenario where many coaches will have enough trades to bring them back in a month. If you somehow do, both of the 'set and forget' ruckmen need to be in your thoughts. The fact most teams will go into the run home without Gawn and Grundy sums up how wild this year has been. And the year has gone for all of 14 rounds.
What round is it OK to run out of trades?
It depends who your cover is. If you have Nick Daicos at D7 and he can cover your defence and midfield, you might feel comfortable running out in Round 20 or 21. If your cover isn't so reliable, Round 22 is the earliest you'd want to hit zero.
Can I have some extra trades?
If I can't then you can't. And I've asked — OK, begged.
Is The Phantom going to win KFC SuperCoach?
He's 62nd overall now and about 500 points from top spot. Would he reveal his identity if he won KFC SuperCoach? Now there's something to ponder.
But you didn't answer. Could he actually win it?
Frighteningly … yes.
Originally published as KFC SuperCoach AFL: Zak Butters, Tim English, Braydon Preuss and the burning questions of Round 15