KFC SuperCoach AFL's Round 1 planning guide, rookie selection tips
Over five days, KFC SuperCoaches can make changes to their teams during the Round 1 rolling lockout. We analyse the key scenarios and selection issues that could impact your side.
Rolling lockout represents an opportunity for KFC SuperCoaches to ensure they nail their starting team in Round 1.
Considering the first round of the 2022 season starts on a Wednesday and ends on a Sunday, KFC SuperCoaches will have five days of decisions to make before their full side is locked in.
The return to squad announcements on Thursday night has alleviated some of the pressure, but coaches will still want to monitor final teams for late changes and subs.
Some AFL teams have been kind in past seasons, notifying fans — and more importantly KFC SuperCoaches — of Round 1 debuts with plenty of notice.
Josh Sinn, Nic Martin and Connor MacDonald are among the borderline selections who KFC SuperCoaches will be sweating on throughout Round 1.
The biggest potential issue for more than 30 per cent of coaches was going to be if Braydon Preuss wasn't named, but the match review panel took care of that decision.
Search a player's name and see our advice on what to do if they're named or not for Round 1.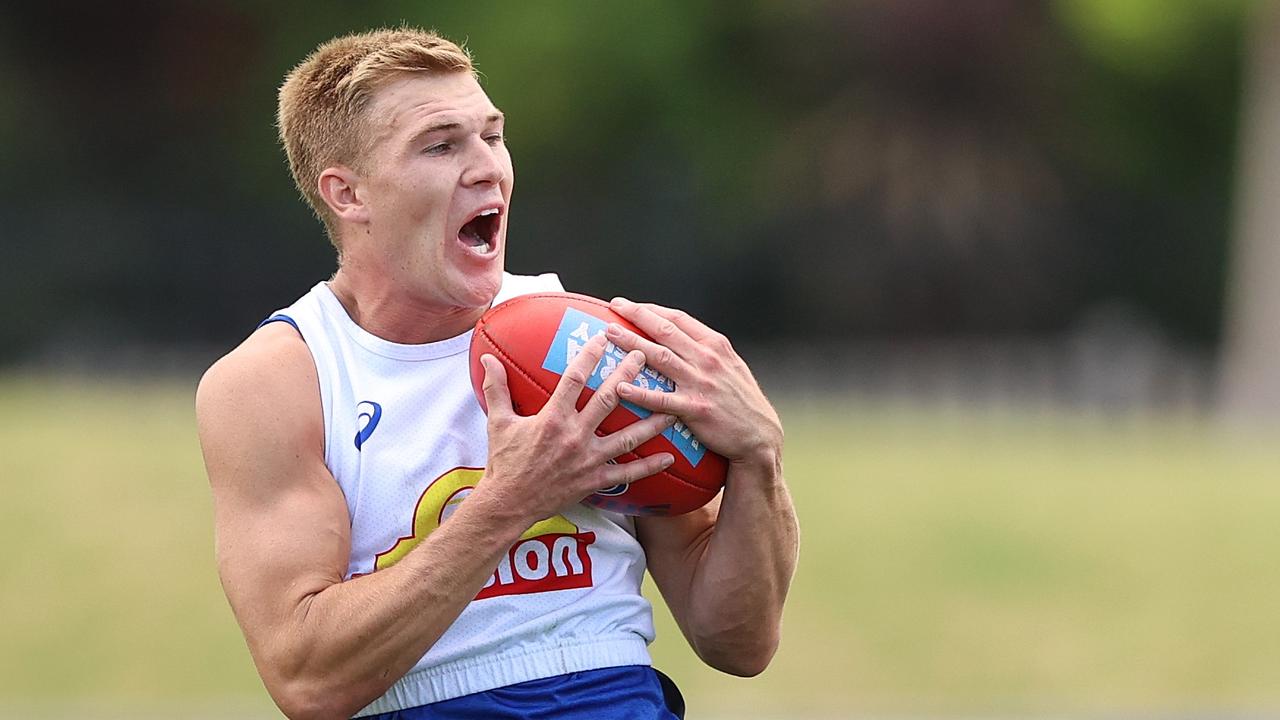 Robbie McComb debuting in Round 1 would give KFC SuperCoaches plenty to consider.
Wednesday, March 16
Melbourne v Western Bulldogs
Robbie McComb 102k MID
If he's named: Strongly consider. James Tsitas and Ned Long are the two best $102k options in midfield but if McComb is named – especially ahead of fellow Dogs cheapie Charlie Parker – he has to be in the mix for your team. Just look at how Luke Beveridge used Anthony Scott last year.
If he's not named: Assuming you have Tsitas already, as many coaches will, swing him to Long from Hawthorn. There's been suggestions he's pushing for an early season debut. Hawthorn doesn't play until Sunday so long gives you the chance to assess other options too.
Charlie Parker 102k FWD-MID
If he's named: Lock him in. Ideally on your midfield bench where his FWD swing could be crucial throughout the season. But if you need to due to the depth of midfield rookies, F8 makes sense.
If he's not named: There's your captain loophole early in the season. Don't underestimate being able to loop a good rookie score from M9 or F7 either.
Buku Khamis $127k DEF
If he's named: His job security might still be an issue, but the lack of defensive rookies makes him a contender. Let's hope Sinn's debut is announced before Wednesday so we don't have to risk it.
If he's not named: You make $4k by swinging him to Nathan O'Driscoll from Freo. The Dockers play Sunday so you'll see almost every Round 1 team and O'Driscoll has the added bonus of DPP.
Arthur Jones $117k DEF-FWD
If he's named: He'll need to play well to hold his spot, but the pre-season signs against Essendon were exciting. If you're scratching for an extra $5k and need a swing for Patty McCartin or Sam De Koning, consider.
If he's not named: Swing him to De Koning instead.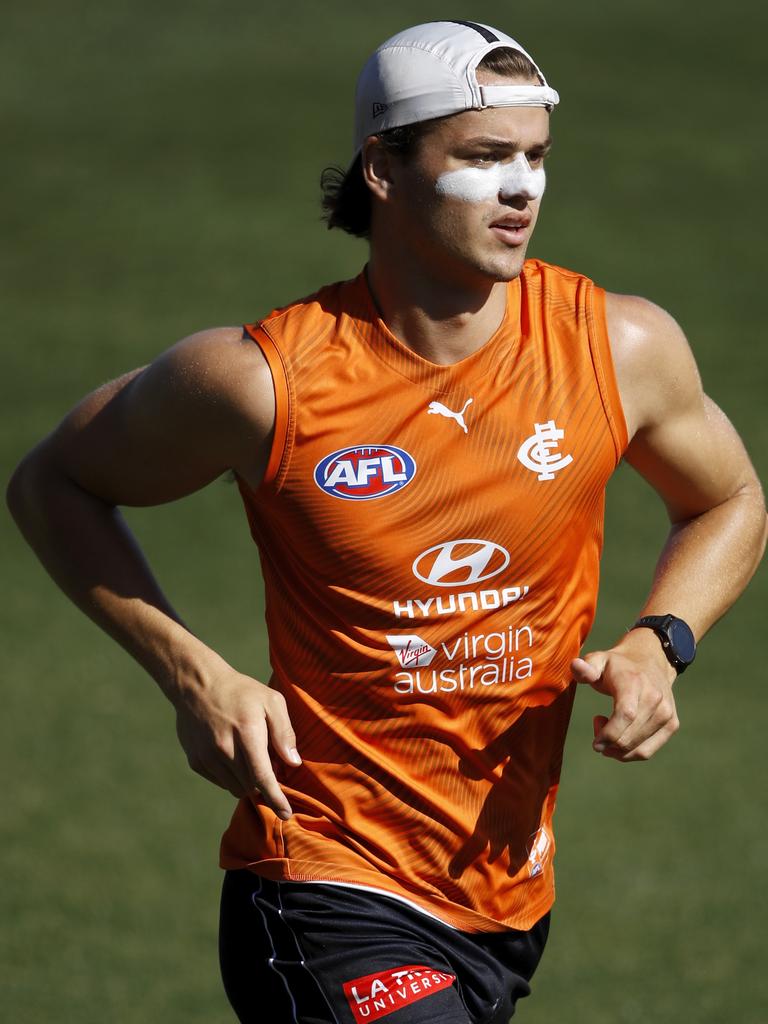 Brodie Kemp is worth a look at an elevated starting price.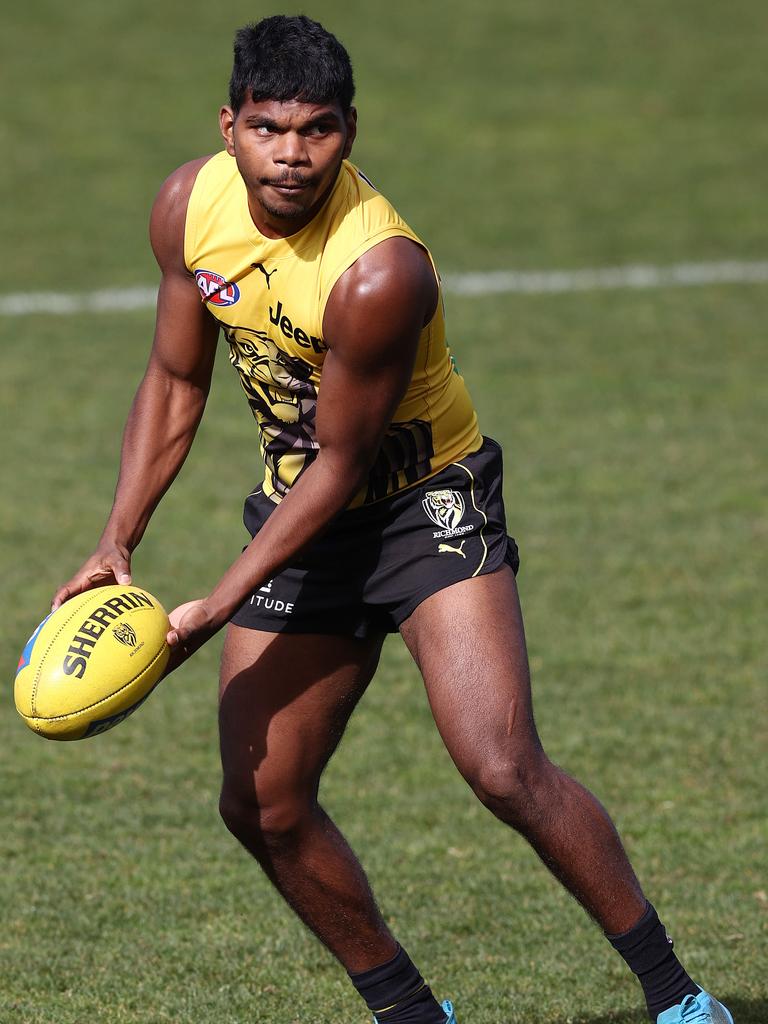 Maurice Rioli is an excitement machine, but might not be for KFC SuperCoach.
Thursday, March 17
Carlton v Richmond
Charlie Curnow $224k FWD
If he's named: It's still hard to justify picking him after an interrupted pre-season.
If he's not named: That solves one selection issue. Try to find the extra cash for Gresham, Rayner or Coniglio. If you have to downgrade and don't have Josh Rachele, he's your man. Alternatively, you could go to Will Brodie or Tristan Xerri.
Jesse Motlop $117k FWD
If he's named: Don't expect huge returns but you can chuck him on your bench. Pressure small forwards have never been big KFC SuperCoach scorers, bar Dan Butler's first 10 weeks of 2020.
If he's not named: Maybe Will Kelly will be. He's only $6k more expensive and the Collingwood squad will be well known by the time Carlton's clash with Richmond starts. Kaine Baldwin, Sam De Koning, Charlie Comben, Nic Martin and Tex Wanganeen are other options. Motlop being left out will likely mean Corey Durdin plays, so you could start him instead.
Corey Durdin $144k FWD
If he's named: Loop him off your forward bench. Michael Voss seems keen to give Durdin a chance to prove himself as one of his pressure forwards and he showed against Melbourne in pre-season he can score points quickly.
If he's not named: No need to panic yet, there's still a host of options available.
Brodie Kemp $156k DEF
If he's named: And there's been no indication Sinn is going to play, you might have no choice but to go for the defender in the similar price range you know is. If you overlook Kemp and Sinn doesn't play or debuts as the sub, you're going to need a plan B and plan C — likely Mitch Hinge from Adelaide as a starting point.
If he's not named: Hope Sinn is — and not as the 23rd man.
Josh Gibcus $171k DEF
If he's named: We might have no choice but to pick him, especially after Jon Ralph revealed on the SuperCoach bus ride that Gibcus might play every eek.
If he's not named: $171k gives you a fair bit of cash to play with and you might even be able to get up to Mitch Hinge, who The Phantom tells me is winning huge plaudits over in SA. I'd still pick Hinge over Gibcus if you could only choose one.
Maurice Rioli $123k FWD-MID
If he's named: I'm still not convinced he's worth it for KFC SuperCoach but he's going to be seriously fun to watch.
If he's not named: Consider some of the options listed above under Jesse Motlop's name.
Jordan Boyd $123k DEF
If he's named: Just pick him. We're no guarantee to get another $123k rookie if Jack Henry is named and Sam De Koning is squeezed out at Geelong.
If he's not named: Hope De Koning is and pick him.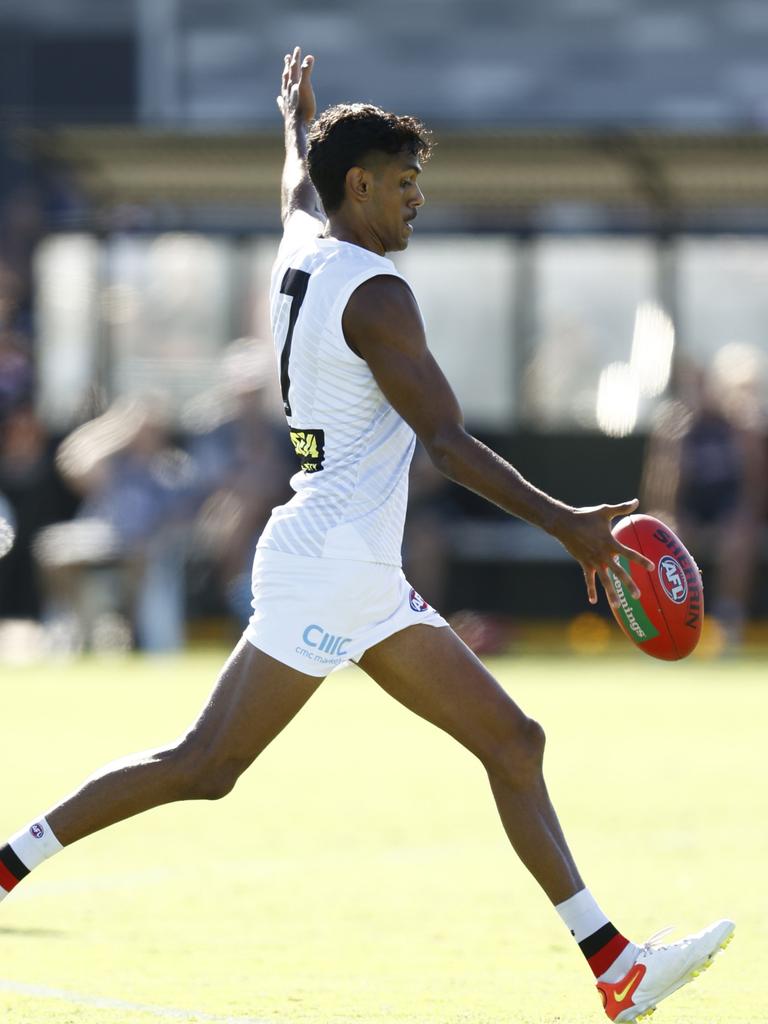 Nasiah Wanganeen-Milera kicks a goal during St Kilda's intraclub match.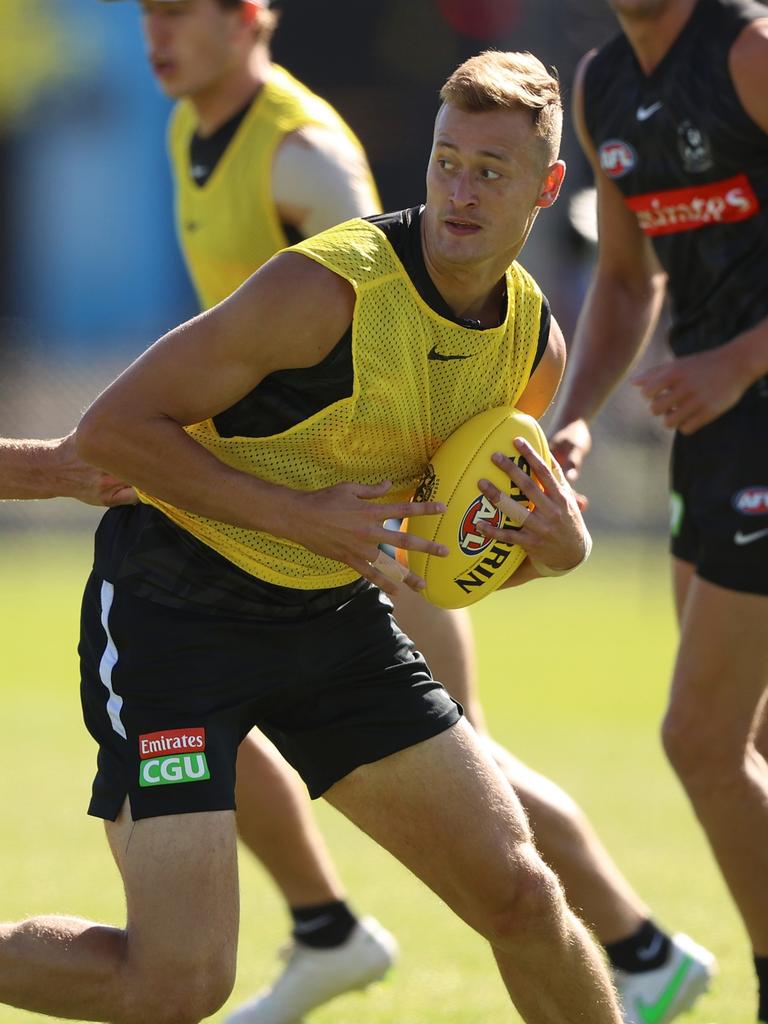 Nathan Kreuger is set for greater opportunities after moving to Collingwood.
Friday, March 18
St Kilda v Collingwood
Nasiah Wanganeen-Milera $162k DEF
If he's named: The rookie guru Dan Batten flagged him as a player to consider but he's still largely gone under the radar. An average of 83 in 13 SANFL reserves games last year was respectable. The only issue might be job security with so many senior options at the Saints. No doubt he offers something different though.
If he's not named: Sinn or Hinge.
Jack Hayes $102k RUC-FWD
If he's named: You should be starting him anyway, especially if he comes in as a $102k RUC-FWD.
If he's not named: Captaincy loophole. Still pick him.
Will Kelly $123k DEF-FWD
If he's named: The KFC SuperCoach numbers are unlikely to be big, although with Roughead and Howe out he may be needed in defence. If he plays there his scoring is likely to be better than a key forward. The DPP makes him a great choice if you can use it to swing Keidean Coleman to either end.
If he's not named: The bench options for the forward line will be starting to wear thin. If you're still banking on Elijah Hollands playing early, it would leave Long, Baldwin, De Koning, Comben, Martin or Wanganeen as leading picks. Unless another Round 1 debutant comes from the clouds — Hugh Dixon maybe?
Charlie Dean $102k DEF
If he's named: He won't be after going down with an injury that could sideline him for 8-10 weeks.
If he's not named: Don't pick him. Look for Dean as a potential mid-season downgrade.
Finlay Macrae $206k MID
If he's named: He's still too pricey for a player not guaranteed big midfield minutes or with an uncertain role.
If he's not named: And you want an option for more than $200k, you could look at Charlie Constable, Will Brodie or even Hugo Ralphsmith, who has filled Bachar Houli's role during pre-season and offers DPP as a FWD-MID.
Reef McInness $123k MID
If he's named: The Pies rate him highly but I still think there's better options in midfield for KFC SuperCoach. If he was DPP you might consider him.
If he's not named: There's no shortage of midfield rookies who still might be. Jackson Mead and Cooper Stephens are another two who could feature early in the season at the same price (pending Stephens recovering from injury). You could pick Jed McEntee from Port too if you want the DPP option.
Nathan Kreuger $198k DEF
If he's named: He's suspended for Round 1.
If he's not named: Pick Mitch Hinge or Denver Grainger-Barras, the latter if you want a POD at a similar price.
Nick Daicos $193k MID
If he's named: He will be. Next. Just pick him.
If he's not named: Craig McRae must not like KFC SuperCoach.
Sam De Koning is listed as a DEF-FWD this year.
Garrett McDonagh could push for an early-season debut.
Saturday, March 19
Geelong v Essendon
Cooper Stephens $123k MID
If he's named: He has the inside game to score well from the outset. The question mark is how many games he can string together in an experienced Geelong side. The last thing we need is another Charlie Constable. Consider.
If he's not named: Midfield rookies are bountiful this year. O'Driscoll's DPP gives him an edge if he's named for Freo. This seems the most-likely scenario after Stephens went down with injury in Geelong's pre-season match against Richmond.
Francis Evans $123k FWD
If he's named: Small forwards and KFC SuperCoach don't mix and Tyson Stengle is likely to be the main man roving Hawkins and Cameron. Pass.
If he's not named: The options are running out for the forward line. If enough of your players aren't locked out, you may need to rejig your structure, drop a premium and choose a few mid-price options instead. Besides Hollands — who might have to wait a while to debut after being overlooked in pre-season — there aren't many forward rookies you would be confident fielding.
Sam De Koning $123k DEF-FWD
If he's named: Try and get him in your team at the opposite end to another DEF-FWD such as Patty McCartin. DPP swing will be crucial as the season rolls on amid inevitable Covid disruptions. He looked great in pre-season, but don't expect 90s every week or you're going to be disappointed.
If he's not named: See the above notes on Evans.
Garrett McDonagh $117k DEF
If he's named: It's a great outcome for KFC SuperCoach. It seems only a year or so ago I was watching him run around in the Northern footy league.
If he's not named: A debut still might not be far away and you should consider starting him anyway. Say he debuts in Round 3 and is on the bubble Round 5, do you really want to burn a trade that early on a rookie who is unlikely to have matured enough in price?
Ben Hobbs $153k MID
If he's named: Leaving him out is going to be very tough. Yes, his job security in a stacked Bombers midfield is an issue. But he's a ready-made contributor and could score well from Round 1. You could conceivably start with Horne-Francis, Daicos and Hobbs on field.
If he's not named: The extra $30k will give you options, but this deep into a round you don't want to be messing with your structure too much. Don't go messing with your premiums just because you have a bit of extra cash to throw around.
Kaine Baldwin $123k FWD
If he's named: It's a pretty incredible story considering the injury troubles he has battled in recent seasons. You still have to wonder whether he will score well enough and play regularly enough to justify picking. But then, many of us thought the same about Harrison Jones and he got to a peak price of $284k last year. Jones is going to miss up to a month with injury which could open the door for Baldwin.
If he's not named: Unless he's missed out so Wanganeen or Martin can debut, Comben or Long might be your last options for F8.
Nic Martin $102k FWD
Tex Wanganeen $102k FWD
If either are named: Just pick them as a bench forward. The options are there for KFC SuperCoaches to be picky.
If both aren't named: It's a straight swap to Ned Long.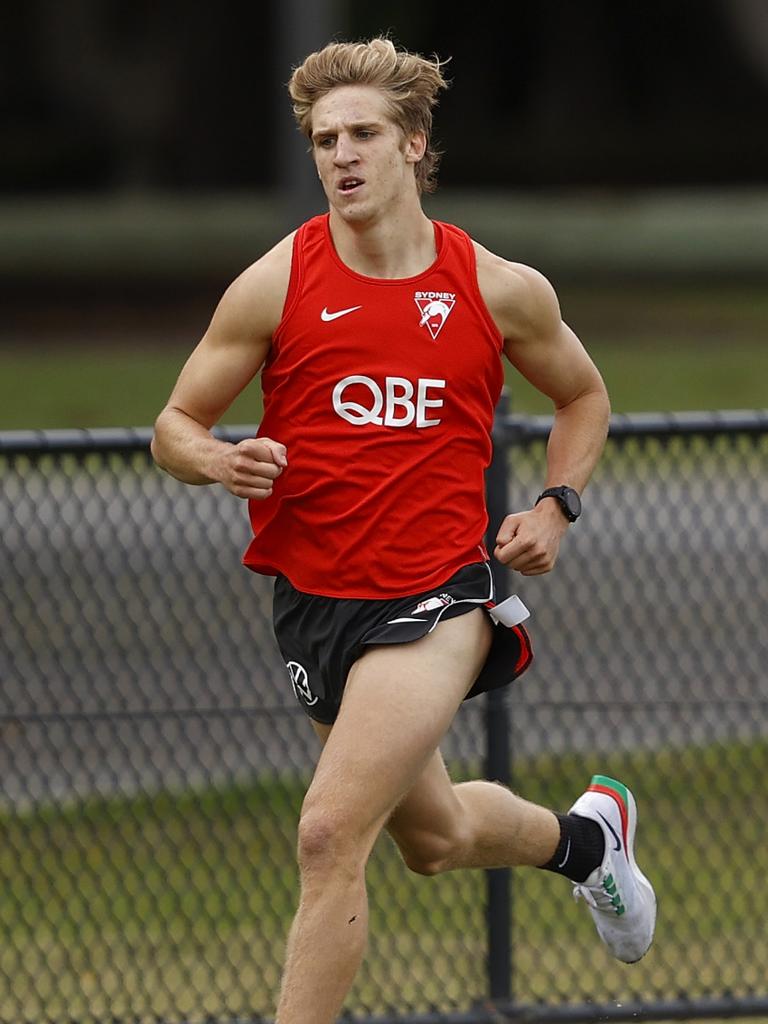 A wing spot has opened up for Dylan Stephens to stake a claim for.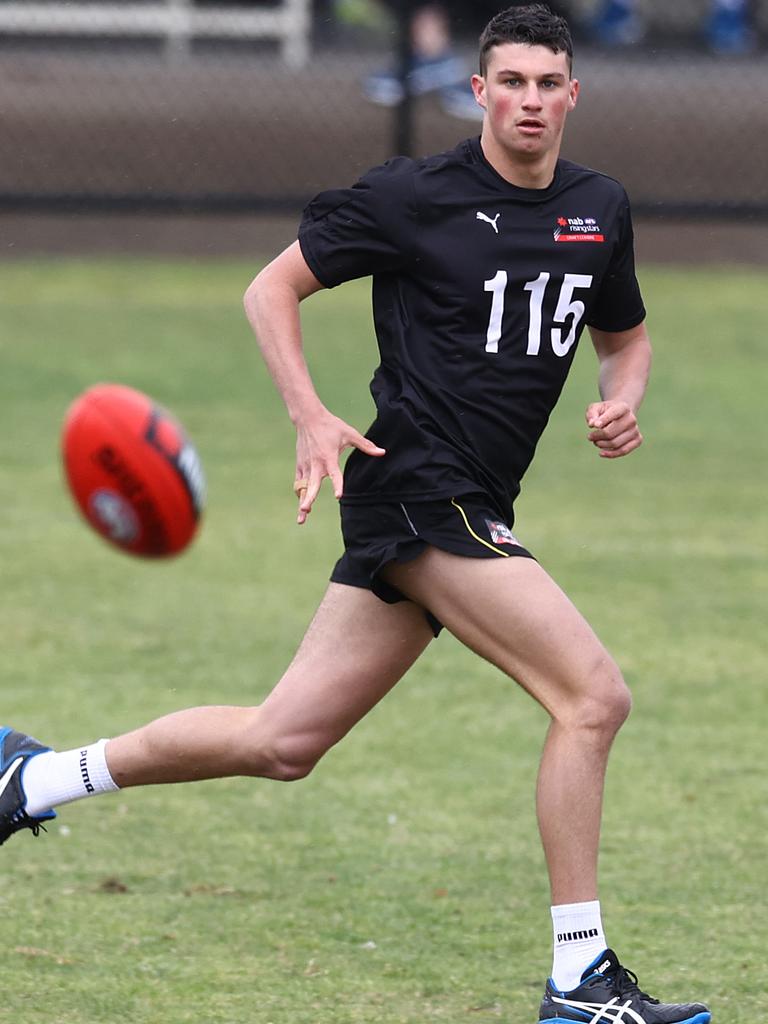 Finn Callaghan is behind other top-priced rookies for KFC SuperCoach.
GWS Giants v Sydney
Braydon Preuss $204k RUC
If he's named: He's suspended after putting a bruising a tackle on Brodie Grundy in pre-season.
If he's not named: But you still want to pick him, you will have a serious POD on your hands come Round 2 if he's named. He did score triple figures against the Magpies and spent some time forward, suggesting he might even get valuable DPP status at some point.
Will Gould $123k DEF
If he's named: I will be ordering a one-man family feast from KFC to celebrate. Then picking him of course.
If he's not named: There's always Round 2 I guess. Gould features in about 30 per cent of teams and by this point of the round sideways options are running out. Nathan O'Driscoll still might be. Just don't pick Darcy Wilmot who is suspended for Round 1.
Dylan Stephens $167k MID
If he's named: A top draft pick with a few years in the system at this price is close to a must-have. Jordan Dawson leaving opens the door for Stephens to make a wing at the SCG his own.
If he's not named: Sinn still might be, he's cheaper and also has DPP which Stephens doesn't.
Matty Roberts $117k MID
If he's named: He'll be a serious bolter, but his junior numbers were incredible. Consider for M10 or M11.
If he's not named: Mead, Long and even Jake Soligo at Adelaide are other options.
Finn Callaghan $198k MID
If he's named: It's still unlikely you can afford Nick Daicos, Jason Horne-Franci Josh Ward and Callaghan. GWS rookies have spent too much time in the NEAFL to justify picking Callaghan over the other pair.
If he's not named: Charlie Constable, Josh Ward or Alex Davies time.
Patrick McCartin $157k DEF-FWD
If he's named: And playing at halfback as a third tall with DPP, you need to consider. His pre-season game against GWS was very promising.
If he's not named: Sideways swaps won't be easy at this point but you might still have enough time to work the magnets, find an extra $10k and nab his teammate Stephens instead.
Darcy Wilmot has impressed but Brisbane's team is hard to crack.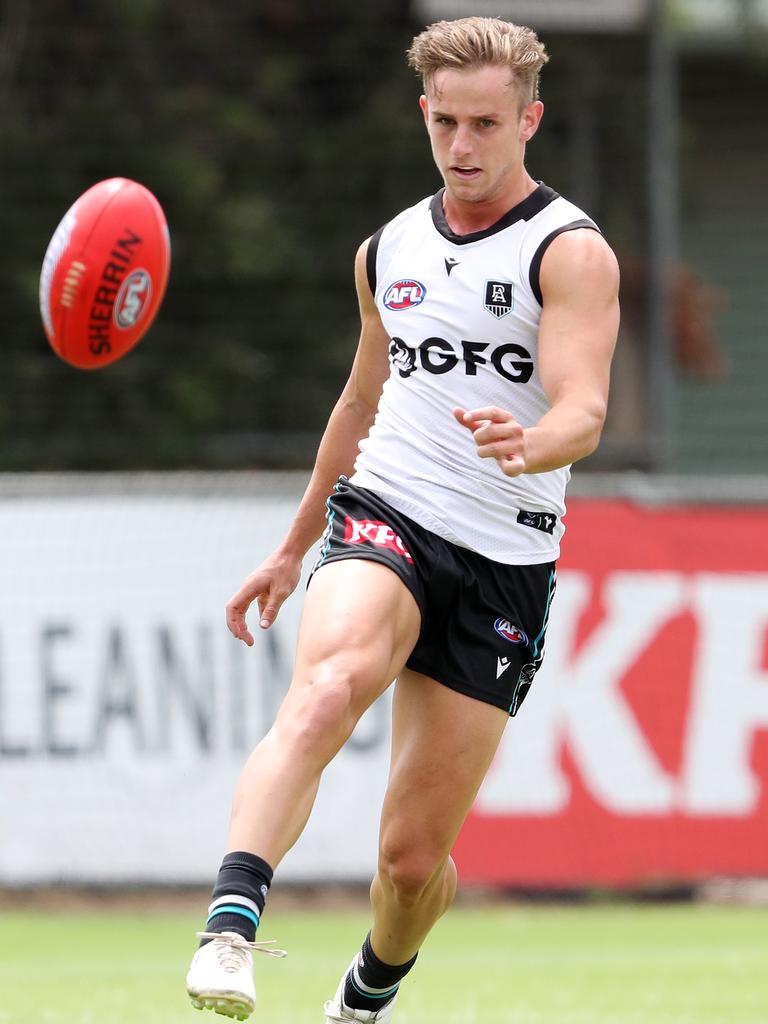 Is this the year Jackson Mead gets his chance?
Brisbane Lions v Port Adelaide
Darcy Wilmot $139k DEF
If he's named: He's been suspended for Round 1 so won't be.
If he's not named: And you still need a defensive rookie, O'Driscoll, Skinner and Sinn are your leading options. Just be quick if you want either of the Port pair. It's not out of the question to use Wilmot as a Round 1 loop after Keidean Coleman suffered a long-term injury. His debut could come as soon as Round 2.
Sam Skinner $123k DEF-FWD
If he's named: The DPP and SANFL scoring look promising, but his job security is a huge red flag.
If he's not named: See above notes on Wilmot.
Josh Sinn $157k DEF-MID
If he's named: He's a smooth mover. Don't hesitate even at the elevated price.
If he's not named: McCartin?
Sam Hayes $123k RUC
If he's named: I still prefer a RUC-FWD at R3 for structure. You could pick Hayes and hope he spends enough time forward to be given DPP in Round 6 though.
If he's not named: And he was going to be your R3, you still have a host of options to choose from. If it's a loophole you're after, just pick Jack Williams or Hugh Dixon (who could play) from West Coast instead.
Jackson Mead $123k MID
If he's named: M10 looks the perfect spot for him.
If he's not named: It might be a blessing in disguise and Port has serious depth and his time in the seniors might have been limited anyway. Choose your pick of the Sunday options already listed or get to Stephens if you have the money stashed away.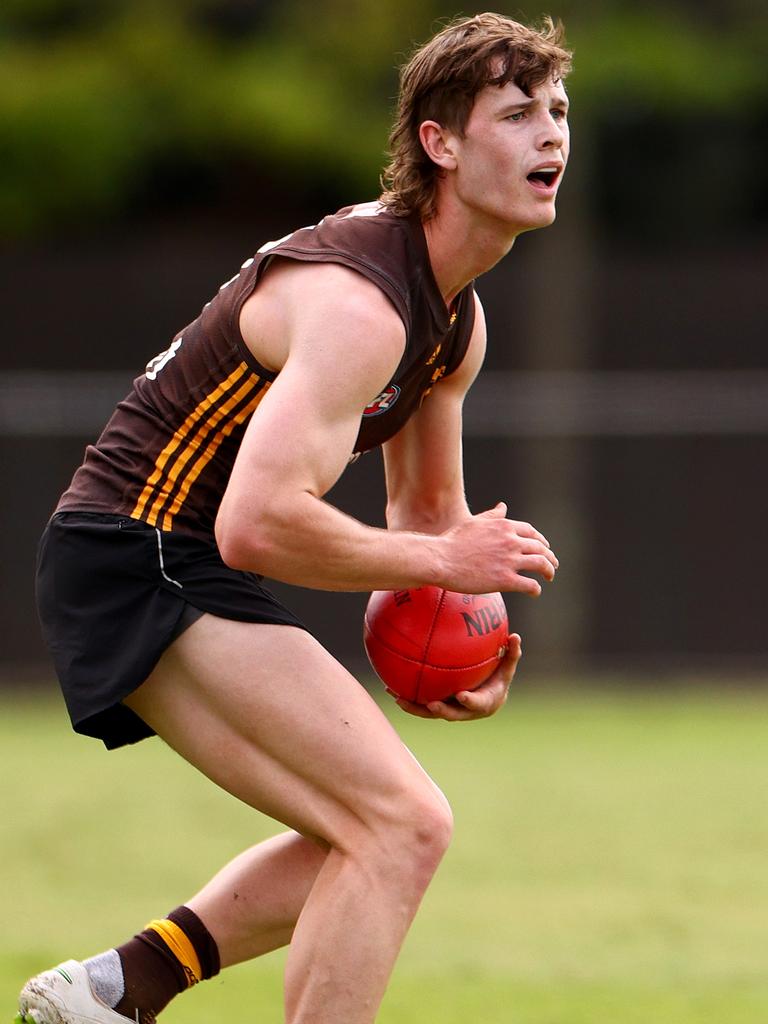 Ned Long has been touted for an early debut.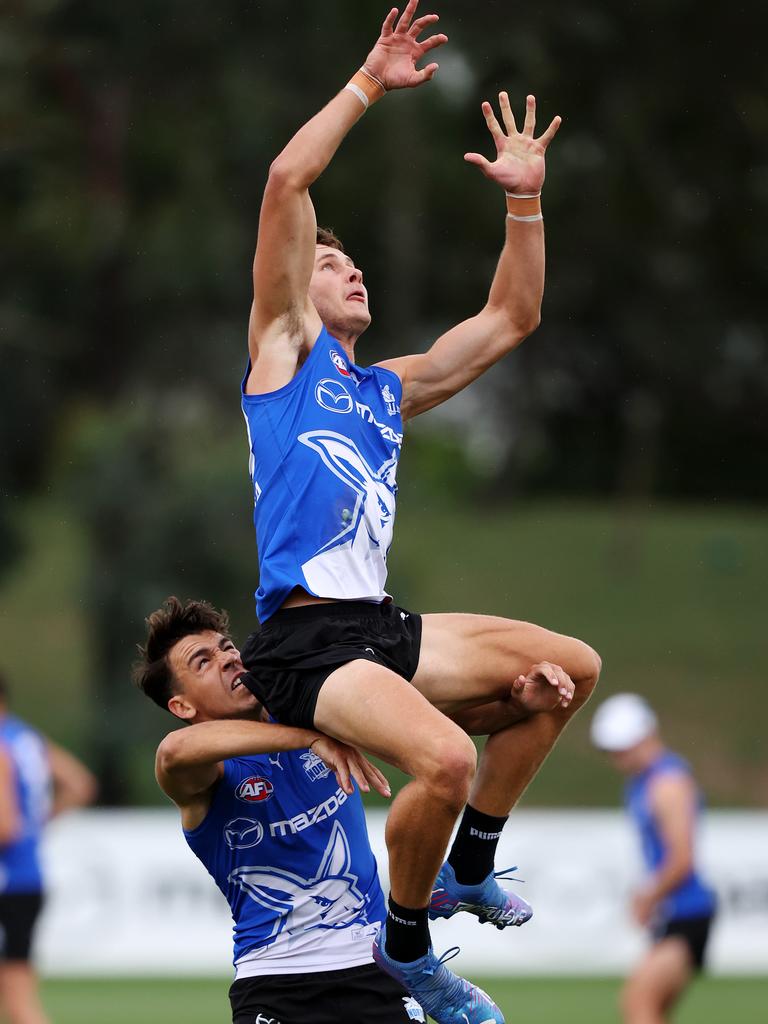 Loophole hero Charlie Comben is rising fast at North Melbourne.
Sunday, March 20
Hawthorn v North Melbourne
Ned Long $102k FWD-MID
If he's named: Your F8 or M11 is set.
If he's not named: By this late stage, you might as well just use him as a loophole. If you're determined not to, Comben might be the DPP fix at F8.
Josh Ward $180k MID
If he's named: It might throw your midfield structure out but how can you overlook him based on how good he was in the pre-season game against Richmond?
If he's not named: Then Connor MacDonald will be and his pre-season has impressed plenty at Waverley. You could save more than $60k in your kitty for future trades just by swapping Hawks.
Jason Horne-Francis $207k MID
If he's named: Then we'll get to see the berth of a star. Hopefully he spends enough time in attack to warrant FWD-MID status by Round 6.
If he's not named: Then David Noble is a patient man. Pick him anyway as a Round 2 or 3 debut would be likely.
Charlie Comben $123k RUC-FWD
If he's named: Assuming St Kilda has signed Jack Hayes and he's RUC-FWD, then you could use Comben and Hayes as a swing between F8 and R3. For that reason alone, you could justify picking everyone's favourite loophole of past seasons.
If he's not named: But Finn Maginness is, you might be forced to find the extra $20k. Alternatively, just use Comben as a loophole. His value might not be apparent early but if he enables you to swing Hayes from R3 to F8, it could still be worth picking Comben.
Finn Maginness $143k FWD-MID
If he's named: And has a role on a wing or in midfield, he has to be an option for your last forward line spot.
If he's not named: Depending on selection, the ideal scenario would be getting to Will Brodie but that's a jump of $80k. If that's unachievable, work the magnets via DPP and work out who your best option is of the remaining unlocked players.
Sam Butler $117k FWD-MID
If he's named: Small forwards, KFC SuperCoach. You know by now they don't mix.
If he's not named: Hope MacDonald is. If you're stuck for a captaincy loophole (say you picked Braydon Preuss at R3) you could start with Greg Clark for the same price. He's going to miss the first 4-6 rounds due to a shoulder injury. Ultimately, that would save you a trade.
Connor MacDonald $117k MID
If he's named: And you're weighing up between him and Mead on Saturday night, choose MacDonald for the better job security. Port's team isn't an easy one to stay in and Ken Hinkley has used young players as the sub in recent years (think Martin Frederick).
If he's not named: See the above notes on Butler.
Max Lynch $207k RUC
If he's named: And you can somehow afford to have him at R3, it's a great insurance policy for those starting with Braydon Preuss. Just beware that Ned Reeves looms large.
If he's not named: And you were planning on using him at R2, Jarrod Witts is the only option left to get you out of a bind. To make that happen, you might have to sacrifice a few top-price rookies such as Josh Rachele.
Tristan Xerri $208k FWD
If he's named: As North Melbourne's first-choice ruckman, I'm not sure you have a choice but to squeeze him in. Although Todd Goldstein is going nowhere Xerri's VFL numbers were off the charts last year and he should be a RUC-FWD by Round 6.
If he's not named: And you have already pencilled him in, I'm a fan of Connor West from West Coast who I also think should get DPP as a FWD-MID by Round 6.
Mitch Hinge is an elevated price but has impressed this summer.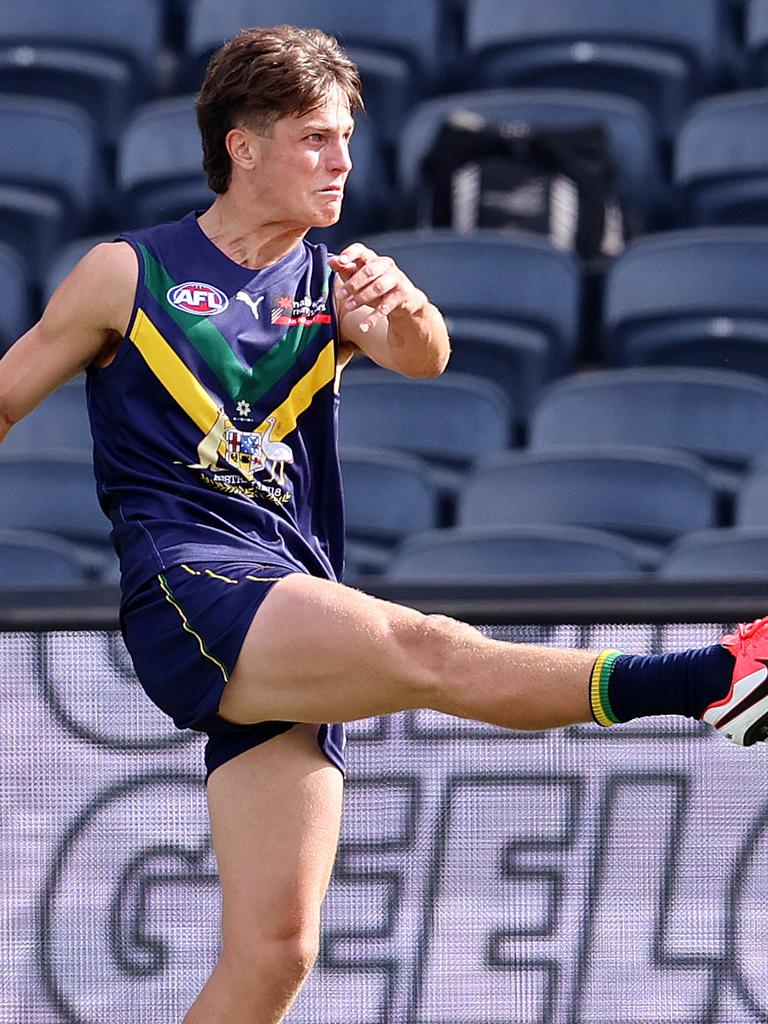 Neil Erasmus in action for the AFL Academy last year.
Adelaide v Fremantle
Josh Rachele $184k FWD-MID
If he's named: A debut will come as no surprise. I trust The Phantom for all things SA and he tells me this Toby Greene-style forward is ready to impact from day one and won't need many disposals to score well in KFC SuperCoach. We saw exactly why against the Lions in pre-season.
If he's not named: If you've got $40k spare and Brodie is, make the swap. Otherwise, your only option is likely to be to make DPP changes.
Nathan O'Driscoll $123k DEF-MID
If he's named: Start him and don't look back. The pre-season midfield time has been very encouraging.
If he's not named: And you have him on your defensive bench, you might as well leave him there and hope his first game isn't far away.
Will Brodie $224k FWD-MID
If he's named: His KFC SuperCoach potential isn't in doubt, but Fremantle doesn't lack for inside midfielders. Still, Brodie was one of the Dockers' track standouts in pre-season. If your call is a 50-50 between Brodie and Curnow on Thursday evening, I'd hold off and hope Nat Fyfe's likely return doesn't push Brodie out of the midfield mix.
If he's not named: Willie Rioli didn't score less than 75 in his last seven games as an Eagle and is the same price. Tristan Xerri is the leading option if he's named as North Melbourne's first ruck though.
Neil Erasmus $166k MID
If he's named: I don't see how you can fit him, JHF, Daicos and Ward into the same team. Erasmus is the one that misses out.
If he's not named: And Mitch Hinge is, see if you can make it work via DPP. You could swing O'Driscoll to midfield and pick Hinge for an extra $15k.
Mitchell Hinge $180k DEF
If he's named: And you have been stressing about a lack of defensive rookies all week, take a deep breath and pick him. To ensure you still have the money available, you may need to leave enough spare to ensure you can go from a player such as O'Driscoll to Hinge on Sunday.
If he's not named: His price gives you the option to effectively pick any other option who is still unlocked when the Crows team is confirmed.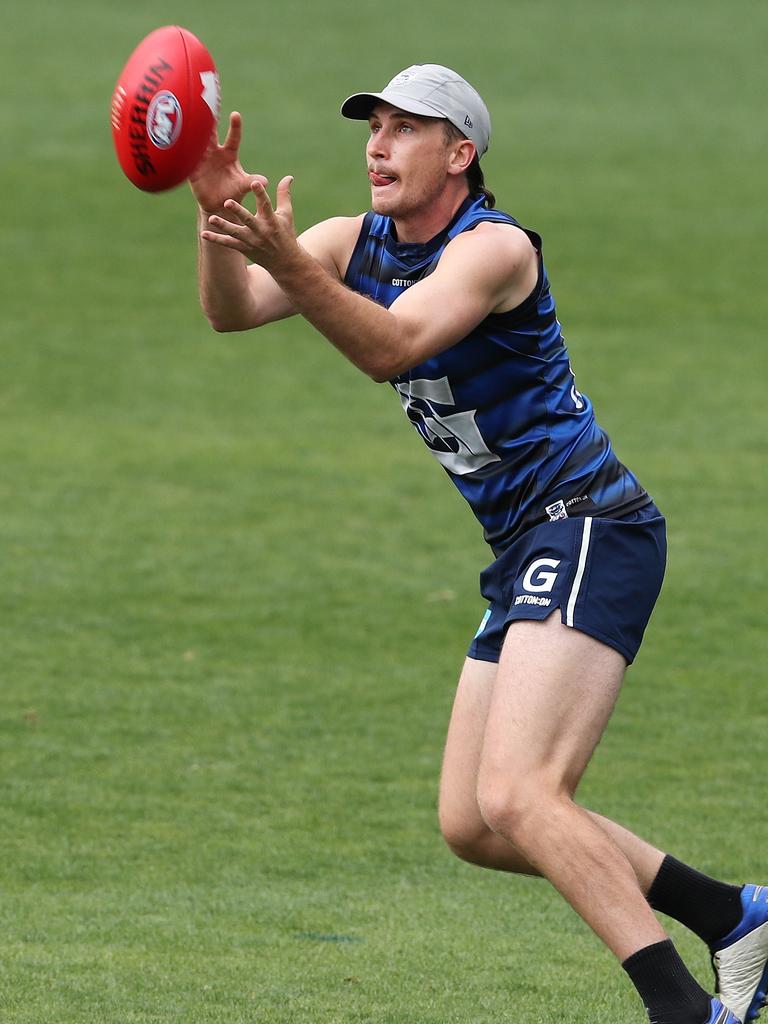 Former Cat Charlie Constable has joined Gold Coast.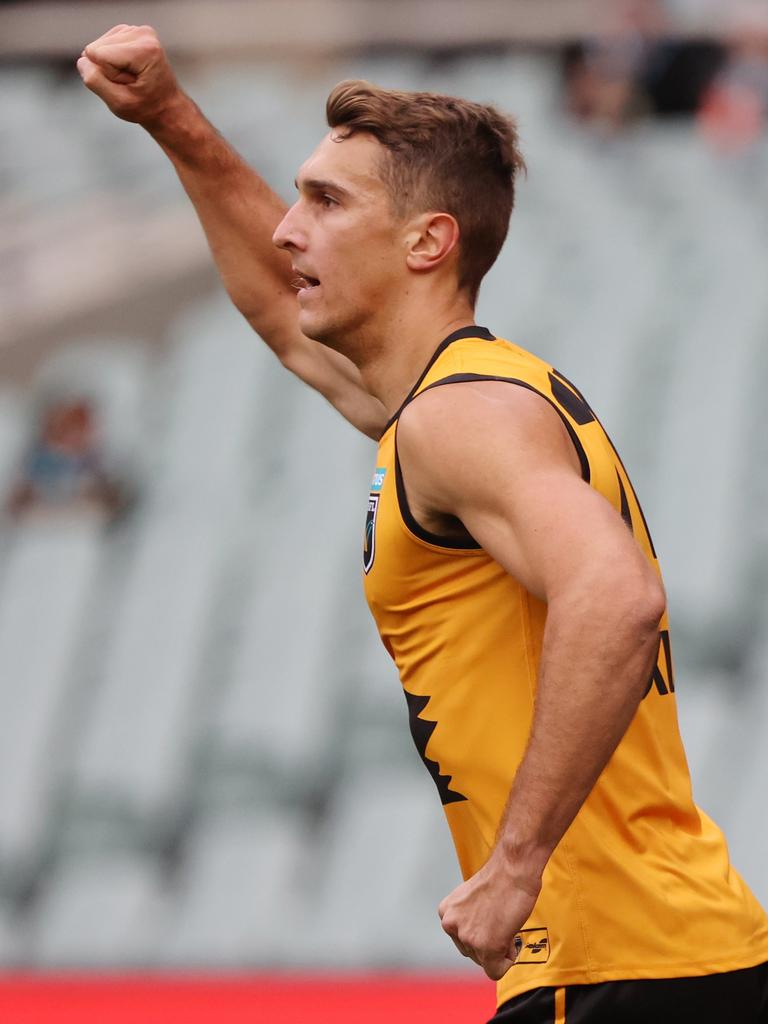 KFC SuperCoaches will have to wait for Greg Clark's debut.
West Coast v Gold Coast
Elijah Hollands $123k FWD-MID
If he's named: Then one of the most-popular picks in KFC SuperCoach of 2022 will be locked in. Many will be comfortable starting him at F6.
If he's not named: Then it sadly won't come as a surprise after he was overlooked for both pre-season games. He could still be your loophole across MID-FWD lines and you could hope he debuts early on.
Greg Clark $117k MID
If he's named: He's not going to be. Clark has injured a shoulder and will miss 4-6 rounds, at least.
If he's not named: And you really want to save a trade, you could pick him as a loophole. Realistically, he's going to be an ideal rookie downgrade during upgrade season.
James Tsitas $102k MID
If he's named: Lock him in and consider starting him at M8.
If he's not named: You might be better off picking a player with DPP.
Bodhi Uwland $102k DEF-MID
If he's named: It's likely to throw a lot of loophole plans out.
If he's not named: You can still get away with picking him at M11 or D8 as a loophole.
Campbell Chesser $148k DEF-MID
If he's named: He's not going to be. He injured an ankle in pre-season and is tipped to miss at least a few months.
If he's not named: And you didn't realise until this last game, your only option might be dumping a premium (Touk Miller?) and using the money to fix your defence.
Charlie Constable $213k MID
If he's named: He'll be tempting, but not ahead of Horne-Francis and Daicos. You could potentially justify a trade after two rounds if Constable starts life as a Sun with a bang and one of your midfield premiums is underperforming though. It does appear unlikely though after others were preferred in pre-season.
If he's not named: And you're still able to swing DPP, a player I'm very keen on is Connor West. He seems likely to get FWD-MID status in Round 6 or 12 too but costs an extra $40k.
Willie Rioli $225k FWD
If he's named: Paying more than $200k for a player who has been out for so long will still likely be a stretch for most coaches. In his last seven games, including the 2019 elimination final, Rioli averaged 92.6. There's food for thought at the very least.
If he's not named: Consider Connor West instead.
Alex Davies $202k MID
If he's named: And you are rolling with four premium midfielders and four rookies, he could sit next to Jason Horne-Francis and Nick Daicos. It's a lot to pay for three 'cheapies' but the signs suggest he could be a serious cash cow as a POD too.
If he's not named: Swing some DPP, find $20k and grab Willie Rioli or Connor West. Their job security shouldn't be an issue in a West Coast team decimated by injury.
Tom Joyce $123k MID
If he's named: It will be some recovery after being spotted in a moon boot less than a week out from Round 1.
If he's not named: Assess where he's at if he gets an opportunity later in the season. There's so many midfield rookies you shouldn't waste a spot on a loophole.
Hugh Dixon $102k RUC-FWD
If he's named: His job security is sketchy due to Jack Darling's return but you could still pick him and hope he plays enough games early to generate money while Darling builds match fitness.
If he's not named: Then Darling will be and that almost rules Dixon out as an option unless it's as your loophole. I'd be more inclined to pick Ned Long instead.
Originally published as KFC SuperCoach AFL's Round 1 planning guide, rookie selection tips