KFC SuperCoach Draft commissioner's guide: How to run your own draft
Getting a group of mates together to run your own SuperCoach Draft can be the best nights of the year. Here's everything you need to know from the best in the business.
So you and a bunch of mates have decided to start a SuperCoach draft league for the year. Congratulations! Before you can get into drafting shenanigans it's important to make sure you have the right league setup to make sure you keep as many people as possible engaged throughout the season.
BUT BEFORE WE GET TO ALL THAT! You need to make a decision about who is going to be the commissioner, and your first duty, as a reader of this column, is to shirk any and all responsibility.
Do NOT become the commissioner. Graciously reject any claim to the commissionership and suggest someone else. You see, being a commissioner is a lot like a boat. You may enjoy being out on the open water, sea air in your lungs, having a peaceful moment with nature. Then you get home and you realise all of the cleaning and maintenance required, and that eventually the cops will figure out you stole it. So why not get all the benefits of a boat, with none of the maintenance or criminal consequences? Make friends with someone that owns a boat!
Now that we have that out of the way, we've confirmed three things:
1. Find a friend that has a boat
2. Check out The Draft Doctors Draft Kit with 151 pages of research, ranks, and more!
3. Nominate someone else to be the league commissioner, then send them this article, because the rest will actually be helpful.
TOP 50 PLAYER RANKINGS: WHO TO PICK IN DRAFT AND WHEN
EXPERT GUIDE: HOW TO DOMINATE YOUR SUPERCOACH DRAFT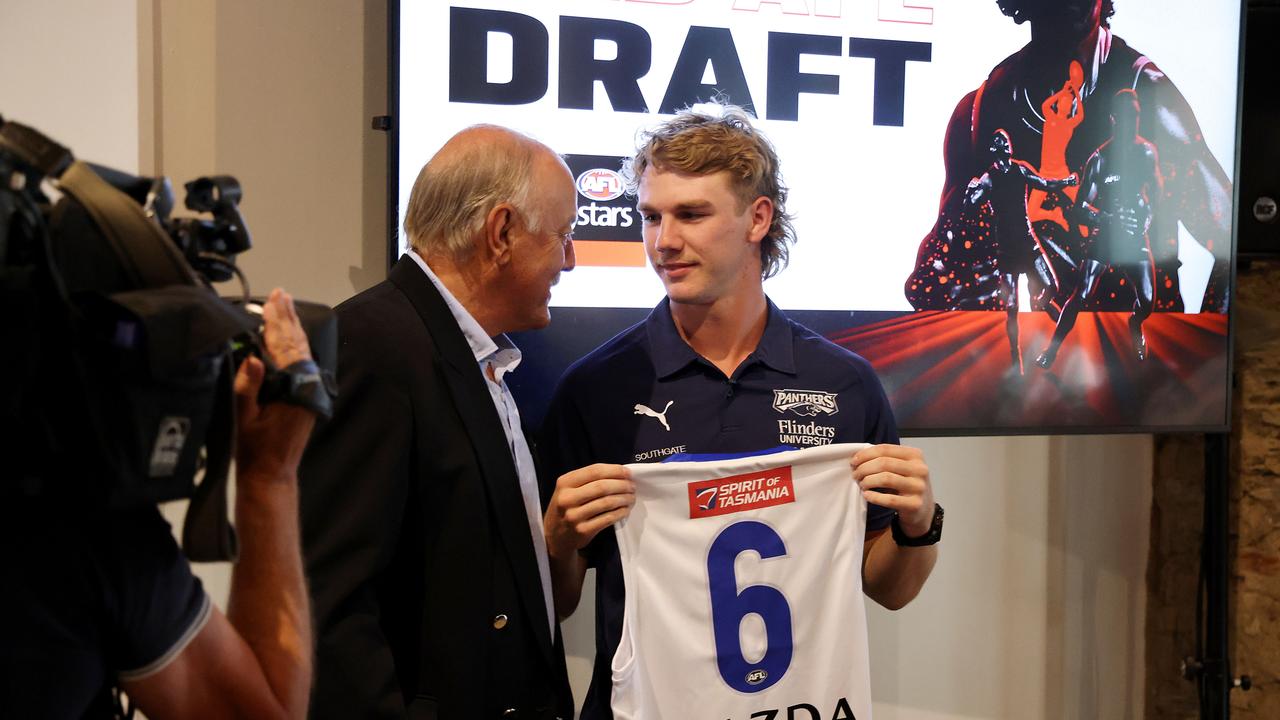 Jason Horne-Francis was taken with the No.1 pick in last year's AFL national draft. Who will go with the No.1 selection in your KFC SuperCoach Draft? Picture: James Elsby/AFL Photos via Getty Images
As a commissioner you are responsible for establishing the league, and making sure you have the right settings and customisations that work for your league. The key items to look out for:
LEAGUE NAME
Make it something that will endure. There's a good chance that at some point over the next few years you're going to want to get a trophy, ring, or other assorted items to crown the winner. So be proud to get whatever you make your League Name, printed on that artefact – Evergrande Collapse League probably isn't going to endure, for example – much like the company.
SQUAD SIZE
There are a number of presets, including my favourite 5-7-1-5/4, or in simple terms, five defenders, seven midfielders, one ruck, five forwards, and four bench options.
When selecting your league size consider how many coaches are in the league. Over 10 coaches, and you may want smaller list sizes.
This year in KFC SuperCoach you can truly customise the size of your squads, essentially creating whatever combination you desire. This is a great new feature, especially in what promises to be a year affected by players missing a week here or there from Covid as you can choose to add a couple of extra players to the bench for back-up. My league, for example, will be going with a 5-7-1-5/6 setup this year.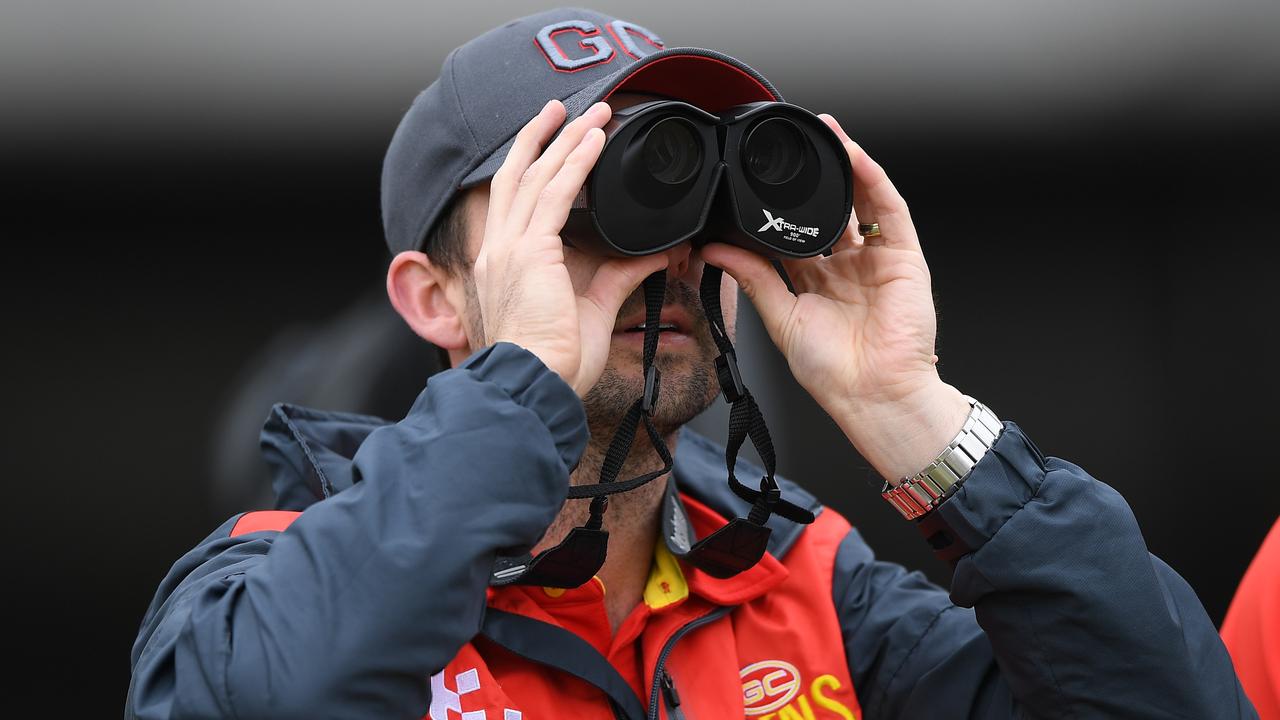 Keep a close eye on your potential SuperCoach Draft recruits. Picture: AAP Image/Julian Smith
SEASON SETTINGS
Choose when your league's season starts or finishes, if you want to compete through the bye rounds, and the finals format. This again can be driven by team size. The idea is to balance making finals feel like an achievement, with keeping the lower teams engaged throughout the season. For a 10-team league, top 6, three rounds works well.
LIVE DRAFT SETTINGS
Set your draft date, time, order, and turn time.
Most importantly here, make sure you understand the different types of draft order – Snake, Linear, and Banzai. Snake draft is the preferred option among most –coaches and a great one to start with – picks will go 1 through to 10, then 10 through to 1, looping constantly until everyone has a full team (so you could have picks 10 and 11 or 1 and 20). It's the most balanced approach, and ensures that regardless of your position in the draft order, there is a viable strategy to get a great team.
For the turn time, if you can't get everyone in the same location at the same time due to other commitments, consider a slow draft. A slow draft is a format that allows each pick to take between one hour and one day. It can be frustrating for some, however it is a great option if you can't seem to make time work for your league. Just make sure you have a group chat so you can prompt people when it's their turn.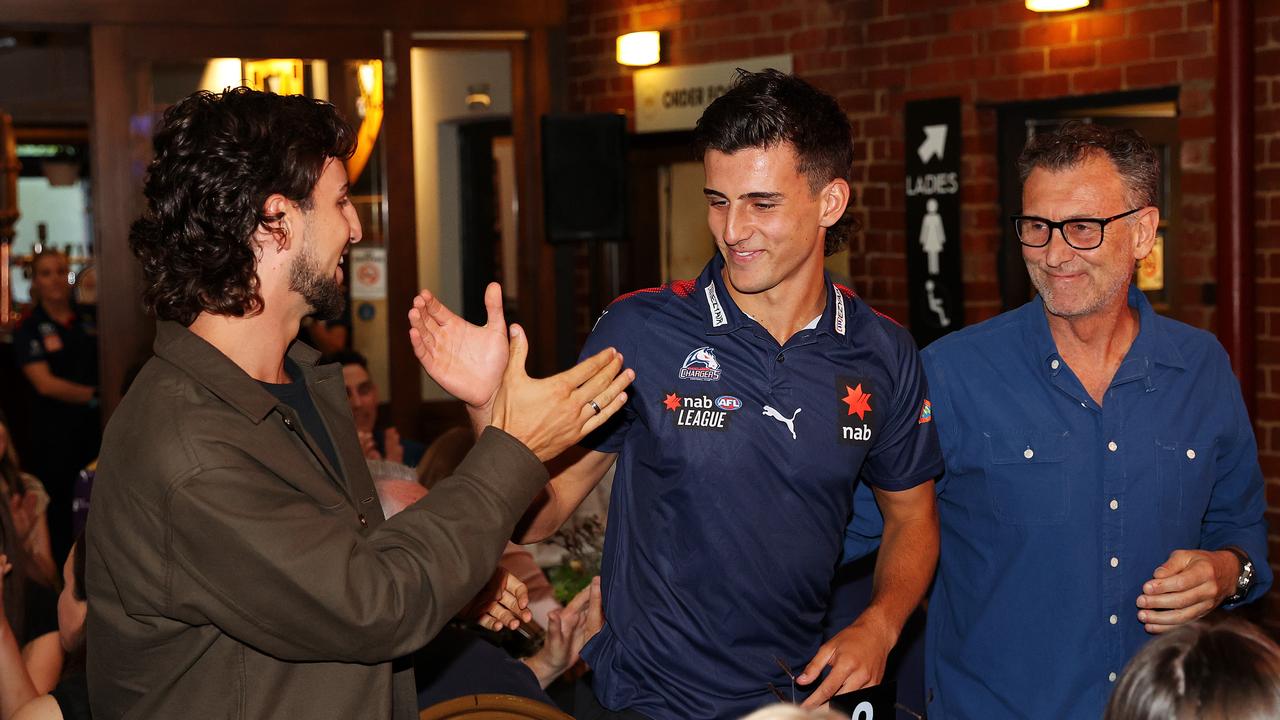 Nick Daicos celebrates with his family after being recruited by Collingwood. Could he sneak into a few SuperCoach Draft teams with a late pick? Picture: Mark Stewart
OTHER SETTINGS
There are various other settings for you to toy around with, like if you want to play with rolling lockout, captains or waiver periods.
Have a look at the handy information tip next to each to figure out what they are, and make sure you discuss each with your league mates before making a call. A good commissioner is democratic, not a dictator.
Most people will tell you that's all. No, no, no, no. The commissioner role actually goes above and beyond just the creation of the league. Two additional things to consider:
What does the winner get? Make it something worth the effort. And if it is a "thing" like a trophy, what is it called?
What is the loser's punishment? If avoiding the wooden spoon isn't enough motivation, some leagues come up with creative ways to make finishing last in their league even worse. A guy in America was forced to spend 24 hours in Maccas as a punishment, and for every cheeseburger he ate, an hour was taken off the sentence.
And that's it, really – invite your mates, set your pre-draft list, and get cracking on the mock drafts on the SuperCoach site – another new feature this year – or at mock.thedraftdoctors.com.au
Listen to the weekly podcast about all things AFL Fantasy Football And if you have any questions, hit me up on Twitter.
Originally published as KFC SuperCoach Draft commissioner's guide: How to run your own draft