KFC SuperCoach: Round 10 trade guide, best Jack Steele replacements and top defenders and forwards to finish your team
See who's being traded in and out by the KFC SuperCoach experts this week plus get the best advice from Champion Data guru Fantasy Freako.
Will you zig or zag for round 10?
This is a key point in the season for KFC SuperCoaches, with key choices to be made on tactics and trades with the byes looming fast.
Heading into round 10 there are rookies who demand selection, once reliable players who suddenly look like they need to be traded – and a premium midfielder in Jack Steele who has to be replaced by more than 50,000 coaches.
And Trade Boosts are running out.
Here's what our experts are doing – and scroll down for the best trade advice from Champion Data expert Fantasy Freako.
AL PATON
OUT: Jack Steele, Josh Gibcus, Matt Rowell
IN: Touk Miller, Rory Thompson, Christian Petracca
I've been targeting Touk since round 1 and planned to get him this week anyway. Jack Steele going down means I need another midfield premo and I really like Rory Laird, but I might already struggle to get 18 scores on field in round 13, so I can't afford to bring in another gun who will be missing that week. That brings Petracca to the top of the pile as a round 14 gun with huge upside at his price. Having a bit of cash let over could also come in very handy over the byes. I looked closely at Stephen Coniglio but ultimately have higher priorities. Hopefully Mark McVeigh can inspire a big game against the Eagles that gets Cogs somewhere close to his 146 Break Even.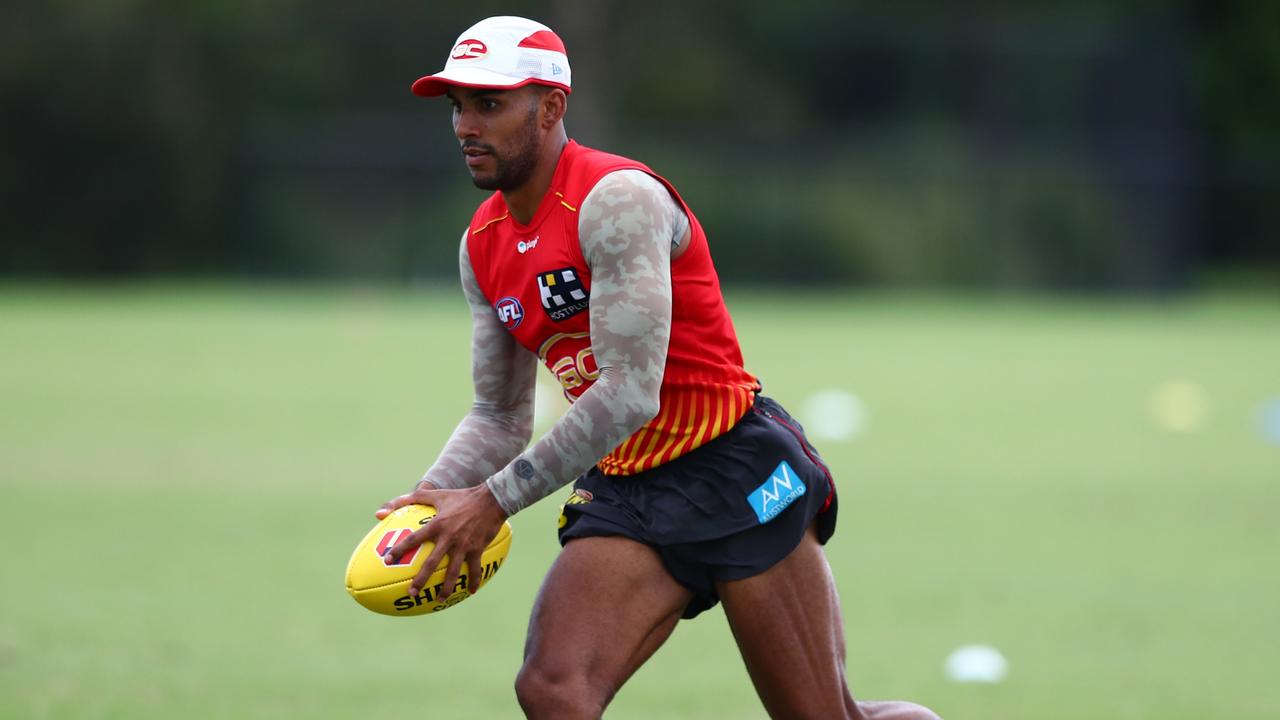 Touk Miller is averaging 119.6 points per game this season. Picture: Chris Hyde/Getty Images
THE PHANTOM
OUT: Jack Steele, Nic Martin, Hugh Dixon
IN: Christian Petracca, Jack Sinclair, Luke Strnadica (pending selection)
At $520k, I want Jack Sinclair, the fourth-highest-scoring defender in KFC SuperCoach, this week. It means, even with the potential Hugh Dixon downgrade, I'm not in the market for a $620k-plus Steele replacement. I do like Touk Miller and Rory Laird, but I am more than happy with an underpriced Christrian Petracca ahead of a clash with North Melbourne, given it also allows the Martin to Sinclair move.
Of course, Stephen Coniglio is the other name in the mix for that trade – which would allow me to open up the DEF-FWD swing with Sam De Koning and Paddy McCartin – but I want the points. I think Coniglio is a chance to outscore Martin, who looked tired against the Swans, in the Giants' meeting with the Eagles. I know the Break Even is high, and the pure money play is to dump him this round, but I also want to look at Coniglio with Mark McVeigh in charge first. Sam Walsh is the other name I like in the midfield, but taking on another round 12 bye player isn't the right move for me this week.
TIM MICHELL
OUT: Jack Steele and Jake Bowey
IN: Bailey Smith and Andrew Brayshaw
You might already know, but DPPs have kind of become my thing this year. And the data is showing that Bailey Smith, who is averaging 111, is a strong chance to gain FWD status in a few weeks. The prolific Bulldog will be a top-six forward come the end of the season if he gains DPP, and he has four scores of 122 or better already this year. It's a calculated risk as he's unlikely to be a top-eight midfielder and is currently ranked 17th for overall MID averages.
Andrew Brayshaw is a player I was keen to start and although Freo faces Melbourne and Brisbane Lions in the next three weeks, he covers each of the byes until round 14. At only $557k, it's the perfect time to jump on and I'll use the money I banked by trading Stephen Coniglio last week to move on Jake Bowey and swing Pat McCartin back. It will mean playing Patty McCartin and Sam De Koning this week if Jack Crisp is out due to illness, but thousands of others will be in the same situation.
DAN BATTEN
OUT: Jack Steele, Josh Ward, Nick Daicos
IN: Christian Petracca, Andrew Brayshaw, Greg Clark
I have been weighing up whether to use my final (!) boost this week to bring in Brayshaw and at this stage I'm rolling the dice. That extra week of Brayshaw before his round 14 bye – up against a Collingwood side who has been smashed in clearances of late – should have greater benefit than an extra trade around the byes, when we have three trades per round anyway. Petracca is my Steele replacement. I would have loved to grab the ultra-consistent Rory Laird as a POD, but getting Trac allows me to nab Brayshaw as well. With one spot in my midfield and in my defence to upgrade, I am willing to say goodbye to Daicos. These moves leave me with 16 trades left and three on-field rookies – Nic Martin, Greg Clark and Paddy McCartin/Sam De Koning. Oh, and Stephen Coniglio.
Watch every blockbuster AFL match this weekend Live & Ad-Break Free In-Play on Kayo. New to Kayo? Try 14-Days Free Now >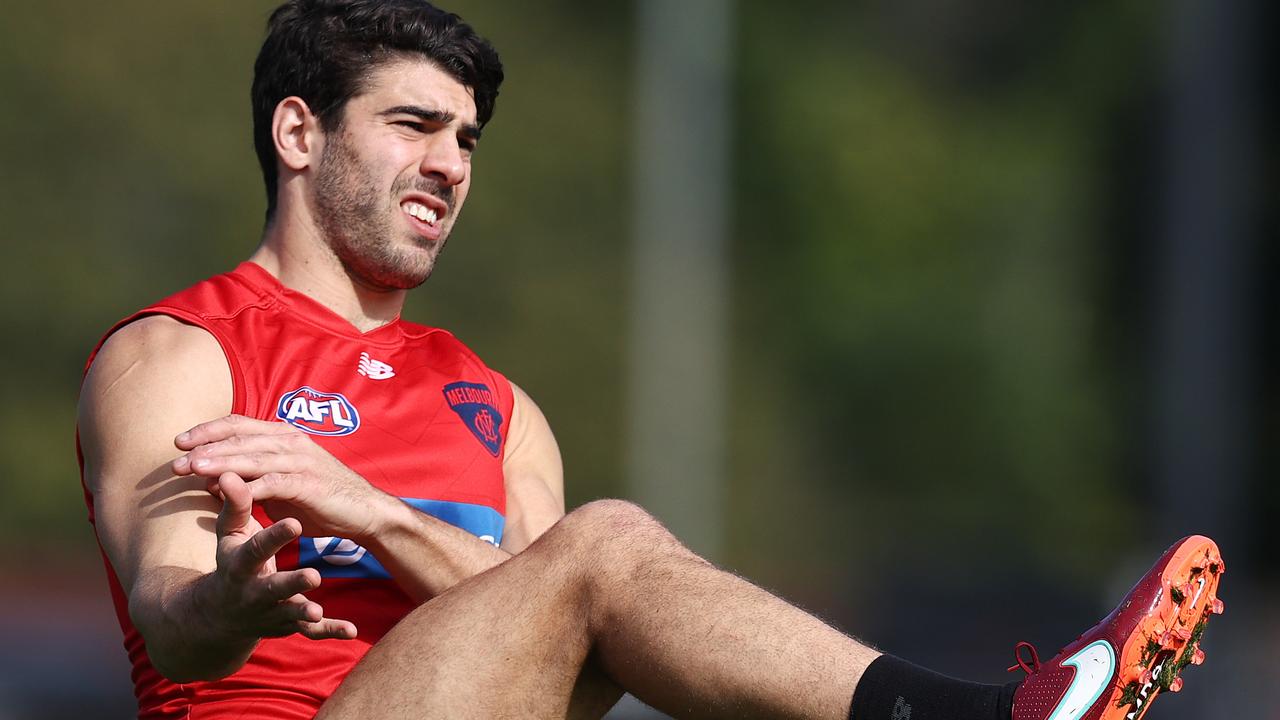 Christian Petracca faces the Kangaroos this weekend. Picture: Michael Klein
FREAKO'S FORMGUIDE
More than 51,000 KFC SuperCoaches will need to find a replacement for Jack Steele this week after the St Kilda captain was sidelined for 6-8 weeks with a shoulder injury.
He first came off with the injury at the 18-minute mark of the second term and didn't reappear until the second half. Thankfully, he returned to finish out the match as he had just 33 points to his name at halftime. Interestingly, his third term was his most productive, collecting nine disposals and 28 points. He finished the match with 74 points, which is a lot better than it could have been.
As we cast the net to find a replacement, your first point of call is to look at the bye structure of your team before committing to anyone.
If we look at the form players of the competition across the last month, Callum Mills sits atop of the list with an average of 145 points – returning 214, 139, 60 and 167 points in that order. He's at the top of his game but if you want him in your team, you have to part way with $669,500 which is a huge investment. Is he worth it? Only time will tell, but his ceiling is huge and it can be extremely rewarding, especially if you nail him as a VC/C.
Touk Miller and Rory Laird are alternatives to Mills if you can't reach his price point. Miller is averaging 128 in his past four games which includes averaging 137 in his past three appearances alone. He's back hunting the ball and his tackle numbers have increased after failing to record any from rounds 4-5.
Laird is currently the 63rd most selected midfielder and optimises the notion of a POD. He has reached 100 points in 16 of his past 17 matches and is as consistent as anyone – averaging 128 points since Round 4 alone – ranked equal-third behind only Lachie Neale and Mills. Laird's run of 30-plus disposals has been exceptional, reaching that benchmark in 16 of his past 18 matches.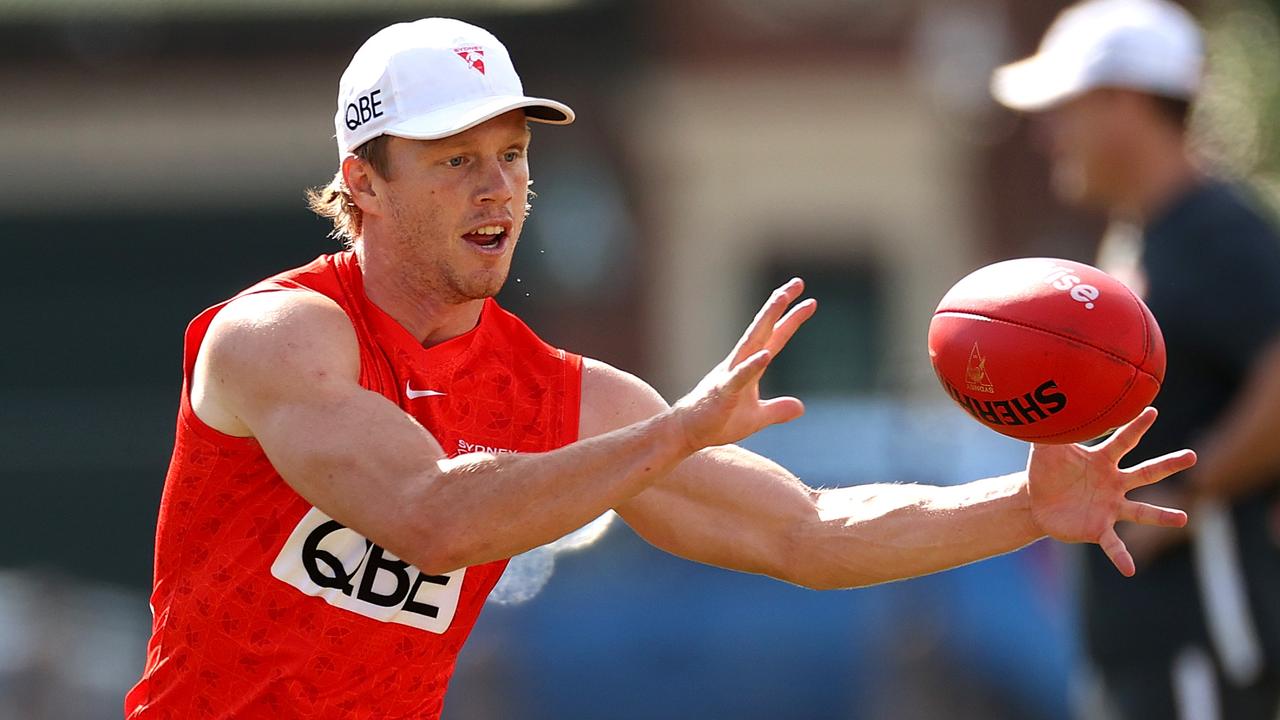 Callum Mills doesn't come cheap. Picture: Phil Hillyard
The one player that has crept up on SuperCoaches is last year's Brownlow medallist,
Ollie Wines. He's averaging 116 over the past month after returning just 92 points per game in the opening five rounds. Port Adelaide's revival has coincided with Wines' return to form, scoring 99, 104, 104 and a season-high 155 in his past four games. In terms of value, he possibly to pick of the crop as we know he can get the scores on the board.
If you jumped off George Hewett after his injury, then he looms as a great choice to bring back into your team, while Josh Kelly and the under-priced Christian Petracca are also good options.
Below is a list of the top 15 scoring midfielders since Round 6, sorted by their points
differential when compared to the first five rounds:
Callum Mills (Syd) $669,500 +35
Ollie Wines (PA) $540,200 +24
Tom Liberatore (WB) $543,900 +23
Josh Kelly (GWS) $580,900 +20
Hugh McCluggage (Bris) $582,200 +18
Clayton Oliver (Melb) $645,300 +17
Darcy Parish (Ess) $613,300 +15
Patrick Cripps (Carl) $594,300 +15
Touk Miller (GC) $632,200 +15
Josh Dunkley (WB) $592,000 +10
Rory Laird (Adel) $634,200 +8
Sam Walsh (Carl) $601,900 +7
George Hewett (Carl) $550,000 -1
Christian Petracca (Melb) $578,800 -3
Lachie Neale (Bris) $678,500 -4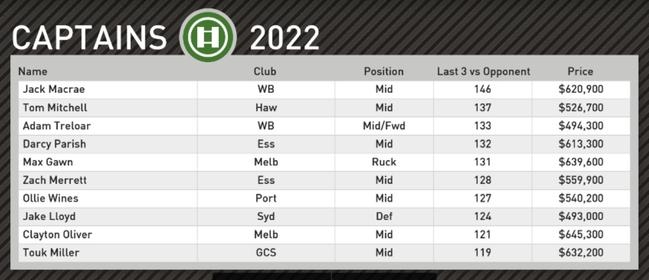 Champion Data's top captain picks for round 10
FREAKO'S ROOKIE WATCH
After more than 52,000 SuperCoaches jumped on Maurice Rioli last round, he could manage only seven points from four disposals. If you had him in your starting team, then you would have been filthy, as you more than likely had a better score on your bench.
But that's fantasy.
As we look ahead to round 10, Greg Clark is finally on the bubble after missing a week with Covid protocols and is the most obvious downgrade target. He had a favourable role in round 9, attending 18 centre bounces – ranked third at the club behind only Tim Kelly and Jack Redden, but he just couldn't get into the game, gathering 13 disposals, one score assist and 62 points. His job security should be assured as the Eagles midfield is decimated with injury.
In defence, Rory Thompson is finally back in the team and will change in price after his next match. He's unlikely to get many big scores, with his scoring capped at around 50 points – but if you're looking to offload Mitchell Hinge or the injured Nathan O'Driscoll, then he ticks that box.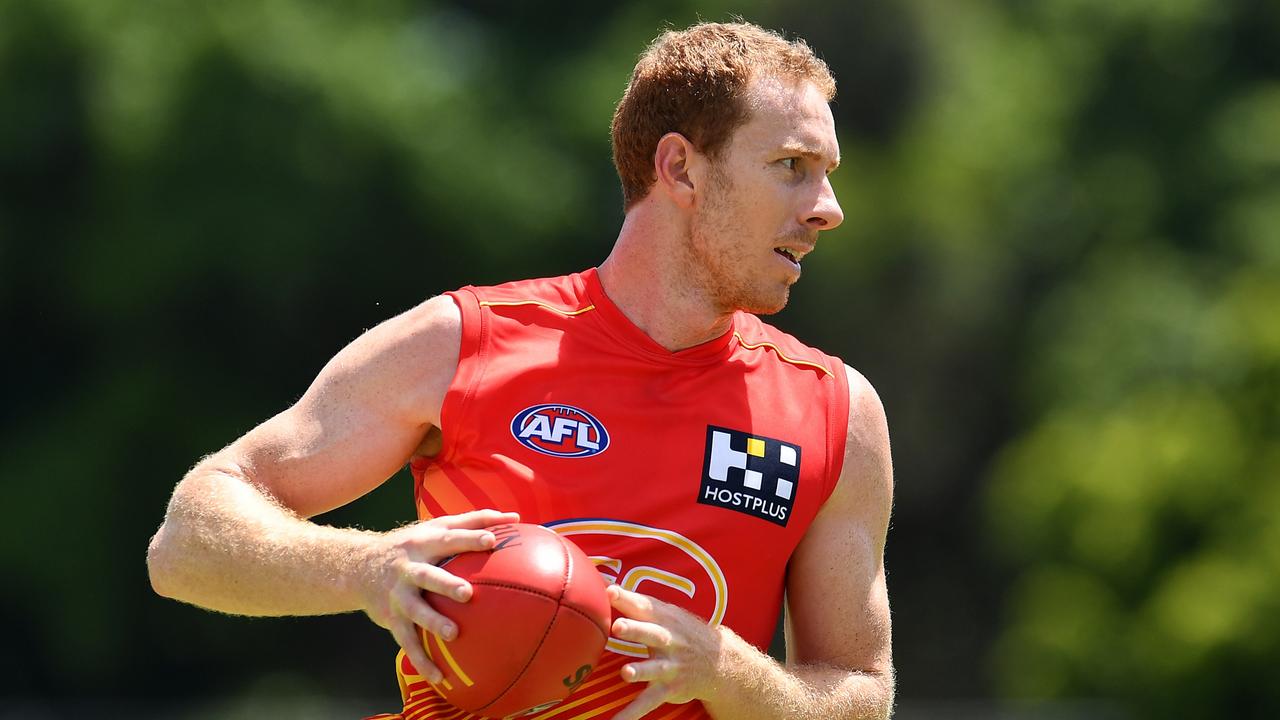 Rory Thompson missed four years with injuries. Picture: Albert Perez/AFL Photos
Buku Khamis would be a far better option, especially as he's playing at the other end of the ground. The Bulldogs have scored from three of the six times they have targeted him inside 50 across the last two rounds, booting one and three goals respectively. Khamis scored 66 points on the weekend from 10 disposals, two lead marks and one score assist.
In terms of one-gamers, Luke Cleary didn't miss a beat on his AFL debut, replacing the injured Tim O'Brien in defence. But when it comes to job security, one would expect O'Brien to replace Cleary when fit and available again, so he may not be the best trade option. Nonetheless, Cleary finished with 13 disposals, seven marks, three intercept marks and two tackles in round 9.
Hopefully, we get some debutants over the next two weeks as we enter the bye rounds.
As always, best of luck for the round ahead and trade wisely!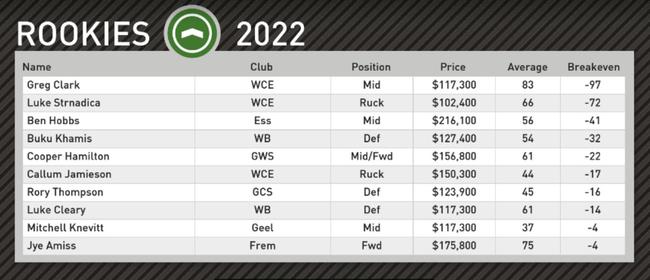 Champion Data's top rookie picks for round 10
BEST BARGAINS TO FINISH YOUR TEAM
– Tim Michell and Al Paton
Many KFC SuperCoach teams were humming through the early games of round 9.
Then the KFC SuperCoach gods intervened.
Some unusual results and an injury to a popular midfield premium later and coaches are picking up the pieces, and doing the maths to fix or improve their teams for round 10.
The most pressing issue is a long-term injury to Jack Steele, who features in more than 51,000 teams.
The Saints captain bravely played on after hurting his shoulder before halftime but dropped $46,300 in value to be priced at $590,900 – still enough to get a quality replacement, or potentially bag a bargain with up to $100k left over to allow you to turn him into two guns with a rookie downgrade thrown in.
Scroll down for the best Steele replacements, rookies on the bubble and the bargain premiums in defence and the forward line to finish your team.
TOP 10 JACK STEELE REPLACEMENTS
Christian Petracca $578,800 MID (Bye: round 14)
Grabbing him the week before Melbourne played the Eagles would have been ideal but he still presents fantastic value for a player with his huge scoring power. Owning 'Trac' is a bit of a rollercoaster – he went under 100 three times in the first nine rounds, with a low of 85 – but when he goes big few can match him, and you get the feeling he has a few more of those games in his back pocket this season. The last bye will work well for most players and price-wise he is almost a straight swap from the Saints skipper.
Sam Walsh $601,900 MID (Bye: round 12)
Remember this guy? Walsh was in a lot of KFC SuperCoach teams over summer but was scratched after an early-season injury. He missed just one match but hasn't quite reached the heights of 2021, when he averaged 117 points a game including eight scores over 130. That was until Sunday, when he had 31 disposals, two goals and 149 points against GWS. Walsh is in just 4 per cent of teams and at a very gettable price. Having the first bye could be an issue but if you're structure was looking OK with Steele (another r12 bye premium), he could be a perfect replacement.
Patrick Cripps $594,300 MID (Bye: round 12)
Made a very uncharacteristically slow start against the Giants, and even missed a couple of shots at goal, before recovering to post 83 points, his first non-injury affected score under 119 this year. We'll forgive one bad game, which means for non-owners his price won't get out of control. Still averaging 120.2. If you don't have him, just get him.
Touk Miller $632,200 MID (Bye: round 13)
Miller's price bottomed out at $578k after round 7 and is now heading back up at a rapid rate after scores of 160, 122 and 125 in his past three games. But Touk is a player you will want in your finished midfield and this might be the best chance to grab him. If he's still under his $677k starting price, consider it a win.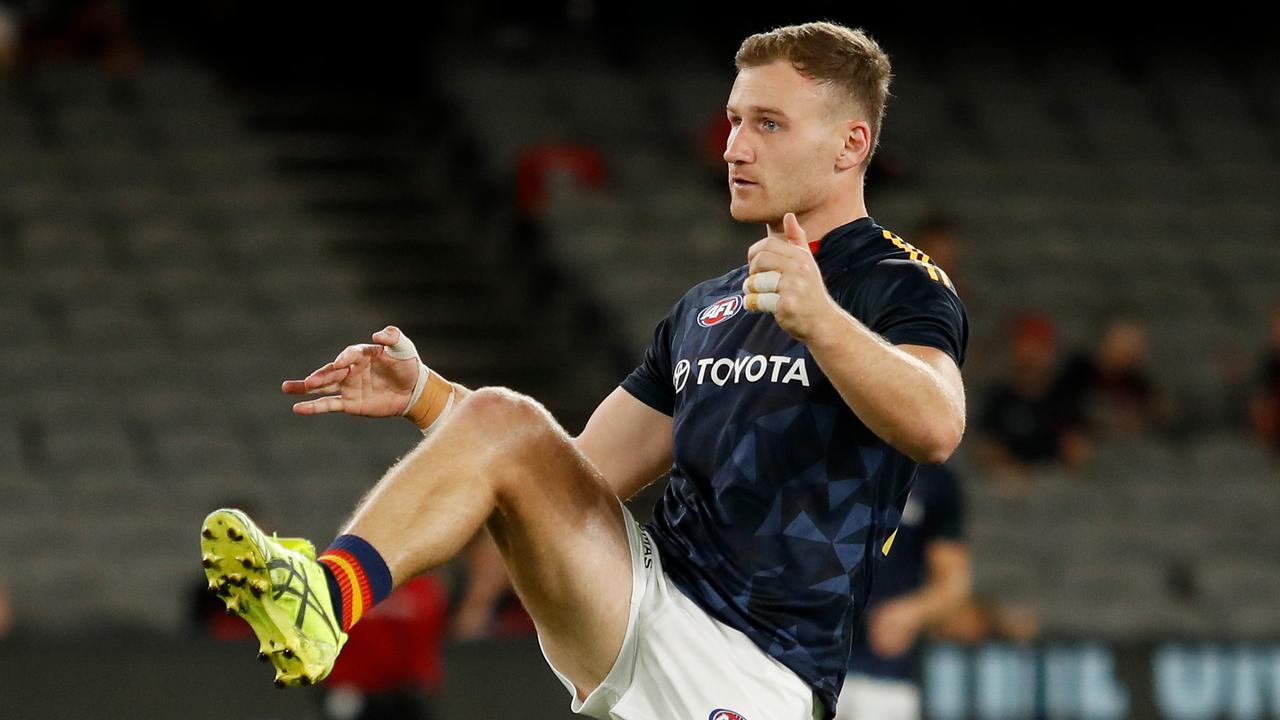 Rory Laird is ultra reliable. Picture: Dylan Burns/AFL Photos via Getty Images
Rory Laird $634,200 MID (Bye: round 13)
Arguably the form midfielder in the competition but still has very low ownership at just 1 per cent of teams. After missing the first two rounds with a hand injury Laird warmed up with 93 points in the Showdown and has then peeled off six scores of 116 or better with two of those over 140, including 143 against Brisbane on Saturday night. Will need to find a bit of cash but could be a fantastic POD.
Josh Kelly $580,900 MID (Bye: round 12)
What will Kelly's role be under new GWS coach Mark McVeigh? If it's as a pure midfielder we know how big he can score – if you need a refresher just watch Sunday's game against the Blues. Anything under $600k is amazing value for a player who has posted scores of 153 and 156 in his past three games.
Marcus Bontempelli $573,100 MID (Bye: round 13)
The art of KFC SuperCoach shopping is picking the right moment to snare proven elite scorers, and the planets are aligning for The Bont. It now appears he was battling an ankle injury, resulting in more time in attack and a substantial price drop. Returning against Collingwood on Friday night, he split his time between the forward line and key moments in the midfield to post 125 points, his second-best score of the season. That was just under his Break Even so he's set for a small price drop but this is as cheap as he'll get, just as the Dogs find their winning best. Bont could become a dual-position MID/FWD for round 12 – why not get in early?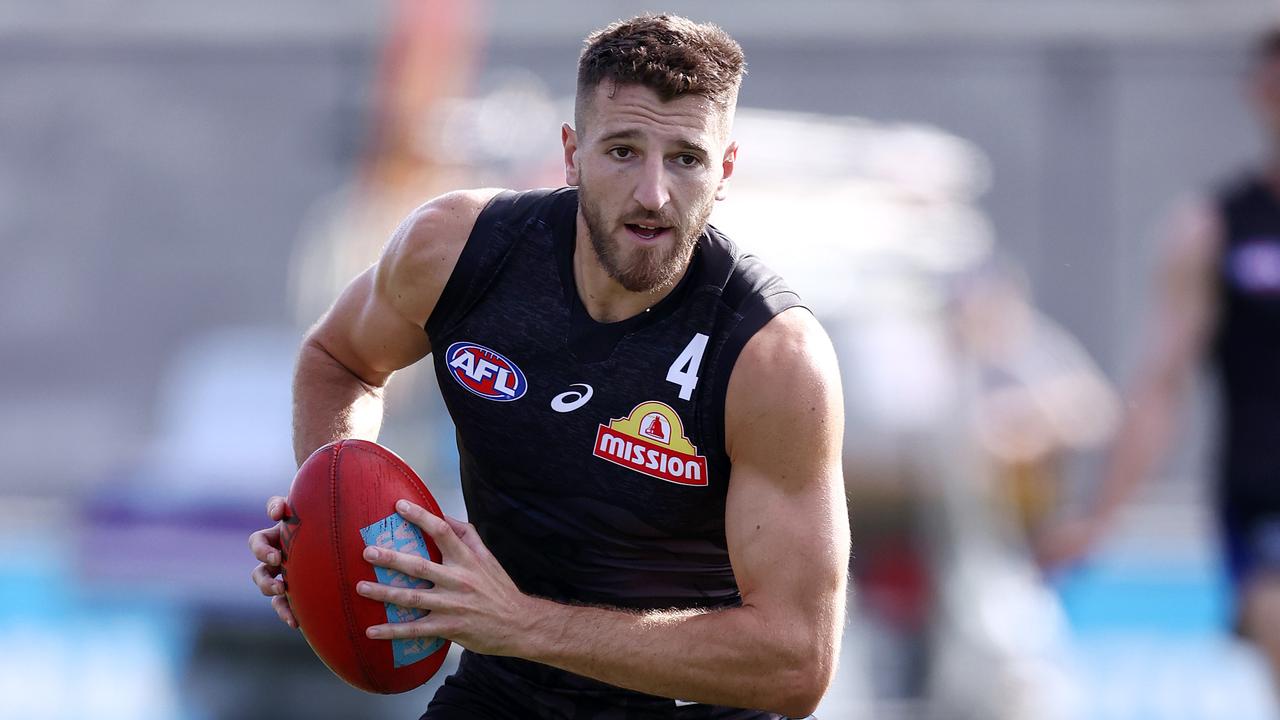 Marcus Bontempelli is showing signs of hitting top form. Picture: Michael Klein
Ollie Wines $540,200 MID (Bye: round 12)
Tim Michell tipped us off to Wines' bargain price in the trade guide two weeks ago and anyone who took his advice would have loved his 155-point return against the Kangaroos on Saturday. That was the Brownlow medallist's first score over 118 for the season but he has a low of 99 in the past month and would leave you about $50k change in a Steele trade to help fix other parts of your team.
Andrew Brayshaw $557,000 MID (bye: round 14)
Check out last week's trade guide for all the great reasons to get Brayshaw into your team. And he's even cheaper this week. He couldn't get going against the Suns, but that applied to most of his teammates and after seven wins in the first eight weeks surely that was a four-goal aberration for the Dockers. Brayshaw has scored 127 or more in four of his nine matches and is next in the queue for elite KFC SuperCoach midfielder status.
Brad Crouch $489,700 MID (Bye: round 12)
If you really need some leftover cash for a second trade then a Saint for Saint swap could be the way to go. Crouch is having a career-best year, averaging 103.4, and that would be 110.2 if you ignore a horror game in round 7 when he scored 49 points in insane conditions in Cairns. Apart from that his lowest score for the year is 96, and his best was 140 against the Cats on Saturday night, when he racked up 36 disposals and seven tackles. The Saints will be looking for more of that with Steele out for the next 6-8 weeks.
THIS WEEK'S BUBBLE BOYS
Many KFC SuperCoaches have been looking for a rookie defender to free up a pile of cash by trading out players like Nathan O'Driscoll ($296,100, out for six weeks), Josh Gibcus ($327,200, with a tricky round 12 bye) or Nick Daicos ($381,400, lost $200 in value at the weekend).
Our wishes have been granted heading into round 9 – with a big warning. You don't want to be relying on these guys on the field (see Maurice Rioli's round 9 return) but hopefully they can hold down a bench spot for some last-resort insurance and provide the funds to improve your on-field scoring.
Buku Khamis $127,400 DEF
Scores: 41, 66. Break Even: -32. Bye: round 13
Listed as a defender in KFC SuperCoach, Khamis has been used as a second tall target in attack by Luke Beveridge in his two games this year. It has been a successful strategy, returning four goals. His KFC SuperCoach returns have been modest but his bye should work for most teams. The one concern is how he will score if he doesn't kick goals, and how will the Dogs forward line look when Josh Bruce returns from knee surgery. But that could still be several weeks away.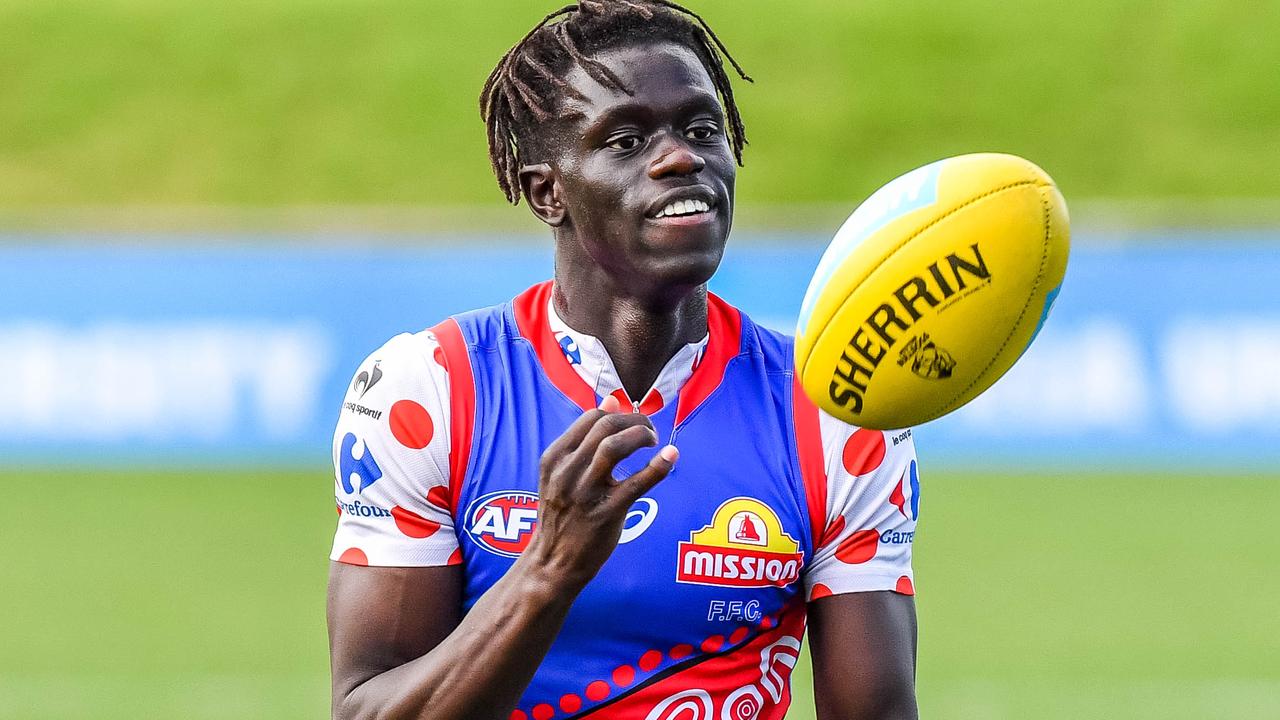 Buku Khamis is giving the Dogs another goalkicking target. Picture: Jake Nowakowski
Rory Thompson $123,900 DEF
Scores: 38, 51. Break Even: -16. Bye: round 13
The embodiment of the "warm body" theory in KFC SuperCoach - it's better to have someone on the bench who's playing than nobody. Thompson, who returned in round 8 after four years out of the game with multiple knee injuries, doesn't get much of the ball and won't score many points. But he does seem to have good job security in the Suns backline and if he can jag a 60 as your 18th player over the byes it could be the difference between winning and losing.
Greg Clark $117,300 MID
Scores: 104, 62. Break Even: -97. Bye: round 13
Clearly the best cheapie on offer this round but only listed here because he's already in more than 33,000 teams. Clark couldn't back up his ton on debut in game two, but considering he only came out of Covid protocols two days before the game (and he was playing the best midfield in the AFL) we shouldn't read too much into that result. The 24-year-old is one rookie you can play on field if needed.
BEST BUYS TO FINISH YOUR TEAM
Thousands of KFC SuperCoaches have taken an aggressive trading approach this year, using many of their five boosts to stack their midfields.
Gone are the days of waiting until after the byes to splash out on bargain M7s or M8s.
Many teams already have the likes of Touk Miller, Andrew Brayshaw, Christian Petracca or Tom Green filling their last two spots in midfield, if not one of those alongside Greg Clark.
Going early on midfield stars will mean the last upgrades for a host of KFC SuperCoach teams will be in defence or up forward, where the top picks of the year are more of an unknown.
Sam Docherty, Jayden Short, Jack Sinclair and James Sicily have set the pace in defence, while Tim English was the standout FWD selection before going down with injury.
His absence has allowed teammate Josh Dunkley to assume the No.1 mantle, although Swans pair Luke Parker and Isaac Heeney aren't far behind.
These are the top targets in defence and attack to finish your teams, plus their byes to consider your structure for rounds 12-14.
We have not listed some of the more most-popular players in each position as they already feature heavily in so many teams – for example, if you don't have James Sicily, you should.
Sam Docherty has made an inspiring comeback.
DEFENDERS
Sam Docherty $554,900 (Bye: Round 12)
What a remarkable return it has been from Docherty after battling cancer. Docherty posted six tons in the first eight rounds to be the No.1 ranked defender and he has failed to reach triple figures only twice in the first eight rounds, with scores of 91 and 86. Carlton's Round 12 bye will be an issue for some KFC SuperCoaches, but if you can still field 18 that week that Docherty is the standout selection in defence. To Round 9, he was averaging 29 disposals, seven intercepts and going at a kicking efficiency of 80 per cent – that's KFC SuperCoach gold. And the bonus is he's still available for under $600k.
Tom Stewart $616,100 (Bye: Round 13)
Stewart has been his consistent self for much of this season, posting four scores of 97-104 in his opening five matches before his monster 187 against Fremantle. That total caused Stewart's price to launch above $600k, making him one of the most expensive players in KFC SuperCoach. Stewart was Geelong's top scorer again against St Kilda and rates elite for disposals, intercepts, intercept marks and rebound-50s, all stats which make him a reliable KFC SuperCoach option. He rarely – if ever – lets KFC SuperCoaches down.
Alex Witherden $595,000 (Bye: Round 13)
Witherden has bolted into the mix to be a top-six defender this year – although The Phantom has been telling us for years this has only been a matter of time. With Shannon Hurn in the twilight of his career, Withderden has emerged as the heir apparent in the Eagles defence for kick-outs and as the defensive distributor. His kicking efficiency is among the best in the game – in Round 5 against Sydney he had 20 kicks and hit the target with 19. West Coast is struggling which means plenty of ball in its defence and plenty of opportunities for Witherden to score big.
Isaac Cumming $565,600 (Bye: Round 12)
Only a few years after being a mid-price selection for some KFC SuperCoach teams, Cumming is a serious contender as a premium POD this year. Lachie Whitfield's shift further up the ground has made Cumming the main man in the defensive half for GWS, and it's little wonder they want to get the ball into his hands. Cummning was going at 85 per cent by foot after eight rounds and averaging 18 kicks a game.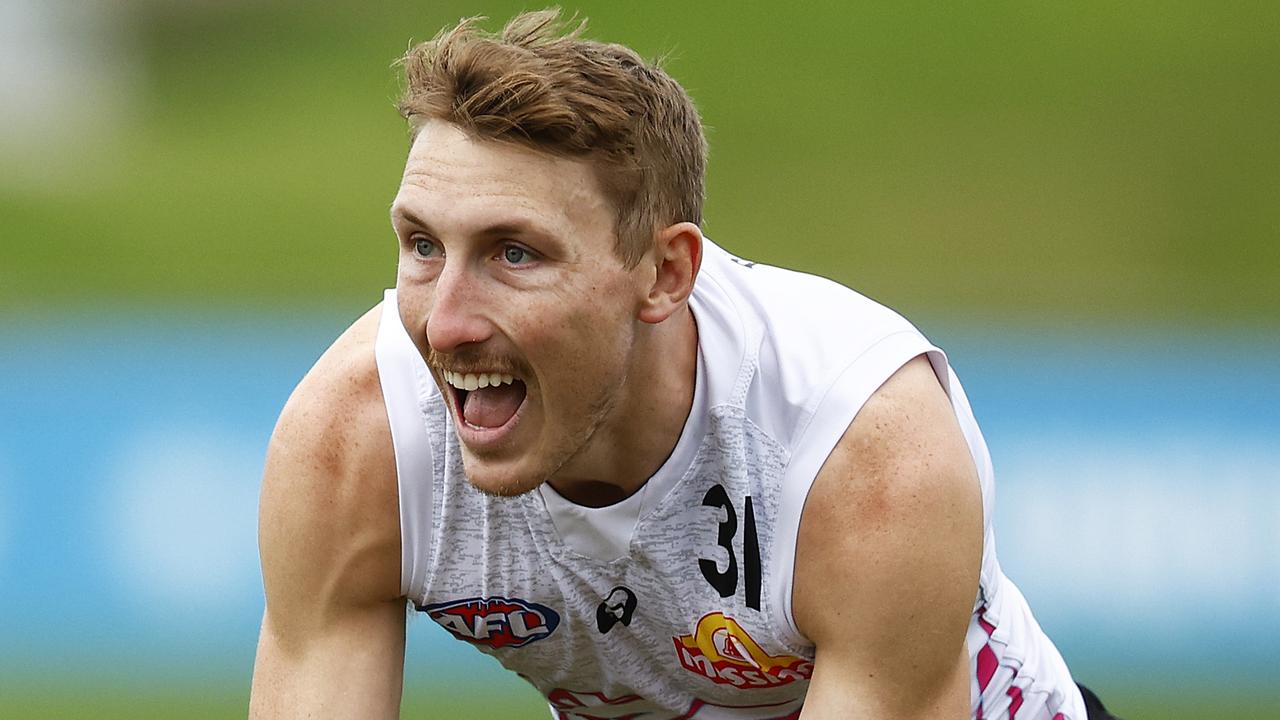 Bailey Dale has been one of the most consistent performers of 2022.
Bailey Dale $550,300 (Bye: Round 13)
Dale might as well be Tom Stewart in a Bulldogs jumper when it comes to his KFC SuperCoach scoring. Stewart has been renowned in recent years for his consistency and the number of scores he posts between 100-120. Dale has a season-low score of 86, six tons in nine games and a season-high of 121. After posting 113 against Collingwood in Round 9, he has five scores between 113-121 and four consecutive hundreds. He's the defensive banker of 2022.
Mark Blicavs $539,700 (Bye: Round 13)
The ultimate point-of-difference pick. After a slow start to the year, which included scores of 53 and 49 in the opening three rounds, Geelong's former steeplechaser went 119, 104, 93, 135, 111 and 104 from rounds 4-9. A five-round average of 112.4 ranked Blicavs eighth in defence over that period, with only Nick Vlaustin available cheaper in Round 9 of those players. Blicavs was in less than 1500 teams after Round 8 and if he can continue that sort of form, he could be the POD that rockets you up the rankings.
Dayne Zorko $540,000 DEF/MID (Bye: Round 14)
As much as Keidean Coleman missing the opening month of the season felt like a blow to KFC SuperCoaches, the silver lining was Zorko gaining DEF status after playing a new role at half-back. Zorko has transitioned back into the mid-forward role that made him one of the must-have players of 2021 and scored 133, 73, 120, 123 and 103 from rounds 5-9. The KFC SuperCoach scorers love pressure players who use the ball well and can hit the scoreboard. Zorko ticks all those boxes and will give you an extra premium in rounds 12 and 13 before Brisbane's bye.
Dan Houston $507,100 DEF/MID (Bye: Round 12)
Houston has flirted with premium status in recent years but now looks to be the real deal. The Port Adelaide star hasn't been as consistent as the top dogs in defence, but after eight rounds had only scored less than 86 once. Four scores in the 90s in the opening right rounds mean he's a rung below Stewart, Dale and co, but like Blicavs, Houston is a POD option who is worth consideration. His DEF-MID status gives him a point of difference to many other top defenders.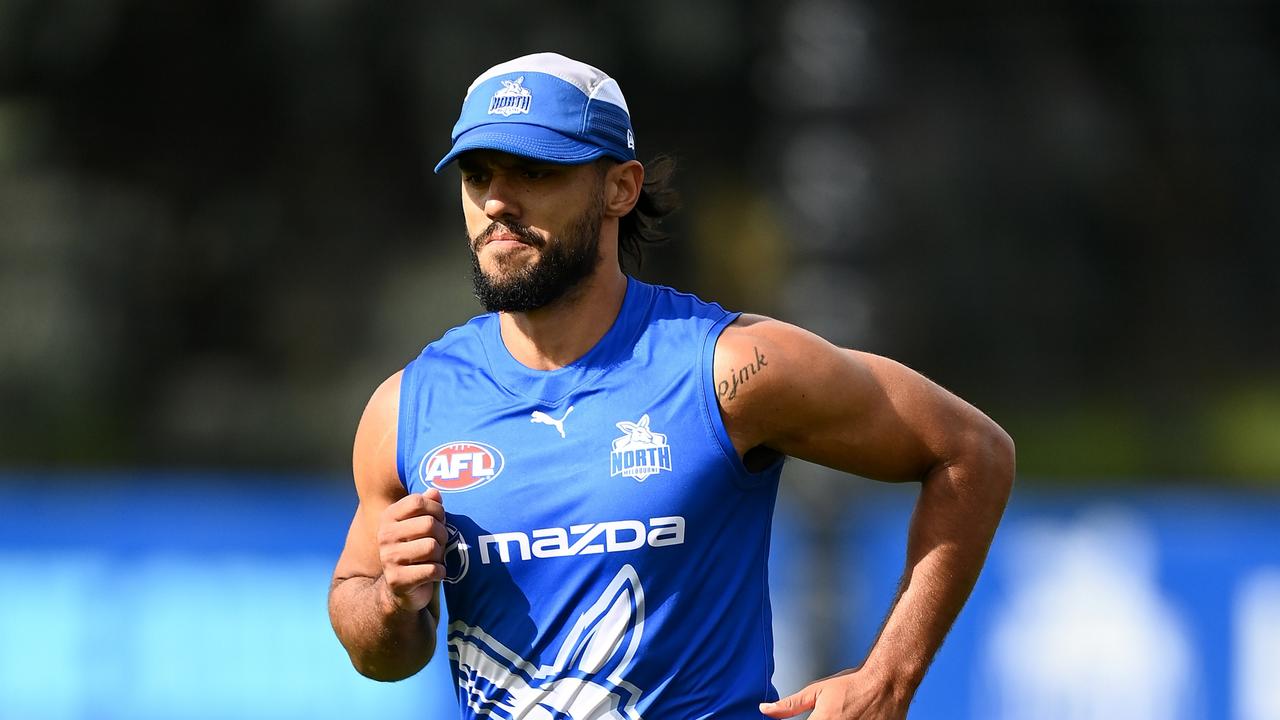 Aaron Hall is due to return from injury in Round 10.
Aaron Hall $511,300 (Bye: Round 14)
The injury risk is very real with Hall after already sustaining two hamstring injuries this year. What's also not in question though is his incredible scoring power. The reborn Roos defender opened the campaign with scores of 129 and 123 and scored 71 in a half before he went down in Round 5. Hall is due to return in Round 10, has a break even of 130 and will give you an added premium in rounds 12 and 13 — fitness permitting of course. He's one of the best buys of Round 10 and 11.
FORWARDS
Isaac Heeney $497,800 (Bye: Round 13)
Just when it seemed Heeney was getting out of reach, he has come back to a very affordable price close to $500k. That's hard to overlook considering he opened the season with five tons in seven matches, including scores of 141, 140 and 131. The mooted midfield role hasn't quite materialised as often as expected, but Heeney is still spending more time up the ground than in previous years. The competition is tough for a top-six finish in the forward line but Heeney is one of the top contenders. Don't hesitate to jump on. He doesn't need big possession numbers to hit triple figures.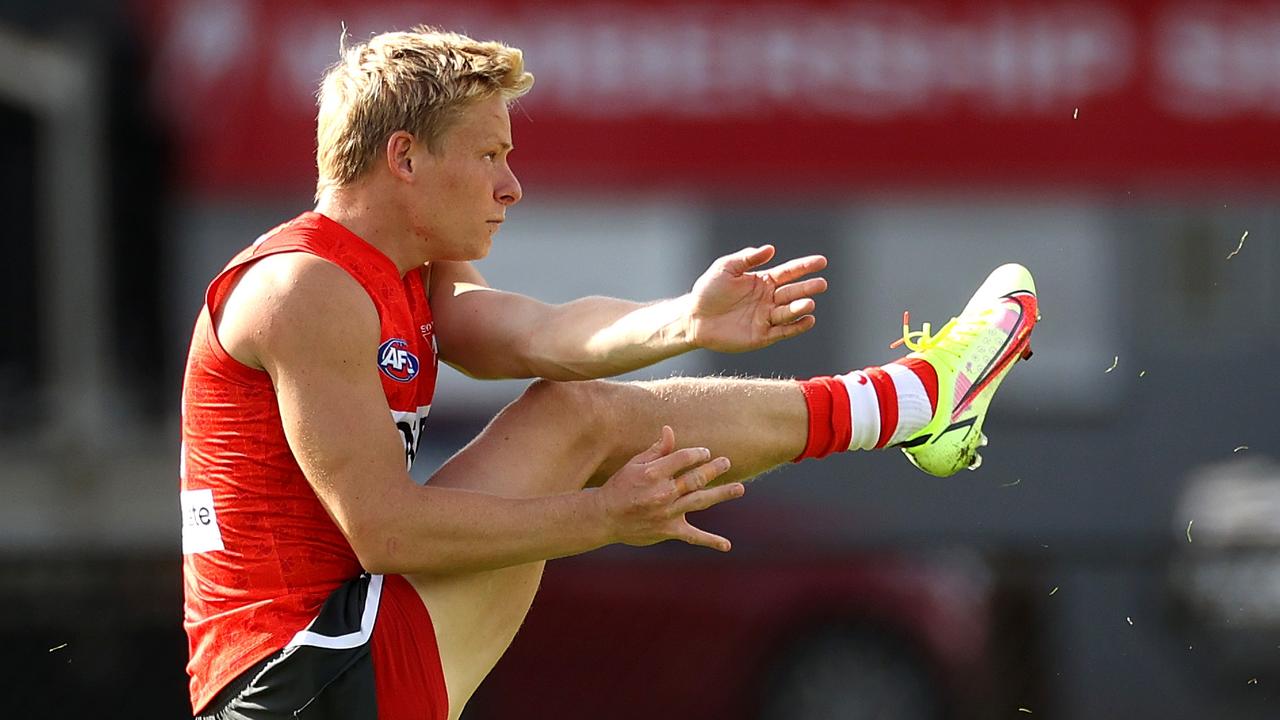 Isaac Heeney is shaping as a top-six forward.
Adam Treloar $494,300 MID/FWD (Bye: Round 13)
KFC SuperCoaches were in awe of Treloar in Round 9 when he put his former side Collingwood to the sword with three goals, 35 disposals and 149 points. He will still be available for less than $500k heading into Round 10, after posting 85 in Round 7 and 74 in Round 8. Four games of 85 points or less are a slight concern, but Treloar's ceiling is as high as just about any forward. His performance against Collingwood might be his best game of the season, but that still doesn't make a Treloar trade chasing points. As SA guru Andrew Capel often tells our mate The Phantom, KFC SuperCoach is sometimes as simple as picking good players.
Tom Liberatore $543,900 FWD/MID (Bye: Round 13)
How many Dogs is too many up forward? We can leave that for The Phantom to answer in his burning questions for Round 10. Marcus Bontempelli and Bailey Smith are in the mix (see full DPP stats here), Tim English is due back this week and Adam Treloar just scored 149. Libba has scored 137, 87, 107 and 128 in his past four, returning to more of a centre-square role after playing predominantly at half forward early in the season. It's no surprise his scoring has spiked as a result.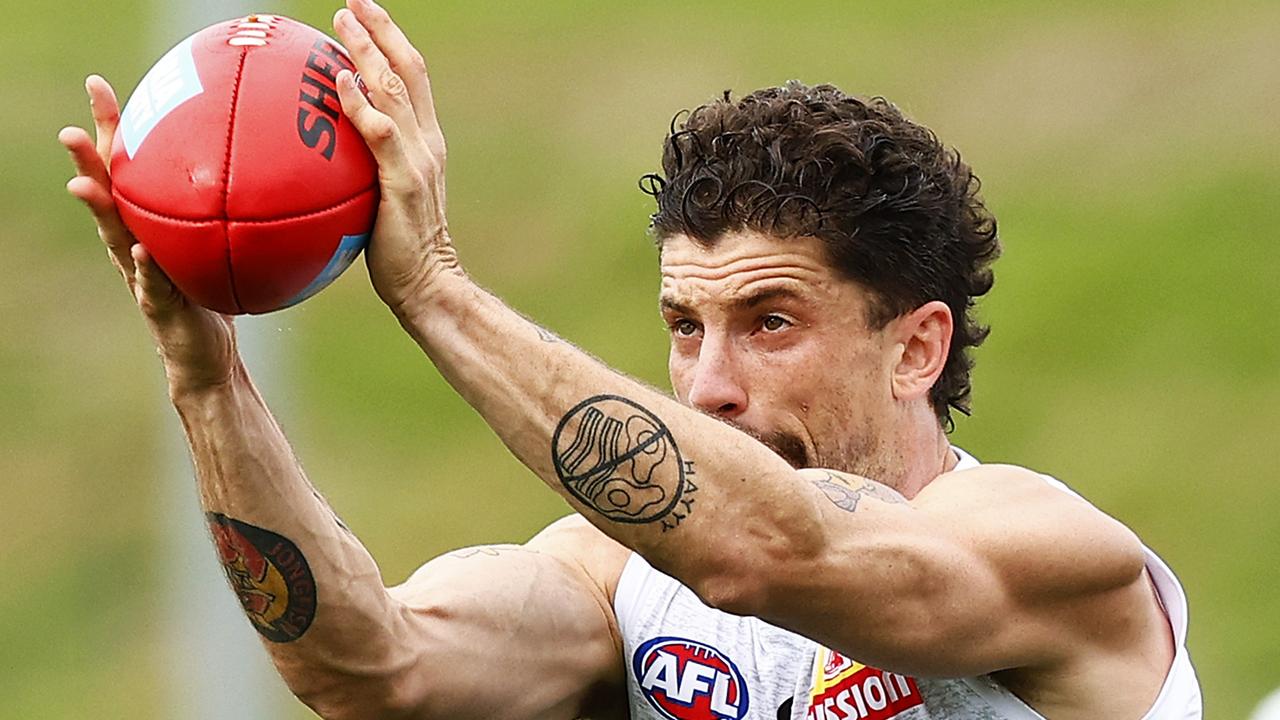 Tom Liberatore gained forward status at Round 6.
Tim English $572,700 RUC/FWD (Bye: Round 13)
Should he return this round after a hamstring and then the flu, there will be a clamour to trade the Western Bulldogs ruckman back in. Luke Beveridge cast doubt over his return after the Dogs' win over Collingwood, which would be a blow to coaches who have held English during his forced absence. He was averaging 121.6 before going down with injury at training including scores of 123, 152 and 138.
Jordan De Goey $421,200 MID/FWD (Bye: Round 14)
This is one for the coaches who can't find the money for Heeney, Luke Parker and Co. De Goey's price has been dropping in the past month and after a score of 77 against the Western Bulldogs, he will likely be about $420k ahead of Round 10. De Goey hasn't scored a ton for the past month, so no doubt comes with some risk. But it was about this point of last season he caught fire and stormed home playing as a centre-bounce midfielder. It could be a risk worth taking, especially with the bye in round 14.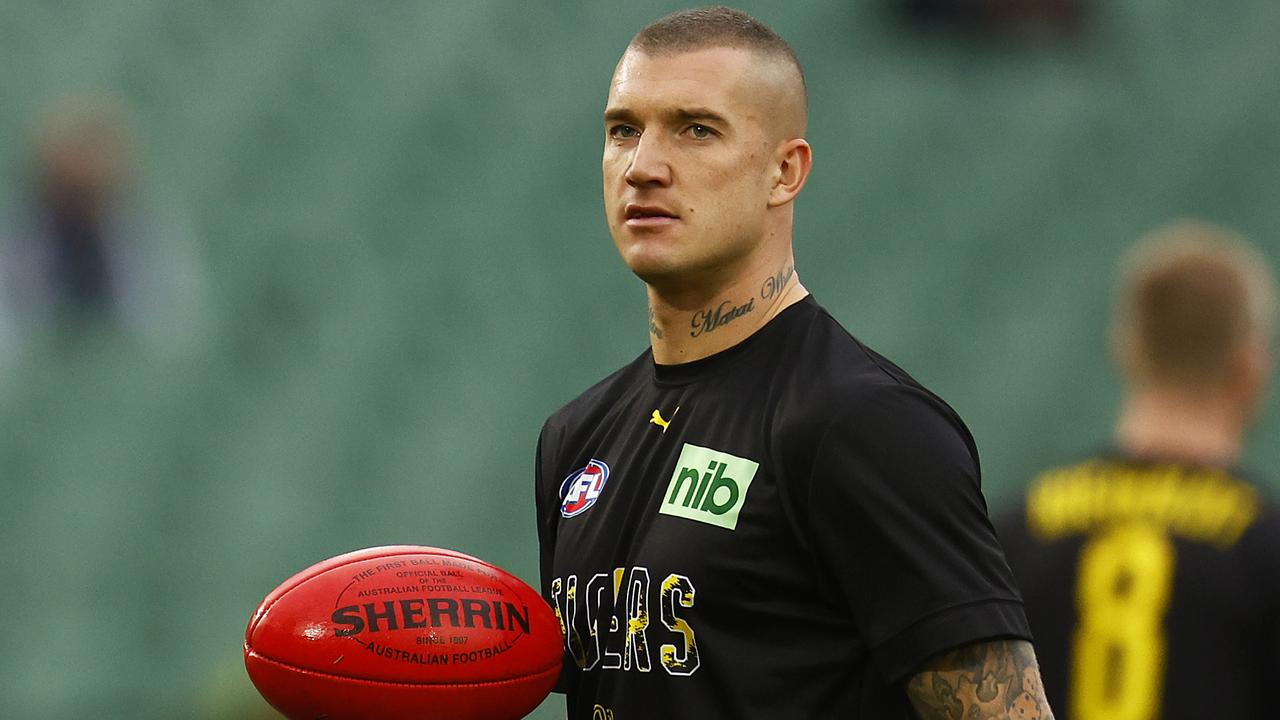 Dustin Martin would normally be a very popular selection by this point of the year.
Dustin Martin $509,600 MID/FWD (Bye: Round 12)
Now we are talking. Dusty has long been a staple of KFC SuperCoach teams, but played only his third game this year on Saturday against Hawthorn. Martin scored 108 in Round 1 before taking personal leave and returned with a score of 83 in round 8 then posted 119 from 20 disposals and three goals against the Hawks. He's likely to be available for less than $500k in coming weeks, which could be great buying as Richmond tries to launch a finals push. There will be no cruising into finals and then igniting for Martin this year, as KFC SuperCoaches have become somewhat accustomed to in recent years.
Originally published as KFC SuperCoach: Round 10 trade guide, best Jack Steele replacements and top defenders and forwards to finish your team