KFC SuperCoach: Stephen Coniglio, Nic Martin and Round 11's burning questions
He's been one of the buys of the season and is in more than 100,000 KFC SuperCoach teams. But is it time to cut Nic Martin loose? All this week's big questions answered.
Yes, I'm not The Phantom, but that's usually how he kicks these columns off right?
The next DPP changes are one week away and so are the byes, which means there's a defining stretch of the KFC SuperCoach season in store.
Hopefully I can guide you through it while The Phantom takes some well-earned time off. Here are the burning questions ahead of Round 11.
DPP WATCH: STARS SET FOR NEW POSITIONS AT ROUND 12
Where is The Phantom?
The million-dollar question. Or should I say $50k question. My spies tell me he's climbed close enough to the top of the ranks he needs a few weeks off to plan his bye moves. It could also be for some family time. My spies don't always get it right.
Seriously, what have you done with The Phantom?
I think he's still watching highlights of Jordan Dawson and Jack Sinclair scoring 130s for his team at the weekend. He promises he'll make a cameo appearance soon during his mid-season break though.
Stephen Coniglio rewarded those who held with 140 points.
Enough about The Phantom, let's talk KFC SuperCoach. Is Cogs back?
As someone who traded the GWS co-captain a few weeks ago, Sunday's clash with West Coast was a hard watch. Stephen Coniglio was everywhere and only just fell short of his 146 break even. KFC SuperCoaches were hoping one of Mark McVeigh's moves would be to shuffle Cogs back into the middle and it eventuated. After spending 82 per cent of games forward from rounds 7-9, Coniglio played 73 per cent of Round 10 in the middle and racked up 36 disposals. It was against the Eagles though. Brisbane awaits this week when we will get a better indication of whether holding was the right call or not. After one week, it definitely appears it was though.
Maybe not the price drop we were expecting from Coniglio with his R10 BE of 146. After a score of 140, he will drop around $3k depending on the magic number. He attended 22 CBAs.#SuperCoachhttps://t.co/D5Fq9cd3Tu

— Brice Mitchell (@bricemitchell) May 22, 2022
Admiring the wonderful work of @FantasyAFLGods. 23,300 super coaches traded out Coniglio this week, then he responds with a score of 140.

— James Sandover (Sandy) (@sandysfc13) May 22, 2022
So, we're holding Coniglio long-term then?
Are the questions this tough when The Phantom answers? Coniglio has a bye in Round 12 and then faces North Melbourne in Round 13. I'd be keen to hold him through the bye and give yourself a chance to assess his scoring potential with Whitfield, Ash and Taranto in the side. Come Round 14 — and hopefully after another bumper score against the Roos — you can consider trading him to Bont or Bailey Smith if they gain DPP.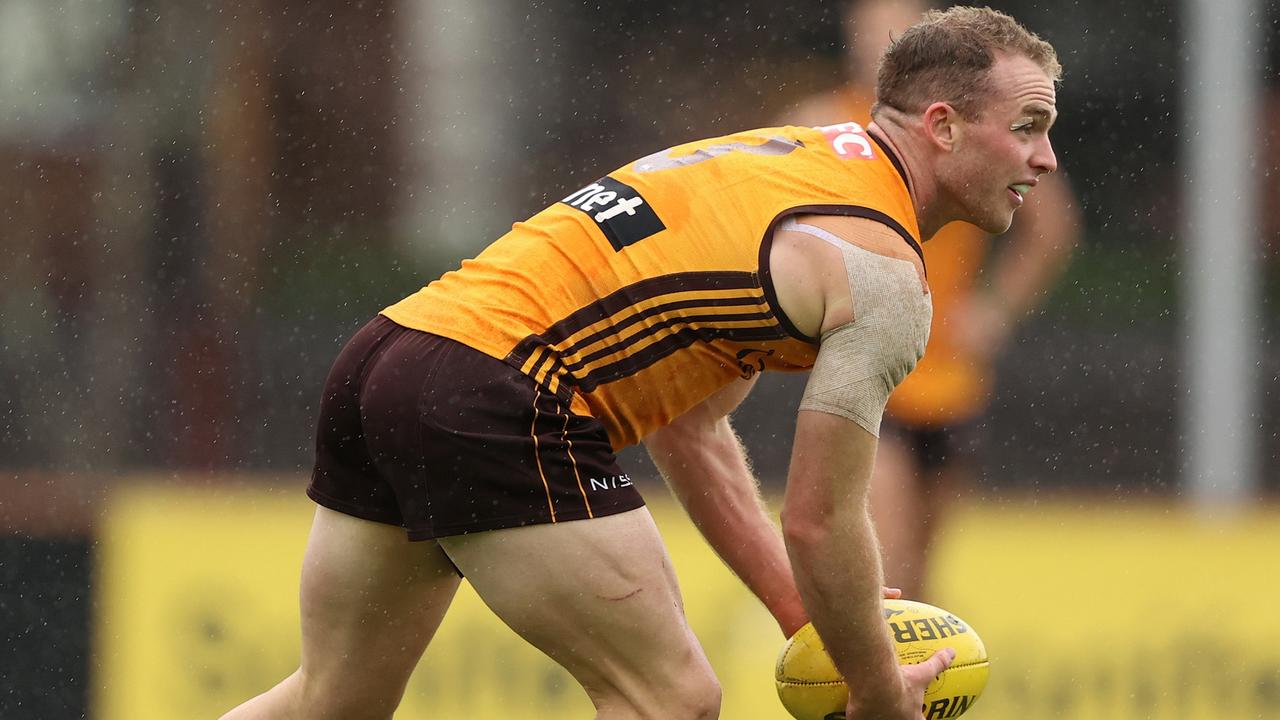 Tom Mitchell was back to his best against Brisbane and is under $500k.
Is Tom Mitchell back too?
Sam Mitchell told us a week off would do the Brownlow medallist a world of good and 35 disposals, a goal and his first KFC SuperCoach ton since Round 6 suggested the Hawks coach was right. You can still get Mitchell for less than $500k and with a Round 14 bye he needs to be considered this week. You could even wait one more week to assess whether that was a one-off or a true form revival. With a break even of 125 he's actually predicted to be even cheaper next week.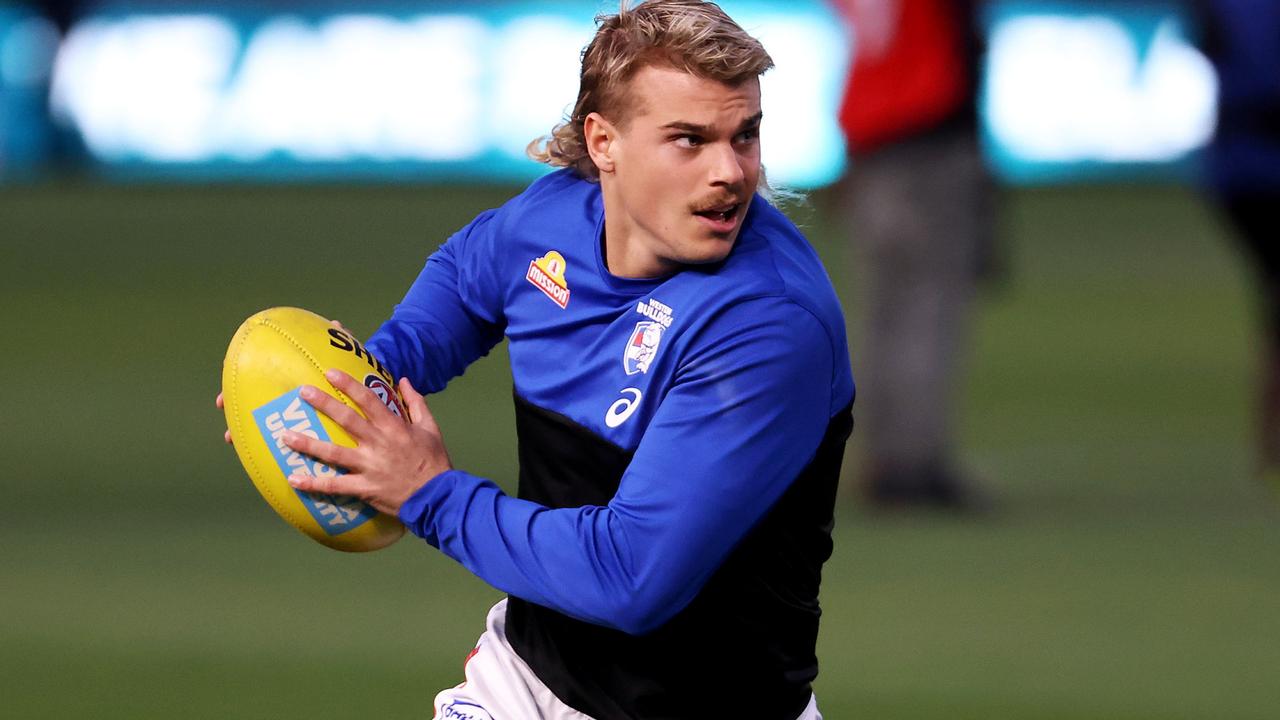 Bailey Smith is in contention for FWD DPP.
Are we going to end up with five Bulldogs in our fwd lines?
Why not six? But seriously, a mix that involves Will Brodie, Luke Parker, Isaac Heeney and four or five of the Bulldogs premiums likely to be listed as FWDs by Round 12 is a real possibility. That's including Tim English — who should return this week — as well as Bont and Bailey Smith if they gain DPP. Most teams already have Josh Dunkley, Libba is scoring well and Adam Treloar isn't far behind. Maybe Bevo loves us after all.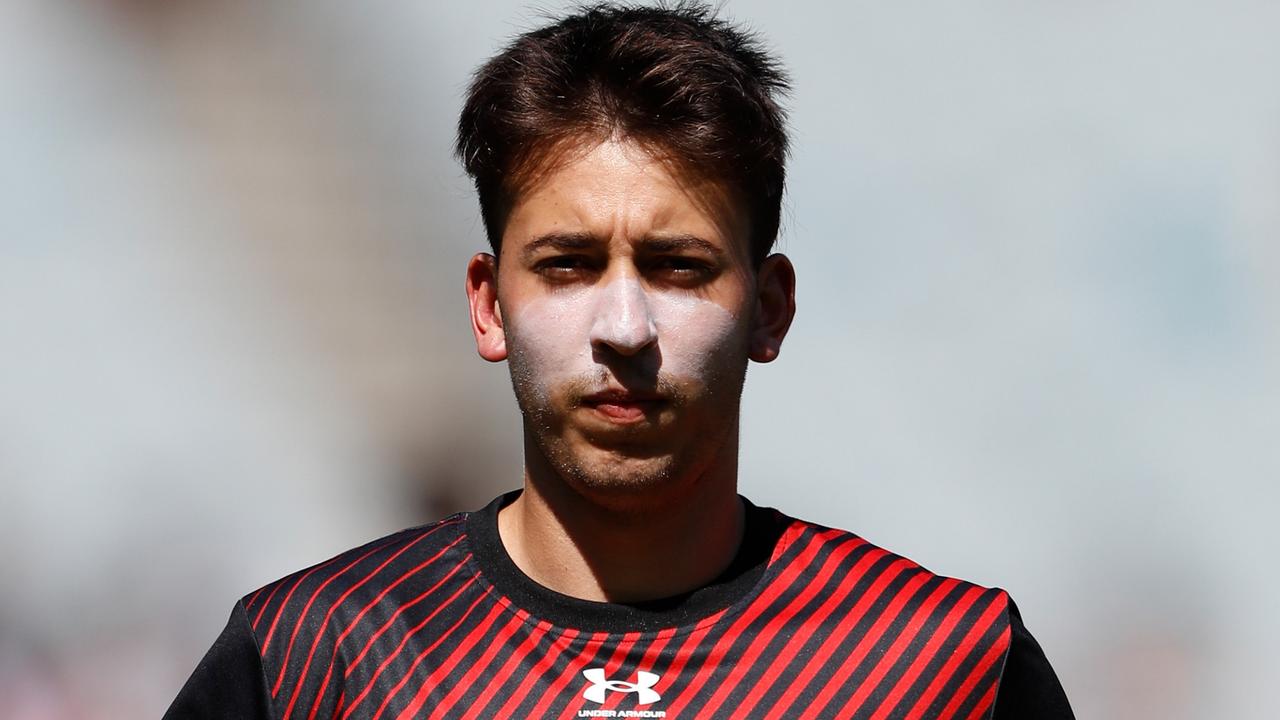 Nic Martin looks to be ready to cash in.
Is it time to cash Nic Martin in?
The Phantom traded him last week and considering he's ranked in the top-200, we should all have taken note. Martin had 14 of his 19 disposals against Richmond in the last quarter to salvage what was an underwhelming score of 49. He's lost money two weeks in a row and unless you need him for bye coverage, it's time to cut him loose. Martin has been a revelation from a $102k starting price but there's no room for sentiment in KFC SuperCoach. Speaking of Nics, or Nicks, Nick Daicos lost $5k on the weekend. I'm still keen to use him for bye cover until Round 14 though.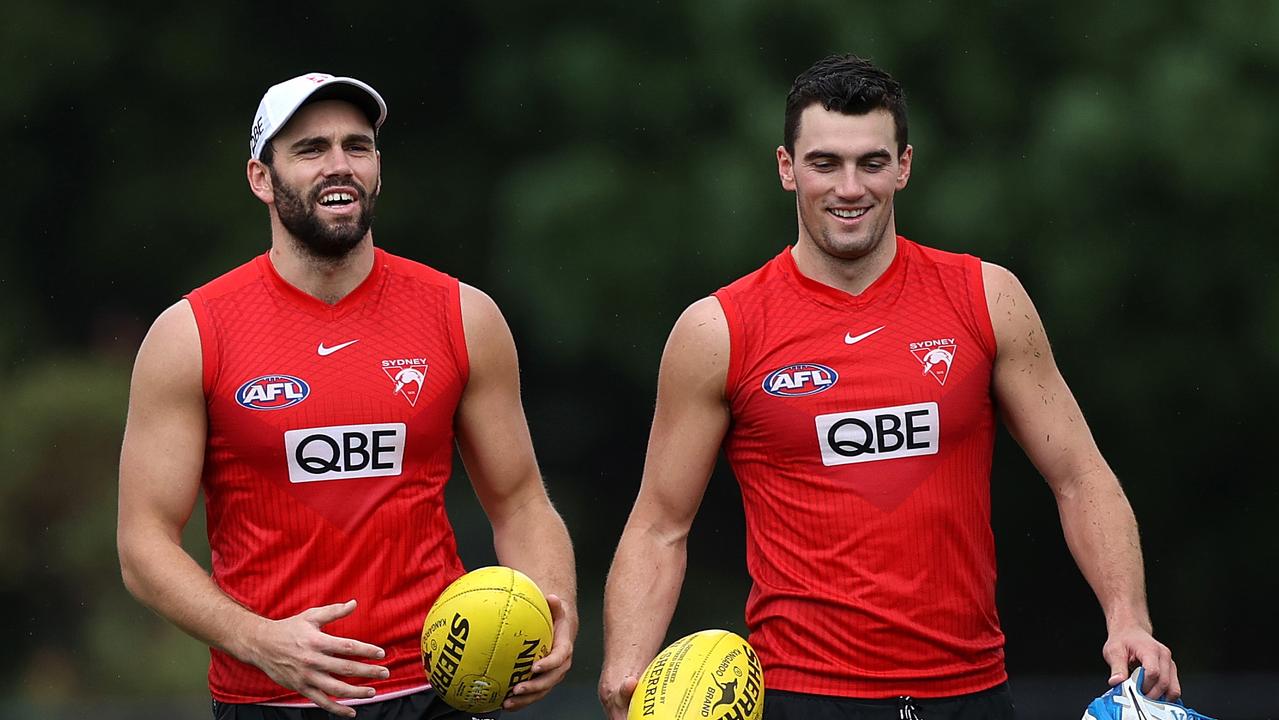 Paddy McCartin (left) has provided solid cover in defence and up forward.
Are we trading Patty McCartin or not?
I'm torn on this. McCartin has scored at least 75 points in his last three games and 61 or more in all but two matches. Plus, he has DEF-FWD status and could provide very handy cover in the event of an injury later in the season. On the other hand, he'll be about $350k at his bye and ripe for trading. The call will probably come down to which rookies are available when McCartin has the bye in Round 13. I certainly wouldn't move him on yet.
Did you ruin Max Gawn, Tim?
Like many others I traded the Demons skipper in before Round 9 thinking monster scores against the Eagles and North were in the offing. Instead, he posted 73 and 89, losing almost $90k in the past two rounds. Next up is the No. 1 challenger for his mantle Sean Darcy, although Jarrod Witts has had a bit to say about that pecking order this year. If you've waited patiently for Gawn he's now projected to be $533k after his bye — an incredible reward for your patience. A disposal efficiency of 33 per cent hurt his score against North, as did several dropped marks. It's been three games since Max's last hundred and he needs a big response against Darcy. Maybe that knee is bothering him?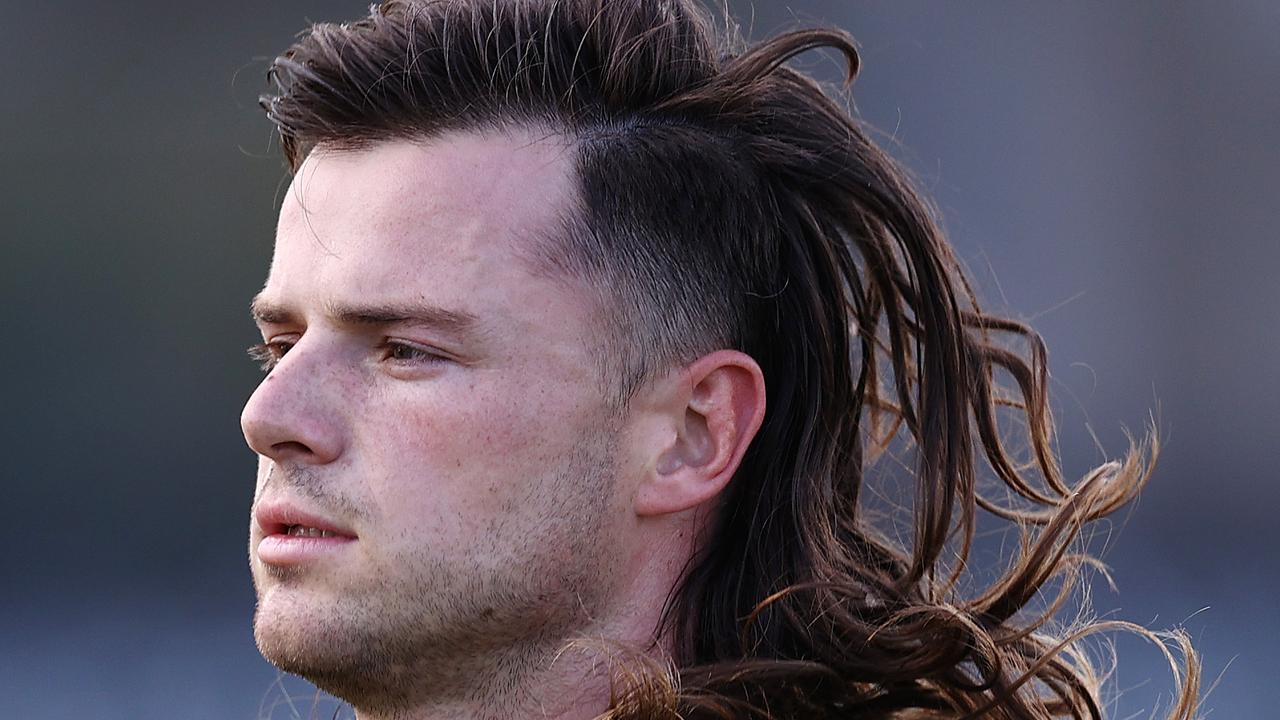 Beautiful mullet. Beautiful scoring.
Is Jack Sinclair going to be the man to benefit most without Jack Steele?
The early scoring indications point that way. But it was Jade Gresham who was the man who picked up the slack at centre bounces, attending 16 against the Crows. Sinclair doesn't need to be in the centre to score well though and is now the No. 2 ranked defender with an average of 110.3. Steele's points have to go somewhere and Sinclair's elite kicking makes him a prime candidate to benefit from the skipper's absence. Did I mention Phantom traded Martin to him this week? The man can do no wrong this year.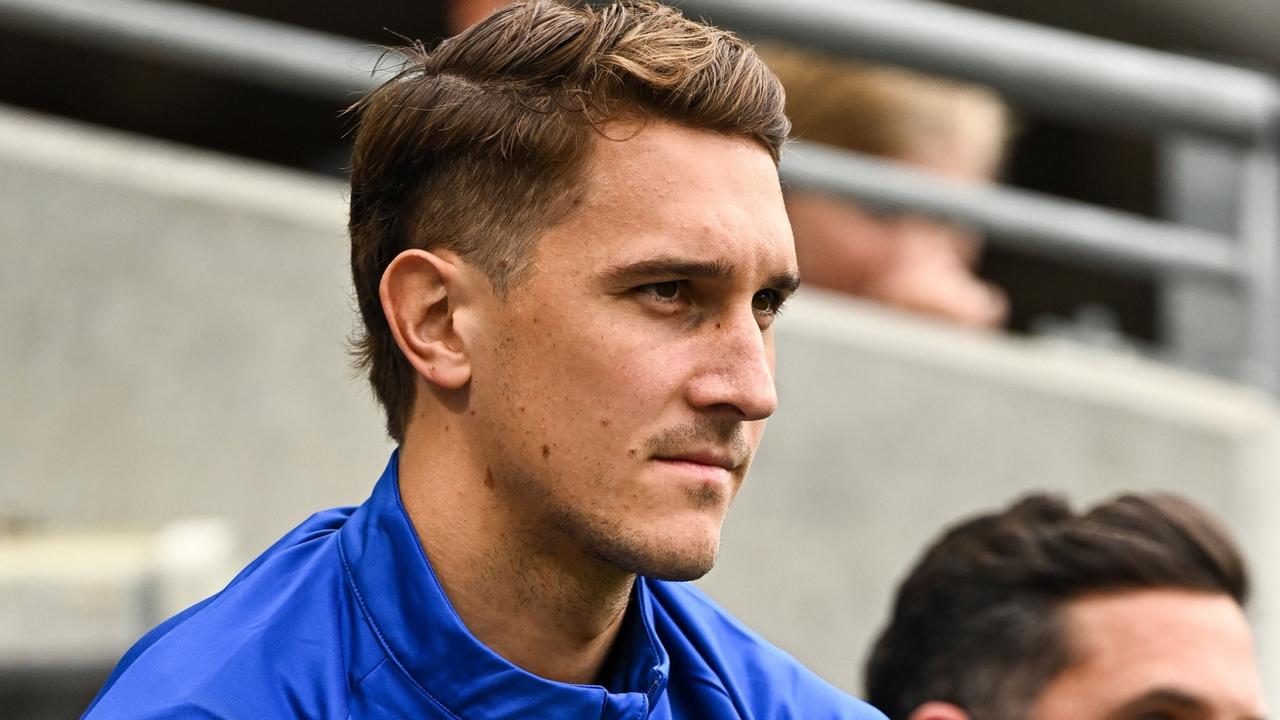 Greg Clark has scored 62 and 55 in his past two games.
So, we can't play Greg Clark on field anymore?
Not if you want guaranteed elite scoring from each of your eight midfielders. As nice as the hundred on debut was, scores of 62 and 55 in the past two rounds suggest Clark is more of a cash cow than someone you would want to rely on for scoring. He's great M9 cover if you can push him into that spot.
Should I be planning for the byes?
You should have started weeks ago. If you haven't been, here's a handy guide we prepared earlier. If you've got SuperCoach Plus you can use the bye tool to work out how many players you've got each round. If you're struggling to reach 18 players for Round 12, use this week to prepare. If not, you probably don't need to trade this round.
Hold on, didn't Phantom write this week's trade guide?
He did, but that was before he jumped to 189th overall.
So he's abandoned us to chase the $50k?
Only you can be the judge of that.
Originally published as KFC SuperCoach: Stephen Coniglio, Nic Martin and Round 11's burning questions