SuperCoach Plus: 11 things you need to know for round 15 of the AFL season
KFC SuperCoaches are being tested like never before. Dig into the stats behind the scores with 11 nuggets from SuperCoach Plus to boost your score this week.
Tough times don't last. Touch KFC SuperCoaches do.
Welcome to one of the challenging rounds in KFC SuperCoach memory.
With the ruck line decimated by injury and suspension and one of the most popular forwards also missing, we are being tested like never before.
Luckily, SuperCoach Plus is here to help squeeze every point of our available players and plan your trades to get the best bang for your buck.
SuperCoach Plus gives you the numbers behind the scores as well as a treasure trove of stats and tools including Break Evens, score and price projections, the new Trade Assist button and lots more.
And now SuperCoach Plus subscribers can see live KFC SuperCoach scores for every AFL game in the 2022 season.
And you get exclusive weekly analysis articles just like this one!
Scroll down for 11 nuggets to help your team this week.
CLICK HERE TO SIGN UP TO SUPERCOACH PLUS NOW!
1. TEAKLE TORTURE
Brynn Teakle's run as a KFC SuperCoach favourite was almost over before it started. The Port Adelaide RUC/FWD was traded into more than 35,000 teams – more than one in five of all squads in the competition – after being recruited in the mid-season draft, with 25,000 pulling the trigger last week when he was named for his AFL debut. Unfortunately, he broke his collarbone before halftime and is now set to finish the season with a total of 30 points to his name – on the back of five disposals (at 40 per cent efficiency), two tackles, one mark and three hitouts to advantage against the Swans – and no chance of adding to his $102,400 price tag. At least he can provide a loophole and move between the ruck and forward lines – and he'll still be cheap at the start of 2023.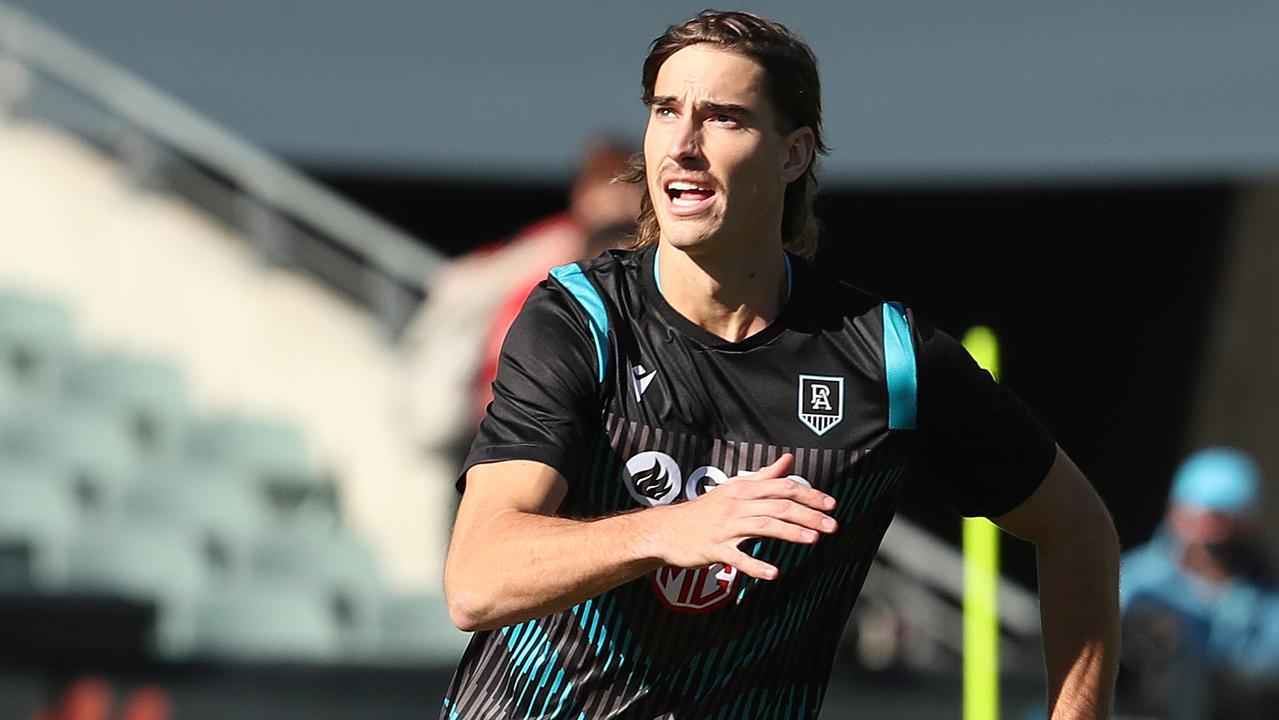 Brynn Teakle's Saturday started full of promise. Picture: Sarah Reed/AFL Photos via Getty Images
2. MORE PREUSS PAIN
Braydon Preuss owners have been the beneficiaries of six 100-plus scores this season but also copped seven matches missed through injury and suspension. And that number is about to grow, particularly painful for the 2500 coaches who traded in Preuss last week as a replacement for Max Gawn. The GWS ruckman lasted barely a quarter before being subbed out with an ankle injury, and to rub salt into the wound he was suspended for a week by the Match Review Officer for a dangerous tackle on Tim English. In his time on the ground Preuss had one ineffective kick, one tackle and gave away two free kicks, with six hitouts to advantage helping him to 17 KFC SuperCoach points, his first score under 100 for the season. He has made almost $240,000 this year but his price is now a major problem, dropping $13,000 after round 14 to $444,100, well short of the most desirable ruck replacements like English ($605,100).
3. CRIPPS CONCERNS
Is Patrick Cripps in a form slump? After averaging 120.1 points per game in his first seven non-injury affected games, the Carlton co-captain has averaged 96 in his past five, ranked 47th of all midfielders in KFC SuperCoach (behind Jackson Hately, Jack Graham and Luke Davies-Uniacke, among others). The fourth-most owned player in the game scored 79 points against the Tigers, but it could have been much higher if not for his lowest kick-to-handball ratio of the season (nine kicks, 25 handballs), a season-low kicking efficiency of 33 per cent and losing 31.7 points form negative acts made up of clanger disposals, frees against and a dropped mark. Cripps hit a season-high price of $594,300 after round 9 but he has dropped back to $546,700 with a Break Even of 117 against the Dockers this round. Based on his current form, SuperCoach Plus projects Cripps will be available for under $500k by round 22.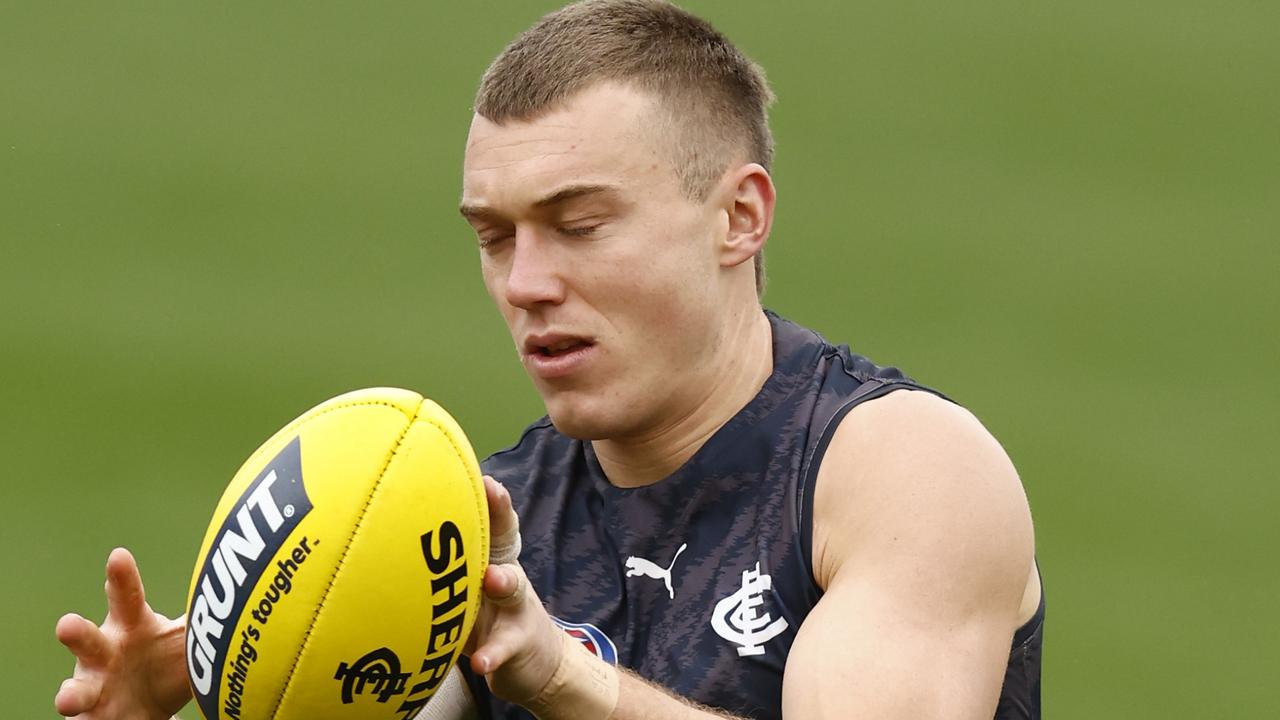 Patrick Cripps needs to kick the ball more. Picture: Darrian Traynor/Getty Images
4. LAIRD LOWDOWN
The Crows gun was another player who handballed far too often for our liking in round 14, racking up 42 disposals against Gold Coast, but just 12 of those were kicks, a large reason for his slightly underwhelming score of 114. Laird is also being hurt by poor kicking, recording an efficiency by foot of 50 per cent in each of his past four games. He started in blazing fashion, logging 14 disposals and 49 points in the first quarter, but he collected just 31 points in the next two quarters. He also lost 26.3 points from negative acts, including giving away three free kicks.
5. SHORT SHIFT
Jayden Short started the year as a defender, with behind kick-ins a key source of his KFC SuperCoach points. In round 6 Damien Hardwick threw him in the middle, resulting in dual-position DEF/MID status after round 11. His shift up the field didn't stop there, with Short playing 39 per cent of the Tigers' round 14 win against Carlton up forward. He has played at least 30 per cent of game time in that role in four of his past five matches. It didn't impact Short's ability to find the ball – he had a career-high 16 inside-50s and a career-high 992 metres gained, but unfortunately you don't get KFC SuperCoach points for those stats (players are rewarded for the disposal that leads to an inside-50, not the forward entry itself). Unlike Cripps and Laird, Short had 24 kicks and just one handball, but just 14 of those kicks were effective, seven were clangers and three were ineffective, scoring no points. Short finished with 82 points and his five-round average of 90.3 ranks 26th among defenders.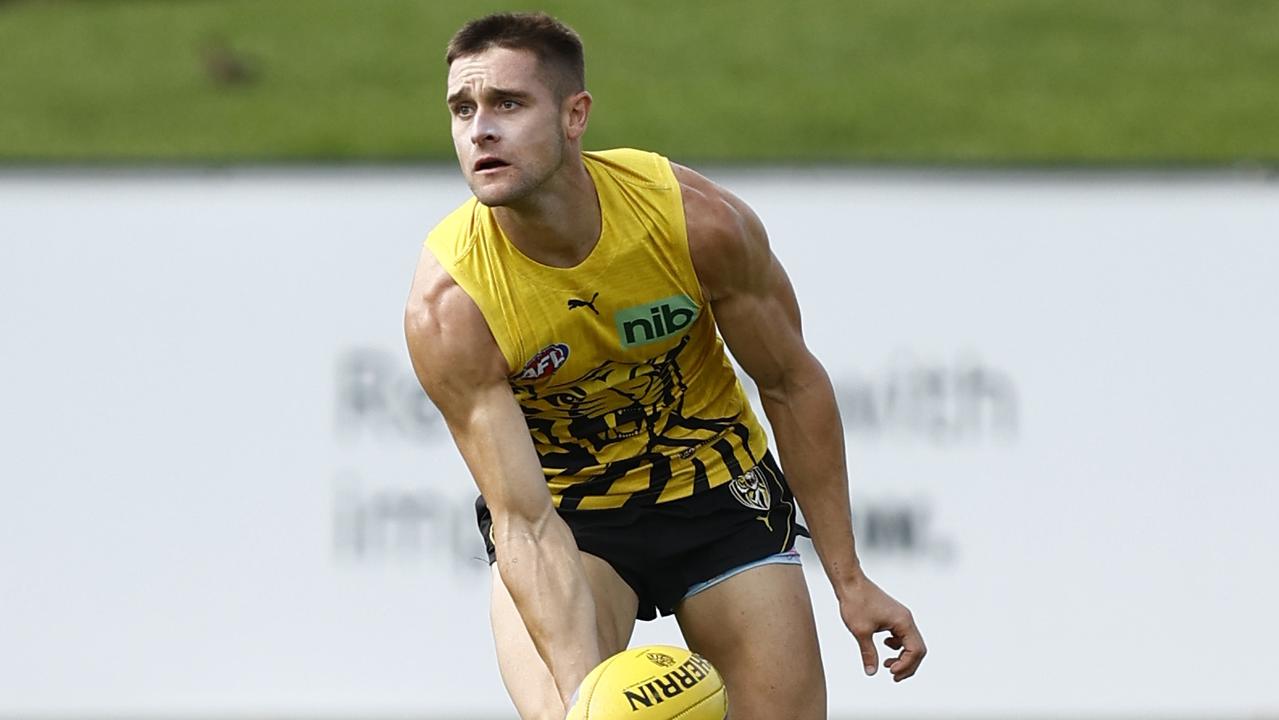 Jayden Short has played a variety of roles this season. Picture: Darrian Traynor/Getty Images
6. SAAD ON THE BOUNCE
There is a secret ingredient to Adam Saad's career-best KFC SuperCoach season. Running bounces are worth a base 2 KFC SuperCoach points, but the actual return depends heavily on the state of the game. Saad had 15 bounces against Richmond – the most by any player this year – earning a total of 25.4 points. (Saad also has the second-most in a match with 12 against Gold Coast in round 4.) He is the runaway leader in this stat this year, miles ahead of No.2 ranked Nick Hind. Saad does have a strong KFC SuperCoach pedigree, recording a world-record 331 points in an under-16 game for the World XVIII.
7. BONT BACK IN THE GUTS
With the Western Bulldogs' season on the line, Marcus Bontempelli is back where he's needed most – in the middle. With Bailey Smith out of the team, the Bulldogs skipper played 92 per cent of the match against GWS in the midfield, his highest percentage of the season. He also attended 62 per cent of centre bounces, his fourth-best percentage of the year. He racked up 28 disposals and a goal on Saturday night for 120 KFC SuperCoach points. Another player with a new role, Harry Himmelberg, was required to spend some time forward against the Dogs but still managed 23 disposals, six intercept possessions and 95 points. He added another $67,500 to his price tag – a jump of $185,100 in three weeks – and is projected to gain another $40k with a projected score of 105 against Collingwood on Sunday.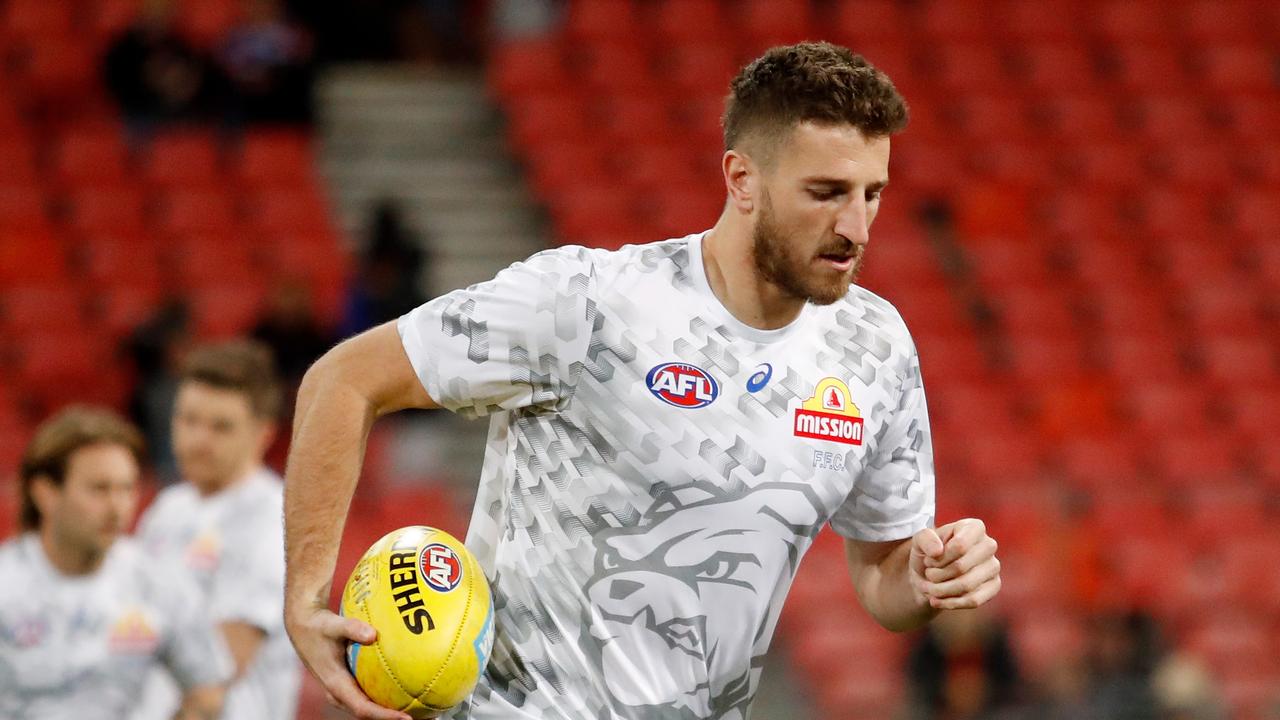 The Bulldogs need a big back end of the season from Marcus Bontempelli. Picture: Dylan Burns/AFL Photos via Getty Images
8. KFC SUPERCOACH LADDER
Which team is on top of the KFC SuperCoach scoring ladder? After 13 rounds Carlton has scored the most points of any team with 1749, seven more than Fremantle. Brisbane, Port Adelaide and the Bulldogs have all topped the 1700 mark, with the Blues more than 300 points clear of 18th placed North Melbourne (1457). When it comes to conceding points, the Roos have conceding a total of 1843 points to opposition teams this year, the most of any team – giving them a KFC SuperCoach percentage of 79.1. West Coast, Hawthorn, Essendon and Gold Coast make up the bottom five on the points against ladder, while the Blues, Dockers and Lions are the hardest teams to score against.
9. MARKET WATCH
Harry Himmelberg's Break Even of 14 all but guarantees another big price rise, and there 25 players with negative Break Evens entering round 15. Unfortunately, a lot of them aren't playing at the moment, but there are two likely bubble boys this round in Tiger Judson Clarke ($117,300 MID/FWD) and Crow Patrick Parnell ($123,900 DEF). Clarke has a BE of -39 after scoring 63 and 45 in his first two matches, and is projected to gain $41,500 after his third game. Parnell has scored 40 and 70 against West Coast and Gold Coast for a BE of -38 and a projected price rise of $42,000 if he scores 56 against North Melbourne on Sunday. Other players with very low BEs include Jacob Wehr (-6), Mason Cox (-4), Tom Barrass (3) and Matt Rowell (7).
Tom Stewart (left) made a very slow start against the Eagles. Picture: Will Russell/AFL Photos via Getty Images
10. STEWART BARGAIN ALERT
At the other end of the BE scale, star Geelong defender Tom Stewart has the highest Break Even in the competition this round of 210. After a concussion-impacted 39 against the Bulldogs and 95 points against West Coast, Stewart lost $21,600 off his value at lockout on Sunday night and is projected to drop another $45,800 after facing the Tigers this weekend. That would make a player who was priced above $618,000 two weeks ago available for a season-low $537k.
11. CAPTAINS CORNER
An end to the bye rounds means a full suite of captaincy contenders, and fewer zero scores to use for the VC loophole – although Brynn Teakle owners will note he plays in the final game of the round. There are plenty of options to choose from, starting with Thursday night's top-two blockbuster. Lachie Neale has scored more KFC SuperCoach points than any other player this year and has scored 84, 152 and 137 in his past three against Melbourne. Meanwhile, Demons gun Clayton Oliver has scored 94, 177 and 103 in his past three against Brisbane, and Christian Petracca could bounce back to form based on his past two scores against the Lions – 130 and 141. On Friday night the Bulldogs host Hawthorn at Marvel Stadium, where Jack Macrae (av 121.6 in his past three against Hawthorn) and Marcus Bontempelli (av 124 in the same period) are both viable choices. Other players to consider this round include Blues Patrick Cripps (av 112.3 in his past three against Fremantle) and Sam Walsh (av 122.7 in past three v Dockers) and Rory Laird, who averages 115.7 in his past three against the Kangaroos, who have given up some huge scores to opposition midfielders – although they did run a hard tag on Josh Kelly in round 13. If you want a left-field option, Ben Keays scored 173 against North Melbourne last year, and Sean Darcy scored 193 against the Blues in round 16, 2021.
Originally published as SuperCoach Plus: 11 things you need to know for round 15 of the AFL season