SuperCoach Plus: 11 things you need to know for round 21 of the AFL season
What has happened to Jack Crisp? Who should be your captain this week? Get the numbers behind the KFC SuperCoach scores and key intel for round 21.
The final countdown is here.
With just three rounds to play every goal, turnover and tap-on can decide KFC SuperCoach fortunes.
Fortunately, there are things we can control – including who to name as captain and how to use any precious remaining trades.
SuperCoach Plus gives you the numbers behind the scores as well as a treasure trove of stats and tools including Break Evens, score and price projections, the new Trade Assist button and lots more.
And now SuperCoach Plus subscribers can see live KFC SuperCoach scores for every AFL game in the 2022 season.
And you get exclusive weekly analysis articles just like this one!
Scroll down for 11 key stats to help your team this week.
CLICK HERE TO SIGN UP TO SUPERCOACH PLUS NOW!
1. SUPER LAIRD
Rory Laird crashed through the $700k barrier after another huge score in round 20 and remarkably he has more money to make, according to SuperCoach Plus. The Crows star now has the best average in the game (128.4) after overtaking Clayton Oliver (126.3) at the weekend. Remarkably, he ranks sixth for total points despite playing two fewer games than most of the top 20. Laird faces West Coast and North Melbourne in his next two games and is forecast to score 137 and 149 – which could be conservative based on his recent form and the points those teams are giving up to opposition midfielders. Laird is in just 20 per cent of teams and will be a huge weapon for owners in KFC SuperCoach finals.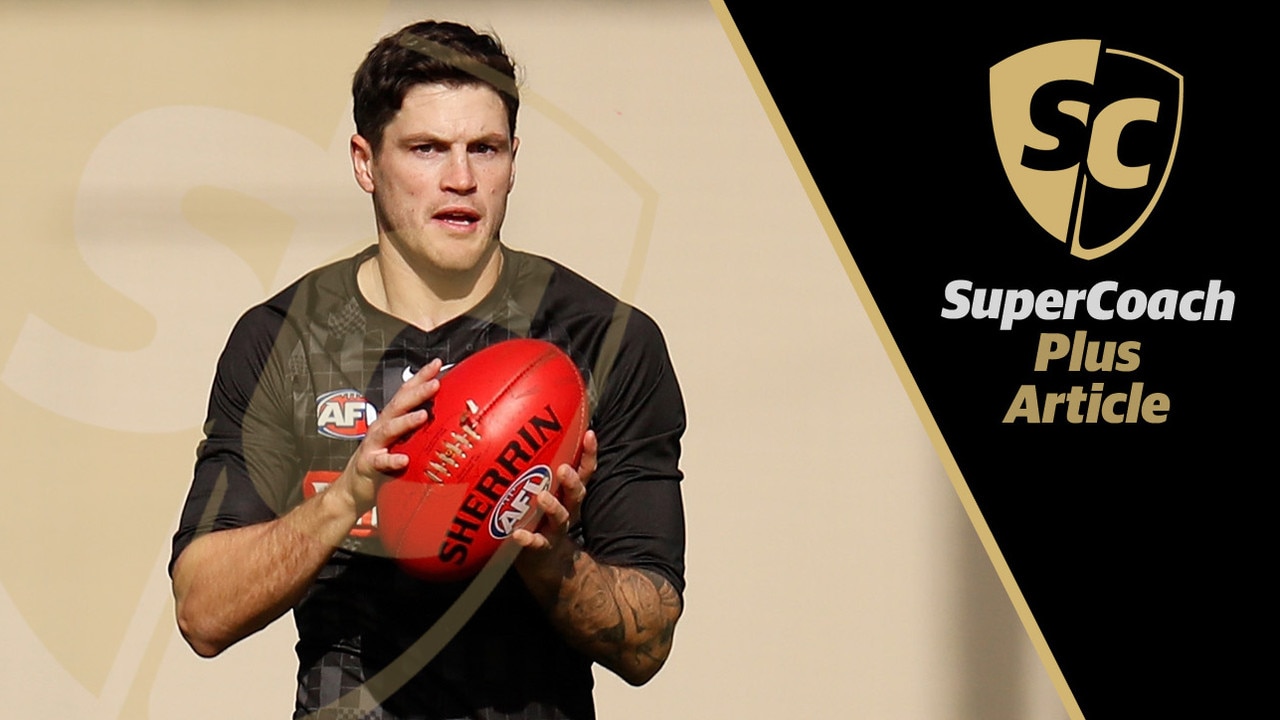 Jack Crisp is in more than 65,000 KFC SuperCoach teams.
2. BURNT TO A CRISP
At round 13 Jack Crisp looked like one of the smartest picks of the season. To that point he had only three scores under 100 (and one of them was 97) and was averaging 105.5 points a game. But since then his season has fallen off a cliff from a KFC SuperCoach scoring perspective, with a high score of 91 in the past six rounds and a season-low 60 points against Port Adelaide on Saturday. After winning 24-29 disposals in every game from round 2 to round 13 Crisp has topped 20 disposals just once since – his 16 disposals last Saturday was a season-low. He's still getting his share of centre bounce attendances, attending 12-15 most weeks, but since round 16 he has spent time in defence, the midfield and up forward. One key stat where his numbers are down in is handball-receives. From rounds 2-13 and had 9.9 per game – ranked third at the Pies. From rounds 15-20 that number has gone down to 6.3 per game – ranked fifth – while Nick Daicos's numbers have gone from 11.2 to 14.2 – ranked No.1 at the club.
3. CRIPPS SECRET
If we thought Patrick Cripps was back last week, his performance on Saturday night put it beyond doubt. Cripps had a career-high 41 disposals and 146 KFC SuperCoach points against Adelaide, his highest score since round 8. That strengthened the argument that Cripps scores well without George Hewett in the Blues team, and there was another magic ingredient against the Crows. Marc Pittonet returned from a long injury lay-off for his sixth game of the season. Cripps has played in five of those matches and scored 132, 162, 119, 139 and 146.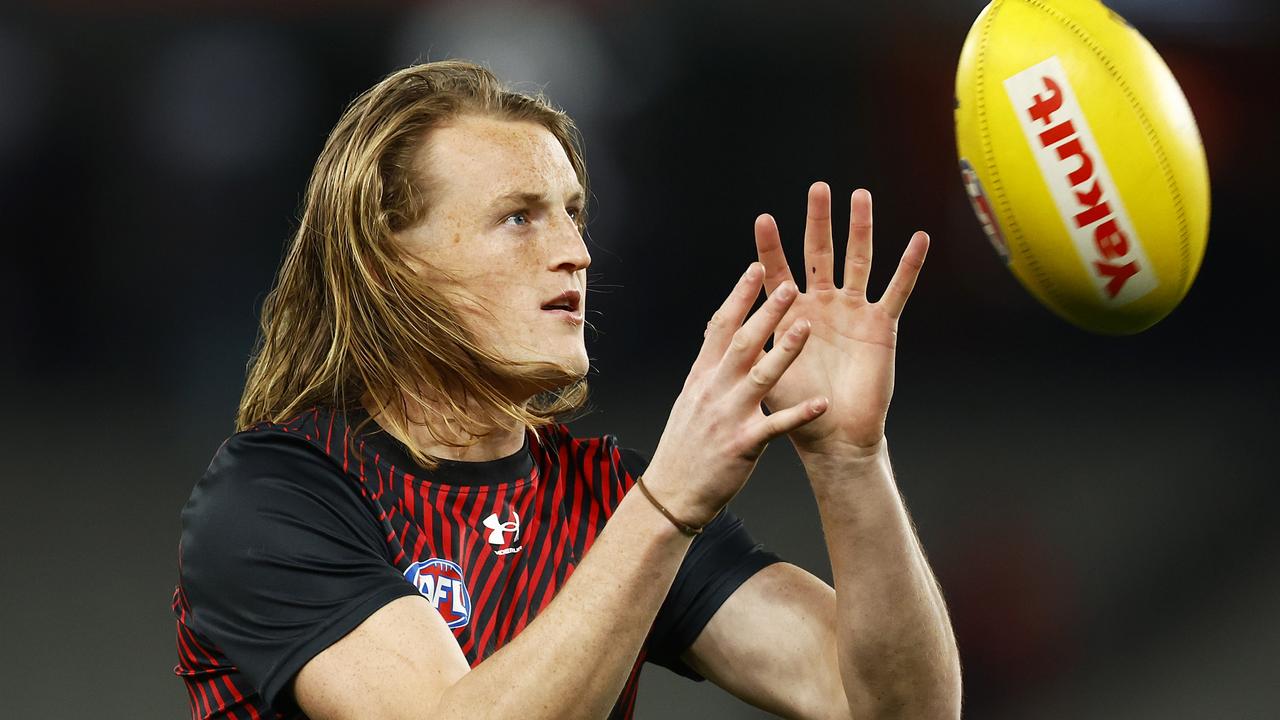 Mason Redman is posting huge numbers for the Bombers. Picture: Daniel Pockett/Getty Images
4. RED DOG RED HOT
Who would like a defender who has scored 99 or more in his past eight full games, and 152 and 176 in his past two? Mason Redman is going so well he has the second-best three-round and five-round averages in defence even including a game he was subbed out before halftime (scoring 49 against Collingwood). Redman's huge score against the Kangaroos was on the back of incredible efficiency – of his 32 disposals, 31 hit the target. That one miskick was a clanger in the last quarter that cost him 1.7 KFC SuperCoach points. It was the second-best efficiency recorded this year from a player who won at least 30 disposals, rating just below Daniel Rich's 33-disposal effort in round 15. Redman's 31-disposal game at 93.5 per cent efficiency in round 14 also ranks in the top five, along with Harry Himmelberg (37 disposals at 94.6 per cent in round 13) and Callum Mills (37 disposals at 91.9 per cent efficiency in round 6).
5. EMERGENCY WARNING
A number of late changes in round 20 provided a timely reminder about the value of trades and bench cover in the final rounds of the season, and the dangers of trying to loophole non-playing players. None of Mitch Owens, Maurice Rioli Jr, Josh Carmichael or Hugh Dixon were named on Thursday night but all played at least some minutes after being named the medical sub or, in Owens' case, coming into the team at the last minute. Owens scored 67 points from 11 disposals, four tackles and a goal and has hopefully earned a few more weeks in the Saints team for his 47,000 owners. The results weren't so good for the other three, with Carmichael scoring 47 points, Dixon 27 and Rioli just 6 after giving away a 50m penalty in the tight final quarter against Brisbane.
Jai Culley had a day to forget in his third game. Picture: Darrian Traynor/Getty Images
6. CULL CULLEY?
Jai Culley was the most traded in player in the past two rounds after his impressive start to his AFL career. After posting KFC SuperCoach scores of 90 and 76 in his first two games the top pick in the mid-season draft was added to more than 30,000 teams. Then disaster struck. Playing his third game, Culley could manage only 10 disposals and 26 points before being subbed out of the game with a hamstring injury. Even if he escapes serious damage he is set to miss the next two rounds after being offered a ban by the match review officer for an elbow to Gold Coast's Noah Anderson.
7. DUNKLEY BOUNCES BACK
Josh Dunkley timed his return to form to perfection, topscoring for the Western Bulldogs in the first week of KFC SuperCoach finals. Dunkley, who was traded out of 500 teams last week after three scores under 80, scored 130 points – his highest tally since round 11 – on the back of 25 disposals, six marks and six tackles. Dunkley had just one more disposal than last round – when he scored 67 points – but he won six more contested possessions and hit the scoreboard with two goals and one score assist. He also had an impact early, scoring 79 points in the first half compared to 32 points against Melbourne.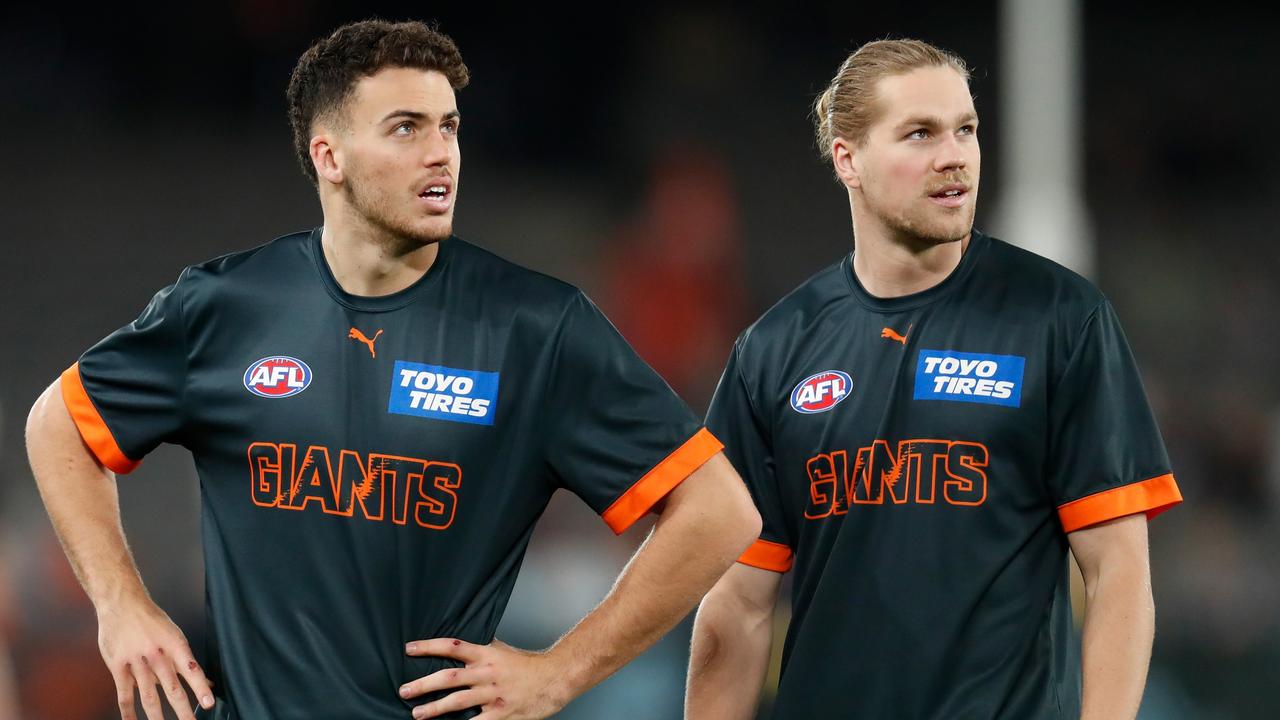 Giants Jake Riccardi (left) and Harry Himmelberg. Picture: Michael Willson/AFL Photos via Getty Images
8. ROLE CHANGE ALERT
Jayden Short had his first behind kick-in since round 6 on Sunday but unfortunately it didn't lead to a boost in his KFC SuperCoach output, with his 74 points his second-lowest total of the season. Short started down back against the Lions and had three kick-ins – playing on from two of them, although one went straight to Lachie Neale, one of three clanger kicks in the first half. He played 66 per cent of the game in defence in the first half, 16 per cent midfield and 18 per cent forward. In the second half it was 22 per cent midfield and 78 per cent forward. Meanwhile, Harry Himmelberg's versatility was on full display against the Swans, playing 16 per cent defence, 28 per cent ruck and 57 per cent forward in the first half, then switching to 88 per cent defence and 12 per cent forward after halftime.
9. GREEN AND BEAR IT
One player who can't blame a role change for low KFC SuperCoach scores is Tom Green. He played 17 per cent of game time in the ruck but also spent 53 per cent in the midfield and just 30 per cent forward. His has scored 50, 49 and 55 in his past three matches and hasn't cracked the ton in his past five. It's a big fall from his blistering start to the season, when Green averaged 119.9 over the first seven rounds. At that stage he was worth $551,800 and looked like a mid-price success story, but his value has been falling ever since. Amazingly he is now worth $395,800 – $34,200 under his starting price.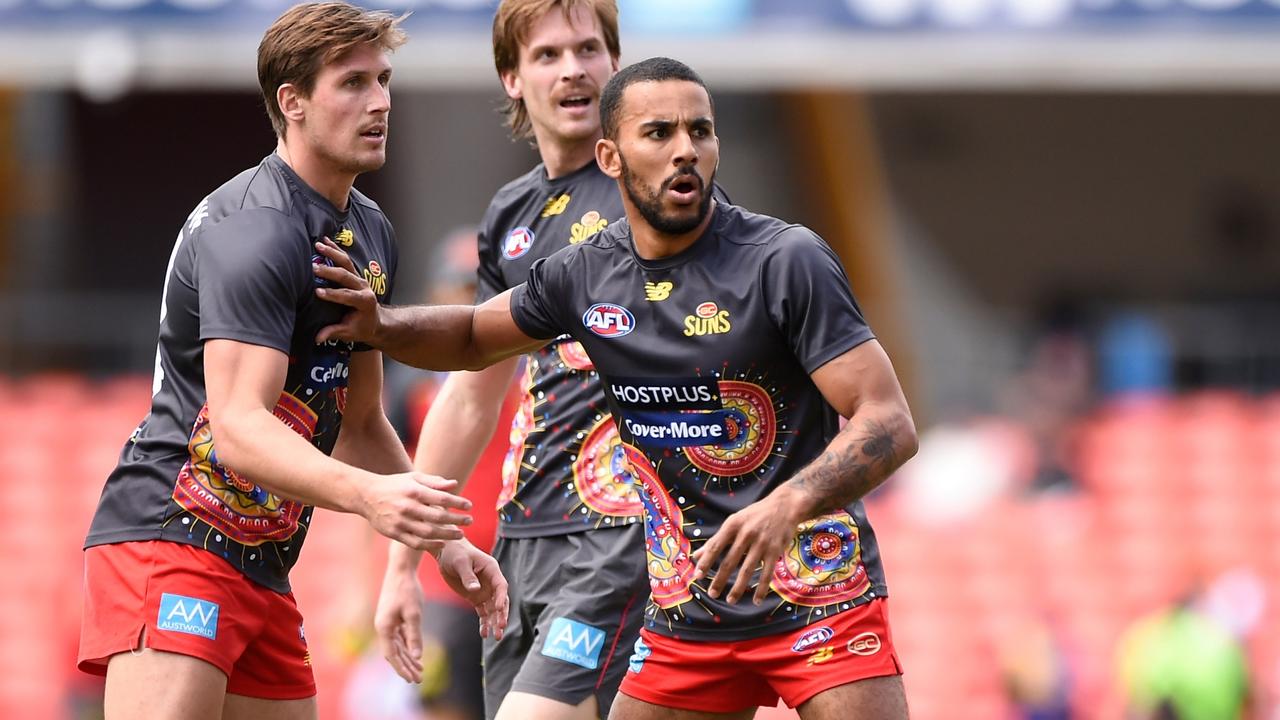 Touk Miller is enjoying a huge finish to the season. Picture: Matt Roberts/AFL Photos/Getty Images
10. CAPTAINS CORNER
When picking a captain this round it probably boils down to the three hottest player in KFC SuperCoach right now – Touk Miller, Zach Merrett and Rory Laird. Miller has the best five-round average in the comp (141.6) with three of his past five scores over 150. He hasn't scored under 100 since round 10 and averages 120 in his past three matches against this round's opponent, Hawthorn. Merrett is just behind Miller based on five-round average (139.2) but amazingly every score in that time has been between 133 and 147. He doesn't have the best record against GWS though, scoring 71 last time they met, in round 19 last year. Laird, meanwhile, is a model of consistency. He has the third-best five-round average (138.6), has scored at least 100 points his past 16 matches and at least 125 in his past six. He scored 136 the last time he played West Coast, in round 12.
11. CAPTAINS CORNER (2)
If you don't like any of those three for some reason, Clayton Oliver is a strong VC option on Friday night against Collingwood, a team he averages 128.6 against in his past three. Lachie Neale faces Carlton on Sunday, a team he scored 96 against in round 6. Patrick Cripps missed that game through injury but Sam Walsh scored 130 and averages the same number in his past three against Brisbane. Marcus Bontempelli averages 117 in his three against the Dockers, but could face the James Aish treatment this week. If you're want a left-field candidate, James Sicily scored 147 against the Suns in round 11 and Jarrod Witts scored 119 in that game. He hasn't topped 90 points in his past three games but Rowan Marshall did score 173 against Hawthorn's ruck division last week.
Originally published as SuperCoach Plus: 11 things you need to know for round 21 of the AFL season