Sydney Swans AFL news: John Longmire reveals the Lance Franklin he knows and loves
John Longmire knows Lance Franklin's brilliance on the field is unparalleled, but it's his special presence off the field which the Sydney coach admires the most.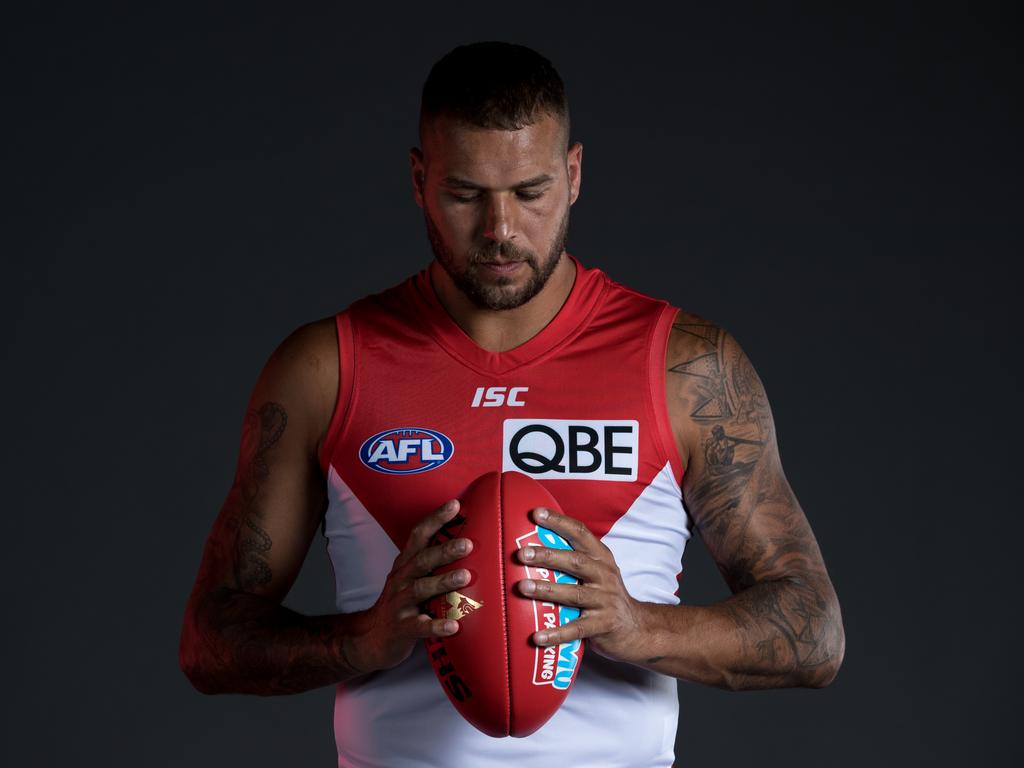 Buddy Franklin brings far more to the Swans than just his playing abilities, says coach John Longmire. Picture: Cameron Spencer/Getty Images
John Longmire never takes Lance Franklin for granted.
Longmire doesn't take footy for granted, either.
As a player, Longmire was out of the game at 28, retired from North Melbourne with broken knees, one premiership and a Coleman Medal that he won at 19 years of age. That's Jamarra Ugle-Hagan's age.
"I retired at 28. I was cooked at 25. I had two knee recos and the first was when I was 22,'' Longmire says. "I peaked at 19 and it went downhill from there.''
Longmire was half joking. He played for 12 years and shakes his head at the wonderment of Franklin who is about to enter his 17th season.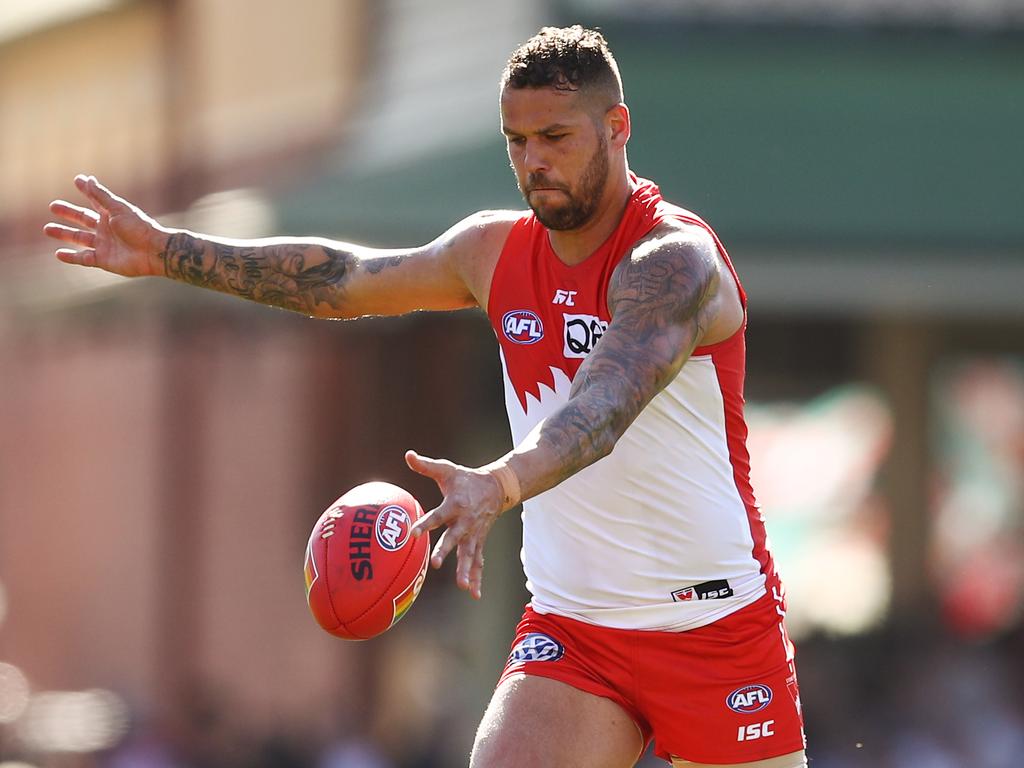 Sydney Swans superstar Lance Franklin brings much, much more than his incredible skills to the club, says coach John Longmire.
Longmire probably hasn't enjoyed Franklin as much as everyone else, because coaches are too busy coaching the next contest instead of savouring the previous.
Perhaps one day, he'll type, "Lance Franklin highlights'' into YouTube, grab a can and kick back and watch the best highlights package since Gary Ablett's One Special Season — that being 1993 when he kicked 124.60 in just 17 games.
Longmire was a goalkicker — he kicked 511 goals in 200 games — and other than being a terrific overhead mark, he had nothing on Franklin.
The magic of Buddy
Franklin's highlights are unreal. He kicks goals around the corner on the dribble, by drop punt and high curlers. He baulks and delivers off one step. He shrugs opponents with strengths one moment and dances daintily around them the next. He jumps opponents in the middle of the MCG and runs others into the ground from half-back. And kicks goals from 80m, 70m, 60m and his sweet spot, 50m, and lets them drift from right to left.
Brisbane Lions coach Chris Fagan once said: "He's the best half-forward who's ever played the game. It's just that he's 6'6.''
Longmire: "The other thing I love about him, too, is when he gets up the ground … his field kicking is just whack.''
Franklin is on the cusp of kicking 1000 goals, an achievement that would elevate him to the elite group which has Tony Lockett, Gordon Coventry, Jason Dunstall, Doug Wade and Gary Ablett Sr as its only members.
Longmire would like to be more excited, but he has a match to coach and a team to beat this coming Saturday, which is Greater Western Sydney, the Swans' No. 1 rival and the team that beat them by a point in a soul-sucking elimination final last season.
He acknowledged it would be a historic moment, but he doesn't "live in that space''.
"I understand the interest in it outside the footy club, but I've got the team to coach, so my energy goes into that space. It's not at the forefront of my thinking, but when it happens it will be an unbelievable achievement, amazing in this day and age.''
The overwhelming sentiment from Longmire was about Franklin the person rather than Franklin the footballer.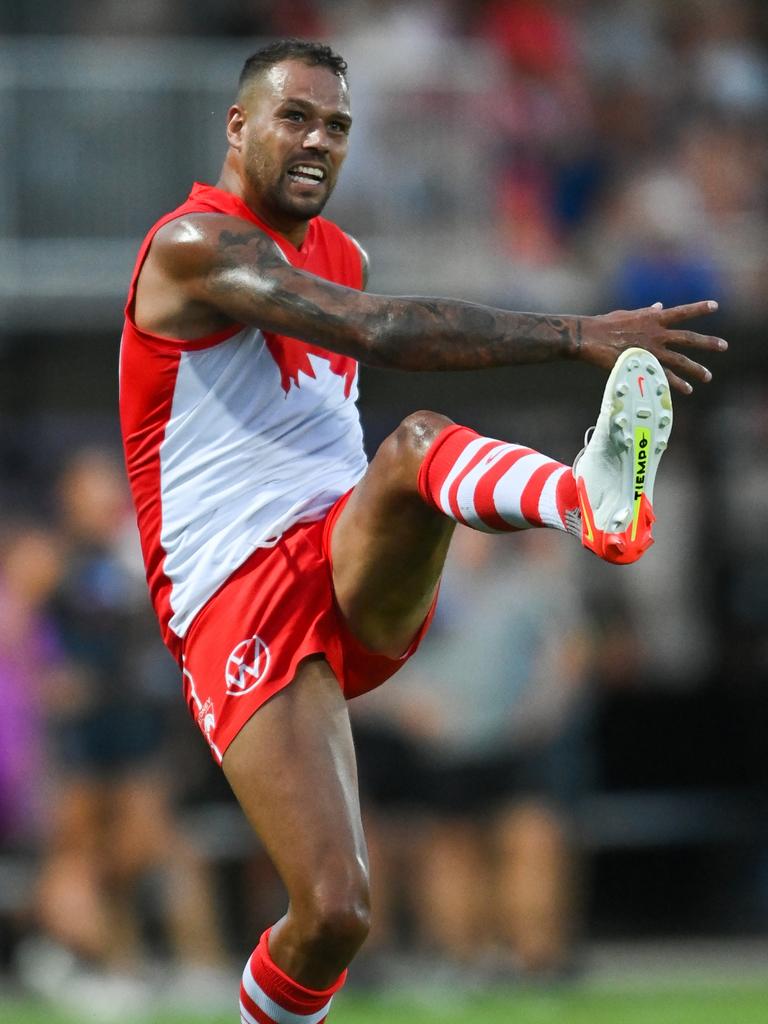 Franklin needs five goals to join the elite 1000 club.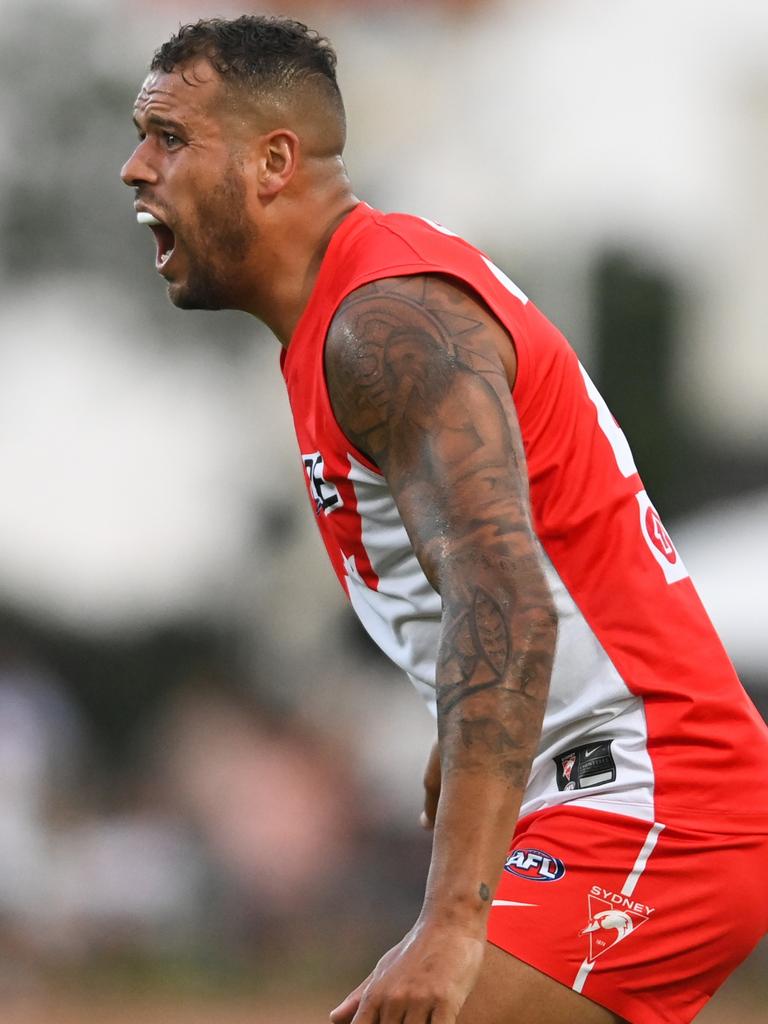 Franklin is a private man off the footy field.
Why 'Bud's' just one of the boys
We know Franklin mostly for his enchanting ability to play the game, for Franklin rarely opens up about his private life. Longmire knows Franklin for his care and love for people in need, his teammates and, of course, for his family.
"He's a fantastic presence at the footy club. He's extremely personable, he loves hanging out with the boys, he's got great humour and he loves sharing a laugh,'' Longmire said.
"He's a real good person to be around and that spreads. Because he's just 'Bud'.''
He says in 2020, when the pandemic surged and the Swans were in the hub, an injured Franklin didn't play a game. Yet, he stayed in the hub for 10 weeks.
"And not only did he stay and work really hard on his core strength in the gym, he was fantastic around the group,'' Longmire says.
"We only won the five games, but having him there and the relationships he built with the younger players in the group and right though … he was just so into it.''
Longmire says Franklin is a carer.
"He is and in 2020 the young boys in the club loved hanging around with him. He loves it, he gets around them, he wasn't sitting there feeling sorry for himself, he was genuinely invested in that experience," the Swans coach says.
"He was invested in getting his body right and invested with everything … he was there all the way through and he didn't play a game.''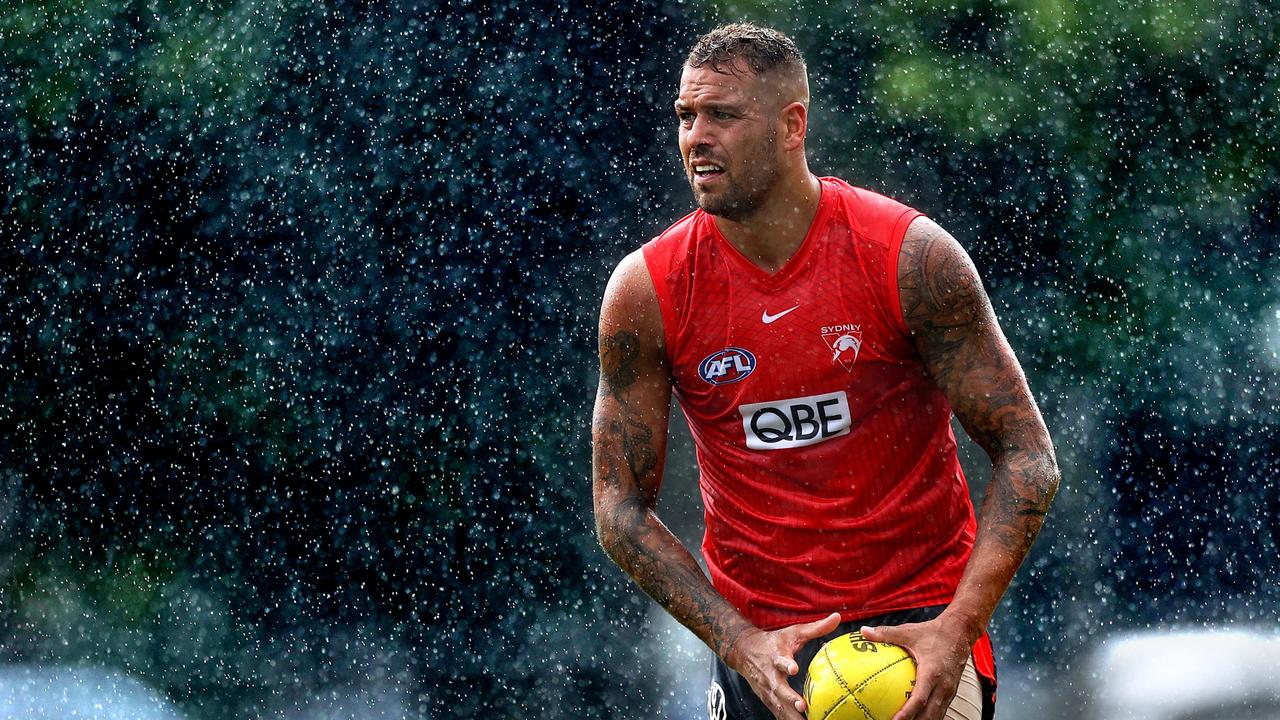 Franklin wants to extend his record $10 million, nine-year deal that expires at the end of this season. Picture: Phil Hillyard
What does the future hold for Swans and Franklin?
Longmire is enthused about the possibility of Franklin playing next year.
"There's never you or us, it will be a collective decision,'' he says.
"But it's not at the forefront of my mind. I've got to make sure he continually hits his gym targets and sprint targets at training because that's what got him through the season last year.''
Franklin's last play on the footy field was his missed point with minutes remaining in last year's elimination final against the Giants. Franklin said he thought about that kick for three months.
On the eve of the new season and a week away from playing the Giants in Round 1, Longmire is reluctant to talk about Franklin's missed kick, or any other missed shots at goal in a final quarter the Swan dominated but couldn't earn victory.
"I kicked 2.8 in a game once, so I know what it's like,'' Longmire says.
The one-point defeat, after having missed fourth spot on percentage and being favourite in the elimination final, clearly was a killer. Six months on, Longmire is calm.
"It absolutely takes time to get over it, but you can't wallow in it, you've got to get into it, there's areas where you can better,'' he says.
He adds: "It's not the first final I've won or lost like that as a player or coach.
"When you look at it like this: Did we not make the most of an opportunity? No, we didn't. Are we disappointed? Absolutely you're disappointed.
"It's happened before. As player, we lost against Geelong.''
That was the 1994 preliminary final when Gary Ablett Sr famously marked over the back of Mick Martyn and kicked the go-ahead goal after the final siren.
"There you go, how 'bout that one,'' Longmire says, smiling.
Total success in football is rare.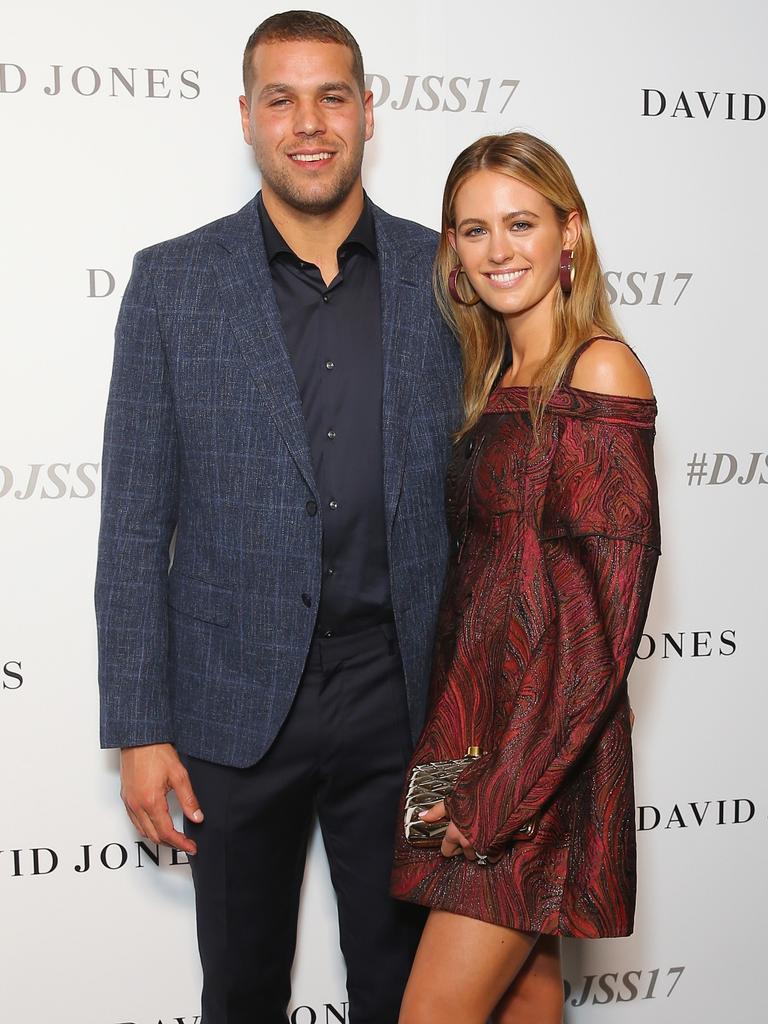 Family man: Lance Franklin and wife Jesinta.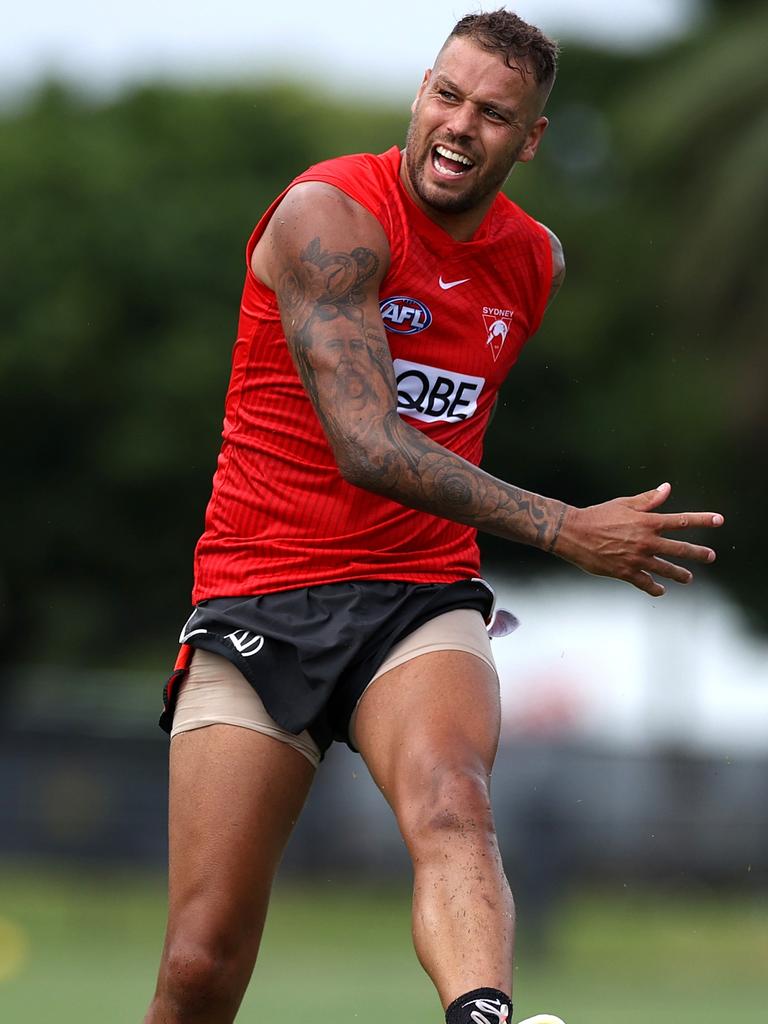 The Swans champion looks in great condition.
Longmire on the off-season
"If you look at my whole career as a player or coach, you're probably only ever satisfied when you win premierships and that's happened three times,'' he says.
"That last game, unless you actually win it, there's always a level of disappointment.''
Alongside his one premiership as coach are losing grand finals in 2014 and 2016.
"As I said, you only feel ultimately satisfied and that's only for a few days, anyway, and a lot of that is relief after you've won a premiership," he says.
"The rest of the time it's, geez, that feeling in your guts."
Two weeks of Longmire's off-season were spent with his younger brother, Beau, back at the family farm near Corowa.
After the Giants loss, the Swans' edict to players and staff, after a second season on the road because of Covid, was to spend time with family.
"The first thing we said to players and staff was to get home," Longmire says.
So, after a long time in Sydney, it was back to the farm and motorbikes and a few beers and general roustabouting.
The serious stuff was zoom meetings in the mornings and nights for players' exit meetings.
"I loved it,'' Longmire says of the break.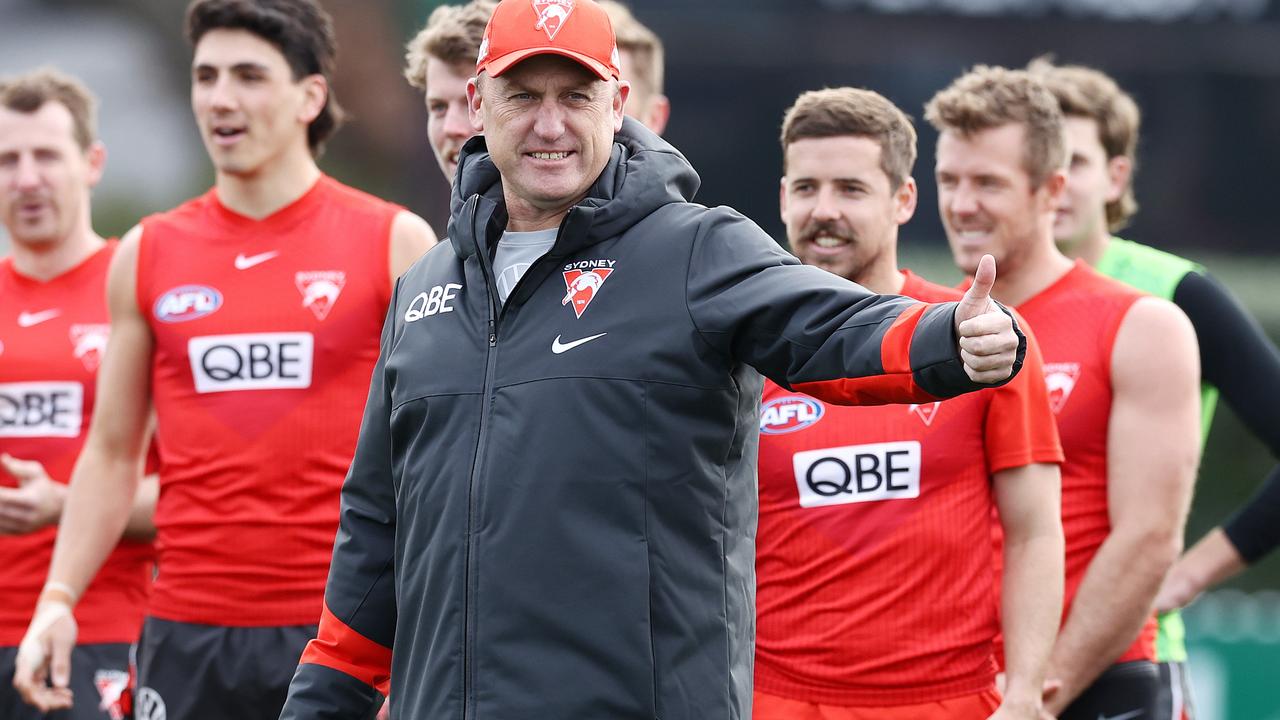 Coach John Longmire is rejuvenated for the task ahead as the Swans prepare to take on the Giants in the opening round. Picture: Michael Klein
The rematch after elimination nightmare
The new season and the return match with the Giants next Saturday will be a cracker.
There's no Toby Greene, who swamped the headlines after these two teams last played, and the Swans will be without Tom Papley, while George Hewett and Jordan Dawson, who were among the best players for the Swans in that final, are elsewhere.
The kids will play — Logan McDonald, Errol Gulden, Braeden Campbell, Nick Blakey down back, among others — and they will be better again this season.
"There's a level of confidence about what they can produce, but there's also an understanding that just because you improved last year, it doesn't give you the automatic right to improve again this year,'' Longmire says.
"You need to earn that right through your training and performance on a weekly basis. That's something you need to learn.''
No, John Longmire, the veteran coach, doesn't take anything for granted.
Buddy incredible: Franklin's selfless sacrifice to play on
Lance Franklin has indicated to Sydney he's prepared to take a pay cut to ensure none of the club's exciting young guns are squeezed out next season by salary cap pressure.
Franklin has told the Swans in ongoing private discussions that he is excited about the talent coming through and wants to extend his record $10 million, nine-year deal that expires at the end of this season.
A Swans insider with knowledge of the active contract talks have told News Corp Australia that Franklin wants to play at least another season if his body holds up and will accept less money than he's currently on.
Lance Franklin sits just five goals short of joining the prestigious 1000 goal club when this season kicks off.
It's understood Sydney's goal scoring spearhead is confident that a long period of on-field success is just around the corner following the rapid rise of recent draftees including Logan McDonald, Errol Gulden, Braeden Campbell and second-year player Chad Warner.
In an exclusive interview with Mark Robinson, Franklin said he was going to leave the decision making until the end of this year.
"I just want to see how I'm going, hopefully have a good season and then sit down and …
"If I'm not playing good footy I'll go to John (Longmire) and say it's done."
Swans chairman Andrew Pridham confirmed the club wants to extend the super star's career beyond season 2022.
"He's looking fantastically fit so I think we are pretty keen to extend him if that is what he wants to do and I think it is," Swans chairman Andrew Pridham told Seven News on Wednesday.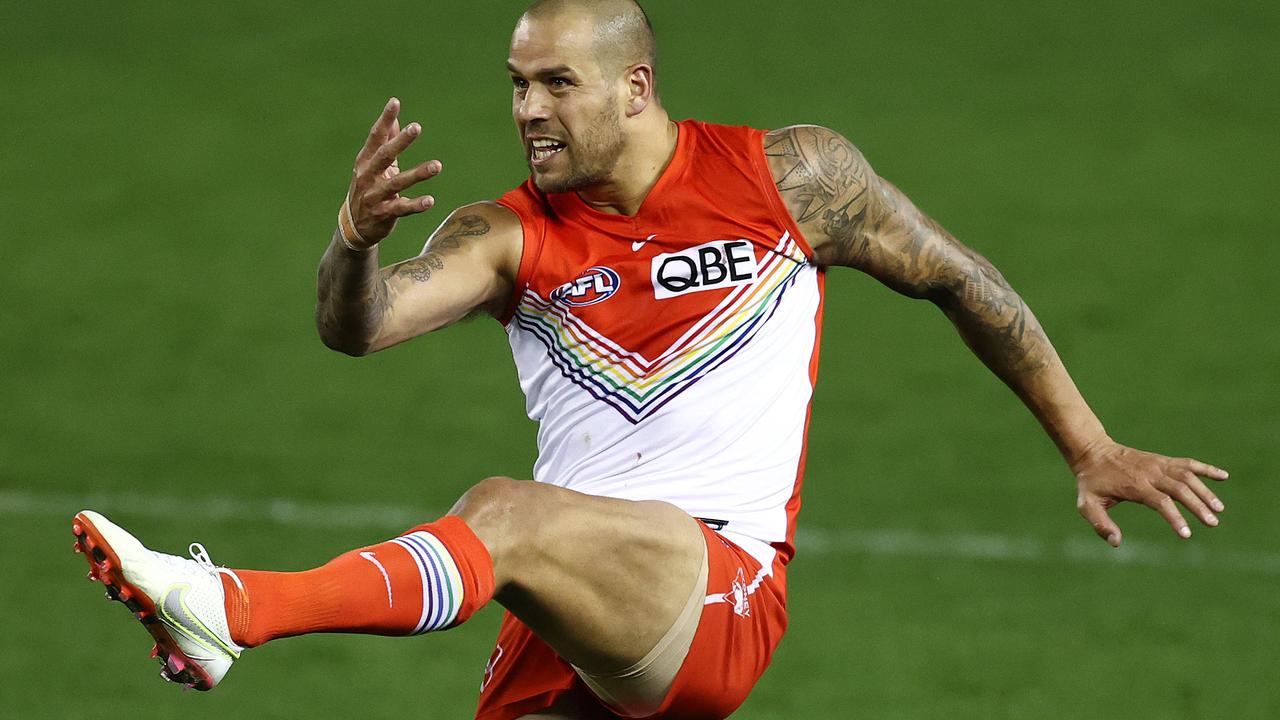 Franklin is believed to be willing to take a pay cut to keep all the exciting young prospects at the club.
The AFL's highest-paid player has defied the naysayers by not only making it to the final season of his historic $10 million, nine years deal, but by continuing to dazzle with his footballing prowess.
At the time plenty of experts doubted Franklin would fulfil his contract as well as questioning its worth, but here he stands fit and firing for season 2022 sitting just five goals short of joining the prestigious 1000 goal club.
The 1000-goal club is an exclusive club that features just five other AFL legends including Swan great, Tony Lockett on 1360, Collingwood's Gordon Coventry 1299, the Hawk's Jason Dunstall 1254, Geelong and North Melbourne Star Doug Wade 1057 and Gary Ablett Snr on 1031.
Given the nature of the modern game Franklin is likely to be the last player to ever reach this milestone, and the seemingly inedible prospect of becoming the first since Tony Lockett to kick 1000 majors is exhilarating for fans of the game, but Franklin is solely focused on the club's success.
Since joining the Swans in 2014, Franklin has played a pivotal role in their success leading them to two Grand Finals and four separate finals series. Sydney's performance has relied heavily on the fitness of Franklin, falling short of the top eight when the powerhouse forward struggled with soft tissue injuries.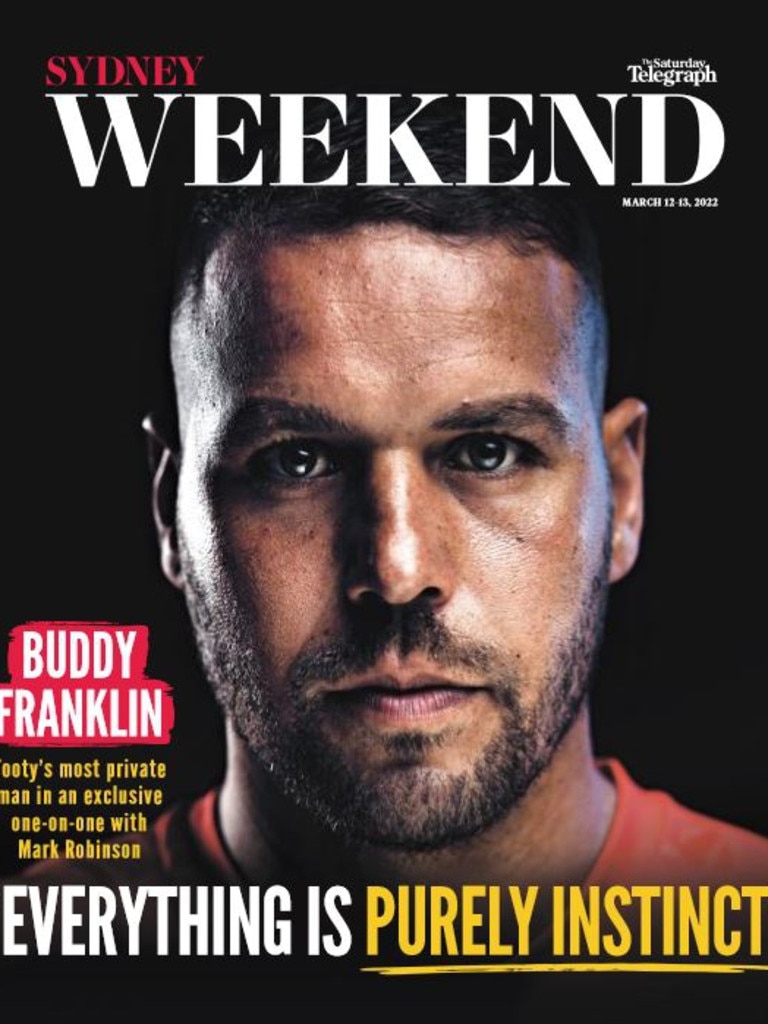 Lance Franklin features in the Weekend Telegraph magazine.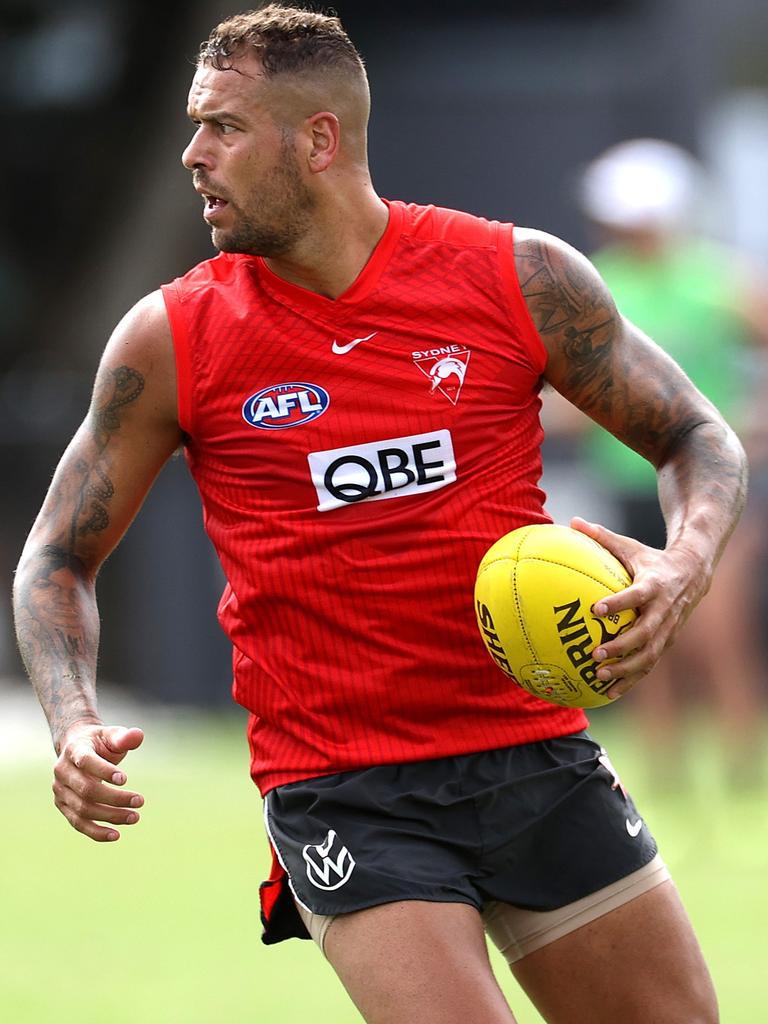 Franklin is in great shape as the new season nears.
After Sydney took rare trips down the ladder in 2019 and 2020, the team defied the critics again rebuild their list over an astonishing short period thanks to the likes of Gulden, Campbell and Warner, who all took the league by storm last season claiming the first three NAB Rising Star nominations respectively.
McDonald also showed plenty of promise before dealing with niggles that kept him on the sidelines.
It's easy to forget about Justin McInerney, Tom McCartin, James Rowbottom and Nick Blakey who have all found their feet at the top level influencing a brand of fast and aggressive football into the Swans outfit.
The perfect combination of battle-hardened stars in the likes of Franklin, Josh Kennedy, Dane Rampe and Luke Parker with a touch of fresh talent had premiership contending sides looking for answers last season, and Buddy recognises that the team's chemistry is forcing the Swans into the premiership conversation.
It is understood if Franklin stays fit this season the club will be more than willing to sign him up again.
While it may not be for the same dollars as at the height of his current deal, it is expected he will still be able to negotiate a more than fair outcome for a player who is 35 years old but still regarded as one of the best in the league.