'There's a pig at full forward': The Swans teammate behind 'Pluga the Pig' prank owns up after 29 years
When a pig named 'Pluga' ran onto the SCG 29 years ago, all hell broke loose. Now NEIL CORDY reveals the injured Swan who smuggled 'Pluga' past security and gave birth to the immortal line; 'There's a pig at full forward'.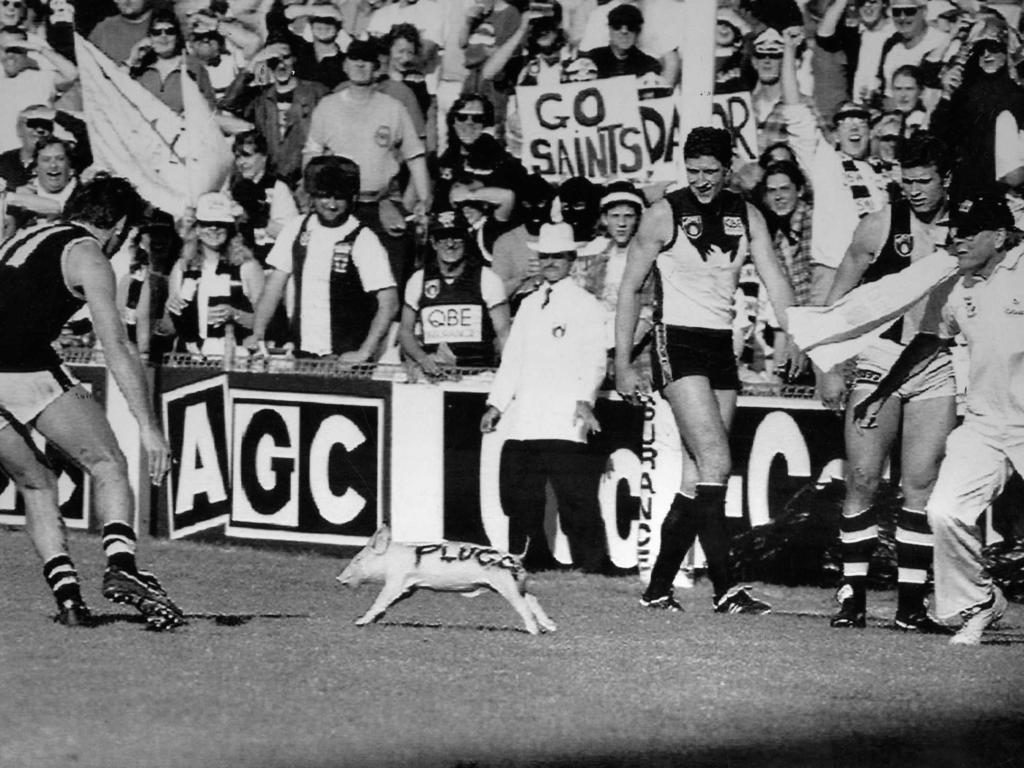 Tony Lockett wasn't playing for Sydney in this game but 'Pluga' was mispelled on the pig's body. Picture: Steve Cooper
One of footy's great mysteries has finally been solved.
Former Sydney Swans defender Craig Nettelbeck has confessed to smuggling a pig into the SCG 29 years ago.
The round 18 fixture of 1993 against St Kilda took its place in AFL folklore when a pig ran amok in the Swans forward line, leading players, umpires, trainers and security on a merry dance.
Tony Lockett wasn't playing in the match due to injury, but the great man was acknowledged by the energetic pig who sported his number four and his incorrectly spelt nickname 'Pluga' written in texta on the pig's torso.
Nettelbeck, now 49 and living in Bondi, played the key role of getting the pig past security and into the SCG.
"I met these Saints supporters in the car park on Driver Ave," Nettelbeck tells CodeSports. "They had the pig sedated and I put it into my training bag. It was completely out of it so it didn't make a peep, it was easy to get him through the players' entrance and into the dressing rooms and then up the race.
"I was out with an injury so I'd just done a rehab session. It was about half an hour before the game and the boys were warming up. I just walked through the rooms, up the race and handed over the pig in the bag."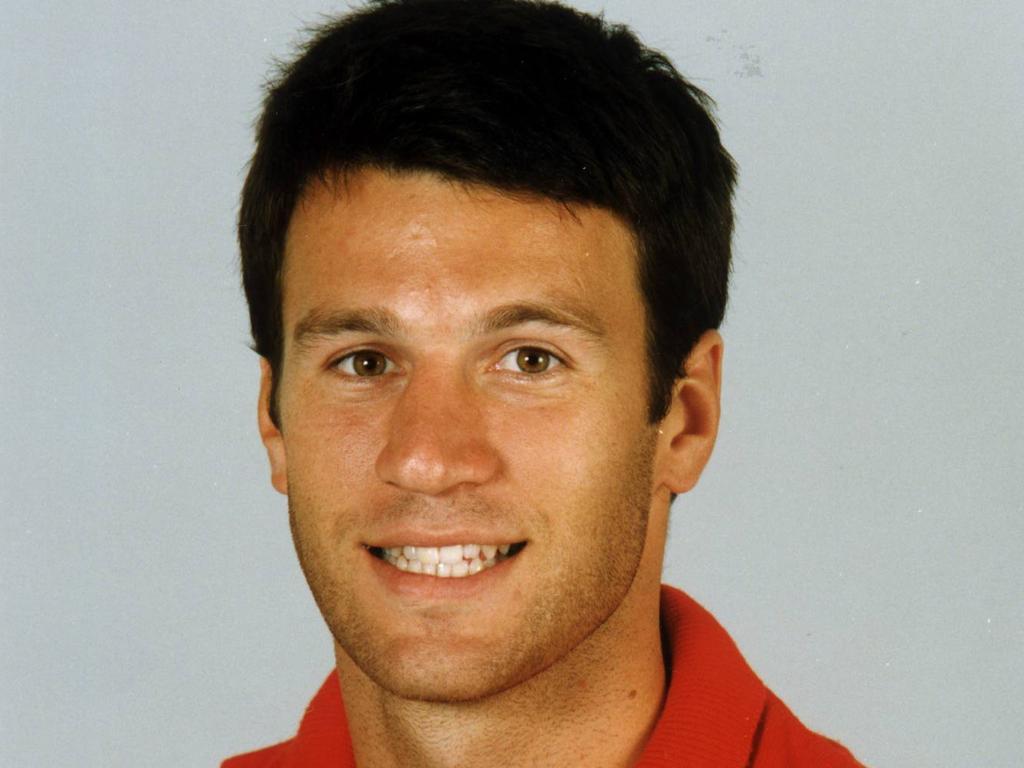 Former Swan and Demon Craig Nettelbeck has owned up to the pig prank. Picture: Sporting Pix
The prank was the work of Saints supporters who'd travelled up from Melbourne for the game. The operation was masterminded by a bloke who went by the nickname Boffa and it began by using the Yellow Pages to locate a piggery in Bankstown.
"I told them my name is Mark and I'm a teacher at Tempe High," Boffa says.
"I said it was for a school fete.
"We hired a car just like bank robbers and drove out to Bankstown. I'm from Jewish descent and have never seen a pig in my life and there were hundreds of them.
"I picked out the one I wanted and bought it for $50. On the drive back to the meeting with Nettelbeck at the SCG a bloke saw the pig in the back seat. He gave me a funny look at the traffic lights and I said, 'Just watch the news tonight.'"
Truer words were never spoken, although for a moment it looked like the project wasn't going to reach lift-off.
"The only problem initially was the pig got stage fright and didn't want to move," Nettelbeck says.
"Boffa took it out of the bag and put it over the fence but it didn't move for about five minutes. A Swans trainer saw it and came over to pick it up, that's when it sprang to life."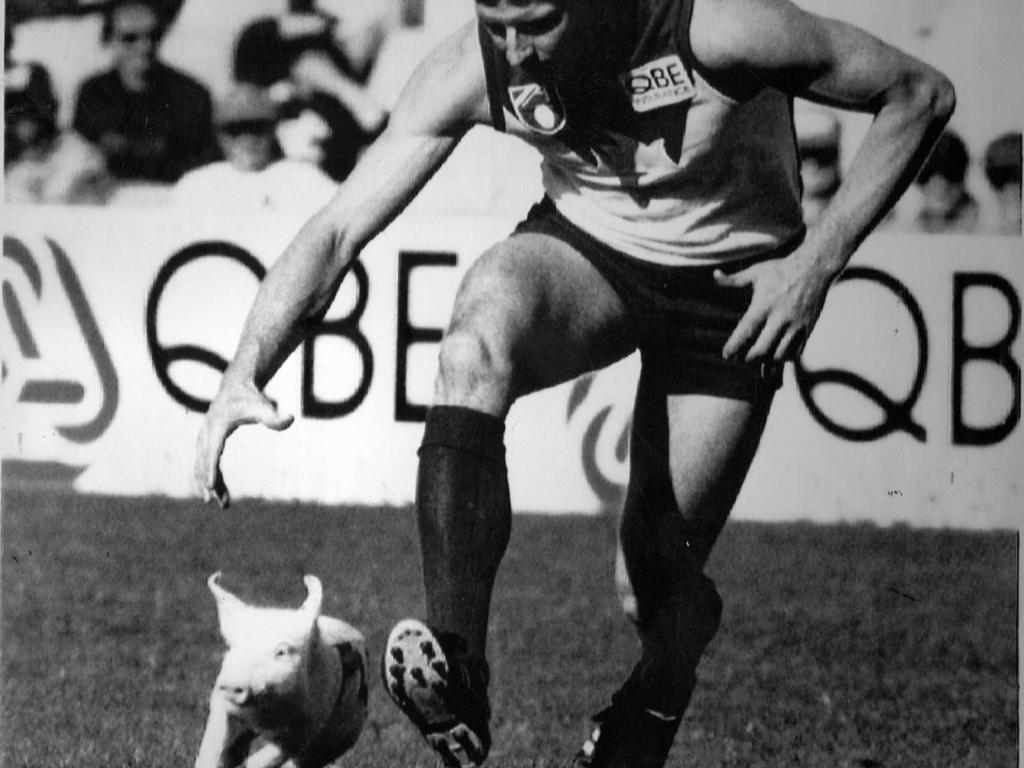 Players could not keep up with the pig. Picture: Steve Cooper
Fortunately for those watching the TV coverage, Channel 7 had their A-team on the job in Dennis Cometti and Sandy Roberts.
During a break in play it was Roberts who noticed the pig on the ground, duly producing one of his finest calls.
"There's a pig at full forward," Roberts declared on the broadcast. "I wonder how far back we have to go where time was allowed for a pig on the ground … He's drifting into the right forward pocket … that was exciting … now he's out to half forward … this is extraordinary … What a magnificent tackle … that's Darren Holmes."
"It's not something you see every day," Roberts tells CodeSports.
"It (the pig) took some catching, Danny Frawley had a go at it and so did a couple of trainers and someone from security. But it was a brilliant tackle from Holmes that brought the pig to heel."
Holmes was in his third season at the Swans where he finished up playing 42 games before lining up for another 21 at Fitzroy. He kicked nine goals in his career, but it was his tackle on the pig that will always endure.
"A couple of blokes had half-hearted dips at it and I thought, 'Come on, have a real go'," Holmes says.
"Danny Frawley (St Kilda) and Neil Brunton (Sydney) had a go but I know Brunts couldn't tackle a four-course feed, so the pig was never in danger from him.
"I just cracked the shits, I was thinking, 'Can we get this thing off so we can get going again, let's get this over and done with'. I only had a finite amount of energy for the match. I wasn't the fittest player so I didn't want this thing to drag on."
After evading a few attempts, Pluga the pig was eventually escorted from the ground. Picture: Steve Cooper
Holmes also revealed it wasn't his first tangle with a pig.
"When I was a little kid at the Walla Walla public school they had a fete which included a "catch a pig" attraction," Holmes says.
"They had a piglet in the long jump pit with a fence around it. And I got the pig. I won the gumboot throwing contest as well, it was a big day!"
It was also a memorable day for Nettelbeck, who was terrified somebody from the AFL would find out and penalise him harshly for his actions, with genuine fears his budding AFL career would be stopped in its tracks.
"I didn't say a word about it for years," Nettelbeck says.
"I wonder what would have happened if I got caught? I was really concerned about the punishment I would have got. I figured there must be a statute of limitations on things like this."