The 2022 AFL season will have 100 per cent capacity crowds at Victorian grounds
AFL games will be able to enjoy full capacity crowds in Victoria in a move league chief Gillon McLachlan hopes will "bring the heartbeat of the city back to Melbourne".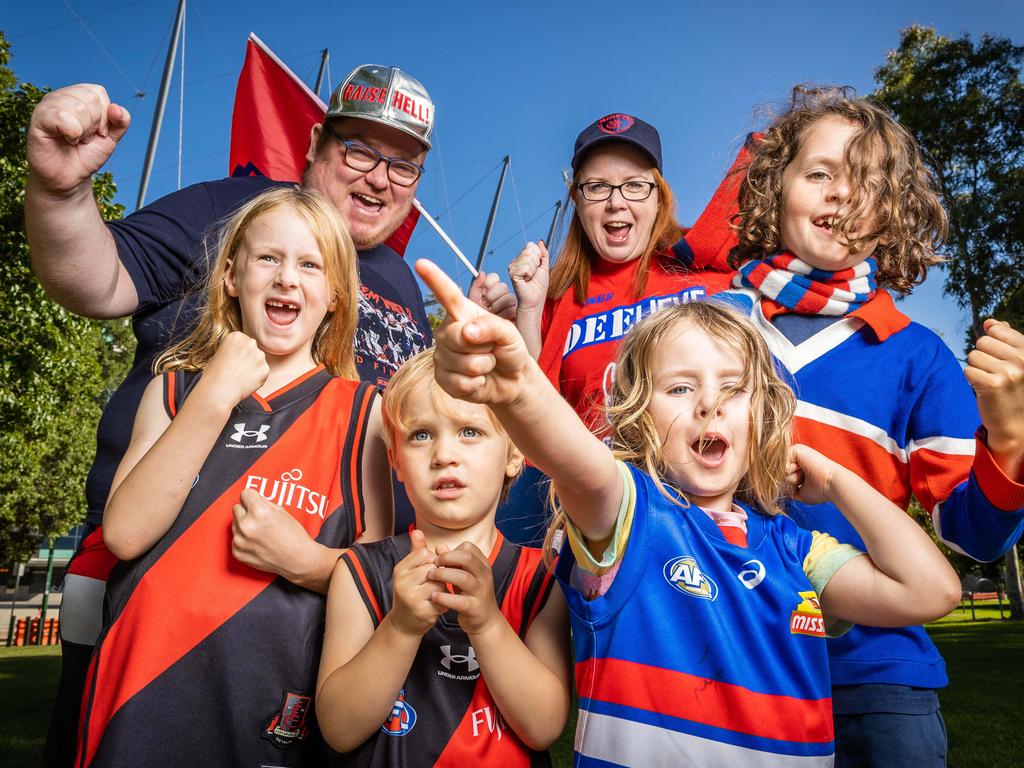 Footy fans Shaun Dux and Janet Traynor with Isla, 6, Patrick, 3, Rose, 3 and Artie, 9. Picture: Jake Nowakowski
In a win for fans, businesses and Victoria's status as Australia's sporting capital, 100 per cent crowd capacity has been confirmed for the first round of the AFL season next month.
Uncapped crowds of up to 100,000 will be allowed at the MCG for the season opener and Grand Final replay between Melbourne and Western Bulldogs on March 16.
Full crowds will also be able to return to Marvel Stadium, Geelong's GMHBA Stadium and Mars Stadium in Ballarat, bringing joy to footy starved fans.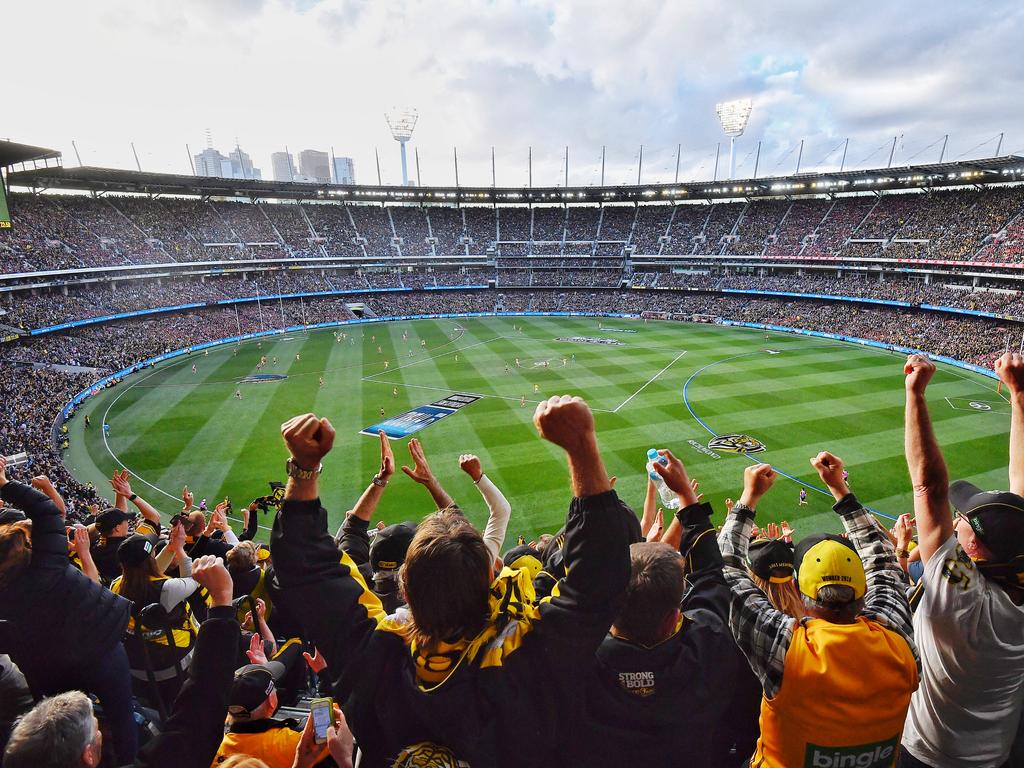 There will be no cap on the number of spectators able to attend games at the MCG. Picture: Jason Edwards
AFL chief executive Gillon McLachlan said the return of 100 per cent crowds in Melbourne for the first time since 2019 would send a powerful message.
"We look forward to seeing crowds return to our venues in huge numbers as well as to all the surrounding business and venues that rely on footy and big events being staged across the city,'' he said.
"Footy can hopefully help bring the heartbeat of the city back to Melbourne and back to the state of Victoria.''
The Herald Sun can reveal most club members will again be able to use membership cards to scan into grounds and sit in dedicated reserved seats, with COVID-19 bans on them doing so to be removed.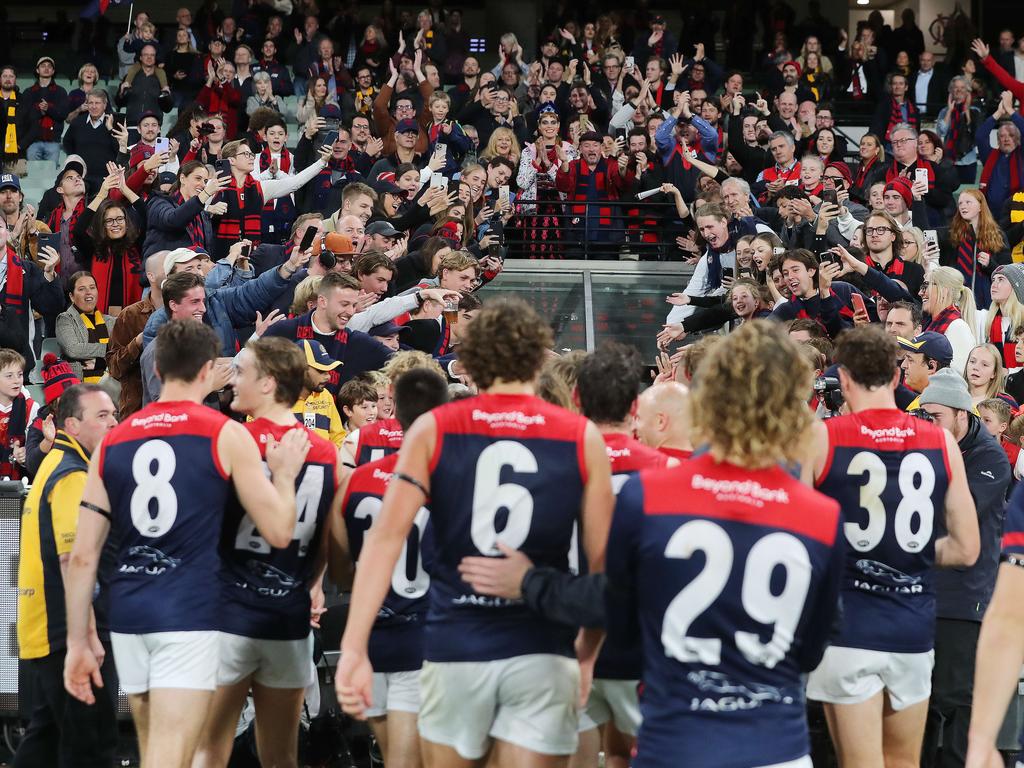 A big crowd is expected for the Grand Final replay between Melbourne and Western Bulldogs at the MCG on March 16. Picture: Michael Klein
General public "walk up" ticket sales will also be available at Victorian venues again.
Sports Minister Martin Pakula confirmed the government had approved Covid Safe plans for the MCG and Marvel Stadium. to allow for capacity crowds for the start of the AFL season.
"It will be sensational to have no crowd limits for round one, especially with all 10 Victorian teams playing in Melbourne that week,'' Mr Pakula said.
Uncapped crowd limits will also apply at other major events at the Victorian stadiums.
The crowd comeback raises the prospect of a new single round all-time AFL attendance record being set.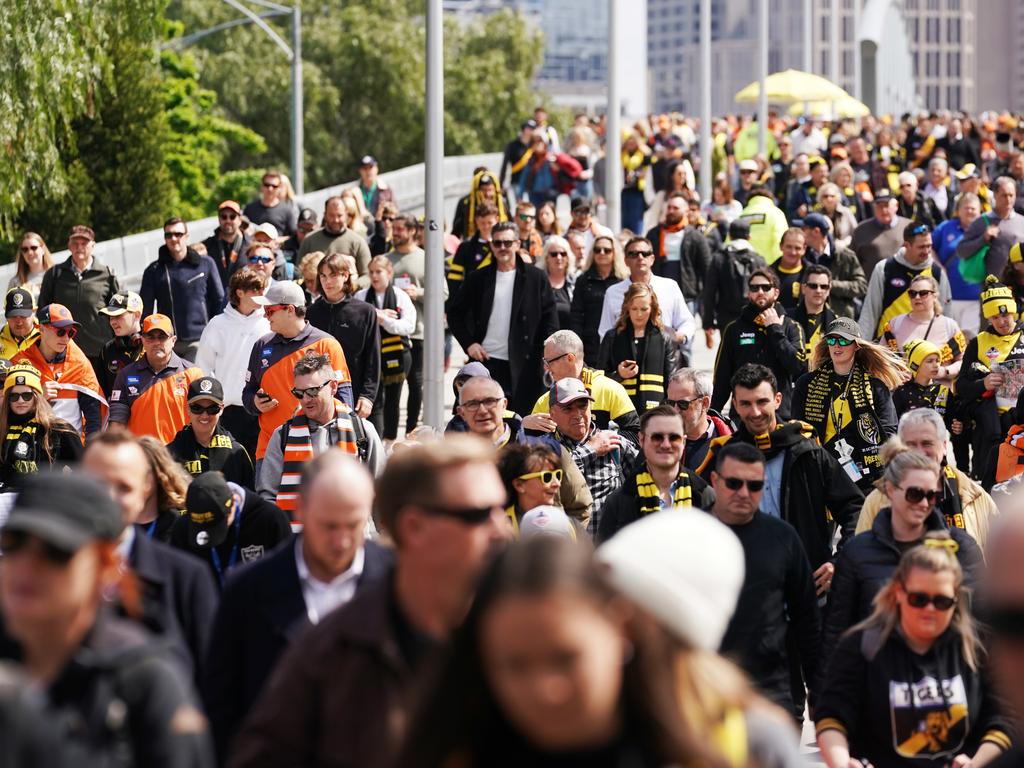 The crowd decision is being hailed a win for fans and businesses. Picture: AAP
The biggest previous attendance record was round one in 2017, when 400,401 fans attended AFL matches nationwide.
But with all 10 Victorian teams to play in Melbourne in five round one blockbuster games over five days, a new attendance mark looms.
Masks will be required when moving around footy matches and other major events with more than 30,000 people but not when fans are seated outdoors.
Confirmation of uncapped crowds could see up to 170,000 fans attend the first two nights of the season alone.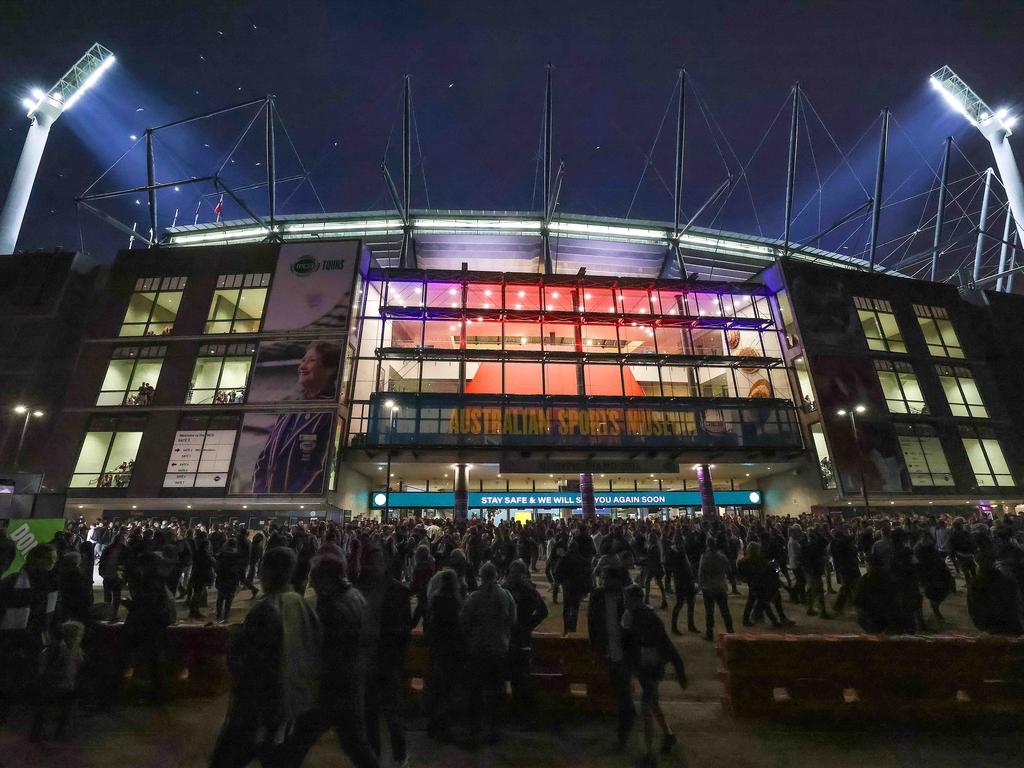 Round one could break the record for the single round all-time AFL attendance. Picture: Ian Currie
Up to 80,000 fans are expected to watch Melbourne unfurl their premiership flag against the Dogs.
Up to 90,000 are expected at the MCG the following night for Richmond-Carlton.
And big crowds are also tipped for Geelong's Saturday afternoon clash with Essendon and St Kilda-Collingwood at Marvel Stadium.
McLachlan hoped to "safely get as many fans back to the footy as possible''.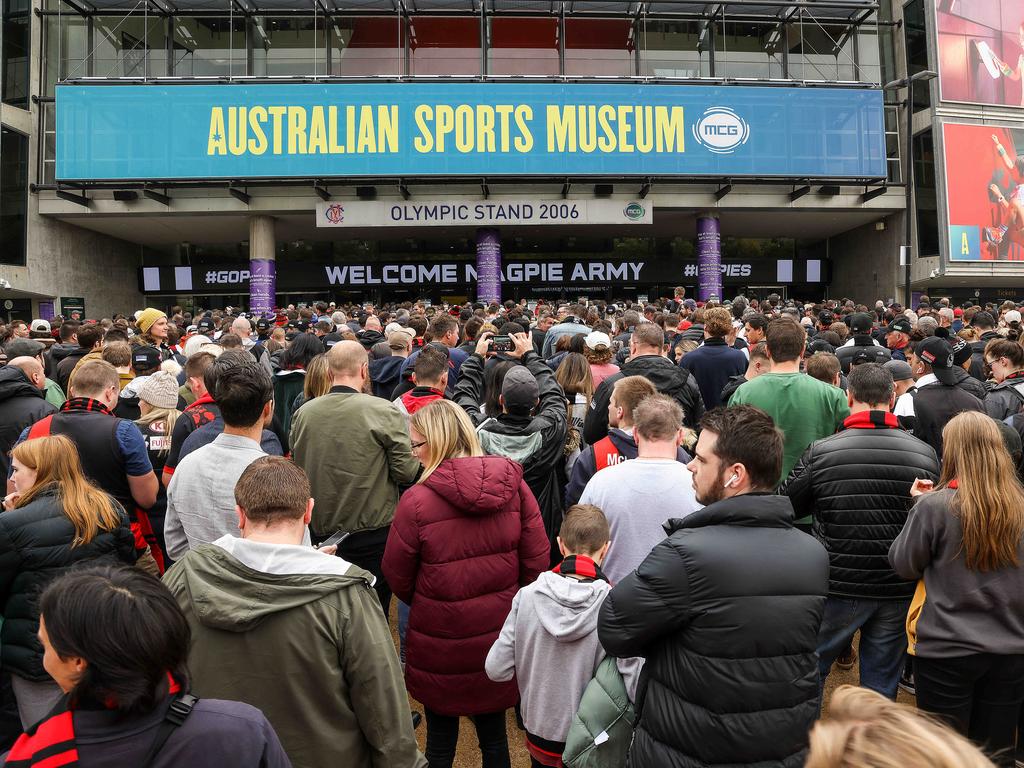 Masks will be required when moving around footy matches. Picture: Ian Currie
"We want to get big crowds back to the footy, the weekly ritual of being able to go to a game and the sense of community it creates, connecting families and friends is something we have missed in the state,'' he said.
There have been only 30 games in front of restricted crowds at the MCG since the start of the pandemic in March 2020.
No fans have watched a footy match at the MCG since Collingwood upset Richmond in Round 17 last year.
MCC chief executive Stuart Fox said: "It's thrilling for the home of sport to be able to host members and fans again without any restrictions on capacity for the first time since the pandemic began.
"There's something incredibly special about being part of a capacity crowd at the MCG, it's the energy, the sounds and the passionate fans."
He added: "There's nothing that can beat it and it's so important this can happen after Victorians have been starved of live footy at the 'G for too long.''
Only fully vaccinated fans will be allowed entry to AFL matches in Victoria, with fans also expected to check in via QR code.