The best AFL mid-season draft options in the VFL
You may not know Kallan Dawson, Finbar O'Dwyer or James Blanck, but they're one step away from becoming household names, writes PAUL AMY.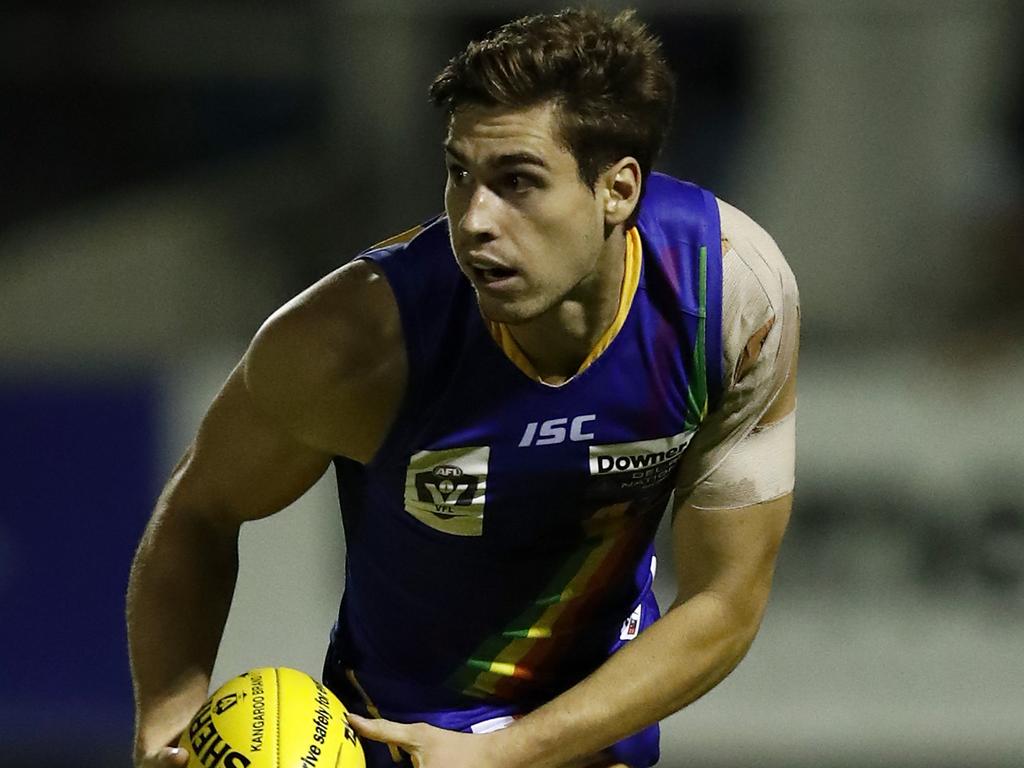 Kallan Dawson of Williamstown is one of the top mid-season draft prospects. Picture: Darrian Traynor/AFL Photos/via Getty Images
There was a good reason Kallan Dawson was unable to get a game for Williamstown last season.
Another emerging tall defender was ahead of him.
It was Charlie Dean, who at year's end won the Fothergill-Round-Mitchell Medal as the most promising young player in the VFL and was drafted by Collingwood.
His departure created the opening Dawson had patiently and determinedly been seeking.
Now the 23-year-old is himself getting attention from AFL clubs.
In fact, some people around the Towners believe he's one of the state leagues' best hopes in next week's mid-season draft.
The 196cm Dawson has taken his time to reach the point of senior permanency and draft candidacy.
He joined Williamstown in 2018, having come through the Williamstown juniors and the Under 19s at amateur club Williamstown CYMS (he happily calls himself an "all-Williamstown player'').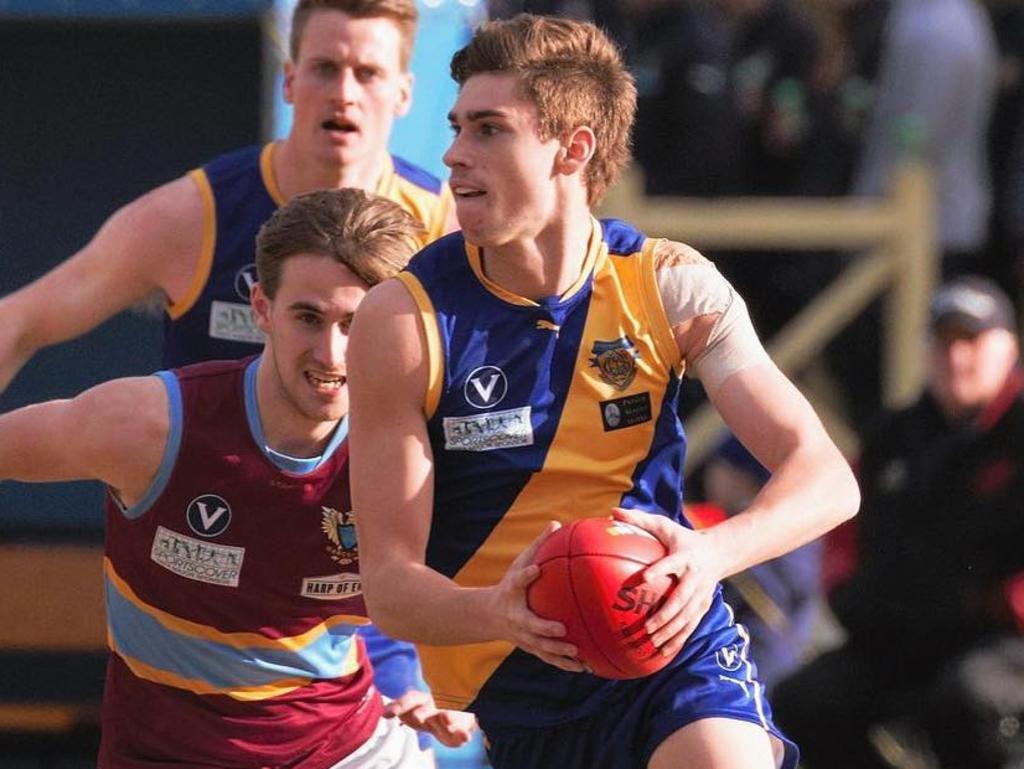 Kallan Dawson playing for Williamstown CYMS in the VAFA. Picture: NCA
Dawson broke through for two senior games under Andy Collins in his first season in the VFL and added three more in 2019.
In his time as a coach Collins was never shy about pushing up his players, and he liked what he saw in Dawson.
But after those three appearances in 2019, little was seen of him for some time.
Covid killed off 2020 and he missed selection in the shortened 2021 season (groin problems had kept him out for the first three matches). Willy CYMS – where he had played in an Under 19s premiership – were happy to have him.
"Charlie Dean!'' is how Dawson explains his absence last year.
"He was keeping me out. It was a little bit frustrating but Charlie was doing really well and that was great for him. It was super-exciting when he got picked up. I knew an opportunity would come for me at some stage.''
MELBOURNE, AUSTRALIA - JANUARY 21: Charlie Dean of the Magpies in action during the Collingwood Magpies training session at Olympic Park Oval on January 21, 2022 in Melbourne, Australia. (Photo by Michael Willson/AFL Photos via Getty Images)
It came this year. And he's seized it, playing every game and averaging 13 disposals and 6.9 marks.
The Willy coaches like his athleticism, his competitiveness, his versatility – he can play a bit taller and a bit smaller – and his ability to read the play and pick off intercept marks.
"I'm concentrating on my contested marking but I'm also trying to be proactive and intercept when I can,'' Dawson – whose father, Ashley, played at Caulfield in the old VFA – says.
The second-year apprentice electrician has been interviewed by a number of AFL clubs in recent weeks and he says it would be "unreal'' to follow Dean on to a league list.
The Towners have also taken calls about Finbar O'Dwyer, who has been a success at full-back after being let go by the Northern Bullants at the end of last season.
The former Murray Bushranger was on Carlton's list from 2019-20 but never played an AFL game.
He's taken the most marks (66) in the competition this season.
New era of Qld stars is primed to inflict pain on NSW. Picture: AAP Image/Stefan Postles
Dawson and O'Dwyer are among a handful of tall VFL defenders to have emerged as mid-season draft candidates.
James Blanck, 196cm, could be the next Box Hill player to be drafted by VFL alignment partner Hawthorn.
The Hawks, of course, nabbed Jai Newcombe from the City Oval in last season's mid-season draft and the powerhouse midfielder from Poowong has made a duck-to-water transition to the AFL.
Blanck – who, like Dawson, stipulated an 18-month contract term when he nominated for the draft – played in the NAB League Boys with Eastern Ranges.
He's in his third year with Box Hill Hawks.
In between turning out for his local club, Park Orchards, Blanck made his senior debut last season under Sam Mitchell, who was the first player to take the Box Hill-to-Hawthorn route to the AFL.
Commentator Nigel Carmody believes Blanck, a Vic Metro Under 18s representative in 2018, has attributes similar to other defenders drafted from the VFL.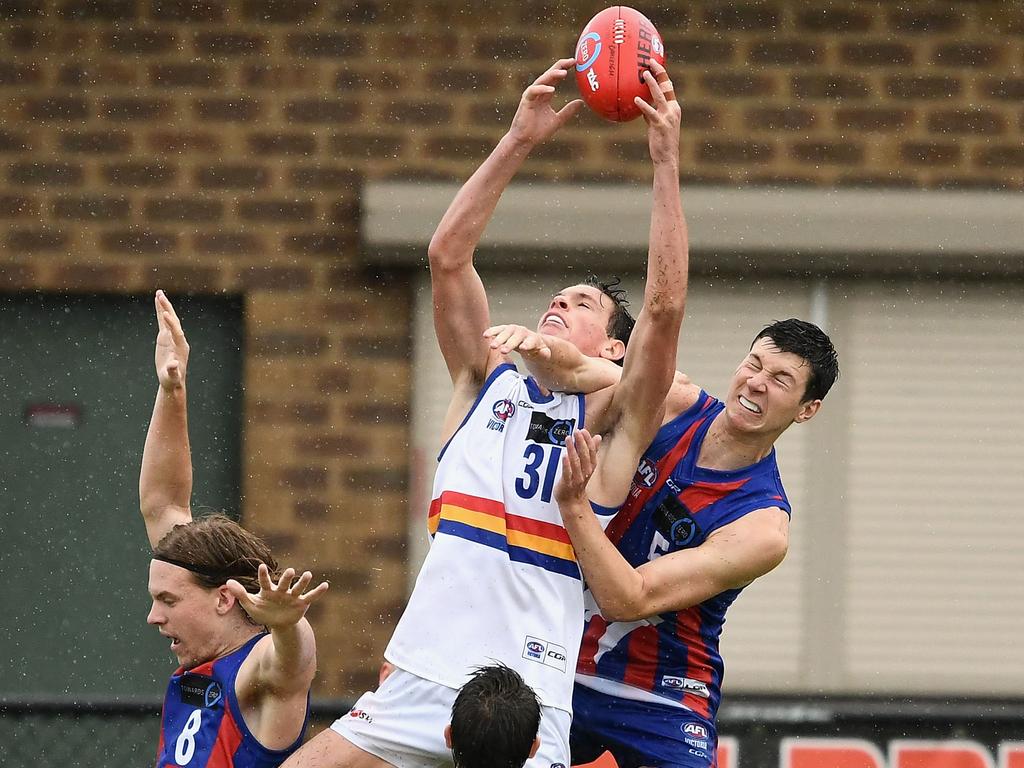 James Blanck during his Eastern Ranges days. Picture: Quinn Rooney/AFL Media/Getty Images
"When you think of those bigger bodied, last-line defender types who have gone through the VFL in the last couple of decades and done all right, they didn't necessarily have a mountain of footy under their belt,'' he says.
"But they did have a good upward trajectory and he's a bit reminiscent of that, whether it's Michael Jamieson or even Scott Thompson, just with that ability to nullify an opponent and cancel them out by either denying them the ball with a spoil or showing some aerial stuff to win it back.''
He says in the case of both Dawson and Blanck, their local clubs can take credit for keeping them playing good senior football and developing as players as they bided their time for VFL openings.
Coburg's former Sydney Swan Jack Maibaum will also come into consideration for clubs seeking to bolster their defensive lines.
Maibaum, 24, was in the VFL team of the year in 2021 and has been among the Burgers' best players this season.
His standout effort – nine marks and 24 possessions – was against Box Hill Hawks in Round 5.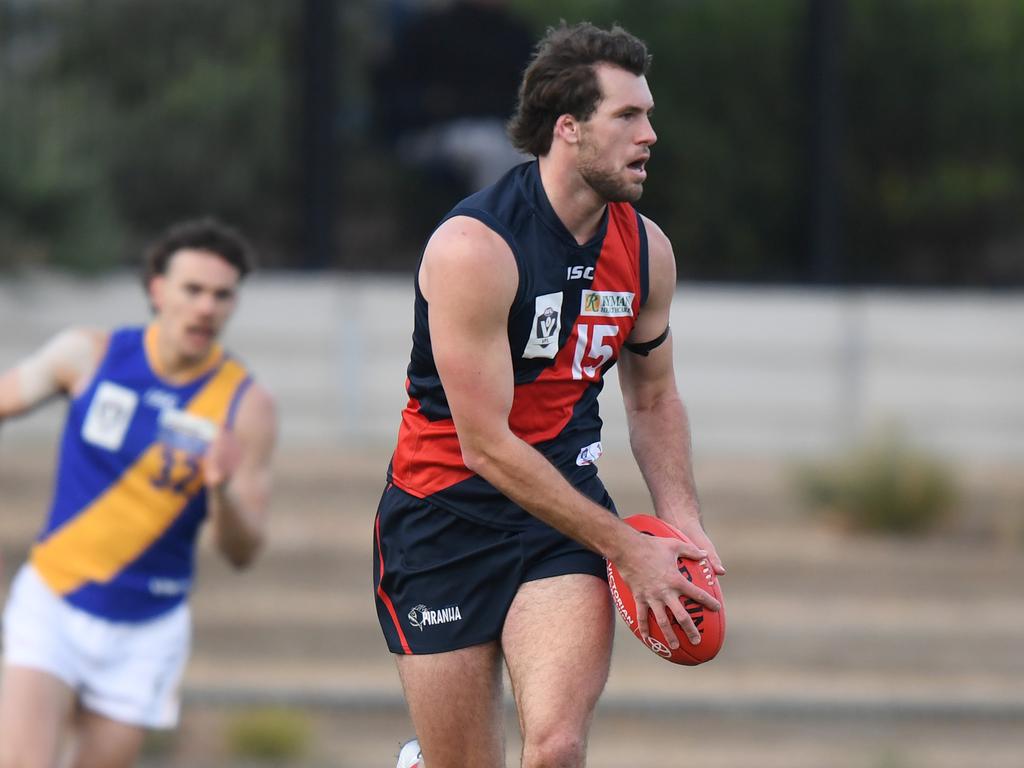 Former Sydney Swan Jack Maibaum's VFL form for Coburg has him aiming for a second AFL stint. Picture: Morgan Hancock/AFL Photos/via Getty Images
"He's a tough competitor and we respect him so much for what he brings to our club,'' Coburg GM Seb Spagnuolo told the club website this week.
"He's a team-first player who works on himself but also wants his teammates to be the best they can be. Jack is more than capable of getting back into the AFL system and not only be on an AFL list but can go on to have a prolonged career at AFL level.''
The Northern Bullants have a good prospect in Mutaz El Nour, who came to notice last season after emerging from local ranks.
The right-footer has averaged 17.9 disposals and 6.3 marks as a creative force across half back.
"Really good kid, and from where he started and where he is now, it's been rapid improvement and I think he'd be an asset to any list,'' Ants captain Tommy Wilson says of El Nour.
"Put him in a full-time environment and that improvement will be fast-tracked and you could see a really handy player.''