The day Tony 'Plugger' Lockett pulled on the boots for Port Melbourne in his comeback for the Sydney Swans
Black limos, security and countless autographs - PAUL AMY recounts the day Tony Lockett debuted for Port Melbourne.
Two decades ago, the great Tony Lockett played for Port Melbourne in the VFL as he set about a footy comeback.
The call came from Steve Malaxos early in the week.
David Dunbar says it was probably on the Tuesday, since that was when Malaxos, assistant coach to Rodney Eade at the Swans, usually phoned from Sydney in 2002.
Dunbar was coaching VFL club Port Melbourne, which back then had a semi-alignment with Sydney, taking in 10-or-so players every week.
Malaxos would call to confirm who would be lining up with the Borough, and ahead of the Round 7 match against Werribee he had some "pretty big'' selection news.
"I've always remembered how it happened,'' Dunbar says. "Stav rings and says, 'Now listen, what I'm going to tell you, we need to keep this under wraps, we don't want it getting out yet','' Dunbar recalls.
"Only about half an hour later the phone rings and I hear, 'It's Caroline Wilson from The Age here, I just want to talk to you about Plugger playing at Port Melbourne this week'. So the secret didn't last long!''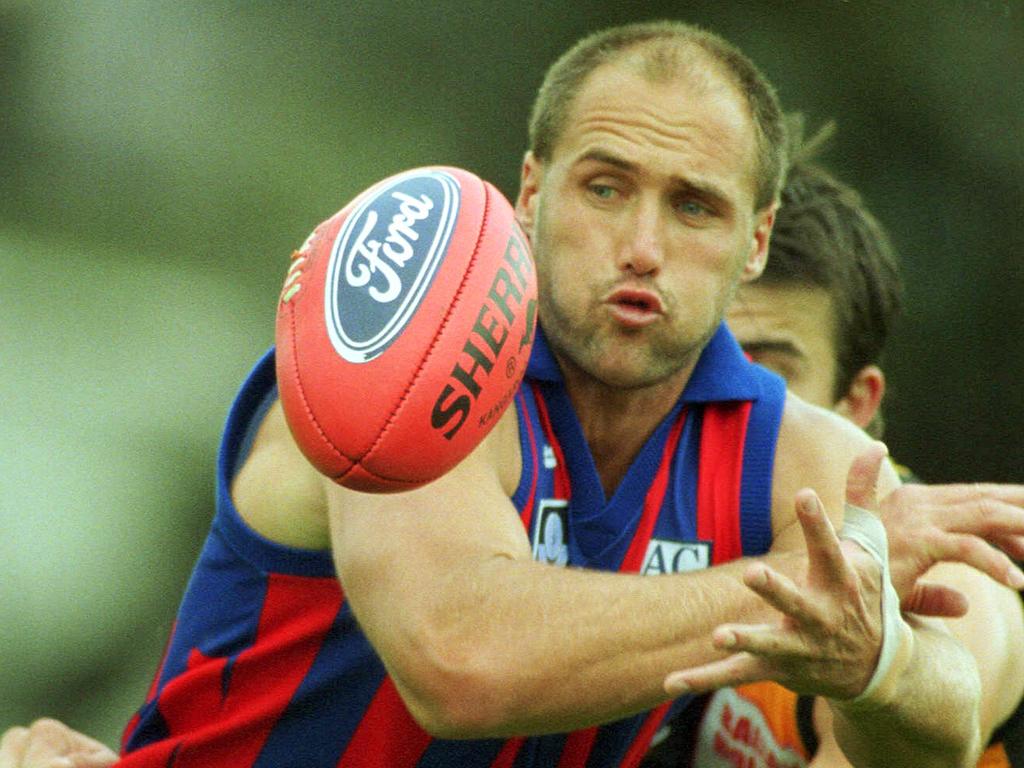 Tony Lockett in action for Port Melbourne during his footy comeback in 2002.
Tony 'Plugger' Lockett kicked 1360 goals in 281 games of league football, making him the most prolific goalkicker in VFL/AFL history.
And 20 years ago, during a brief AFL comeback with Sydney, he kicked four goals for Port Melbourne at North Port Oval.
The appearance of the Brownlow Medal champion and iconic full-forward brought a blaze of media attention to the club and is still talked about by Borough supporters.
Spectators went from one end of the ground to the other to watch him, and Port Melbourne had to rope off its huddle at the quarter breaks to shield him from autograph hunters and backslappers.
There's a good chance Lockett's memory of the day is of pens and paper being pushed at him.
Dunbar, who was in his third year of coaching Port, says it was more like a carnival than a football match.
The ABC televised the game.
"He's the greatest goalkicker the game has ever seen, Tony Lockett – 1358 goals. We thought we'd seen the end of him, but no, here he is back after a two-year retirement,'' fizzed ABC caller Drew Morphett at the start of the coverage.
Turning to expert comments man Phil Cleary, Morphett said: "I don't think any Port Melbourne player has ever turned up to a game in a black limousine with a couple of minders!''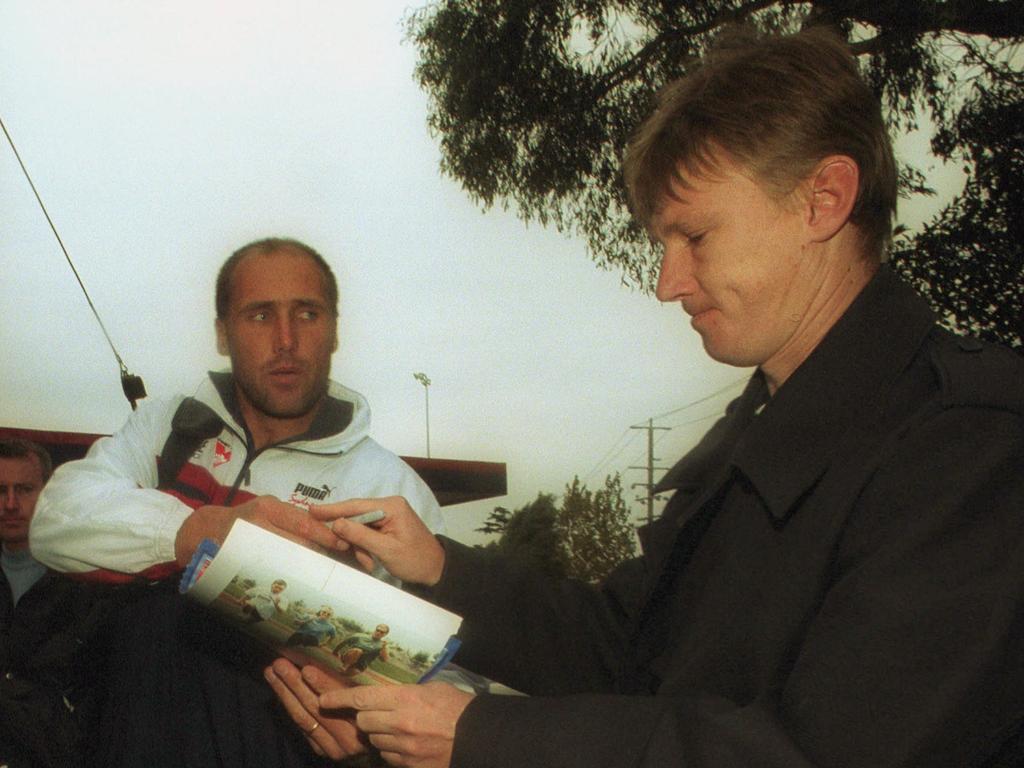 Autograph hunters were out in force for Plugger's return.
Herald Sun photographer George Salpigtidis snapped a shot of Morphett taking a pic of a smiling Cleary about to shake the hand of Lockett, and of Port Melbourne president Peter Saultry welcoming Lockett after he emerged from the limo on Williamstown Rd.
His Puma bag was slung over his shoulder as he walked to the gates. His cameo had set them clicking.
*****
Two days earlier Port put out a press release about Lockett, who had retired at the end of 1999.
"While Tony Lockett will be an obvious drawcard on Saturday, he will be told in no uncertain terms that he is about to pull on a guernsey that represents all the history and tradition of Port players of the past, a guernsey that he should be honoured to wear,'' it said.
In the newspapers the Borough named a full-forward line of Ablett, Lockett, Ablett.
Ryan Ablett, a prodigious talent who went on to win Port's best-and-fairest that year (and who died suddenly in 2009 at the age of 27), was in one pocket and his cousin Luke, coming through at Sydney, in the other.
As it was, Luke Ablett didn't play in the match.
As well as Lockett, future AFL premiership players Ryan O'Keefe, Amon Buchanan and Lewis Roberts-Thomson, Nick Daffy, Gerrard Bennett, Scott McGlone, Leigh Brockman, Rowan Warfe, Jarrad Sundqvist, Ricky O'Loughlin and Scott Stevens made up Port's Swans contingent.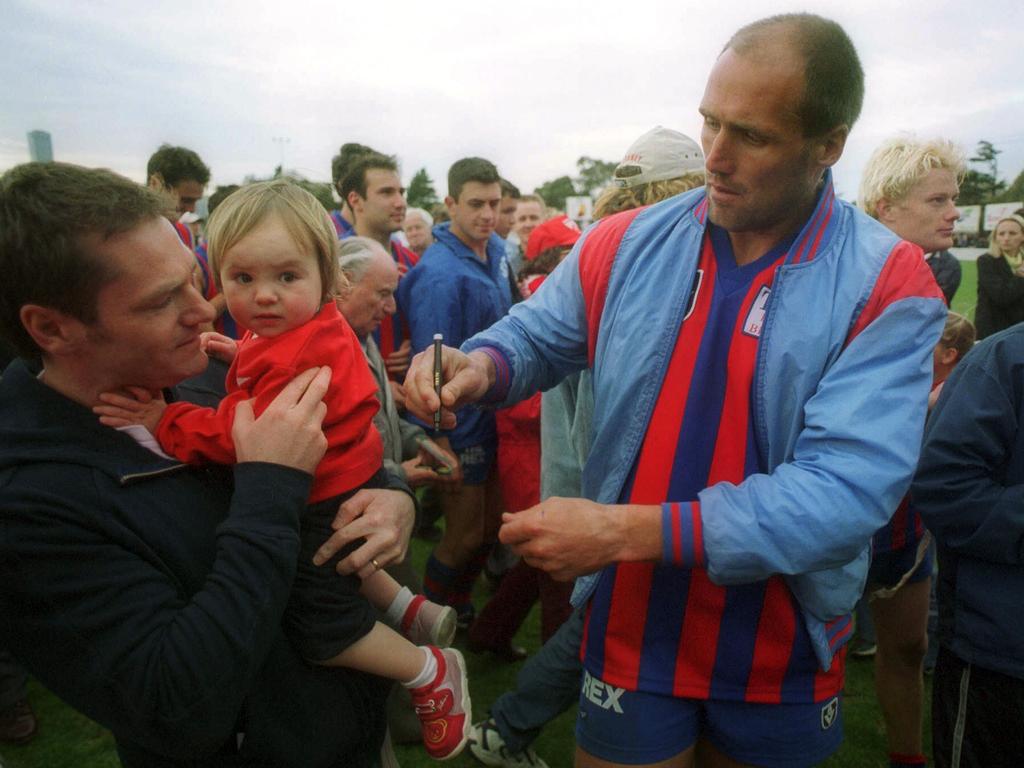 The crowds flocked to North Port Oval to catch a glimpse of one of the greatest of all time.
Lockett arrived separately, driving from Bowral to Sydney airport and flying to Melbourne on the morning of the game.
His teammates had flown in the previous day and had a light run at the Port Melbourne ground.
It was a big build-up for the Borough, who had to arrange extra security for Lockett's visit.
"It was a huge occasion for the club,'' Saultry, now 82, says.
"He was just a superstar. No doubt about it, he was one of the greatest players in football, and we were pretty excited to have him.''
Saultry can't remember who composed the press release – back then he and general manager Barry Kidd ran the day-to-day operations of the club – but says it was fair and reasonable given Port's history (it was established in 1874).
"Once you're involved in Port Melbourne, you're Port Melbourne through and through,'' he says.
"You have to understand the tradition and the culture of the club. That's what we wanted to get across, that Tony Lockett wasn't going to be playing at any old football club, that he was going to play for Port Melbourne.''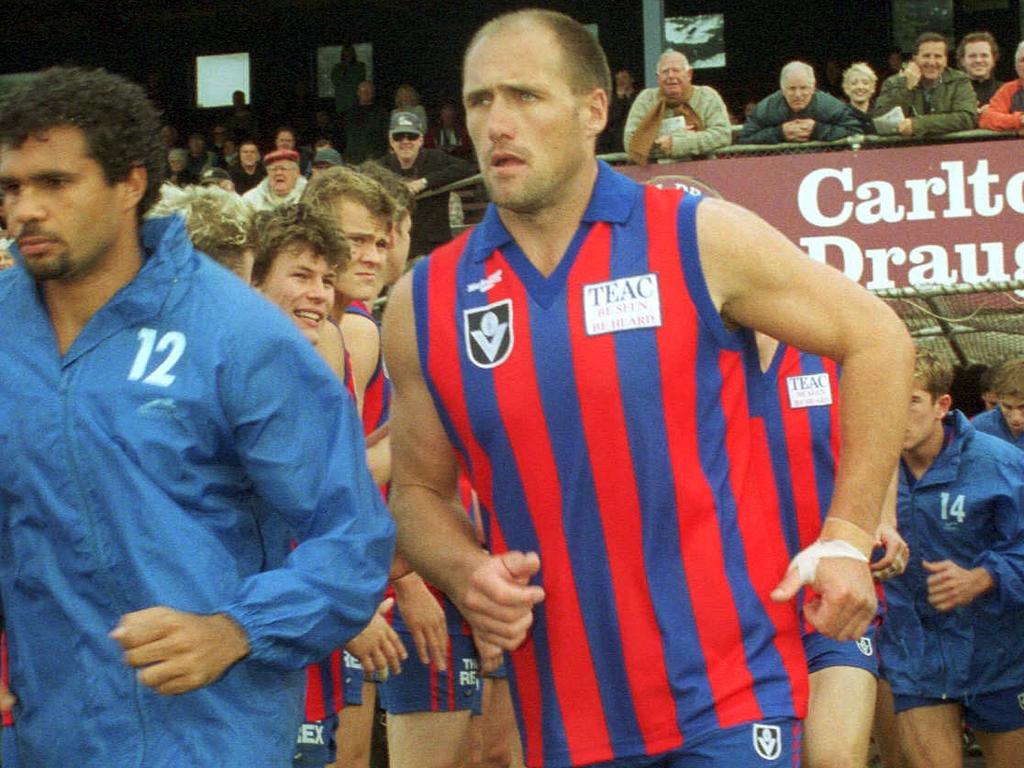 Lockett runs onto the field ahead of Port Melbourne's game against Werribee in 2002.
*****
Three weeks before Lockett's selection, Port had been thrust into the headlines when its captain, Peter Filandia, was suspended over one of football's most bizarre incidents.
He was suspended for 10 weeks after being found guilty of biting Springvale opponent Chad Davis on the testicles.
In Filandia's absence, Brett Rose assumed the skippership.
And it was Rose who met Lockett in the rooms when he arrived at North Port Oval two hours before the game.
Rose had been on Sydney's list in 1997-98. His old Swans teammate was now his new Port Melbourne teammate.
"Tony was always a reasonably quiet sort of guy who kept to himself a lot. But I got along with him fantastically, and it was great to spend that day with him at Port,'' Rose says.
"When he arrived we had a chat about the game. I wasn't about to offer him any advice, because he was a phenomenon. I just wanted to make sure he had everything he needed. Having not played for a while, I think he was just eager to get on with it. There was a lot of buzz around and a lot of media. He was pretty keen to get that first goal out of the way and get on with his comeback.''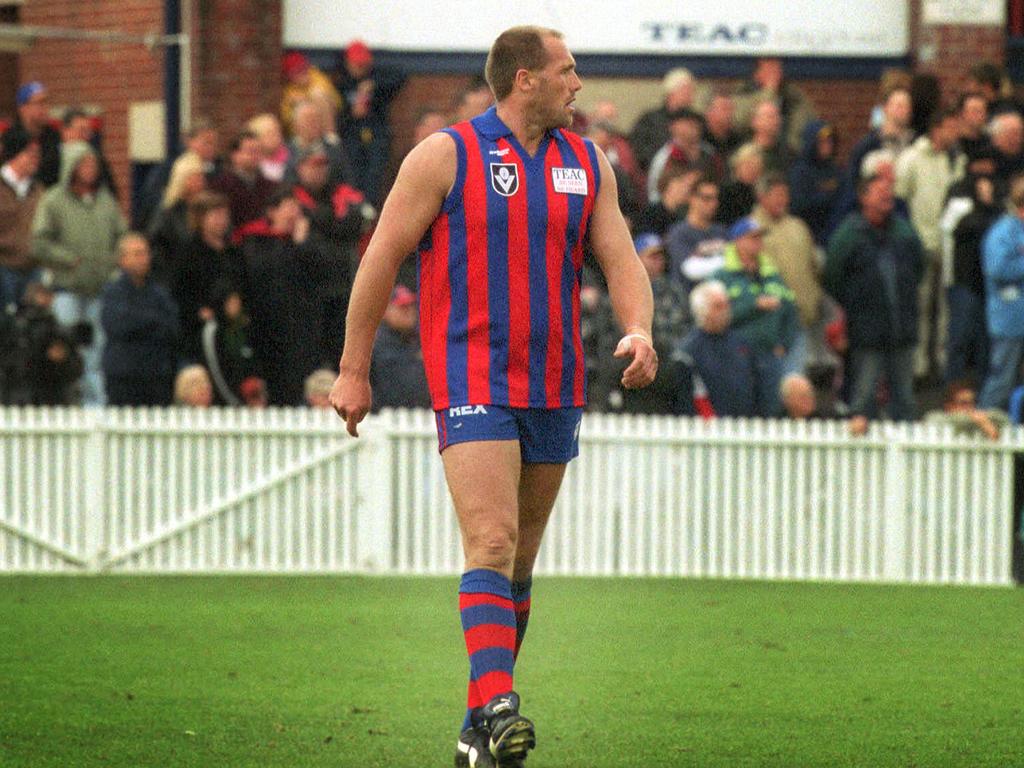 "There was a lot of buzz around and a lot of media. He was pretty keen to get that first goal out of the way and get on with his comeback.''
At halftime in the reserves James Freud's song One Tony Lockett came over the loudspeaker.
Dunbar recalls that Lockett was "pretty quiet'' and sought to stay away from the hubbub.
"Go out and enjoy yourself,'' was the only instruction the coach gave to the great spearhead.
As he jogged to full forward for the first quarter, Lockett was met by his Werribee opponent, Brian Harris, who was playing his third VFL game.
At that time Werribee had a semi-alignment with the Western Bulldogs, who selected Harris at No.71 in the 2001 national draft.
Harris later changed his surname to Lake. And he later changed clubs, winning a Norm Smith Medal in 2013 and three premierships with Hawthorn.
Before all the accolades, there was his meeting with Plugger, and he more-than held his own.
*****
It took until the shadows of halftime for Lockett to make his first meaningful contribution of the game, taking a strong contested mark and making the set-shot.
Among his football mementos, Lake has a framed photograph of his encounter with Lockett at North Port Oval. It was a gift from his father.
When he heard Lockett would be lining up at Port, Lake went to Werribee coach Chris Bond and asked if he could start on him.
"I thought, 'Well, stuff it, if I'm only here (at the Bulldogs) for 12 months, at least I'll be able to say I played on Tony Lockett, one of the greatest players in the game','' Lake says.
"It was enjoyable. They had the big crowd and he was a challenge. He wasn't a guy like a Nick Riewoldt or a Buddy Franklin who would work you over but he was smart and he was still explosive off the mark, which was surprising with his age. Yeah, I was happy to get that one in the resume early.''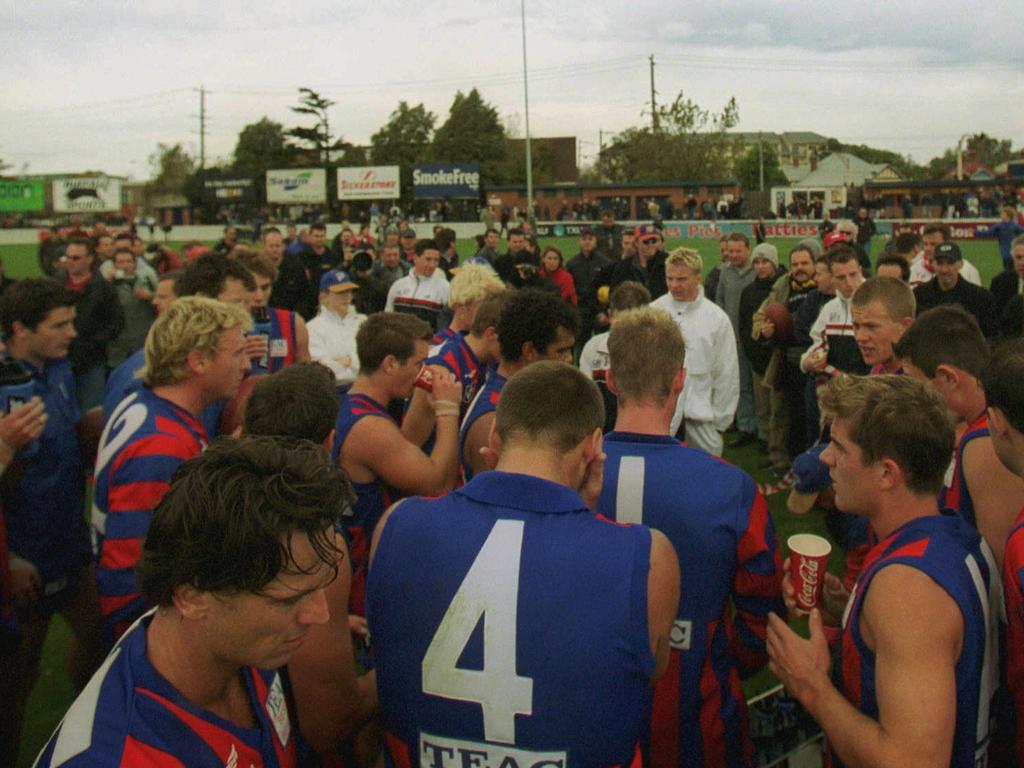 Lockett in the huddle as a big crowd watches on.
Port trailed Werribee by seven goals at halftime. But, ignited by Bennett, they fought back spectacularly to win by 10 points, 13.12 (90) to 12.8 (80), with Lockett booting three goals in the third quarter.
Lake laughs as he says he was helpless to prevent two of them.
Lockett had been given the No.4 jumper. But he wasn't down to play four quarters, with Eade sending instructions that he was to come off at the last change.
Eade says it was "just about game time'' for the champion.
"He didn't need to set the world on fire but he kicked three or four and he achieved what we wanted out of it, have a run through the VFL rather than start straight back in the hurly-burly of the AFL,'' he says.
Lockett's absence in the last quarter added merit to what Dunbar calls an "unbelievable win''.
"Coming off the ground, there were people hanging off the wire of the race, just screaming out,'' he says.
"As I'm walking in I had all these reporters wanting to interview me, MMM, ABC, all of them. I reckon The Age and the Herald Sun both did double-page spreads on him. It put the VFL right into the spotlight. That didn't happen often.''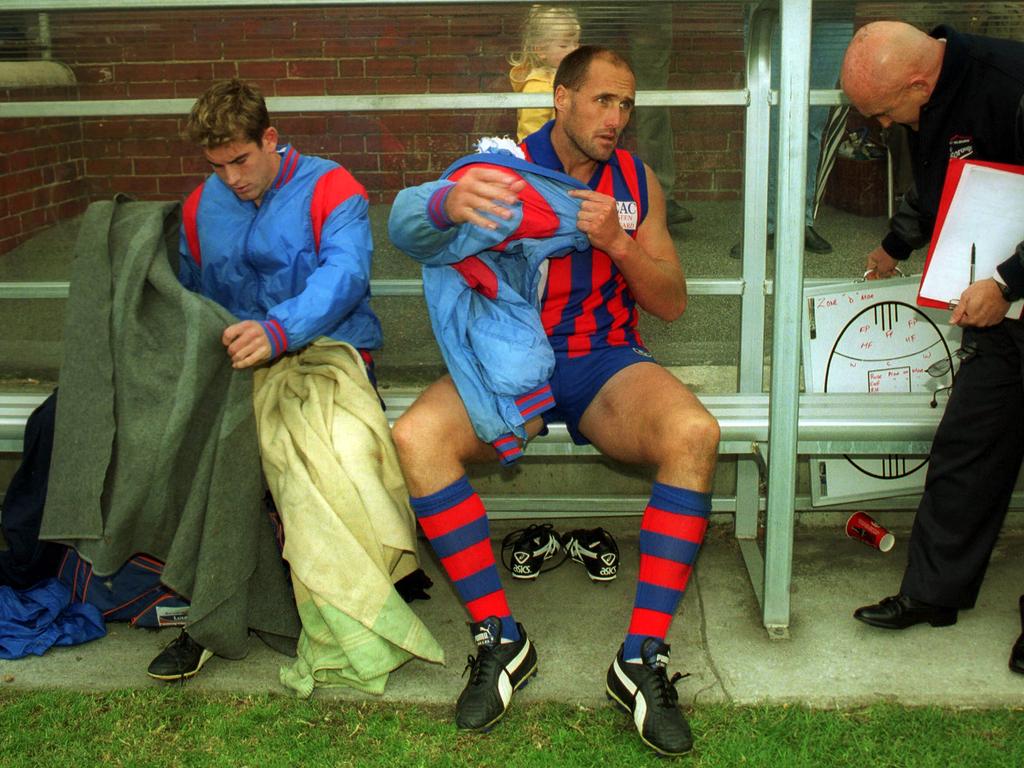 Lockett kicked three goals in the third quarter before coming off. Picture: Karen Dodd
*****
Port's Anthony Aloi shared the forward line with Lockett that afternoon.
It's one of his favourite memories of a football career that took in a listing with the Western Bulldogs.
"When the news came through that Plugger was going to play, it was an unbelievable feeling, to know you would be playing with a guy like him,'' Aloi says.
"The build-up was enormous and so was the day. I went and introduced myself. I didn't say much, he didn't say much – 'G'day, I'm Anthony, g'day, I'm Tony'. I know all the Port players were excited to have him there but in terms of the game, the game plan, the strategies, the team meeting, it was all business as usual. But when you got out on the ground you know it wasn't business as usual, because it was a carnival atmosphere.''
Lockett also played for Port Melbourne the following week, against Essendon at Windy Hill, kicking three goals, again in three quarters.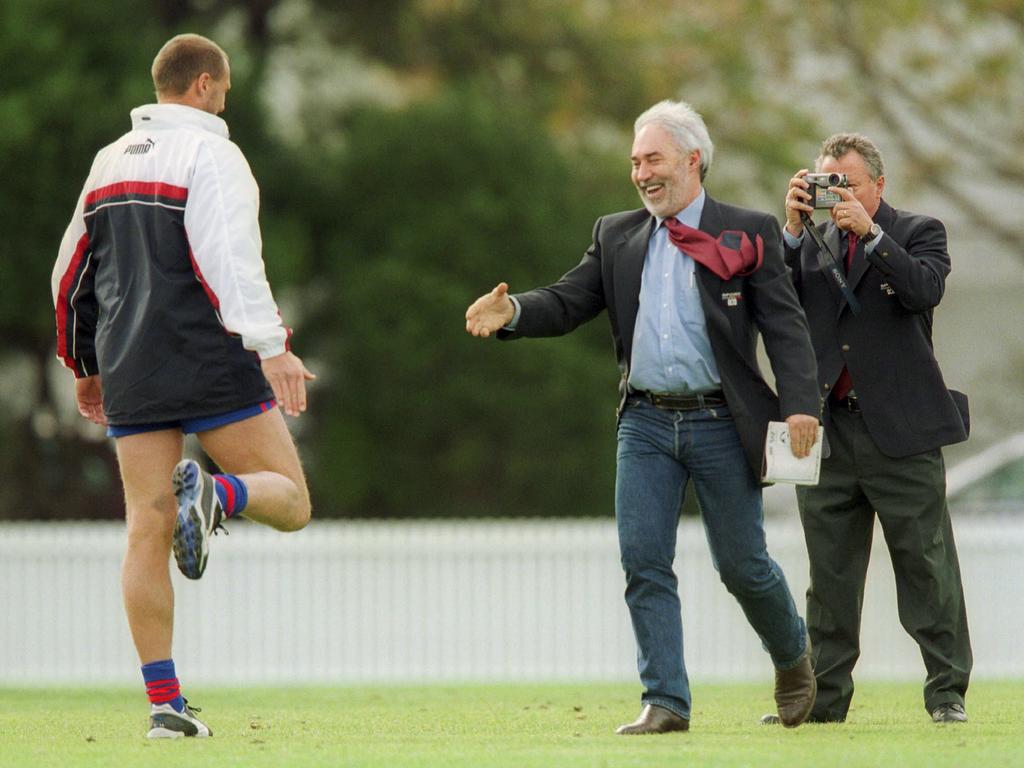 Commentators Phill Cleary (C) and Drew Morphett (R) Lockett before the match.
Given that one of the goal squares was soft, a Port official advised him to wear screw-in boots. He hadn't brought them.
Dunbar remembers that officials gave him screw-ins belonging to one of the Pekes brothers (Hanifi and Ramazan Pekes were twins playing in Port's reserves).
"We put the call out at halftime of the reserves that Plugger needed boots with the screw-ins and one of the brothers handed over a brand-new pair of Puma Kings,'' Dunbar recalls.
"They had a tongue on them and once you laced them up it folded back over. Anyway, 'Plugger' played in the boots and after the game he gave them back to me. I didn't know but he'd cut the tongue off the boots and I had to give this new pair back to the boy from the reserves.''
A call to Puma's John Forbes took care of the boot problem; Hanifi Pekes confirms he was sent another pair of Puma Kings a few days later.
He says it was "pretty cool to help the greatest goalkicker of all-time''.
*****
It was a memorable season for Port Melbourne.
The Borough reached the grand final, playing Geelong at Princes Park in Carlton.
They were in it for a long way, but faded near the finish. The Cats' team included a bunch of young players destined to carry the club to greatness: Gary Ablett Jnr, James Bartel, Steve Johnson, James Kelly, Paul Chapman and Josh Hunt.
As for Lockett, there was to be no final flourish to his career.
After his runs in the VFL he played two more AFL games before going into retirement again.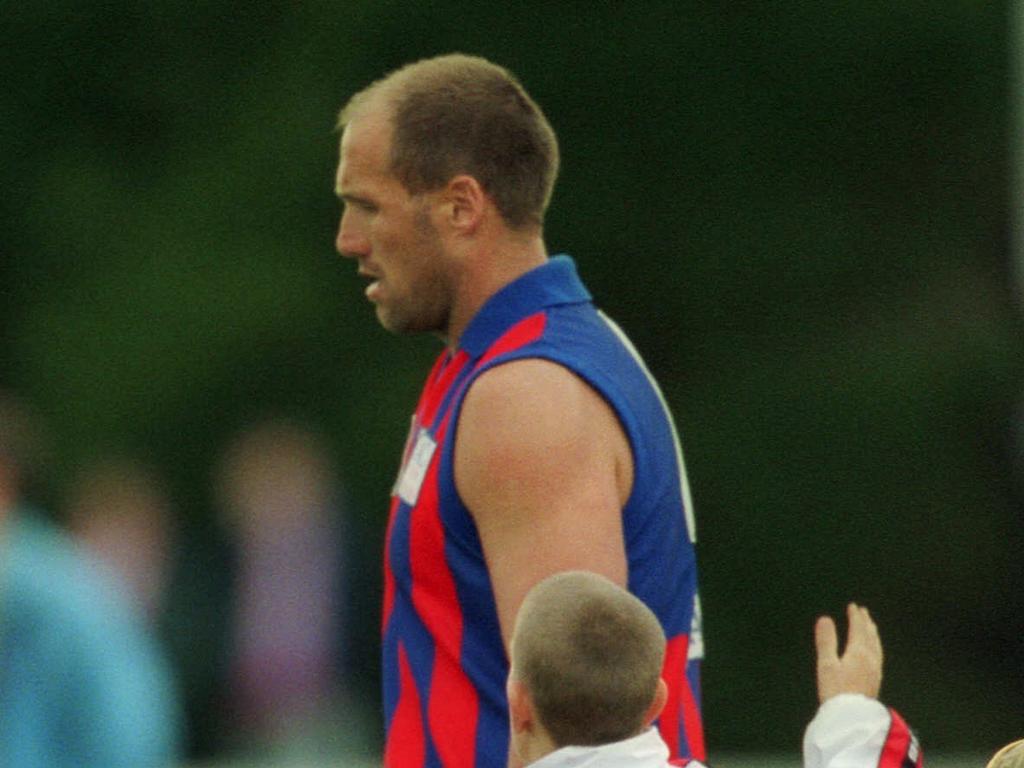 After returning with Port Melbourne, Lockett played two games for the Swans before injury forced him into retirement again.
Eade is convinced if Lockett had not been injured in Round 1 he would have gone on to be a good contributor for the Swans.
"I was really hopeful it would work. We'd recruited Barry Hall and Tony was going to have to play, not second fiddle, but a support role,'' he says.
"I challenged him with some hard questions, along the lines of, 'Are you going to cope with the times when you don't kick all the goals and you're not the main player?' He was taken aback a bit. I think he thought he could slot straight back in and things would be exactly the same. But there's always a reason they retire in the first place.
"He took it very seriously. He lost some weight, got himself fit, his pre-season was really encouraging, his practice match form was fine and then he copped that injury in the first game against Brisbane. I'm sure he would have been a really solid player if he'd had continuity, would have been able to average a couple of goals a game, maybe three a game. It didn't work out, sadly.''
But in the VFL, Tony Lockett's 2002 comeback endures as the time Plugger pulled on the boots for the Borough.