The Early Tackle: All the Likes, Dislikes and talking points from Round 9
Adam Treloar reminded Collingwood what it gave away with a massive performance on Friday night. And one clause in the 'fire sale' trade gave it an extra sting.
We may be into Round 9 but already we are being delivered a massive sense of deja vu. The umpire dissent rule is back on the agenda.
Two decisions on Friday night had fans and TV viewers scratching their heads. But at least the performance of Adam Treloar was a big win for the good guys.
DISLIKES
50m FARCE
Brad Scott may be regretting going the early crow on the dissent rule after his declaration that it was becoming a "non-issue" barely lasting 24 hours.
The AFL football boss uttered those words on Thursday and yet by Friday night his competition was losing its mind after over a couple of "ridiculous" decisions.
Watch every blockbuster AFL match this weekend Live & Ad-Break Free In-Play on Kayo. New to Kayo? Try 14-Days Free Now >
Expert commentators and former greats were lining up to rightly whack the policy makers again for the dissent rule which had caused so much uproar earlier in the season.
With Friday night's game briefly coming to life early in the final quarter as Collingwood showed a pulse, Pies star Jordan De Goey was hit with a 50m penalty despite clearly restraining himself after briefly raising his arms.
Feel for De Goey. It's an emotional game and he's playing with emotion. Players aren't robots. Game just gets more and more sterile and unenjoyable every year @AFL
#AFLPiesDogs

— Rocco Juventino (@Mr_Bianconero) May 13, 2022
De Goey had been penalised for pushing Bulldog Josh Dunkley in the back and after a brief show of emotion he did exactly what Scott and the AFL wanted, stopping himself yet the umpire still penalised him.
The 50m penalty resulted in a goal to Dunkley and immediately took the air out of the Pies comeback, ensuring the game petered out to an easy Bulldogs victory.
Speaking on Fox Footy, Hawthorn legend Jason Dunstall argued: "I thought De Goey in particular was a little bit stiff because he was about to go off and then literally harnessed himself back in and then actually stopped but you could see initially he was about to throw the arms up.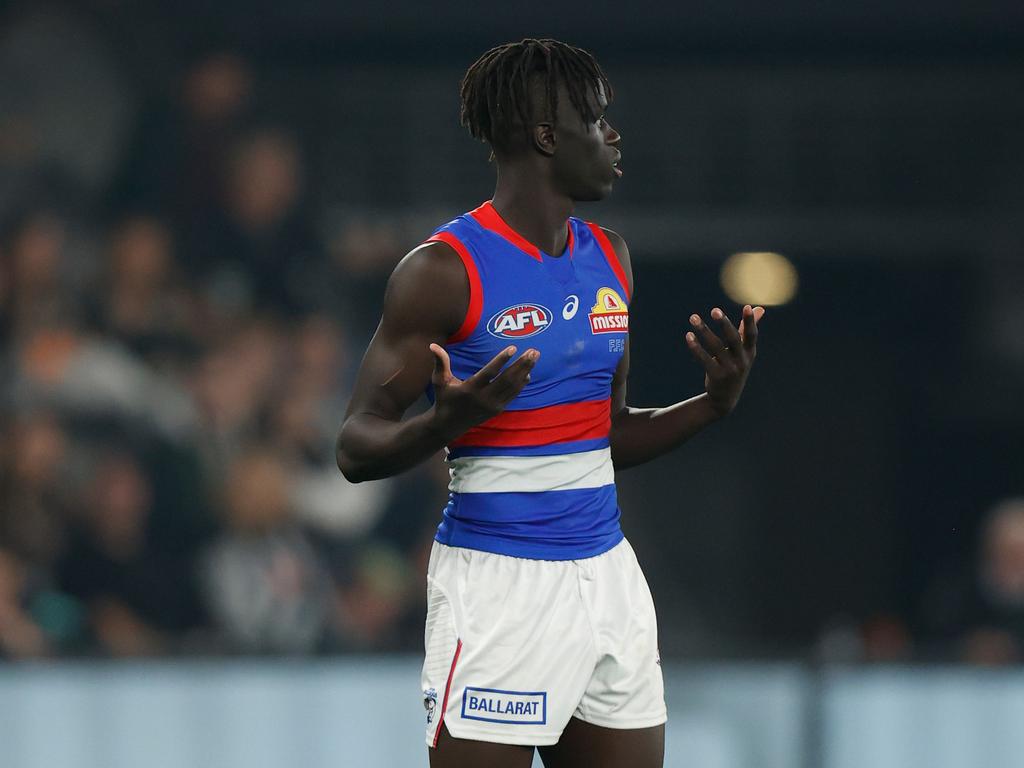 Buku Khamis of the Bulldogs also gave away a 50 metre penalty for umpire dissent. Picture: Michael Willson/AFL Photos via Getty Images
"If you are going to make that much of an effort to pull yourself back, I think you're entitled to get a little bit of latitude.
"This is where it is really, really difficult.
"They're giving instructions to the umpires so let's not be hard on them either. If you see the arms go up, that is some form of dissent but it's hard to expect players to completely turn off the emotion as soon as the whistle goes."
Former St Kilda star Leigh Montagna interjected: "It's not hard, it's impossible. They are going to react.
"That's what we want to see from players – restraint – and he did bring it back to himself, he did exactly what we wanted with this rule and yet it's still paid 50."
Two-time premiership player David King continued: "They've created another grey area in the game, which is a disaster going forward."
Earlier Western Bulldogs youngster Buku Khamis threw his arms in the air after he appeared to be pushed out of a marking contest by Magpies defender Isaac Quaynor.
But Khamis' frustration only grew when the umpire awarded Collingwood a 50m penalty for umpire dissent, handing the Magpies their third goal of the match.
"Khamis can't believe it," Channel 7 commentator Brian Taylor said. "I think it was for hands in the air as he didn't say anything.
"There's the arms out with a smile. Not a lot of malice in the question."
Richmond great Matthew Richardson continued: "Come off it. That's not 50 metres."
Former Bulldogs defender Lindsay Gilbee tweeted: "This rule is a joke seriously.'
But according to Scott, it's a non-issue.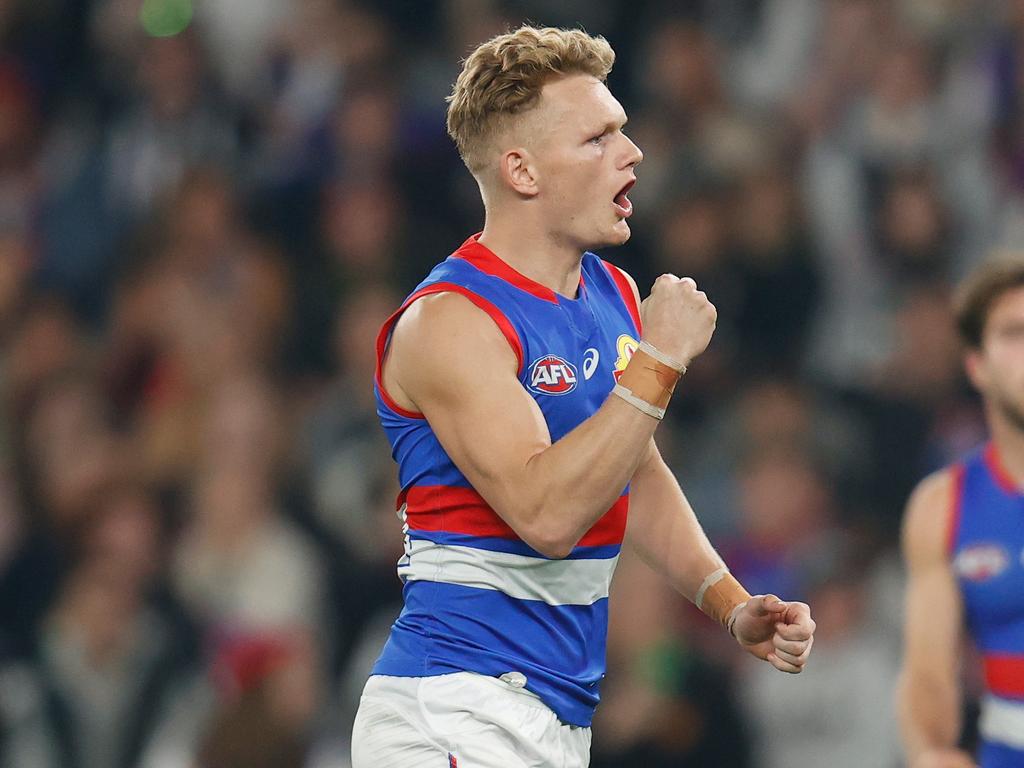 Adam Treloar stuck the knife into Collingwood. Picture: Michael Willson/AFL Photos via Getty Images
WHERE'S WORPEL?
THREE years ago James Worpel was the youngest winner of the Peter Crimmins Medal since Leigh Matthews in 1971.
Not many players win club best and fairests in their second year but the 20-year-old was a revelation averaging an impressive 26 possessions per game and subsequently a nice fat long-term contract came his way.
On Saturday Worpel touched the ball 12 times against Richmond although it must be pointed out one of them was a brilliant 50m goal to keep the game alive in the final three minutes.
New Hawks coach Sam Mitchell has moved around the midfield this year with Worpel, Tom Mitchell and Jaeger O'Meara spending less time around the ball to help promote the growth of the likes of Jai Newcombe and Conor Nash.
It seems Worpel has been the biggest casualty of the move - he was dropped to medi-sub on Easter Monday - and is clearly struggling to find his identity in this new Hawks era.
BUMP DEBATE
Jack Higgins being subbed off in the second quarter against Geelong with concussion is a horrible scenario given his history with head knocks.
It was a massive blow for St Kilda given what an excellent season he has put together but let's nip any controversy around his injury in the bud now.
Geelong defender Jake Kolodjashnij should not be looked at in any way for being in the wrong for what happened to Higgins.
Kolodjashnij had just sent off a handball when he took a step to block Higgins and protect his teammate.
Yes he made a decision to block/bump but every footballer from U/10s onwards has been taught how to shepherd an opponent after disposing of the ball.
It's unfortunate Higgins will miss a week - he kept playing on for a couple of minutes after the incident before being subbed off - but please Michael Christian can you call this one a football accident.
LIKES
TRELOAR TIME
Talk about rubbing salt into an already ugly wound.
Collingwood is still paying part of Adam Treloar's contract to play at the Western Bulldogs. Let that sink in for a moment Pies fans because you spent most of Friday night putting your head in your hands as your former favourite son put on a clinic.
Treloar was an unstoppable force against his old side, collecting 35 possessions, eight clearances and kicking three goals in the best game for his new club.
His run and carry was a joy to watch as the Dogs midfielders enjoyed a possession picnic compared to Collingwood's onball brigade.
Treloar, Bailey Smith, Jack Macrae, Tom Liberatore and Marcus Bontempelli combined for 170 disposals while the Pies prime movers simply couldn't get hold of it with Jack Crisp having 24 possessions while Taylor Adams, Patrick Lipinski and Brayden Maynard all had 23.
And these weren't your junk-time touches, the Dogs were back to last year's model of using quick hands around the contest to then spread hard with Treloar having the time of his life leading the way.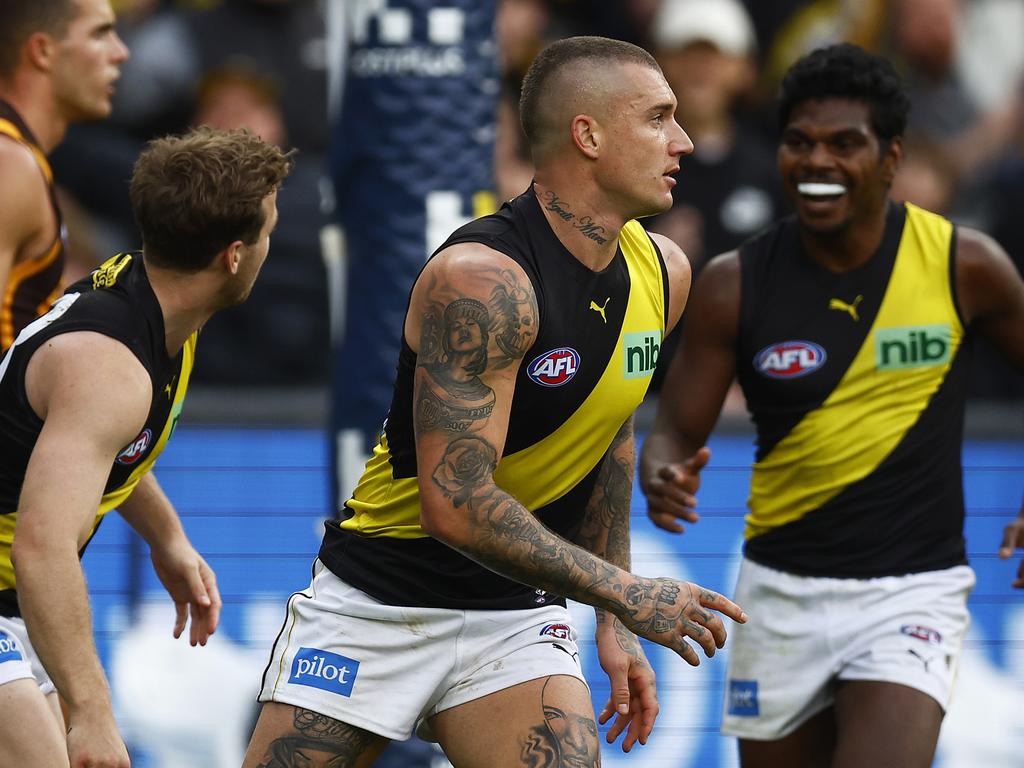 Dustin Martin celebrates kicking a goal against Hawthorn. Picture: Daniel Pockett/Getty Images
DUSTY-WATCH
Back in the day non-Geelong fans would still get enjoyment out of watching a game where their team wasn't involved if Gary Ablett Snr was playing.
You would just tune in to see what the Cats superstar was up to and most times Gazza didn't let anyone down.
While it's not quite in the Ablett realm, Dustin Martin's return to football has a similar mystique about it.
Everyone is intrigued to see what Richmond's Brownlow Medallist can offer in season 2022 and there was certainly a heightened level of excitement every time he went near the ball against the Hawks.
There was no second-up syndrome for Dusty who increased his level with a slick 20 touches and three goals. It wasn't vintage Dusty but there was plenty to like as everyone knows he holds the key to the Tigers premiership tilt.
When he was missing they were no longer in that discussion, his return over the past two weeks has seen an improved Richmond outfit. They also have a long way to go but at least Dusty brings real hope . . . and something to watch.
THE ZURHAAR
It's hard to find any sort of positives about North Melbourne at the moment and Saturday was no exception in Hobart with a regulation 69-point loss to Port Adelaide.
But after copping it from all angles, it was good to see the passion which Cam Zurhaar continues to bring to the contest, despite the doom and gloom around him.
He did everything he could to lift his team at various times including a couple of clever goals which momentarily gave North fans hope.
In the end it was an inevitable result but Zurhaar deserves some love given he produced almost half of his team's score kicking 3.4 goals out of 6.10.
BOMBERS FANS GET DOSE OF REALITY
It was fun for one week, Essendon fans.
Remember how warm and fuzzy you felt after that incredibly gutsy come-from-behind win last week against Hawthorn.
Unfortunately, it was a false dawn as all of the issues which were wrong with the team were there for all to see against Sydney.
The usual suspects got plenty of the ball but again had minimal impact with AFL great Wayne Carey summing it up perfectly on Channel Seven.
"They are completely lost," Carey declared. "In all facets of the game they're not mastering any of them."
The Bombers are staring at being 2-8 at the bye given they face Richmond in the Dreamtime game next week and then Port Adelaide in Adelaide.
This from a side that played finals last year and had coaching legend Mick Malthouse tipping them to win the flag means some serious questions need to be asked at all levels of the club.
Originally published as The Early Tackle: All the Likes, Dislikes and talking points from Round 9