The Early Tackle: All the major talking points in AFL Round 14
Footy fans couldn't be more clear in their messaging — they don't want to see any more rules changes at the moment, including this one.
The last of the bye rounds is away and there's already plenty to talk about.
Herald Sun football writer Glenn McFarlane gives his take on Round 14 with a former Port star in the gun, and the Blues' defensive woes and shocking Saints all making news.
Watch every blockbuster AFL match this weekend Live & Ad-Break Free In-Play on Kayo. New to Kayo? Try 14-Days Free Now >
DISLIKES
Moments of madness
Four minutes of undisciplined play from Sydney's Peter Ladhams cost the Swans dearly and presented his old side Port Adelaide with two 'gift' goals in a crucial third term momentum swing.
It will almost certainly cost Ladhams time on the sidelines via an MRO assessment after the second incident when he threw a roundarm into Ollie Wines' ribs in a complete brain fade.
Fox Footy's Mark Ricciuto didn't mince words when he said of Ladhams: "It might have just confirmed why they pushed him out of the club … why would you do that to your ex-teammate?"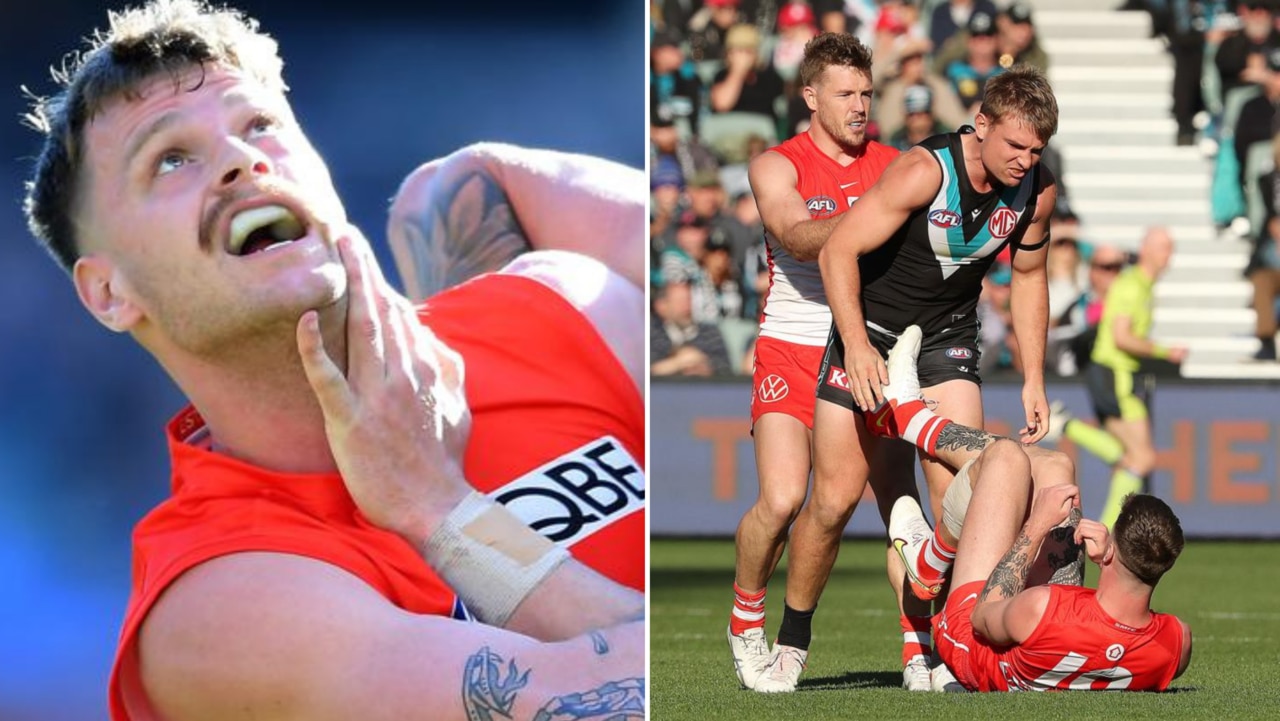 Four minutes of madness from Peter Ladhams against his former club.
Two of the goals Ladham gave up were part of a six-goal streak that turned the game.
The first happened at the nine-minute-mark of the third term as Ladham gave up a free kick off the ball against Darcy Byrne-Jones which ended up in a Sam Powell Pepper goal.
Then just four minutes later he crashed on top of Wines and then threw a jab into the Port star's chest, which resulted in a free kick down-field goal to Charlie Dixon.
That was effectively game over.
While Wines described it as only "a love tap" and insisted they were mates, Ricciuto was less than impressed.
Gerard Healy also said: "It is intimidating playing against your old side, but there is no excuse for that. That's a brain fade and I think that is being generous."
Ladhams copped boos for the rest of the game, even when he kicked a third term goal.
Why Ratts has every right to be filthy
In an emotional pre-game speech, Saints great Nathan Burke urged the St Kilda players to play with the 'Spirit of Spud'. It was spine-tingling stuff.
But you had to wonder whether the players somehow missed the message or whether they simply figured Essendon was going to be the pushover it has been for most of the season.
Whatever the reason, it was enough to have coach Brett Ratten's blood boiling in frustration with the ease in which the Bombers were able to pick holes through his team.
On a night honouring Danny Frawley in Spud's Game: Time 2 Talk, St Kilda's players seemed unprepared for the ambush that Essendon had planned for them.
Then once they did come back to level the scores in the first 13 minutes of the third term, they seemed unwilling or unable to close it out.
The Saints were coming off a short break and had lost some players to injury, but in Ratten's eyes, none of that was any sort of excuse for the way they played on Friday night.
Had they got ahead of themselves? Did they take the game lightly? Were they flat or tired?
Listening to the rawness of the coach's presser, maybe it was all of the above.
"It's a reality check for our players, you're never as good as you think you are, and you're never as bad as you think you are, and tonight's performance was very, very bad," he said.
"It's just a bit hard to swallow today, on a Friday night, Spud's Game and our supporters and what we dedicate the game to a legend of our footy club, and the legacy he's left around mental health, we produce that, it makes you a bit flat for the day."
In a year tightening by the round, it wasn't good enough for a team expecting to play finals.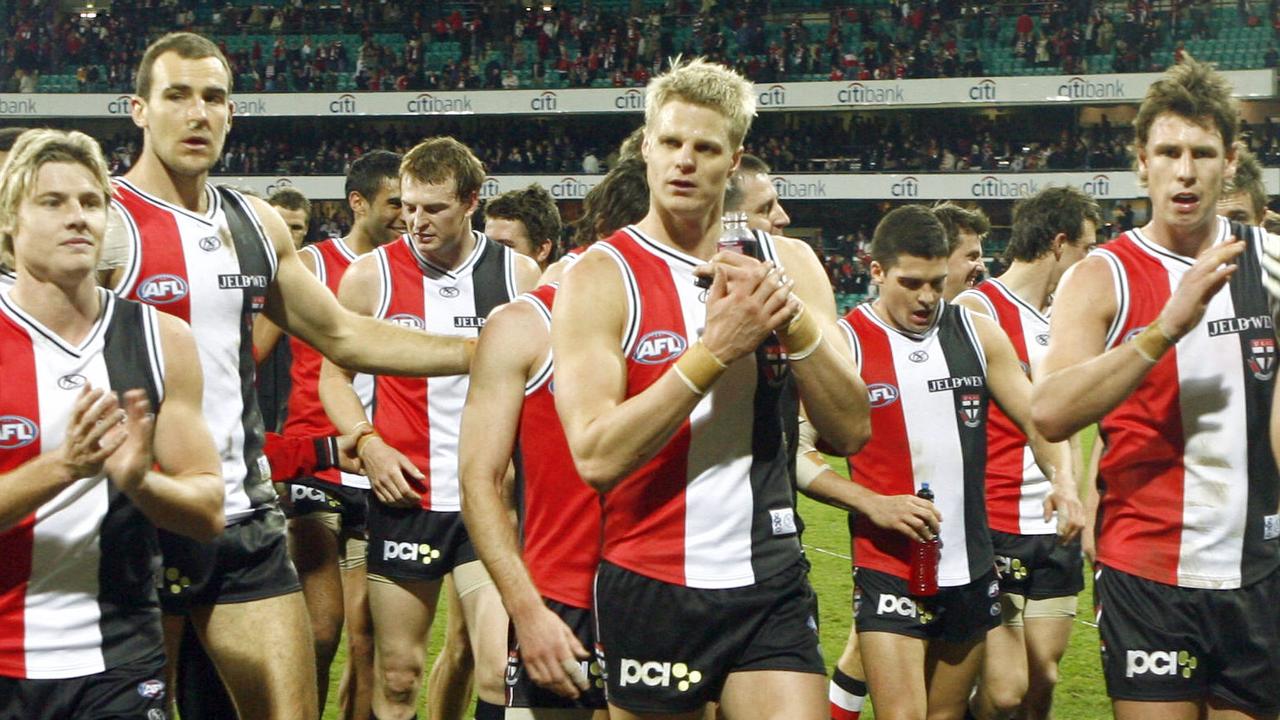 The last time St Kilda won at the SCG was by a point in 2009.
Four weeks that will define Saints' season
It's the block of games that will almost certainly determine St Kilda's fate in 2022 and it starts next Saturday night at a venue they haven't won at in 13 years.
The Saints take on Sydney at the SCG before three Marvel Stadium games against finals aspirants Carlton, Fremantle and Western Bulldogs in a stretch that will tell us if they are good enough or not.
If they play like they did against the Bombers on Friday night, Ratten concedes they won't be good enough.
"The part about the tough draw is they're all tough ... I will say what we dished out (against Essendon) I don't think they'd (the opposition) be too scared, would they?" Ratten said.
St Kilda hasn't won at the SCG in its past six attempts, with their last victory there way back in 2009 when Ross Lyon was coach.
They have won two games there (by one and two points) since 1998.
The Blues will be a tough ask with Jacob Weitering a chance to return in that game, while the Dockers and the Dogs will fancy their chance against the Saints.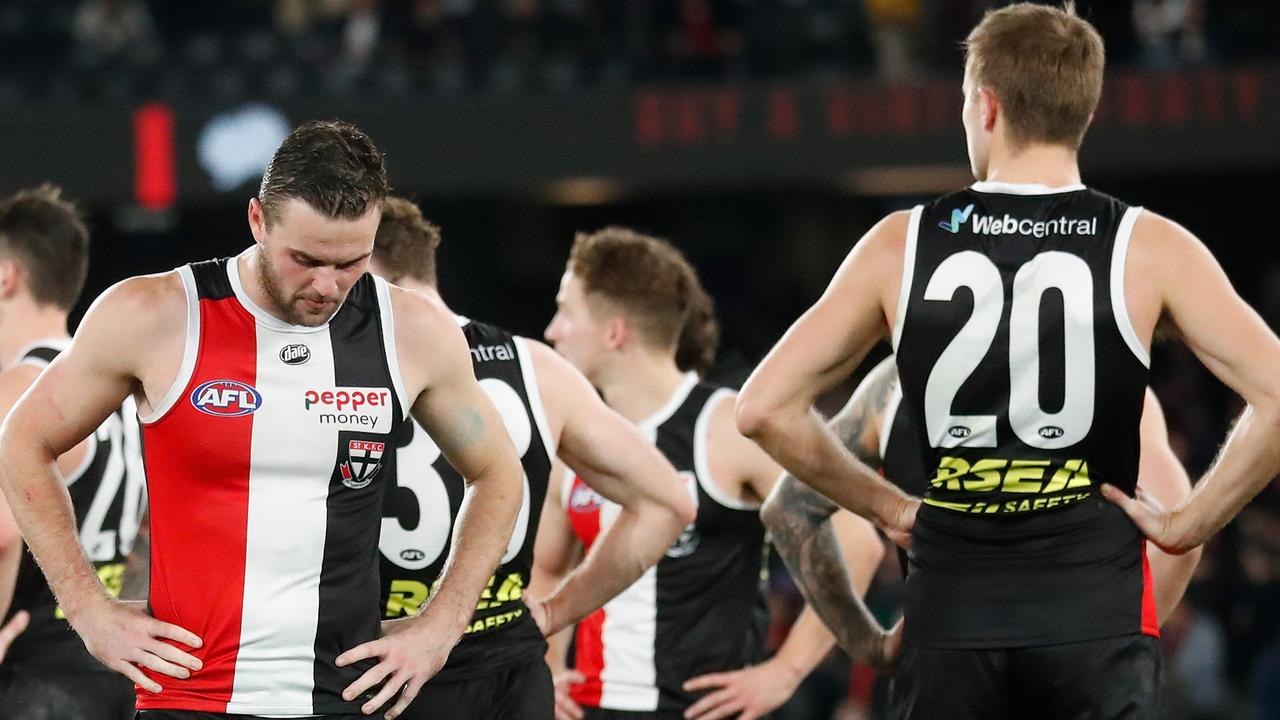 The Saints effort against Essendon was not good enough for a team expecting to play finals. Picture: Getty Images
Blues mids need to give makeshift defence a chop out
Don't blame Carlton's patched-up defence for the Blues' inability to get over Richmond on Thursday night … it had as much to do with its much-vaunted midfield.
The Blues' mids have led the way in the club's 2022 renaissance in terms of being one of the best contested sides in the AFL this season.
But they have shown a few concerning signs in recent weeks, perhaps even some battle fatigue.
For a period against Essendon, and for the majority of the game against the Tigers, they were outworked and outplayed at the contest, which is strange for a group so talented and that bats so deep.
Now they need to regroup and start to give the defence a bit more of a chop out!
The Blues defence is without Jacob Weitering, Oscar McDonald, Caleb Marchbank, Mitch McGovern, Zac Williams, Luke Parks and now Sam Durdin, but still fought undermanned but with plenty of spirit against a Tiger tide of 76 inside 50s.
The fact that Richmond kicked only 11.15 (81) from that swarm of inside 50s shows how hard some of the Blues defenders worked.
Adam Saad had 15 intercepts, Lewis Young had 21 spoils and Sam Docherty had 748 metres gained.
But the mids were beaten at the coal face, going -13 in clearances and with their 28 clearances almost eight fewer than their season average.
It's time for them to get their hands dirty again … for the sake of their defenders.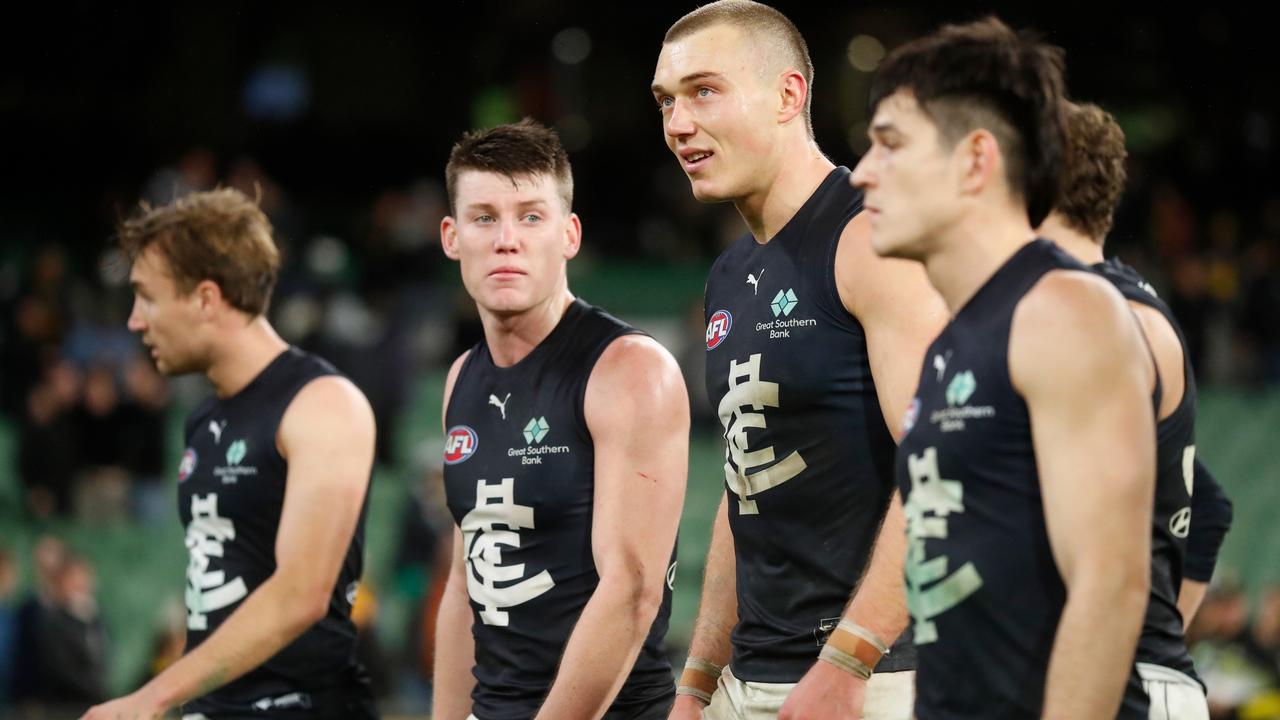 The Blues midfield needs to get their hands dirty for the sake of the defence. Picture: Getty Images
Last touch rule, no thanks
Footy fans couldn't be more clear in their messaging — they don't want to see any more rules changes at the moment.
That's why many would have been frustrated to hear AFL footy boss Brad Scott hinting that the league may consider the last-touch run being used in the SANFL.
Scott said the AFL was "looking very closely" at adopting the rule whereby the last player to touch the ball before it goes over the boundary line would be penalised.
It has been used in the SANFL since 2016.
Let's nip this in the bud quickly. The game is in pretty good shape now, the race for the finals is hotting up, and fans don't need another reason to feel as if they are not being listened.
The game is in pretty good shape and doesn't need a last touch free kick rule. Picture: Getty Images
Praying for Doc
It was a sickening sight from the moment it happened.
The distressing image of Taylor Duryea on the ground clutching his knee after going to ground in a passage of play that saw Toby Greene emerge with the ball was hard to watch.
'Doc' Duryea is one of the Dogs' most popular players. The sight of him writhing in pain with what looks like a serious knee injury is a blow for the Bulldogs on so many different levels.
He hobbled off and took no further part in the game, with scans to determine the extent of the injury. But on face value it doesn't look good for him.
Weightman's dislocated elbow looked almost as painful, though he showed great courage in coming back into the fray.
The Giants had their injury issues with Braydon Preuss subbed out of the game with a foot injury, while James Peatling finished on the bench with hamstring soreness.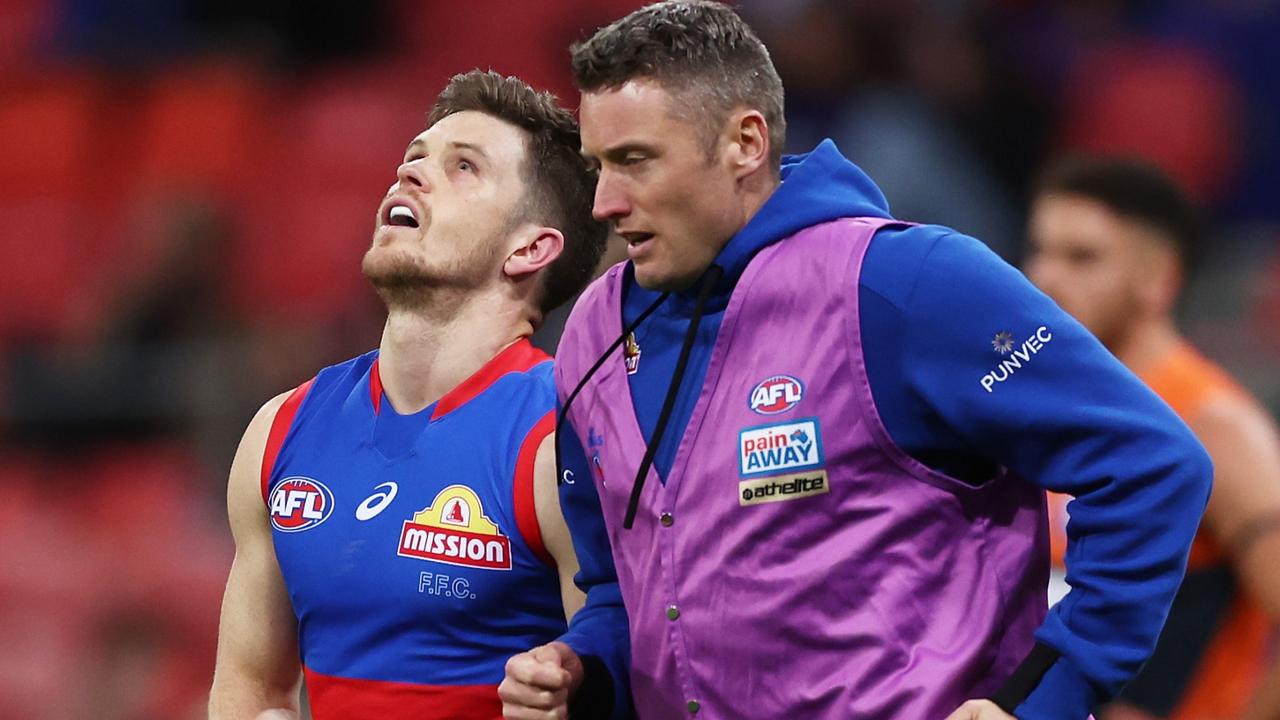 Taylor Duryea grimaces in pain has he leaves the field injured. Picture: Matt King/AFL Photos/Getty Images
LIKES
Power surge
Ken Hinkley gave his Port Adelaide players a half-time licence to play more flair and freedom and it paid big dividends as the Power surged to a 23-point upset win over Sydney.
It was the first of what could be a number of elimination finals for the team that started the season 0-5, but who kept their faint finals hopes alive by claiming a good scalp.
They did it the hard way one too, channeling the resilience and fighting spirit of the late Russell Ebert, the Port great who was enshrined as an Australian Football Hall of Fame Legend last Tuesday.
Having lost two players before half-time and being down on rotations for half the game, the Power was able to grit their collective teeth to put in one of their best efforts of the season.
Their sixth win of the season came off the back of four goals to Todd Marshall, 34 disposals to Wines in a game that he said left him as fatigued as he has ever been, and a season-best performance from Connor Rozee, with 29 possessions.
The next elimination final comes against Gold Coast next Sunday …
The Bombers and Saints played for the unofficial Nick Hind Cup - not that Ben Rutten know anything about it. Picture: Getty Images
'Nick Hind Cup' and Dons' defence
Ben Rutten knew nothing about it, but it was suggested that some of the Essendon players had been joking that Friday night was being played for 'the Nick Hind Cup'.
If that was the case, there was no doubt about who was holding the trophy in the end — the Bombers.
Hind had been criticised earlier in the season for not reaching the same standard as he had in his first two seasons at Tullamarine. But the former Saint-turned-Bomber is slowly but surely returning to form.
It is not surprise that his return to form after being dropped earlier in the season has coincided with the Bombers' return to a run-and-gun style.
Hind was good on Friday night against his old side, having 25 disposals and combining with a host of Essendon defenders including
Mason Redman, Jordan Ridley and Andrew McGrath to put the clamps on the dangerous Saints' forwards.
"It was news to me that we were playing for the Nick Hind Cup, he probably made that one up himself," Rutten joked after the game.
"Hindy was great, we love his run and dash, and his ability to take the game on, but also he defends pretty well as well."
Ridley performed well on Max King, Redman was outstanding with 31 disposals and McGrath looks set for an extended stint in defence, according to Rutten.
Another midseason Dons' win
Ben Rutten loves the midseason draft with the Bombers getting bang for their buck in recent years.
Recent graduates Will Snelling and Sam Durham were able to play not long after getting their chances and now add Massimo D'Ambrosio to the list.
Rutten joked that D'Ambrosio is still working out the best way to get to Tullamarine after a whirlwind two weeks in red and black.
He better start getting used to it, as it's a journey he is going to make for a long time to come if his debut game on Friday night is any indication.
D'Ambrosio had 15 disposals in his first game, but this wasn't purely about stats. The 19-year-old, who was overlooked in last year's national draft (how the hell did that happen?), has a lethal left foot that had Essendon supporters bursting with excitement on Friday.
His pace and his composure also look to be a real asset going forward.
Rutten said of D'Ambrosio: "Mas is a real injection of energy … he has a contagious smile. He is up for any challenge and he sees it as an opportunity."
In Essendon's train wreck of a first half of 2022, it seemed as if so many of the club's young players that promised so much were underdelivering.
Friday showed that there is still plenty to look forward to. Archie Perkins' introduction to the more midfield time in recent weeks — and again against the Saints — looks to be a winner.
It is easy to forget Jye Caldwell is still 21, but he relished more midfield time in Darcy Parish's absence on Friday, and is showing why the Bombers were so keen to get him.
Nic Martin has barely played a bad game in his debut season and is a serious player of the future.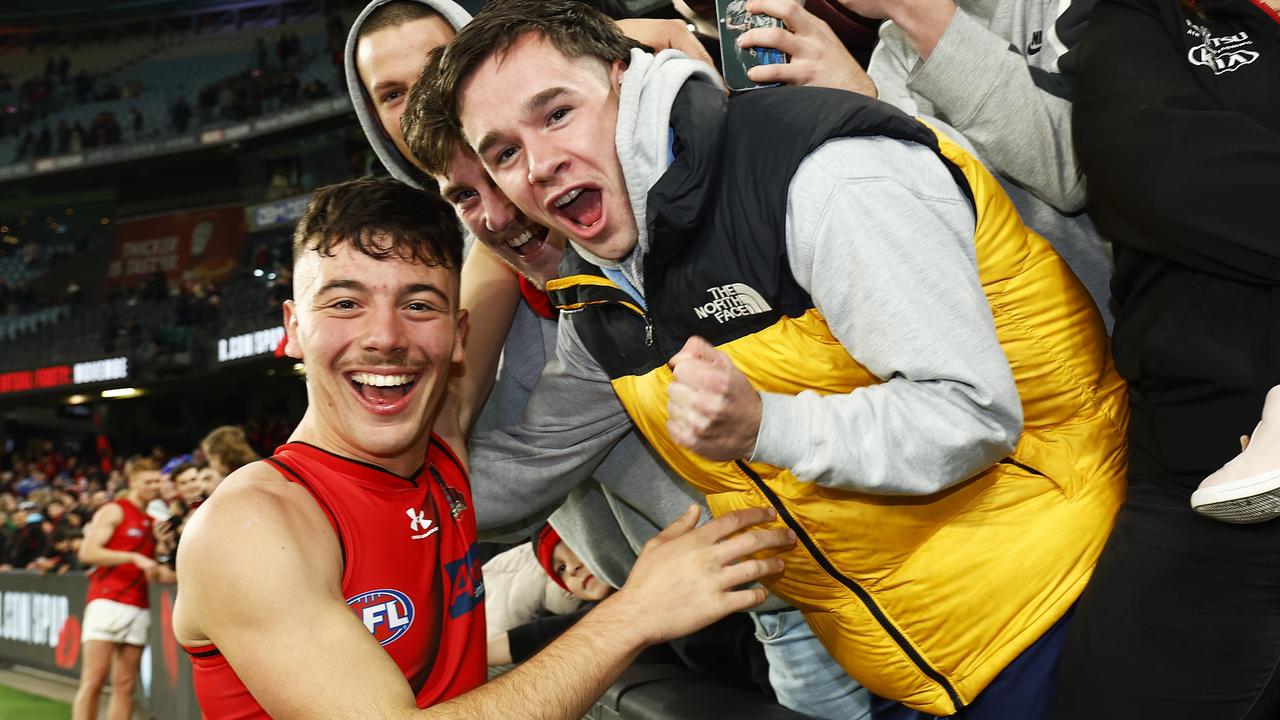 Massimo D'Ambrosio is another Essendon mid-season draft win. Picture: Getty Images
The Untackle-ables
They are not the Untouchables … They are the AFL's 'Untackle-ables' and Richmond's Shai Bolton has fast become one of them.
Bolton has clearly learnt a thing or two from teammate Dustin Martin about the caper.
But instead of the 'Dusty Don't Argue', Bolton does it with neat foot work, a willingness to take the game and his opponents on, and deceptive power and strength.
While Bolton copped plenty of attention - and criticism - for his 'goal taunt' to Sam Docherty (which he apologised for), the pressing issue for rivals is how easily he is breaking tackles.
According to Champion Data, young Hawk Jai Newcombe leads the way in broken tackles this season, ahead of Sam Powell-Pepper with a three-way bracket of Jordan De Goey, Cam Rayner and Matt Rowell.
Others in the top eight are Will Brodie, Patrick Cripps, Travis Boak and Bolton.
As far as the 'taunt' goes, it was a bit of ill-time theatre - as it has been with Collingwood's Jack Ginnivan and Hawthorn's Chad Wingard - even if his coach would have preferred him not to.
What was more impressive was how the Richmond's senior players nipped it in the bud.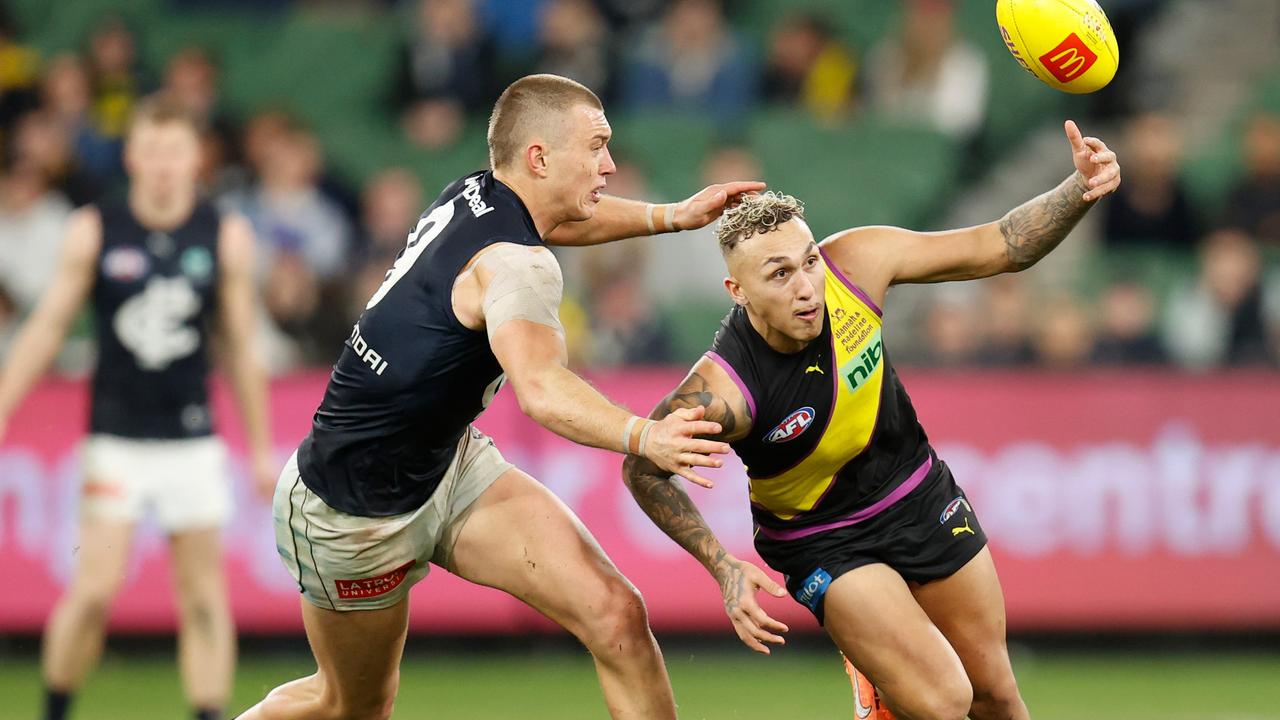 Shai Bolton has fast become one of the AFL's untackle-ables. Picture: Getty Images
A bit of Jimmy in Baker
Liam Baker is unlikely to ever win a Brownlow Medal, but there is a hint of Jimmy Bartel in the way the Richmond jack-of-all-trades goes about his business, especially in the wet.
Baker has swiftly become one of the Tigers' important players and if you just add water (or rain in this case) he reminds us of a young Bartel.
Baker did it again on Friday night as he was conscripted into various roles to help Richmond repel a late comeback by Carlton.
He is one of the AFL's current best wet-weather footballers, with his ability to keep his feet, to pressure the ball carriers and, above all else, how clean he is below the knees.
He is not the most gifted player from an athletic perspective, but he is a footy-smart competitor who is as tough as nails and who seems to relish it when the rain comes down.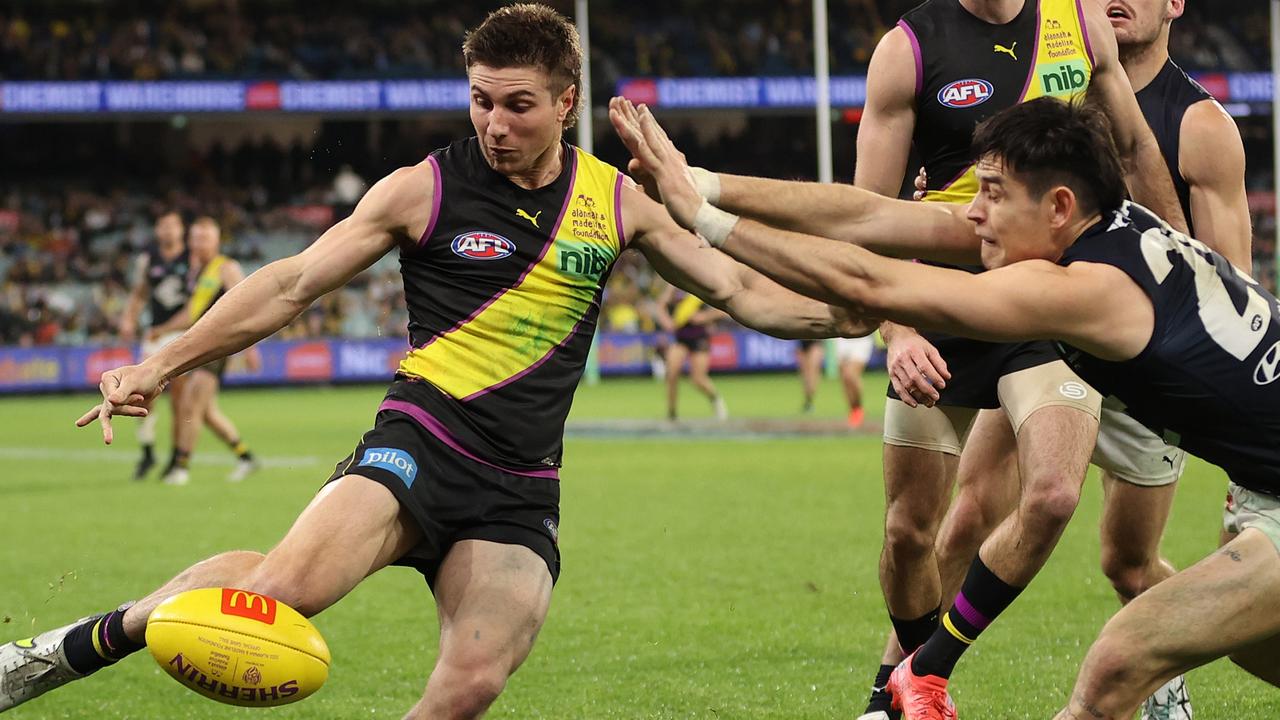 Liam Baker is showing signs of Jimmy Bartel in the way he plays. Picture: Getty Images
Tomahawk joins exclusive club
Geelong forward Tom Hawkins became the 26th VFL-AFL player to kick 700 goals, just a few weeks after Eagle Josh Kennedy was the 25th to do it.
Both players will come into the conversation as Australian Football Hall of Fame contenders in the years ahead as they have been magnificent servants of their respective clubs.
Hawkins missed a few chances early, but nailed his 699th major on the quarter-time siren.
Then 15 minutes into the third term the 33-year-old Cat received a free kick and, in trademark style, kicked it around the corner for his 700th.
He was immediately joined by his teammates who came in to celebrate with him.
Hawkins closed the game out with another goal late in the final term.
He was only the third Geelong player to reach 700 goals, following on from champions Doug Wade and Gary Ablett Sr.
It was a tough grind for the Cats against a competitive West Coast, but Chris Scott's side took home what they wanted most — the four points.
And the young Eagles gave a much-better showing on the day that the club honoured its 1992 premierships heroes, with skipper John Worsfold unfortunately a late withdrawal, due to Covid.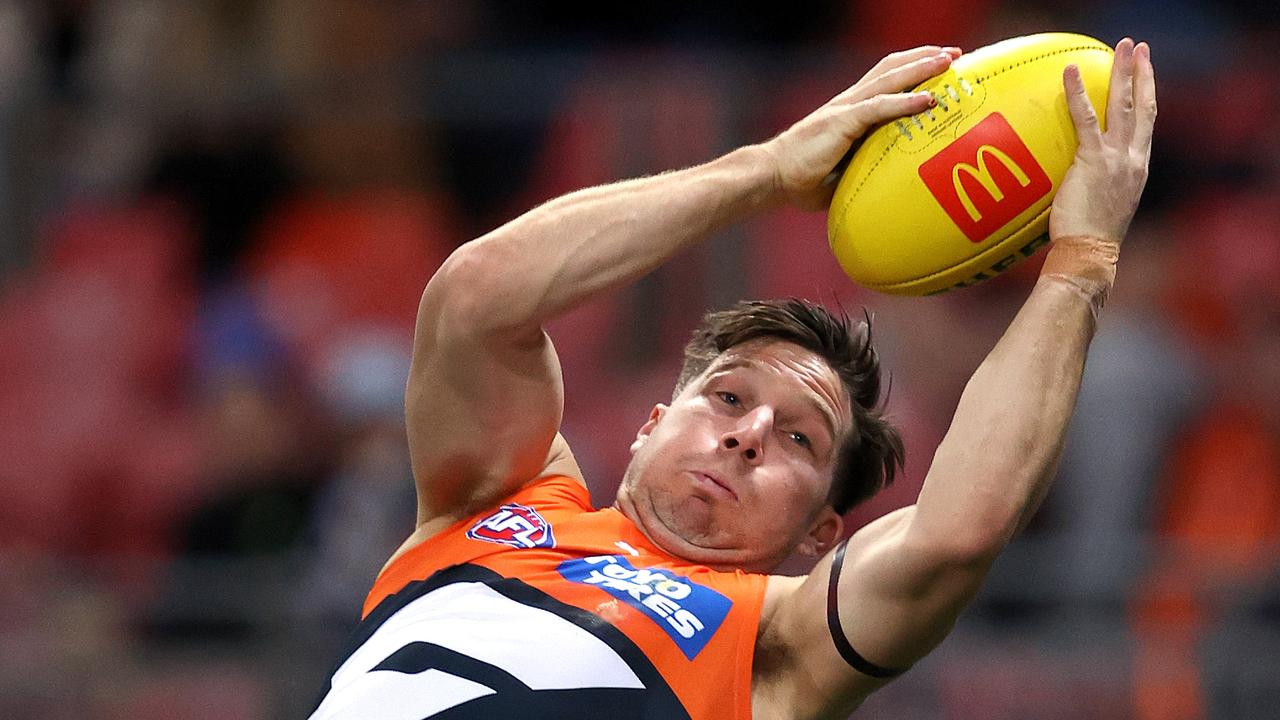 Toby Greene kicked seven goals in a superb performance. Picture: Phil Hillyard
The Toby, Cody, and Nauts show
How about that for the highest scoring — and one of the most entertaining — games of the season! More, please!
In a compelling contest, the Bulldogs and the Giants kicked a collective 19.16 (130) in the first half and finished with a combined 35.20 (230).
Two of footy's best modern rivals turned on a blast-from-the-past in terms of scoring. Good luck to coaches coming up with their votes.
Toby Greene kicked seven goals for the game in a superb performance, Cody Weightman kicked his five goals in the first half but fought on bravely after overcoming a dislocated elbow, and key position Bulldog Aaron Naughton also chimed in with five goals.
It wasn't just the goalscorers who dominated this encounter, either.
Jack Macrae had 37 disposals and nine tackles, Marcus Bontempelli was so important in the second half, Tim English ruled the ruck, and the Giants' pair Stephen Coniglio and Tom Green each had 32.
This was a big win for the Bulldogs. As a number of other finals contenders had stumbles and setbacks this round, Luke Beveridge's team was able to stake their claim in the most definitive of ways.
Originally published as The Early Tackle: All the major talking points in AFL Round 14