Melbourne young gun Luke Jackson puts contract talks on hold
Luke Jackson is completely content to let the early rounds of the season play out before making a decision on his future. Where does that leave the Dees?
Melbourne's emerging star Luke Jackson has parked contract talks for the early rounds of the year with the Demons' tight salary cap leaving them vulnerable to opposition raids.
Jackson is happy at Melbourne and keen to feature in their era of success.
But the Herald Sun understands he is completely content to let the early rounds of the season play out before making a decision as his price rises by the week.
The most likely outcome is the brilliant 20-year-old ruck-forward signs a new two-year deal that on market value would see him earn him around $700,000-$750,000 a season.
But it is understood WA rivals are registering interest as Melbourne attempts to secure a player considered by Demons best-and-fairest winner David Schwarz as the best young big man in the game.
The official line from negotiations is that both parties are regularly talking and are comfortable about his status at the club after manager Jason Dover met Demons list bosses recently in Melbourne.
Stream every match of every round of the 2022 Toyota AFL Premiership Season Live & Ad-Break Free In-Play on Kayo. New to Kayo? Try 14-Days Free Now >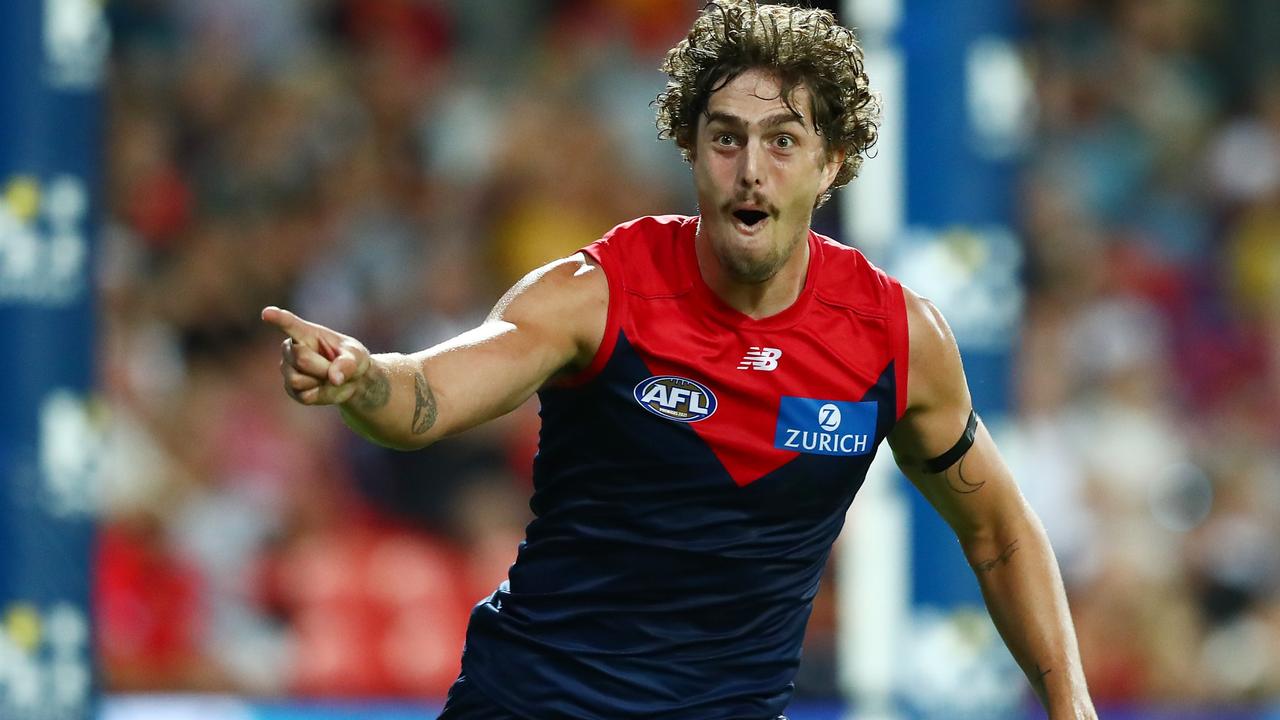 Luke Jackson celebrates after kicking a goal against the Suns. Picture: Getty Images
But Melbourne's tight salary cap and the short-term nature of his contract complicate the club's capacity to sign him on a deal that rewards his brilliant output.
The Demons cannot back-end a two-season deal to off-set his salary as they would with a five or six-year deal as Richmond did securing free agent Tom Lynch on a heavily back-ended seven-year deal.
Melbourne would have anticipated securing Jackson with a modest wage rise as recently as mid-2021 but his explosion means they might have to make sacrifices elsewhere.
The Demons' out-of-contract players include free agent Angus Brayshaw, half back Jayden Hunt, busy mid-forward Charlie Spargo and half forward Jake Melksham.
The Demons have signed up the core of their premiership list and are likely to be in the premiership window for some time.
But it also means few existing deals expire soon - creating cap space - given Max Gawn and Steven May have only just turned 30 and stars Jake Lever, Christian Petracca and Clayton Oliver are only 26.
Rival list bosses and player managers believe the prudent call is for Jackson to sign a two-year deal that frees him to negotiate a monster deal when it expires in the days after he turns 23 on September 29, 2025.
Melbourne premiership hero Alex Neal-Bullen said on Monday he was confident Jackson would stay at the club.
"He's someone who has a huge impact on our culture as a footy club and to have him (as a) long-term Melbourne player, I think everyone would love that," Neal-Bullen said.
"He's got an exciting future ahead of him, and we hope that's in the red and blue.
"His ability to stand up in big moments and that's a great partnership him and Maxy Gawn have now. With Jacko, the energy he brings to the team is something that lifts everyone else up around him."
Schwarz said on Monday he believed Jackson was worth $1 million a season.
"If you are paying a million dollars a year for Brodie Grundy, you know what Luke Jackson is worth," he said.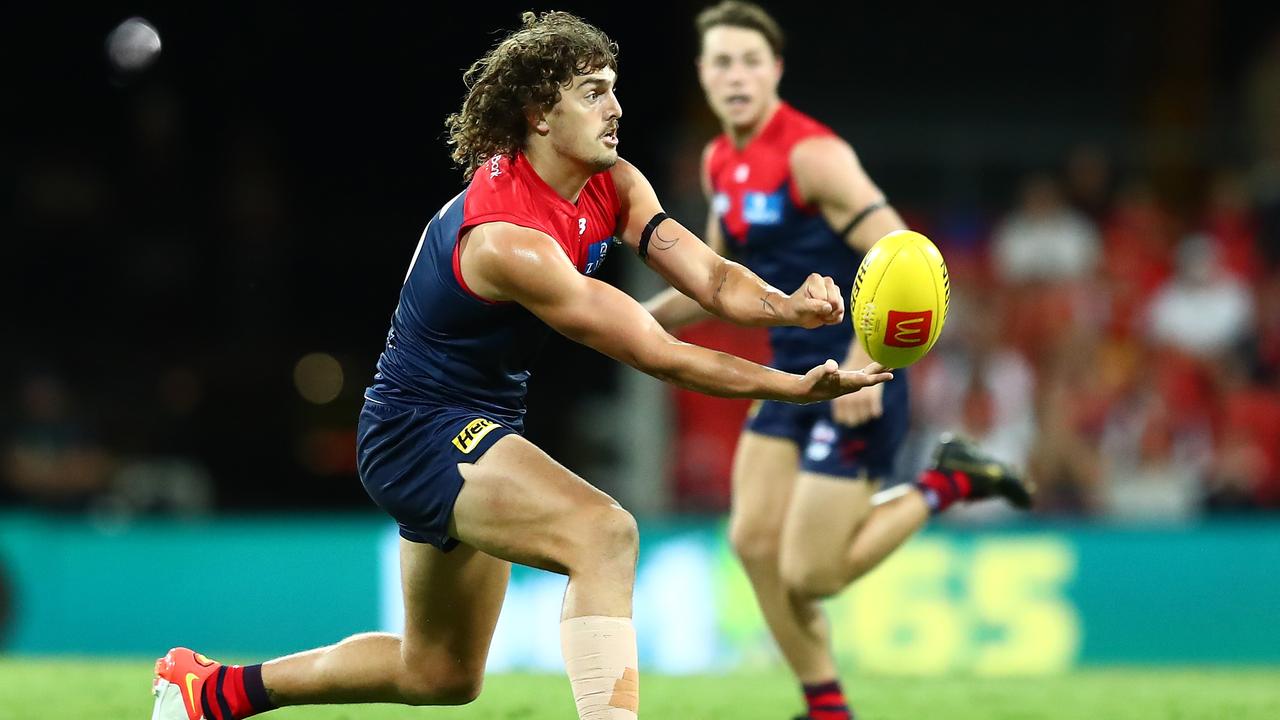 Luke Jackson is out of contract at the end of the season. Picture: Getty Images
DEES MAY NEED TO FIND $1M TO KEEP JACKSON
Melbourne great David Schwarz says Luke Jackson can name his own price as an out-of-contract player, adamant he is already worth as much as $1 million a season.
Schwarz told the Herald Sun on Sunday third-year Demons ruck-forward Jackson was the most exciting big man in the AFL given his extraordinary versatility.
Jackson's Perth-based manager Jason Dover was in Melbourne earlier this month for face-to-face meetings with the Demons about his contract after being locked out of the state because of Covid restrictions.
The Demons remain confident Jackson wants to stay at a club in the premiership window despite what would be mammoth offers from West Coast and Fremantle if he was open to the possibility of a return to the state.
Schwarz said if the Demons had to let another out-of-contract player leave the club they should sacrifice established talent to retain Jackson.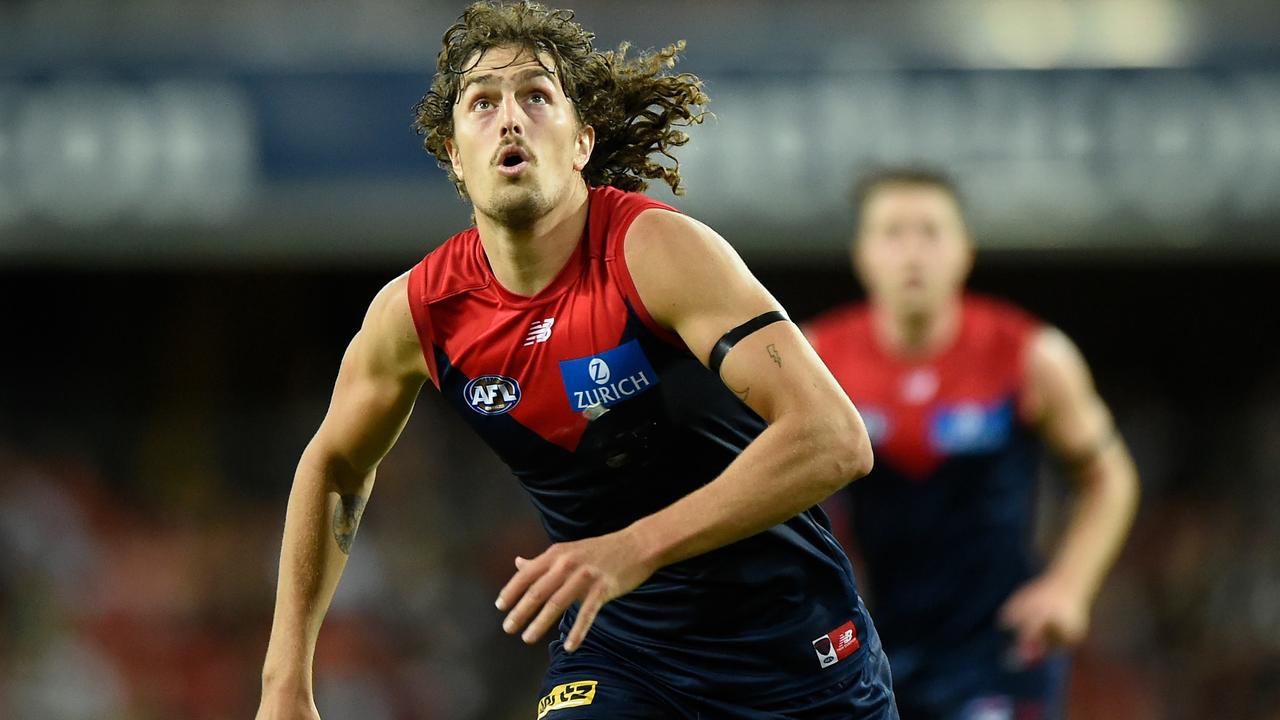 Luke Jackson is set for a huge payday. Picture: Getty Images
Jackson's brilliant Grand Final performance has only flowed into 2022 with the 199cm ruckman kicking two goals and giving another star turn in the ruck against Gold Coast.
"I think he is the most exciting big man in the game. Melbourne should do everything they can to keep his services. He is more important to them than just about anyone else on their list," he told the Herald Sun.
"He has got so much flexibility. He can play ruck, he can play forward, he can play as a midfielder. We have seen the P word – potential – but now he is showing the full range of what he can do. He is a must-sign player. Lock him away now."
Jackson added a single season to his contract at the end of his first season in 2020, with most early draft picks worth around $450,000 in their third and fourth seasons.
But just as fourth-year Carlton player Sam Walsh has signed a new contract worth around $825,000, Schwarz says he is worth as much as seven figures on the open market.
Asked about contract estimates of around $600,000 for Jackson, he replied: "If you are paying a million dollars a year for Brodie Grundy, you know what Luke Jackson is worth."
The Herald Sun revealed earlier this year free agent Angus Brayshaw had put off contract talks to consider his options but he wants to remain.
He rubbished trade speculation earlier this year, saying: "It's crazy, I think that stuff will dry up pretty quickly once we start playing footy and the rest will take care of itself".
But it remains to be seen how much the Demons will pay Brayshaw when they have already committed such a chunk of their salary cap to Christian Petracca, Clayton Oliver, Max Gawn and Jack Viney.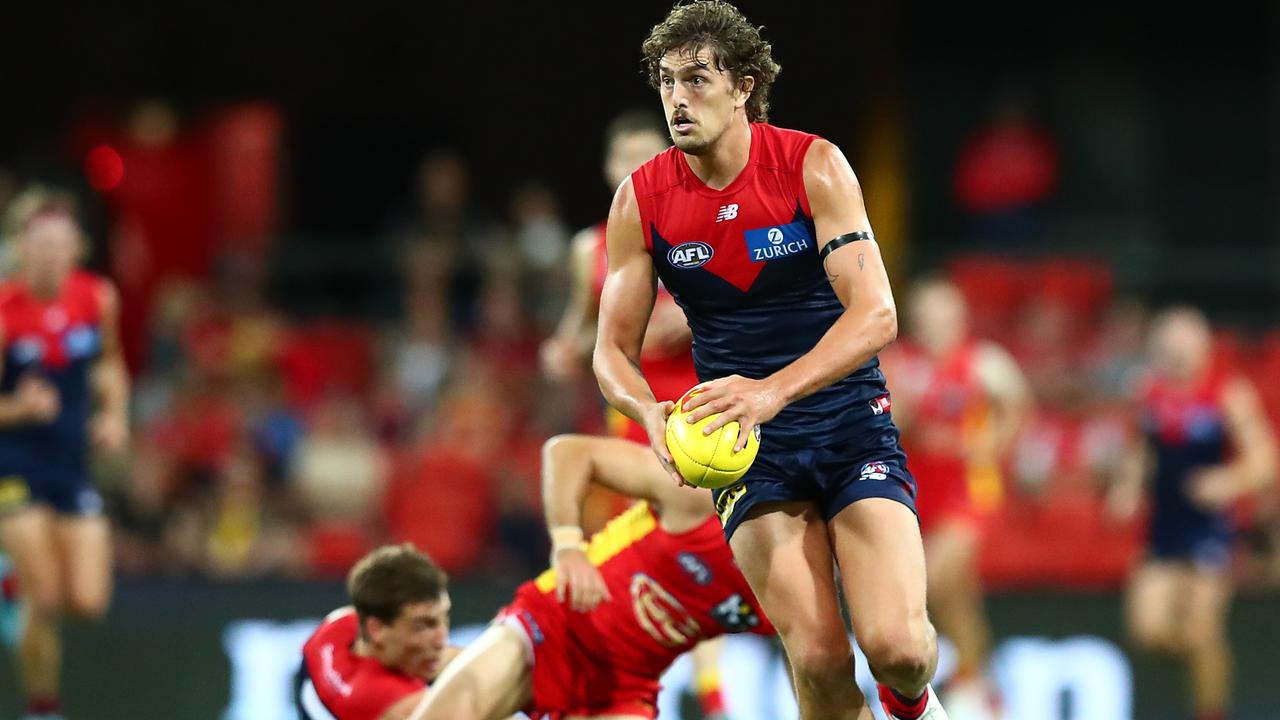 Luke Jackson continues to show how dominant he can be. Picture: Getty Images
DEES SURVIVE FRIGHT NIGHT AS SUNS' STOCKS CONTINUE TO RISE
Greg Davis
In the big prize fights, you have to knockout the champ to win the belt.
The Gold Coast threw everything at Melbourne at Metricon Stadium on Saturday night but the peerless Christian Petracca and freakishly talented Luke Jackson kept the Demons on their feet and packed plenty of punches of their own to claim a 13-point victory.
The Suns gave plenty of cheek and were genuinely competitive for much of the night but Melbourne were just too classy, too composed and too clinical when it mattered most.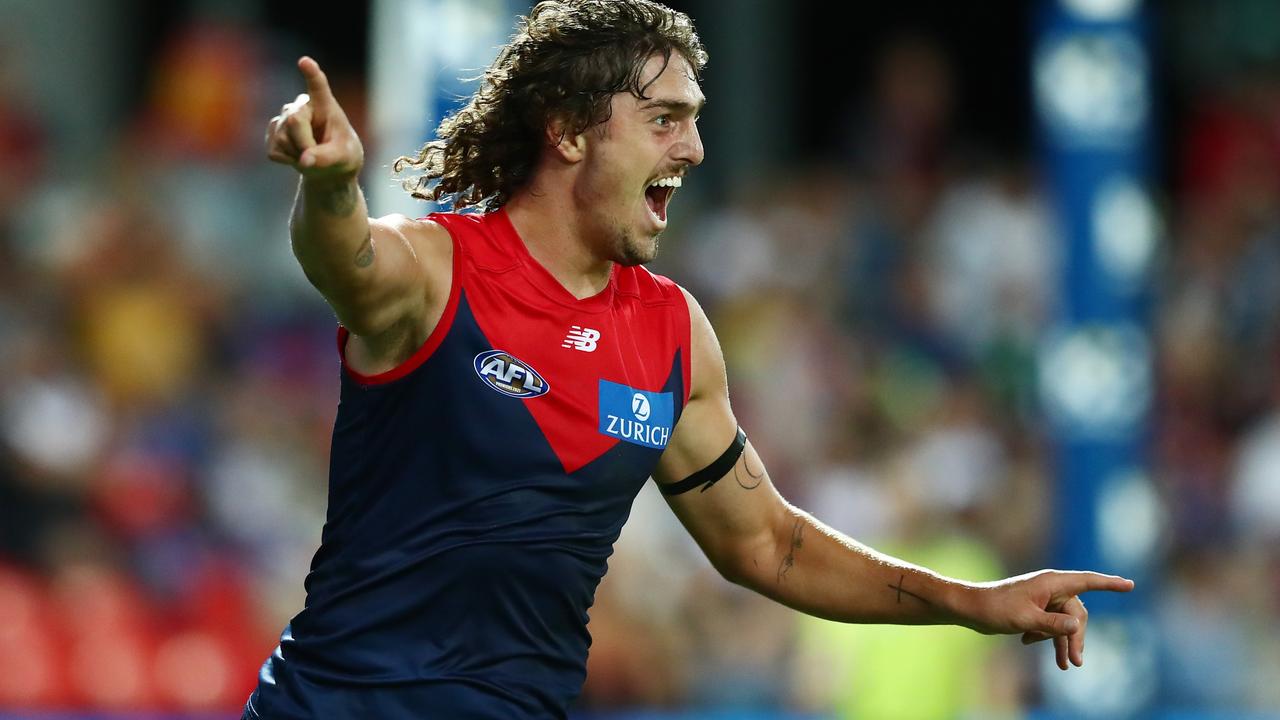 Luke Jackson showed why he is expected to become a superstar of the competition. Picture: Getty Images
And it was the brilliant and powerful Petracca to the fore for the reigning premiers with the likes of Jackson, Clayton Oliver, Jake Bowey and skipper Max Gawn and Kysaiah Pickett all chiming in for the reigning premiers.
Petracca finished with a career-high 41 disposals, 17 contested possessions, 14 inside 50s and six clearances.
His inside 50 count fell just two short of the all-time AFL record of 16. He also had 737 metres gained with the football.
Jackson showcased why he is tracking to be a genuine superstar of the competition with 21 disposals, 11 contested possessions, two goals, 17 hitouts, five marks and seven clearances.
His two-handed grab out of a ruck contest and left-foot snap from a tight angle for a goal in the first term was one of many highlights for the forward/ruck whose athleticism, skillset and game sense must terrify opposition sides.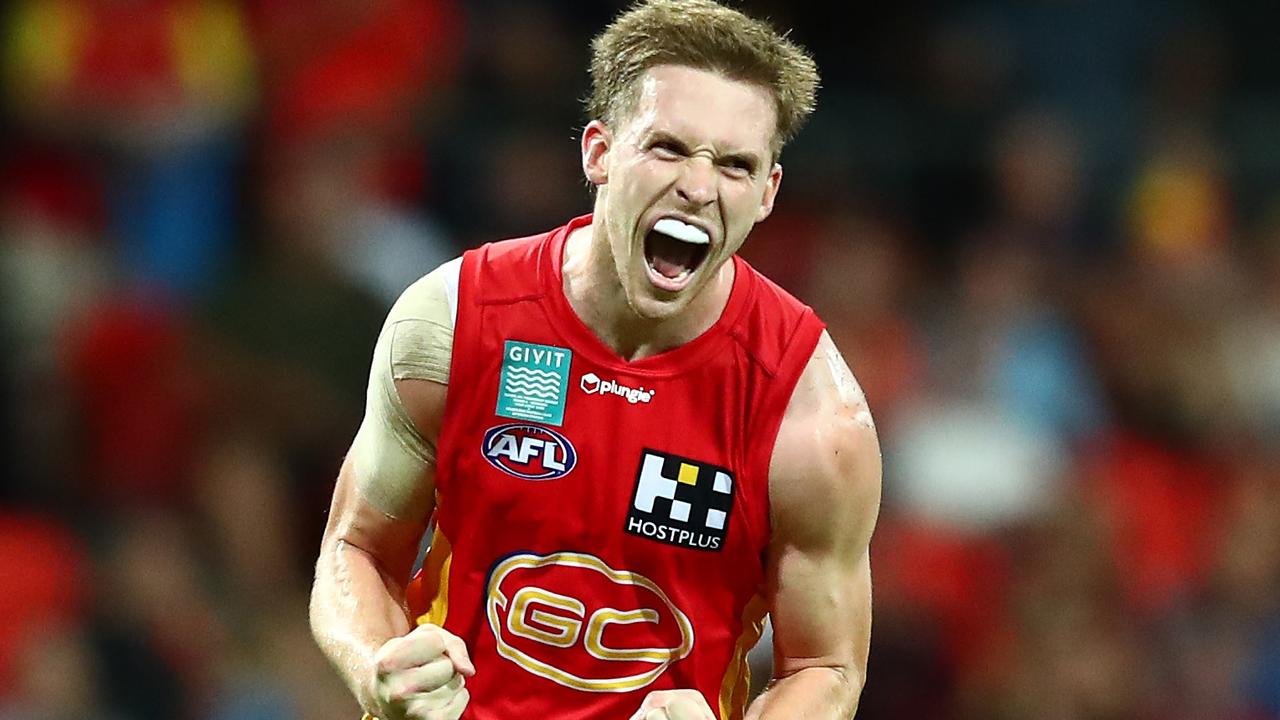 Noah Anderson celebrates an important goal at Metricon Stadium. Picture: Getty Images
Suns co-captain Touk Miller battled manfully for the home side with 38 disposals, over 800 metres gained, 16 contested possessions, nine clearances and seven tackles but the Gold Coast needed more poise and polish at critical times as there was no questioning their effort.
The Demons led by 22 points at the last change and by 14 points at halftime after a see-sawing opening two quarters.
The Suns were on top early and scored the first 15 points of the match before Melbourne finally troubled the scoreboard operators after 21 minutes of footy. The Gold Coast should have been further in front as they wasted a number of prime scoring opportunities in front of goal.
The Demons capitalised on the Gold Coast's inaccuracy, poor tackling and turnovers and kicked six of the next seven goals to get out to a 16-point cushion before the Suns fought back through goals to Noah Anderson and Jack Lukosius to cut the margin to just two points.
But Melbourne stamped their authority on the contest through goals to Jackson and Tom McDonald.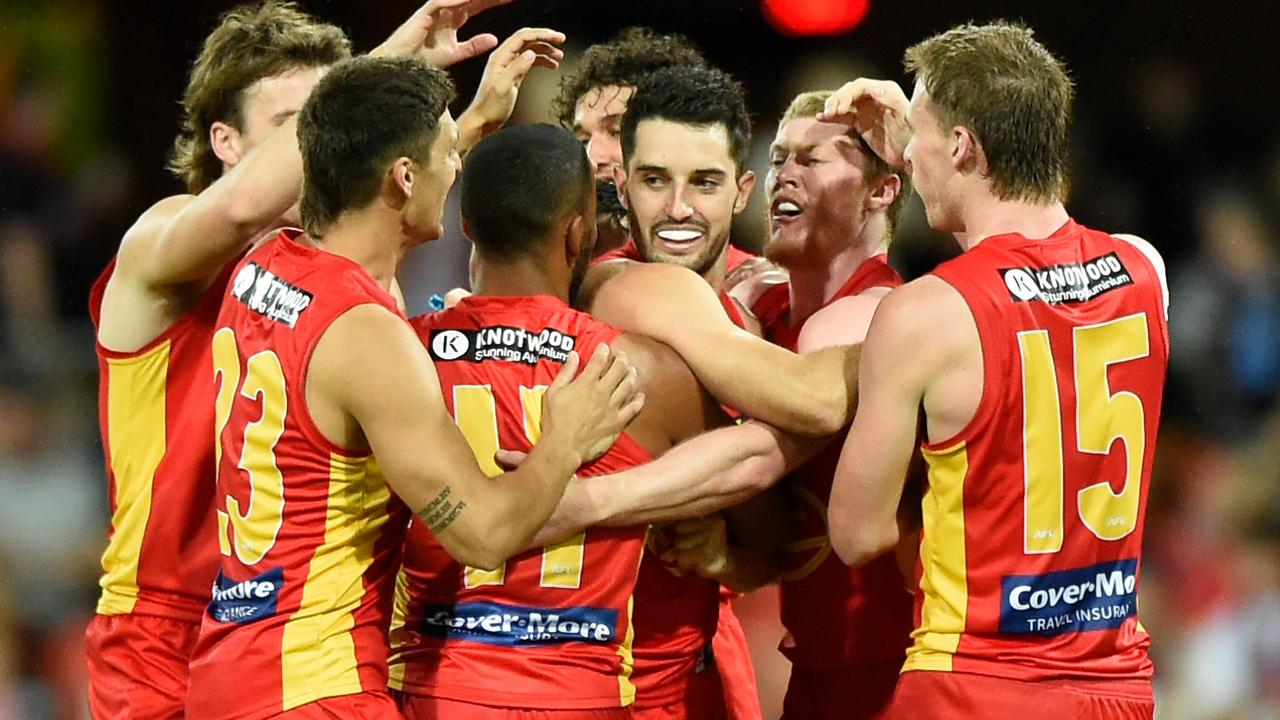 Brayden Fiorini celebrates kicking a goal with teammates. Picture: AFL Photos/Getty Images
SUNS QUICK OUT OF THE BLOCKS
The Gold Coast's midfield bulls of Touk Miller and Matt Rowell got off to a flying start against Melbourne superstars Christian Petracca and Clayton Oliver.
Miller had a career-high 17 touches in the first term when Rowell had 11 disposals while Petracca (nine disposals) and Oliver (10 touches) were very good for the Dees.
Rowell and Miller went quiet in the second term when the Demons duo went berserk to have 42 disposals between them by halftime.
PICKETT PANACHE PUTS HIM IN THE PICTURE
Kysaiah Pickett produced a goal of the year contender with a brilliant effort in the third quarter which gave the Demons some much needed breathing room.
Pickett swooped on the loose ball and picked it up with his left hand, he then burst through two would-be Suns tacklers before snapping the ball with his right foot from an incredibly tight angle.
What he did and most importantly — when he did it — was crucial.
PLAYERS BEHAVE DESPITE PUZZLING CALLS
Players from both sides did well to bite their tongues and not give away a 50m penalty at some stage of the night.
The standard of umpiring was indifferent — at very best — with a number of puzzling free kicks and no-calls. Some of the baffling decisions were almost comedic.
When Christian Petracca was poked in the eye in the third quarter, it should have been a free kick for high contact or holding the ball as he failed to dispose of the Sherrin.
But the umpire decided to ball it up.
RANKINE LOSS LEFT SUNS BEHIND EIGHTBALL
The Gold Coast lost enigmatic small forward Izak Rankine before the first bounce when he failed to overcome a corked thigh.
He picked up the injury in the second half of the win over West Coast and with a six-day turnaround, he was unable to get up for the game.
In a clash with a competition heavyweight, you need all the firepower you can get and they missed his ability to produce something sensational.
SCOREBOARD
MELBOURNE: 3.1 9.1 12.5 12.10 (82)
GOLD COAST: 2.3 6.5 8.7 10.9 (69)
GOALS
Melbourne: Brown 2, Jackson 2, Pickett 2, Gawn, Viney, Oliver, McDonald, Fritsch, Harmes
Gold Coast: Casboult 2, Lukosius 2, Sharp, Chol, Davies, Anderson, Fiorini, Anderson
BEST
Melbourne: Petracca, Jackson, Oliver, Bowey, Gawn, Pickett, Rivers
Gold Coast: Miller, Anderson, Collins, Rowell, Powell, Casboult
GREG DAVIS' VOTES
3: Christian Petracca
2: Luke Jackson
1: Clayton Oliver
Prized defenders back in the frame
Melbourne premiership defenders Jake Lever and Michael Hibbert are in the frame for a possible return for this Friday's clash with Essendon at the MCG after the Demons repelled a dogged Gold Coast by 13 points on Saturday night.
Lever (foot) and Hibbert (calf) were both listed as subject to fitness tests for the clash with the Suns at Metricon Stadium but did not play in the hard-fought affair where Melbourne's poise, polish and star-power eventually proved the difference.
Christian Petracca was outstanding with a career-high 41 disposals but the four premiership points required a concerted effort all over the ground from the Demons with Gold Coast having 60 inside 50 entries to put legitimate pressure on the premiers.
The Suns put the first 15 points on the board but the Demons kicked six of the next seven goals to get in front and stay in front.
Senior coach Simon Goodwin said Melbourne's medical staff will put Lever and Hibbert under the microscope again but was impressed by how his makeshift backline coped.
"We'll look at Hibbo and Jake throughout the week to see where they are at but I'm really happy with the group we've got going at the moment,'' he said.
"They are playing well and have good cohesion together, they sucked up 59 entries tonight and absorbed a lot of pressure really well.
"They (Gold Coast) are a good side. We knew the challenge coming up here to get a result. And I thought our players, once they were on the backfoot early, responded incredibly well. I walk away from this a really happy coach and a happy club in terms of how we got ourselves back in the game.''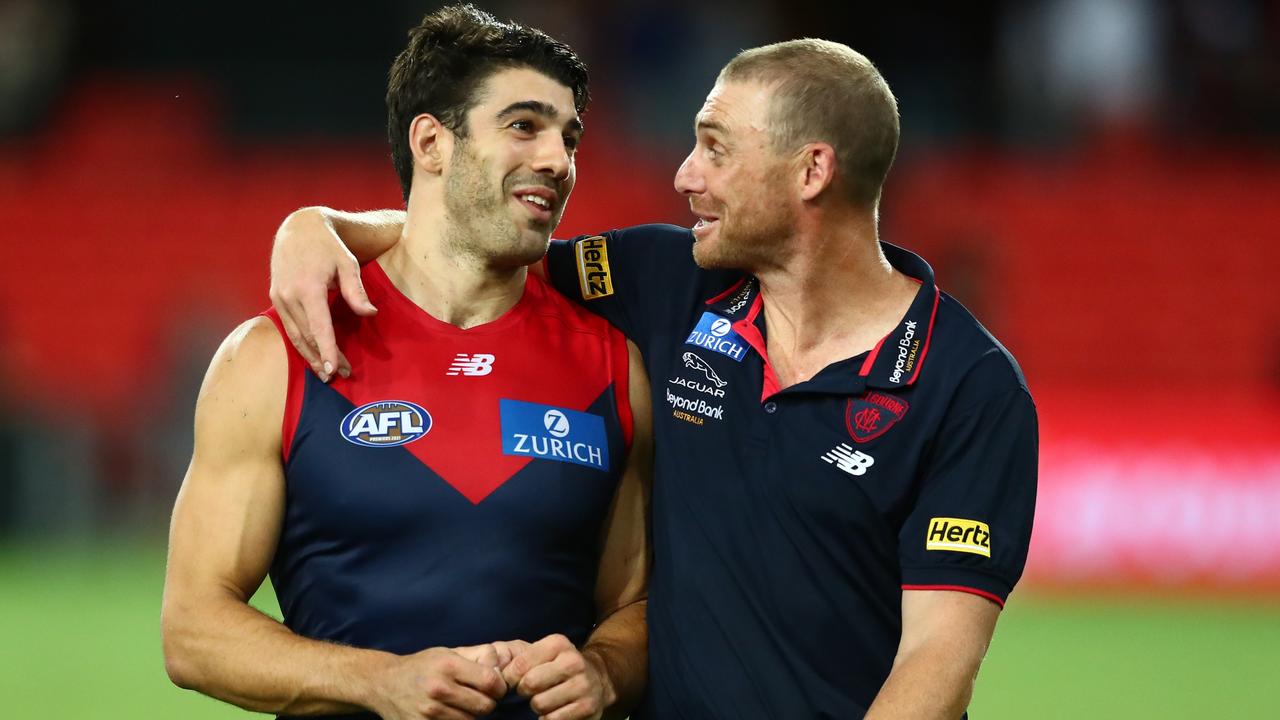 Demons coach Simon Goodwin and his man for all occasions, Christian Petracca. Picture: Getty Images
Young gun Luke Jackson was a standout with 21 disposals, 11 contested possessions, two goals, 17 hitouts, five marks and seven clearances and took over the main rucking duties in the first term when he was a driving force behind Melbourne's comeback.
Goodwin said the likes of Jackson, Kysaiah Pickett, Jake Bowey and Trent Rivers "stepped up and executed their roles incredibly well''.
"I think that's the great thing about the position we are in, especially tonight I loved the way the kids played. We had a lot of young guys who contributed strongly tonight. That's a great thing,'' Goodwin said.
Meanwhile, Gold Coasts senior coach Stuart Dew said the Suns have come a long way from Round 20 last season when the Demons won the corresponding fixture by 98 points.
"We're obviously a different team physically and mentally. They haven't gone backwards. They're pretty formidable. We had a real dip tonight but they were harder at key moments and made us pay,'' he said.
"We fought it out. I don't want to sit here and say it was a good effort, but we're pretty proud of the way they played tonight. That's a seriously good footy club. Their synergy is unbelievable in the middle.
"I asked the players after the game what they thought and the first word that came out of Touky's (Touk Miller) mouth was "deflated" and I think that's because we had a real crack at it and didn't get there.
"It would have been nice to get over the line but they were just better in the big moments and more composed, used the ball well under pressure."
"We thought we were a chance. They might say differently. In the end it was 19 scoring shots to 22. I certainly think we were in the game, and for the whole game, which is important to us. Their class and hardness under heat is what got them over the line."
The Suns take on GWS in Sydney on Saturday.
Bizarre childhood bet proves why there's no stopping Touk
The scrap of orange nail polish on Touk Miller's left pinky finger is simultaneously the result of an insane childhood bet and proof of exactly why he is now in footy's elite.
As Miller discusses that meteoric elevation on the way back from an AFL captain's day obligation in Brisbane, he is asked if the painted nail is part of a charity initiative.
Miller, reigning All Australian and the AFL's new running man, gives a sheepish grin and expands as the scenery hurtles by on the Gold Coast Highway.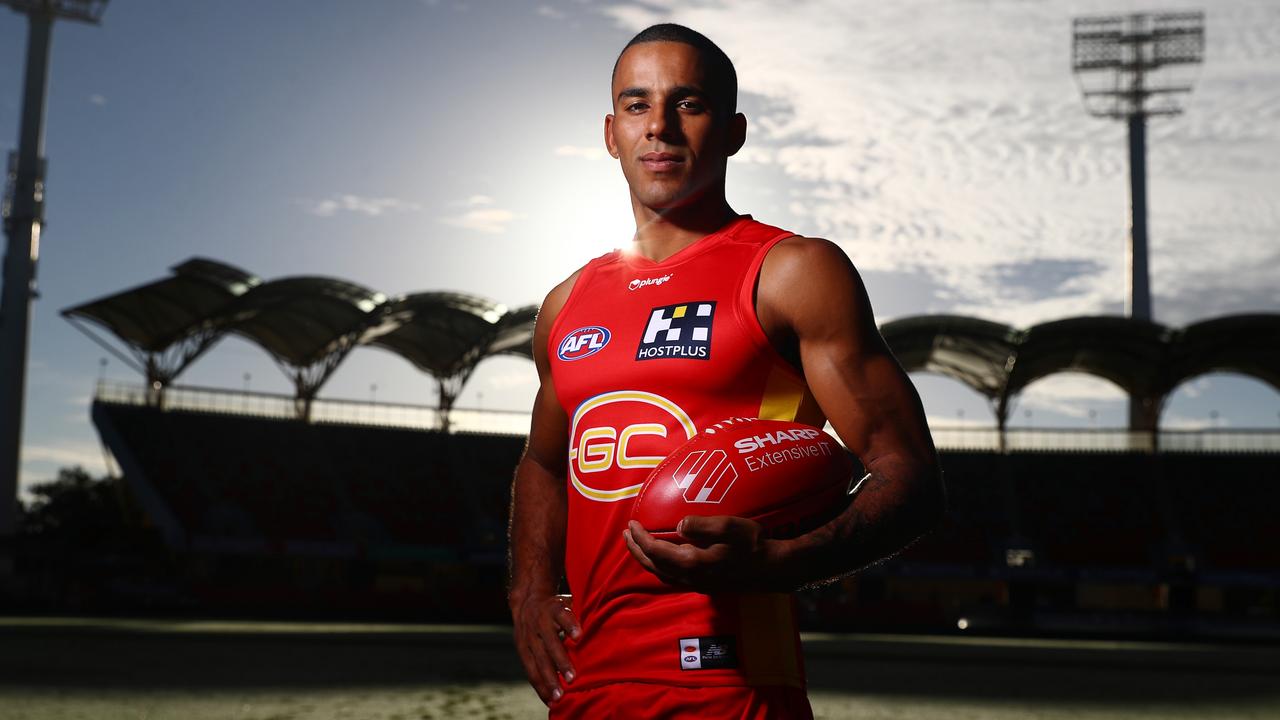 Touk Miller is the AFL's new running man. Picture: Chris Hyde/Getty Images
"I would love to say it's any of those, but it's a nine-year bet with my best mate," he says with a chuckle.
"We have to have some nail polish on at all times. It started before I got into the AFL and it's been going eight or nine years.
"The punishment has changed and he's gone to Canada and around the world and every now and then you get a random photo or Snapchat message and you have under an hour to send back a photo (of proof).
"I have got down to a speck a number of times, but I have never not had it on, so it's kind of cool. It started when we were younger and he thought it would stop when I came the AFL and it's something that keeps us connected."
That punishment for failure to adhere to that bizarre protocol started as being forced to sneak into a nightclub under-age and evolved into a $1000 bet.
Yet, here are some words of wisdom for Miller's great mate: Give up now. Stop the fight. Graciously concede.
Because if you know anything about Miller, he is going to wear you down and grind you into the dust.
Few players in the AFL have worked harder on their craft to turn a solid level of talent into something utterly brilliant.
At the age of 26, Miller has risen to Gold Coast co-captain, weaponised mediocre foot skills into something lethal, and realised dreams of becoming All Australian through sheer bloody-minded hard work.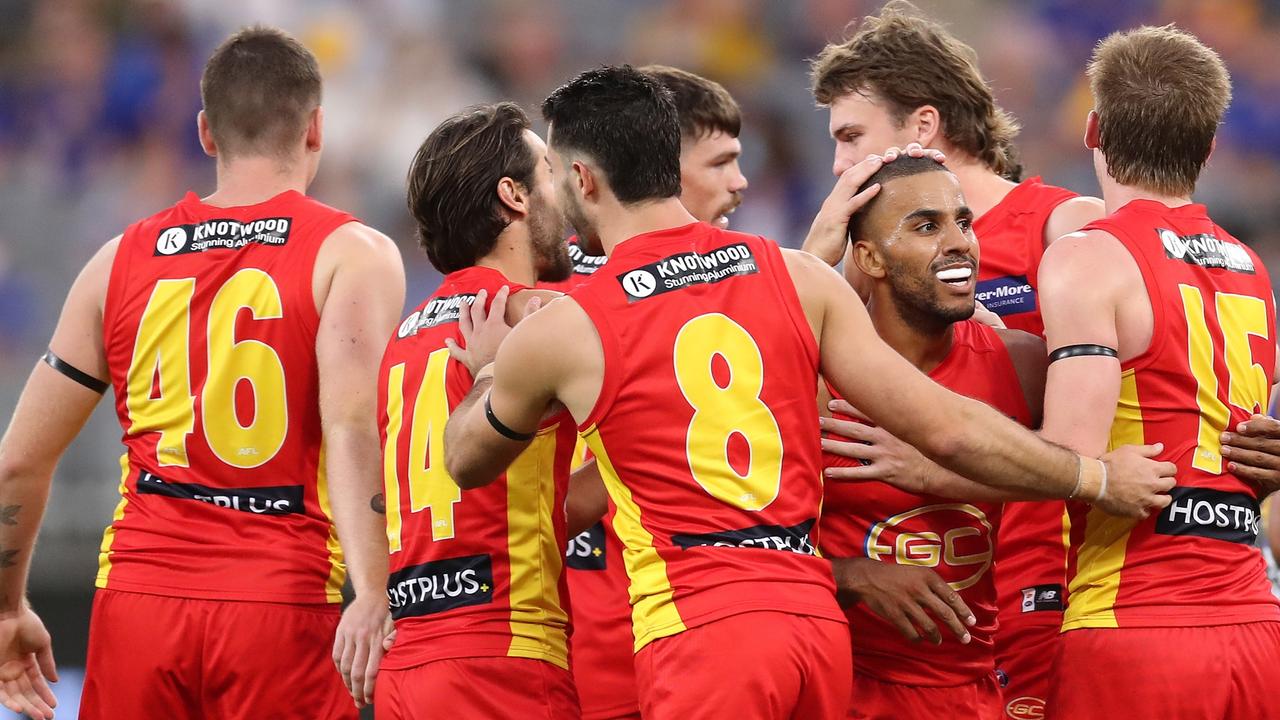 Miller is surrounded by Gold Coast teammates during their Round 1 win over Eagles.
All the while making marathon-running mum Ruth and jazz guitarist busker and cruise-ship entertainer father Wylie proud.
If he has his way — and why would you doubt him — he will help drag football's most disrespected franchise all the way to the top.
And not just a historic finals series, but multiple premierships and an abiding legacy.
It's not that he hasn't failed — more about him hitting the wall in the final kilometre of the Melbourne half marathon later — but Miller is the ultimate example of a young man in a hurry.
"Everyone wants the ultimate. You look at teams like Richmond and Hawthorn. Everyone wants that premiership glory, but not just one. You don't want to be a flash in the pan. You want to leave a legacy," he tells the Herald Sun.
"So I think for us there is a real chance to be the first, which no other club bar GWS and Fremantle have a chance to do. And that's something we can really get hold of.
"It's the chance we have got to have our first finals campaign. It would be unbelievable. Then holding up the premiership cup and winning multiple premierships, it's the ultimate."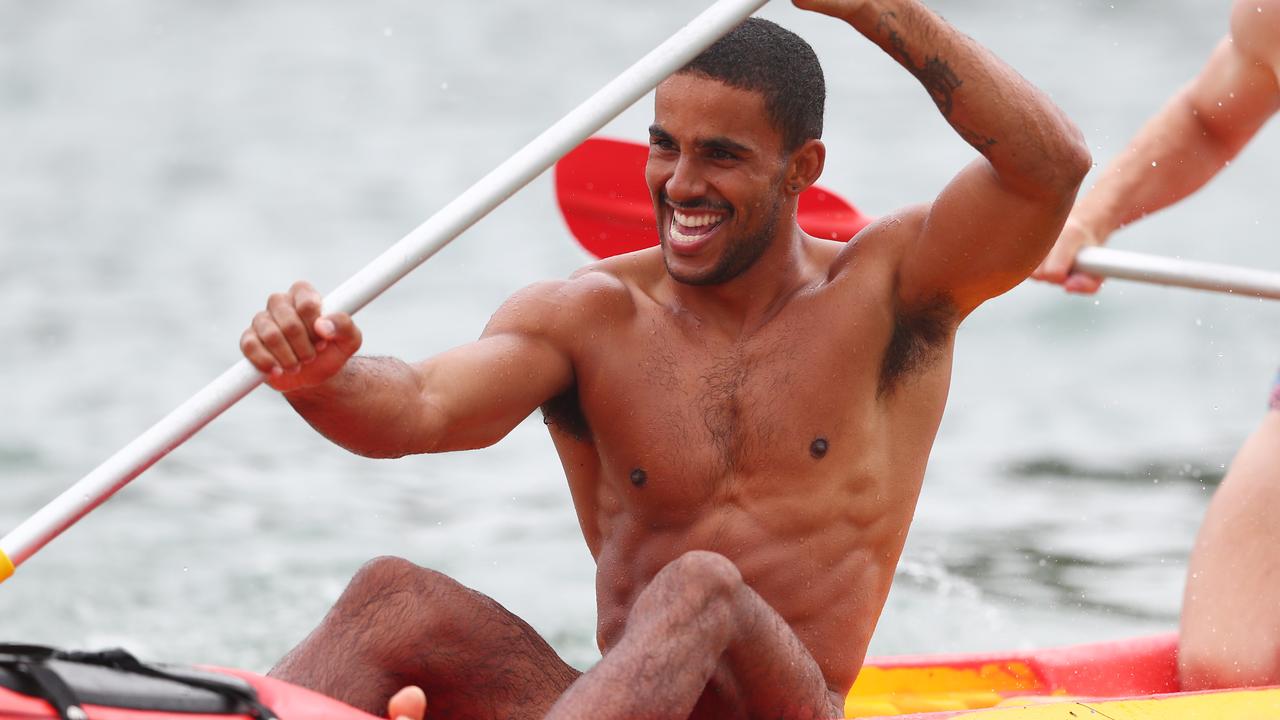 Miller has worked harder than most. Picture: Chris Hyde/Getty Images
The running man
Touk Miller might be the AFL's running man, but his mum puts him to shame as an endurance freak.
Mother Ruth and father Wylie remain close but it was Ruth who raised him in Ascot Vale before discovering her own passion for marathon running.
"Mum raised me and I spent the majority of my life with mum. I still talk to dad and mum. They don't live together, but everyone is civil enough," he says.
"She started late, actually. But once she had me she started to run. She could barely run around the block and now she's done 20 marathons. She just finished her third half ironman and she loves it.
"I would say I get the endurance and discipline from mum. She instilled that confidence in me. There was no ceiling if you could do the work and get the results. I feel that's kind of what I set as my foundation for football.
"I'm not big on crunching numbers, but it's all about high speed. Big numbers over 18km an hour. But if you have one big week and then can't back it up it is for nothing. Last year I was able to back it up for weeks with the same number and keep improving."
Miller's dream is to run a New York marathon with mum and one day progress to full Ironmans, although his surprise half marathon with Ruth ended in tears.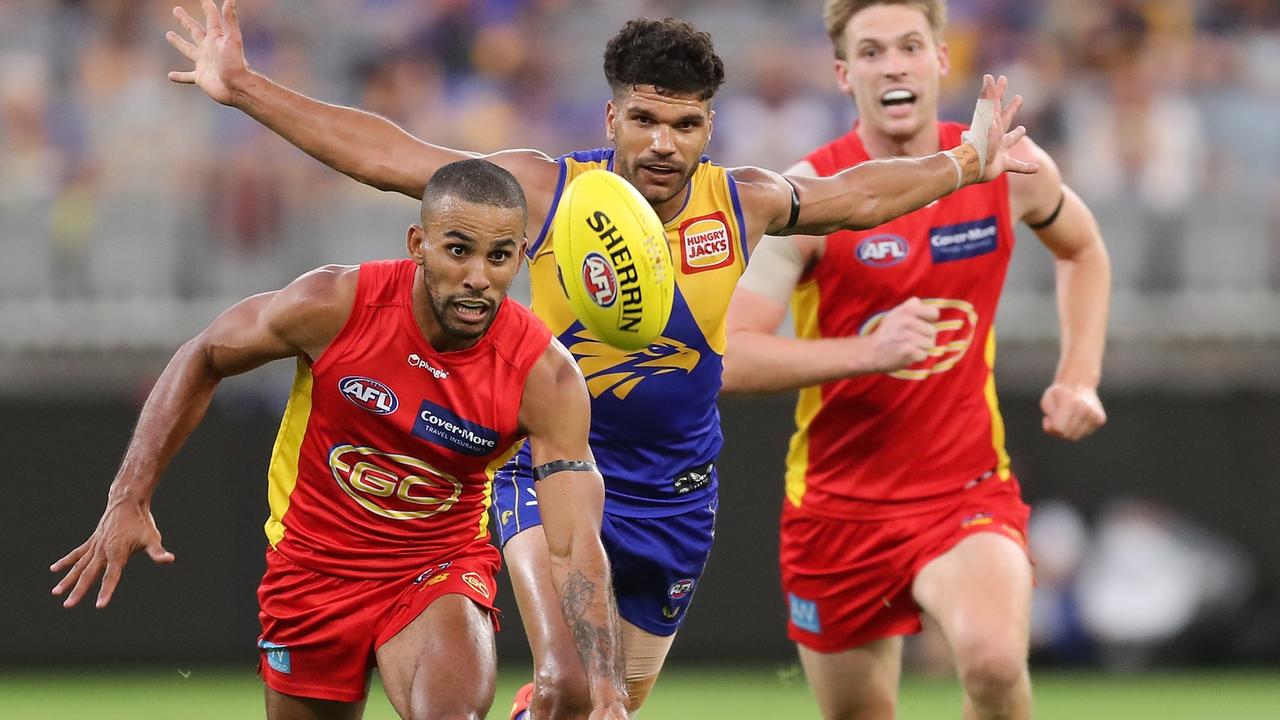 Miller chases the ball against West Coast during Round 1 of the 2022 season.
"That was the worst decision I ever made. It was mum's 10th Melbourne Marathon and she became a Spartan so I surprised her. I finished in the medical tent afterwards," he said.
"I dehydrated myself chasing a time I wasn't prepared for. I was chasing 90 minutes and ran with a bloke (pacesetter) up until the 20km mark and came into the MCG over a stupid little hill.
"I went from doing 4.15kms to the last kilometre in seven and a half minutes. I got over the line and nearly passed out."
Ohio-born father Wylie has a soul band Grand WaZoo, works cruise ships and has never lost his obsession with music or performing.
"He's a muso and he's been busking the majority of his life," says Miller.
"It's something I have taken from him. If you are passionate about something you like you really stick with it. And he just loves music, loves his job and he's a real people person.
"He's really charismatic and he's a great person. He's in his 60s and he won't ever give it away.
"He used to go for Collingwood before I came to the Suns so he would busk out of Collingwood games and Bourke St Mall and he's a man of the people."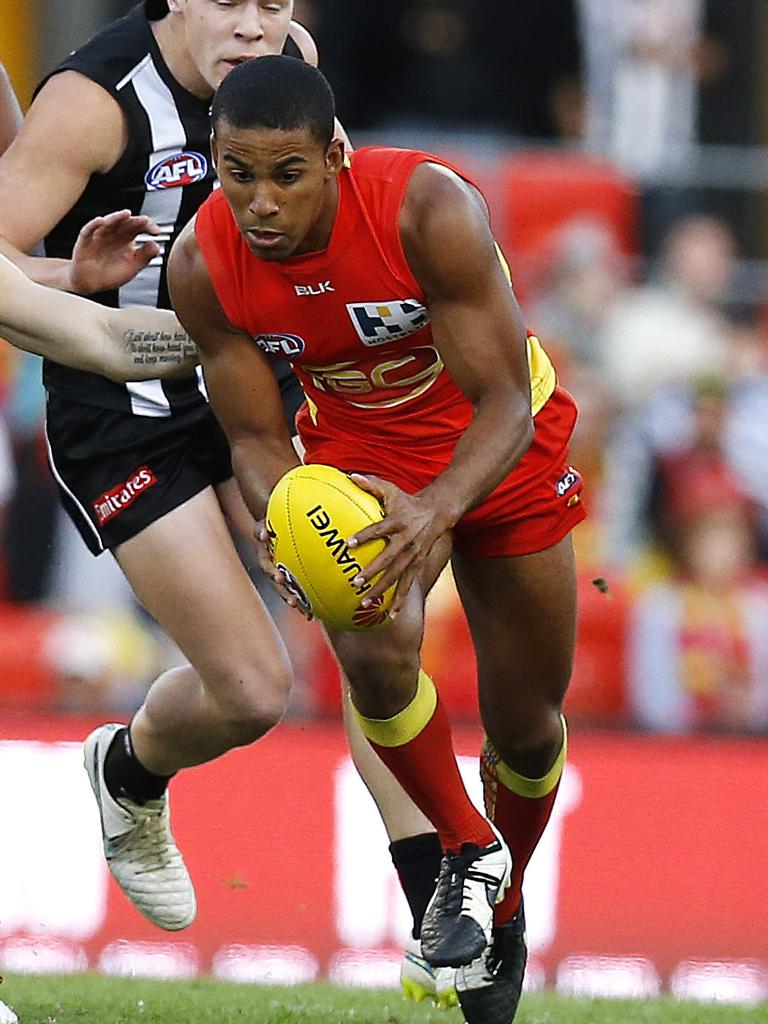 Miller in action during his debut season at the Sun. Picture: JERAD WILLIAMS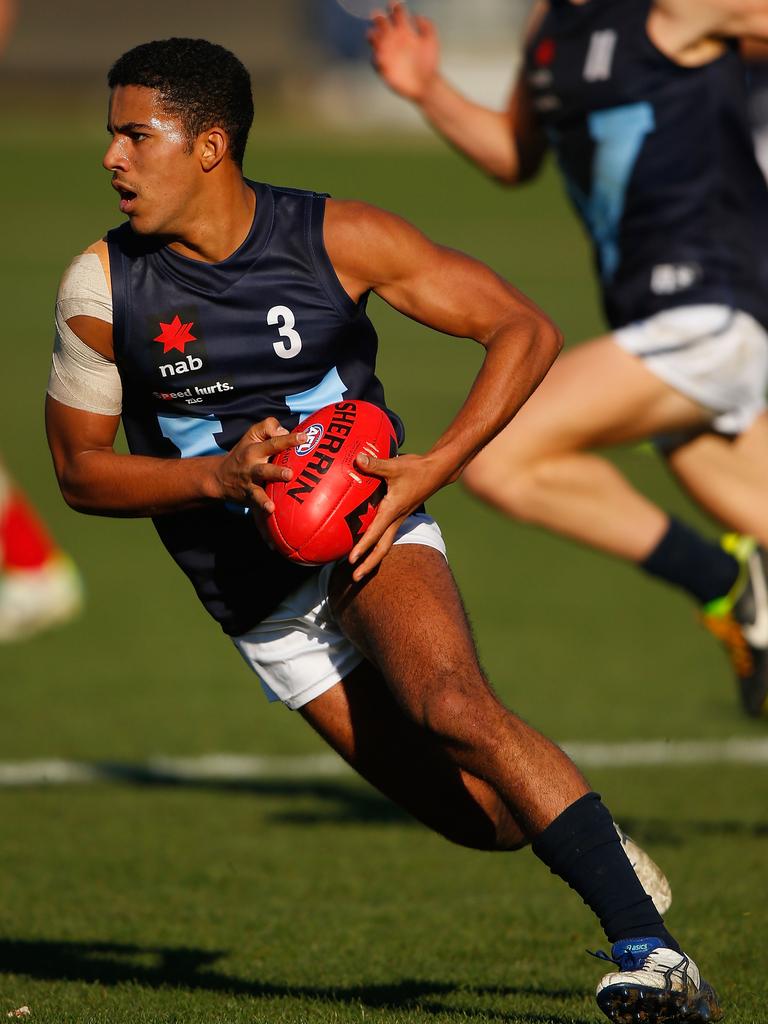 He captain Vic Metro at the under-18 championships in 2014. Picture: Sean Garnsworthy/AFL Media
From good to great
In an era when so many high draft picks arrive at a football club as the finished article, Miller takes pride in having honed his craft to perfection.
Last year, a player who went at 50 per cent kicking efficiency in 2016 hit 76 per cent of targets (rated elite), and his leadership skills were rewarded by replacing David Swallow as a co-captain.
"Yeah, I wasn't noted for my kicking but once I hit the club I spent so much time with (assistant) Matty Lappin. He was really big on having good habits and putting time into the craft," he says.
"Now Steven King coming in has really forced us to use the other side of your body and explore that.
"Rhyce Shaw has been massive as well. He is big on setting your feet then delivering a pass. He does this drill where you put 15 poles with a 3x3m square and he throws you the ball and you weave your way through it and then hit the target."
From as far back as Victoria's Under-12 sides Miller was the captain — clear-eyed, articulate, able to lead with deeds and words — and, after a progression through the Under-16s and 18s, this year's elevation felt natural.
"I was lucky enough to be in the leadership group by the end of my third year. I have seen a lot happen. A lot that I like, A lot that I don't," says Miler, who famously made clear to departing skipper Tom Lynch his disappointment at the departure.
"I feel it has really shaped the type of leader I am now. It's been a childhood dream of mine and has been for a long time.
"I come from a pretty small family and I love making them proud. I felt like that brought a fair bit of joy to my family. It's something small but it's really important to me."
Last year life got big on him — he proposed to girlfriend Maddie, signed on until 2027 and made his first All Australian side.
KFC SuperCoach is back! You could win the Holy Grail of Fantasy Footy plus $50k cash. Play now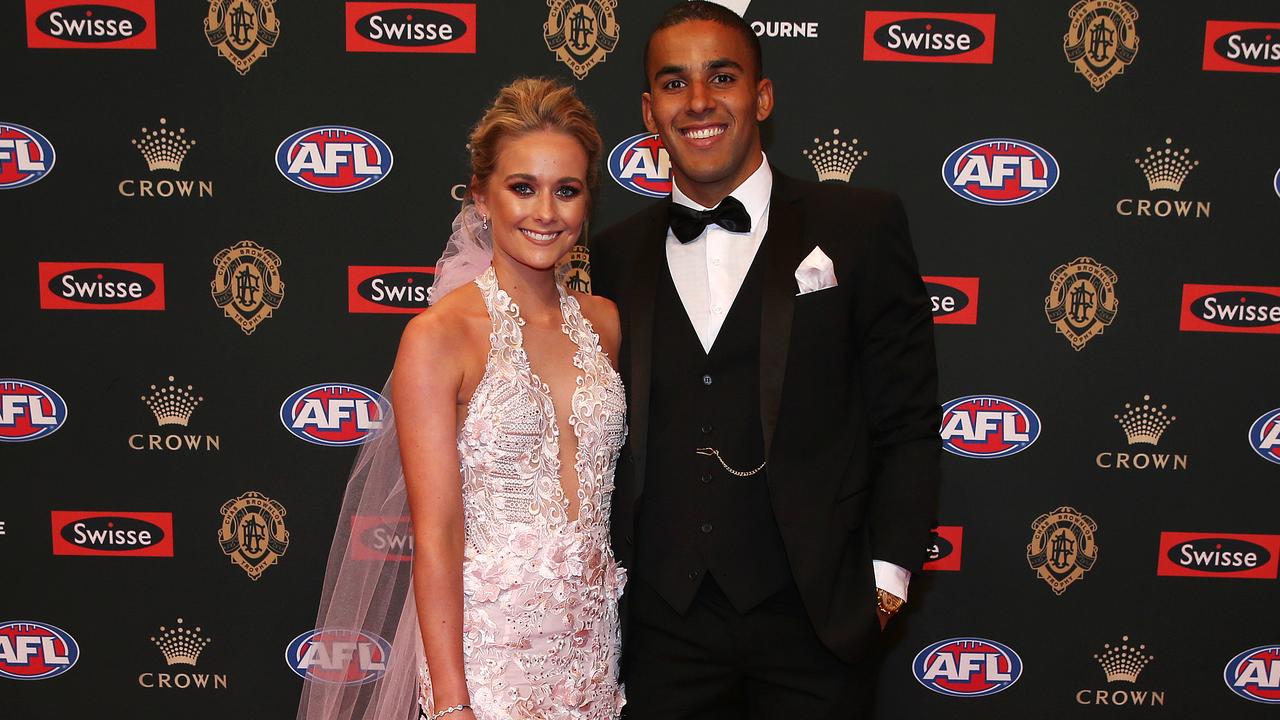 Miller and fiance Maddie Leek at the Brownlow Medal in 2018. Picture: Michael Klein
He loves the Gold Coast lifestyle, has dragged his golf handicap down to seven at Burleigh Golf Course, is a dab hand at slow cooking beef or pork ribs on his reverse flow smoker, or making fresh pasta or sourdough.
Does he feel the love for him from traditional football states?
"I do. I guess I have always been out of the bubble. It's been cool to have a little bit of love from elsewhere," he says.
"It was a very humbling achievement. I sat down a few years ago and had to reach for the stars.
"I said I wanted to be an All Australian midfielder and it never seemed something that was possible.
"Fast forward three years and I look at the self-confidence and belief the team has.
"The team improving has helped my footy stand out.
"It's cool to have some accolades but I finished the year, reset and reflected and then it's how do we move on and play the same footy and strive for even more as a team this year."
The Factory: Rhyce Shaw's inspiring new football life at the Suns
Wil Powell is the kind of livewire presence that lights up football clubs with his practical jokes and megawatt smile.
Teammate Elijah Hollands had just failed to put away the packaging for a gleaming new set of football boots so Powell's punishment is the entire Gold Coast team autographing them uninvited in his absence.
Yet last year, as the dark times came for Powell — and for so many kids his age there will be dark times — his saviour was someone who had lived that experience in the eyes of the football public.
Rhyce Shaw is the boss of The Factory, Gold Coast's development academy for one to four year players, where the kids learn about life, professionalism and the on-field skills that the Suns hope will realise their football ambitions.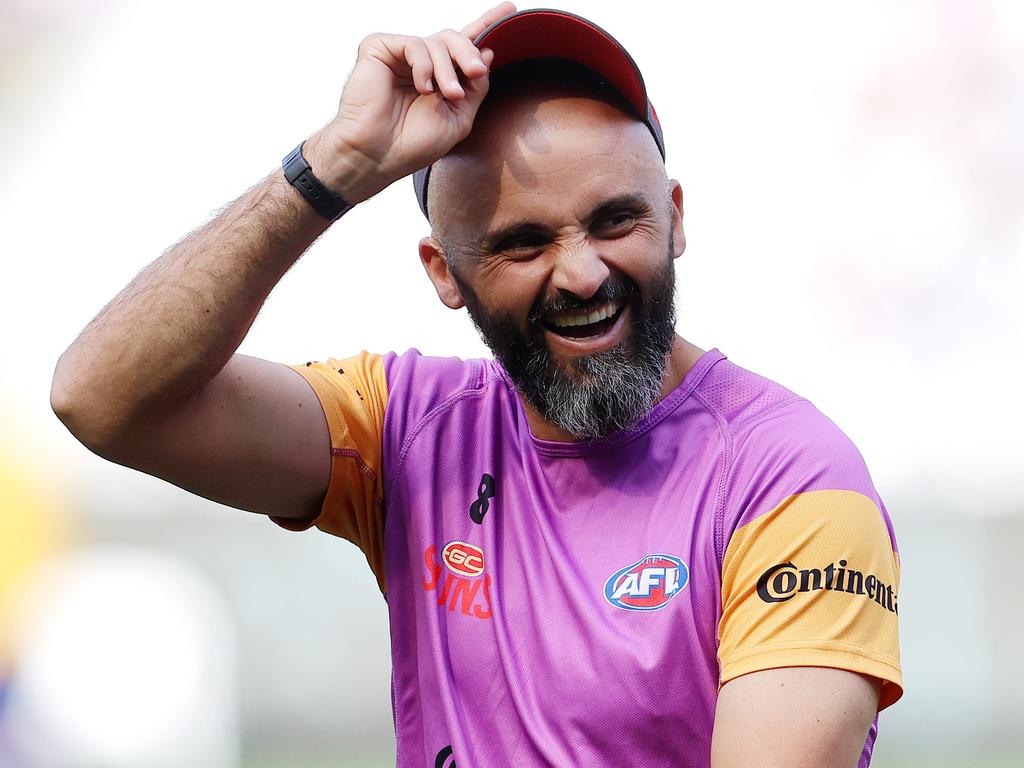 Rhyce Shaw is making an impact on the Gold Coast in his new football life. Picture: Michael Klein
Head-hunted by another former Swans assistant and friend in Stuart Dew in December 2020, the Suns believe the former North Melbourne head coach is the best development boss in the AFL.
His perspective after he walked away as North Melbourne coach due to personal reasons is invaluable when the proverbial hits the fan.
"It is amazing, you would think that bloke is tough as nails but he's human like everyone else," he said.
"He has been through the hardship he's been through and he's come out the other side and he's got a lot of gratitude for what he has gone through as well.
"I had a bit of a difficulty at the start of last year and went to him and talked about it and he got me over for dinner and we chatted about it and went through how he had dealt with his things and it really gave me a new perspective on life.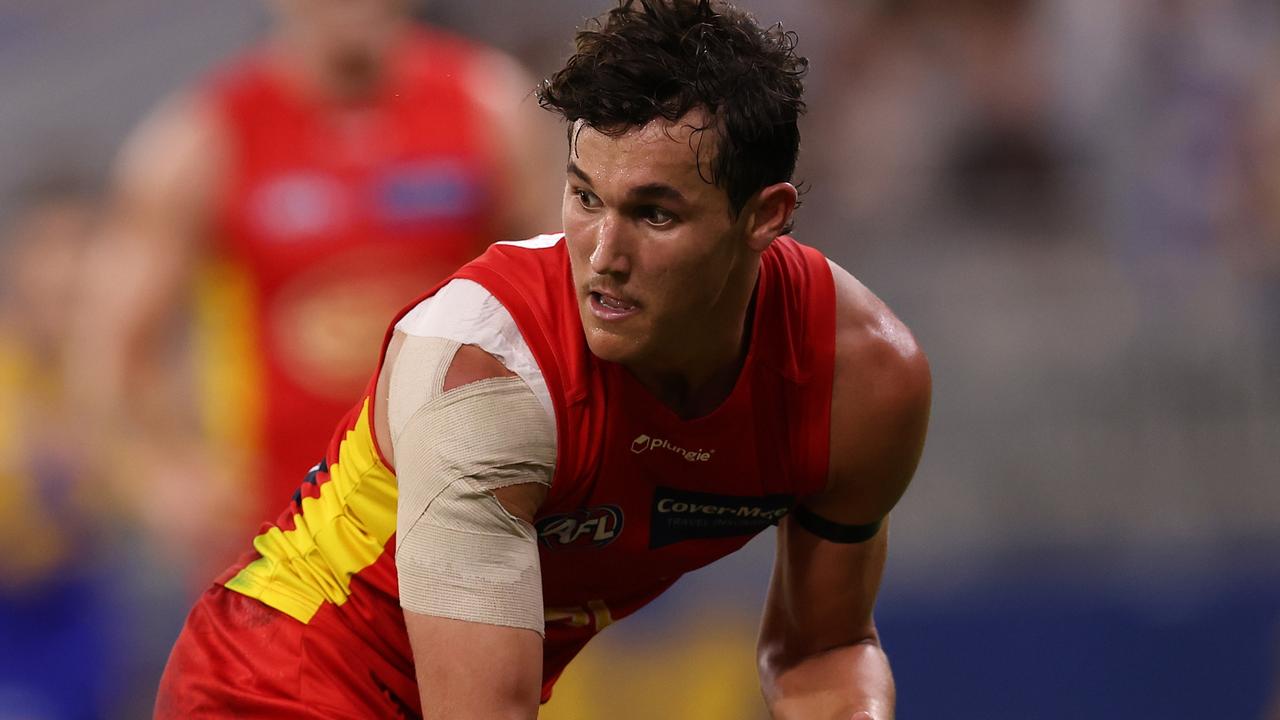 Wil Powell is the life of the party at the Suns but, in tough times, help was there in the form of Rhyce Shaw. Picture: Getty Images
"It's not hard to come out of it better and you would never realise he's gone through anything like he has. He has a lovely wife and kids and one that has just come as well. He's an amazing bloke to have around the club."
That new bub born only weeks ago gives Shaw and wife Leah three boys, joining Freddie and Louis and plenty on his plate after the family's move north.
Football has an incredible capacity to chew up and spit out its personnel but Shaw's renaissance at Gold Coast is a rare example that bucks the trend.
And Powell, second in Gold Coast's best-and-fairest as a fearless intercepting mid-sized defender, is the personification of The Factory's achievements.
Those 1-4 year kids learn in the classroom and on the track but also develop leadership skills that have tightened the bond in a group of 20 players who are 21 and under.
For No. 19 draft Powell, once late to meetings and prone to sleeping in, it has fostered his revolve to be great, not just a "good average player".
"I graduated this year, which is sad. But it's made a hell of a difference around the club with the younger boys. Just the connectedness of the younger group," he said.
"We aren't scared to give feedback on the field because you have grown that confidence in the classroom. Rhyce Shaw has knocked the nail on the head with that little factory."
Gold Coast chief executive Mark Evans says the Dew's recruitment of his former Swans mate adds to an elite core of support staff that includes new assistants Steven King and Brad Miller, both of whom have the players raving.
"He is almost the best I have seen in that role," Evans says.
"He has a strong focus on development of the craft of players, but he also shapes their attitude to being an elite performer. They have a connection with each other and that group really believes they will achieve something together," he said.
"His connection with Stu is what made the introduction and Stu was pretty strong that Rhyce had plenty to offer and Gold Coast is better off having him involved."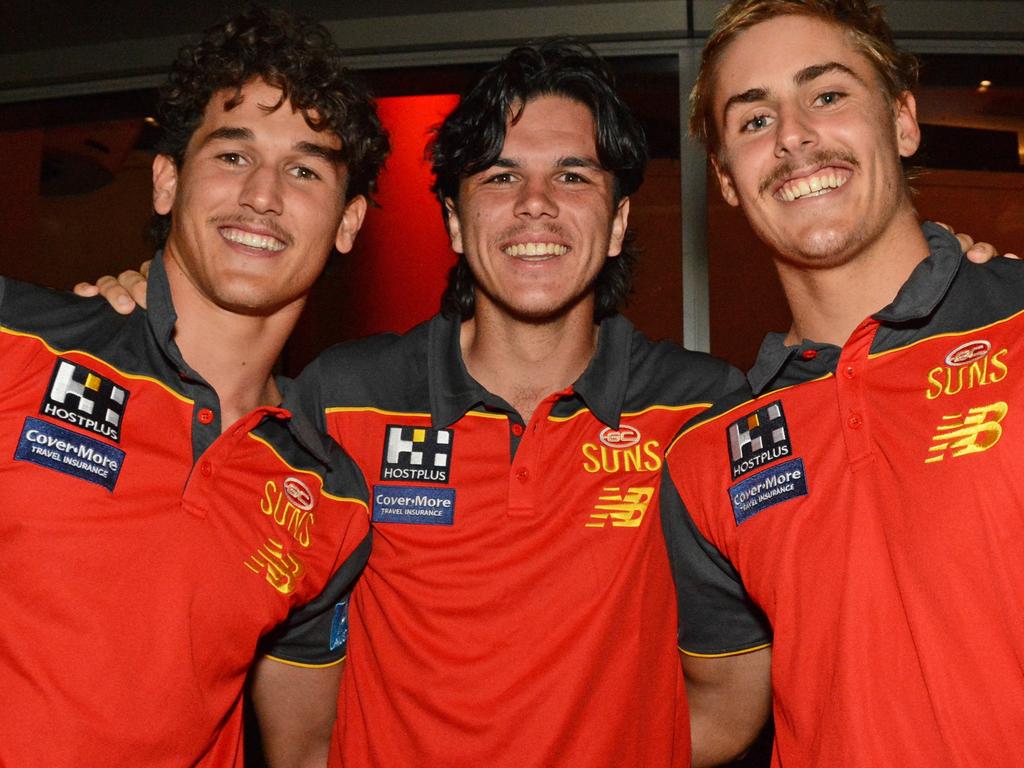 Wil Powell, Elijah Hollands, Jeremy Sharp and the Gold Coast kids are learning about footy and life under the tutelage of Shaw. Picture: Regina King
Powell isn't yet a household name but if the Suns can stay the course he will be along with Alex Davies, Hollands, Joel Jeffrey, Mac Andrew, Jeremy Sharp, Connor Budarick and the well-known Jack Lukosius, Izak Rankine and Ben King.
Shaw is yet to speak publicly about the traumatic final season at North Melbourne that saw him burnt out and mentally exhausted at North Melbourne.
But as newly re-signed key forward King says, he never hides it from the players.
"From the start he has been really open and vulnerable with us. From that first meeting you came to trust him just off the bat. Guys have been able to open up with their problems," he said.
"He's a great bloke but he also knows his football very, very well. So we're very lucky to have him. I don't know how we managed to lock him down but we are very happy."
Originally published as Melbourne young gun Luke Jackson puts contract talks on hold