The fight to bring the Frankston Dolphins back from a terminated licence and serious debt
A little bit of football history died when the Frankston Dolphins had their licence terminated in 2016. But with help from some smart, passionate allies, the club is thriving once again, writes PAUL AMY.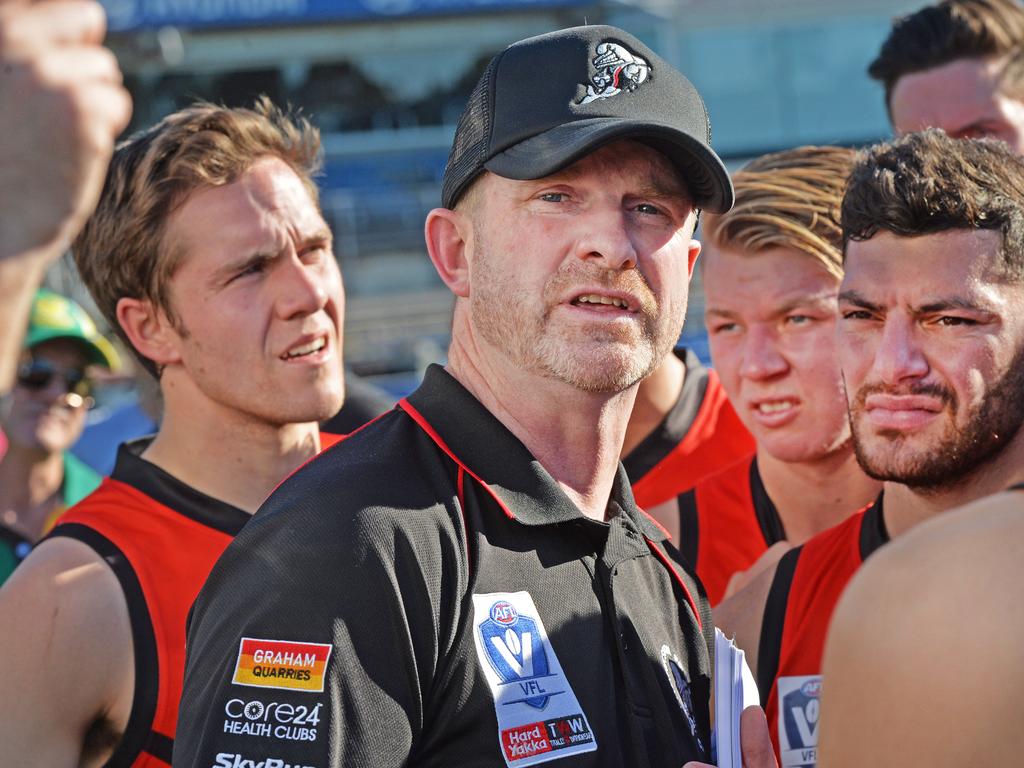 Frankston has come a long way since the troubles of 2016. Picture:Rob Leeson.
As a man who works in the business of solvency and forensic accounting, Paul Burness has a sharp eye for a bottom line.
In 2016 he thought he had identified it in Frankston Football Club.
As Burness saw it, the game was up for the Dolphins.
The club, a mainstay of the VFL, had gone into voluntary administration with debts of more than $1.5 million, and it was Burness' task to establish who was owed what.
The Dolphins wanted to fix up their creditors. They also wanted to play on.
But on September 26 of 2016, Burness was called to a meeting with AFL Victoria officials.
He was given what he later termed "pretty bad news'': Frankston's VFL licence would be terminated.
Burness wasted little time getting the word out.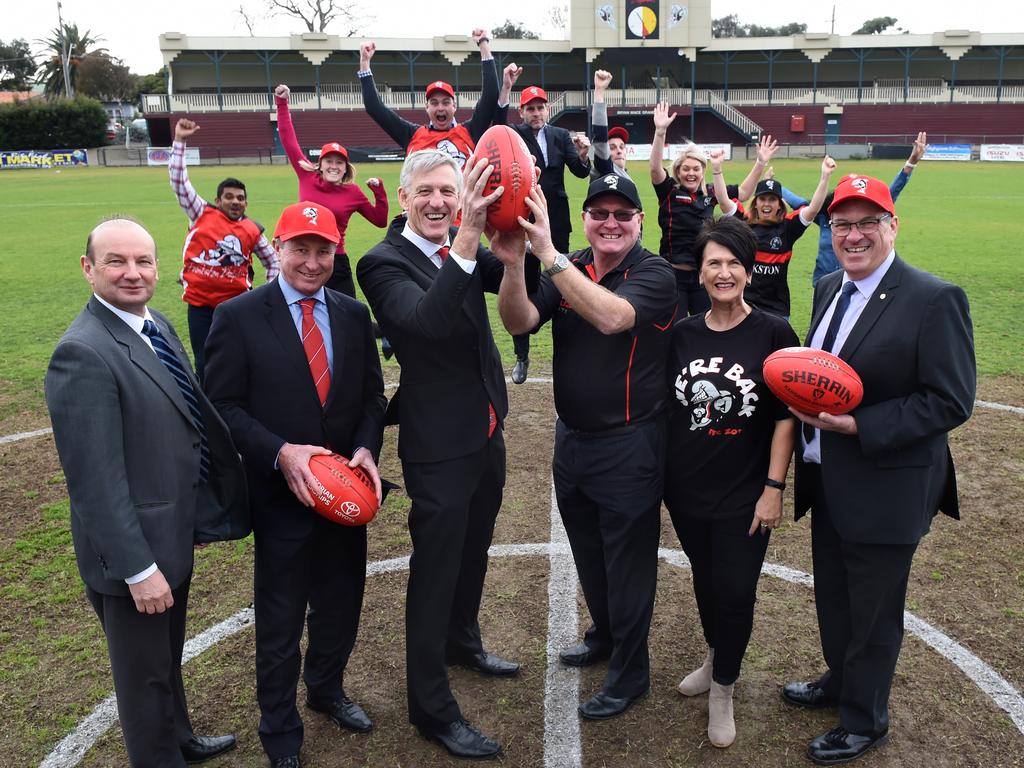 It took plenty of work to get Frankston back into the VFL in 2018.
Later that day his firm, Worrells, issued a statement saying Frankston would "not be able to compete in the VFL competition into the future'' and AFL Victoria's move had dashed "any prospect of a club restructure and the administrators will now turn their efforts to an orderly closure through an inevitable liquation of the club''.
The bottom line as Paul Burness saw it?
Frankston's deeds were done. Its race was run.
But Burness deals in numbers, and beyond them were people creating a tide of support to try to save Frankston Football Club.
It started the days after it went into administration.
And the person who stepped forward to harness the emotion around the club's plight was Peter Geddes, the captain of its team of the half-century.
Geddes, a ruckman, had won the 1984 J.J. Liston Trophy as best player in the competition.
He was captain for four years and won three best and fairests.
But six years after Frankston almost tumbled into oblivion, it's safe to say his efforts off the field for the Dolphins were more valuable than on it.
The club did lose its licence – it was "terminated'' for 12 months, sitting out the 2017 season.
But when it seemed things were falling apart for Frankston, they were in fact starting to come together.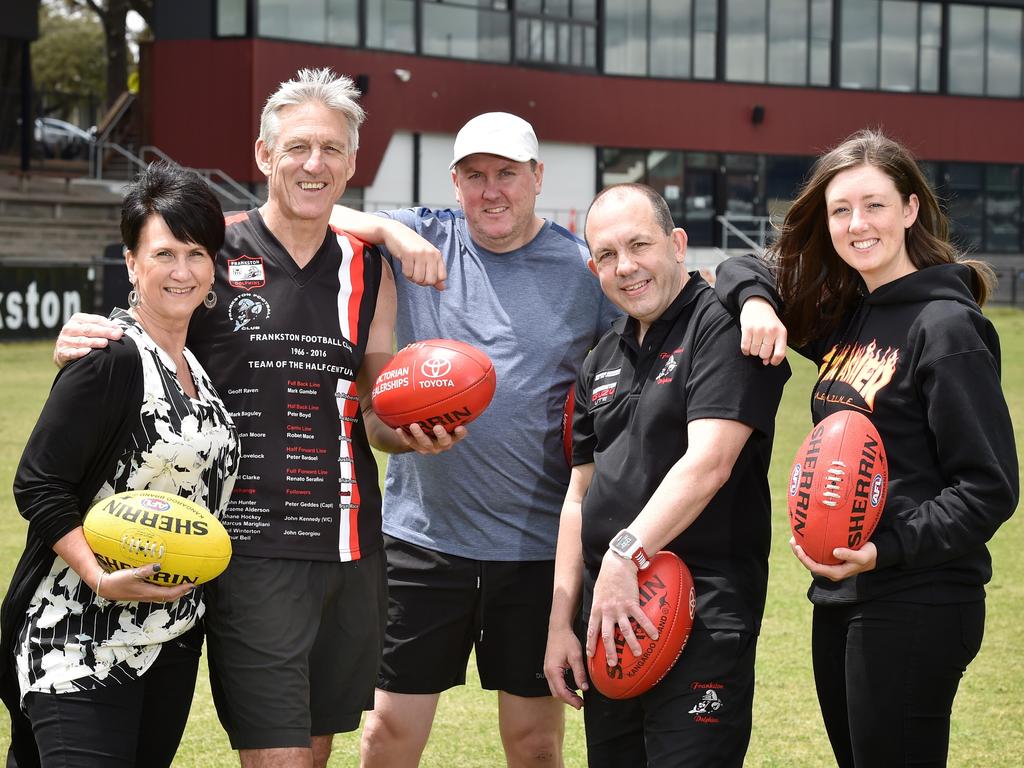 Peter Geddes (2L) was a legend on the field before helping save Frankston off it. Picture: Andrew Batsch
*****
After eight rounds of the 2022 season in a 21-team VFL competition, Frankston has four wins and three losses.
Of the six Victorian standalone teams – that is, clubs with no AFL affiliation – the Dolphins are doing the best, when for a long time they did the worst.
They've been in the VFA/VFL since 1966 and won only one premiership, in 1978, in second division.
Under former league star David Rhys-Jones, they reached the 1996 grand final, only to lose to Springvale by three points.
Ten years later ex-Melbourne defender Brett Lovett was coaching and had forged a fighting Frankston team, made up mostly of local players.
But, as he said after he left, it took "non-stop effort'' to compete against the aligned and AFL teams.
In good times and bad there have always been players to watch at Frankston Park, from the brilliant to the brick-hard, from the promising to the proven.
Some have gone on to play in the AFL, including premiership Bulldog Matthew Boyd and premiership Demon Michael Hibberd.
And the supporters, particularly those who gather on the hill and bang drums and blow bugles and create lots of noise, are among the most boisterous in the VFL.
Three weeks ago they were whooping it up on a cold Saturday night when Frankston came from 48 points behind at three-quarter time to get over the top of Carlton, completing the sixth-biggest comeback in VFA/VFL history.
A few followers, including club legend Bryan Mace, happily admitted they left early and only saw the result later. They were gobsmacked.
A week later the Dolphins went to Point Gellibrand and defeated Williamstown, the standard-bearing side of the standalones for the past two decades.
They hadn't beaten Willy since 2005. And they hadn't bested them in an away game since 1999.
Geddes enjoyed it very much. When he was playing, Frankston and Williamstown were great rivals and players treated the matches as "huge''. But in recent years the Dolphins had been a pushover for the Towners.
"To me, that game out there was very significant, because it showed we've come a long way as a club,'' Geddes says of the May 14 win.
"Everything is going the way we hoped it would when we came back in (2018). The team is having success and as a club as a whole we've made some really significant improvement.''
*****
When Frankston struck financial troubles towards the end of the 2016 season and a steering committee was formed to see what could be done, Geddes told everyone to "keep your feet''.
The club couldn't afford to have anyone stumble.
"Everything was all over the place,'' Geddes recalls.
He himself couldn't quite believe what had happened to the Dolphins.
A few weeks before the board decided to go into administration, Frankston named its team of the half-century.
The event was held in the new function centre and Geddes left that night thinking the club was in good hands and in good heart.
In fact, it was in disarray.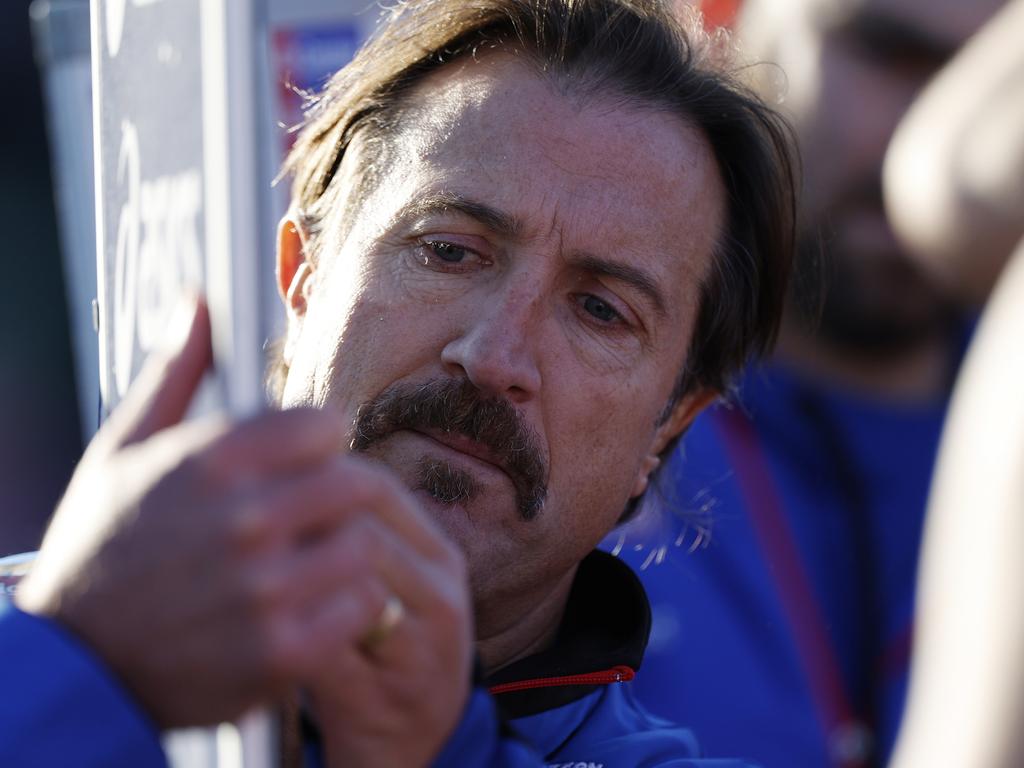 Western Bulldogs coach Luke Beveridge used to play for Frankston. (Photo by Jonathan DiMaggio/AFL Photos/via Getty Images )
A few years earlier Frankston had bought almost 30 gaming machines, paying about $30,000 for each.
The pokies brought in money but every three months the Dolphins had to service repayments of $40,000 to Tabcorp.
With AFL Victoria, Frankston Council, and the state and federal governments putting up funding, Frankston set about building a function centre on top of the social rooms.
There were delays, the club came to look like one big construction site, the pokies players stayed away and revenue fell dramatically.
In June, 2016, as debts mounted, the Dolphins relinquished the gaming machines.
Board members had dropped off and general managers had come and gone, leaving long-serving staff member Tina Bremert to oversee the day-to-day operations.
What was left of the board – former star players John Georgiou and Ash Roberts, James Crowder and Shane Boland, all of whom were relative newcomers to it – decided something drastic had to be done.
The debts were overwhelming. No one could see how they would be met. The club had to enter administration.
Players found out on the morning of their last match of the season. They were on a bus heading to North Ballarat when coach Pat Hill gave them the news.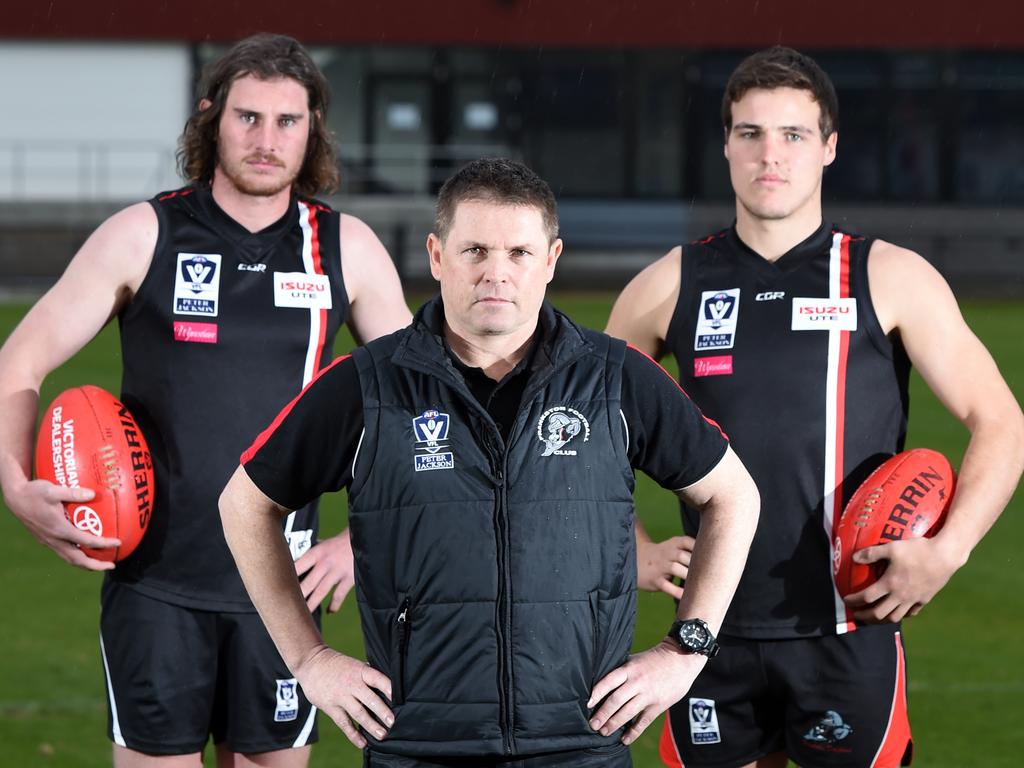 Then-coach Pat Hill (centre) told the team the bad news on the bus in 2016. Picture: Jason Sammon
Club official Mick O'Neil addressed the team and their parents after the game.
"It went down like a lead balloon with a couple of people,'' O'Neil recalls.
"Fair to say the atmosphere wasn't great. It was unprecedented.''
Things moved quickly.
Worrells drew up a deed of company arrangement (DOCA) outlining a schedule of payment to creditors.
Past players including Geddes came forward to help.
But a couple of days before the 2016 AFL grand final, AFL Victoria told a Frankston delegation what it had already told Paul Burness – that the club's licence was being pulled.
It meant the DOCA was redundant; it had been conditional on the club playing on in the VFL. Liquidation loomed.
The meeting with AFL Victoria did, however, offer the hope of a reset and winning the licence back for 2018.
Former Frankston general manager Adrian 'Rocky' Lloyd was working in a management role at Carlton Football Club.
But, seeing his old club in trouble, he got involved and with Geddes asked Worrells for a say in proceedings.
A new DOCA was presented to creditors, who had two choices: support it or wind the club up.
Local MP Paul Edbrooke convinced the State Government to waive a pile of money owed from the pokies.
"There was a little window there where it could have gone the wrong way … it might have been an unstoppable force,'' Geddes says. "Everything had to go our way.''
Frankston state Labor MP Paul Edbrooke convinced the State Government to waive money owed from the pokies.
The creditors accepted a schedule of repayments of more than $400,000 over four years.
Frankston could push on, not with a VFL team in 2017, but with a plan to rebuild and regain the licence.
Geddes says outrage from locals – as well as football followers with no allegiance to Frankston but an appreciation of its history and standing as a VFL club – turned into a "coalition of the willing'' and a campaign called Bring back the Dolphins.
ABC sports commentator and former player Paul Kennedy had summed up the anger, accusing the AFL of turning its back on "one of its richest and proudest footballing regions''.
"It makes the announcement while its executive walks the red carpet in fancy suits,'' Kennedy fumed.
"No Frankston in the VFL means boys and young men aspiring to be their best have no place to better themselves beyond local ranks. If the AFL was worried about Frankston then why didn't it provide more help?
"Think about what — and who — the peninsula and Frankston have given to the great game of Aussie rules in the past 125 years. Look at the names. Then tell me this is not a lazy, shallow, heartless decision. And the responsibility for this axing lies not only with the branch-level AFL Victoria. It is with the AFL's boss and his advisers.''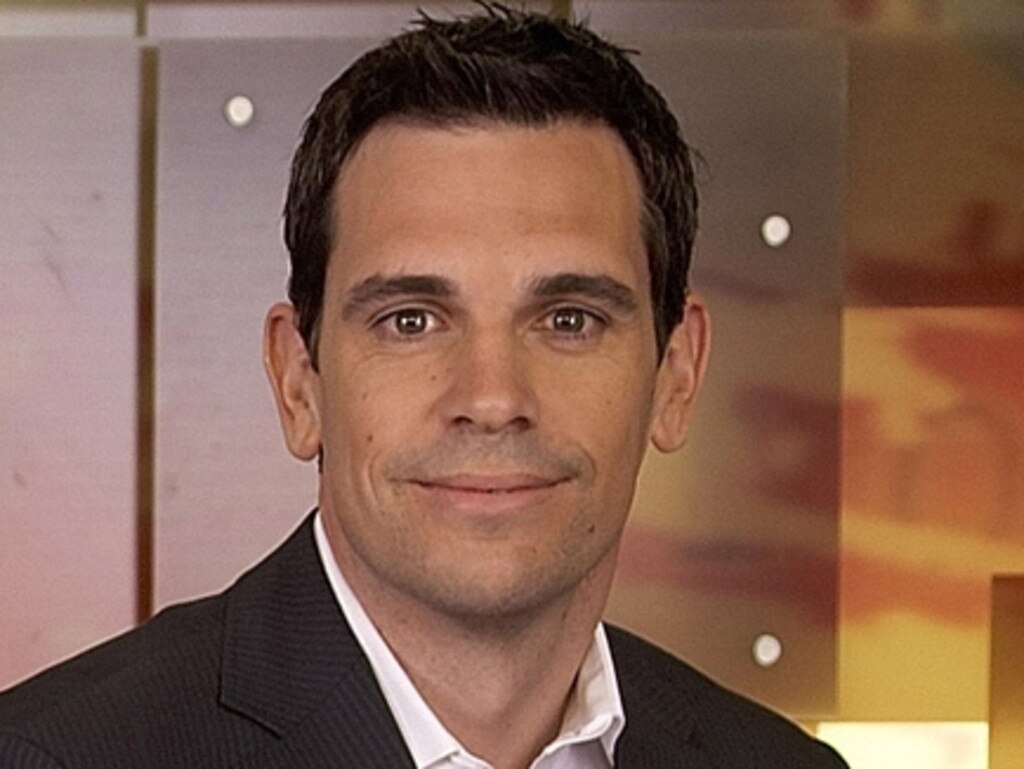 Paul Kennedy laid into the AFL over Frankston's plight.
Plenty of people were prepared to fight for Frankston.
There was the local council, business, community and sporting groups, and MPs Chris Crewther and Edbrooke (who started an online petition signed by 3500 people).
And there was a chap who had wandered into a meeting at the club and stood by himself at the bar.
People looked at him and whispered and wondered what he was doing there.
It was former Hawthorn president Ian Dicker, who explained that he lived in Mt Eliza, had read of the Dolphins' plight in the Frankston Standard newspaper and wanted to see if there was anything he could do.
What he did do was host the first 'Dolphins In Business' lunch a couple of months later, as well as entice membership specialist David Friend to the club and generally offer wise counsel.
From the steering committee came a new board headed by Geddes as president and Lloyd and Dicker as "mentors''.
Geddes says he knew AFL Victoria wanted the Dolphins to succeed when it asked top official John Hook, a former Hawthorn football manager, to serve on the board.
In February, 2017 the Hawthorn connection became stronger when ex-Hawks star Gary Buckenara was installed as general manager.
"Bucky connected with every club on the Mornington Peninsula,'' he says.
"He gave us a 'brand'. He brought Frankston to the attention of the AFL world.''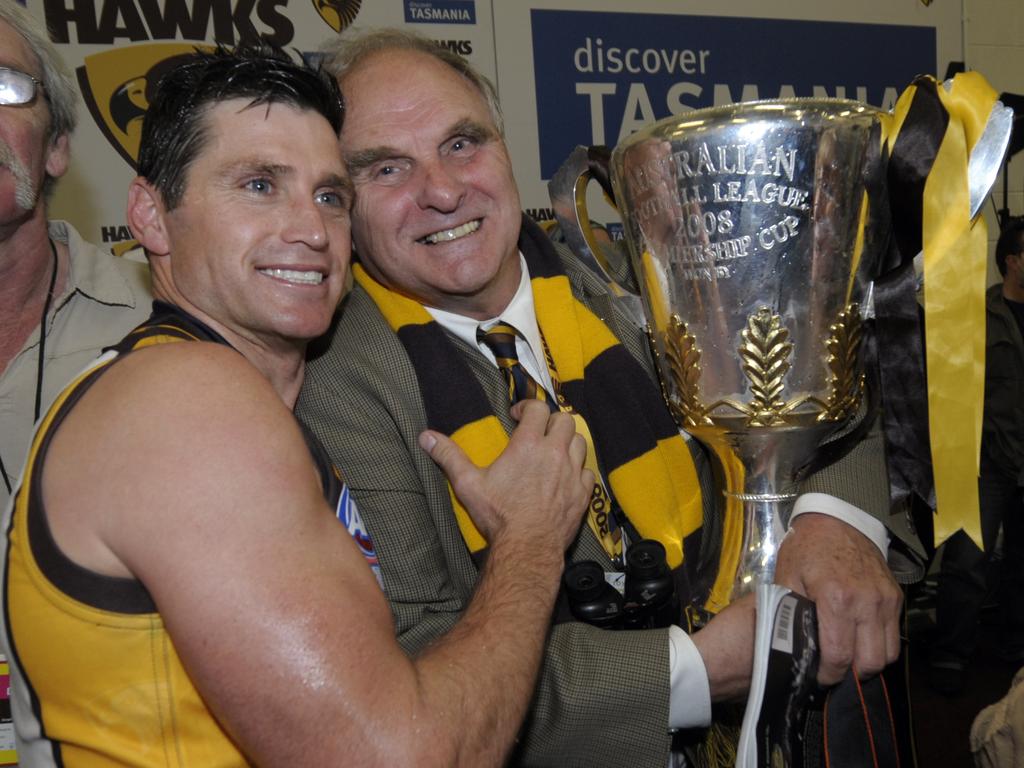 Former Hawthorn president Ian Dicker stepped up for Frankston.
AFL Victoria asked the Dolphins to submit a strategic plan focusing on areas including governance, financial stability, community connections and membership.
Members of the board made a presentation to AFL Vic in late July of 2018, finishing it with the flourish of footage of 2016 Western Bulldogs premiership coach Luke Beveridge, who had played at Frankston, stressing the importance of the club.
Beveridge had attended a fundraiser for the Dolphins ahead of their bid for reinstatement.
"The drive to re-establish this great club, the Frankston Football Club, that lays dormant at the moment, it stems from the most important thing that we all know about our game and its passion,'' Beveridge said.
"We hold our breath that the licence is awarded and that next year Frankston Football Club can play in the VFL … and go from strength to strength. If it doesn't happen, a little bit of the game will die.''
Geddes says: "What else could they do after watching that? It was just so passionate. They had to give us our licence back!''
They did, on August 6, 2017. That night when Geddes announced it the cheering and clapping almost lifted the roof off the social club.
By that stage the Dolphins had 1000 members, despite them having no team to watch.
Given the boot almost 12 months earlier, the Dolphins were "rebooting'', the Frankston Standard reported.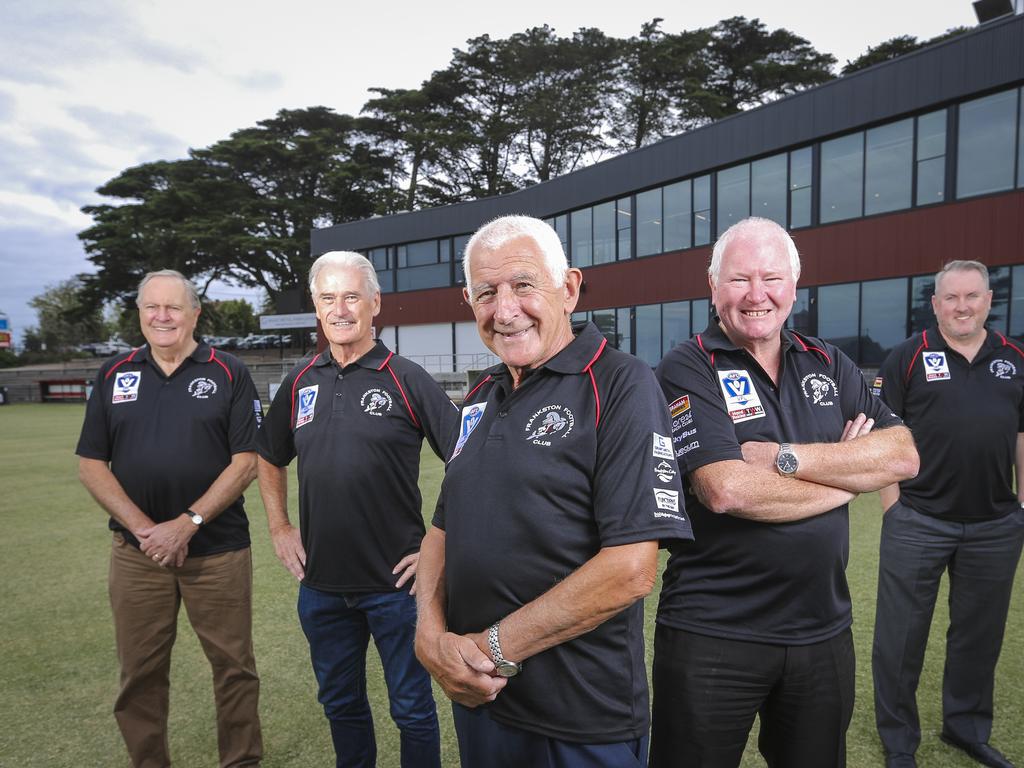 Past players Alan Wickes, Ken Jungwirth, Bryan Mace, Gary Buckenara and Mick O'Neil have helped drive memberships. Picture: Wayne Taylor
*****
Frankston had won two games in 2016 and was handed another wooden spoon (that was better than 2015, when it was winless).
When it returned to the field in 2018 it had a new coach in Adam Skrobalak and basically a new list of players, headed by former Richmond AFL pair Jake Batchelor and Todd Elton and ex-North Melbourne rookie Will Fordham.
"Really, we were starting from scratch,'' Geddes says.
The Dolphins' first home game back was against Essendon.
They were back in black, as the AC/DC song made loud and clear through the ground PA system.
About 3000 spectators turned up at the newly named SkyBus Stadium. Victorian Premier Daniel Andrews attended the sold-out lunch and announced funding of $650,000 to upgrade the lights and another $50,000 for new interchange boxes.
And when the Dolphins got the first goal of the match, through a Nathan Gardiner snap, a feel-good story of football got a little better.
Former Frankston player and VFL senior coach David Dunbar later said he felt "a little tingle down the back''.
Geddes thought it a great result that Frankston scratched out two wins in 2018.
When Skrobalak accepted a full-time position at St Kilda at the end of the season, one of his assistants, Danny Ryan, was appointed senior coach.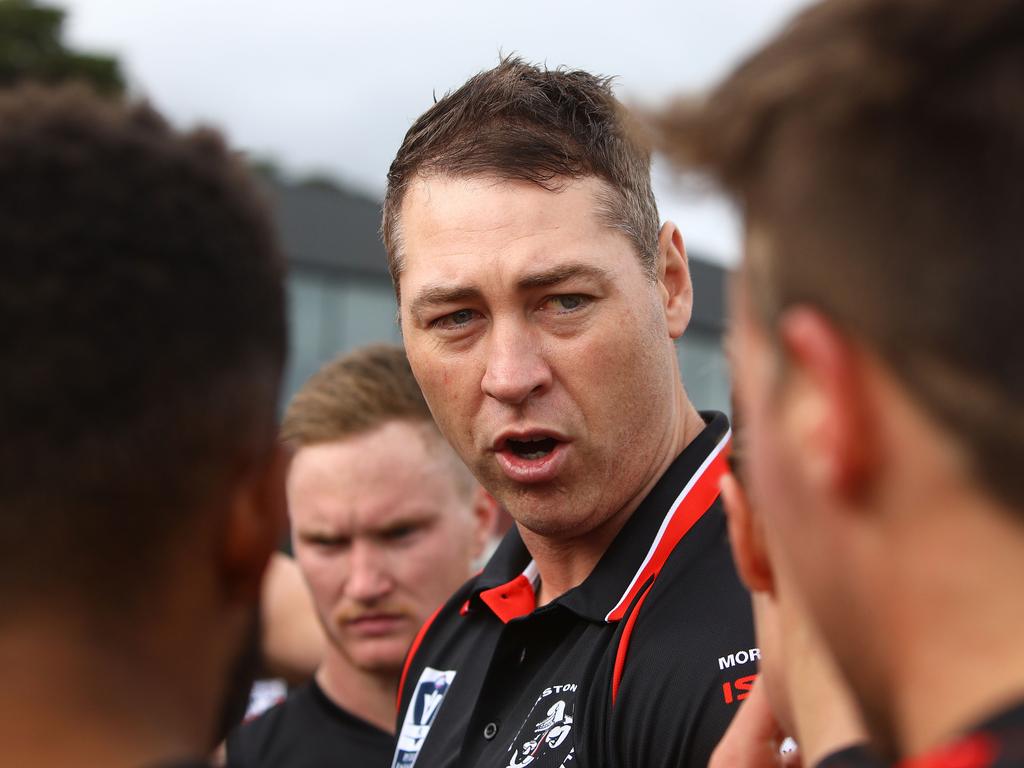 Adam Skrobalak was Frankston's coach when they returned to the field. Picture: Graham Denholm/AFL Media/Getty Images
The 2019 season was a battle, despite the return of 2016 best and fairest Josh Newman. There was only one win and a percentage of 57.52.
The 2020 season was a write-off because of Covid.
But in 2021 the Dolphins were in the positive at 6-5 and eighth on the ladder when the season was cut short.
With the new lights going in (and, aside from the ground, lighting up much of Frankston), the club staged night games that brought in crowds usually seen at the local finals.
There was another significant development. The Dolphins made the final payment on the DOCA they entered into in November, 2016. They had repaid more than $400,000.
With Frankston in a healthy position off the field – sponsorship this year will exceed $500,000, a full-time manager has been appointed for the function centre and the membership target is 2000 – the board has devoted more money to the football division this year.
The Dolphins are paying the full salary cap – important for recruiting and retaining players – and putting more resources into coaching.
The wins are coming and prospects are emerging, including young ruckman Liam Reidy.
A model for sustained success has been established, built around the idea of the Dolphins being the hub of community football on the Mornington Peninsula.
*****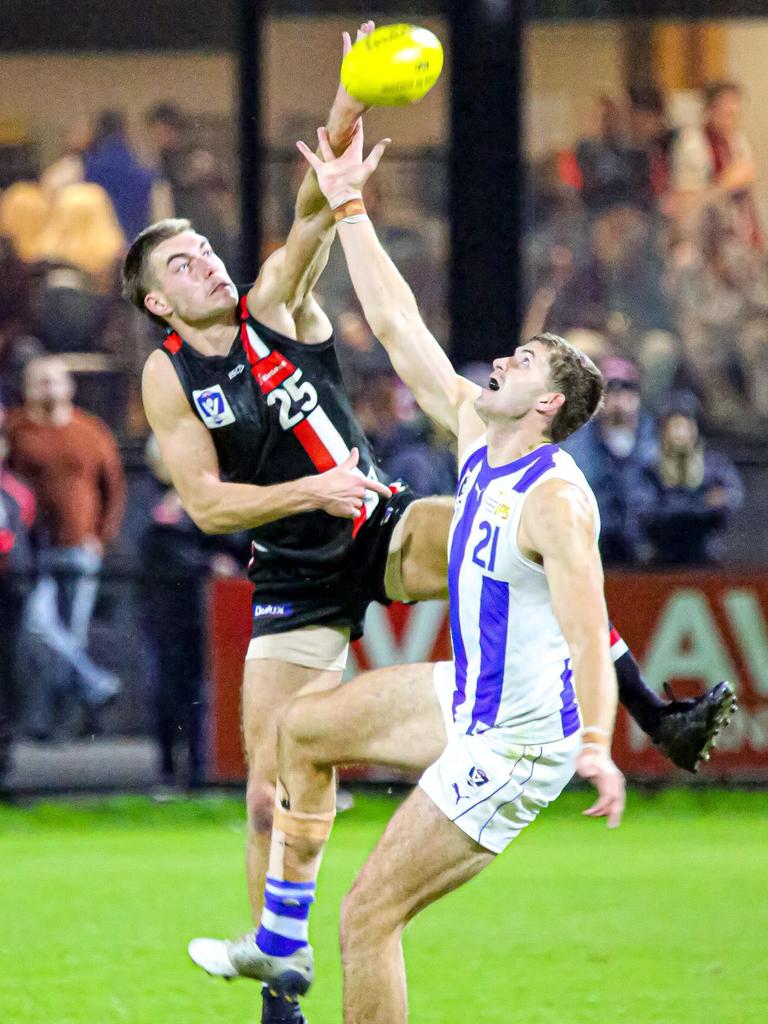 Liam Reidy (25) is one of the brightest prospects coming through Frankston. Picture: Matt Walker
Peter Geddes thinks back to 2016 and believes AFL Victoria did the right thing in withdrawing Frankston's VFL licence.
He says it allowed the club to "start again from a blank slate''.
"If we'd kept the licence we would have limped in 2017 without the full redress of the club,'' he says.
"We had 12 months to think about it. We had this club with some fantastic strengths and components but we had to put all the pieces together and come out with something better than what it was.
"We had to be a different Frankston.''
Geddes stood down as president in late 2020 and was replaced by Friend.
"My aim was to set the club up for a magnificent future and I probably wasn't going to lead in that magnificent future,'' he says. "I just wanted to put the foundations in.''
Solvency and forensic accountant Paul Burness isn't a big football man.
But he knows the Dolphins have kicked on since those rugged days towards the end of the 2016 season.
"I think they've done extremely well to get to where they have today,'' he says.
"It's always satisfying from my point of view to see an organisation, particularly a community organisation, fulfil their obligations under a deed like that and get on with life and do well.
"It pleases me every time I drive past the ground at Frankston, to be honest. It's one of those jobs I'll always be happy I got the opportunity to do.''