The latest on the Collingwood star Jordan De Goey's court hearing and return to training
Before appearing in a US court via Zoom, Collingwood's Jordan De Goey made a surprise return to the training track. But the Magpies want to know more.
Collingwood's Jordan De Goey has made a surprise return to the training track.
Jordan De Goey will remain stood down from Collingwood as the club awaits further development from the star's now adjourned court case.
The 25-year-old was stood down indefinitely by the Magpies in November after being charged with harassment and assault in New York.
On Thursday morning, De Goey appeared via Zoom for his court hearing and it was adjourned until next year ahead of a final decision on January 18.
He has previously pleaded not guilty.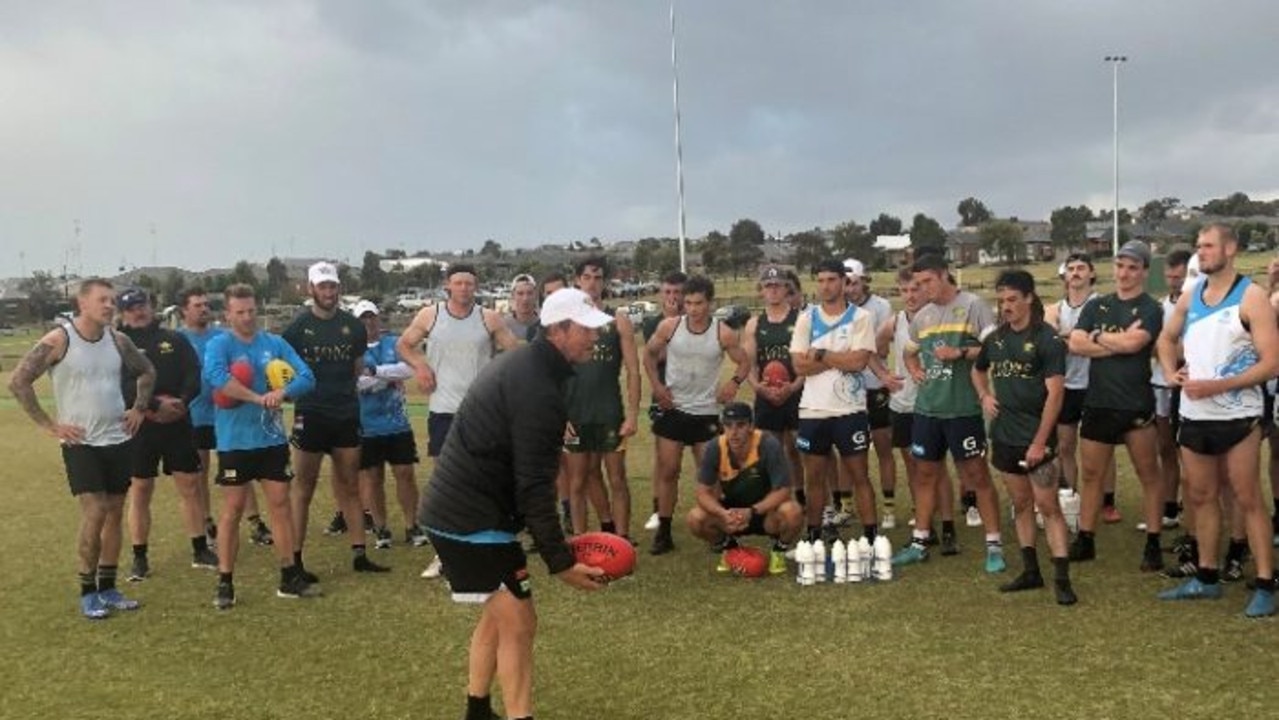 Jordan De Goey, left, training with Leopold Football Club. Picture: K rock football
In a statement, Collingwood said it continued to assess the course of the case against De Goey, who Magpies officials met with earlier this week and whom trained with Geelong Football League club Leopold on Wednesday night.
The club was now "awaiting meaningful developments that will allow for a more complete review of the facts".
"Until that time Jordan will remain stood down," the statement said.
"He will continue to be paid in full while stood down and receive welfare support services through the club."
De Goey trained with Leopold on Wednesday night after an invite from Geelong great and ex-Collingwood assistant Garry Hocking.
Leopold president Richard Hockley told krockfootball.com.au De Goey fitted in well and the squad got plenty out of him being there.
De Goey with Leopold coach Gary Hocking. Picture: K rock football
Hockley said Hocking was De Goey's mentor at the Magpies.
"He cares for the guy significantly," Hockley said.
"He wanted to make sure, first and foremost, he was going all right.
"And obviously, Jordan can't train at Collingwood, so he offered a place to train with our boys."
Hockley said De Goey, who returned to Australia late last month, was more than welcome to turn up and have another kick with Leopold if he needed somewhere to train.
De Goey's off-season drama occurred when he was in the US training as part of an agreement with Monster Energy.
He had initial forcible touching charges dropped in the days after the New York incident.
Originally published as The latest on the Collingwood star Jordan De Goey's court hearing and return to training