The moment the Greater Western Sydney and Sydney rivalry became real and the players who made it happen
Some said the Sydney derby was manufactured. Then Shane Mumford headed west and ensured the animosity was real. Here's how Mummy's move made a rivalry.
Shane Mumford had a point to prove, and he let everybody know it.
A premiership player with the Sydney Swans in 2012, the imposing ruckman was not offered a contract for 2014 and was quickly snapped by up by the GWS Giants across the bridge.
He'd spent the previous few years playing a starring role in bullying the young Giants as a Swan, but now he was one of them and keen for redemption.
The Giants had yet to beat the Swans in four previous meetings, and in their most recent duel they had been thrashed by 129 points.
But Mumford declared publicly over the pre-season the Giants could beat his former club in Round 1.
"I think due to the fact I'd changed teams previously from Geelong to Sydney probably made it a little bit easier, but it's certainly very weird when you're coming up against your ex-teammates for the first time," Mumford said.
"I'd also built it up all pre-season saying we were going to come out and beat them and no one believed me to start with.
Stream every match of every round of the 2022 Toyota AFL Premiership Season Live & Ad-Break Free In-Play on Kayo. New to Kayo? Try 14-Days Free Now >
Shane Mumford played for both GWS and Sydney. Picture: AAP Images
"And then as the pre-season went on there was a bit more and more belief and we ended up knocking them off."
The Giants shocked the AFL world to run away 32-point winners.
Despite some cheekiness from former teammate and Swans premiership star Josh Kennedy, Mumford dominated the ruck with 45 hit-outs.
"Josh Kennedy was calling for it and trying to get me to hit it down his throat still, but other than that there was not too much banter," Mumford said.
That is Mumford's recollection.
Former premiership star Heath Shaw, who was also making his Giants debut that night after crossing from Collingwood, recalled Mumford being "very involved" against his old team.
"He definitely in the early days had a point to prove against the Swans and he annoyed his Giants teammates as much as he annoyed his Swans teammates, so playing against them he was definitely a tormentor and targeted a few of his old teammates," Shaw said.
"That used to get under their skin, which is what you need from your ruckman.
"Half the time you used to need subtitles to understand what he was saying, but he did enjoy getting involved.
"So for Mummy, beating your old mob in your first game for your new club is pretty handy."
It was the moment the Sydney derby – or the Battle of the Bridge as it's known to some – became real.
In the very early days, it was more of a fizzer.
The first clash in Round 1, 2012 was always going to be a blowout, but one memorable moment was the much-anticipated AFL debut of code-hopper and former NRL star Israel Folau.
Former Swans premiership player Ted Richards, who played on Folau that night, kept him goalless and to just three disposals.
"He barely spoke the whole game, as in he barely called for the ball the whole game," Richards said.
"In rugby you don't need to speak up because you play in a line.
"So I'm not sure if he wasn't calling for the ball and didn't want the ball because he wasn't confident, but that really stood out to me."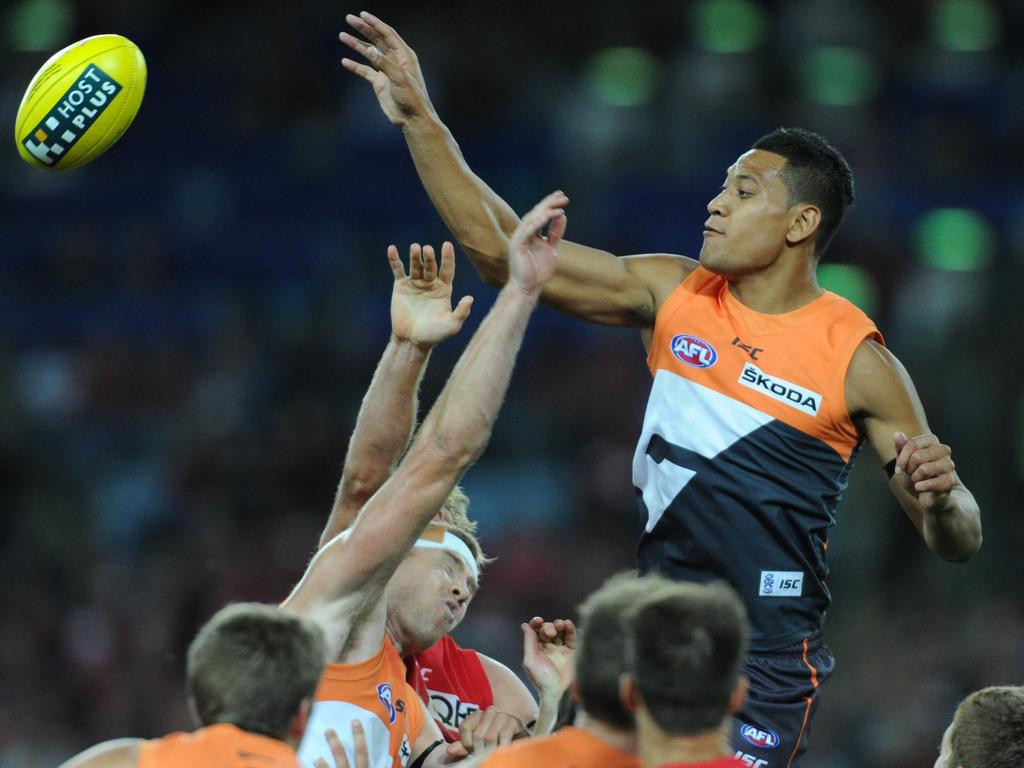 Israel Folau's debut was a big moment in the Battle of the Bridge. Picture: AAP Images
Playing for the Swans in the first Sydney derby, Mumford remembered being surprised Sydney "only" ran out 63-point winners.
"We didn't end up winning the game by as much as we thought we were going to," Mumford said.
"That one was probably the closest one for the first few we played in and there were a few blowouts after that.
"But the tide has certainly changed now."
And it started in 2014 with the Mummy's arrival in western Sydney.
Mumford loved playing in the derby and the numbers prove it.
When Champion Data rated Sydney and GWS players on their ranking point average against each other from 2012 onwards, Mumford came out on top.
"I don't really know how Champion Date have rated it, but I'll certainly take it," Mumford said.
"Obviously being against the old team in the Swans and basically when I wasn't offered a contract from the Swans, every time I came against them there was always that added extra little bit of spice to show them they made a mistake."
The Swans still lead the Giants with 13 wins and nine losses, but the Giants won recent bragging rights with a dramatic one-point win in last year's elimination final.
"I think we've seen over the year that the rivalry is real now," Mumford said.
All eyes will be on Swans superstar Lance Franklin as he attempts to kick five goals to reach 1000 goals for his illustrious career on Saturday night at Accor Stadium.
He'll become just the sixth man in AFL-VFL history to reach the milestone, but Mumford – who is now retired but still a ruck coach at GWS – hoped it was not at the Giants' expense.
"Let's hope it's not this weekend, because if Buddy is kicking five I reckon the Swans are going pretty well," Mumford said.
WHO ARE THE SYDNEY DERBY'S BEST PERFORMERS?
These are the 25 best performers in the first decade of the Sydney derby, as ranked by Champion Data. Former Giant HEATH SHAW and former Swan TED RICHARDS give their thoughts on their former teammates.
1. SHANE MUMFORD (SYD/GWS)
HS: I'm not that surprised (he's No. 1), because he was always so consistent. And players always are keen to play well against their former club and Mummy was no exception. He had a point to prove.
2. JOSH KENNEDY (SYD)
TR: Kennedy has been so good for the Swans for so long and showed the whole competition how damaging a 100kg midfielder can be for a team. GWS look to be developing their own Josh Kennedy with Tom Green. Maybe we might see them line up against each other?
3. CALLAN WARD (GWS)
HS: Again, no surprise he is so high. Just your typical lead by example captain and he did that from day dot. He led from the front and he was the one to always put his head over the ball.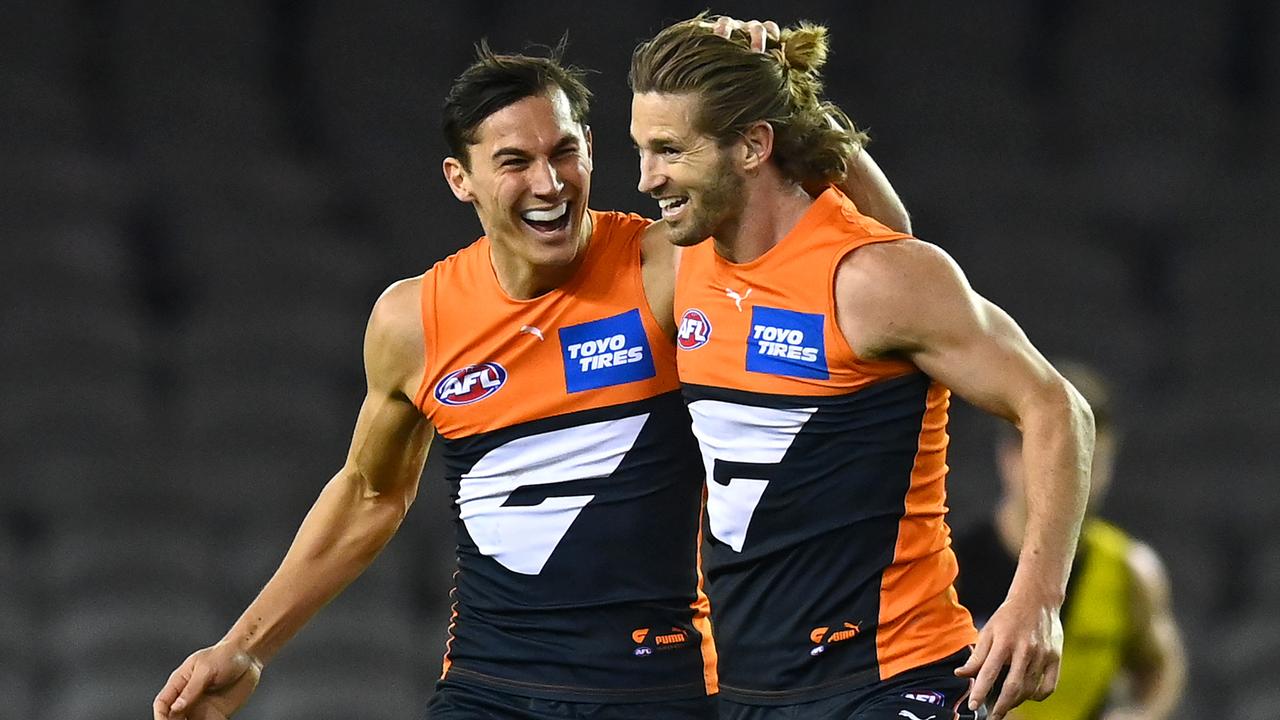 Callan Ward has been the ultimate big game player. Picture: Getty Images
4. STEPHEN CONIGLIO (GWS)
HS: Cogs has been at the Giants since the start so he's seen this rivalry develop before his eyes. In Round 1, I'm tipping him to have an absolute belter. He's ready to roll.
5. ZAC WILLIAMS (GWS/CARL)
HS: I taught Zac everything he knows when he was at the Giants. In all seriousness, he's a dashing half-back flanker who I worked closely with and I'm a big fan of.
6. LANCE FRANKLIN (SYD)
TR: Before the game was called the 'battle of the bridge' it was all about the battle for Buddy. No doubt his team choice fuelled this rivalry, and some new fans' decisions to choose to support the Swans over GWS.
7. LUKE PARKER (SYD)
TR: Not the high draft pick many of his direct opponents are each week, but that didn't stop him becoming the champion that he is. For a midfielder it's so exciting to watch him go forward, take contested marks and kick big goals like he does so often.
8. JARRAD MCVEIGH (SYD)
TR: A family rivalry for so long with a McVeigh brother in each camp for around a decade. Was an honour to play underneath Macca while he captained the team for so long.
9. HEATH SHAW (GWS)
HS: The rivalry started for me because my brother, Rhyce, played for the Swans and I loved beating him. My former Pies coach Mick Malthouse always said 'you only become a great player if you perform in big games,' so I always tried to do that.
10. JAKE LLOYD (SYD)
TR: There are players on both teams that would be far bigger profiles if they played for a Melbourne team. Lloyd is a great example. Such an important player to the team.
11. DAN HANNEBERY (SYD/ST K)
TR: An absolute warrior for the club and played injured a lot. The fact that he's still so high despite moving to the Saints many years ago is an example of how big he has been in these games for the Swans.
12. LACHIE WHITFIELD (GWS)
HS: He's had a few different roles against the Swans. Most of his career he's been on a wing before playing at half forward, but now he's seen the light and made his way down back. Very dangerous player.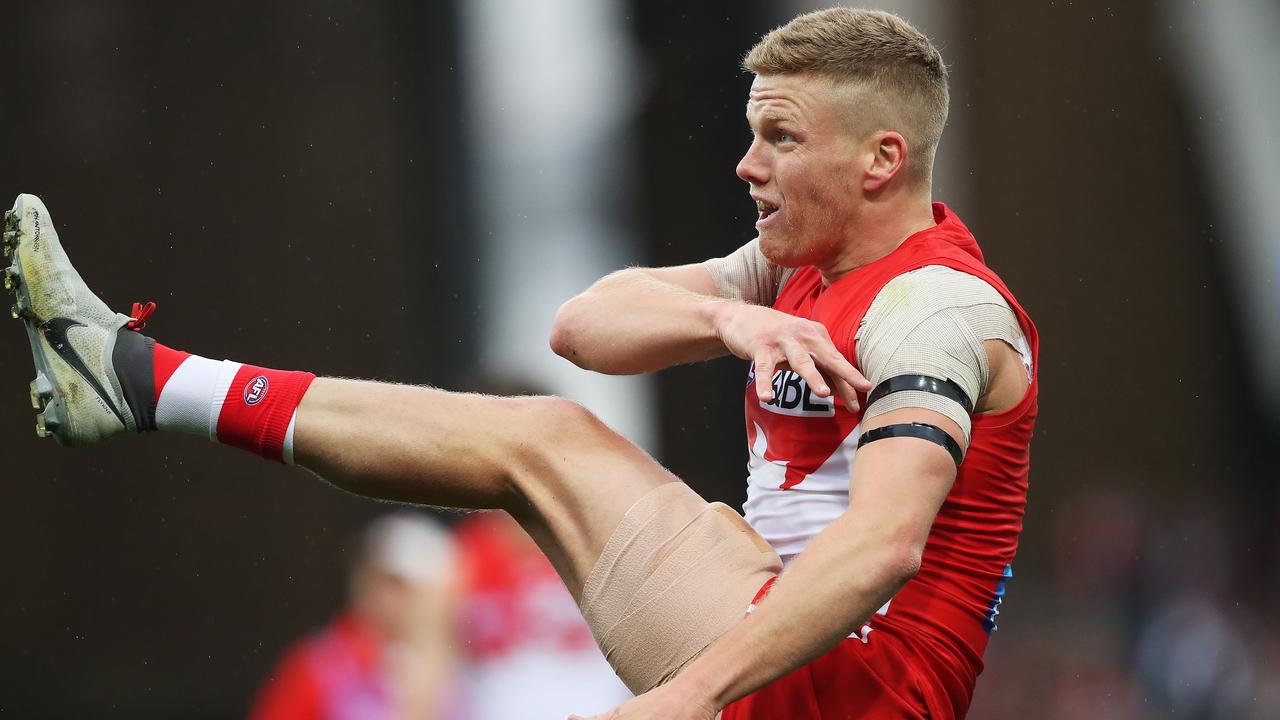 Dan Hannebery loved the Sydney Derby. Picture: Phil Hillyard
13. TIM TARANTO (GWS)
HS: He's looking pretty fit, as we've all seen from the photos this summer. A former No. 2 draft pick who came in and had such an impact so early in his career. So consistent.
14. TOBY GREENE (GWS)
HS: When you talk about big-game players, Toby lives for them. Out of any player on the GWS list, it's not that he hates the Swans but he hates losing to them the most. Super passionate player.
15. KIEREN JACK (SYD)
TR: Grew up close to GWS heartland but became the face of the Swans for so long. Probably the best example of the type of talented kids the AFL want to start attracting to our game away from league and union.
16. TOM SCULLY (GWS)
HS: There was a period there when Sculls was one of the elite wingers in the AFL. His work rate up and back set him apart from most players, because no one could go with him.
17. JOSH KELLY (GWS)
HS: He was a No. 2 draft pick for a reason. There's no doubt he's an elite player in the competition and he will be for a long time. His consistency has gotten better the past few years.
18. ISAAC HEENEY (SYD)
TR: When Buddy finishes up, it might be Heeney who takes the baton as the biggest drawcard to these games. Buddy took it from me.
19. NICK HAYNES (GWS)
HS: The chop out marks are so highly rated in AFL rankings, and Haynesy has been one of the best in this department the past few years. Not only can he spoil, but he is good for turning it from defence into offence.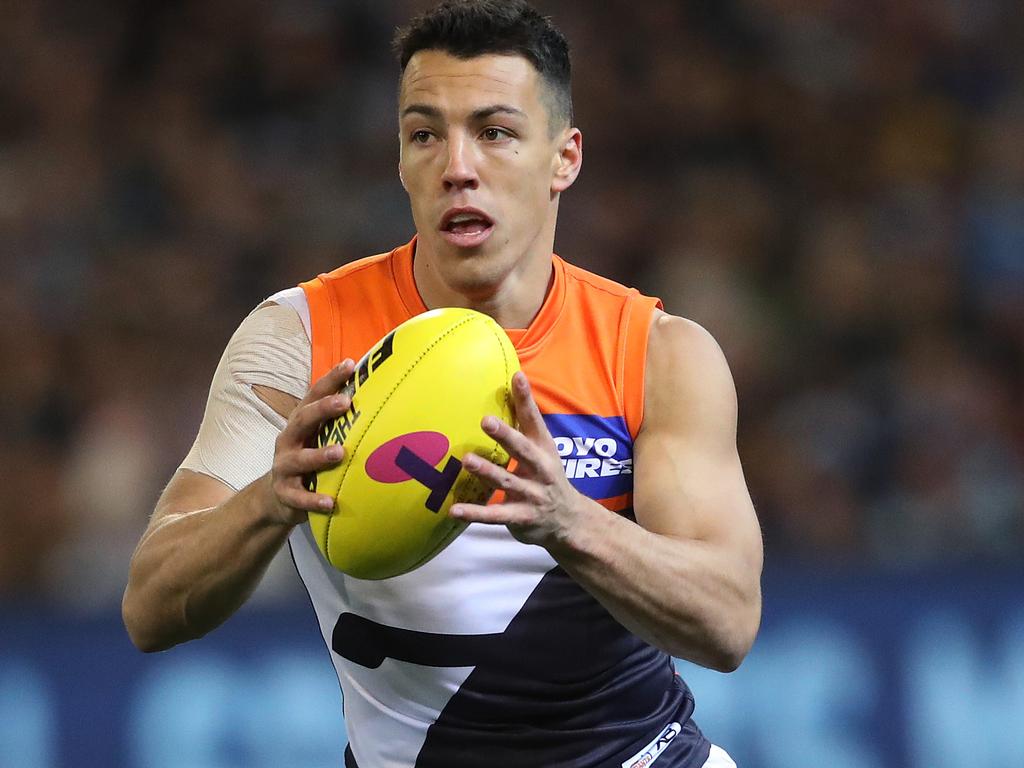 Dylan Shiel in the Sydney Derby before joining Essendon. Picture: Phil Hillyard
20. DYLAN SHIEL (GWS/ESS)
HS: Dyl was there from before the Giants' first year in 2012, so he'd be able to talk on the rivalry almost better than anybody. A Chris Judd clone because he modelled his game on the great man, and he's gone a long way towards getting to that level.
21. DEVON SMITH (GWS/ESS)
HS: Dev's a little Jack Russell. He tormented a few of the Swans' halfbacks and I reckon he was just below Toby Greene in his hatred of losing to the Swans. He loved the rivalry and he's a great player.
22. DANE RAMPE (SYD)
TR: GWS invested high draft picks in key forwards and Swans used rookies like Reg and Rampe to nullify them. And they've been doing it for a long time.
23. HEATH GRUNDY (SYD)
TR: Same as Rampe but with bigger glutes and hair not as good.
24. JACOB HOPPER (GWS)
HS: Hopper is a quality mid who matches up well against the likes of Luke Parker and Josh Kennedy. And back in the day it was against the likes of Kieran Jack. He goes toe to toe and while's he an inside player, once he gets on the outside he does have some class.
25. CALLUM MILLS (SYD)
TR: A great example of why GWS and the Swans need academies. If it wasn't for these academies he may not feature here and be lost to another football code.
Originally published as The moment the Greater Western Sydney and Sydney rivalry became real and the players who made it happen