The Early Tackle AFL Round 11: Sam Landsberger names his likes and dislikes
Lance Franklin will play on after his nine-year, $10 million deal expires at the end of this year. And his 2023 deal won't come cheap. Round 11 talking points.
No, it's not the latest reality TV fad, although it made for pretty compelling viewing on Friday night.
The beauty is Josh Gibcus, who Richmond fans must be wrapped slipped to pick No. 9 in last year's draft.
Lance Franklin had the last laugh in what was a precursor to an exciting Round 11.
Fremantle's brilliant second-half against Melbourne deserved huge praise, while Geelong came in for criticism despite winning against Adelaide.
Sam Landsberger names his likes and dislikes in our Early Tackle.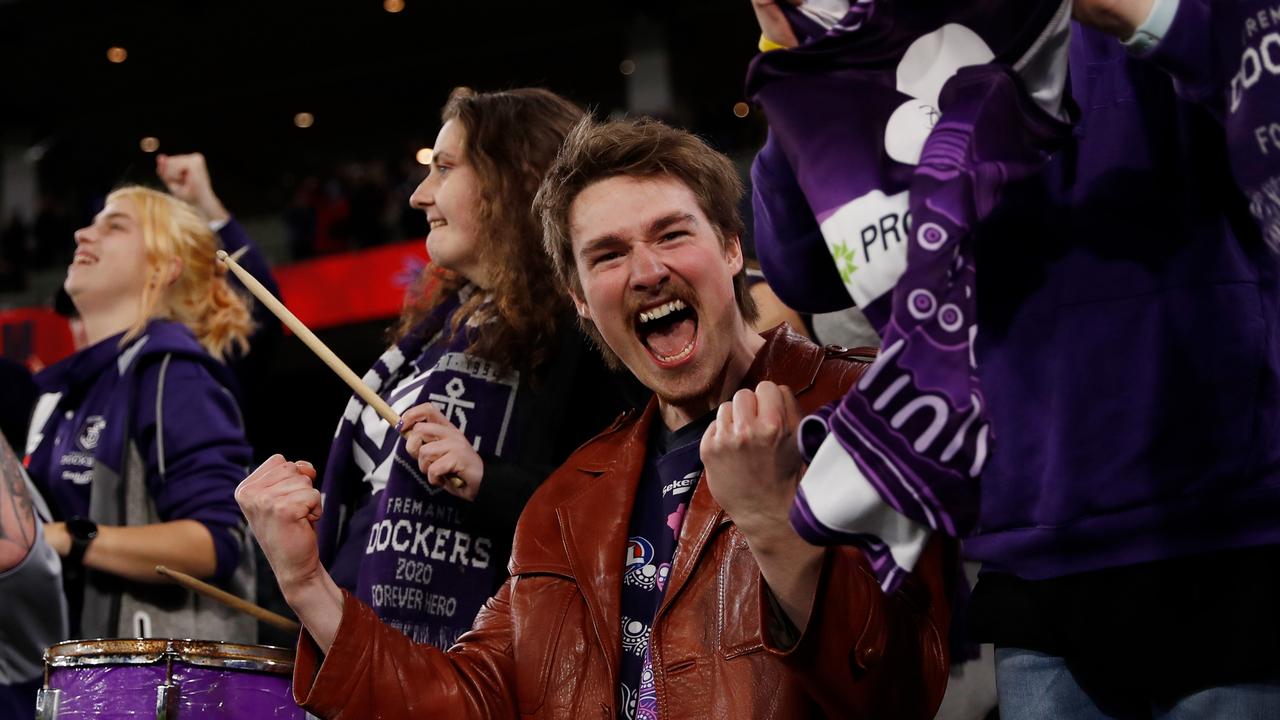 Fremantle fans reveal in their upset win at the MCG.
DISLIKES
PREMIERSHIP MYTH DEE-BUNKED
It was meant to be Melbourne by how far this season. Well, Fremantle outlined the recipe to beat the Dees in 60 minutes that changed the complexion of the season.
Win centre bounce, stop Clayton Oliver and suck the heat of the match through uncontested marks.
The Dockers, courtesy of man mountain Sean Darcy, destroyed Melbourne out of the middle and James Aish clamped Oliver.
Throw in a splice of Hollywood, such as Michael Frederick's goal assist where he tapped the ball back to Lachie Schultz, and some splendid finishing and it turned into Fremantle by how far.
Fredericks is a special player. Andrew Brayshaw is a top-five player in the AFL and just tasted his first victory against younger brother Angus.
The Dockers admit they got ahead of themselves two weeks ago, and dropped games against Gold Coast and Collingwood.
Now they've dropped Melbourne's 17-game winning streak.
It's not panic stations for the Demons, but in Fremantle's only visit to the MCG it is a memory that could prove invaluable come September.
DEW SOME RESPECT
Hawthorn didn't want Alastair Clarkson and neither does Gold Coast.
So should the Suns, who play North Melbourne in Darwin next week, square the ledger at 6-6 they should use the bye to re-sign coach Stuart Dew for 2023.
The talk about Clarkson taking over Gold Coast has gone past disrespectful. It's unsavoury and Dew must be privately sick of getting asked such unfair questions.
Even if the AFL wanted Clarkson to coach the Suns or if Clarkson wanted to coach the Suns, Dew is their man.
He's on this journey and a live chance to coach in September this season. Gold Coast's draw is favourable, playing the Eagles and Roos twice.
More importantly, they are hard to play against. Dew's system is strong while list boss Craig Cameron recruited Levi Casboult and Mabior Chol to lead a forward line that has lost Ben King.
Chol deserved that four-year contract as a free agent and is one of the recruits of the season.
Gold Coast's midfield grunt – Nick Holman laid 12 tackles – and funk is on the way to rivalling some of the best in the AFL
The Suns won all four quarters in a 67-point thumping of Hawthorn. Time to give it the respect it finally deserves.
Greater Western Sydney gave Leon Cameron stability to set up a series of September assaults and Gold Coast should now provide Dew a similar platform.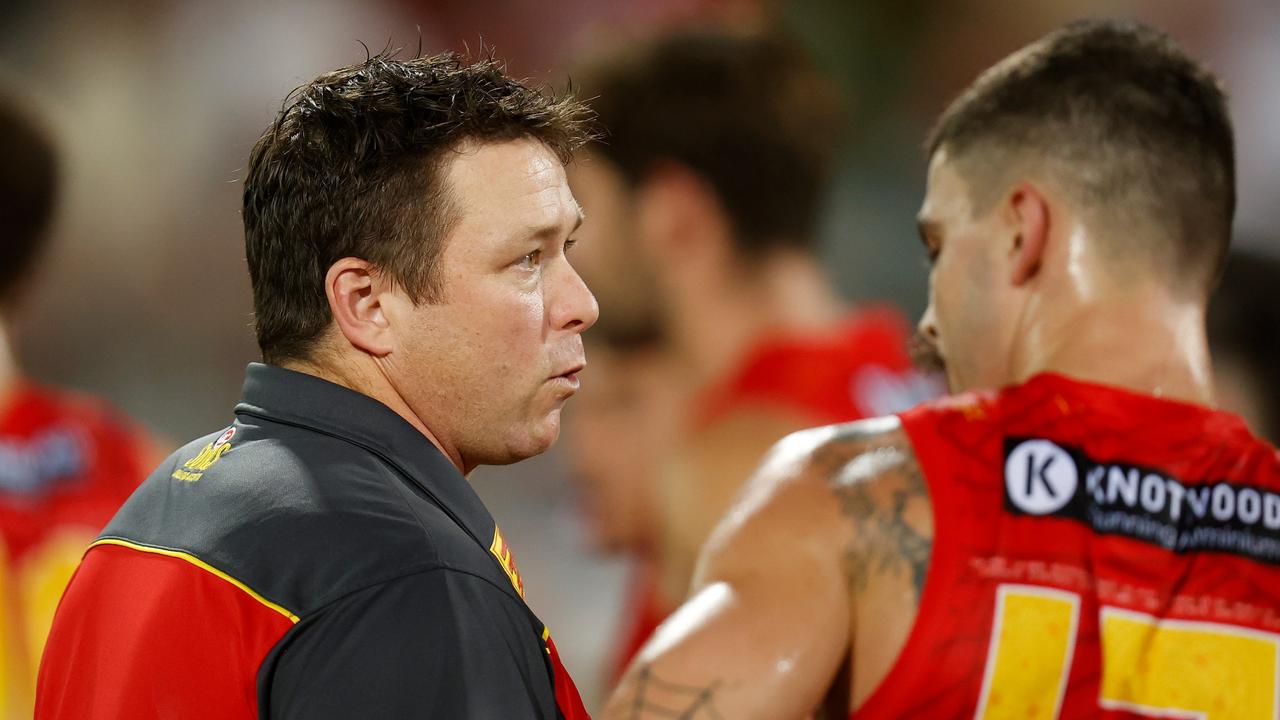 Stuart Dew and the Suns are making serious strides this year.
PICKETT'S PANADOL
Marlion Pickett was a late out on Friday night after suffering a migraine in Sydney at lunchtime.
Last week he missed Dreamtime through suspension, which coach Damien Hardwick described as "heartbreaking".
It was heartbreaking because Pickett and his partner, Jess, designed Richmond's indigenous jumper and suddenly the man who made his AFL debut in the 2019 premiership has sat out both weeks of Sir Doug Nicholls Round.
Hopefully Richmond plays in Pickett's jumper in round 13 against Port Adelaide so he can proudly pull on his jumper.
That would probably help soothe Pickett's headache more than a dose of Panadol.
What a shame Western Bulldogs have been the only club not to wear an indigenous strip in the second week of Sir Doug Nicholls round, even if they did wear it last week.
DANGEROUS TACKLE INTERPRETATIONS
Last week Tarryn Thomas, Jayden Short and Dylan Grimes were penalised for 'dangerous' tackles. On Saturday it was Lachie Neale.
Would love to know what was dangerous about Neale wrapping up Tanner Bruhn and bringing him to ground during the third quarter.
The Giant's head didn't sling into the Gabba turf but the whistle went. If that was a mistake, no worries. They happen.
But if the AFL ticks that decision off – which it loves to do – then the football public urgently requires an explanation on this rule.
CAT-FLIP
Chris Scott showed no interest in equalling the great Reg Hickey's record of 184 wins as Geelong coach last month.
Scott had "no comment" when asked about the potential feat by respected commentator Tim Lane.
Scott then said: "Tim I don't know what to say … but I appreciate you, I don't know how to describe it, bringing it up".
Tony Shaw smacked Scott for being disrespectful. On Friday, five days after Scott overtook Hickey with his 185th win, Geelong issued a poorly-written press release highlighting the achievement.
Buried at the bottom was confirmation of a contract extension until 2024. Bizarre.
DISCONNECTED CATS
Jeremy Cameron's bending bananas and Tyson Stengle's spark lit up the forward line as the Cats smacked the South Australian teams at home.
Has that wallpapered over some cracks? Geelong averaged 15.6 marks inside 50m in the first nine rounds, ranked No.1, but has taken just 11 in eight quarters since.
Where has the connection gone?
The Cats were smashed in contested possession 161-150 and stoppage clearances 42-33 by Adelaide on Saturday but controlled the game everywhere else.
A Friday night date against Marcus Bontempelli, Bailey Smith, Jack Macrae, Adam Treloar, Josh Dunkley and Tom Liberatore shapes as a big test for a suddenly skinny midfield.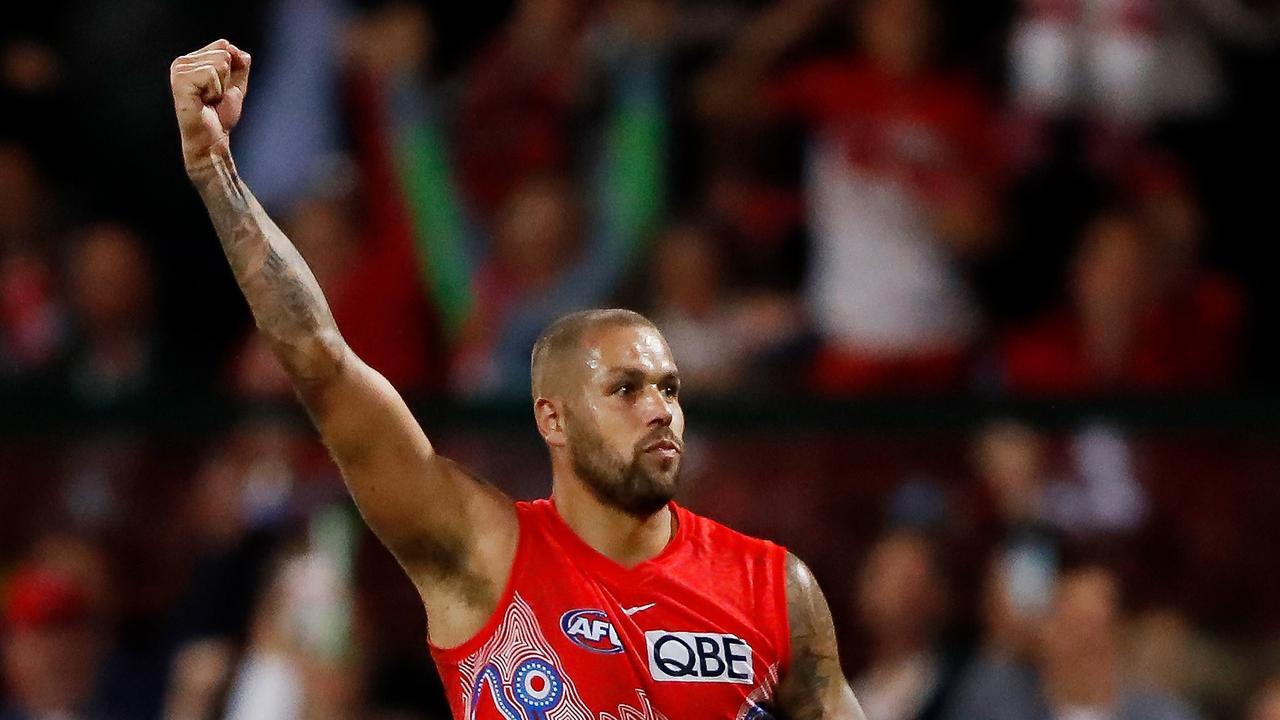 Lance Franklin was enormous in Sydney's comeback win.
LIKES
BUDDY BOUNTY …
Lance Franklin will play on in 2023.
Sydney boss Tom Harley said player and club want this journey to continue for as long as possible, and that means Franklin should overtake Gary Ablett (1031 goals) and Doug Wade (1057) to become the fourth-greatest goalkicker the game has ever seen.
What's Buddy's worth when his nine-year contract expires in five months?
It could be as much as $700,000 next season when you factor in his fitness, impact, speed, movement and unrivalled marketing value.
Franklin is still among the hardest match-ups in football and on Friday night he was box-office, tangling with Trent Cotchin and turning the match.
Franklin's 35-year-old left foot might still be the best in the land, evidenced by 5.1 in a finals-like contest.
But if Franklin wants a third premiership he will probably have to play for less, and he thinks Sydney is close to crowbarring the window wide open.
"We've drafted really well the last couple of years," he told the SCG after booting his 100th goal.
The Swans had seven kids under 21 on Friday night while Richmond had seven the wrong side of 30.
With Chad Warner, James Rowbottom, Justin McInerney, Errol Gulden, Braeden Campbell and Sam Wicks coming on fast, Logan McDonald learning off Franklin and Dylan Stephens learning an inside craft in the VFL there is hope for a Franklin fairy-tale flag.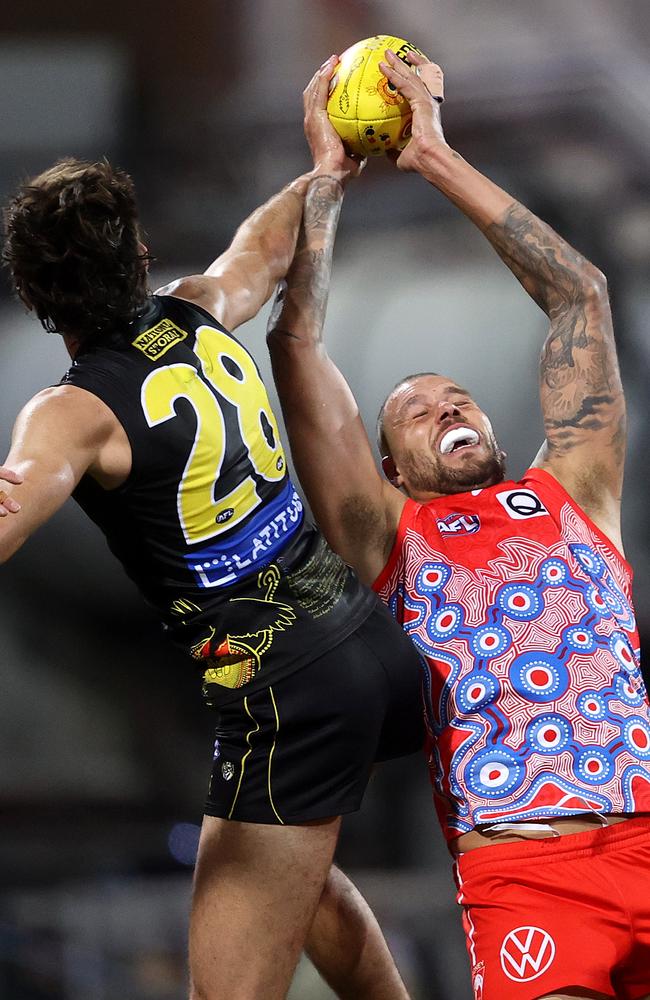 Josh Gibcus was given a huge job to quell Lance Franklin.
… BUT DON'T BLAME THE KID
Josh Gibcus was drafted at No.9 last year and it wouldn't surprise if the history books wind up showing they got him at a cheap price.
The terrific trifecta of Nick Daicos, Jason Horne-Francis and Sam Darcy belong at the top but Gibcus might not look out of place far below that.
Richmond chose to play Gibcus on Franklin because of his leg speed and for three quarters the kid had the champ's measure. Understandably, Gibcus ran out of gas.
But Tiger fans won't tire of watching Gibcus get jobs on the best goalkickers in the game because he is a beauty.
The Dogs won a flag and then nosedived for two years, securing Aaron Naughton and Bailey Smith. The Tigers won three flags and then got Gibcus after a down year.
Life below the top eight line can be short-lived when you cash in by getting kids like that.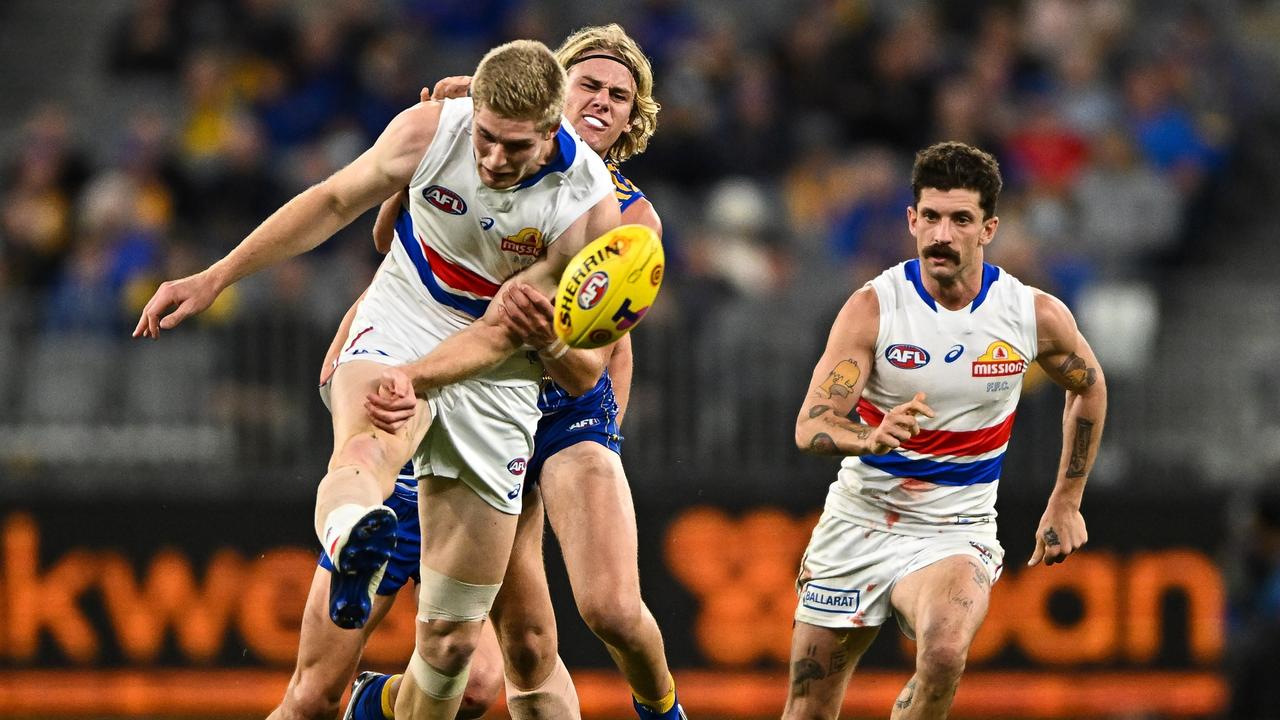 Tim English returned from injury and illness to star for Western Bulldogs.
ENGLISH LESSON
On a record-breaking night for the Dogs, Tim English recorded 25 disposals, two contested marks, one goal and 28 hit-outs.
It's hard to recall a more dominant ruck performance in the Luke Beveridge era.
English, who missed the previous month, has won at least 20 disposals in his past six games.
He plays like Dean Cox, who holds the record for consecutive 20-plus disposal games with 13.
Cox won six All-Australian jumpers and you wouldn't rule English out of this year's race, despite that month-long absence.
He's firmly in the conversation alongside Max Gawn, Sean Darcy and Jarrod Witts.
The Dogs had 16 goalkickers, equalling the AFL record, and posted their biggest ever win against West Coast.
English is back and Rhylee West, who plays with desperation, might not see the VFL again.
The opposition was soft, but the Dogs were switched on. In the last quarter Anthony Scott chased down an Eagle, Jordon Sweet touched a ball on the goalline and Aaron Naughton bounced to his foot to snap his fourth after a heavy hit.
Even Alex Keath thought he was Harry Taylor, twisting out of tackles to kick goals.
COTCHIN COURAGE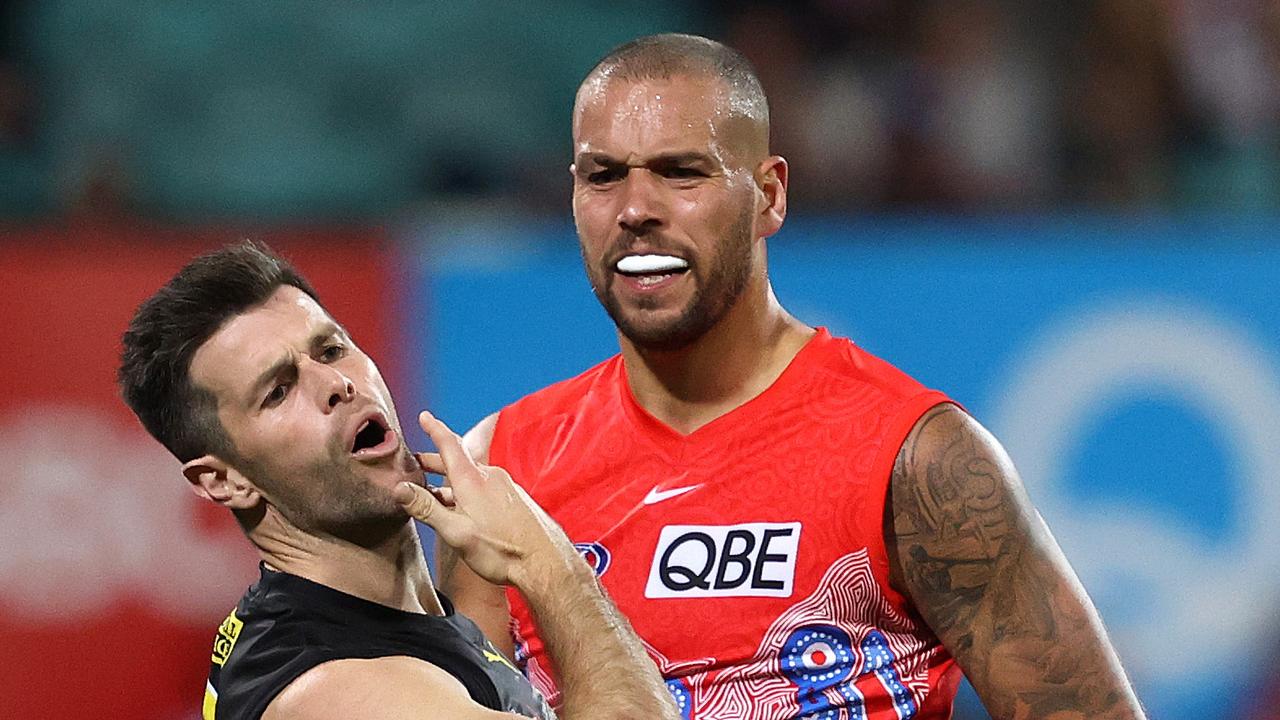 Trent Cotchin clashes with Lance Franklin.
Trent Cotchin fearlessly threw himself at a storming Franklin with his arm extended vulnerably.
Adelaide youngster Ned McHenry collided at full pace with Tom Stewart while running with the flight of the ball.
Spunky Western Bulldogs kid Cody Weightman ran out on Saturday night with a plate and eight screws inserted in a collarbone he snapped just three weeks ago.
Carlton's Sam Docherty has played every game this season shortly after undergoing 12 weeks of chemotherapy.
Courage takes on many forms and those men will be internally lauded at their clubs.
Cotchin's act was the epitome of football bravery and drew a nasty gash to the head.
He is no longer captain but remains a spiritual leader. In round 4 his win on the wing against Bailey Smith set up a goal at a crucial stage.
Don't worry about kicks, marks and handballs. It is moments like that inspire teammates and make a mockery of questions regarding the hunger of these three-time premiership players.
.
MAGIC MILLS MOVE
John Longmire's chess move at halftime changed the game. The Swans played Callum Mills as a seventh defender with only five forwards and suddenly they started to drive the ball forward.
The midfielder played 73 per cent of gametime in the second half behind the ball. He was loose and it loosened Richmond's rigid system.
Mills' six intercept possessions, seven marks and seven marks made a mega impact on the match.
It was smart coaching after a month where Sydney had struggled to score from the back half.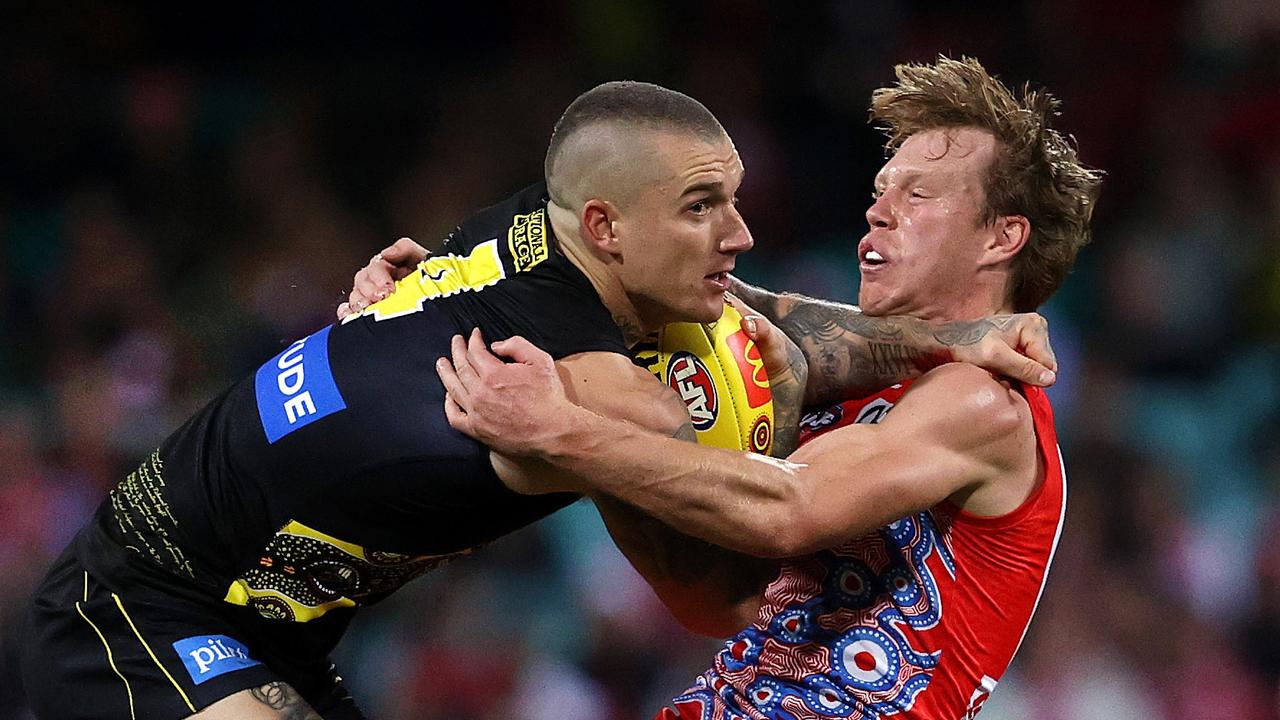 Moving Callum Mills behind the ball worked wonders for the Swans.
1990s THROWBACK
The first quarter at the Gabba on Saturday felt like a timewarp. Was this 2020 or the early 1990s?
The Giants led Brisbane 49-37 and there were 14 goals from 28 entries, both teams booting a major from half their inside 50s.
Predictably, tempo footy took over. But it was an exhilarating 36 minutes.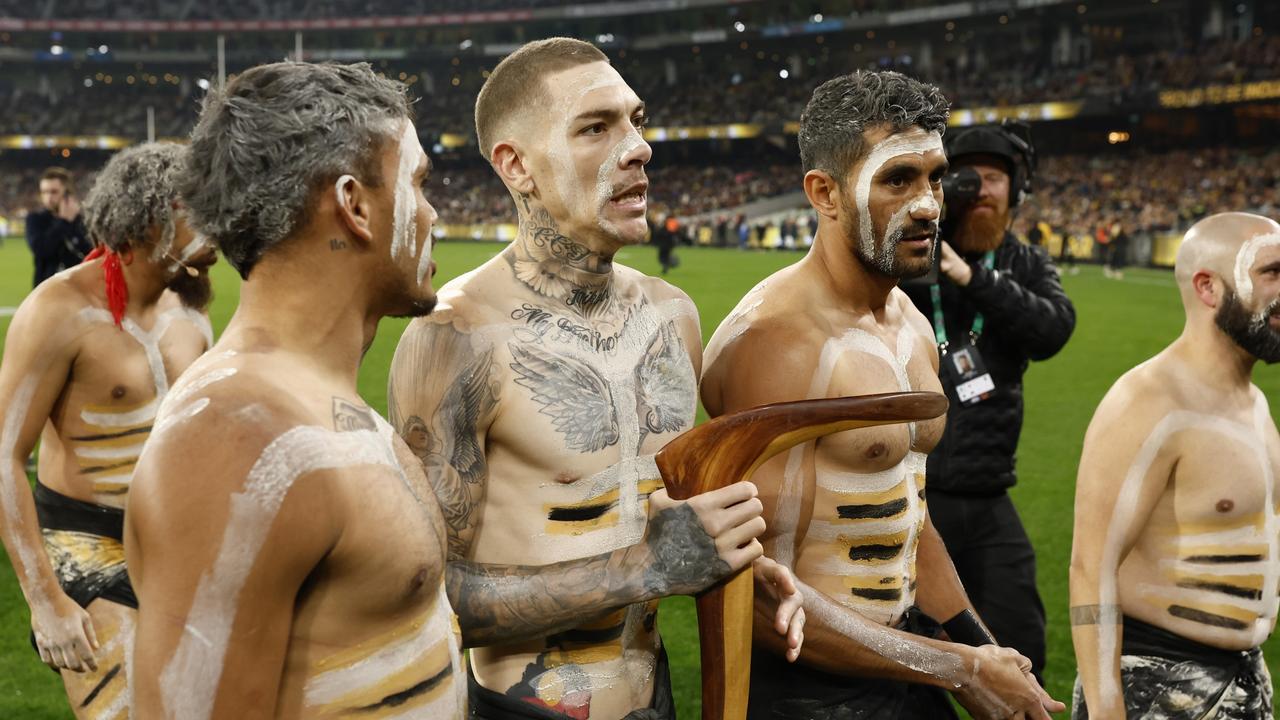 Sydney Stack, Matthew Parker and Marlion Pickett performed before the Dreamtime game.
TOM HAS DOGS STEWING
Tom Stewart's 40 disposals, 16 marks and 17 intercept possessions were numbers you'd expect at a windswept McDonald Reserve, where Stewart cut his teeth at South Barwon, not at AFL level.
Yes, 13 kicks came courtesy of Adelaide's behinds, but he patrolled the backline with prominence.
The worry for Western Bulldogs, who Geelong plays on Friday night, is last year Stewart had 27 disposals, 13 marks and two Brownlow votes against them.
With Sam De Koning soaring up the AFL key defender rankings and Jack Henry to come back it is a super backline, even if defensive coach Matthew Scarlett is no longer there to pull the strings.