The Tackle: Mark Robinson's likes and dislikes from round 10
Nick Daicos is the frontrunner for the Rising Star award but a nuggety mature-age recruit could knock him off the podium, writes Mark Robinson. See all his likes and dislikes.
Sir Doug Nicholls Round was a celebration for the AFL, with Richmond players leading the way with a moving pre-match tribute.
But some umpiring decisions during the game, and in others in round 10, are a much worse look for the league.
Meanwhile, meet the Hawks' 'hairy Paul Chapman', Melbourne's dynamic duo do it again, there's a new twist in James Hird coaching intrigue and chief football writer Mark Robinson admits he got it wrong on a St Kilda midfielder.
See all Robbo's likes and dislikes from round 10 below.
Watch every blockbuster AFL match this weekend Live & Ad-Break Free In-Play on Kayo. New to Kayo? Try 14-Days Free Now >
DISLIKES
1. It's time footy woke up to itself
A small handful of media types didn't like how Luke Parker taunted Dylan Shiel because, well, it was bullying. Despite taunting penalties being in use in America's NFL, no thought ever was given to penalties being applied in the AFL for hurting the feelings of opposition players. Nor, up until recently, was there thought given to penalties given to players for delivering strong, physical tackles. The AFL's determination to increase the boundaries around what is deemed a dangerous tackle is further eroding the combative nature of our sport. Twice North Melbourne's Tarryn Thomas was pinged for dangerous tackles on Saturday. The first was the rib-tickler into Ed Langdon which resulted in a free against Thomas, and it was the same result when Thomas tackled Tom Sparrow in the third quarter. Then at the MCG on Saturday night, Jayden Short was penalised for a tackle on Nick Hind and Dylan Grimes for a tackle on Ben Hobbs – for what? For an aggressive take down?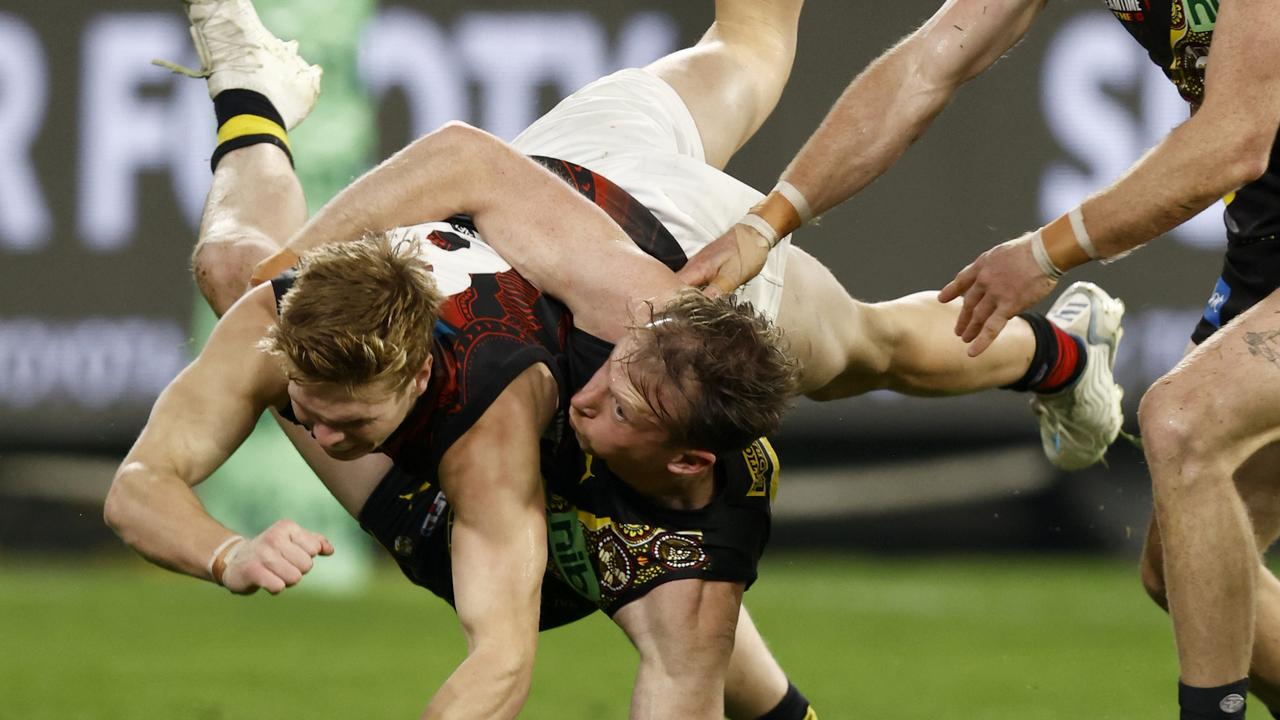 Dylan Grimes tackles Ben Hobbs on Saturday night. Picture: Darrian Traynor/Getty Images
None of those tackles were dangerous and as much as the likes of Eddie McGuire and Neil Balme bemoaned the suspension to Marlion Pickett the week before for a bump with minuscule contact to the head, the sport will lose its part of its identity if we continue to crack down on tackles which look awkward and slightly misplaced, more than dangerous. The free kick against Thomas for the tackle on Langdon clearly was a mistake, and it was a mistake because common sense is being lost to wokeness. Not only is hurting one's feelings an agenda item, you can't hurt anyone with a solid tackle, either.
2. As for dissent
Poor Chad Warner looked at the umpire with arms opened, mystified why he was penalised for running too far with the ball. His curious response at what was a key part of the game, and after he had bounced the ball, was understandable. Surely, there's a difference between dissent and curiosity. Agreed, the dissent rule has forced players to correct their previous over-the-top protestations, but this game is played and umpired by adults, and queries can be gestured via body language. Warner was harshly dealt with. How is raising your arms in bewilderment considered demonstrative or disrespectful to the umpire? And let's not even talk about the free kick paid against Lachie Neale after he byplayed with Hawthorn's Jai Newcombe on Sunday. Are we sure crowds are down because of Covid? Or are fans protesting by their absence?
@AFL umpiring is ruining the game. That free-kick against Lachie Neale was ridiculous, and I'm a Hawks supporter.#AFLHawksLions

— Dan (@Trismegistos4) May 22, 2022
3. The contender stumbles
No talls, or failing talls, in your F50 kills your chances of victory, as does a dislike to tackle inside your F50. On Sunday without Joe Daniher and Daniel McStay, and with a poor aerial return from Eric Hipwood and the fill-ins, the Lions were lacklustre overhead. Hipwood took one mark inside 50, Fort one, McInerney one and Paine one. On the deck, the Lions laid just five tackles when they average almost double that this season. So, the Lions didn't mark it, they were reasonable at ground level, but if they didn't win it there, they couldn't keep it in. It was a poor loss and a testing time ahead. They play the Giants (home), Fremantle (away), St Kilda (home), Melbourne (away) and then the Bulldogs (home). It could be a brutal five weeks with Hugh McCluggage now on the sidelines with a hammy injury.
4. A contender seriously stumbles
The Dockers have lost consecutive games to Gold Coast (12th on the ladder) and Collingwood (10th), which is a slippery slope in a season which is always contributing upsets. Nothing is assured in football, not the Swans v Blues, not the Lions v Hawks and not the Dockers at home to Collingwood, even after the Pies had lost five of their past seven. The Dockers' defensive system is well recognised by the analysts, but it has to be a pretty good system to hold out a team's 60 inside-50s and a tackling intent which was needed in the wet. The Dockers were the No.1 pressure team in the competition and on Sunday night Collingwood's pressure was 198 – its highest factor of the year – and Dockers were 182.
John Noble doesn't give up on a Sam Switkowski chase. Picture: Daniel Carson/AFL Photos via Getty Images
5. 60 minutes of rubbish
At halftime, the Eagles trailed by 61 points to a team which made nine changes. The Giants were souped up because a change of coach can do that. It breaks down the fog in the brain - that was how Giants stand-in coach Mark McVeigh said it in the pre-match. The Eagles, in contrast, are in a pea-souper, although the second half was much better. That first half was abysmal, notwithstanding injuries, but we're getting sick and tired of that excuse. You can still defend, still pressure, still keep the ball in your forward line. The Giants had 25 inside-50s and kicked 14.3. That's an all-time record for conversion from opportunities. Is this going to continue at West Coast for the remainder of the season? Such insipid defensive efforts. Their percentage was 51, which is the kind of percentage the Giants and Suns were putting up in their foundation years. That's how bad the Eagles have fallen away. And at least the Suns and Giants had good kids. The Eagles are in far bigger mess than North Melbourne.
6. What to do with Darcy Parish
It's not a reprogram of Parish, but a reset might be in order along the lines of the development of Melbourne's Clayton Oliver. The Demons midfield monster transformed himself from accumulator to penetrator, and in doing so, became the near-perfect midfielder. Essendon midfielder Parish is a very good player who could evolve to be a great player. At present, Parish wins plenty of ball but is not always immediately damaging to the opposition. Against the Tigers, he had 43 possessions for four score involvements, six inside-50s and six clearances. Against North Melbourne on Saturday, Oliver had 45 possessions, six score involvements, 13 inside-50s and 13 clearances. The prolific Parish is far from Essendon's major problem – what is the team's brand again? – but he has the capacity to influence games as Oliver does. Now, how to get him there?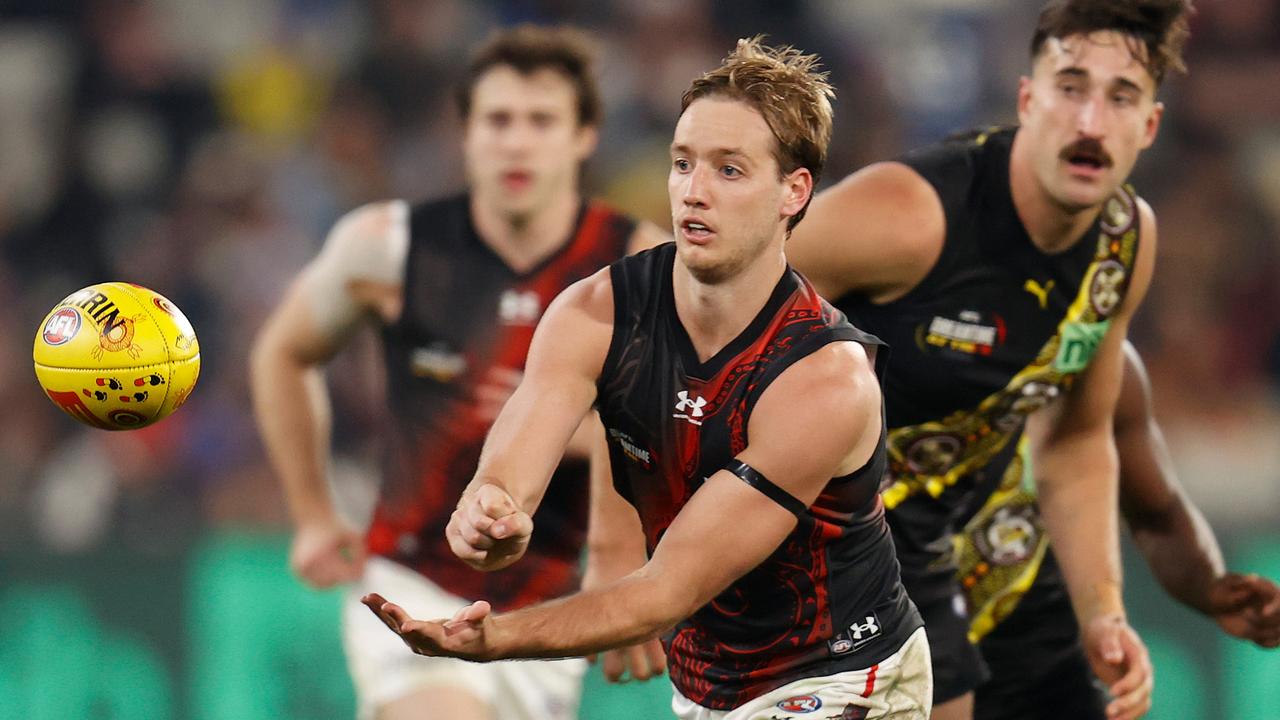 Darcy Parish wins one of his 43 touches against Richmond. Picture: Michael Willson/AFL Photos via Getty Images
7. The schedule
What an odd weekend we just had. Two games started on Saturday at 1.45pm, meaning there was not only overlap, it was direct competition. Then on Sunday, the first game was at 2.10pm, the second game started at 3.20pm and the third game started at 5.20pm. That's overlap city. Why can't a game start at 1.10pm on Sunday, or, bugger it, at 12.30pm or midday? The same on Saturday. We've gone past the argument that condemnation of overlapping games only come from media people. Plenty of footy people are opting not go to the matches – for whatever reason – and like to watch their footy games on TV. Overlap games are a pain in the backside.
LIKES
1. Fourth in line
Brodie Grundy is the No.1 ruckman at Collingwood and when he was injured in round 6, the Pies played around with 19-year-old- Aiden Begg, and when he was axed last week, the Pies went back to Mason Cox. It's like they wanted to keep Darcy Cameron as one of the key forwards no matter what. But on Sunday, when Cox injured his finger, Collingwood coach Craig Macrae had no other choice: Cameron had to ruck. And what a near-BOG performance Cameron delivered. He had 12 touches, took seven marks, laid eight tackles and had 22 hitouts and was symptomatic of Collingwood's intent to tackle and pressure the Dockers, to the point where Fremantle expected the tackles and pressure to come with every possession. They were outstanding all over the ground, the Pies, but especially in the middle, where the ruckman laid the team's third highest number of tackles – in the wet and on the road.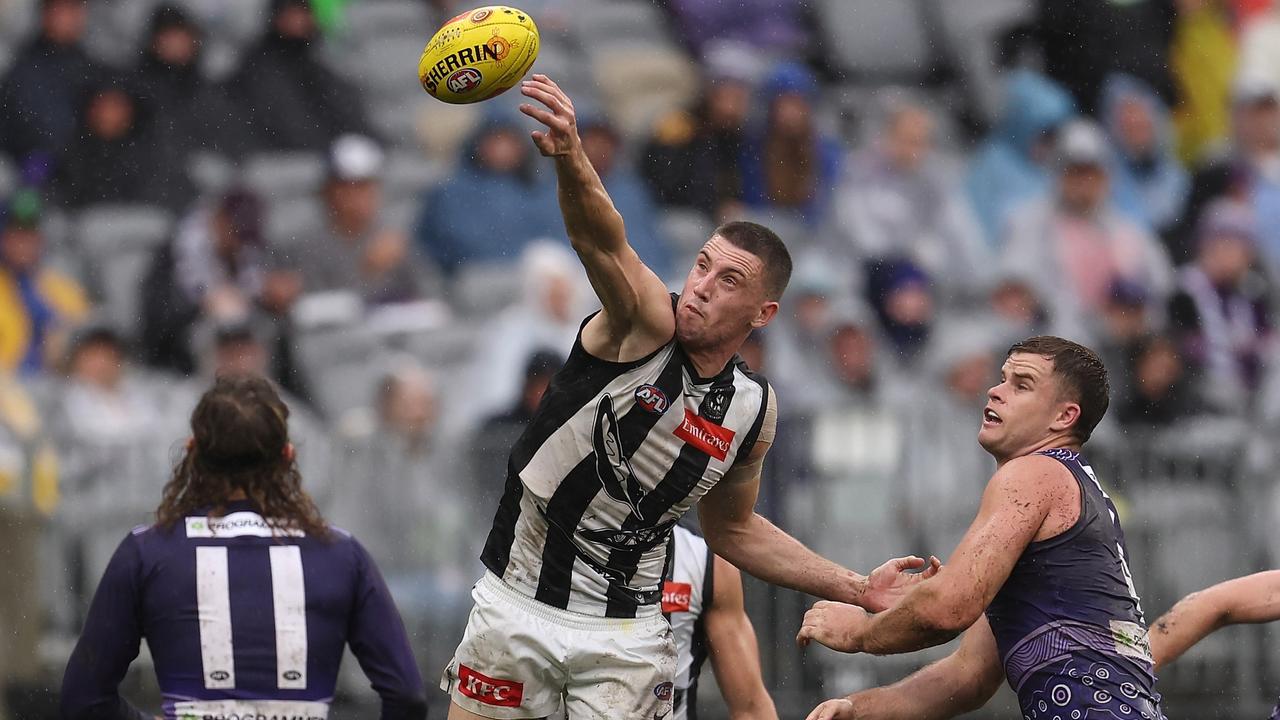 Darcy Cameron was huge in the wet. Picture: Paul Kane/Getty Images
2. The giant-killers
It took an old campaigner in Liam Shiels and an Irishman in Conor Nash to help quell Brownlow medallist Lachie Neale. And at the other end of the scale, second-year Hawks midfielder Jai Newcombe continues to hammer home his Rising Star credentials. He's a hell of a story and footballer, Newcombe. He's like a hairy Paul Chapman, all nuggety and tough and a really good user of the pill, as Chappy was for Geelong. Newcombe is a 17-game midfielder and Chapman was a multiple premiership winning half-forward/mid, so let's chill on performance capacities. Still, you've got to like Newcombe. He had 27 disposals, nine clearances and a game-high 12 score involvements against one of the competition's best midfield groups, and should be favourite for the Rising Star award.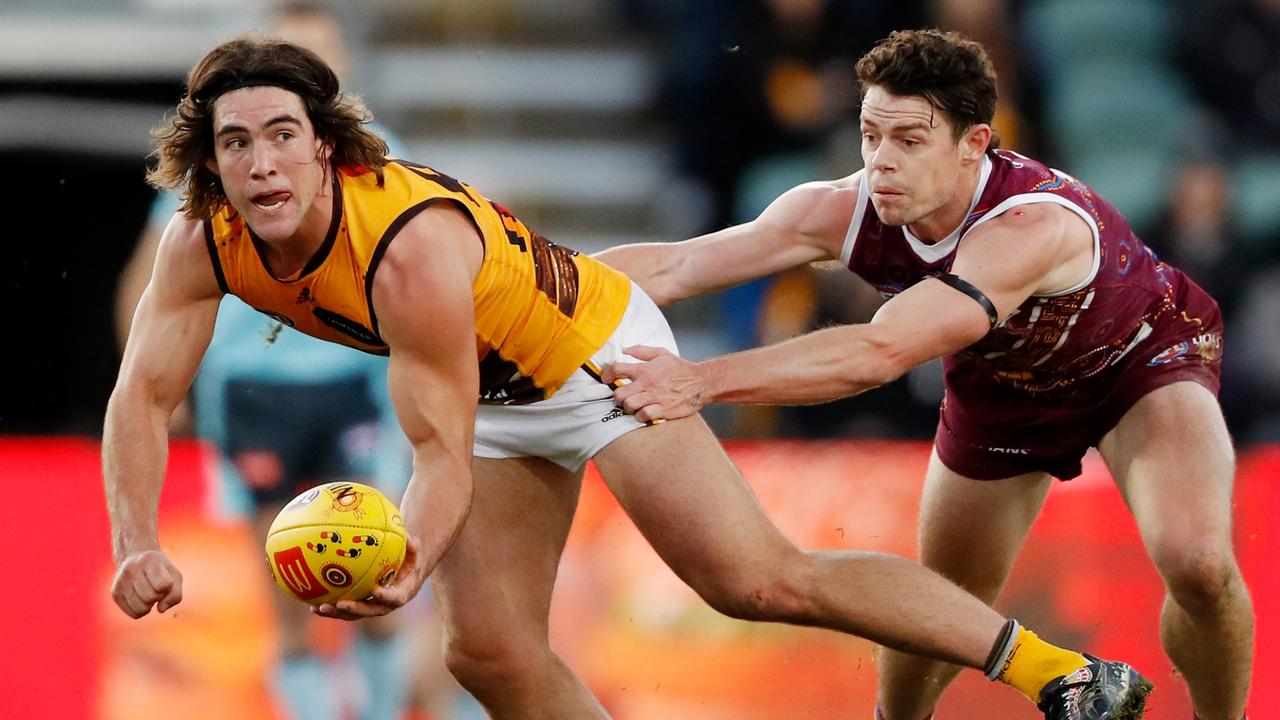 Jai Newcombe gets the better of Lachie Neale. Picture: Dylan Burns/AFL Photos via Getty Images
3. Flick the magnets
New coaches, freed minds and new positions were the new-look Giants on Sunday. Of course, nine changes to the team will demand change. On the field the most notable was the return of the skipper Stephen Coniglio, forward Harry Himmelberg switched from full-forward to full-back and Callan Ward played permanently in defence. Off the field, McVeigh was joined in the coaches box by former teammates James Hird and Dean Solomon. The intrigue surrounded Hird. As revealed in the The Tackle last Monday, Hird wants to coach, again and he took his first major step towards that on Sunday. Hird did most of the communicating from the coaches box to the bench, which included tactics and directions. He was more than just guidance for McVeigh, he looked absolutely invested with the headset on. He will sit beside McVeigh for the next 12 games, and exactly where that take his coaching career, who knows.
4. Oliver and Petracca
Melbourne's Clayton Oliver and Christian Petracca are the best one-two midfield combination in the competition, and the best since Selwood and Dangerfield, and before then Selwood and Ablett, and, if they continue to dominate, we'll go all the way back to Judd, Cousins and Kerr in whatever combo you want from those three. Oliver was that far BOG on Saturday it would be a Greg Williams-type scandal if Oliver did not poll three Brownlow votes. At round 10, Oliver and Petracca are practically sharing the three voters. On Saturday, Oliver will get three. In round 9, it was Petracca. In round 8, maybe Ed Langdon ahead of Oliver and then Petracca. In round 7, it was probably Max Gawn from Petracca. In round 6, it was Oliver. In round 5, it was Petracca. In round 4, it was neither of them. In round 3, it was Oliver ahead of Petracca. In round 2, it was Petracca three votes and maybe Oliver two votes. And in round 1, three votes went to Oliver. Against the Kangas, Oliver had Greenwood, Davies-Uniacke and Simpkin, and one day, maybe, possibly, he might get a tagger. What do you reckon, coaches?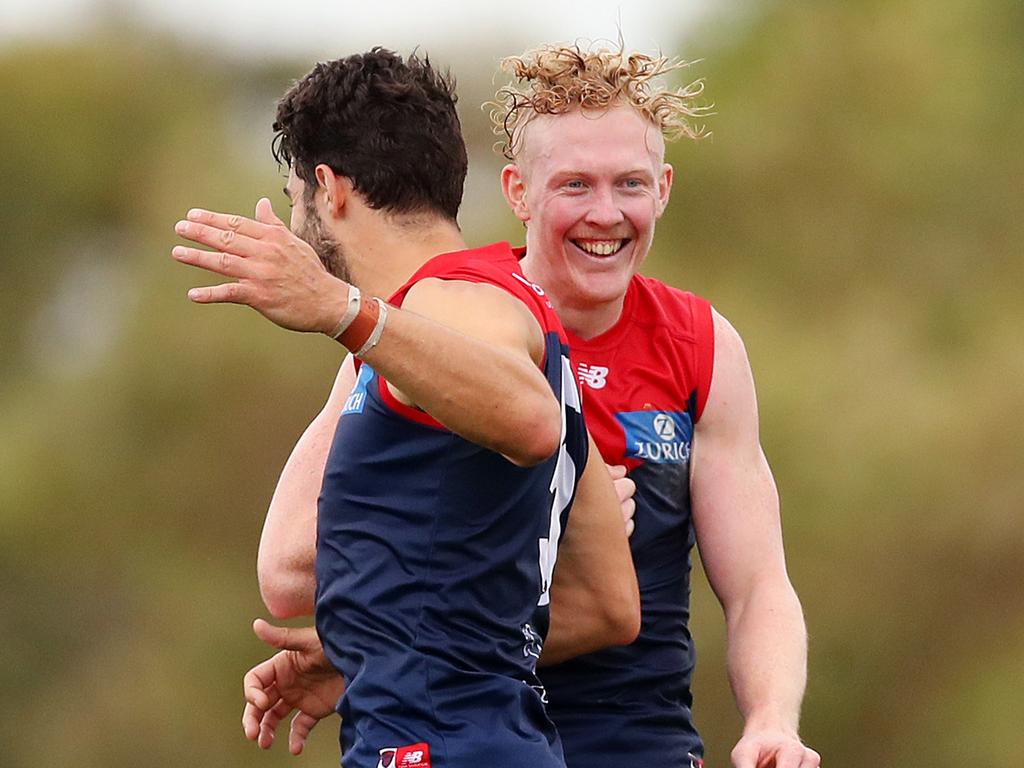 Melbourne's one-two act Clayton Oliver and Christian Petracca. Picture: Kelly Defina/Getty Images
5. I was wrong about Brad Crouch
He was one of those players who, despite big numbers on the stats sheet, I'd wonder if he had a major influence or not. He was a good player, but could he improve? Could he help elevate the Saints? And especially now that skipper Jack Steele miss the next 12 weeks with a shoulder injury. Crouch is averaging 28 disposals this season, which is an equal career-high, but what's rounded him as a midfielder is his increased pressure. He's lifted his tackle average by one per game and his pressure points rating, which was 43.8 prior to this season, is now 56.6. As the Saints soldier on towards a potential top-four placing, Crouch – who is now the kingpin in this midfield group – has to continue to stand up in the middle.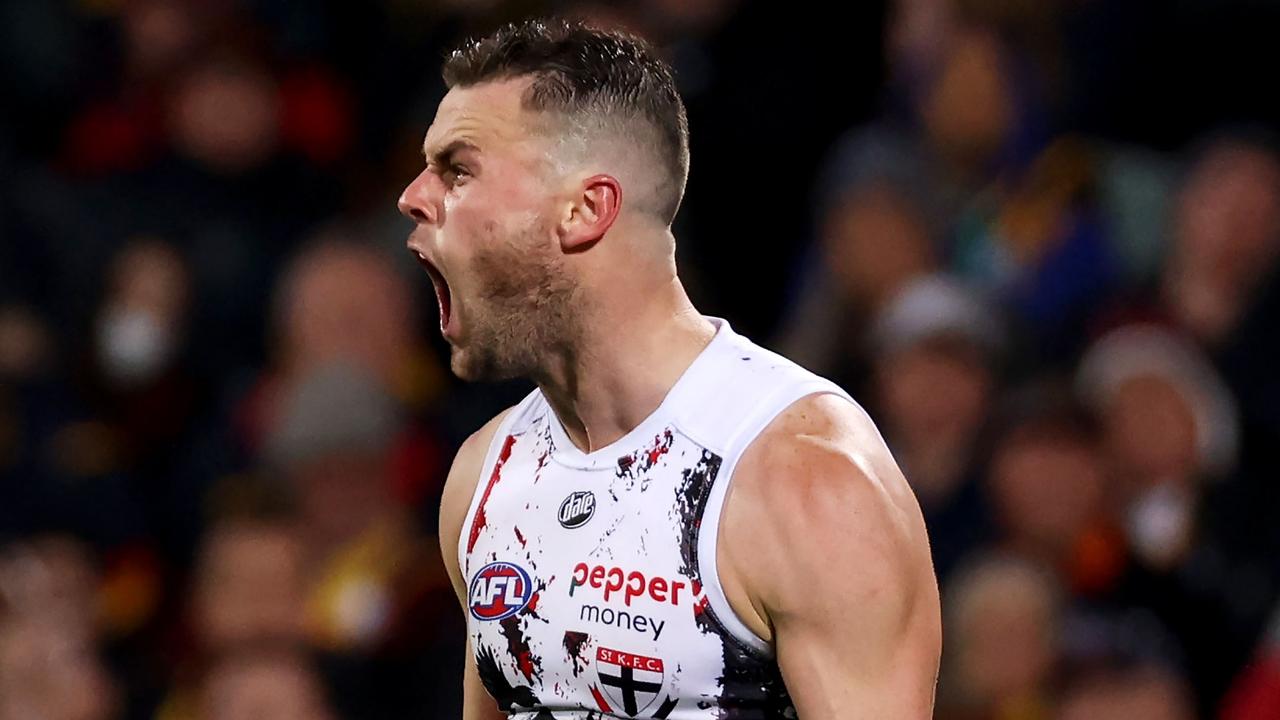 Brad Crouch is having a career-best season. Picture: James Elsby/AFL Photos via Getty Images
6. Eddie Everywhere
After a horror 2021, when he broke his ankle and played only five games, seeing Ed Richards in the senior team in 2022 prompted two questions: Had he improved to earn his spot or had the Bulldogs fallen away, allowing for Richards' inclusion? A summer training in defence has shown that it is the former. A renowned speedster, we never knew what his ideal position was, and now he's a starting defender in the Bulldogs' 22. His speed is still there, but he's added two aspects to his game. He's in the top 10 for kick ratio behind Carlton's Zac Fisher (No.1), Dayne Zorko (No.2) and Scott Pendlebury (No.3). The best defenders are Pendlebury, teammate Caleb Daniel and then Richards. The other component is his marking. He's taken 20 marks in the past two weeks, with intercept marking the standout. He took eight against the Suns on Saturday, which was the second-most taken by a player this season. North's Ben McKay is No.1 with nine intercept marks.
7. Rioli and Bolton
If I had to vote, reckon Dan Rioli got the three votes ahead of Dion Prestia and then take your pick among six others. Rioli is a revelation at half-back. He uses his speed and smarts to bamboozle the opposition and is a lovely caresser of the pill. That's in contrast to Bolton. Bolton is a glider, and graceful, except when he kicks the ball. He tries to kick it into the second level of the grandstand and is easily the hardest kicker of the ball, especially when he snaps it across his body. It is peculiarly Bolton, for players like Eddie Betts and Cyril Rioli and the Godfather of the Snap, Steve Johnson, were caressers like Dan Rioli.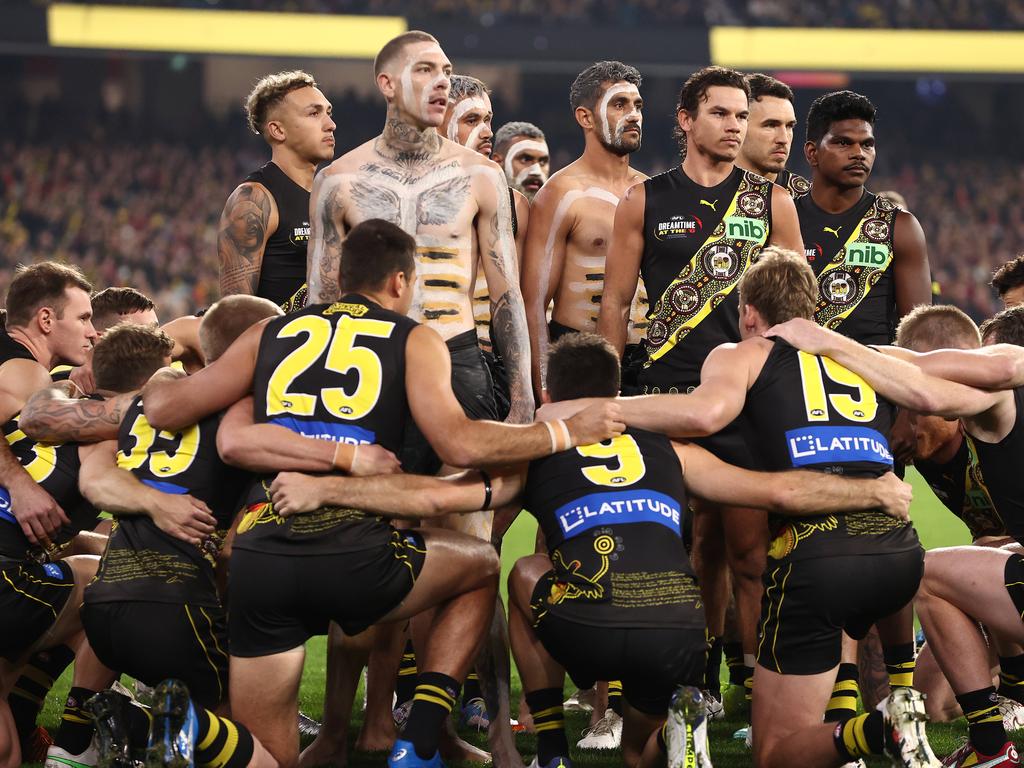 Richmond players take a knee around their Indigenous teammates before Dreamtime at the G. Picture: Michael Klein
8. Well played, Tigers
The pre-match was just magic and the moment, captured by Herald Sun snapper Michael Klein, will be long remembered. The Tigers are the Indigenous cultural giants of the AFL and there were people openly crying with pride when the players surrounding their Indigenous teammates and took a knee. In order from left to right, there was Bolton, Parker, Stack, Pickett, Rioli, Edwards and Rioli, a photograph Klein would rate as one of the best of his career.
Originally published as The Tackle: Mark Robinson's likes and dislikes from round 10