The Tackle: Mark Robinson's likes and dislikes from round 15 of the 2022 AFL season
The football world is so apathetic of Essendon's woeful season that its Friday night debacle was barely analysed. Frankly, no one outside the club cares one iota, writes Mark Robinson.
The Bombers are also in the gun — and could a gun Blue win the Brownlow?
Watch every blockbuster AFL match this weekend Live & Ad-Break Free In-Play on Kayo. New to Kayo? Try 14-Days Free Now >
Mark Robinson runs the rule over round 15.
See all Robbo's likes and dislikes in this week's edition of The Tackle.
DISLIKES
1. Saints on the nose
St Kilda could be excused for parking contract talks with coach Brett Ratten because suddenly – and frightfully – the confidence in Ratten's program has taken a hit. Saints president Andrew Bassat was so enthused in early June about his football team that he announced negotiations for a new deal with Ratten's management would soon commence. That enthusiasm came after wins over Geelong, Adelaide and North Melbourne, which had the Saints in fourth position on the ladder. Since then, they've lost to Brisbane, a haphazard Essendon and were then humiliated by Sydney on Saturday night. Dismiss all the spin, because unquestionably the past two performances dent the club's confidence in Ratten. Indeed, they are the type of performances to make football director Jason Blake or even Bassat himself to ponder the availability of Alastair Clarkson. Former champ Nick Riewoldt raised Clarkson's name on Fox Footy four weeks ago, which no doubt would've annoyed Saints bosses, and you can take it as read, Rooey will do the same this Monday night.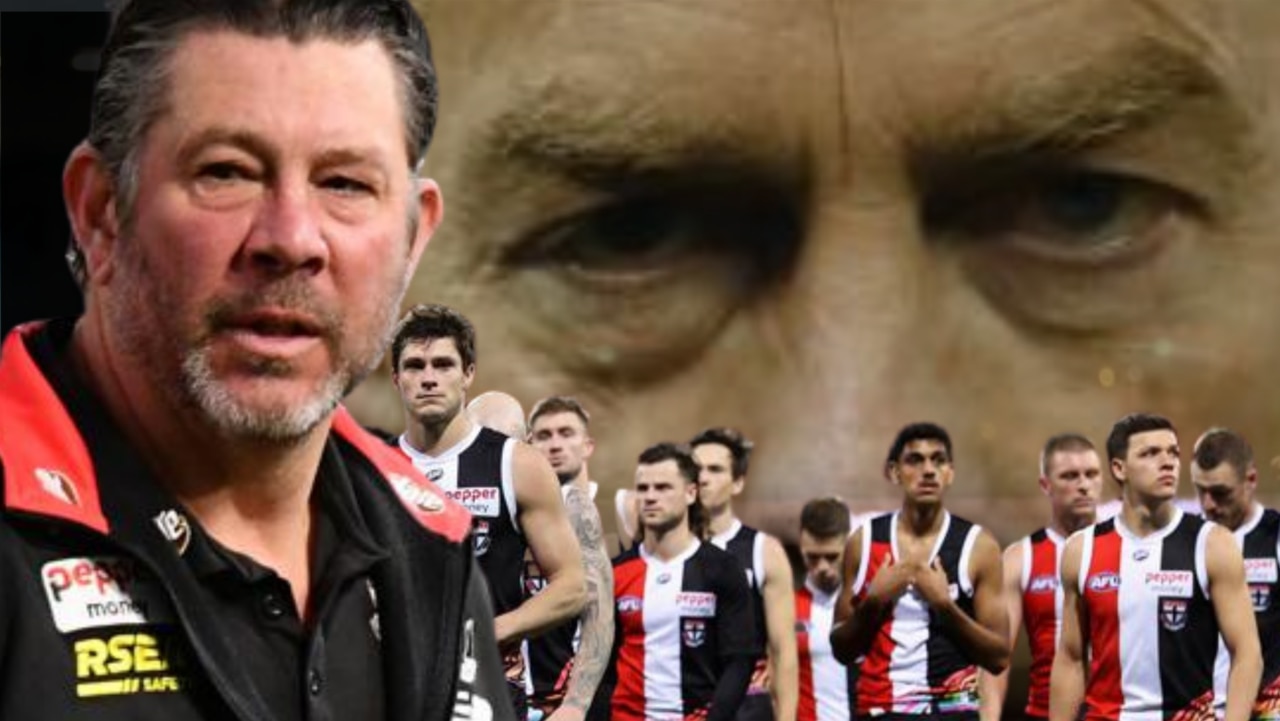 Clarko's spectre looms over Brett Ratten.
2. So, how ruthless are the Saints?
Ratten's team is in 10th position and it plays Carlton, Fremantle, the Bulldogs and a re-energised West Coast (away) in the next month. Put it this way, a new deal for Ratten won't be announced this week, and probably not announced over the next month, either. If the worst-case scenario plays out and the Saints lose all four matches, will the Saints wrap their arms around Ratten, give him a new deal and say: We soldier on? Or does Blake or Bassat or incoming chief executive Simon Lethlean – because surely outgoing CEO Matt Finnis can't be involved – approach Clarkson to ascertain his interest? It's a big month for plenty of people at St Kilda and it should be. Because the response after the Essendon loss was worse than what was offered up against the Bombers and with a finals spot the clear incentive, you have to now ask: Is Ratten the man to go forward? If yes, the Saints soldier on. If no, then it gets tricky, because Ratten and Clarkson are friends and Clarkson absolutely won't be part of any backstabbing.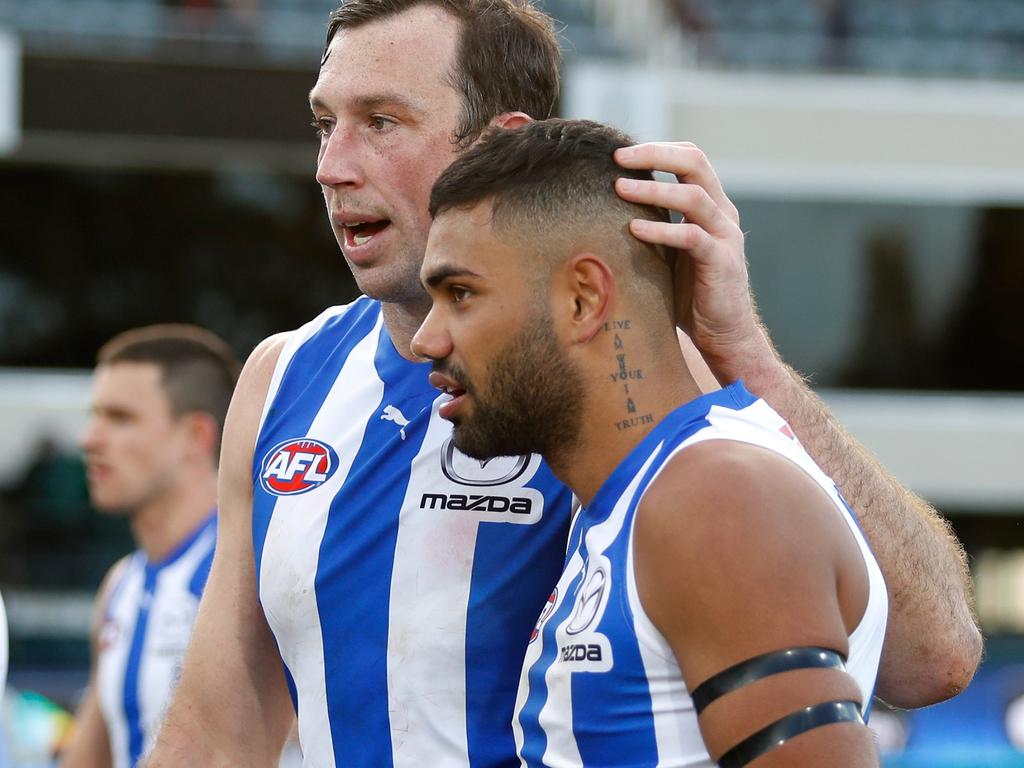 It's been a tough wheel for Tarryn Thomas off the field and it showed on it. Picture: AFL Photos/Getty Images
3. For sale
The Giants have two main issues. 1) Who to get to coach the team next year, and 2) how to fix a salary cap that could be as much as $1 million over at the end of the year? Interim coach Mark McVeigh had his most difficult day on Sunday, by not having the defensive strength to curtail a confident Collingwood. McVeigh's chances of keeping the job depend a lot on Alastair Clarkson's plans – gee, Clarko's an immense figure on all fronts – so that's a wait and see. The salary dump is a wait and act. Unless the players collectively take a pay cut, the Giants will be forced to put up a gun player for sale, say, a Lachie Whitfield for example. A contending team might give up a mid to late first-round draft pick for Whitfield, which would aid the Giants' list transition and ease their salary squeeze.
4. Thomas inclusion fails to bring spark
Footy veteran Geoff Walsh will begin his mini review of the Kangaroos football department this week and if he runs into Tarryn Thomas in the corridor, he could do worse than ask the 22-year-old why he's acting like he doesn't want to be there. Thomas had three disposals against the Crows, and even though he was dealing with a death in his family, that's an extremely poor return. He moped around on the field and, at one point, looked like he was whining when he was on the bench. So, the decision to play Thomas ultimately was wrong. Coach David Noble gave his player an out when he was asked about Thomas in the post-match, but that still doesn't explain the alarming drop in output through the 2022 season. Thomas wasn't the main problem yesterday, that continues to be the fact they simply don't have enough talent.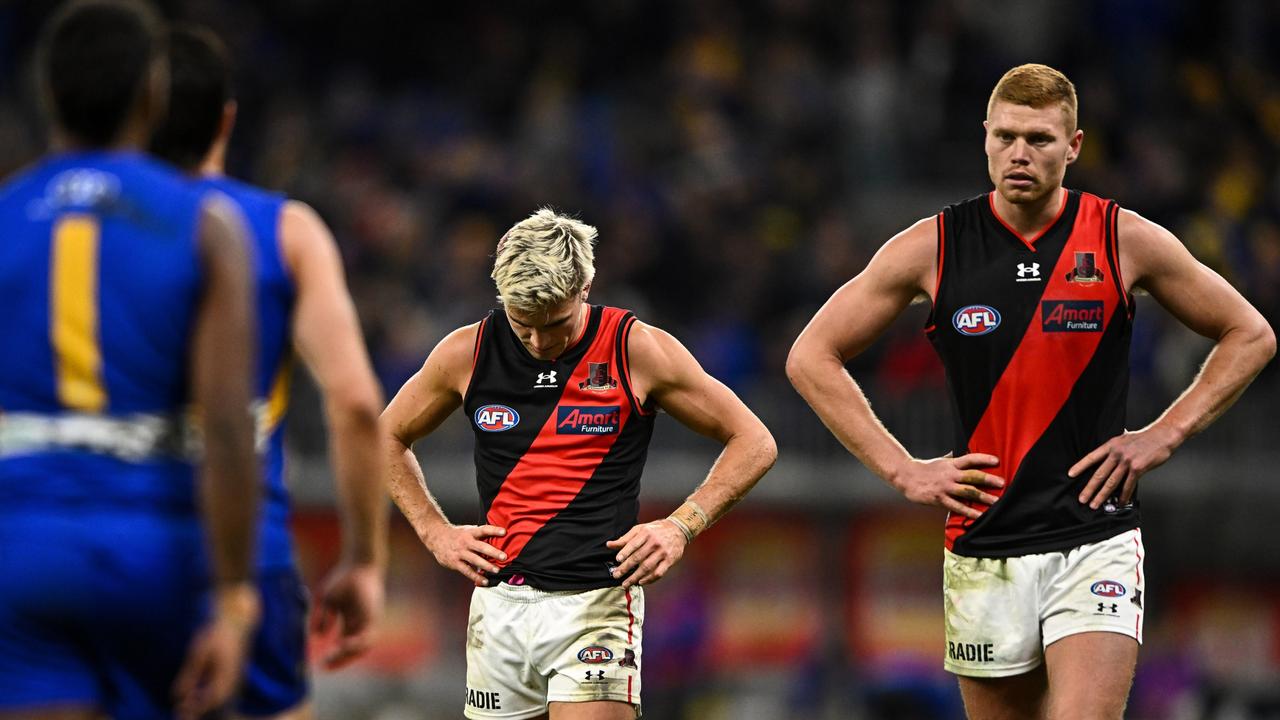 The Dons' season went from bad to worse in round 15. Picture: AFL Photos/Getty Images
5. Irrelevant Bombers
The football world is so apathetic about Essendon's woeful season, and so tired of the excuses, that Friday's debacle against West Coast barely raised critical analysis on all media platforms on Saturday. There was only a whisper of disappointment and frustration, and that's probably because the Bombers' hierarchy has conditioned the footy world to believe everything is tracking OK at Tullamarine. That they are young, that they are focusing more on contest/pressure and that the coach, Ben Rutten, is a brilliant young coach who needs time and help. Maybe, all that's true, but frankly, at Round 15, no one outside Essendon cares one iota. The respect for Essendon is bottom draw. The much heralded review needs a rebranding because everyone's jobs simply can't be safe. The whisper is they might approach, say, an old boy like Dean Solomon to return to the club as an assistant coach, or a footy veteran like Mark Williams, or recently retired Brendon Goddard, to add old-style character to new-age communication. Make no mistake, there will be change at Essendon, and if it's not Rutten, then his off siders in the coaches box should be nervous. Could it be – In: Dean Solomon. Out: Blake Caracella?
6. It is what it is
Tom Stewart will get suspended for four weeks at least. That's a given. He was unlucky because, yes, he intended to bump, but you can't believe he wanted to knock out Dion Prestia. Stewart didn't lift an elbow or quicken up to make contact, he just flushed Prestia with the shoulder/arm, and in the heat of a combative game, he made the wrong decision. He will pay for it. As usual, talk of a red card system erupts, but that's more of an emotional response because the Cats won, Stewart was best afield, and if Stewart was sent from the ground then the result would likely be reversed. You can understand that emotion because the hit could be a season changer, yet the fact is, there are plenty of season-changing moments in all games of footy, albeit less violent ones.
LIKES
1. Hands up if you love Brayden Maynard
So much to like about Collingwood. Against the Giants, they had 32 shots at goal from 62 entries. Last year, they were ranked 18th for inside 50s with a 46 average and this season they are a 56 average, which ranks them 8th. The ball movement has rejuvenated a bunch of oldies, and often it starts at halfback where Nick Daicos, Quaynor, Maynard, Noble and the defensive-helping wingmen in Sidebottom and Hoskin-Elliott get rolling. Maynard is the complete mid-sized defender. His contest work on the deck is furious and in the air, he's the third hardest player to beat in a one-on-one contest. Steven May and Paddy McCartin are No.1 and No.2. Maynard also supplies good rebound. He had 22 disposals and 526m gained yesterday which will get him coaches votes, if not a Brownlow Medal vote.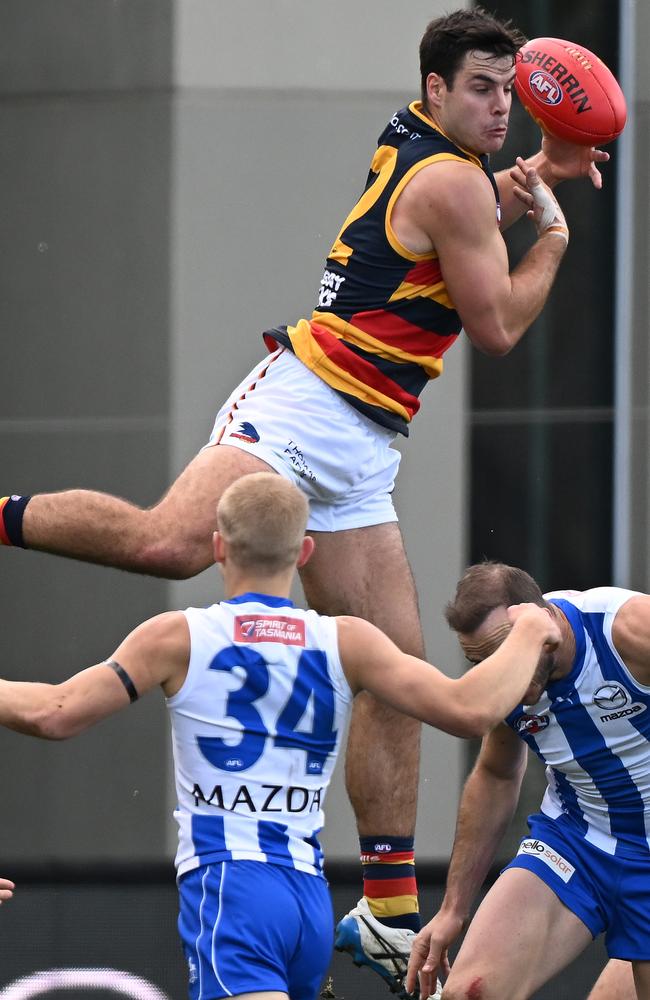 An immense soar for Darcy Fogarty. Picture: Getty Images
2. You're buying shares in Darcy Fogarty
The Crows forward kicked 24.12 from 17 games in 2021 and has 14.5 from nine games in 2022. They are OK numbers for a guy who gets cast about on the field but has found a more permanent role in the forward line in recent times. His past four weeks have returned three, three, two and now four goals. At 193cm and 95kg, the 22-year-old has a brutish build and attitude and he's athletic enough to climb high for marks and strong enough to burst through tackles. And we're starting to see those characteristics more consistently. On Sunday, with Tex Walker alongside him, the Crows were ominous when the ball landed inside 50m. They kicked 10 goals between them and dare we say it, Fogarty has the talent to be a formidable player for many years to come.
3. Sam Powell-Pepper — again
What a game to end a glorious weekend and what a tackle Powell-Pepper laid to stop in its tracks what loomed to be a forward line entry from Gold Cast with a minute to play. The nuggety half-forward wasn't the solo inspiring player in a game which recorded 142 tackles, but always it's about timing. Powell-Pepper swallowed up Touk Miller to cause the turnover, robbing the Suns of an opportunity to win the game. ''To have players like him in the team is huge,'' teammate Connor Rozee told Fox Footy in the post match. There were many better players than Powell-Pepper yesterday, but not many better tackles were laid. So, Port's season is alive after they've gone 7-2 after the 0-5 start. Surely, the Port mafia aren't still after Ken Hinkley's head.
Sam Walsh had a case leather-poisoning on Saturday. Picture: AFL Photo/Getty Images
4. Could Sam Walsh win the Brownlow?
It would be impossible for umpires to ignore Carlton's prolific midfielder, which is hardly breaking news, seeing as he polled 30 votes in 2021. After missing the first game because of a foot injury, Walsh has accumulated 30-plus disposals in nine of his 13 games. Before the weekend, he was $10 for the Brownlow Medal. He was panels ahead of any other player on Saturday and surely has overtaken teammate Patrick Cripps ($4.50) as Carlton's top contender for the medal. Everyone talks about Walsh's running capacity, but his football nous is often underplayed. It's uncanny – and bordering on freakish – how many times Walsh collects a loose ball around the stoppage, or finds it in traffic, or is the first receiver when other players remain stationary. Yes, time after time he gets to the contest, and runs hard defensively, but it's what he does at those contests which makes him a brilliant player.
"He's the whole package,'' Blues great Greg Williams told the Herald Sun on Sunday.
"He gets in there, he's not a big man, he's tough, he's just a great teammate.'' After returning from injury three weeks ahead of schedule, Walsh has slowly built his game, starting on a wing and coming from half forward flank into the stoppage, but Saturday was a complete midfielder domination. With eight games to play, the medal is in his grasp.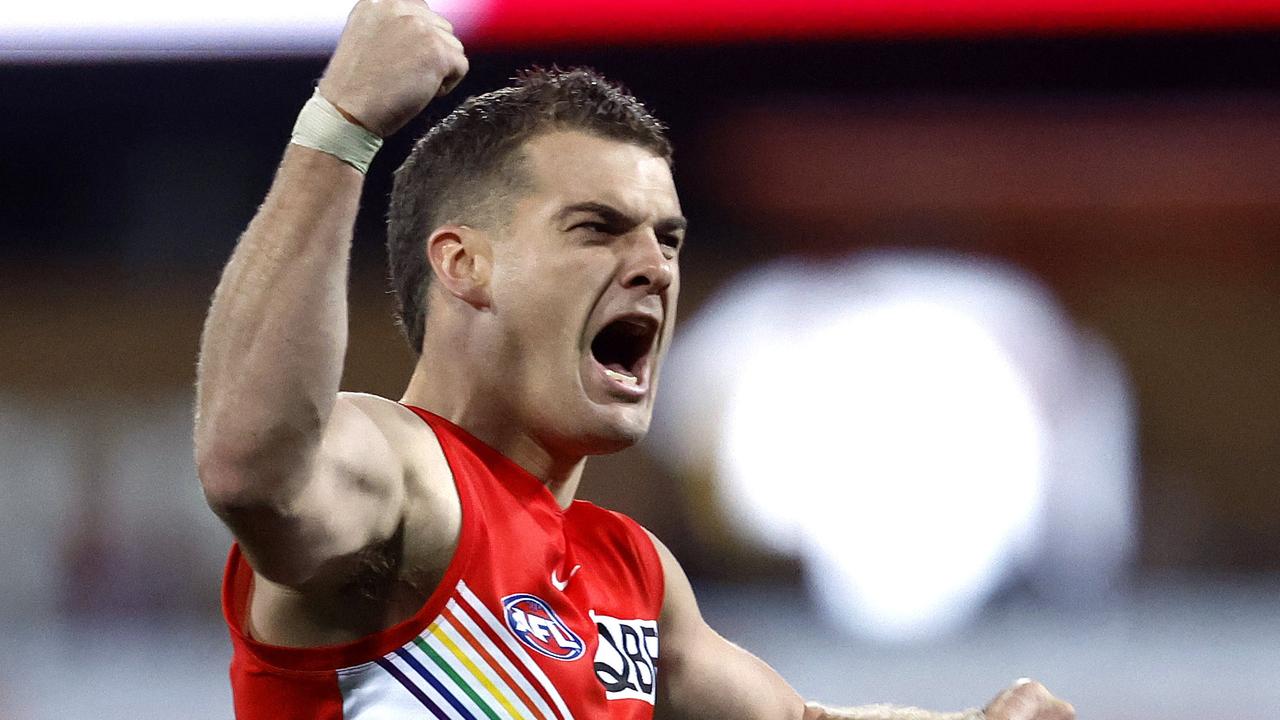 Swans dynamo Tom Papley is starting to find his mojo after an injury-plagued start to the year. Picture: Phil Hillyard
5. Pressure-packed Paps
He was second at the club for forward-half pressure behind Callum Mills, which is a terrific effort because Mills is going to be No.1 for pressure in mostly every aspect – and area – for the Swans. So, Papley's pressure is a real feather. And what a statement he made early. He laid two tackles in the first minute of the game, whereas St Kilda had eight players who laid one or zero tackles for the entire match. On the flip side, only three Swans didn't lay more than one tackle. Papley missed the first six games and has slowly built his game. He kicked two goals, but there was season-high pressure in the forward half which would have pleased coach John Longmire.
6. Unsung Cats' hero Tom Atkins
The plaudits went to Jack Henry for taking the spectacular mark and to Tyson Stengle for motoring through centre half-forward and turning and kicking on a dime, and only passing praise was delivered to Atkins who won the clearance at the death. If not for Atkins, who beat Jack Ross for the ball from the centre square tap out, Stengle and Henry don't do their stuff and win the game. It's been a successful switch of Atkins from halfback into the middle in the past four weeks, evident by his performance in the heat of the best game of the season on Saturday. He had a game-high eight clearances and an equal-team high 13 contested possessions, and also led the team for pressure. He is a hunter, Atkins, and the coach loves him.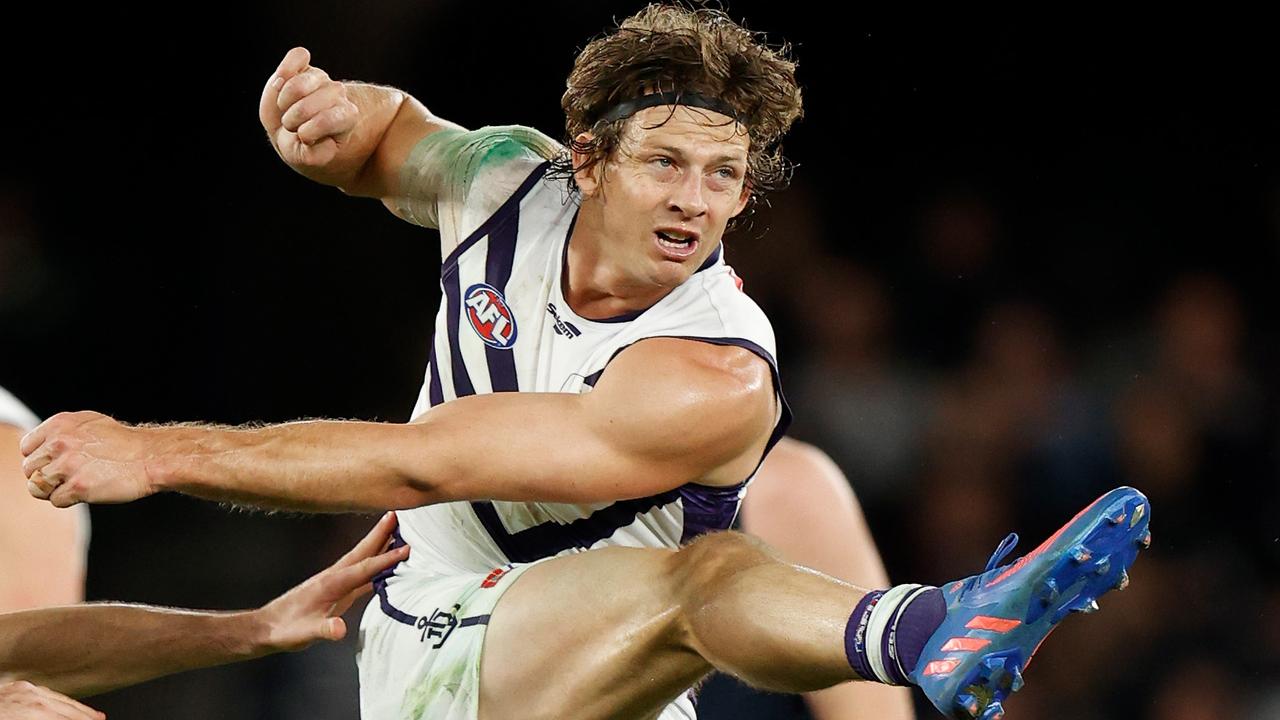 Underdone Nat Fyfe put in one of his worst performances in a decade. Picture: AFL Photos/Getty Images
7. It can only get better
Nathan Fyfe's split on Saturday was 68-32 mid-forward and he didn't have an impact in either of those roles. And he was the only player who played a full game to not register a score involvement, which is startling when you think about it. He only had 11 disposals and went at 20 per cent by foot, which all equates to being one Fyfe's worst performances in the past 10 years. At present, he looks big, and slow, and what makes it look even worse is that he can have a laconic look about him, anyway. Clearly, the back injury, which kept him out for 11 weeks, has curtailed his match fitness and his maniacal approach. He will improve. He has to improve.
Originally published as The Tackle: Mark Robinson's likes and dislikes from round 15 of the 2022 AFL season