The Tackle: Mark Robinson's likes and dislikes from round 6
Footy's most contentious rule has changed for the better, writes Mark Robinson. See what Robbo noticed, plus his full likes and dislikes from Round 6.
North Melbourne is facing another nightmare start to the season.
We saw Carlton's bubble burst, Fremantle announce themselves as the real deal and more Western Bulldogs excuses.
Mark Robinson gives his likes and dislikes from round 6 so far.
Stream every match of every round of the 2022 Toyota AFL Premiership Season Live & Ad-Break Free In-Play on Kayo. New to Kayo? Try 14-Days Free Now >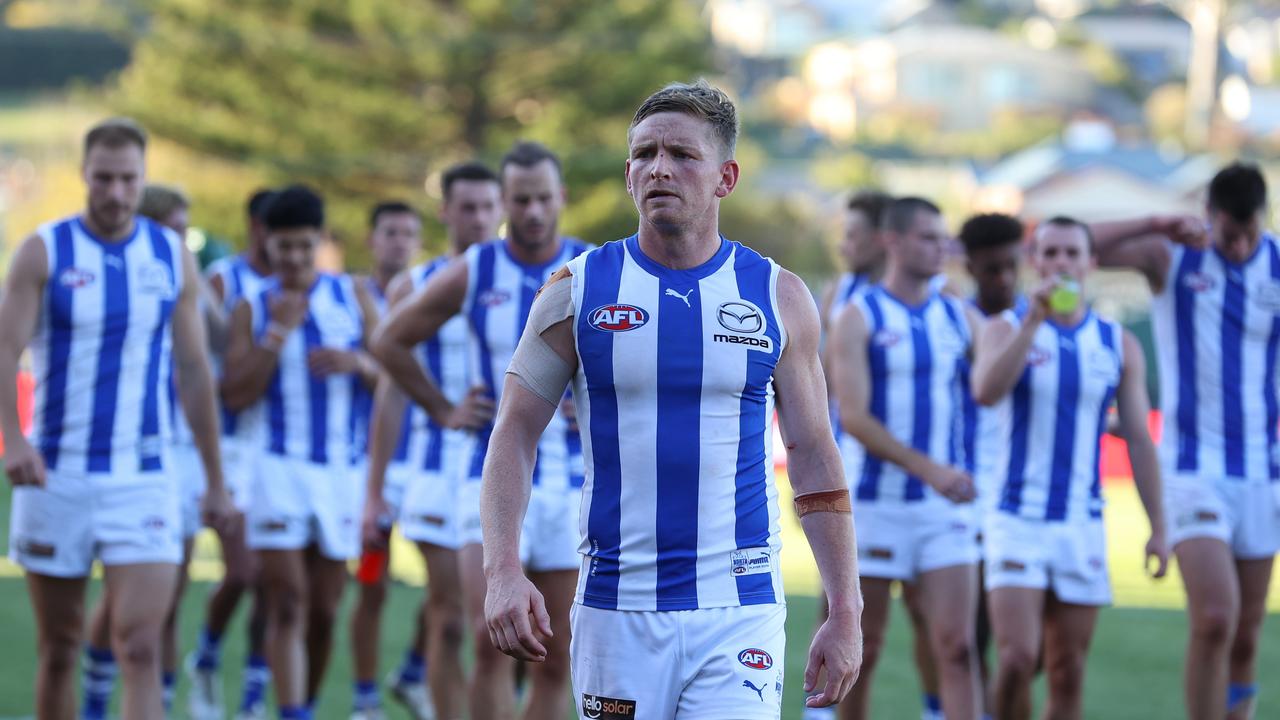 North Melbourne trudges off after another dismal loss. Picture: Robert Cianflone/Getty Images
DISLIKES
1. LONG ROAD AHEAD
The Kangaroos started last season 1-8 and this year are 1-5 with Carlton, Fremantle, and Port Adelaide to come over the three next weeks. They are staring at another despairing 1-8 start. Sunday wasn't about effort alone, this was about poor skill level, as time and again, the Kangaroos coughed up the ball. The scoreboard flattered them. They were poor with and without the ball. The Cats kicked 11.13 from turnover against some pretty feeble opposition pressure, and when the Kangaroos were able to string overlap play, they would cough up the ball going inside 50m. The Kangas are in heavy rebuild and are miles off constantly competing. In the corresponding game last year, the Cats won 62-42. Surely, it's not supposed to get worse 12 months further into the rebuild.
2. SUNS ARE ON THE NOSE
Another Q clash and another walloping from the Lions and this was their worst performance of the season. Let's not be too foreboding but it's about this time each year when the Suns start to falter. From Rounds 6 to Round 23, the Sun last year went 6-11. The year before it was two wins from 12 games. The year before that they went 0-17. Most worrying against Brisbane was conceding 88 points on turnover, which is a big number. The Suns were sloppy against an accurate Lions, and surprisingly were out pressured on their home deck. It was a poor, non-threatening effort and suddenly the Suns are a "watch this space".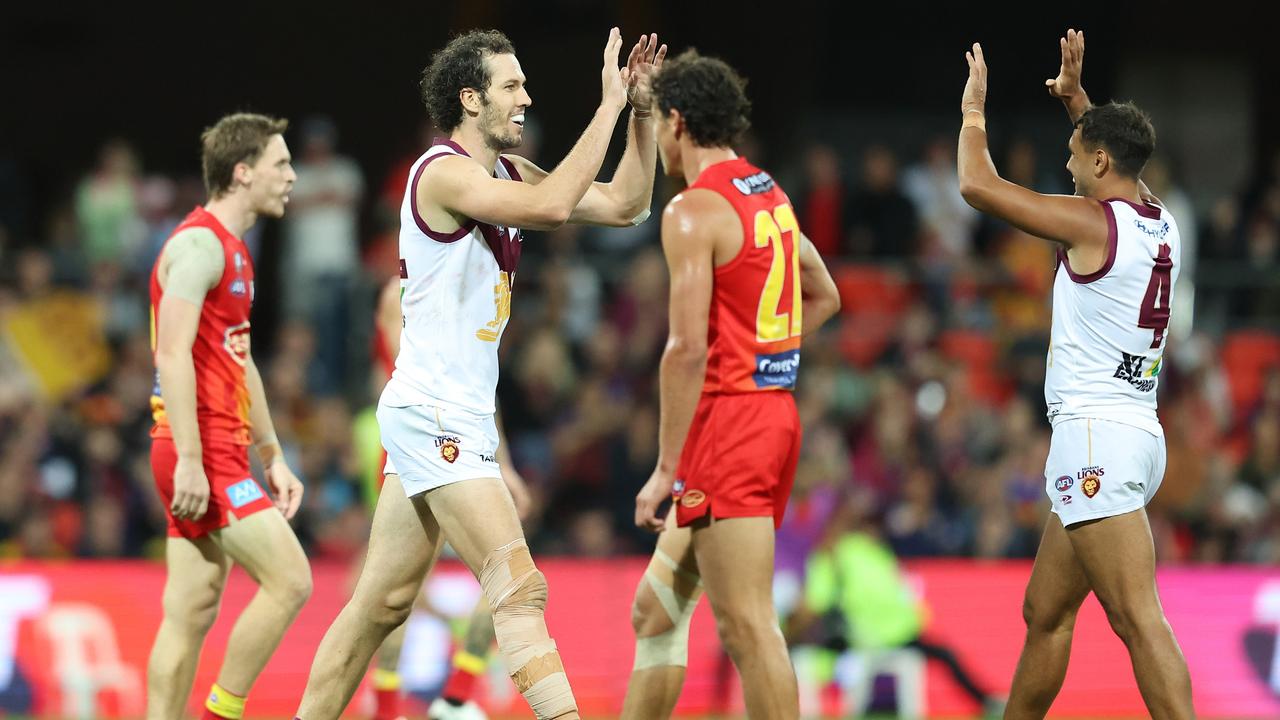 There's a watch on the Suns from here. Picture: Chris Hyde/Getty Images
3. THE BATON HAS CHANGED HANDS
Funny game, football. Teams used to employ tactics to disrupt Richmond's chaos game and on Sunday night, Richmond tried to disrupt Melbourne's chaos game, which the Demons copied off Richmond in the first place. The Tigers were careful with the ball — they took 103 marks, which was their second most in a game this year — but the plan didn't work. The scoreboard says the margin was 22 points, but the Demons had 18 more shots and 22 more inside 50s. Expected scores — which looks at where you take your shots, among other measurements — was 102-49. So, the Tigers are 2-4 and play West Coast, Collingwood and Hawthorn before the Dreamtime game. They are winnable games, but their first six weeks have presented a number of issues, namely the ability to stop the opposition scoring which not so long ago was their one-wood.
4. BEWILDERING DOGS
If Essendon had defeated Collingwood on Anzac Day, it would have been 2-4, the same as the Bulldogs, and the Bombers have been whipped for how their season is shaping so far. So, what does that say about the Bulldogs? The Dogs are a pedestrian team. Excuses are always the domain of the losers and if the Bulldogs want to float injuries as a major problem, they can knock themselves out in doing so. No one cares about excuses. Losing to an improving Adelaide in Ballarat should not happen and the Dogs suddenly look flimsy for depth and vulnerable for a finals spot. That happened quickly, didn't it? Just maybe, mostly everyone has overrated the Dogs.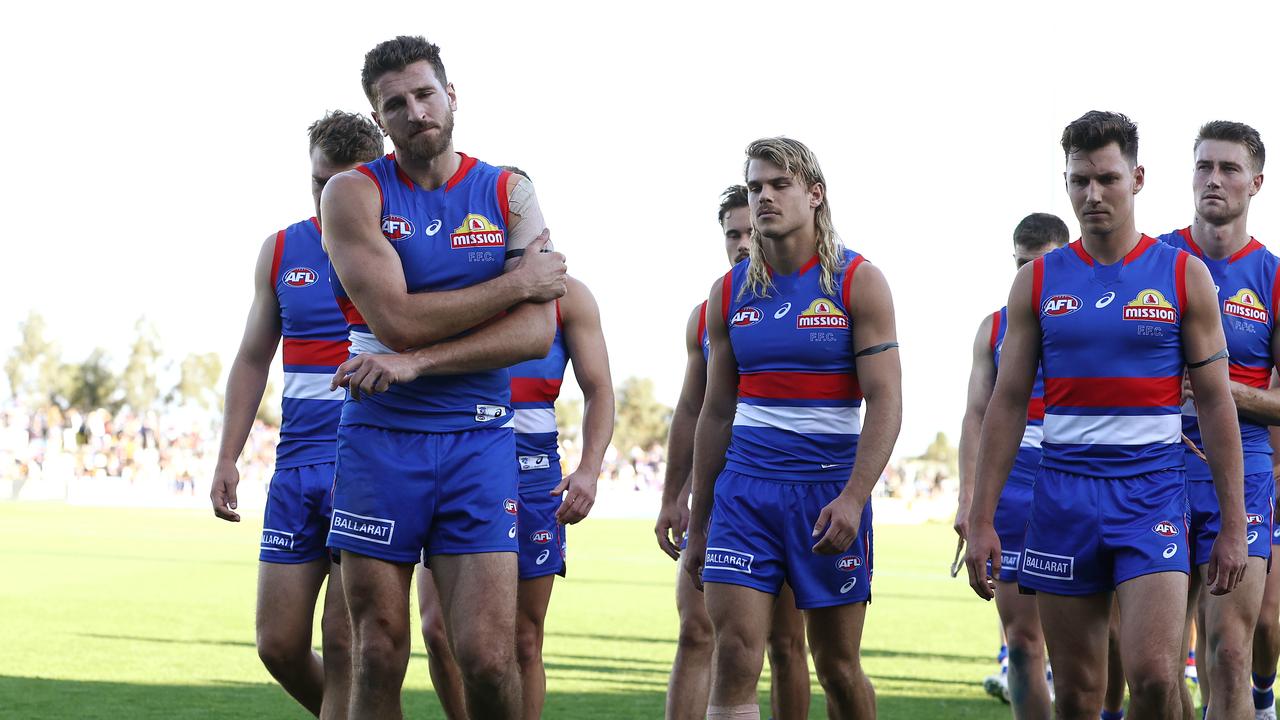 The Bulldogs are looking vulnerable. Picture: Michael Klein
5. CLUTCHING AT STRAWS
Highlighted was the incorrect bounce with seven seconds to play in the Bulldogs-Crows game, which resulted in two seconds being wiped from the time clock. Bulldogs fans crying foul should ease up. The game wasn't lost because the field umpire had to recall the bounce, the game was lost long before that.
6. BUBBLE BURST
Fremantle has been working for three years to implement a well balanced defensive and offensive game style under coach Justin Longmuir. The Blues are six week into Michael Voss' grand plan which means the Blues are a work in progress. Voss is focusing on the contest and clearance and the remaining layers will come over time. That is their ability to transition the ball and to defend transition, which is the hardest part of the game to develop and implement. They can't win the flag this year, and might even end up in scrap for the eight, and that's not sweeping criticism of the Blues, it's just that they are not capable in all facets of the game.
Carlton has struggled in transition. Picture: Paul Kane/Getty Images
7. RULE CRACKDOWN
"Arms out, 50m'' has already changed. Is pleading for a free kick with arms splayed wide in the ballpark with dissent? It can't be, because two Fremantle Dockers players were clearly trying to influence the umpire's decision to pay a holding the ball decision to teammate Michael Walters. Walters won the free and his teammates were not penalised. That's common sense umpiring.
LIKES
1. THAT'S JEZZA AT HIS BEST
Jeremy Cameron's past four games have produced six, one, three and seven goals, which pretty much makes him the in-form key forward in the competition. On Sunday, he finished with 16 disposals, nine marks, 13 score involvements and 7.3 It was the complete performance opposed to Josh Walker (four goals) and Aidan Corr (three). It's difficult to assess how fabulous the win was because of the ineptitude of the opposition. Still, you've got to kick the goal, and Cameron and Tom Hawkins combined for 17 shots at goal for 11.4. Yep, that's how easy it was. The Cats corrected the calamities of Easter Monday, when they were beaten around the contest. They were +12 contested ball and broke even on ground ball. From there, the talent difference came glaringly to the fore.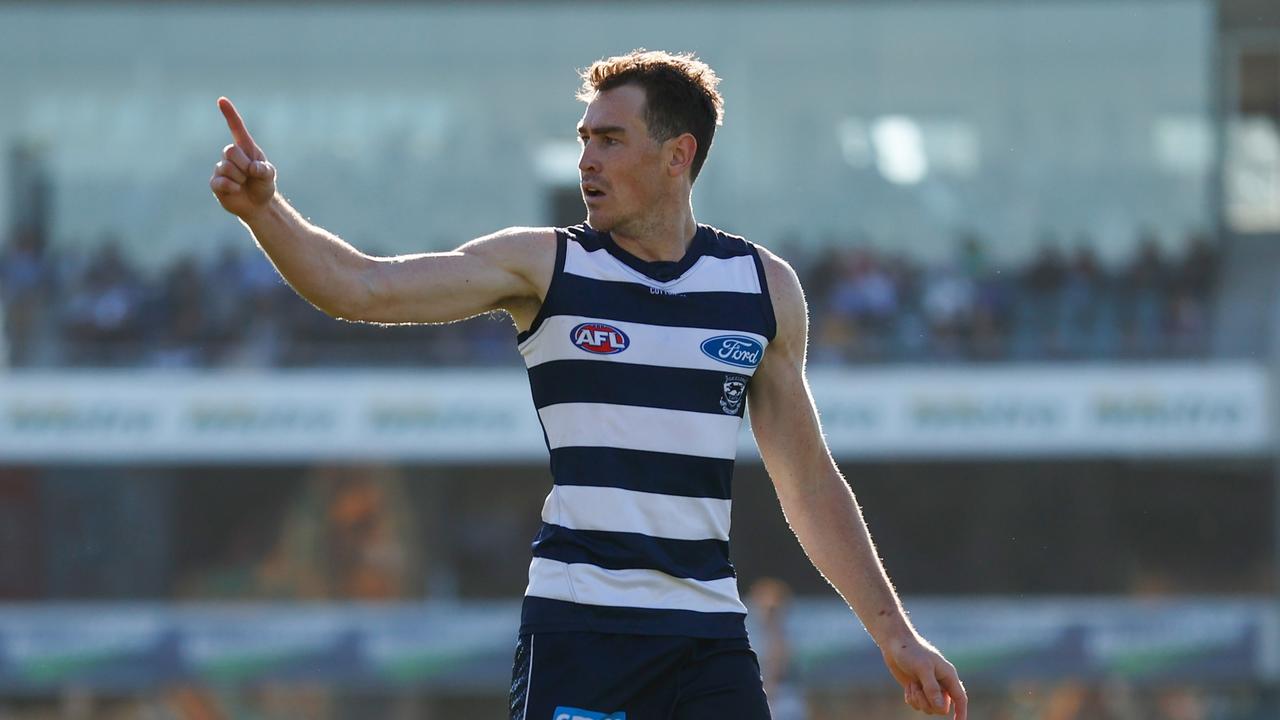 Jeremy Cameron was dominant up forward. Picture: Michael Willson/AFL Photos via Getty Images
2. STATS GRABBER
In the slush at Metricon, the smooth-moving Zac Bailey was the light in the darkness. He kicked a career-high six goals, four of them coming in the second quarter. He was the polish in a workman-like performance led by Jarryd Lyons. Here's a stats line that is rare for its monster numbers. Lyons had 30 disposals, 10 tackles, 13 clearances, 13 inside 50s and 873m gained, which is phenomenal for a largely inside player. He likes playing against his former team. Sunday was his sixth game and the Suns and four of his games have returned 30-plus disposals. He is a great story.
3. CLAYTON OLIVER SAYS HELLO
Talk about being a stats grabber. Oliver had 41 disposals, 22 contested, 13 clearances and 10 score involvements. His ranking points were 168, whereas Lyons earned 110 ranking points, his number being lower because he didn't use the ball as well. Oliver and Carlton captain Patrick Cripps are the two best performing players this year. Quick poll: Who would take between these two? I think Oliver because he's a better link-up player, in other words, he can get the ball inside and outside. Indeed, Oliver might be the best player in the game as we speak. Three years ago, it was said he wasn't damaging enough, and that he gave too many handballs, but now he's the complete player. His metres gained are at a career-high and he uses the ball by foot more than at any other time of his career.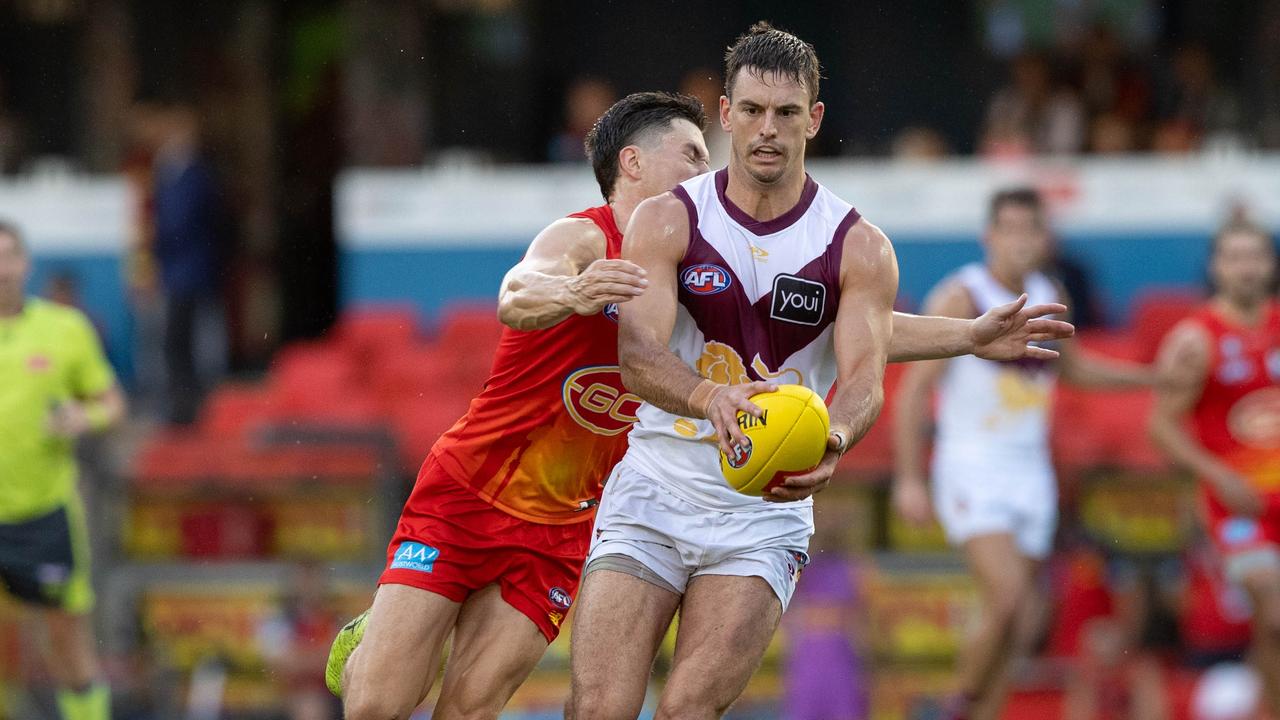 Jarryd Lyons had another big game against his former side. Picture: Getty Images
4. THE REAL DEAL
Always, footy is not about who you play, it's about how you play and the Dockers announced themselves on Saturday night as being a cut above most teams. They defend well — the Blues had a meagre 38 inside 50s — they score well, at an average of about 90 points per game, and they have speed. Outside of 36-year-old David Mundy, the Dockers are close enough to Melbourne's profile in terms of games played and experience. And the Dockers at home just might be the toughest road trip in the game. And they're doing without skipper Nat Fyfe. He will soon rejoin the midfield, but what the Dockers have learnt this year is they can perform without him.
5. THE AGELESS DOCKER
David Mundy might not have thought he'd survive to see his Dockers once again be a top-four contender, but the nearing 37-year-old remains a key part of the Dockers revival. He had 22 disposals against the Blues and 13 of them were contested, which was a team-high. Blokes rising 37 are not supposed to be the poster boy for winning the hardball, yet Mundy remains a ferocious competitor. Tiger Dustin Martin will be intrigued by Mundy's longevity. Martin is expected to return to the Tigers soon and has spoken to confidantes about a desire to play footy until he is 36 or 37. That would take Martin's games played to about 380, which absolutely puts him in the best ever discussion, if he's not already.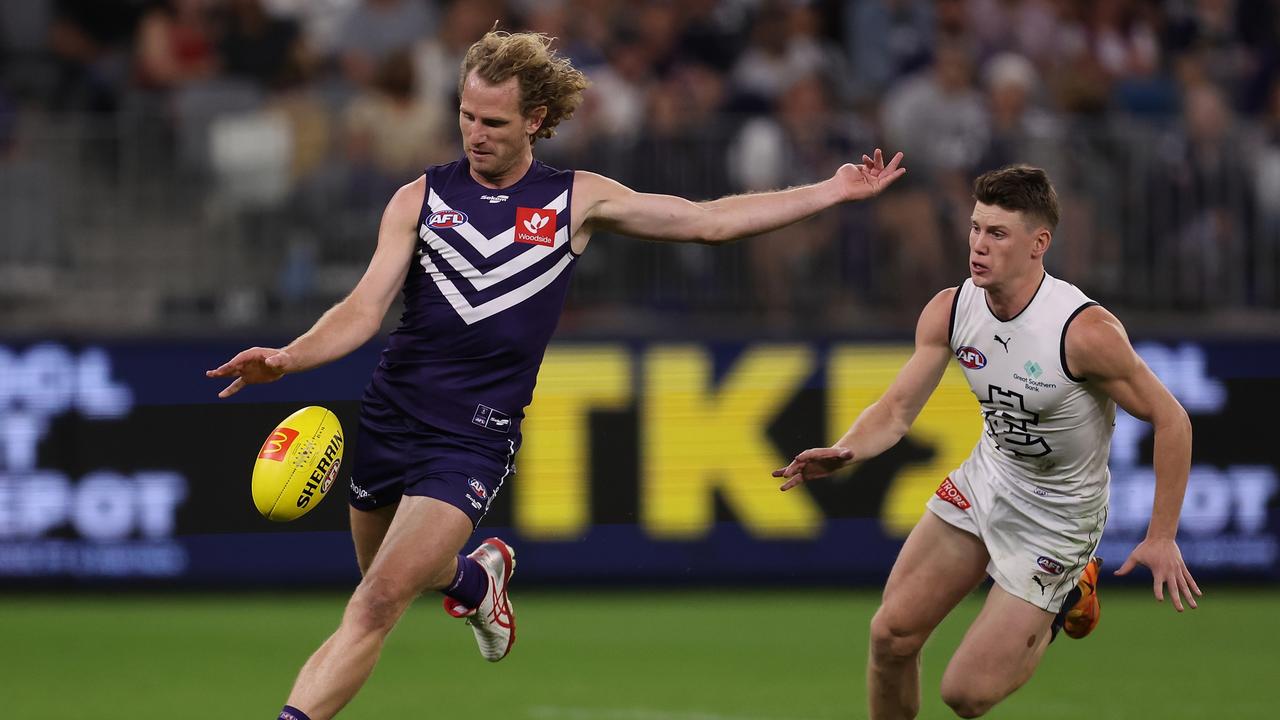 David Mundy keeps on keeping on. Picture: Paul Kane/Getty Images
6. THE AGELESS CROW
Because of recent past sins, people thought Taylor Walker should've shut his mouth when asked about the Trent Cotchin incident. I liked him talking, although I'm not sure the AFL MRP should've labelled Cochin a kicker which did nothing but heighten the discussion. Tex has been a revelation since he returned to the field and once again was a key player in the win over the Bulldogs. Walker and Tom Hawkins are the complete package key forwards: They take marks inside 50, they win the ground ball and are high in goals kicked and score assist. Walker's game-winner with minutes to play in Ballarat oozed class and leadership. A career in strife two years ago, Walker is playing some of the best footy of his career.
6.
Originally published as The Tackle: Mark Robinson's likes and dislikes from round 6