Tom Stewart's recovery from Lisfranc surgery puts Geelong best-and-fairest well on-track for 2022
Cats best-and-fairest-winner Tom Stewart is "in a good place" as he returns to running after surgery, while second-tier leagues grapple with a vaccination deadline for players.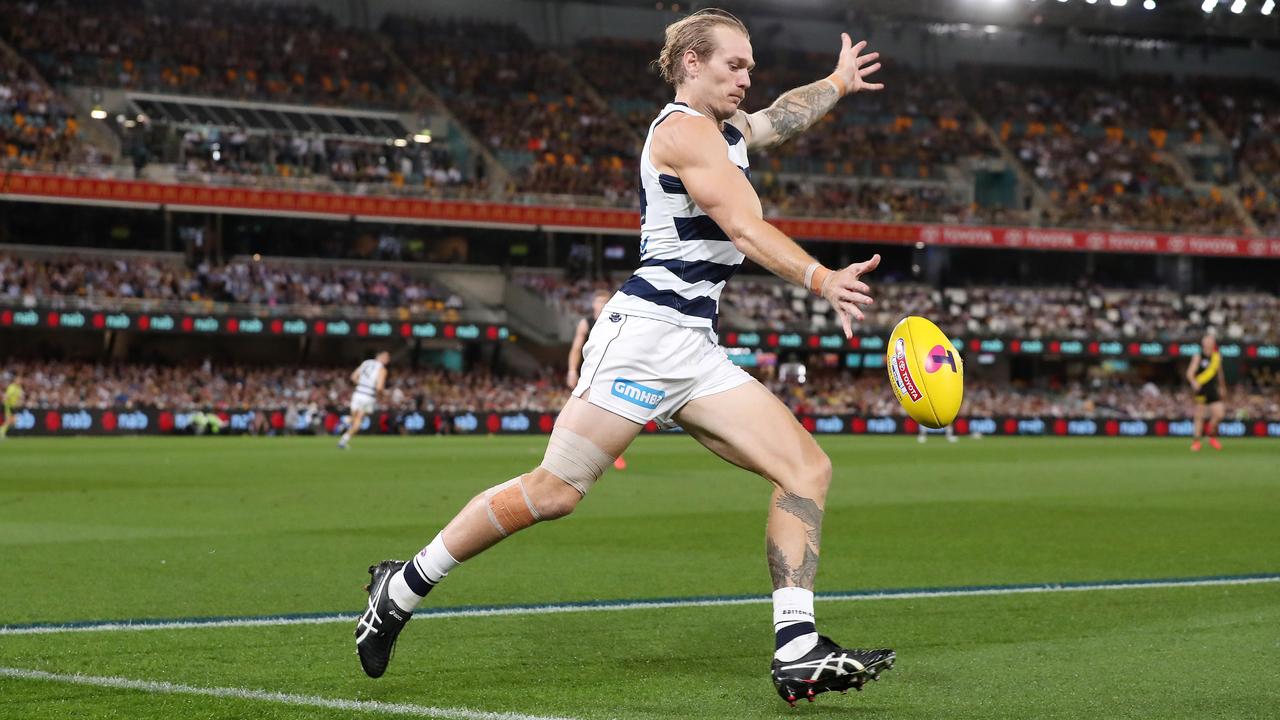 Tom Stewart is tracking well in his recovery from Lisfranc surgery. Picture: MIchael Klein
Reigning Geelong best-and-fairest winner Tom Stewart has returned to running as part of his recovery from Lisfranc surgery and is completing multiple sessions each week as he aims to be right for the start of pre-season next month.
Stewart suffered the foot injury late in the home-and-away season and subsequently missed the Cats' entire finals campaign.
He had not ruled out the potential of playing in the grand final if Geelong made it, despite medical experts declaring that a highly unlikely proposition, but he is now increasing his output on the track as he adds further strength and conditioning exercises to his training routine.
Geelong football manager Simon Lloyd said Stewart was in a good place ahead of his sixth pre-season.
"Tom has been completing 10km sessions twice per week," Lloyd said.
"He is building up his loading and doing everything from change of direction, running, jumping and kicking.
"He has been fastidious with his attention to detail, particularly ticking off all his performance indicators. He has been guided very closely by our strength and conditioning and physio departments and we are liaising closely with external experts.
"Tom's focus is on being in a good place prior to the start of pre-season. He is really excited and ready to have some fun leading into the pre-season."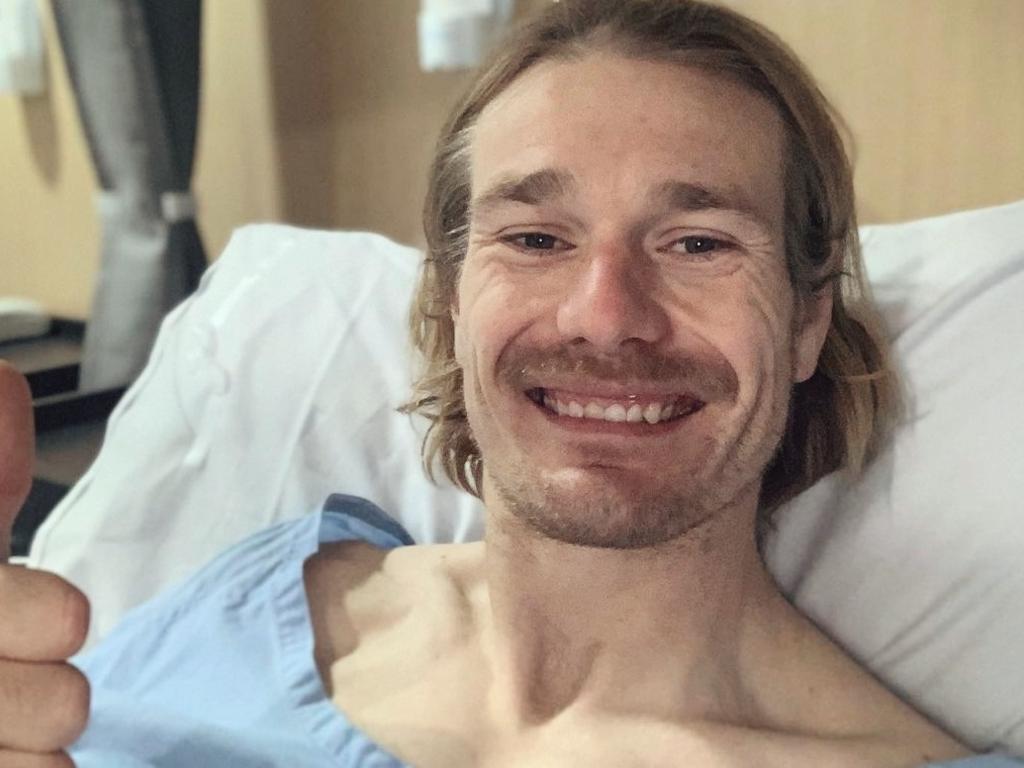 Thumbs up after successful surgery.
Lloyd said Stewart had returned to GMHBA Stadium early and was already involved in extra activities with teammates as he eyes on taking his game to even greater heights in 2022.
"This is his (sixth) pre-pre-season and we're seeing him in at the club most days and he's working closely with a group of half a dozen other players doing running and kicking with that group of players," Lloyd said.
"He is in a really good place. His big focus is on being a better athlete and footballer than he's ever been before.
"He has been very measured and everything is planned and we're very happy with his progress."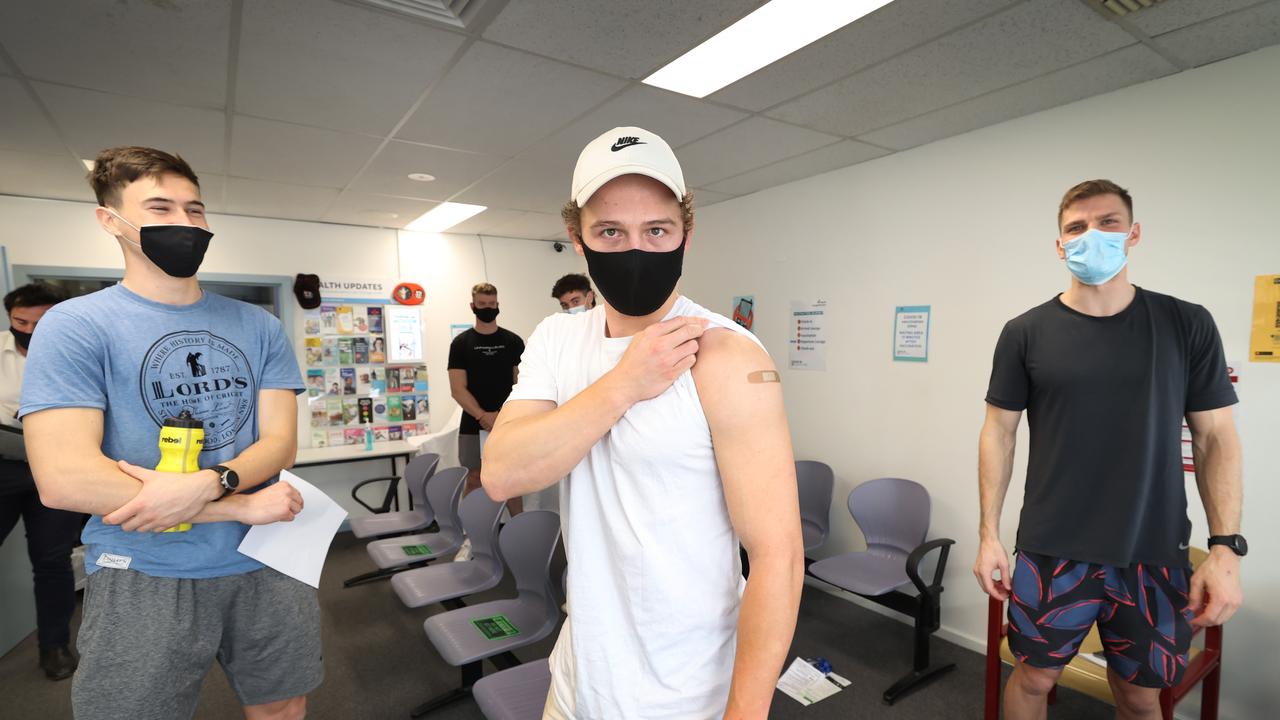 St Kilda players Cooper Sharman, Jack Billings and Mason Wood wait in the recovery area after their jab. Picture: David Caird
AFL sets jab deadline for state league, draft hopefuls
—Jay Clark
AFL hopefuls playing in Victoria's second-tier leagues will have to be vaccinated by the end of next month to play representative footy next year.
News Corp has confirmed all players in the VFL, VFLW and NAB leagues will have to be fully vaccinated for COVID-19 to play in those leagues in 2022.
The AFL has strongly encouraged the WAFL and SANFL to adopt the same approach ahead of the new season.
Community football vaccination rules will be determined by each of the state governments.
While the AFL and its clubs have been buoyed by its players' and staff's attitudes towards the vaccine mandate, it seems certain more players from the state leagues will follow Liam Jones's decision to retire from the game instead of having the jab.
The ex-Blue last week chose to hang up the boots instead of having the vaccine in a bombshell move.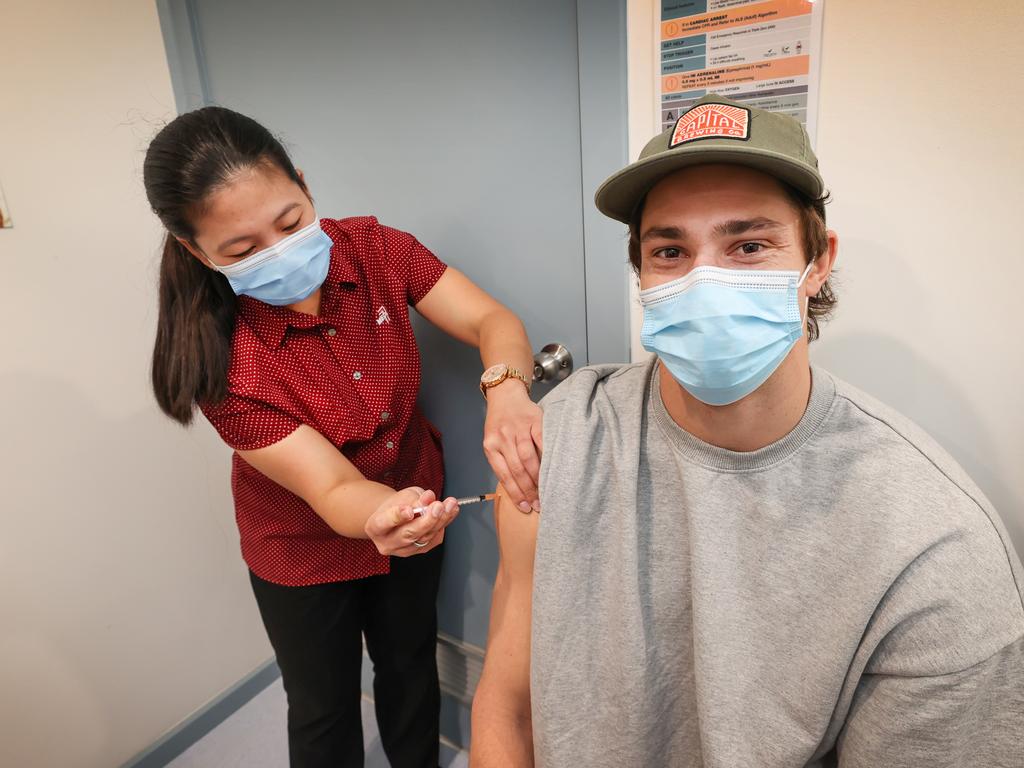 St Kilda captain Jack Steele gets the Covid jab. Picture: David Caird
The league released its vaccination policy for Victoria's second-tier competitions on Wednesday, which is in step with the mandate facing all AFL players.
The document reveals all players in the VFL, VFLW and NAB Leagues will need to have their first jab by November 24 and their second dose by December 22.
The AFL statement said any player who did not comply would not be permitted to train or pay with a state league side next year.
"Players and Football Program Staff that do not comply with the vaccination requirement that apply to them will not be able to attend Club premises including to train or play, absent a medical exemption approved by the AFL. In short, they will not be able to perform their contracted services for their Clubs," the statement said.
"Clubs will determine the action to be taken with respect to remuneration and contractual/playing list status of Players and Football Program Staff that do not comply with the Policy."
AFL football general manager and general counsel Andrew Dillon said the vaccination policy was designed to protect the players and the wider community.
"Our policy delivers on our commitment to protect our players, staff and the wider community across many levels of football, so we can once again unite as families, as friends, as work colleagues, as teammates, as supporters, as communities, as one," Dillon said.
"State-league football and the talent pathway programs play an integral part in the football ecosystem that supports the elite AFL and AFLW competitions and the AFL shares responsibility to minimise the risk of exposure of COVID-19 across these levels of football.
"We will continue to work with all clubs, players and staff to provide support and guidance through this evolving situation."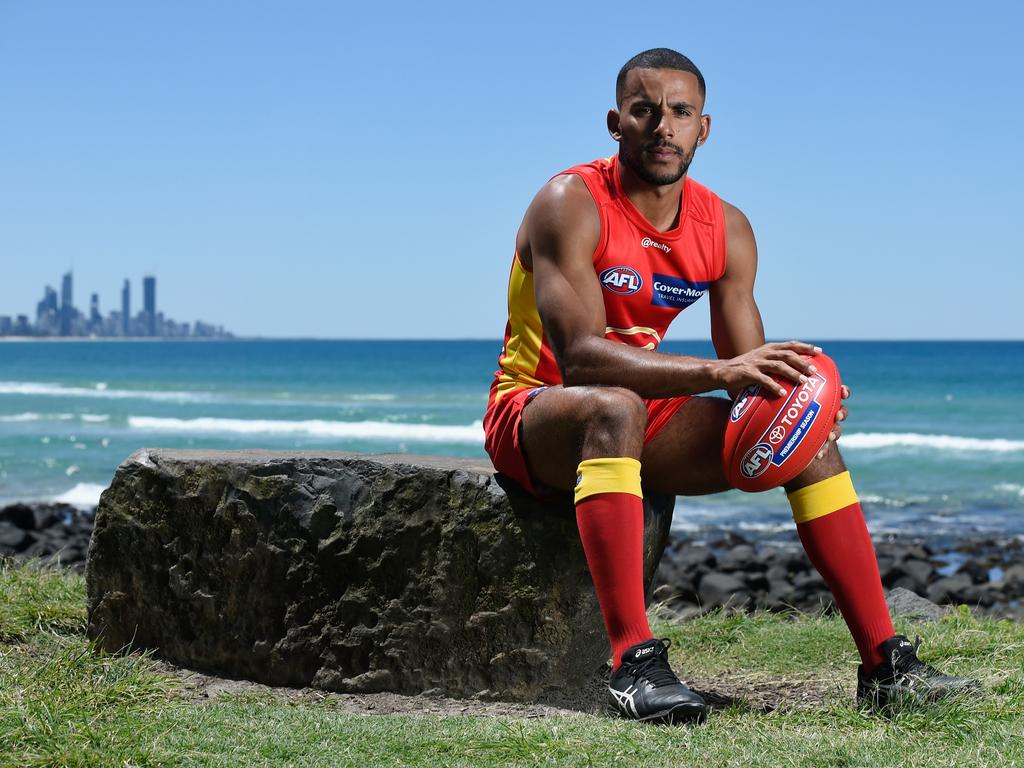 Miller has signed a long-term extension with the Suns. Picture: AFL Photos
Miller's 'massive' commitment to Suns
—Jon Ralph
Gold Coast All Australian Touk Miller has committed to the Suns on a new five-season deal and in doing so declared 2022 a "crunch year" that will see the club aiming for finals success.
The Herald Sun can reveal Miller has given away his free agency rights to sign with the Suns despite having a full season to run on his existing contract.
Miller declared his future captaincy ambitions at the Suns but said, for now, David Swallow and Jarrod Witts were the right men to lead the club under senior coach Stuart Dew.
The prolific midfielder has experienced "rock bottom", admitting it hurt to see ex-Suns captains Tom Lynch and Steven May achieve premiership success elsewhere.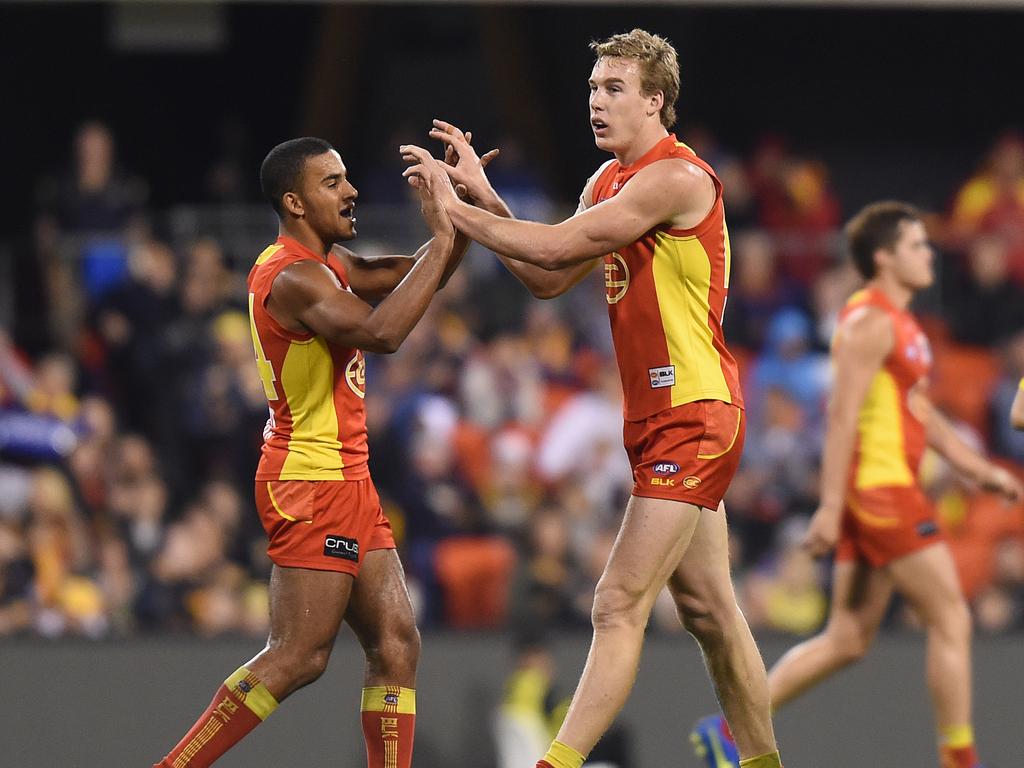 Touk Miller confronted Tom Lynch when the latter departed for Richmond. Picture: AAP
He strongly challenged Lynch about his departure at the time.
Despite the shock departure of Hugh Greenwood for North Melbourne, Miller believes Dew and the Suns are slowly building a culture that will set them up for a sustained period of finals success.
His deal was ticked off before the Roos nabbed Greenwood but it is some welcome PR after a tough week for the Suns.
He is brimming with optimism that the Suns are creating a culture that will see Ben King, Jack Lukosius and Izak Rankine re-sign instead of depart at the end of 2022.
"The contract is five years, which is really good so I am absolutely stoked about it. You can say I have signed for life, which is really good," he told the Herald Sun.
"I see myself as a one-club player and the club have been incredible for me.
"I was really big on it with my manager, that I just wanted to be here.
"I had no reason to be anywhere else. I have been at the club for seven years now and I have seen rock bottom and I want to see the success.
"It's a massive thing for myself now and why I want to play for the club.
"We have been big on developing a culture at the club and we want to be a place where blokes want to come and play.
"Not just for the lifestyle but as a footy club that plays finals footy every year. Look at Geelong, teams that are really strong. That's what we are trying to create.
"You have to look at next year and say it's a crunch year for quite a few of us. I can openly say that.
"We are at a point where we have had time to build the list and where players aren't young any more, we have expectations of them to perform next year. We want to play finals next year. It's a given. It's definitely the goal."
Miller says he wants to captain the Suns. Picture: Michael Klein
The captaincy
Miller says when the time is right he will thrust his name forward as a potential captain but he is content to be the club's vice-captain as he helps build leadership depth.
"One hundred per cent I would like to be captain of the Gold Coast Suns," he said.
"At the moment it's not what we need. We have two really strong captains in Jarrod Witts and Dave Swallow and myself and (fellow vice-captain) Sam Collins are helping those two and Stewie and Alex Rigby, our high performance manager.
"We work together to make sure we are on the right path and it's not a matter of who is leading the club, it's collectively getting it done for the playing group.
"One day it might be, but it's not a high priority at the moment."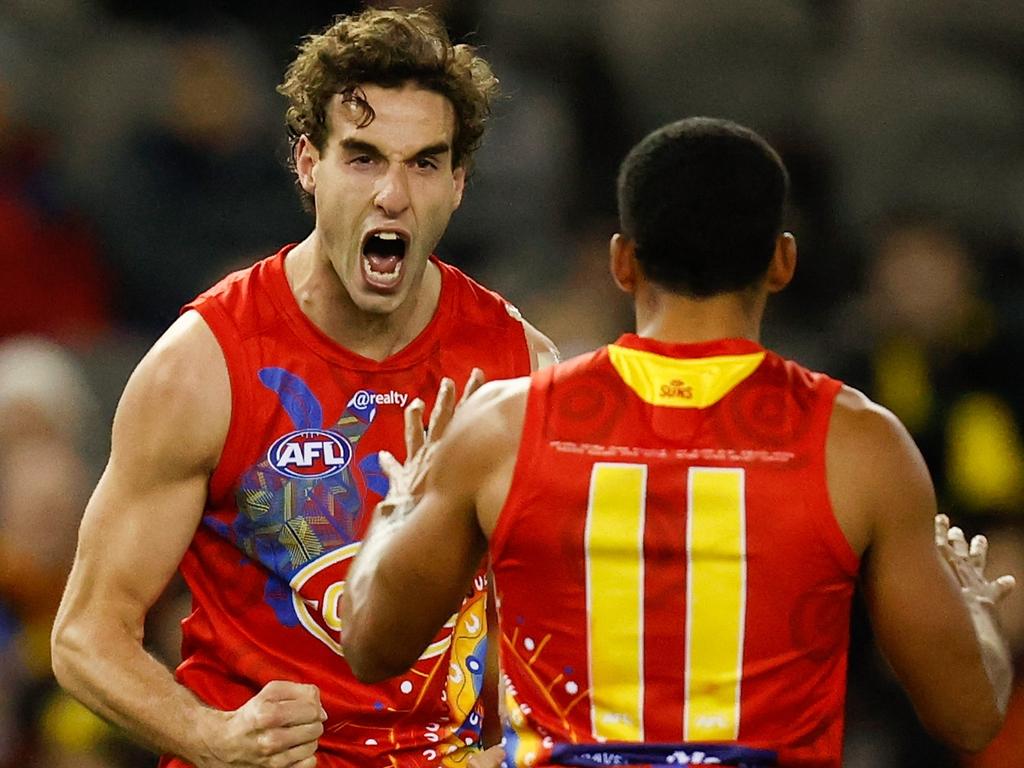 Miller believes young guns like Ben King will stay on the Gold Coast. Picture: AFL Photos/Getty Images
The young guns
Despite external perceptions Miller believes Ben King, Jack Lukosius and Izak Rankine are buying into the culture at the Suns and want to stay past their current deals expiring at the end of 2022.
The Suns are attempting to broker deals over summer with the trio despite massive offers from southern clubs.
"Their names always come up in the media but it's on the back of the culture piece," he said.
"We are trying to build a culture that forces us to retain our players. I truly believe Luko, Izak, Kingy and Charlie Ballard have made strong connections and they want to see success with this team.
"They are happy and excited and enjoy the club and at the moment I definitely believe they want to be here and want team success which is just as important."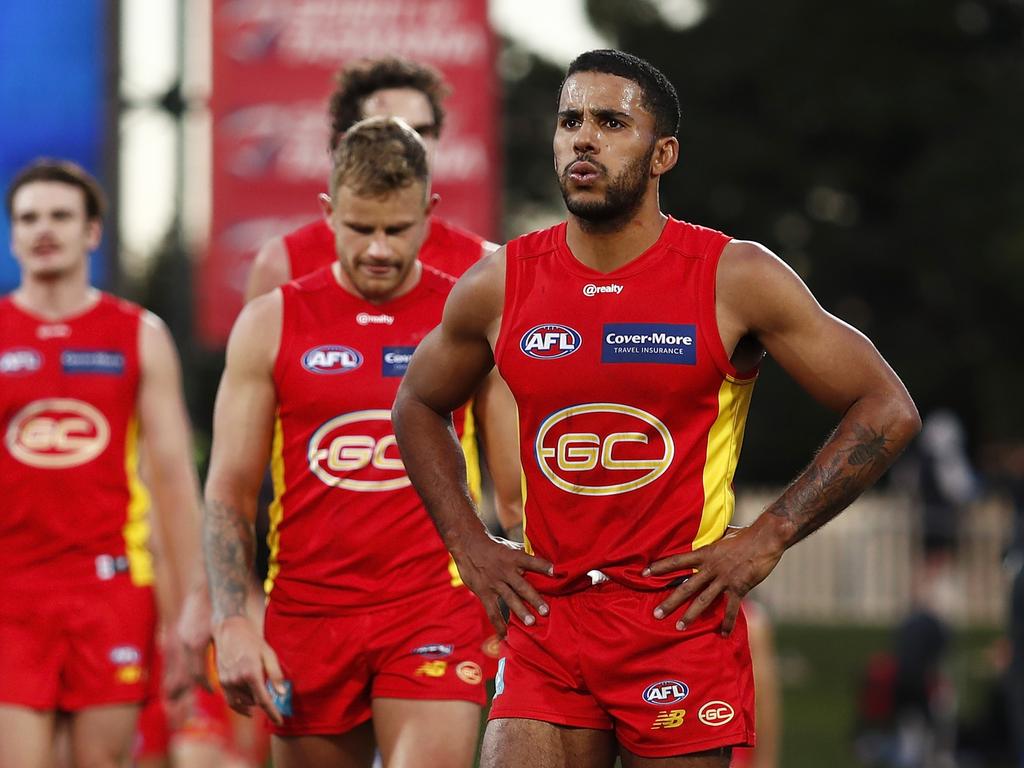 Miller says he has been at "rock bottom" with the Suns, now he wants to taste success. Picture: AFL Photos/Getty Images
Gold Coast's underperforming stars
Miller believes Rory Atkins will bounce back after his torrid first year at the club which saw him regularly out of the senior side.
"He did have a hard run with injury hiccups and it's documented that he didn't come back in the best nick," he said.
"But in reflecting on the year now he needs an off-season where he is really strong and really fit.
"His attitude and mindset are on point and we are going to see massive things from him next season, which is what we need.
"We got him up here to play really strong footy and he can be a game breaker so it's important to have him up and running."
He says Rankine is learning to mix the sublime with the everyday traits that make great footballers.
"You saw at the end of the year he got tired, and if he can get himself mentally prepared and ready to play AFL football that will be really good for us," he said.
"If he can train at a really high standard, he will be such a good player. He can do special things and he also needs to do the basic stuff really well. He is one of those rare talents.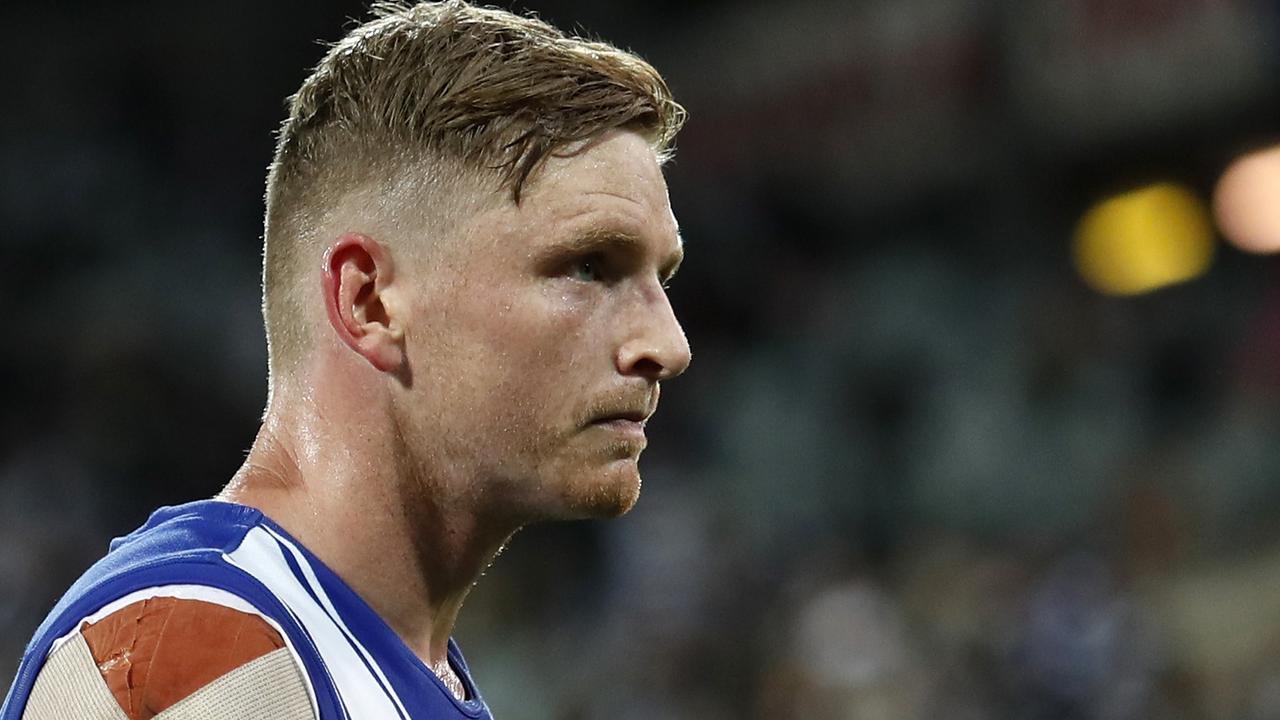 Jack Ziebell is back playing better than ever in his new defensive role and believes the latest young group of Kangaroos can go far.
Ziebell lifts lid on captaincy, coach and his comeback
By Jack Ziebell's own admission he could easily have been spending the months since the 2021 season finding a new job as he proudly reflected on a 13-season career.
As late as the halfway mark of the season the North Melbourne captain was uncontracted in a year of living dangerously, required to prove himself all over again.
Coming off the worst season of his career he was pushed into an unfamiliar position in the backline in a team that would go on to win the wooden spoon.
And while Ziebell's form was strong — and his numbers were impressive — he and the club weren't completely sure what would happen next.
The best players thrive under pressure, and so it is that months later Ziebell could not be in a more comprehensive position of strength.
He roared home to finish third in the best-and-fairest as his one-percenters and fearless acts in the backline shone just as much as his high possession tallies.
Fresh from a new two-year extension, those "what-if" moments about a new career have suddenly been replaced by the ticking off the requirements of captaincy as players flooded into Arden St despite their off-season breaks.
Reassuring Tristan Xerri about his future after an aborted trade, welcoming Richmond's Callum Coleman-Jones, anticipating the arrival of SANFL star Jason Horne-Francis and counselling Jaidyn Stephenson after his off-season mishap.
All the while basking in the glow of the first few months caring for newborn Pippa alongside fiancee Shannie Byrne.
"It's really nice. It's good reward for effort," Ziebell told the Herald Sun of his new two-year extension.
"Thinking back 12 months ago, 2020 was by far my worst year of my career in terms of performance and injuries didn't help that.
"I wasn't thinking of a contract beyond last year at all until probably the second half of last year or even late in the second half of the year. I was focusing on getting fit, then finishing the pre-season and learning a new role so I had a bit on, performance-wise.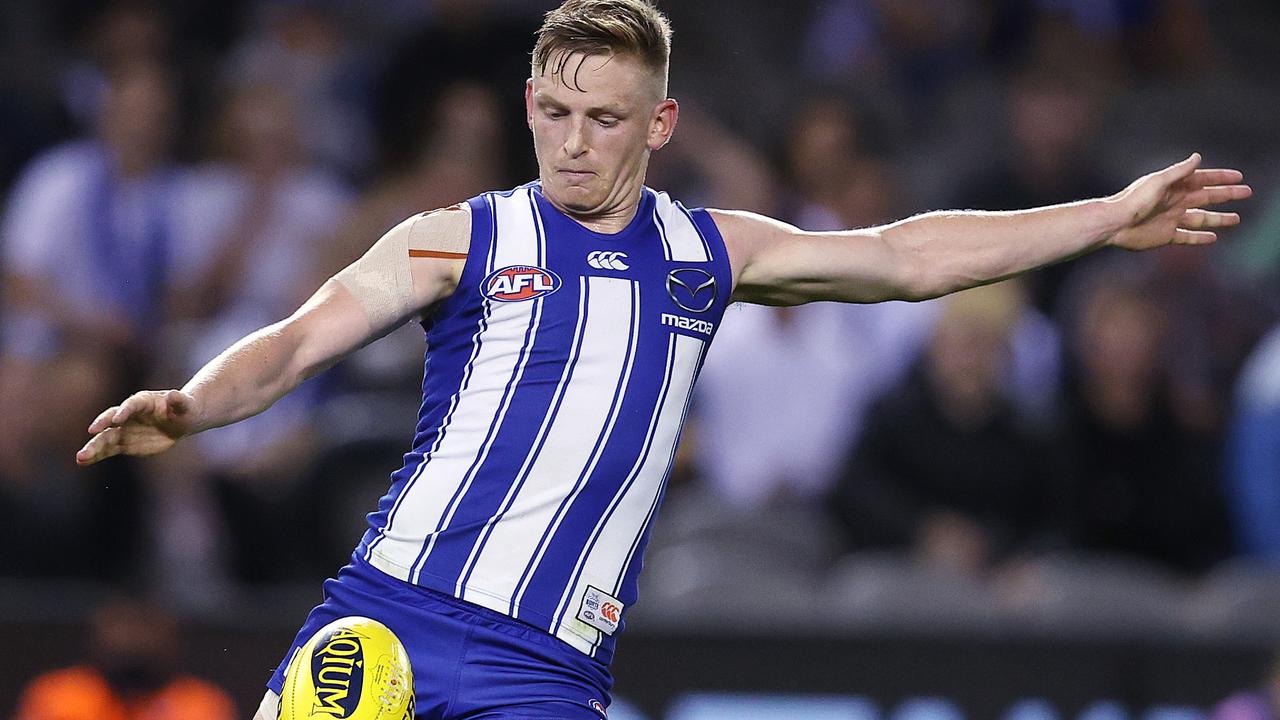 Ziebell says a decision on his captaincy will be made in coming months in consultation with the players and football department.
"I was really happy with my year and to get rewarded with a couple of years was great. I still think there is plenty left in the tank and I think I can have an impact on the ground so I am really excited to get stuck in.
"We were fortunate to have Pippa just before the mid-season break and footy-wise I didn't miss any footy. The back half of the year was challenging with whether we would go into a hub or not but luckily we didn't have to in the end. It's been one of the longest breaks we have had so it's been great to spend quality time with her and she's kept us busy."
Ziebell and fiancee Shannie Byrne.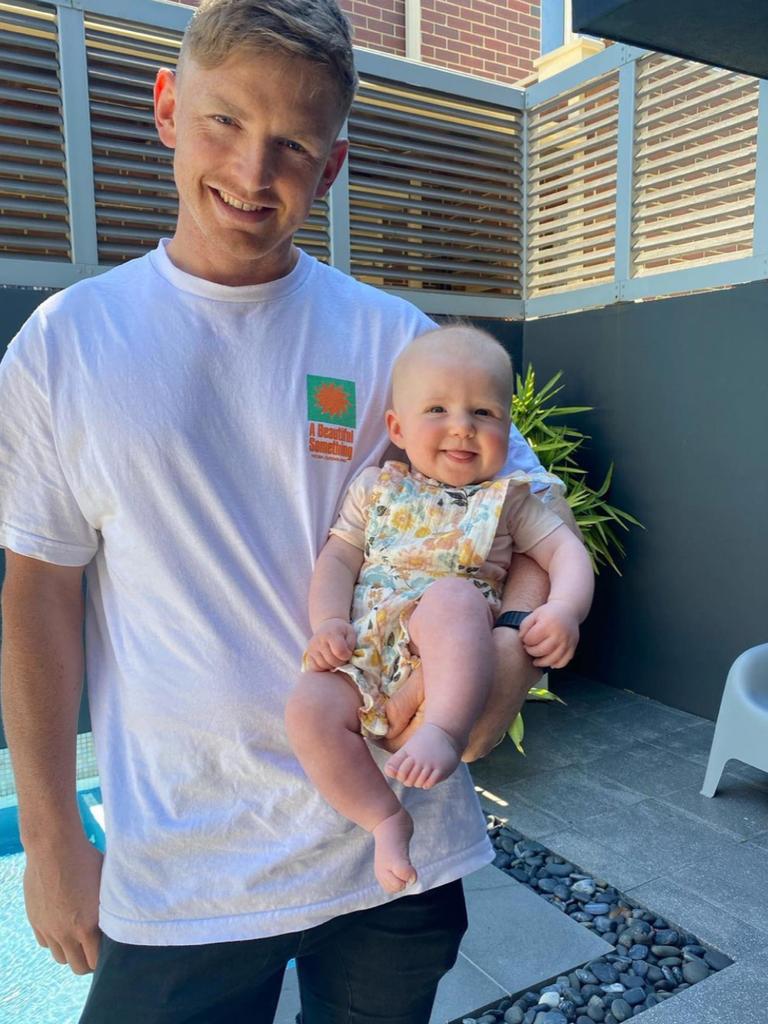 Ziebell with his baby girl Pippa.
Ziebell has been sponsored by Puma for most of his career, so North Melbourne's new four-year deal with the apparel company makes him the perfect frontman to spruik its wares.
The club's new deal will see the jumper return to a more traditional look with a white base and royal blue stripes in a deal announced last week.
"Puma's a great brand. I have been with them for quite a few years, so when you love two things together in the Kangaroos and Puma it's perfect. A nice royal blue through the jumper, it's like the old-school look back in the 1990s," he said.
The coach
It is remarkable to think that only 13 months ago Rhyce Shaw stepped away as senior coach, to be replaced by veteran footy administrator David Noble in a decision made 12 months ago this week.
Ziebell's optimism about the next wave of success at North Melbourne is borne out of the talent — Jy Simpkin, Nick Larkey, Tarryn Thomas, Tom Powell, Cam Zurhaar — but also the club's direction under Noble.
"Our back half of the year was much better due to the fact we actually started to learn the game plan a bit more and we understood what was required from each player in regards to the game plan," Ziebell said.
"Having Nobes come in late in the back half of 2020 into a short pre-season there were always going to be some teething issues but we got more wins in the back half and had a few games where we were thereabouts against really good position. This off-season there have been unbelievable numbers at the club. The guys come in on Monday, Wednesday and Friday at 9am and it's not unusual to have 15 to 25 guys there.
"To win a premiership at AFL level you have to score and Nobes has made that very clear. He aspires to coach a high-scoring offence and he has the tools to do that.
"We have plenty of talent across the list and they understand what is expected of them in the game plan and the coaches have been unwavering in their direction.
"He has flipped the way you would normally coach having come from senior management but we are so rapt he's the coach of the North Melbourne footy club."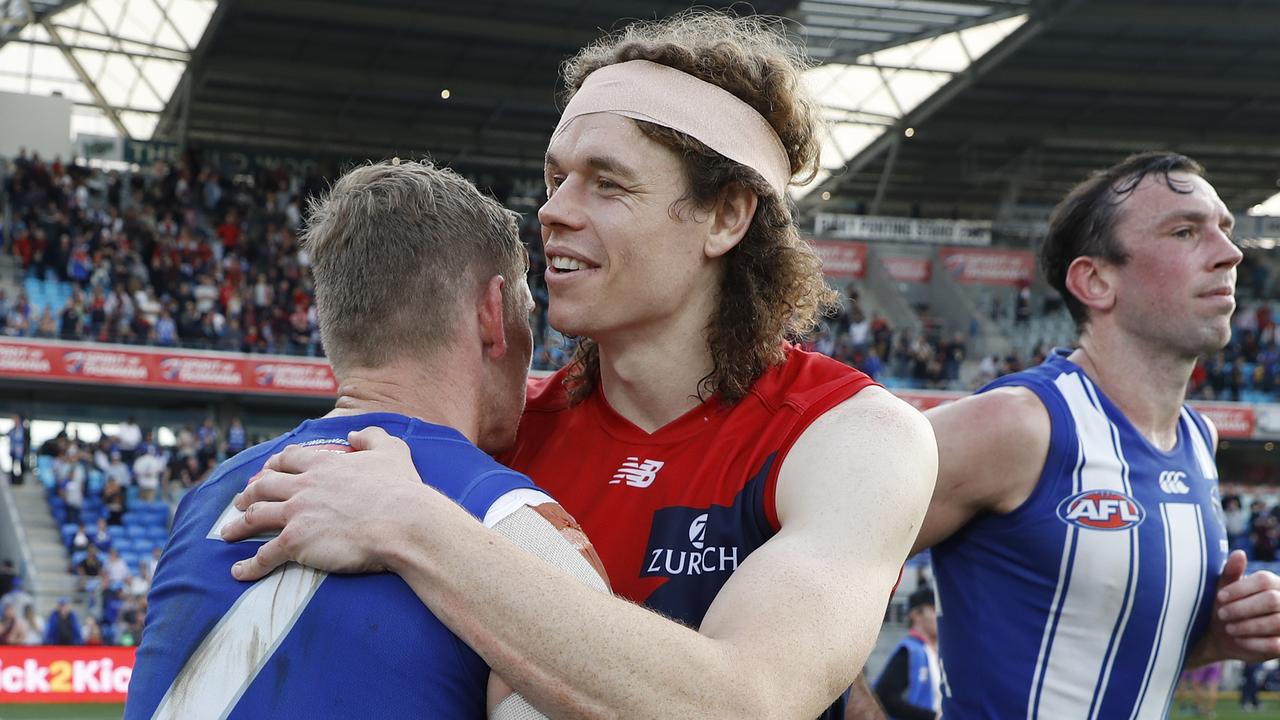 Ziebell shakes hands with Ben Brown last season, who the club traded at the end of 2020.
List changes
North Melbourne is about to land the best young kid in the land (Jason Horne-Francis), poached young ruck-forward Coleman-Jones from a team in the middle of a dynasty and kept back-up ruckman Tristan Xerri after demanding a second-round pick from St Kilda.
All of it shows the huge potential on North Melbourne's list.
But for Ziebell, losing his best mate Robbie Tarrant to Richmond after the Roos hesitated on his contract surely must rankle.
"It's disappointing, but in saying that I understand it completely from both sides. I love the footy club and I love Robbie. He's my best mate," Ziebell says.
"It's disappointing to know we won't play together again but I respect why he's done it.
"He's been an unbelievable servant of our footy club and Richmond are lucky they are getting a bloody good egg and now it's important we develop some young key defenders.
"I think for Rob it was that Richmond believe they can get the best out of him and North did too and he made his decision and it's probably for him to say and not me. I won't say too much more than that, it's for him to discuss."
Some of Xerri's VFL ruck work was brilliant — reminiscent of a young Todd Goldstein — despite modest AFL output in his eight games last season.
Ziebell says instead of dropping his bottom lip he could scarcely have done more to put himself in a position to play more AFL football next year.
"The reason why we put a price on his head is the last 12 months we have seen really big improvements in his game. Some of the VFL games this year, he just took them apart. He has been one of the players who has been into the club every single day and he's fit as a fiddle and in career best shape, which is awesome. No doubt he has a point to prove and wants to put himself in the frame to play Round 1," he said.
"He is really positive (about the aborted trade). He said this is a great club and the reason he wanted to leave wasn't because he didn't like the club. So I just reiterated: "We love you, we love playing with you, can't wait to play with you again". Job done."
Ziebell hopes Xerri and Callum Coleman-Jones will drive Todd Goldstein to greater heights in a two-ruck team, even if the 33-year-old has customarily thrived on huge game time.
"(To secure) Coleman-Jones shows he has got faith in our direction as well. We were thrilled to get him across and to learn his craft from Todd Goldstein and play in the ruck and forward line for many years to come."
South Australian wunderkind Horne-Francis will be a North Melbourne player by Wednesday week and is poised to explode into the 2022 season as the No. 1 overall pick.
"I have seen a couple of highlights. It's very exciting. I won't comment too much until it's made official but he looks like a ripper and hopefully the boys pick him."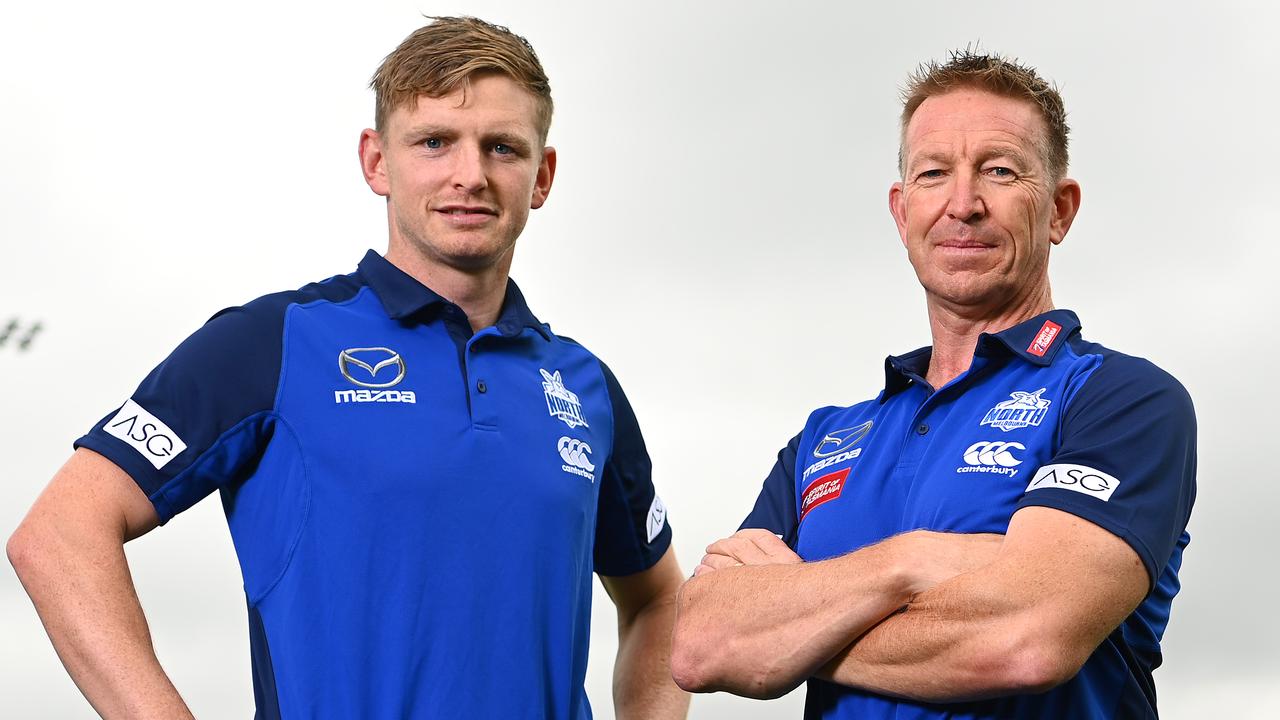 Building a strong foundation: Ziebell with Kangaroos coach David Noble at Arden Street.
The captaincy
Ziebell is ready to hand over the captaincy whenever the time is right but one view within Arden St is that the club might be well served by him holding the mantle for one more season.
Luke McDonald won the 2020 best-and-fairest but his season was ruined by a torn pectoral muscle, with Jy Simpkin the obvious contender from the next generation but perhaps better placed with one more year under his belt.
"I will do whatever is best for the team," says Ziebell of a decision that will be made in coming months in consultation with the players and football department.
"If that is handing over the captaincy, I am all for it. I want to put the club in the best position to win games of footy. If I am the captain again next year I love doing it. It's a great role and something I cherish and love doing.
"If you look at the names who have done it before I don't take it lightly but I understand the next crop of leaders need to come through so the club is working to fast-track their development and when they are ready to take over I will be there for them.
"It's a conversation to be had with the invested parties and we will resolve it to make sure it's the best thing for the footy club and then all get behind it."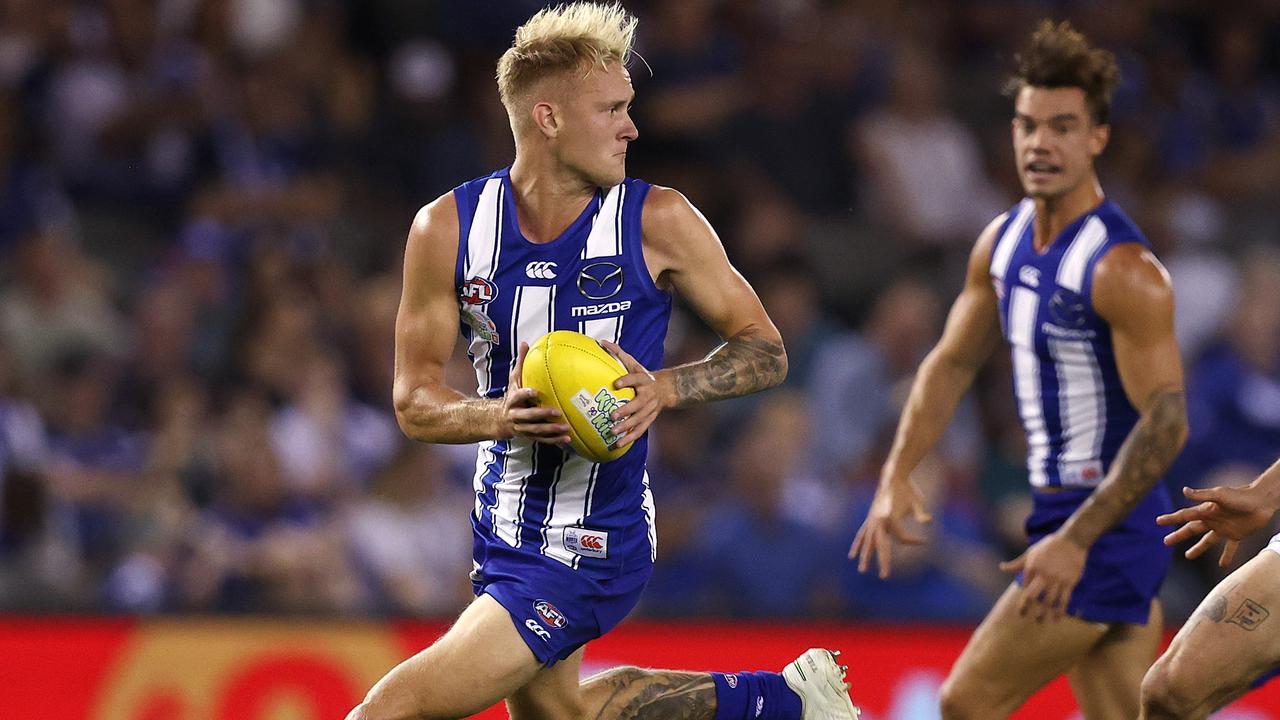 Jaidyn Stephenson will return to full training after Christmas. Picture: Michael Klein
Is Stephenson on last chance after bike bingle?
North Melbourne captain Jack Ziebell has backed Jaidyn Stephenson to quickly learn from the mistake that saw him fracture his hip in a bizarre mountain-bike prank gone wrong.
Stephenson likely won't join in full training until after Christmas after the August incident that saw him tumble from his bike onto a concrete paver while drinking with mates in his backyard.
Stephenson is finally back running on an anti-gravity AlterG treadmill, but will slowly progress his rehab in coming months after narrowly avoiding surgery.
Despite the nature of the incident, Ziebell told the Herald Sun he would back Stephenson to learn from the mistake and mature into the player the Roos need him to be.
He said Stephenson had shown in his 19-game first season he had massive potential and now needed to introduce consistency to his game.
"He's not going to be quite ready to go by the start of pre-season. He has been moving well, he's walking well and running on the AlterG and his rehab is progressing well. Ideally, the situation doesn't occur, but we understand young men make mistakes. He's made a mistake and I am sure he's learnt from it," Ziebell said.
"It wouldn't be very nice to go through it in the public eye like he had to. But he is a good character and a good guy and he's helped our club in the 12 months he's been there, so our support will be unwavering and we look forward to having him at his best."
Asked if his message was that Stephenson could make one big mistake but not a second one, Ziebell replied: "Yeah, I suppose you could say that. But everyone makes mistakes, so for us it's about learning from them.
"You could see in games late in the year, over against West Coast (in a 10-point Perth Stadium victory) he had 38 touches, kicked a crucial goal. He was unbelievable. So, his challenge as a player is to be consistently in the game. If we can get that out of him he will be bloody hard to stop, so teams will be very wary of him."
Roos chief executive Ben Amarfio confirmed in September the club's disappointment at Stephenson's actions, but said he had dodged the need for surgery.
"We are disappointed because it was a real lack of judgment that landed him (Stephenson) in this spot, but the good news is it's a small fracture that doesn't need an operation, so he's dodged a worse outcome there," he said.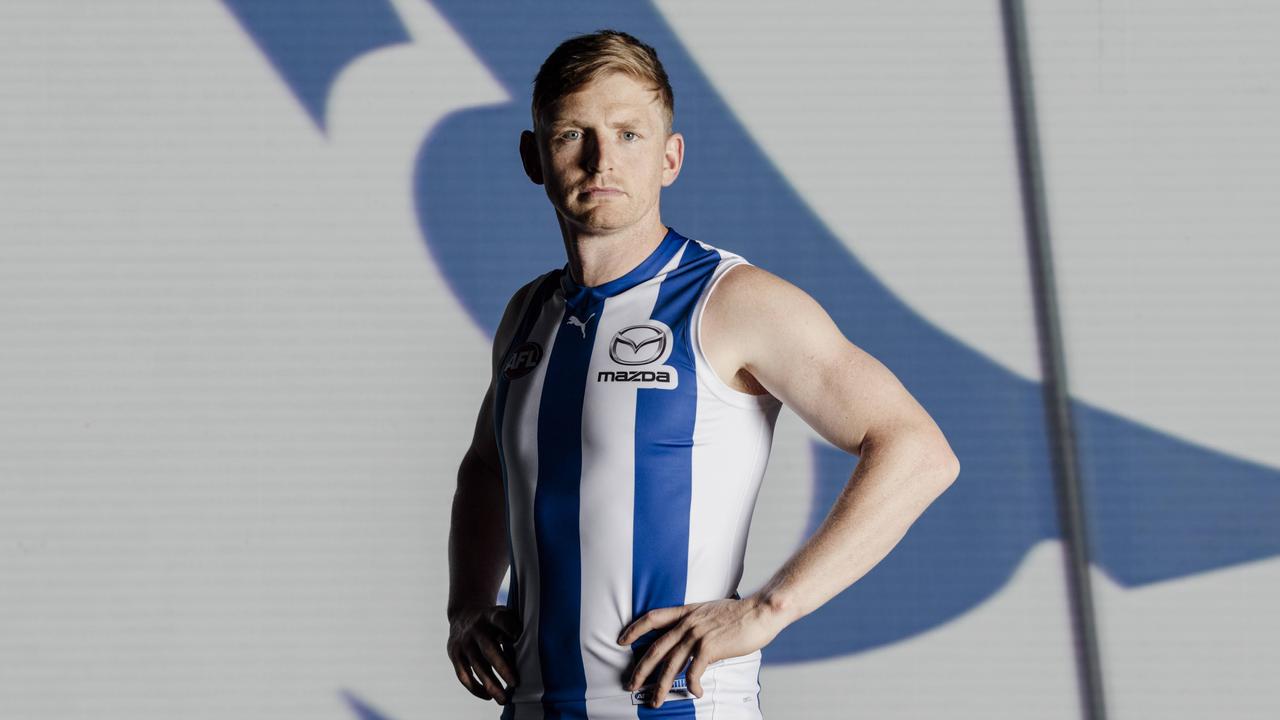 Jack Ziebell in North Melbourne's new 2022 home jumper.
Meanwhile, the Roos will hope to get a full season out of key-position defender Aidan Corr after foot problems ruined his first year at the club, while classy No. 35 draft pick Flynn Perez will return after a second ACL tear last pre-season.
Key forward Charlie Comben and mid-season draft No. 1 overall pick Jake Edwards will also hope to put together big summers.
"Jake Edwards is a massive unit, but he's very raw, so for him to play a couple of VFL games you could just tell he had talent, and Charlie got reward for effort making his debut, then he broke his collarbone at training the next week, so he will be champing at the bit to be fit and play a lot of footy," Ziebell said.