Umpire explainer: Veteran umpire Dean Margetts on how to fix umpire abuse issues
AFL life member and former umpire Dean Margetts has seen and heard it all. Including vile, disturbing abuse no one ever should, as he reflects on life with the whistle and how it can be improved.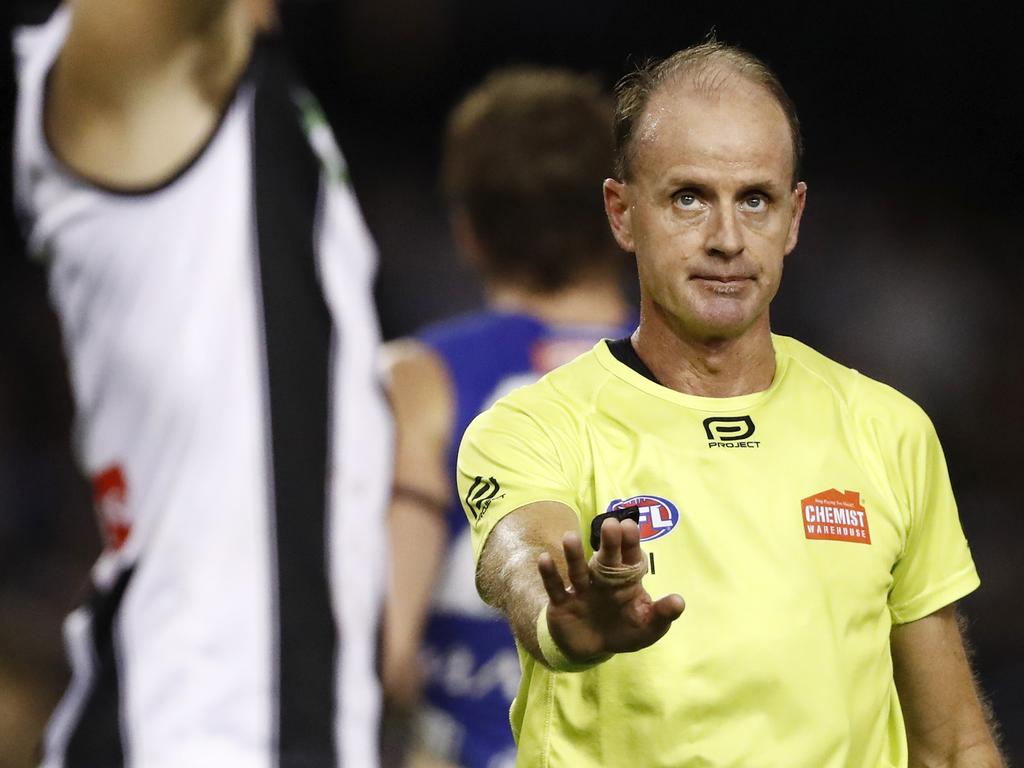 Dean Margetts hopes the AFL can work towards increased communication between players and umpires. Picture: Dylan Burns/AFL Photos via Getty Images
"Mate, you are the most one sided umpire ever, go back to f—king umpiring junior footy. You're so bad and you should be ashamed of yourself.
"Go to Specsavers you f—king blind f–k."
"Dead set mate, you're a flog. You're a cheating f—king dog mate. You are a cheating prick. You are a disgrace to your family and I have no doubt you will burn in hell for your lack of professionalism and arrogance. Up yours."
"Hope you get glassed next time you umpire Optus, you scumbag."
Dean Margetts, umpire of 377 AFL games and AFL life member, has just about seen and heard it all in footy from an umpire's perspective. Including plenty that no one ever should, let alone for just doing their job.
"I've had death threats left in my letterbox," Margetts says to complement the vile abuse he has shared above.
"I had to get the AFL integrity department to put a camera on my letterbox for a week or two.
"[But] my past five years, I've never seen it as bad as it got to."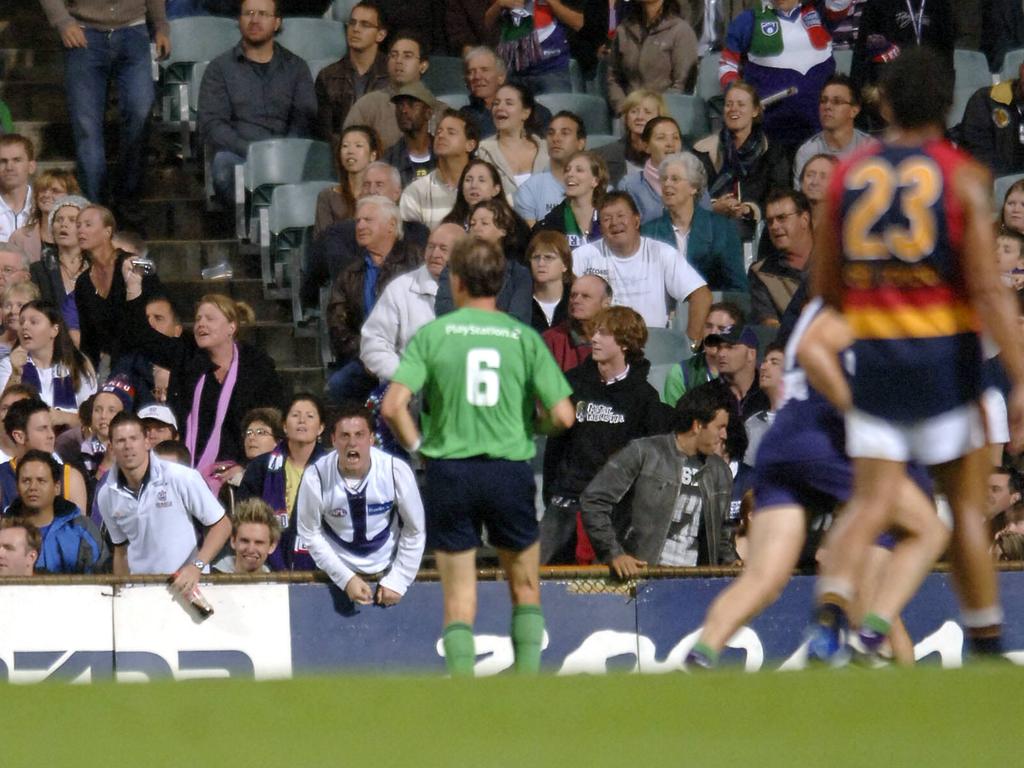 Dean Margetts believes disrespect and abuse of umpires is as bad as it's ever been in the last five years. Picture: Jackson Flindell/NCA
"I accept my role in the game, I've probably been the face of footy in WA [as an umpire] for probably the last 15 years. That's just part of it. But I think when it goes to that point, when your family starts to get affected and your parents, that's a bit untidy."
Although player dissent has been the flavour of the month, Margetts thinks the player-umpire relationship is "as good as it's ever been, to be honest."
"That's all on the back of the club visits we have and the rapport we build. Players really respect the role that we have and understand how hard our job is."
Umpires are an incredibly important part of the game and they usually just love their footy, just like the rest of us.
They are human and they make mistakes, mistakes that are no different to those made by players. But quite often they are misunderstood.
For a long time, there has seemingly been a lack of transparency with umpiring decisions and the access the media or public has to them.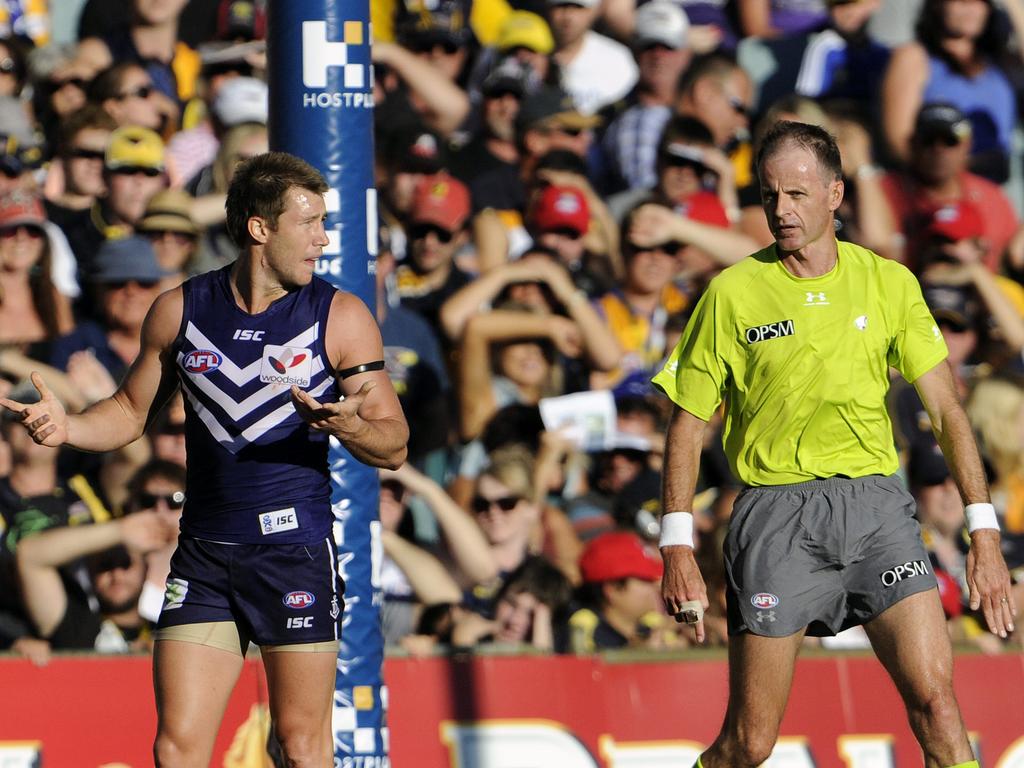 Margetts believes that umpires are often misunderstood by both players and fans. Picture: Daniel Wilkins/NCA
Margetts would have liked to be made more available to talk about his performance on the weekend during his umpiring career, just like the players and coaches are.
"It's one thing I always would have liked to have done postgame," Margetts says.
"'Hey, Dean, what was that free kick for?' And I think people would appreciate the humanising of a decision if we just explained it.
"'You know what, I got that one wrong'. And people go, 'Wow, honesty'. I don't know why the AFL doesn't do that."
It takes strong character to be an AFL umpire. Putting aside the abuse on and off the field, a good umpire must be able to show conviction in their decision making and actions at all times.
"Courage and composure are the two we talked about – the C factor," Margetts says.
"It takes courage to be an umpire. It takes courage to put on the green shirt, to go out and do any game of footy. It takes courage to pay that free kick in the goalsquare where you know you've got to pay it and the scores are tied. That's courage.
"And it takes composure to keep your mind calm when the players are at you [and] the crowd is at you. You've just got to be balanced. Because when you become engaged with players in a flighty way, I think you can start to lose your mind a bit there."
Margetts would like increased communication with players, in the appropriate setting. Picture: Julian Smith/AAP Image
Umpires and players aren't too dissimilar when you think about it. They complete a pre-season, work in a team, battle for selection, are extremely fit, deal with injuries and travel and ply their trade in the public spotlight – the players just don't have a whistle to blow.
But because of the lack of transparency, there can sometimes be a notion that umpires do as they please, with no accountability or structure.
"Anybody that thinks umpires are unaccountable are kidding themselves," Margetts says. "We've got 34 umpires on the AFL panel, and every one of them wants to do the AFL Grand Final. So how do we get 34 into three? Assessment, bouncing, management, skills, commentary, everything.
"I missed the 2015 Grand Final. It was a West Coast-North Melbourne prelim at [Subiaco], Luke Shuey went to take a ball and he took out the knees of one of the Swallow boys. I went to blow my whistle, but called play on instead.
"And that split-second probably cost me an AFL Grand Final. It was such a significant error. That's something that'll sit in the back of my mind forever."
Margetts narrowly missed out on umpiring the 2015 grand final between the Hawks and Eagles. Picture: Michael Willson/AFL Media
Umpires experience nerves and anxiety like anyone else. And they have first game memories just like players.
"I certainly remember my first game. West Coast versus Brisbane, round five 2002," Margetts says.
"It's the best bounce that I've ever done. It was just the perfect spin, the height, I mean I've never done a better one since. So that was the perfect moment.
"I remember having that ball for a split second before the siren went and all that adrenaline was coursing through your body. You look to your left and I had (Ben) Cousins, (Daniel) Kerr and (Chris) Judd. And over there I had (Michael) Voss, (Simon) Black and (Jason) Akermanis.
"I think, 'Oh my God, what am I doing here? These are the game's elite players,' and I almost felt like I didn't deserve to be out there with them."
For the footy fan inside every umpire, their front-row seats to some of the game's iconic moments are treasured as you would expect.
For Margetts, 2016 and a Hawks-Cats semi-final stands large in the memory.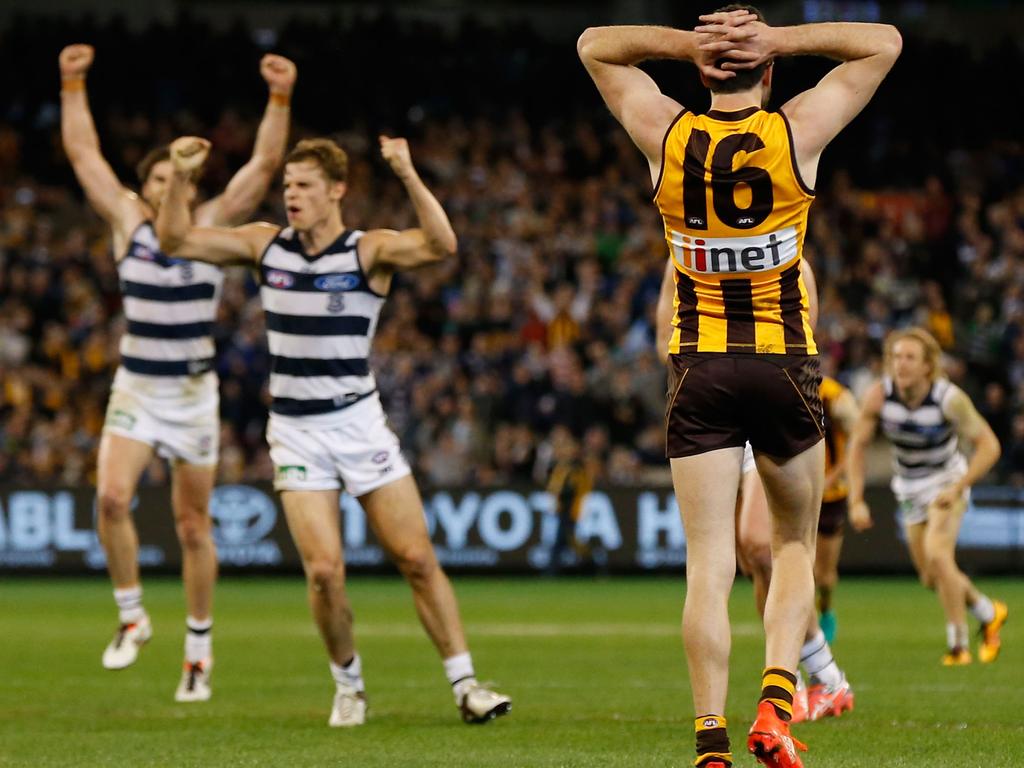 The 2016 semi-final between the Cats and Hawks was a standout game in Margetts' long career.
In typical fashion, the game was a nail biter, Geelong in front by three points. With Hawthorn transitioning the ball up the ground with 20 seconds remaining, Isaac Smith took a mark inside 50 for the Hawks, 35 metres out on a 45 degree angle.
The siren sounded.
Smith is a good set shot goal, he'd probably kicked this one 1000 times in training. But not with this kind of pressure.
Margetts was right there, within earshot.
"I remember Sam Mitchell saying, 'Isaac, don't f —k this up for us, there is a grand final on this', and Smith just laughed."
"I couldn't believe how relaxed these guys were, with the season on the line."
It proved Mitchell's last ever game with the Hawks. Smith missed, their season over.
So when you're at the footy this weekend or next, cheer loudly and support your team, get emotional too, because that's what footy is all about.
But keep in mind umpires are human too, they love their footy like everyone else. And without them, there'd be no game.