Vic Metro v Vic Country Under-18 trial matches: All the Supercoach scores from the two hit contests
There were some stunning performances in the two trial matches between Vic Metro and Vic Country — check out all the Supercoach scores and full stats from the standout players.
St Kilda Next Generation Academy product Cam MacKenzie has continued his rapid rise up AFL club draft boards with a standout performance in a trial match for Vic Metro.
MacKenzie was in everything in the first match between Vic Metro and Vic Country at Werribee on Sunday, racking up disposals and clearances at will through the midfield.
Watch every blockbuster AFL match this weekend Live & Ad-Break Free In-Play on Kayo. New to Kayo? Try 14-Days Free Now >
The 187cm onballer showed good speed and a willingness to take the game on and break the lines, as well as a clean pair of hands both above his head and below his knees.
He also floated forward to kick one goal in the opening quarter.
Hailing from the Sandringham Dragons, MacKenzie started the NAB League season in sizzling fashion and has gone on to impress in school football with Brighton Grammar.
"He's one that we just didn't quite know where he sat at the start of pre-season and turned into a really strong midfield player and he's taken that level to school football too at Brighton," Dragons talent manager Mark Wheeler told News Corp last week.
"He's a first-round pick now. We don't say that too much, but we think that's where he's tracking. He's damaging with the ball now and he's starting to show his body strength and his footy now."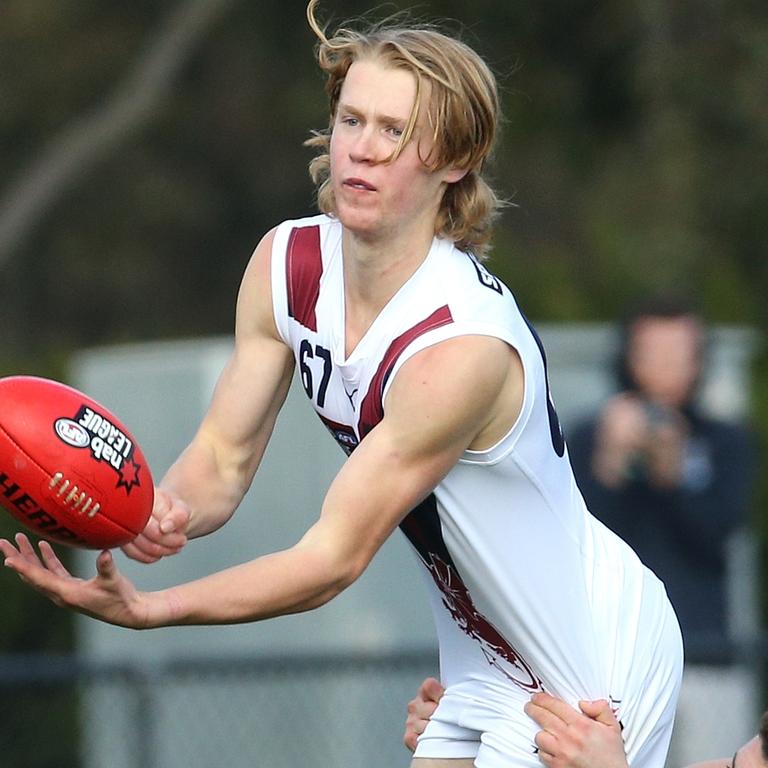 Cam MacKenzie pictured in action for Sandringham last season.
MacKenzie's rise is bad news for the Saints, who will be unable to match a bid on the 18-year-old if he falls within the top 40 protected picks on draft night later.
Another Dragons' bolter – Charlie Clark – also put his hand up for a spot in the final Vic Metro squad for the AFL under-18 national championships in the same game.
Clark, who kicked seven goals against Tasmania in just his 4th NAB League match this year, spent time as a half-forward and through the midfield for Vic Metro.
Standing 182cm, Clark has good breakaway speed from the contest and classy foots skills.
He booted two second-half goals.
"His energy around the ball as is probably AFL-like, VFL-like at this stage as well," Wheeler said.
"If someone's looking for very defensive small forward, I wouldn't be looking too far past him. He's one we're pretty happy with at the moment."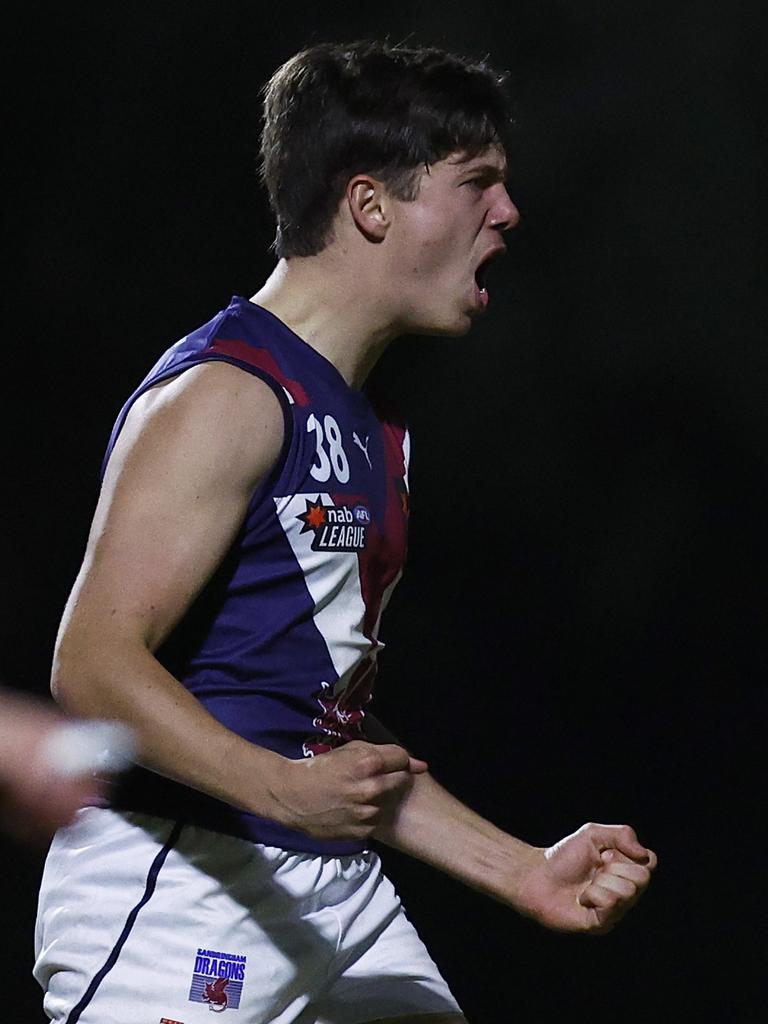 Toby McMullin impressed up forward.
Gippsland Power forward Archer Reid saw his stocks rise with a big game for Vic Country during the first trial match.
The brother of developing Essendon defender Zach Reid, the 201cm key forward booted three goals and took some big contested marks.
A mobile and athletic big man, he worked hard up the ground and produced some strong leads.
Making the performance even more impressive, Reid is a bottom-age player who is not draft eligible until next year.
Sandringham Dragons forward Toby McMullin — who hails from Port Fairy but is boarding at Melbourne Grammar — also kicked three goals for Vic Country, playing a key role in the forward line alongside Reid.
AFL Academy member Luke Teal was another standout for Vic Metro in defence across the backline.
The second trial match was dominated by a pair of small forwards in Nick Watson and Jacob Konstanty, who each booted four goals.
From the Gippsland Power, Konstanty kicked some brilliant goals for Vic Country, including two in the space of just a few minutes during the third quarter.
An Eastern Ranges product, Watson is another bottom-age player who is not eligible until the 2023 draft but stamped himself as a top player to watch for next year with his performance.
The small forward is a difficult match up and a good mark for his size at just 169cm, while also having a freakish goal sense.
Essendon father-son product Alwyn Davey also featured for Vic Metro in the second game, playing primarily through the midfield.
The son of former Bomber Alwyn Davey, the classy Oakleigh Chargers product showed some good skills and line-breaking ability, while also being involved in some score assists as he hit up teammates on the lead inside-50 on multiple occasions.
STATS STARS
GAME 1 – VIC METRO 15.10 (100) d VIC COUNTRY 9.10 (64)
VIC METRO
Cam Mackenzie – 32 disposals, 6 marks, 8 clearances, 6 inside 50s, 1 goal
Charlie Clarke – 28 disposals, 4 marks, 3 clearances, 6 inside 50s, 1 goal
Patrick Dozzi – 28 disposals, 6 marks, 5 clearances, 5 inside 50s, 1 goal
Jonathan Tomasiello – 26 disposals, 6 marks, 7 clearances, 5 inside 50s, 1 goal
Blake Drury – 23 disposals, 6 marks, 2 clearances, 3 inside 50s, 1 goal
Jaelen Pavlidis – 23 disposals, 4 marks, 2 clearances, 4 inside 50s, 1 goal
VIC COUNTRY
Jack O'Sullivan – 28 disposals, 3 marks, 5 clearances, 3 inside 50s, 1 goal
Sam Frangalas – 25 disposals, 6 marks, 1 clearance, 1 inside 50
Hugo Nosiara – 22 disposals, 4 marks, 2 clearances, 3 inside 50s
Archer Reid – 15 disposals, 12 marks, 5 inside-50s, 3 goals
Toby McMullin – 7 disposals, 1 mark, 1 inside-50, 3 goals
SUPERCOACH SCORES
VIC METRO
162 – Charlie Clarke
140 – Patrick Dozzi
138 – Cam Mackenzie
132 – Jonathan Tomasiello
129 – Blake Drury
122 – Luke Teal
92 – Jaelen Pavlidis
90 – Yu Ashwin
84 – Nathan Philactides
78 – Lewis Hayes
73 – Cameron Kizan
71 – Will Brown
70 – Matthew Jefferson
68 – Matthew Payne
57 – Cameron Nyko
44 – Jason McCormick
38 – Mitchell Rowe
37 – Will Green
36 – Riley Weatherill
32 – Ben Moyle
26 – Jackson McMenamin
20 – Iliro Smit
VIC COUNTRY
120 – Jack O'Sullivan
114 – Arhcer Reid
100 – Luamon Lual
98 – Cooper Hayes
89 – Coby Burgiel
81 – Toby McMullin
74 – Max Knobel
71 – Oscar Murdoch
71 – Hugo Nosiara
67 – Sam Frangalas
67 – Caleb Mitchell
67 – Jai McGough
57 – Thomas Cappellari
54 – Will Parkhouse
51 – Hugh Bond
48 – Max Clohesy
45 – Lachlan Smith
43 – Felix Fogarty
38 – Osca Riccardi
37 – Sam Latreille
34 – Noah Long
31 – Max Dow
30 – Jed Brereton
5 – Owen Williams
GAME 2 – VIC METRO 14.11 (95) d VIC COUNTRY 13.12 (90)
VIC METRO
Callum Verrell – 29 disposals, 13 marks, 1 clearance, 8 rebound 50s
Alwyn Davey Jnr – 25 disposals, 4 marks, 5 clearances, 5 inside 50s
Jed Rule – 23 disposals, 10 marks, 4 rebound 50s
Paul Pascu – 22 disposals, 4 marks, 3 clearances, 5 rebound 50s
Josh Weddle – 22 disposals, 11 marks, 5 rebound 50s
Nick Watson – 13 disposals, 2 marks, 3 clearances, 4 goals
VIC COUNTRY
Jonti Schuback – 28 disposals, 2 marks, 1 clearance, 5 inside 50s
Zane Duursma – 25 disposals, 8 marks, 5 clearances, 7 inside 50s, 2 goals
Ted Clohesy – 22 disposals, 2 marks, 4 clearances, 4 inside-50s, 1 goal
Taj Campbell-Farrell – 21 disposals, 3 marks, 7 clearances, 2 inside 50s
Jacob Konstanty – 19 disposals, 4 marks, 4 inside 50s, 4 goals
SUPERCOACH SCORES
VIC METRO
135 – Callum Verrell
117 – Nick Watson
111 – Alwyn Davey Jnr
104 – Oli Hotton
103 – Josh Bennetts
103 – Josh Weddle
99 – Nate Caddy
99 – Paul Pascu
96 – Jed Rule
84 – Oliver Badr
78 – Lachlan Reidy
75 – Hudson O'Keefe
74 – Kai Windsor
66 – Logan Morris
62 – Mahmoud Taha
60 – Jamie Hope
58 – Jovan Petric
45 – Jerome Lawrence
42 – Sam Grant
28 – Dane Harvey
27 – Anthony Caminiti
25 – Ben Hempel
8 – Jye Peacock
VIC COUNTRY
154 – Jacob Konstanty
126 – Zane Duursma
104 – Jonti Schuback
95 – Ted Clohesy
94 – Taj Campbell-Farrell
92 – Charlie Barnett
88 – Cooper Vickery
70 – Rhys Galvin
65 – Jaxon Binns
64 – Nick Collier
64 – Solly McKay
54 – Malik Gordon
54 – Finn Emile-Brennan
53 – Coby James
50 – Joe Pike
49 – Tadhg Evans
49 – Harvey Howe
47 – Michael Kiraly
43 – Joshua Tweedale
42 – Eli Pearce
40 – Hamish Pieson
36 – Aahtyn Atkinson
35 – Darcy Wilson
21 – Cooper Simpson
14 – Ned Moodie
Originally published as Vic Metro v Vic Country Under-18 trial matches: All the Supercoach scores from the two hit contests