AFL 2022: Shinboner legends invited back to North Melbourne by CEO Ben Amarfio
North Melbourne's CEO has extended an invitation to 'Shinboner greats' who have criticised the embattled club in recent days.
Chief executive Ben Amarfio fronted media on Thursday morning in a surprise addition to a planned press conference with coach David Noble, and affirmed that the club is "united" and "staff are happy" despite suggestions that one member of the recruiting staff left with an overwhelming sense of a lack of support.
Carey said on Wednesday that the club needed to face up to its issues and that he had never seen the club at a lower point "since I've known it", prompting Amarfio to declare an open invitation to all former greats who want to render assistance.
"We've seen those comments, and whether it's Wayne Carey or whoever, we say, 'listen, you're great Shinboners, we love you, come into the club and be part of the solution and help us through it'," Amarfio said.
"That invitation is there and we'd love to see them down at the club.
"Wayne Carey is our greatest player. If Wayne Carey is making an offer to this club, we would gladly accept it.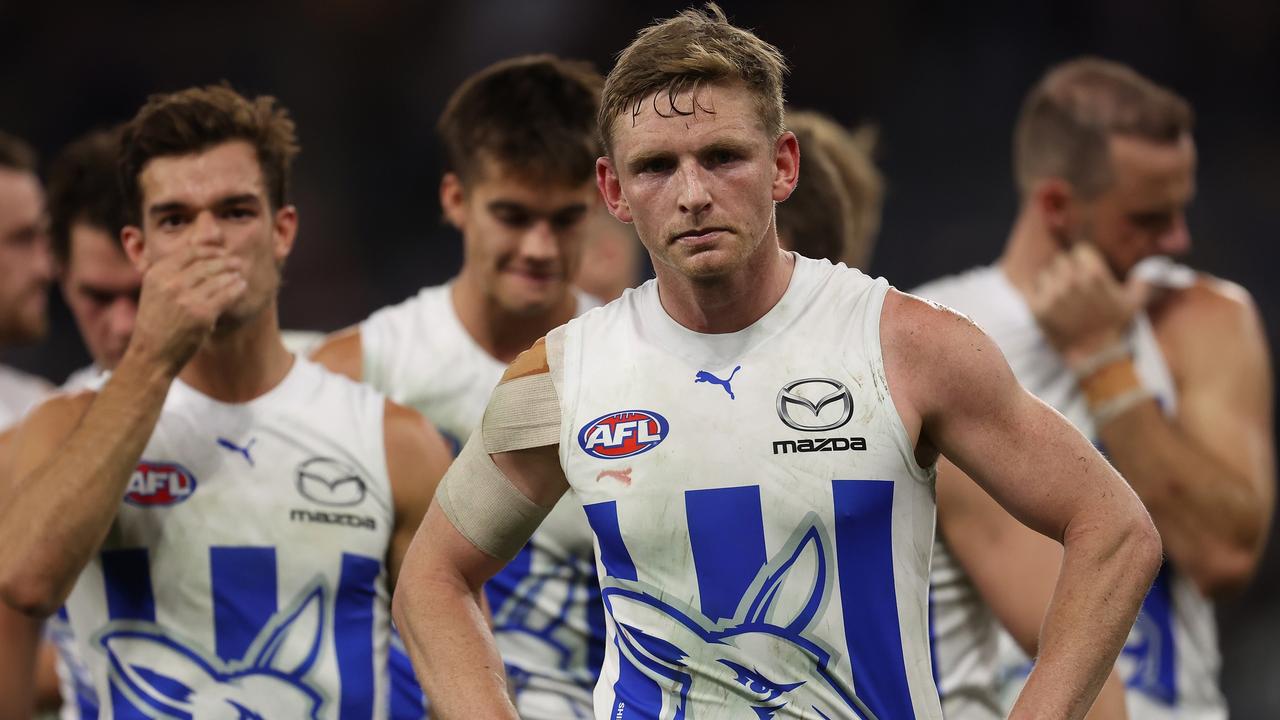 Jack Ziebell leads North off after one of its nine losses this year.
"I got a call from Corey McKernan this morning — same thing. I said 'Corey, whether it's you, Kingy (David King), whether it's Wayne Carey … all of you are always welcome here'. This is their club. We wouldn't be here if not for them. They built this club.
"We'd gratefully accept that and would love to have them here.'
Amarfio – who declared Noble is "our man" to lead the team despite commentary surrounding the likes of Alastair Clarkson and former player Adam Simpson — said the club remains "absolutely" frustrated at their current on-field situation, with the team 1-9 and having suffered a number of heavy losses so far this season.
He addressed all staff members as part of a strategy day on Wednesday.
"Are we frustrated? Absolutely," he said.
"Would we like to be a little bit more competitive and would we like our loss margins to be smaller? Absolutely. But we're not surprised that we're in the position that we're in, because this has been the journey that other clubs that have gone through a similar path."
He said "we knew it was going to be tough and we're taking the blows".
"We get it."
Ben Amarfio and David Noble prepare to front the media on Thursday.
In the wide-ranging press conference, Amarfio also addressed:
THREE MEMBERS OF THE RECRUITING TEAM LEAVING
It's not ideal, obviously. You don't want to lose three recruiters at this time of year. But the work for the mid-season draft has been done in the past few months. We know that we've got five or six blokes that we're really keen on … those names have been presented to the board two weeks ago. All the work's already done.
We've still got Brady Rawlings and Scott Clayton. Rawlings … helped build that (West Coast) list that won a flag. We're comfortable that those two, with extra support, will be fine as we lead in for the next few months.
ON WHY GLENN LUFF POTENTIALLY FELT UNSUPPORTED
That's a question for Glenn. Could I, the management team, could Brady (Rawlings), could the club be better? We could always be better in so many areas. We're not putting our head in the sand saying 'it's not us, it's him'. We strive to be better every day.
I've spoken to Mark and spoken to Luffy. I'm not going to divulge private conversations.
We were surprised (by Glenn's departure). Would we like to keep him? Yes, we would. I made that clear to Glenn when we chatted. The door is open. If Glenn wants to have some time, have a bit of a spell, the door is open and the job is there and we'd love to have him.
THE PROGRESS OF THE REBUILD
Since that time (of aiming for top four two years ago), we've gone through a rebuild. In terms of where we thought where we would be at as a club, having looked at other rebuilds – successful rebuilds – this is what we expected. Are we frustrated? Absolutely. Would we like to be a little bit more competitive and would we like our loss margins to be smaller? Absolutely. But we're not surprised that we're in the position that we're in, because this has been the journey that other clubs that have gone through a similar path.
ON NOT FRONTING UP UNTIL THURSDAY
I did a couple of interviews last week. I haven't been shying away from it. The (online Q&A) session we had (on Wednesday), we sent out an invitation to our members a week ago. It wasn't a knee-jerk response. We weren't trying to hide. I'm here today in front of you all.
ON THE PLAYERS' RELATIONSHIP WITH DAVID NOBLE
I speak to the players, our PDM (player development managers) speak to the players, our coaches speak to the players, the head coach speaks to the players. The players are happy. They are happy. That's what they are telling us. They're highly engaged. Jack (Ziebell) has been out (in the media) twice in the past week and really aggressively defended the coach. I can only go on what the players are saying to us and what the captain is saying about his relationship and the players' relationship with the coach.
The coach has our backing – has my backing, has the board's backing and, as you've heard, he's got the players' backing. They're saying they're happy, he's created a great environment, a safe environment and they're enjoying coming to work.
He's our man.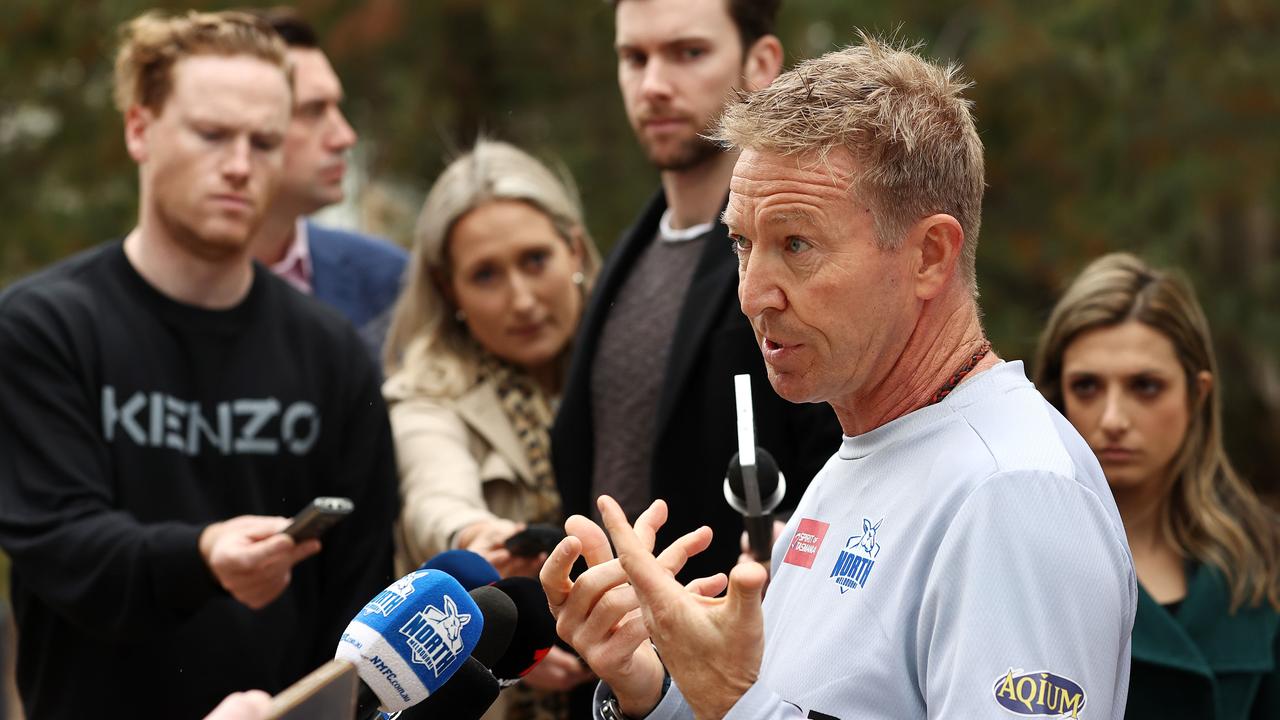 David Noble speaks to media about North's issues. Picture: Michael Klein.
EMBATTLED NORTH COACH IN 'FOR THE LONG HAUL'
North Melbourne coach David Noble has declared he is at Arden Street "for the long haul" as he affirmed his commitment to his players and his approach to coaching.
Noble and club chief executive Ben Amarfio were adamant on Thursday that the club is "united" and that players and staff are happy, days after three members of the club's recruiting team left the Kangaroos with one understood to be related to a perceived lack of support.
Amarfio firmly backed the coach, with Noble saying he had been ready for a rocky road when taking the reins some 18 months ago.
"So our members and our fans understand, I took this job on understanding that there will be difficult times," Noble said.
"I'm here for the long haul. I want our club to be successful and strong.
"You don't take it on board thinking that it's all going to be beer and Skittles.
"It makes the end result all the more sweeter when you work through these (situations)
"You've got to create rigour. You've got to create debate. To create standards and an environment where success is maintained is bloody difficult."
He maintained that his relationships with players and coaches were "terrific" despite reports of rifts, and while he hit out at those suggestions, said "I'm here for the challenge and I'm not going anywhere".
David Noble shares a laugh with players at training on Thursday. Picture: Michael Klein
Noble said that:
● REPORTS suggesting there are rifts with players and other coaches are "substantially untrue".
● HE would go hard at his players again "in certain times and circumstances where if players don't deliver performance, if I don't create a standard ... then I'm not doing my job properly".
● TOP draft pick Jason Horne-Francis understands he needed to inform the club about a recent interstate trip.
● THE team's defence remains a concern but the team is "probably where it should be in the sense of our build".
● LOSING three members of the recruiting department on one day is "not ideal" but he would endeavour to sit down with those departing to "pull apart what (their) information is and how we can actually move better".
● THAT there could be "parts of" this week's drama that the team could draw upon on Sunday against St Kilda.
The team has a 1-9 record and an average losing margin of 56 points.
Noble said in spite of the horror numbers, the team would stick with its system that he backed to improve with better execution and synergy that he said comes with time.
"We feel like the measures we're putting in place and the things that we're starting to tweak are coming to hand a bit better," he said.
"We felt like we defended better on the weekend … we feel like we're making ground. It doesn't necessarily feel like that on the numbers, but it feels like that on the structure and the execution are getting better."
Number one draft pick Horne-Francis has parked contract talks until the end of the season, which Noble said was "not unusual".
He said he had rallied to support his player after it emerged the young star had travelled to Adelaide for Mother's Day without the club's knowledge.
"He went home, to see his mum. The club didn't know that he went home. He didn't get into trouble," Noble said.
"He wasn't suspended. We sat down with him and said 'there's protocols, because what if he's drug tested and we don't know his whereabouts, because the club actually gets fined'.
"I've spoken to him several times throughout the week just to check in and see if he's OK. He's a ripping young man. He understands that there's certain elements that he's still learning that he's got to put in place.
"They're just things that we're trying to create in our environment to drive standard and get that high performance going."
David Noble speaks to Luke Davies-Uniacke. Picture: Michael Klein
Carey: How 'dishonest' Roos let club hit rock bottom
North Melbourne's greatest player Wayne Carey says the Kangaroos are a broken club which needs to admit they've got problems on and off the field.
Coach David Noble and chief executive Ben Amarfio have come under mounting scrutiny amid allegations the club is underperformed on the field and fractured off it.
And Carey said it was worrying that No. 1 pick Jason Horne-Francis didn't have the information or "confidence" to tell the club he was headed home to South Australia for mother's day after Round 8.
The Kangaroos are in damage control following revelations three recruiting staff, including ex-list boss Glenn Luff, departed the club on the eve of the mid-season draft amid claims of a disconnect between key parts of the club.
Watch every blockbuster AFL match this weekend Live & Ad-Break Free In-Play on Kayo. New to Kayo? Try 14-Days Free Now >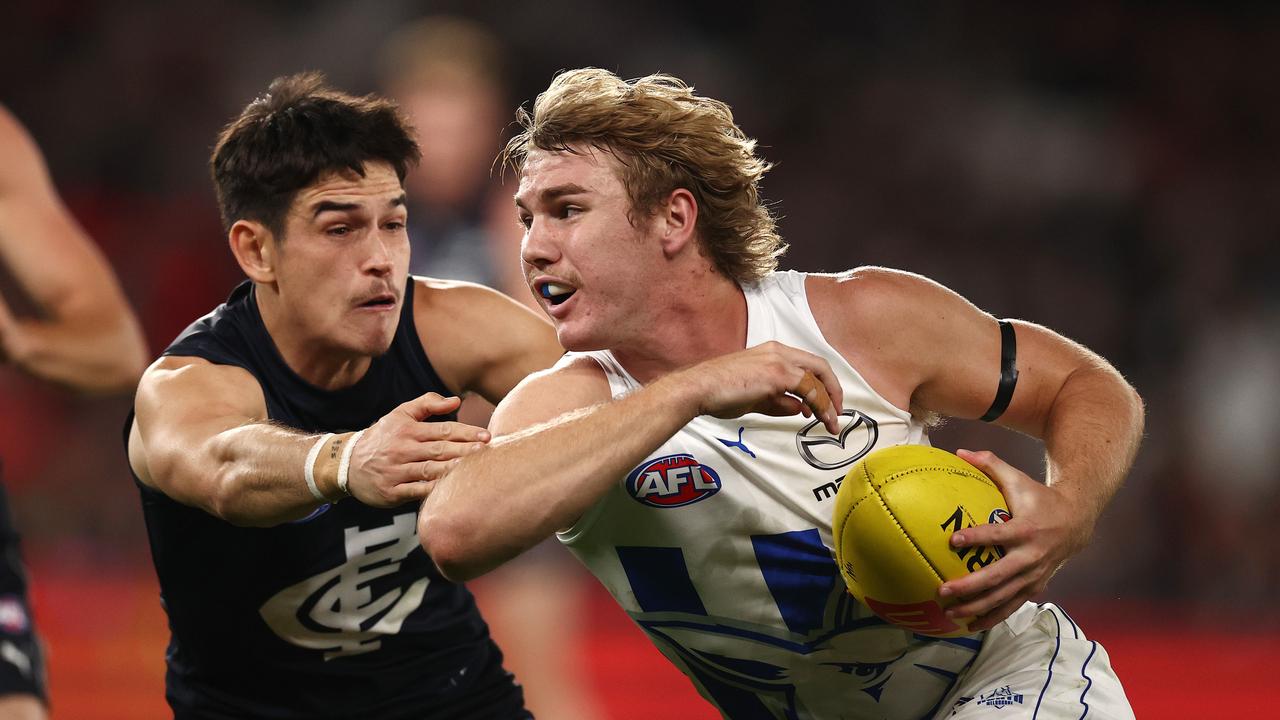 Wayne Carey is concerned about the Jason Horne-Francis situation. Picture: Michael Klein
Luff was list manager but was moved into a new pro-scouting role focusing on mature talent late last year, when he handed over key contracting duties back to football boss Brady Rawlings for this season.
Luff's resignation was a shock to the club despite criticism of some of its recruiting calls.
In particular, moves which have been highly scrutinised include handing Melbourne the Kysaiah Pickett selection (under a previous list management team) and picking Will Phillips over Logan McDonald.
Carey, who said he spoke to several former North Melbourne teammates on Wednesday, said the Kangaroos had hit rock bottom and should not be delusional about the extent of their problems.
"This is as low as this football club has been since I've known it," Carey said on Triple M.
"The really worrying part for me is … North Melbourne footy club think everything is OK.
"I don't think they are being completely honest with themselves because you can't improve until you actually acknowledge that we are broken.
"I don't think they have acknowledged that, and I'm talking about off the ground, because we know they are broken on ground, but I'm talking about off ground (as well).
"There is too much going on. You don't have people just resigning for no reason."
Pressure is mounting on Noble and in particular his relationships with younger players after apologising to the group about the harshness of his feedback early in the season.
Pressure is mounting on David Noble. Picture: Dylan Burns/AFL Photos via Getty Images
Adelaide will ramp up efforts to poach South Australian gem Horne-Francis, who failed to tell the club he was going interstate to visit his mother.
Horne-Francis is out of contract at the end of next season and has deferred talks on a contract extension.
Carey said there was an obvious breakdown.
"The key to this story is that he didn't have the confidence to go to a leader, whether it be the coach or someone else at that footy club and say 'listen, I just want to go home, I'm a bit home sick or want to see mum'," Carey said.
"If he had the confidence in someone at that footy club, he would have asked."
Legendary North Melbourne and former Carlton coach Denis Pagan said he had faith the Kangaroos would rise up like Melbourne, but was adamant they were years away from blossoming.
"It is going to be a slow burn, but I am confident they will get it right," Pagan said.
"Look at Melbourne and where they were six or seven years ago.
"You can't win without talent and they are still building so they need to keep positive and set themselves small targets."
Originally published as AFL 2022: Shinboner legends invited back to North Melbourne by CEO Ben Amarfio