West Coast and North Melbourne primed for rebuilds and difficult calls on veteran players
Being a veteran during a rebuild can be an anxious, chastening experience. DANIEL CHERNY speaks to those who have lived it.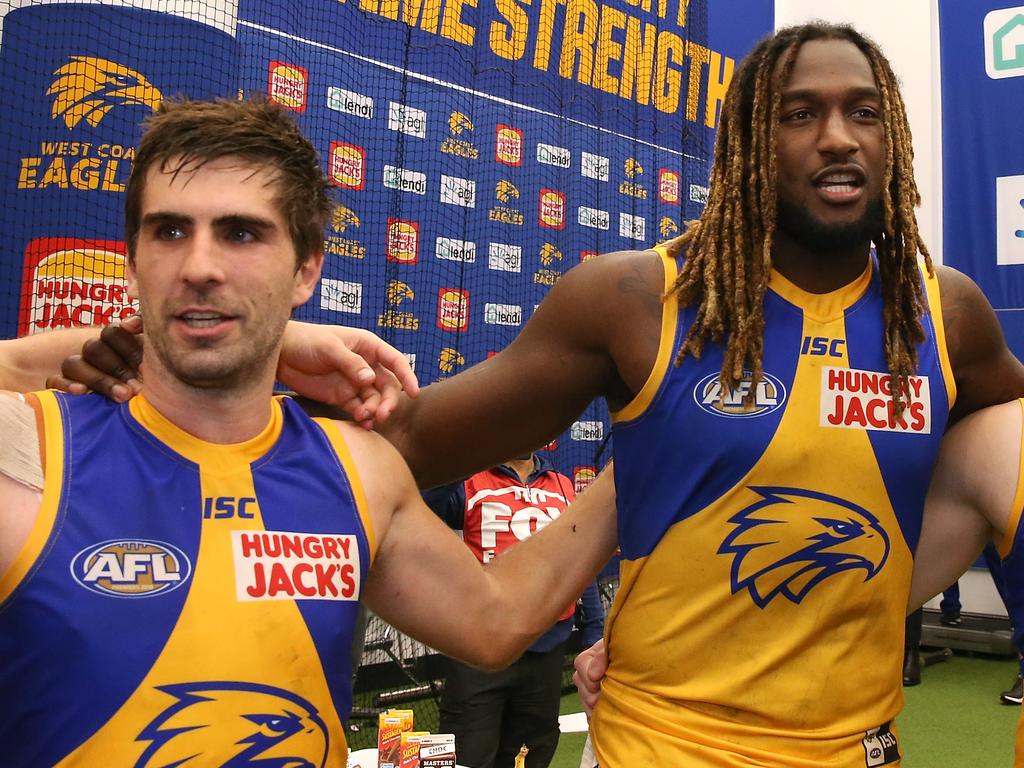 Andrew Gaff and Nic Naitanui are caught in a downturn for West Coast and may be destined to end their careers elsewhere. Picture: Paul Kane/Getty Images
Adam Schneider had played more than 200 AFL games, and in five grand finals. He had been a part of the team that ended the longest premiership drought in VFL/AFL history. He had seen it all.
But a meeting had him anxious. Schneider was the wrong side of 30, and St Kilda coach Alan Richardson wanted to see him. It was serious enough that Richardson headed to Schneider's house.
The year was 2014, Richardson's first campaign in the job. The Saints would collect their 27th wooden spoon. Schneider was still a handy contributor, playing 13 senior games for the season, but St Kilda were clearly well into a rebuild, having spiralled from the near misses of 2009 and 2010. For a team looking at a distant future, Schneider's birth certificate was his worst enemy.
"As an individual it is hard to accept," Schneider said this week from NSW, where he is now coaching Lavington in the Ovens & Murray league.
"I remember my last year, I didn't know I was going to get re-signed until the rookie draft. Alan Richardson came round to my house, told me how it was. The anxiety around that, not knowing if you've actually finished or if you're going to go again."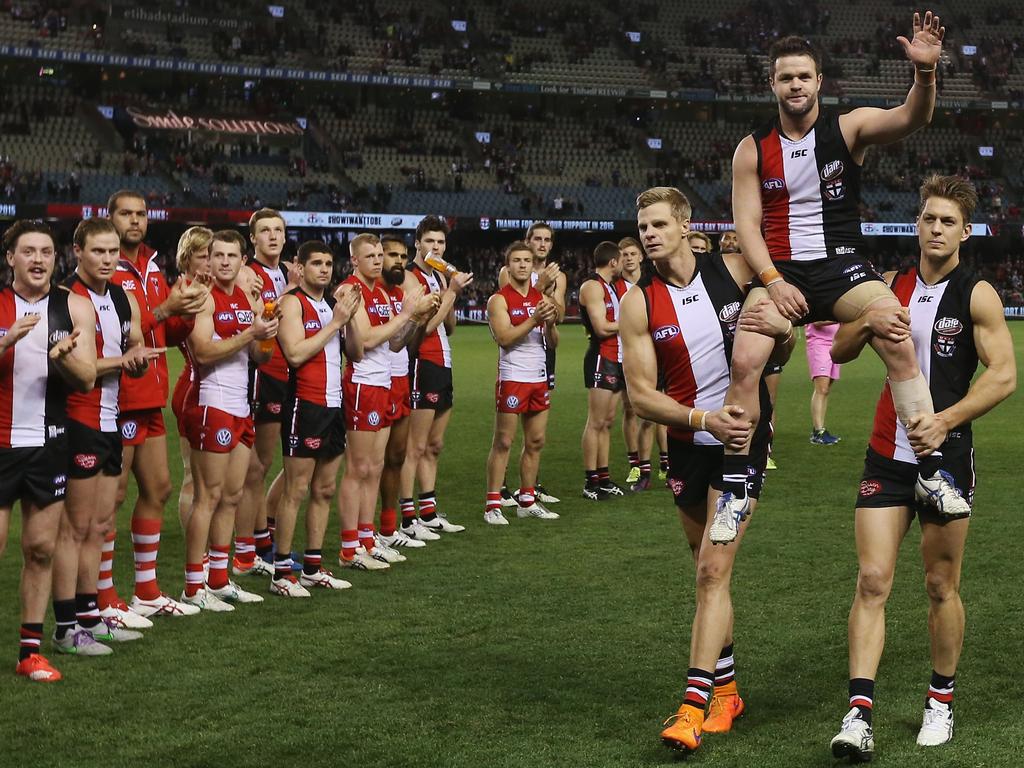 Adam Schneider played his last AFL game for the Saints in round 22 of the 2015 season. Picture: Michael Dodge/Getty Images
Schneider was eventually given the green light for a 14th and final AFL season, playing 15 matches for the Saints in 2015. These were difficult years for the Saints, enduring an often ugly transition period between contention seasons of Grant Thomas and Ross Lyon, and what St Kilda had hoped would be another era up the top of the ladder under Richardson.
History shows that never eventuated and, while the Saints have started the season well in 2022, they haven't finished in the top four for 12 years. The Saints had fallen dramatically off the perch in 2013, going from the 12-win season of 2012 to just five victories in what would prove to be Scott Watters' second and final season as St Kilda coach.
It is a similar predicament to the one currently felt at West Coast.
While the Eagles' off-field disciplinary issues have dominated headlines over the past week, it is their on-field performance that is the longer-term headache. Having made the finals six years in a row under Adam Simpson, most notably winning the premiership in 2018, West Coast fell out of the eight after capitulating at the back end of 2021, and now have been battered early in 2022, finding themselves locked in a wooden spoon battle with North Melbourne.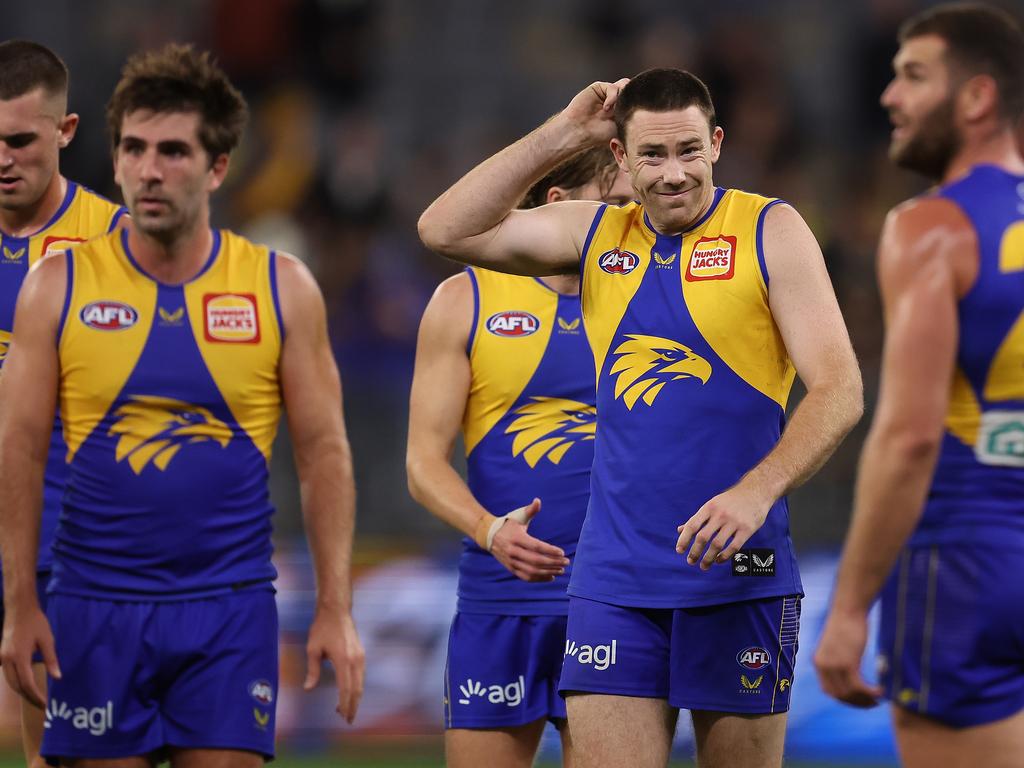 West Coast fans have been left wanting by their team's poor run of form this season, with veteran guns like Andrew Gaff and Jeremy McGovern unable to stop the slide. Picture: Paul Kane/Getty Images
While injury and illness haven't helped, the crux of the matter is that the Eagles' core looks over the hill. And having traded heavily for Tim Kelly at the end of 2019 in the ultimately vain hope of another serious flag tilt, there is precious little elite young talent on the club's list.
Inevitably talk has turned to whether West Coast should look to trade some of the older but still valuable players, the likes of Jeremy McGovern, Andrew Gaff or even Nic Naitanui, in a bid to fast track the rebuild.
Schneider has seen this scenario up close. Brendon Goddard and Nick Dal Santo left St Kilda at the end of 2012 and 2013 respectively, heading to what appeared at the time to be the greener pastures of Essendon and North. Needless to say it didn't work out as planned at the Bombers for Goddard, who soon walked into one of Australian sport's greatest scandals. Dal Santo was part of the Kangaroos' side that made consecutive preliminary finals in 2014 and 2015 before not being offered a contract as part of North's infamous 2016 cull.
Nick Dal Santo left St Kilda for the Kangaroos, and helped the team through back-to-back finals campaigns in 2014 and 2015, before being culled from the side. Picture: Mark Metcalfe/Getty Images
The Roos started a semi rebuild at that point, but poor top-up decisions have left them mired near the bottom again. They, too, are in the midst of what shapes as a lengthy rebuild, leading veteran Robbie Tarrant to depart for Richmond at the end of last season, and Todd Goldstein likely to explore options elsewhere later this year.
These clubs will inevitably publicly pump up the hope of youth, but where does that leave those whose careers are likely to end before that brighter future arrives? It is particularly acute for those yet to taste premiership success, like Gaff and Naitanui, who missed the Eagles' flag through suspension and injury respectively. Goldstein and Tarrant also fit into this category.
Mal Michael can hardly complain about his lot in football. Traded from Collingwood at the end of 2000 after 61 matches in black and white, Michael became a key component of the dynastic Brisbane Lions, part of the side that won three straight flags and came within 60 good minutes of footy of winning a fourth.
But when the drop-off came, it came hard. The Lions missed the finals in 2005 and 2006, before Michael moved to Essendon where he finished his career.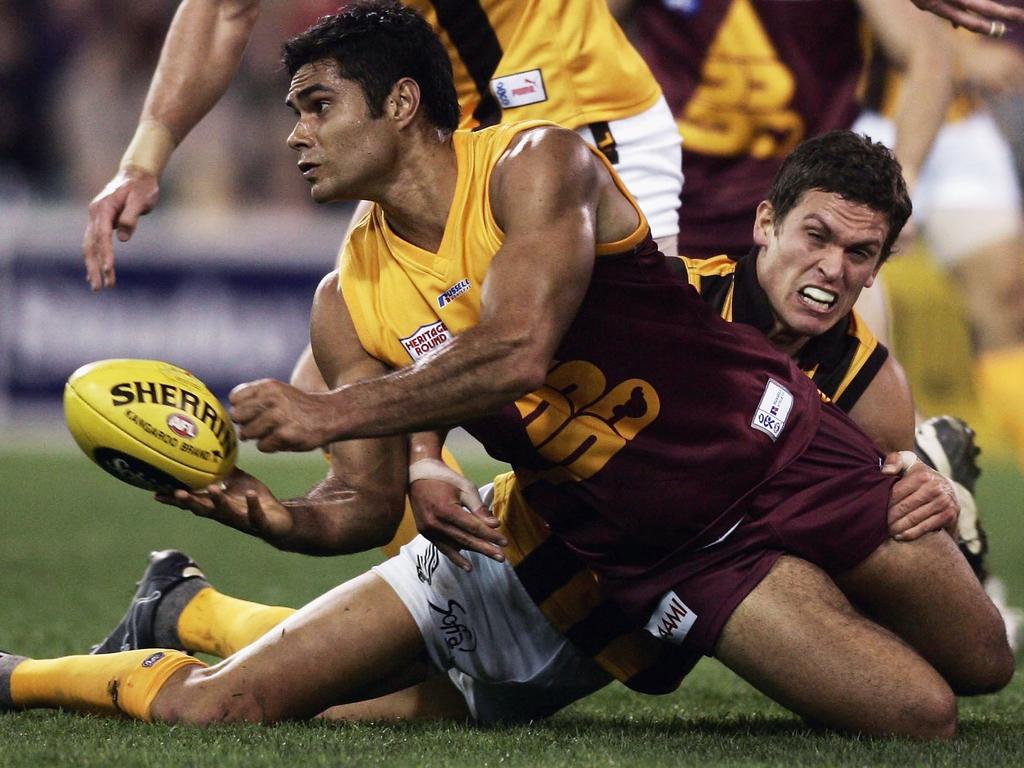 Mal Michael made a timely trade to the Lions, playing a key role in the squad that won three consecutive flags. Picture: Jonathan Wood/Getty Images
"From a player's point of view, particularly if you're an older player, it's quite a stressful time," Michael said from his native Papua New Guinea, where he spends around half the year.
"There's kind of a survival instinct that kicks in, because you are aware that there is going to be a succession plan, or a new vision for the football club. Unfortunately a lot of older players get delisted, and they make way for younger players. They talk about the rebuilding and rejuvenation of lists, and I agree with that to an extent. But you can also take too much experience out of your team.
"The Lions were in a unique situation. Because we won three premierships and were going for the fourth one, we probably didn't plan for the future as well as what clubs do today.
"When you're winning, and suddenly you're not winning, it's difficult to accept. Winning is almost like an addiction. When the teams that we used to thump started beating us, it was kind of a realisation that a period of time was over, that our dominance was over. That was difficult at the time.
"We needed to do a list rejuvenation, but because we were going for that fourth premiership, that kind of didn't happen. The other problem Brisbane had was because we kept finishing either one or two, our draft picks were 17 and 18. That doesn't help you either, when you're looking to the future."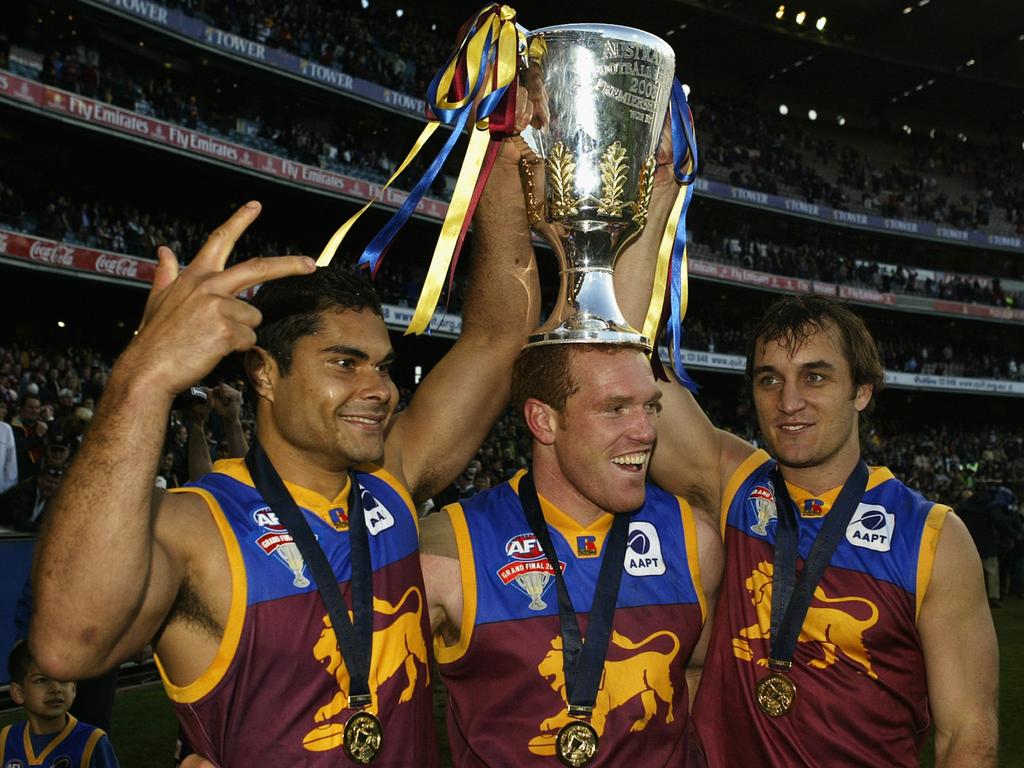 Michael believes the Lions suffered with the sudden losses suffered after a period of extended dominance. Picture: Hamish Blair/Getty Images
Schneider played at least one AFL final across each of his first nine seasons following his debut in 2003, moving from the Swans to the Saints at the end of 2007. Having known little other than success, he says it was difficult to come to terms with the new reality in his final few seasons at the top level.
"As a player, it's always hard to admit or accept that it's a rebuild. That word doesn't sit well," Schneider says.
"But from my experience if you've got quality leaders and older guys on your list that are prepared to be understanding of the fact of where they are, it makes it a lot easier. And obviously I was lucky enough to have Nick Riewoldt, and Leigh Montagna and Sean Dempster and Sam Fisher when they were coming towards the end of their careers and we weren't winning too many games. They really had a good mindset of just blooding the youth, and helping the youth."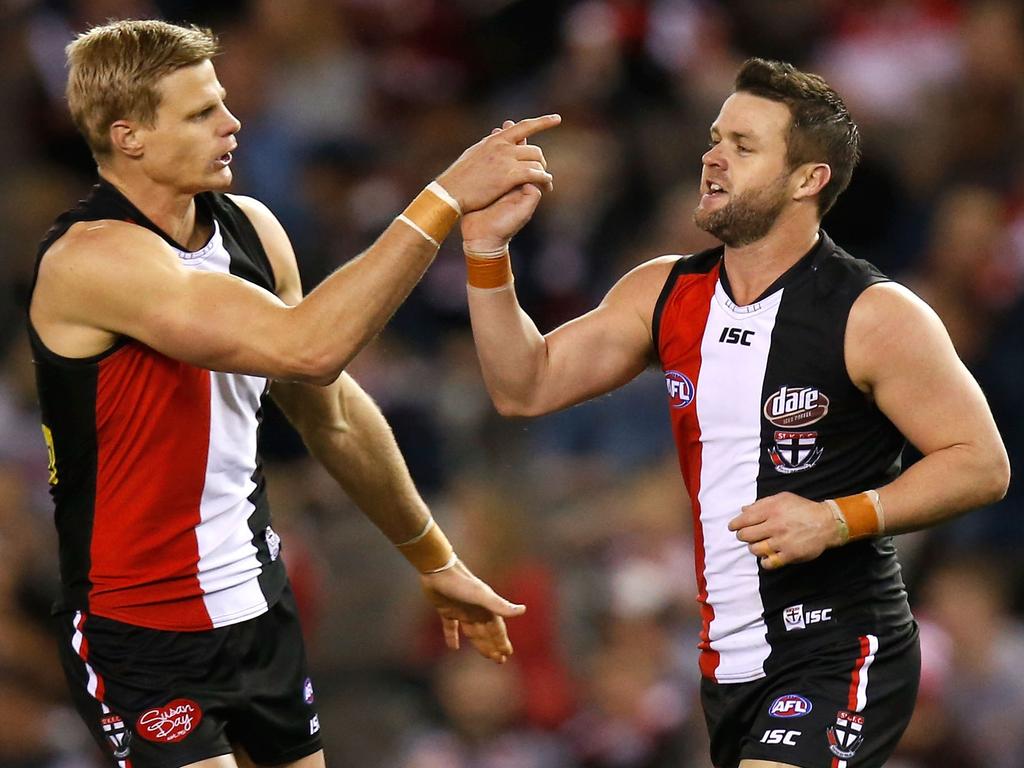 Schneider believes senior players like Nick Riewoldt play an important role in clubs rebuilding phase. Picture: Michael Willson/AFL Media/Getty Images
But like Michael, Schneider says there is a risk of cutting too deeply. Melbourne's decision to offload captain James McDonald at the end of 2010 has been described as one such move. The Dees plummeted again over the next few seasons, ultimately needing to rebuild the initial rebuild.
"I know they speak about needing to blood youth, and older players getting in the way. I sort of disagree a little bit," Schneider says.
"You can't get rid of all the older players straight away, you need them around to guide these younger guys, be out there on the track and be out there on game day to really help them. I think if you go too young, and you just chuck them out there, and you leave some senior guys on the sideline, it can do damage to some young guys, it can cause some bad habits, and not understanding what it takes, and they can have just a terrible start."
Asked if the Saints handled the end of their period of contention well, Schneider is diplomatic.
"That's a hard one to answer. You can probably answer that on results I suppose," he says.
St Kilda finished round 8 in seventh on the ladder, after a positive start to the season. Picture: Cameron Spencer/AFL Photos/Getty Images
But one thing Schneider relished was the chance to help usher through the next generation. It would serve as an apprenticeship ahead of his coaching stint under Leon Cameron at Greater Western Sydney, which ended last year.
"Richo said, 'We're going to have you again this year, and we want you to have a mindset of helping and developing kids. If push comes to shove and your form drops a little bit, a younger guy will be playing.' I was willing to accept that but I also had a mindset of wanting to go into coaching after. That was probably my next path, so I accepted it well, but I definitely see how some people don't," Schneider says.
He adds that if the likes of Goldstein or Gaff choose to finish their careers elsewhere, then it is more than fair enough.
"You can't hold against a player at the end of their career wanting to go and be at a successful club these days. But there's a lot of guys who take pride in being a one-club player and stick there until the end. Each individual is different," Schneider says.
"But I believe there's got to be a real balance between not letting too many go."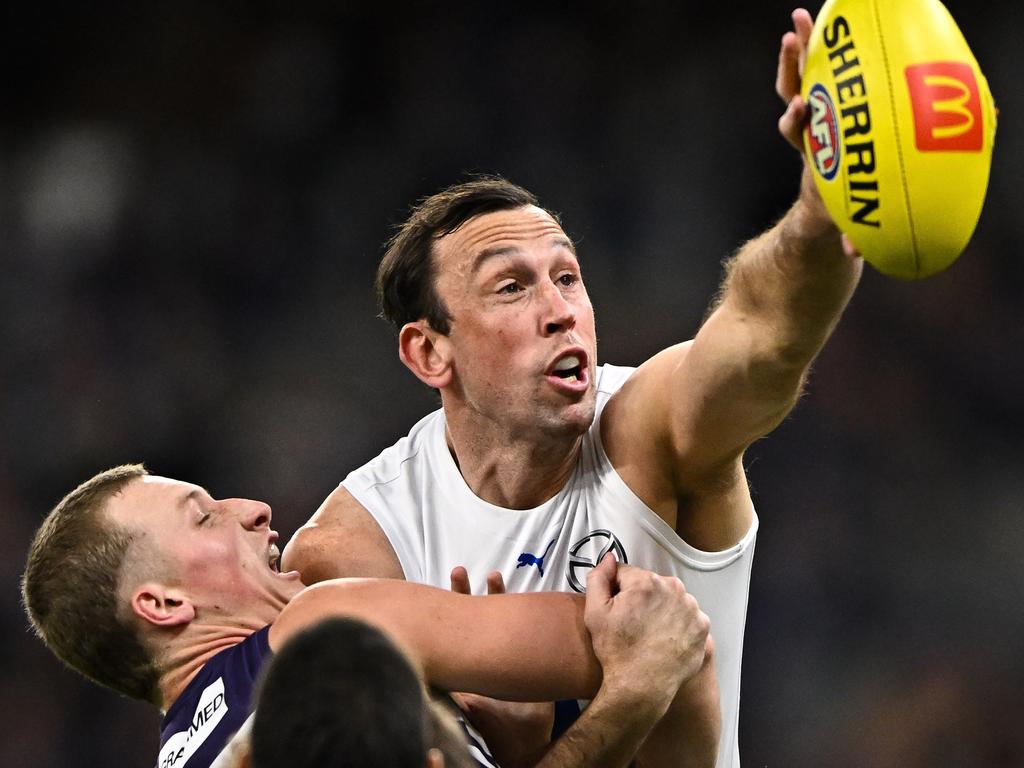 Veteran North Melbourne ruckman Todd Goldstein, in action against Fremantle last weekend. Picture: Daniel Carson/AFL Photos via Getty Images
As a brute of a fullback, Michael knows there are certain roles kids find tough.
"In terms of key positions on the ground, it's almost impossible for 18-year-olds to fill those positions. It's very difficult, especially ruckmen … you probably keep some experience in those parts while a younger player keeps developing," Michael says.
And Michael, who looks back fondly on his couple of years at the Dons, notes that a new club can be a halfway house to life after playing.
"There's so many factors now, like where opportunities lie post-football. I know a lot of these clubs now are offering these assistant coaching packages where they go from playing to assistant coaching. In my time they didn't have that."