How the Andrew Brayshaw-Andrew Gaff incident divided Perth's staunchest AFL fans
Hamish Brayshaw - brother of Andrew, and teammate of the other Andrew - recalls the incredible aftermath of the broken jaw incident of 2018 that has gone down as one of the most infamous moments in Western Australian sport.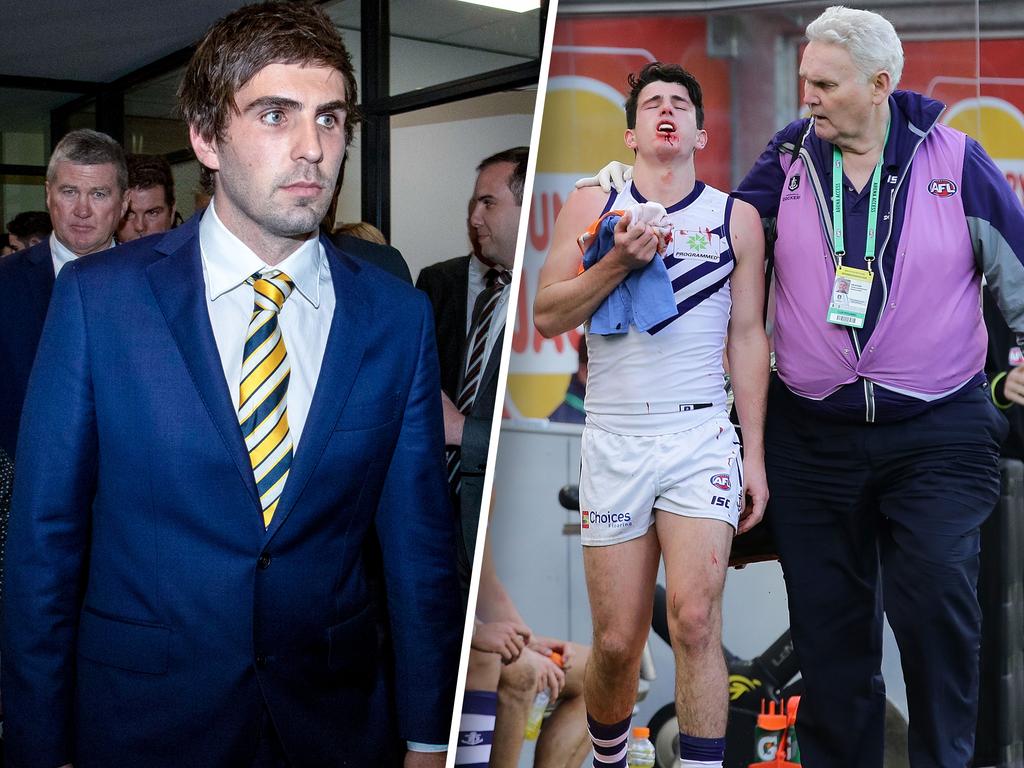 The Andrew vs Andrew incident that erupted from the 2018 Western Australia derby still divides AFL fans.
It was a football moment that divided the town, more than your usual north and south of the river squabbles.
West Coast versus Fremantle, a spiteful rivalry at the best of times, was about to go to the next level.
The Andrew Gaff-Andrew Brayshaw incident in 2018.
A young player had his jaw broken and a senior Eagle was suspended for eight weeks, paying the ultimate price and missing the Eagles' 2018 premiership.
There are many opinions and views on how the incident played out.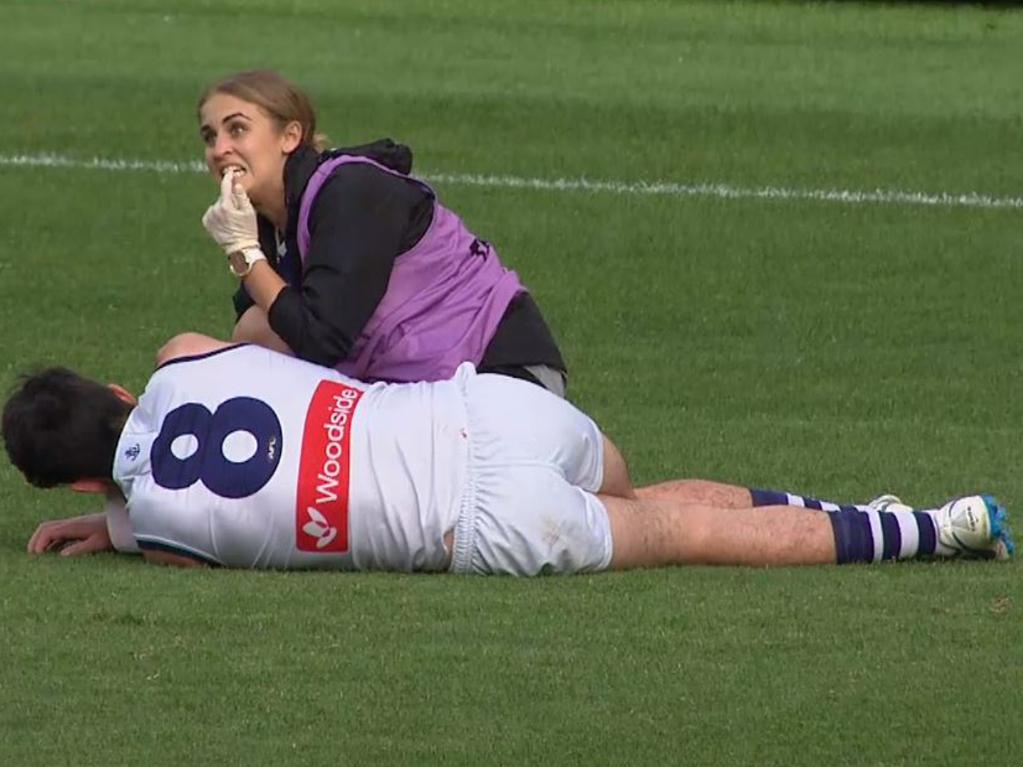 A Fremantle Dockers trainer points to her teeth to indicate the damage to Andrew Brayshaw after the Andrew Gaff hit. Picture: Fox Sports News
You're either a Docker or an Eagle. A teammate or an opponent. A family member or a mate. Some people say it was a thug act, bordering on criminal. Others say it was just a football action gone wrong.
But only one person had a true 360-degree view of the incident. Connected to both players closely, he could see it from both sides.
Hamish Brayshaw, the brother of the Andrew who had his jaw broken, the teammate of the Andrew who was suspended.
Two Andrews, two Brayshaws - Gaff and Hamish. This story sounds like a 'walks into a bar' joke.
Hamish sits in the middle of this one. From the West Coast players' box, he had a unique view on one of the biggest moments in Western Australian sport.
Midway through the third quarter in derby number 48, young Docker Andrew Brayshaw had been sent to nullify the on-fire Eagle Andrew Gaff.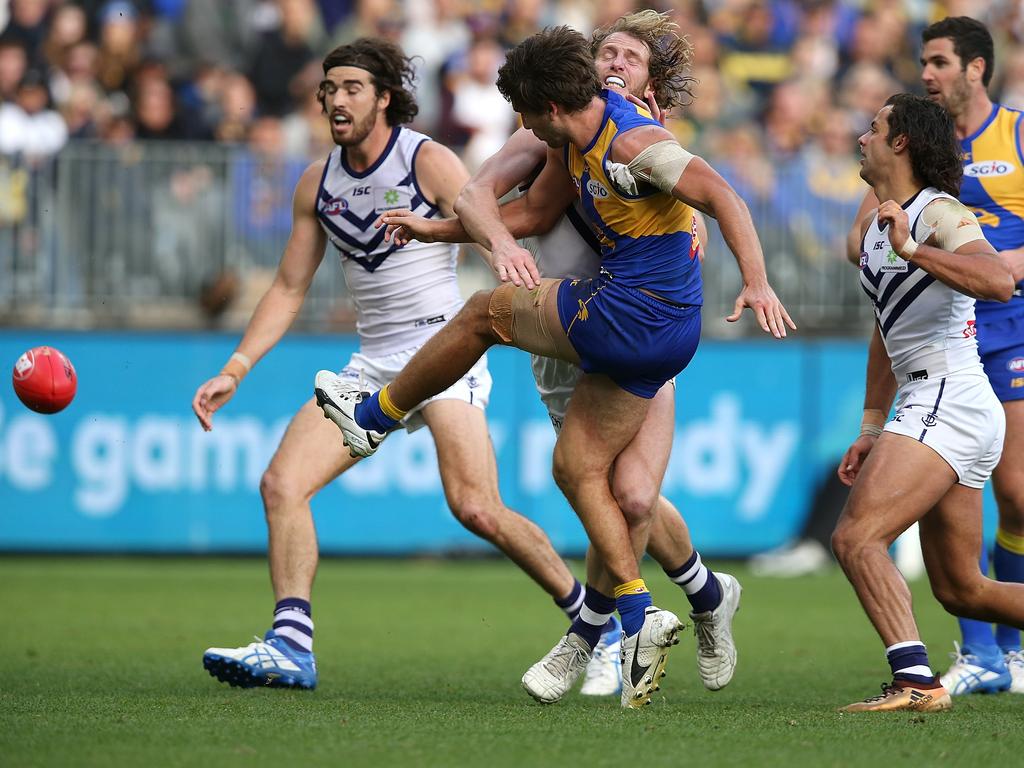 Gaff had been dominant in the Eagles forward 50 through the first half of the match. Picture: Paul Kane/Getty Images
"Gaffy had dominated the first half and having spoken to my brother after the game, Ross Lyon had said, 'You've got to tag him on the wing'," Hamish says.
So, Andrew was checking him off the ball and trying to stop his run, to stop his influence on the game.
"Running down the wing. The ball's on the other side. My brother Andrew has pushed him. Gaffy has tried to push back, Andrew has gone to push him again.
"When you push someone, you sort of drop down a level to then set your feet and push. As he's dropped that level to swing and push, Gaffy has thrown the hand that's got him in the jaw."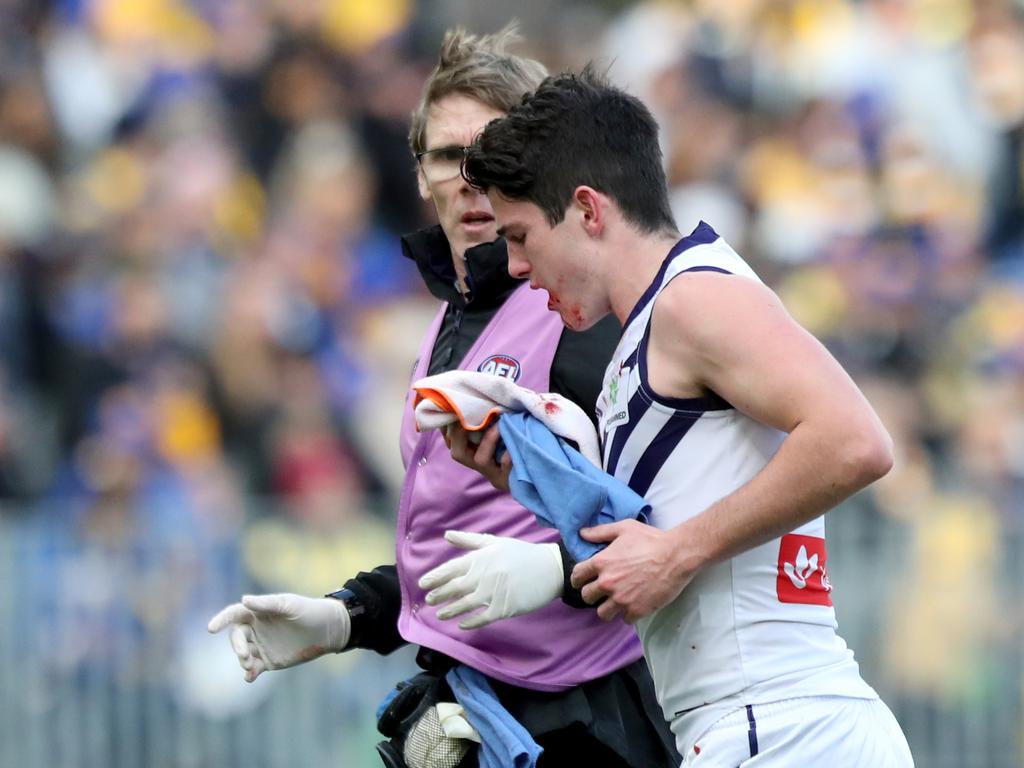 Brayshaw's injury looked immediate serious as he was escorted from the field. Picture: AAP Image/Richard Wainwright
From a footballing family, Hamish Brayshaw had seen his fair share of family members hurt on the football field, so at first, he didn't think much of it.
"He's on the floor. He's come off and he's bleeding," Hamish recalls.
At first, without the aid of a replay, the standard football club banter ensued. The first reaction when someone is hurt but appears to be somewhat OK, is not sympathy, it's humour. Australian larrikinism, trying to make light of a situation and all that.
With his brother playing for the enemy, the reaction of the West Coast players' box was at first jovial.
"Everyone's like he dropped like a sack of potatoes, he's got a glass jaw, all the rest of it."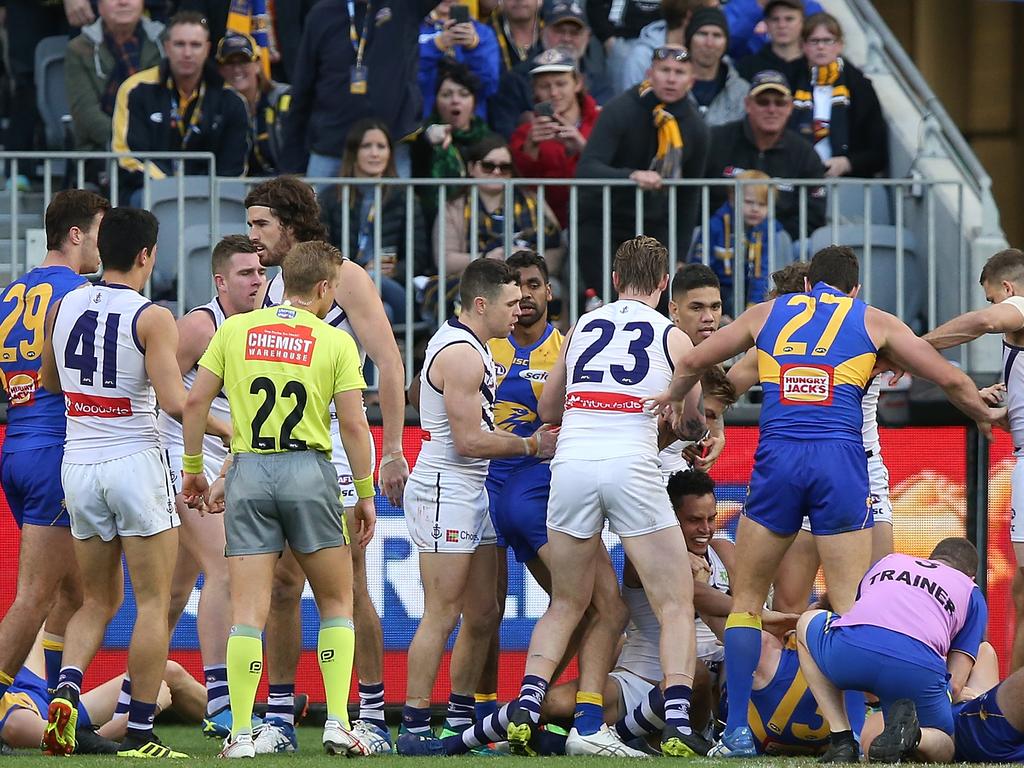 Tempers ran high through the match, with scuffles breaking out between the playing groups across the game. Picture: Paul Kane/Getty Images
But within five minutes, the mood had quickly changed.
"The footage came out on afl.com of the actual hit and everyone's got their phones up looking at it and showing me and I'm thinking, 'Oh, Jesus'," Hamish says.
"It dawned on us after about 10 minutes in the box that it was a big hit. And it had gone from our playful jokes about he's got a glass jaw to oh, actually something could be wrong. This is awkward."
Hamish was stuck between a rock and a hard place. A teammate and friend to Andrew Gaff, he knew him well. But family always comes first.
"I got a call from mum and she was in hysterics. She was at the game. She said, 'We're in the ambulance. We're on the way home. We're going.' And I remember thinking, this is a bit awkward, Gaffy is out there, and he's just belted my brother. I was pretty good mates with Gaffy at the time – when I came to the club, not many people played golf, he did, I'd played a lot of golf with him, and we were pretty good mates.
"I remember thinking, that's just so out of character for him to do it."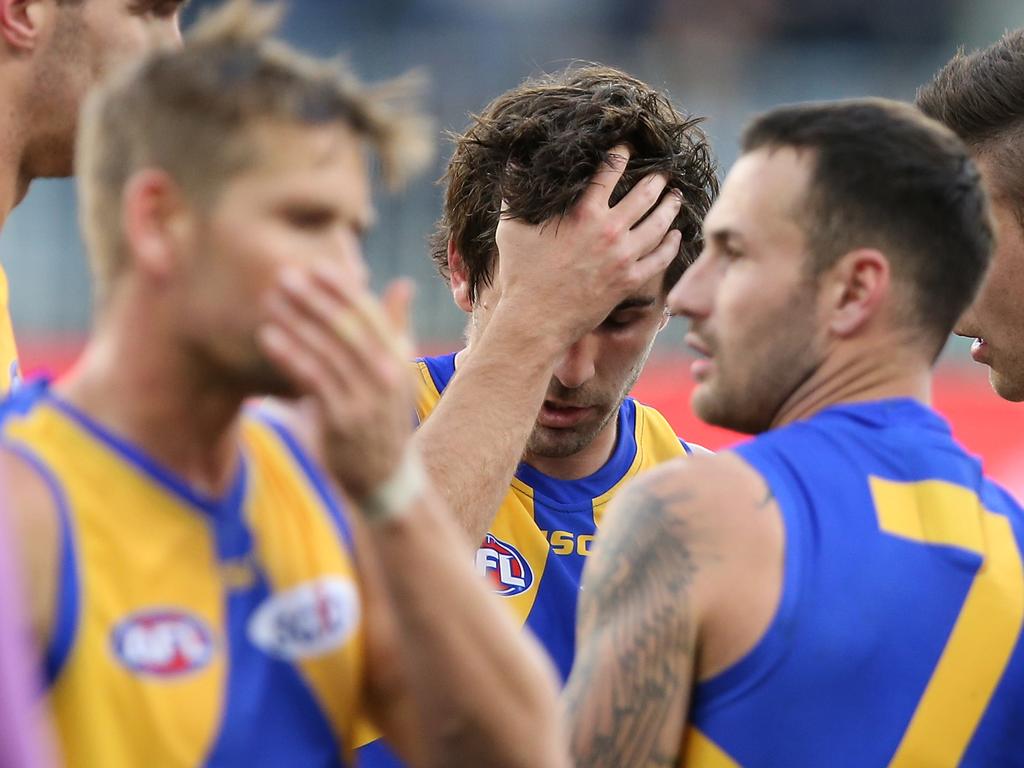 Gaff knew that the contact would likely see him in trouble with the tribunal. Picture: Paul Kane/Getty Images
Given his close relationship with both parties, Hamish wanted to know how it had all happened. He made up his mind quickly.
"I remember watching the clip, probably five times at the game, and that's all I needed.
"Andrew (brother) had definitely dropped a level to push him. The hit was not in my mind … intended for his face, it was for the chest. That's a normal footy act, to get someone who's annoying the sh-t out of you.
"And so he's hit him in the face, but it was a complete accident."
In most environments, your brother being hit by another person doesn't result in the friendliest of reactions. But Hamish's response was one of composure.
"He didn't do it on purpose. I'm still his friend and it doesn't bother me that much. I know that (my brother) is OK."
Hamish Brayshaw was caught between a rock and a hard place in supporting both his brother and teammate. Picture: Paul Kane/Getty Images
The images of Andrew Brayshaw leaving in an ambulance, sitting up with his mouth bleeding, sticks in most peoples' minds. But what happened next is something that has ever been spoken about publicly.
"All the specialists were closed at this point, late on a weekend, he had to get someone to open up a room to come and work on his mouth," Hamish says.
"They couldn't get an anaesthetist in time to put him completely under general anaesthetic, so the doc was like, 'Mate you can sit here for three hours while we wait for this guy to come and put you under, or I can just give you a lot of local around your mouth and I'll just do it'.
"So, Andrew got about eight local injections around his mandible. And the doctors reached in and wrenched his teeth back in place. He couldn't feel a thing. Wired him up and sent him on his way under local."
It wasn't your usual trip to the doctor's surgery.
"I saw him that night and I could see that he was OK. His teeth looked funny, he's got braces, almost sort of a wire shutting his jaw. But he's all right."
Two days later, Hamish Brayshaw saw Gaff at the club for the first time after the incident.
"I like to break ice with humour," he says.
"I know Andrew Gaff is just distraught at this point. He's getting slagged in the media about being a thug or whatever. And I know he's a nice guy. In my opinion, he didn't mean to do it. So, I'm thinking how can I go about making his life, which would have been rubbish at the time, how can I just ease the tension a little bit?"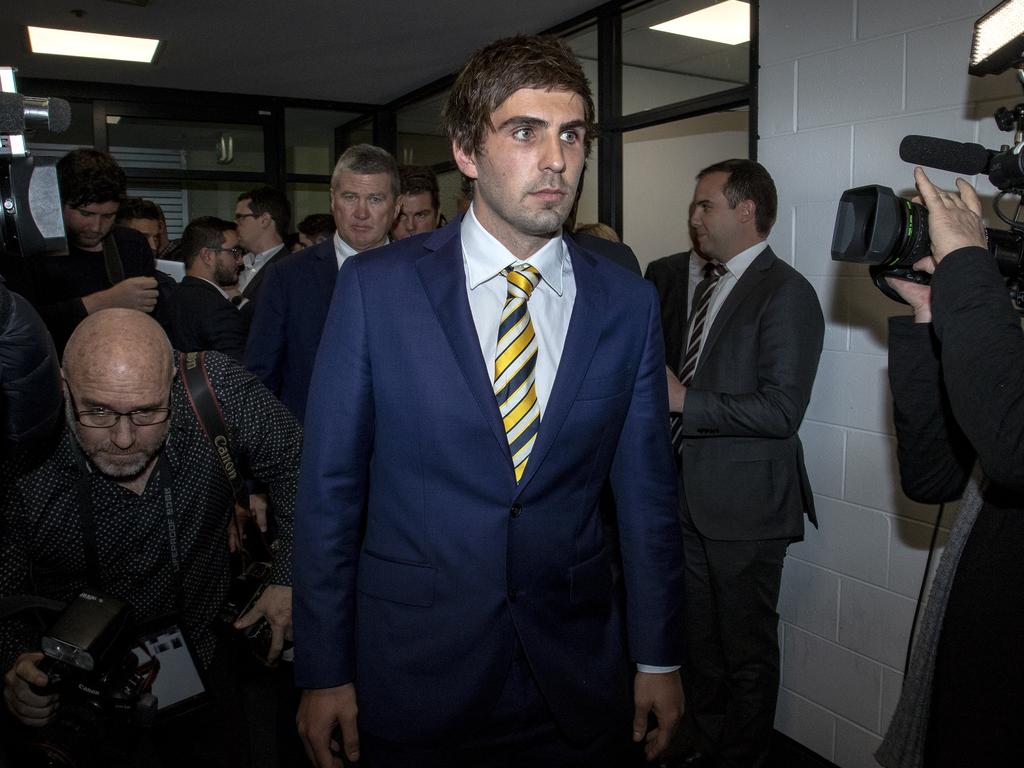 Gaff was subject to immense media scrutiny following the incident. Picture: AAP Image/Luis Ascui
"I think right, it'll be a good idea, on Monday going into the meeting to put a smile on his face. I put my mouthguard in. Boxing gloves on. I've walked into the medical room where he was doing his review and said, 'Let's go mate, let's settle it.'
"He did not find it funny.
"Seeing his reaction, I felt bad. I told him, 'It's OK. He's fine. He's going to be all right. Don't worry about it'. And he was like, 'Thanks, man'. And I went up to him and sort of shook his hand and that was it."
The proverbial bread has been broken between the two Andrews since.
"They've played golf since, they've interacted since in respectable manners, they've got to know each other a little bit. The next time they played each other was the JLT the following year. Simmo (coach Adam Simpson) played Gaffy on ball, in the first centre bounce, for the purpose of shaking each others' hand. That was on film, that was put everywhere on media, and that was it done."
Catch the full chat with Hamish Brayshaw on BackChat here: