The stoushes and the stutter step: The secret to Josh Kennedy's remarkable 700-goal career
Josh Kennedy has always been up for a showdown, be it with Chris Masten on the track or challenging Mark LeCras' crumbing title. Now as retirement looms, Kennedy sits down with his old sparring partner WILL SCHOFIELD.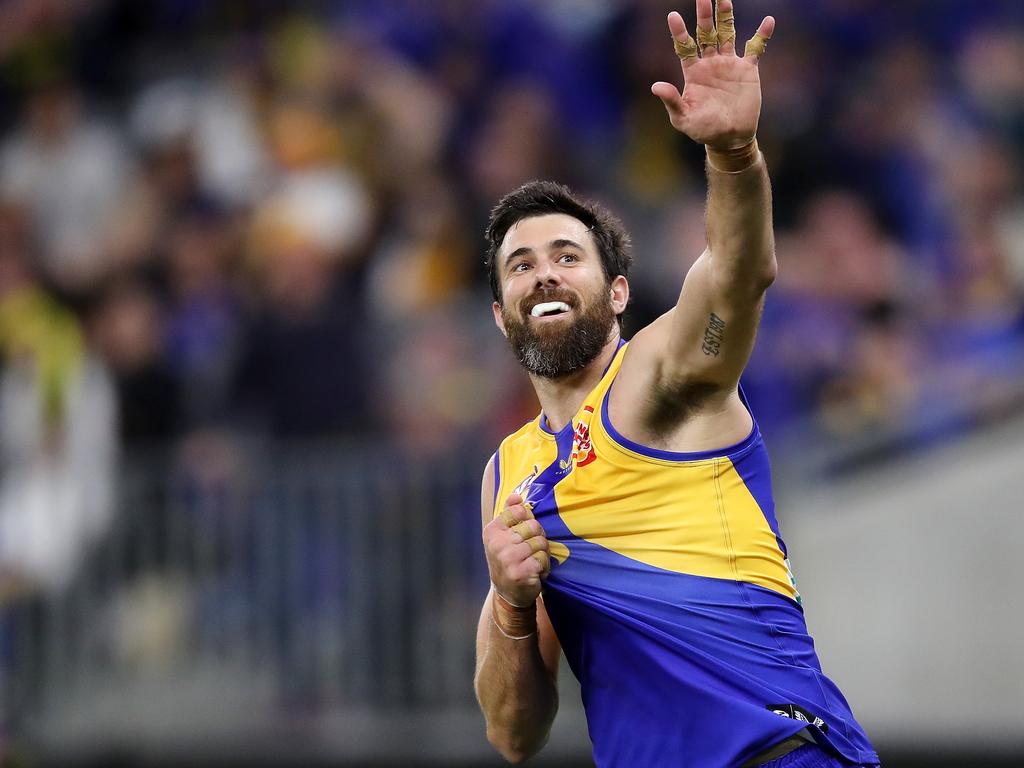 2022 could be the last chapter in Josh Kennedy's illustrious career. Picture: Will Russell/AFL Photos via Getty Images
Josh Kennedy kicked his 700th AFL goal last weekend.
It wasn't the moment he deserved, with West Coast down by triple figures and the crowd able to be counted the same way. But the modest reception suited Josh Kennedy the man.
With mum Jenny and wife Lauren sitting in the same pocket from where Kennedy would drive home the milestone nudge, it was exactly how he would've planned it himself.
"I was just so glad Mum and Lauren were there, that's who I was waving to in the crowd," Kennedy says.
"They've sacrificed so much for me and my career.
"You look at the supporters, they're the big ones, the fans. As much as we perform and you feel like you give to them, what they've given me over the years is … I can't even explain it.
"It's something that I'll always cherish forever. To see them stand up and clap you get a bit teary going back to your position.
"It's a special moment that I'll never forget."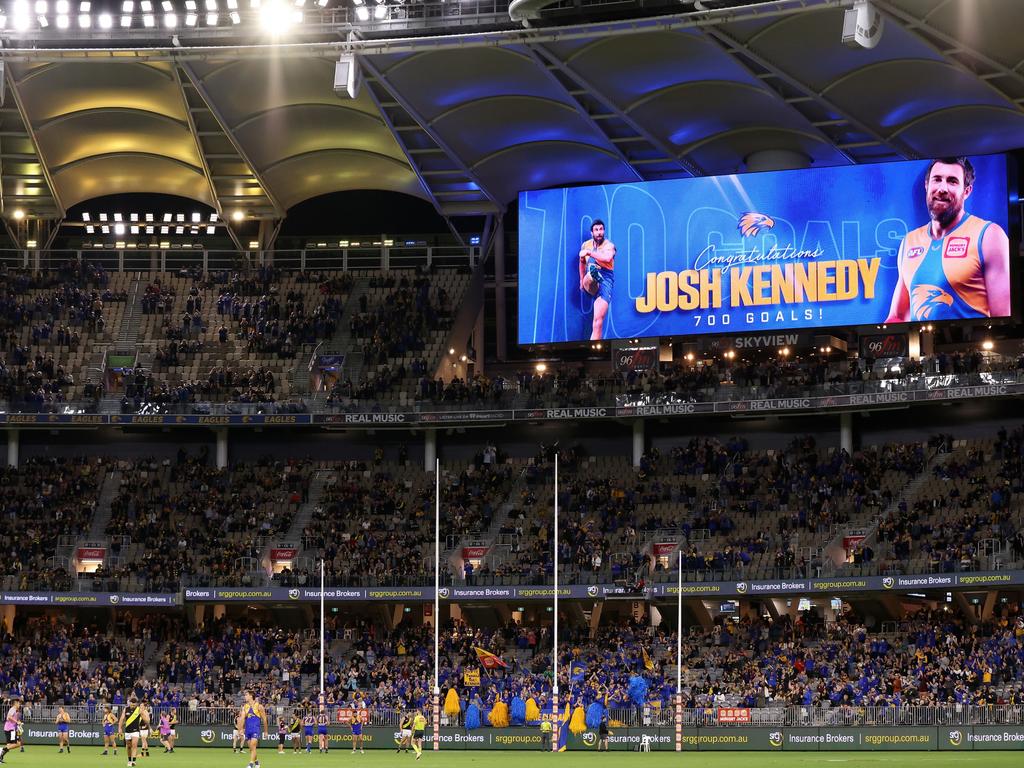 Josh Kennedy kicked his 700th goal in low-key fashion. Picture: Paul Kane/Getty Images
Should Kennedy play every remaining game this season, he would fall just one outing short of a triple century of his own. But a 300-game milestone, goals kicked or awards won have never motivated him all that much.
Even if 2022 does see the talismanic big man finish on 299 games, his response to a question of going around again next season is simple.
"No, I don't think so. I don't think I will."
Motivation across his 17 seasons in the AFL system has always come from others, chiefly his teammates, and a fierce competitive drive. Winning the little things has long been part of the big picture for Kennedy.
Like trying to be a better crumber than Mark Lecras. Or taking down Chris Masten as a runner.
Kennedy spent an entire season trying to get more forward 50 crumbs than one of the best small crumbing forwards West Coast has ever seen. He says he won the title that season. Lecras says he was kidding himself.
He would also seek out Masten for one-on-one running sessions after training because the midfielder was our best runner for a long, long time. Kennedy claims he dusted Masten once over the course of several 200m sprints.
Kennedy joined West Coast in 2008 and has experienced many highs and lows at the club. Picture: Stewart Allen
"I think Mast must have been hungover," he says with a smile, "but I still got him."
As much as he hated losing, a bad performance or loss has also always just been another chance to get better.
"You shake hands and go, 'You were too good today, you actually beat me'. But then you go, 'How am I gonna beat you next time?"
As a teammate I was unlucky enough to experience his competitive fire first hand – Kennedy never being too far away as a training combatant.
I was also beyond lucky, because it was his work rate and forward craft that made me a better backman. Without him I would never have been the player I was and for that I am thankful. He influenced my own career more than any other Eagle and is right in the conversation for the best to ever don the club's colours.
And no matter who I marked up on in games, I knew it could not possibly be harder than training on JK. No player in my AFL career challenged me like Kennedy could, and I've always been grateful his lessons came in the pre-season. He worked harder than anybody. Period.
Then come game day, Kennedy is a different animal altogether. Hungry for the contest, he almost looks like he is eating the air when he runs.
What drives him? What makes him work so hard? The words of former West Coast premiership-winner and assistant coach Peter Sumich.
"If you get to as many contests as you can, you're going to have more opportunities to have the ball in your hands," Kennedy recalls of Sumich's mantra.
"If those contests are inside 50, then you're going to have more opportunities to have a shot on goal. Work to get to as many contests as you can. Simple."
And even though Kennedy plies his trade at the other end of the paddock, the late Phil Walsh in his time as Eagles defensive co-ordinator from 2010-13 also left an indelible mark on the big friendly giant.
Without fail every week, he and Kennedy would study tapes of Nick Riewoldt.
"I looked at Nick Riewoldt as a superstar of the game." Kennedy says.
"He was a great forward. The best for that time. I never had Nick's speed, so I knew I couldn't do those long leads he would. But the way he was able to get space and manoeuvre around his opponents and take those marks.
"I just really wanted to implement that into my game. I watched him every week for two years straight, just trying to figure out how he did it. And Walshy was there with me."
Nick Riewoldt was one player Kennedy tried to emulate. Picture: AAP Image/Dave Hunt
While Kennedy might have been trying to add a touch of Riewoldt to his game, a generation of West Australian kids have adopted the Eagle's infamous stutter step into their own goal kicking routines. With 1085 shots for 700 goals and 385 points, Kennedy ranks 25th on the AFL's all-time list, and as an incredibly accurate goal kicker at that. Of the players ahead of him in terms of goals, only Tony Lockett, Peter Hudson, Matthew Lloyd, Doug Wade, Jason Dunstall, Peter McKenna and Saverio Rocca can better Kennedy's 64.52 per cent strike rate.
"How it started is interesting because we used to kick balls into a wheelie bin, as another competition," Kennedy says.
"Although I wouldn't get it in every time, I would get it in the vicinity with a small stutter in my run-up. So I started thinking about how do I take that into a game. This little skip to get to my casual three steps before I kicked it. So that's where it was incorporated from.
"When you're in a pressure situation, you revert back to something you're comfortable with, it's just human nature. And I was really comfortable with that. So for me to break out of it was really, really tough.
"I still do a little bit of a skip just to get to those last three steps. But I don't have that long stutter anymore."
But it hasn't all been sweet strikes for goals and premierships. There's the 2015 grand final loss to Hawthorn, when James Frawley kept the Coleman medal winner scoreless, and wooden spoons with Carlton (2002) and West Coast (2010).
Kennedy knows about hard times in footy. They've made him the man he is today.
His experiences are more relevant now than ever, given the Eagles current predicament. Last on the ladder, coming off three huge losses with an inexperienced playing squad to choose from, Kennedy is far from all doom and gloom.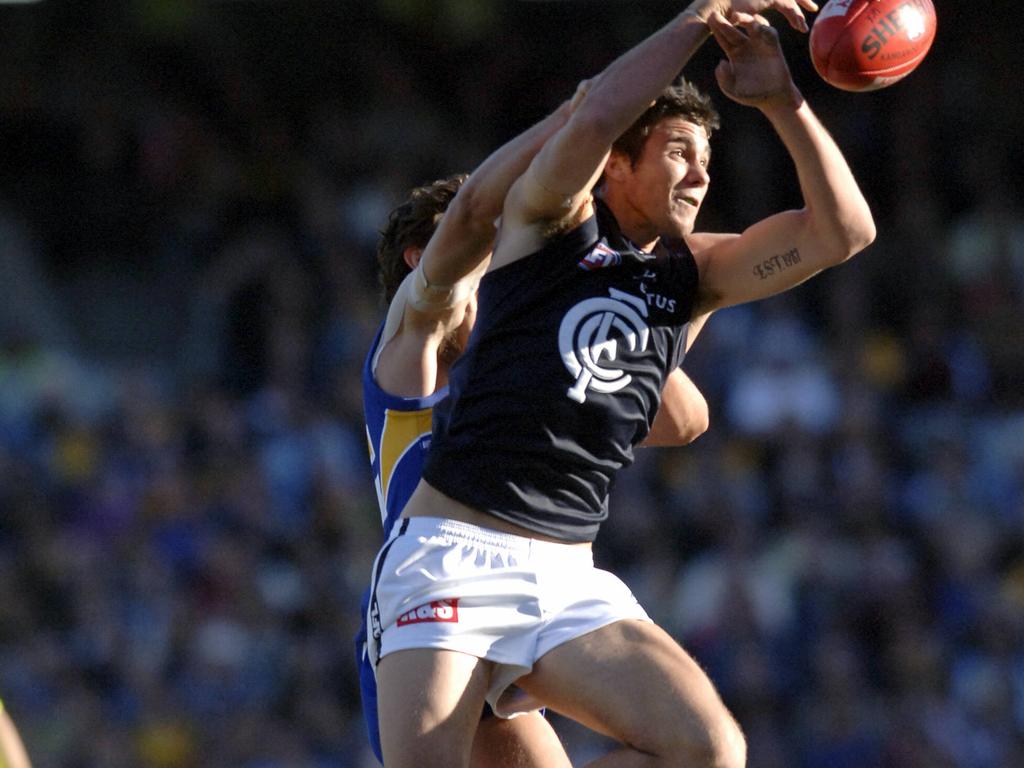 Kennedy started his career at Carlton, where he played 22 games. Picture: NCA
"You definitely reflect back on those times now. I look at some of our players and even when you're rocking up Mondays after these shellackings we've been getting, you can see how disappointed everyone is. There are guys who have been here five, seven years, that have had nothing but success.
"A lot of players, this is their first down period. So you do draw a lot on past experiences. It's easy for me to say to them, 'Mate, don't worry, it's gonna be all right. Just keep working on your craft. Keep doing your training. Keep staying positive. Don't give up because it's going to be OK, things will bounce back up'.
"It's just hard for them to process as they haven't had the experiences I have."
Kennedy's CV is reasonable proof. After the wooden spoon in 2010, West Coast made a preliminary final the very next year. After the 2015 grand final loss, the Eagles waved the flag themselves three years later.
So just how can they turn it all around … again.
"I think it's a combination of things, but I reckon the most important part of it is the self-awareness of every individual," Kennedy says.
"Being true to yourself, saying 'this is where I'm really struggling, this is my weakness, how do I get better at it?'
"Then having that drive to go and get better at it while things are tough. Because it's easy just to go, 'f – k this, I'm not gonna do anything'.
"For younger players these days, I think it's just that drive. You can help encourage it, but until they actually really want to do it, you can only push and push so much.
"A lot of stuff these days, everything's done for everyone. The clubs have so many resources, so many opportunities, whereas back when we started, you just kind of just had to do it yourself. Otherwise, you wouldn't make it, you would just get left behind and see you later.
"I think it's the teammates around you that can create that competitiveness and that just keeps driving you to try and be the best."
Once again, Kennedy returns to the teammates who have played such a telling role in his own career, underselling of course the way he does exactly the same in turn.
Now 2022 looms as the final chapter of his remarkable career. For West Coast fans, watching your side lose is tough, almost unbearable at times. But it's always been worth getting down to the footy to watch Josh Kennedy play. This might be the last chance you get.
Catch the full chat with Josh Kennedy on BackChat here: