West Coast Eagles: Brad Sheppard is learning a new life after concussion, brain bleed ended his career
Brad Sheppard should be adding to his 216 games. Instead, he is dealing with the after effects of head injuries, writes DIGBY BEACHAM.
Brad Sheppard is adjusting to life out of football after being forced into early retirement. Picture: Paul Kane/Getty Images
Imagine being relieved when told you have bleeding on the brain.
Let that sink in for a minute. Even an hour.
Done?
You are now walking in the shoes of former West Coast Eagles star Brad Sheppard, who is transitioning into a life outside the AFL, an existence without the camaraderie and connectivity of an elite team sporting environment that had become the norm in his adult life.
In a perfect world, Sheppard would have been playing for the Eagles in Round 1 against Gold Coast last weekend. And he would be completing the second season of his current contract in 2023 and in all likelihood, be running around still in 2024 considering negotiations were taking place between his management and the Eagles.
But nobody needs to tell Sheppard life isn't perfect.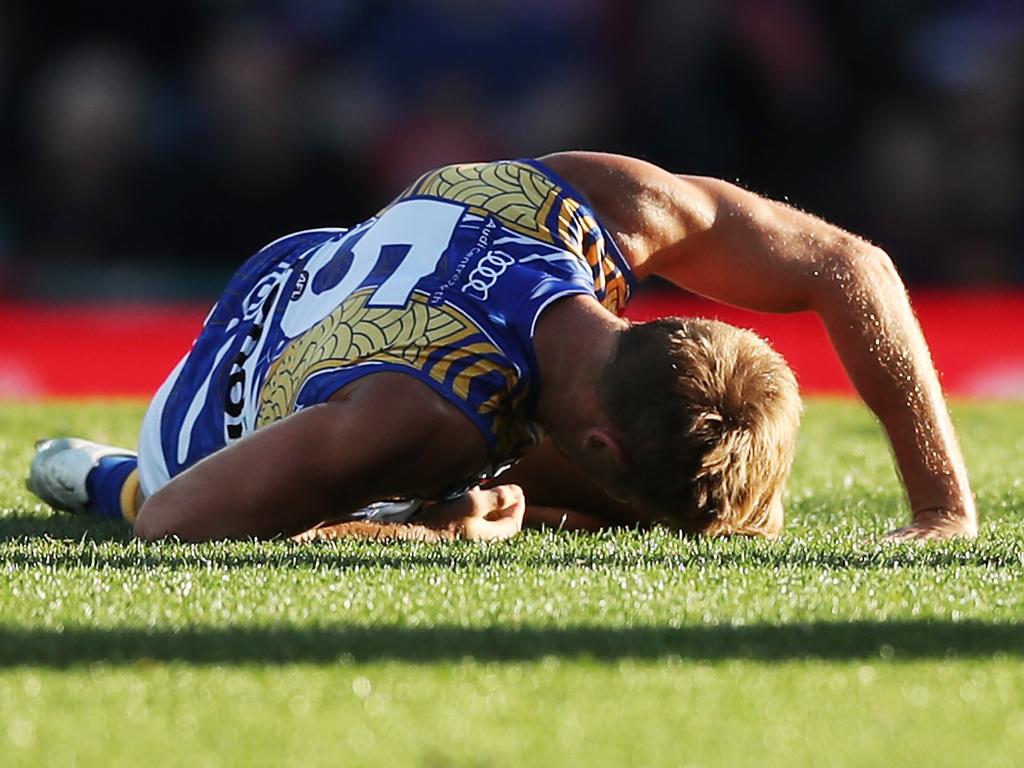 Brad Sheppard has learned the hard way that things don't always go to plan. Picture: Matt King/AFL Photos/via Getty Images
For all Sheppard's head knocks and concussion issues, which were the talk of the town for a large part of 2021, the All-Australian defender played 20 games. Yet it was an innocuous footballing act that bore all of Sheppard's elite traits – closing speed, strength, versatility and team-first mindset – that would end his career on 216 games.
Fremantle's Connor Blakely looked to hit up a leading Matt Taberner at left half-forward approaching time-on of the first quarter in the Round 22 Western Derby. At 198cm and 99kg, Taberner was considerably bigger than the 187cm and 85kg Sheppard. But West Coast coach Adam Simpson had leant on Sheppard, the club's Mr Fix-it, to curtail opposition forwards, big or small, fast or slow, clever or clumsy, for years on years and rarely, if ever, was let down.
On this occasion, Sheppard had the back of Taberner, himself a gifted athlete, and effected a spoil that sent the ball out of bounds and him landing firmly on the Optus Stadium surface.
He quickly bounced up, jogged back to deep in defence and played on.
Nothing out of the ordinary.
The Dockers would triumph by 15 points, snapping an 11-game losing streak at the hands of their most bitter rivals. It left a sour taste in the mouths of Eagles players and supporters. For Sheppard, the loss was the least of his concerns. The ghosts of his ugly collision with Carlton defender Adam Saad at the SCG earlier in the year, coupled with another heavy knock during the pre-season also against Fremantle, had returned.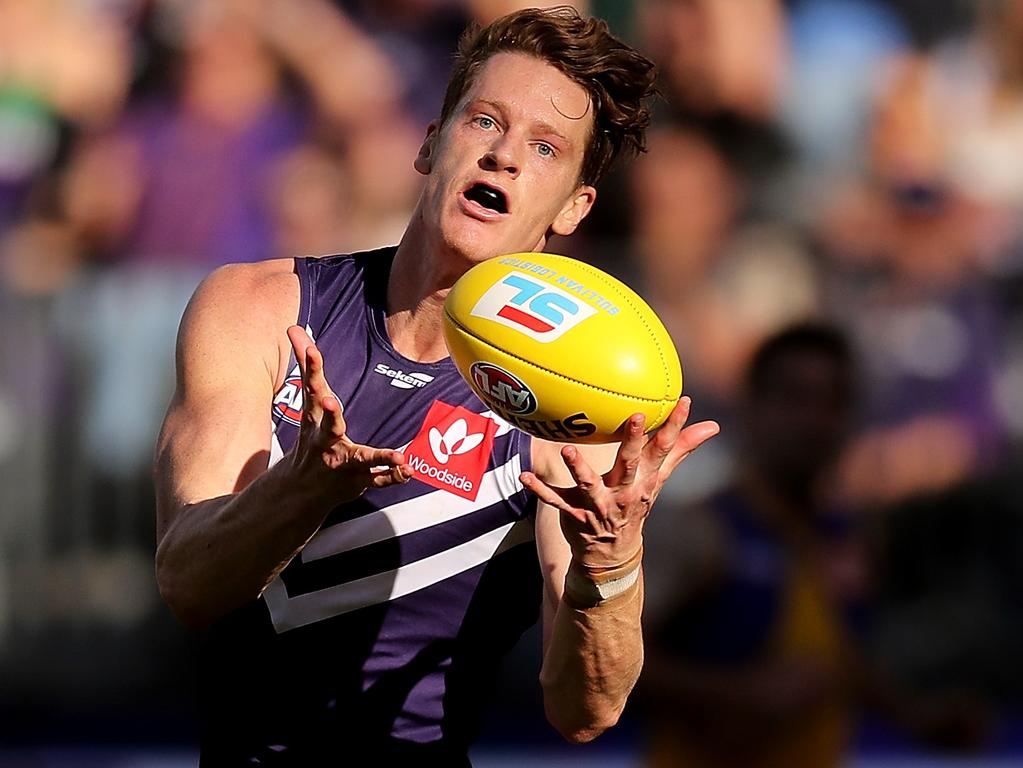 An innocuous bump with Matt Taberner (pictured) in the final round of 2022 was the beginning of the end for Sheppard. Picture: Will Russell/AFL Photos via Getty Images
"The last game against Fremantle … yeah, it's ah, it's tough," Sheppard recalled. "I was in the changerooms post-game for a while and from the time I got up, I knew I was in trouble. I had head spins, was feeling nauseous. That was when I knew the body was reaching out to me and saying, 'C'mon you need to take this seriously,' and that ultimately led me to getting all the testing done.
"Speaking to my doctors and my partner Ellen, who is also in the medical field, I felt something wasn't quite right. When I did get that scan post-season, my biggest concern was I didn't want to know. I feared there was a tumour in there. There was pressure in my head.
"Then you get a call from the doctor saying, 'Where are you now? We need to see you right away.' I was with my mum at the time and I broke down. I said 'F—, I've got a tumour or cancer in my head.' That was the negative response. I thought I was f—ed.
"I couldn't get there by myself. Ellen came home from work and my family came with me … I was told there were brain bleeds, which is strange saying this, but I felt lucky, actually happy in a weird sort of way. It was confronting seeing that. You can't reverse what you've got there. I was having severe symptoms at that stage. Neurotherapists, I had a neuropsych test, went to see a neuro-optometrist … met with a heap of people to try to get a handle on what was going on and what the best way forward was.
"It's daunting because you are vulnerable. Footballers aren't meant to be vulnerable.."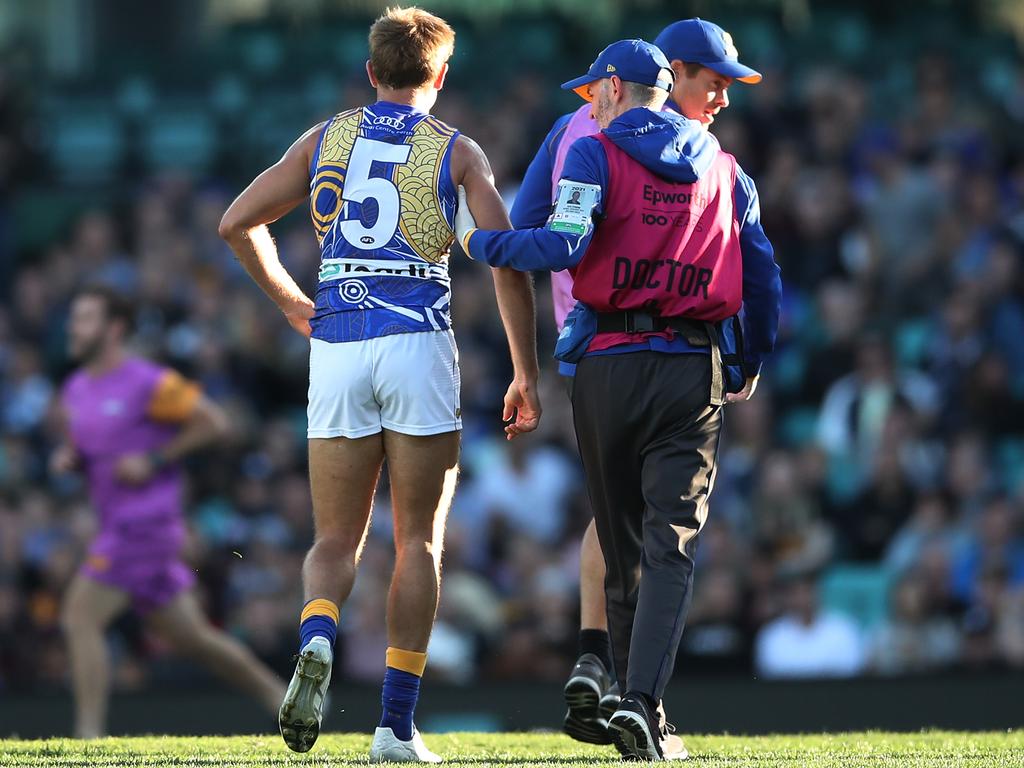 A serious collision with Adam Saad at the SCG forced Sheppard off the ground. Picture: Matt King/AFL Photos/via Getty Images
Rest and advice from a battery of specialists gave Sheppard hope that all was not lost. A competitive animal and a year on from his All-Australian selection, he justifiably felt he had plenty more to give. West Coast certainly hoped that was the case. It's not a reach to say just about all football followers held the same sentiment.
"I felt like I turned the corner about three to four weeks post the season and my tick-off for the off-season was to get through a training session," he said. "I trained with the WAFL boys and felt great but it was when I was driving home, I knew I was in trouble.
"The lights startled me, I was getting blurred vision, my eyes started flickering, I noticed a rapid change in how I was feeling. I pulled over to the side of the road and I had an episode where there was a ringing in my ears and I couldn't read my phone. It was like there was a blank screen. I had to stay on the side of the road until I could see properly again and it felt like ages.
"When I did get home, the ringing in my ears lasted for about three or four days and I had regressed to where I was before and obviously had to report that. All the information was there … pardon the pun, it was a no-brainer. I had to retire. You want to play forever, but you are another knock away from …. well who knows. The symptoms could be forever.
"Footy is a big part of my life and I would have loved to have kept playing, but I have the whole rest of my life to live … I didn't want to compromise the rest of my life."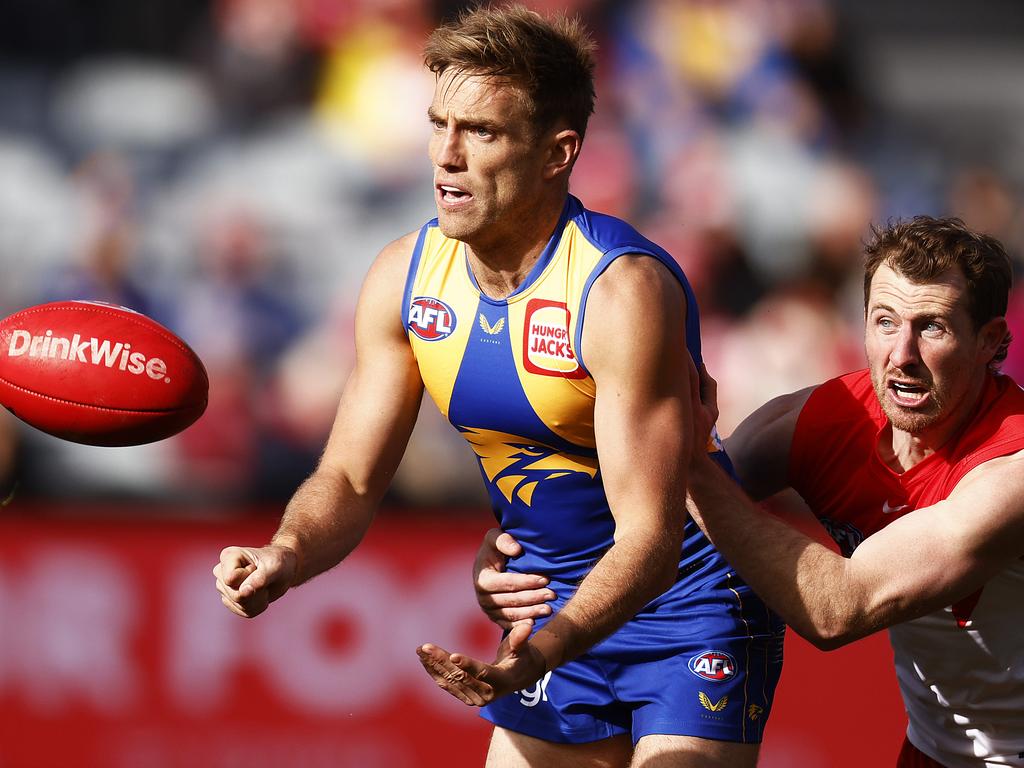 Sheppard wasn't prepared to risk his life for his footy career. Picture: Daniel Pockett/AFL Photos/via Getty Images
Inevitably, the discussion with athletes who have experienced sustained concussions turns to chronic traumatic encephalopathy (CTE), the degenerative brain condition that can lead to memory loss, depression, violent episodes and a seriously compromised lifestyle as they get older. VFL-AFL stars Graham "Polly" Farmer, Danny Frawley and Shane Tuck were all found to be suffering from CTE following their deaths.
The seriousness of the situation is not lost on Sheppard, who doesn't turn 31 until May.
"The short answer is yes," he said when asked whether he was alarmed at what his quality of life would look like over the next decade. "The long-term implications are what worry me the most. Being symptomatic and not being able to fully recover since the last derby last year … what is that? A long time now given we are in March … five or six months. I'm still a bit worried.
"My first concussion was against Adelaide at AAMI Park in 2013 when Shaun McKernan got me. It was before the concussion protocols came into play. I was a bit foggy. I went off for a while, then I came back on and played out the rest of the game. It was a brutal hit, he got me pretty good. It was the first time I had experienced a concussion. I reckon I had numerous concussions, not exactly sure how many but a fair few.
"There was the one in the Freo game in the pre-season, that left me with a Harry Potter scar. That was the first one of a serious nature in the year. There were a couple of other knocks in the pre-season, but not to that extent. The biggest one was obviously the Saad one at the SCG … I only missed the one game but that was because it was around the bye and came back off three weeks.
"It was more the sub-concussive knocks. The biggest thing for me was the frequency of the head knocks from essentially that game until the Fremantle game – I was getting a head knock or two, but not heavy enough to warrant a concussion test. You're with it, but you're not with it if that makes sense. It's the cumulative build-up and that is concerning."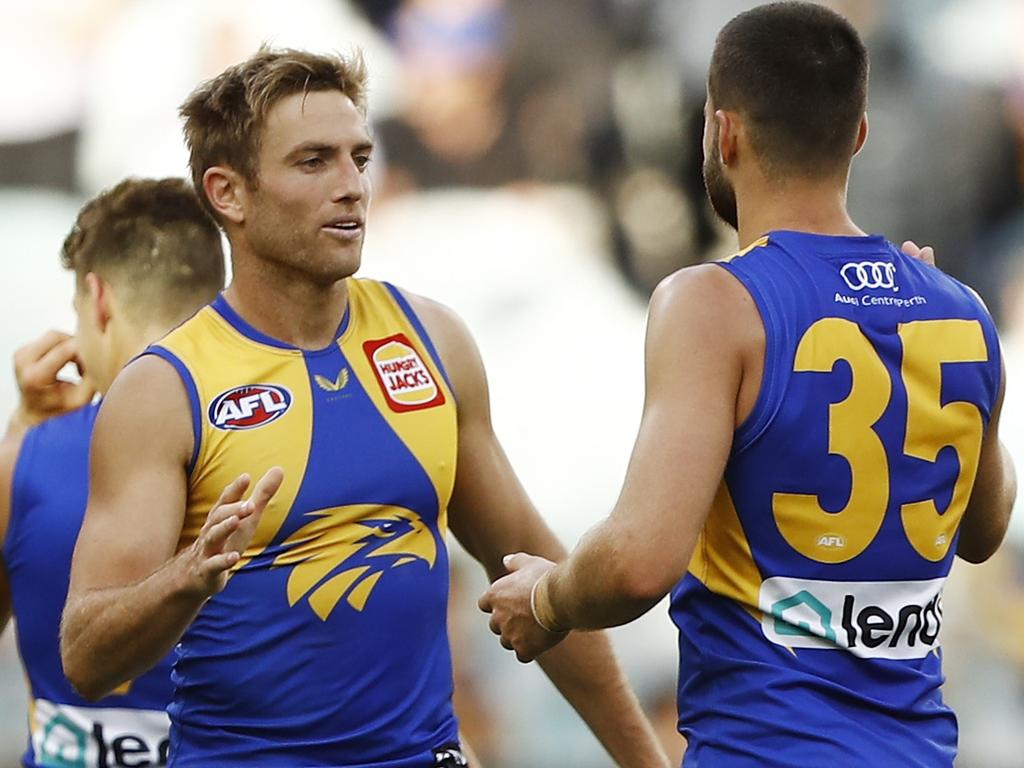 Sheppard believes he had many serious head knocks that weren't necessary diagnosed as concussion. Picture: Dylan Burns/AFL Photos via Getty Images
*****
It would be understandable if Sheppard felt robbed.
An elite young sportsman, it wouldn't have been a shock had he opted to follow first cousins Shaun and Mitch Marsh into a cricketing career. But a desire to forge his own career prompted him to make a fist of Australian Rules.
It began with a call from 2000 Brownlow medallist Shane Woewodin, at the time the senior coach of East Fremantle, to invite the spindly 17-year-old to training. The carrot? A league debut provided he committed to a full pre-season and held his own.
Sheppard achieved both and Woewodin was true to his word.
It would be the start of a career that scaled serious heights. And but for a wretched hamstring injury at the worst time imaginable, a place in AFL history books as a premiership player.
Just 20 minutes into the 2018 home qualifying final against Collingwood, Sheppard was pushed off balance as he hacked a ball out of mid-air. He fell to ground and, grimacing in pain, clutched high up on his left leg. His night was over. So too was his season and premiership dreams. A standout performer in West Coast's 2015 grand final humiliation at the hands of Hawthorn, there would be no fairy-tale story of redemption for him.
"I knew I had done something significant," Sheppard said. "I hadn't done a soft-tissue or an injury like that ever in my career or sporting life and when I came to the bench, I knew I was in trouble. I couldn't put any weight on the leg and I was experiencing sharp pain. I was unsure though.
"I did testing in the rooms and was told initially that it might only be a two-weeker so I was optimistic. Will Schofield came down to the rooms straight away and he was unlucky to miss out on that finals campaign because he had a great year as well … he was afforded an opportunity and we all know he took it. I was questioning my pain threshold … if this is a couple of weeks, why am I so uncomfortable and in so much distress?
"I thought I was carrying on too much, but it wasn't until the next day that I learnt I had torn my tendon, season over."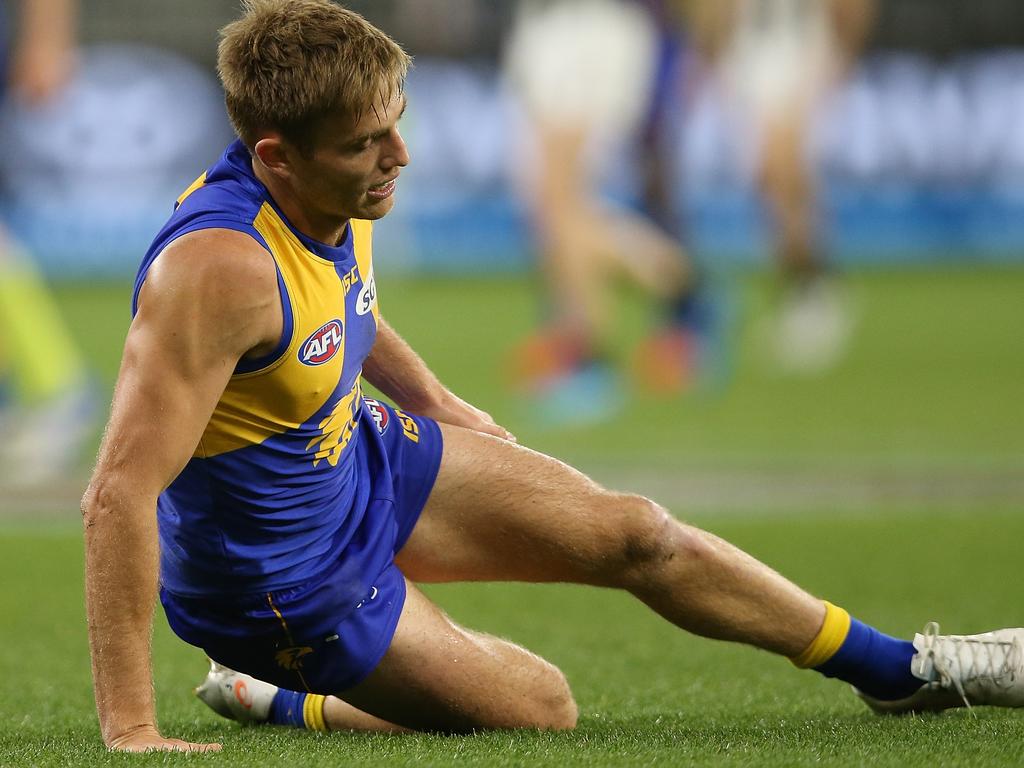 An injury in the opening minutes of West Coast's qualifying final against Collingwood in 2018 ruined Sheppard's premiership dreams. Picture: Paul Kane/Getty Images
Most footballers would adopt a woe-is-me outlook when informed of such news. Sheppard is a unique beast from that aspect. Disappointed? Absolutely. However, his overriding emotion was one of fear – not for his own future, but whether his absence would cost the Eagles the chance to win a premiership. That's not him being big-headed, rather an endearing trait of genuine empathy, in this instance his Eagles teammates.
"You work your whole life to have an opportunity to play in finals, grand finals and we were as a group looking to achieve something special, but by not being there at the pointy end, I felt like I was letting the boys down," Sheppard said. "In the end it didn't let them down, but I couldn't carry out my role in the team … how would that look? Would that be an issue for them if they were to get to the grand final? I had those thoughts. I was really disappointed by that."
The Eagles not only took care of Collingwood to advance to the preliminary final, they obliterated Melbourne to seal a berth in the grand final – where another match-up with the Magpies loomed. It wasn't that Sheppard didn't care (he cares more than most), but there was a bigger issue at play. And it needed addressing ASAP.
"Grand final week — it was a big week. On Monday morning, not many people know, but my sister Sophie lost her partner of five years and he was great mate of mine as well," Sheppard says, still emotional to this day recounting the events.
"To get that news was shattering. I hopped on a plane to Sydney to see her and whilst you are on the flight, thinking and thinking about why has this happened, I had a chance to reflect and understand that my own injury wasn't as serious as what my sister was going through. It put things into perspective. There are things in life that are more important than football, it helped me process a few things.
"My mind and heart were with my family and my sister. Grand final day was tough, it was a tough period in my life. The way I deal with things is getting better but when things that aren't great occur in my life, I need time away from everyone and everything to try and process it. I always put things to one side to let me grieve or at least come to terms why these things have happened. I needed to shut off and push things to the side even now to try to digest why I am not playing footy anymore.
"To see a good mate pass away suddenly and my sister in the state that she was in was bloody tough. I went from Sydney straight down to Melbourne and the toughest thing at the time was nobody knew at the footy club.
"I didn't want it to become public knowledge, I didn't want the boys to have any distractions … going down to Melbourne on the Friday morning and seeing the boys was so difficult. I tried to be as positive as I could, not drag my bottom lip, but it was a lie. It was challenging. I felt almost guilty being in that mood given it wasn't a true reflection.
"I was hurting. My family was hurting, Soph was hurting."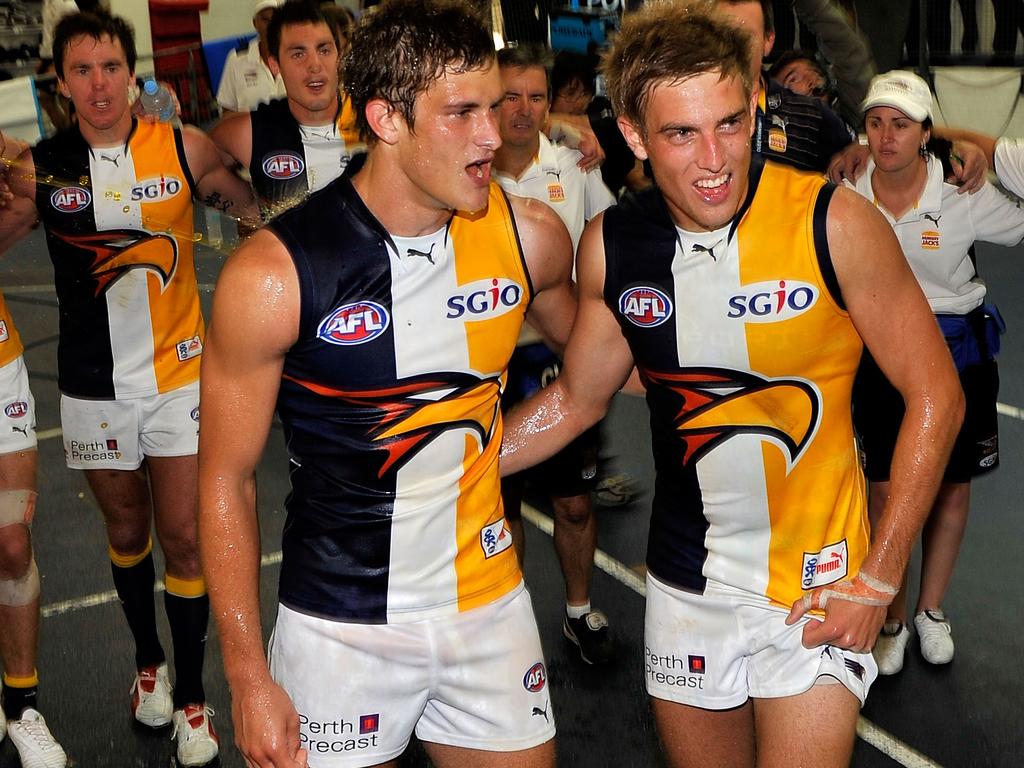 Sheppard debuted in 2010 and played 216 matches in the AFL. Picture: Stefan Gosatti/Getty Images
The pain didn't stop there. As he settled into his seat on grand final day, Sheppard's heart was racing. He couldn't stop thinking about Sophie and how she was coping. Soon after the siren sounded to start what would be an epic grand final, Sheppard suffered a panic attack.
"I think everything just caught up with me," he said. "De Goey kicked a goal, Stephenson also hit the scoreboard a couple of times … they were my match-ups, they were who I would have been playing on and here I was sitting in the stands watching Collingwood kick out to a five-goal lead," he said.
"I felt sick. My mindset was, 'This is a day I should have been out there, I have let the boys down.' My emotional state got the better of me and I went to the bathroom where I had to have a few deep breaths and try to compose myself. But it was a deep breath that took about five or six minutes.
"I was really, really emotional. I didn't want to be seen breaking down in the stands so I excused myself and effectively broke down in the toilet. Once I let it all out and came back out, we were nearly in front and as we know we ended up winning.
"It was tough. It wasn't just myself, there was Nic (Naitanui) and Gaffy (Andrew Gaff) as well. Don't get me wrong, it was an amazing achievement and not for one minute did I feel like I was left out of the celebrations or I wasn't a part of it.
"But the time the players left the rooms and went out on stage to celebrate the victory, there were a few of us sitting down in the rooms where it really hit home. You've done all the work, made the sacrifices and unfortunately you don't have anything to show for it. Daniel Pratt, who was the defensive coach at the time, said being a premiership player or not doesn't define you as a person or a player and that was reassuring but still bloody hard to stomach."
Pratt's advice proved prophetic. Few who have come into contact with Sheppard post-2018 wouldn't know he wasn't a part of the Eagles' fourth premiership side. Selfless, true to himself and humble – the words of his father Keith about the true character of a man is revealed by how he responds to adversity – ring true time and time again.
"I don't feel robbed, the theme of this is perspective," Sheppard said.
"The events of 2018 put a great deal of perspective in my life. I feel fortunate to have had 12 years of footy and experience what I have. It took me a fair body of work to get to where I was and clearly, I would have loved to have continued and play for another three of four or five years which I felt like I had left … I am not going to feel sorry for myself. I refuse to feel that.
"There has been a big change in my lifestyle, I am not going to lie. You are part of a team and every day you wake up, you have a purpose in your life, you are required to do this or do that. It's a lifestyle 24/7 and trying to figure out how to get the balance right now is a challenge, yes it's ongoing.
"I'm still trying to figure it myself. I can't play any contact sport ever again, I have to revert back to coaching – back helping coaching the kids at Wesley College which has been good. I love the game, I enjoy talking about the game and I know I will be okay.
"I have to be. I have to have that mindset and I will."