Will Schofield: Covid-ravaged West Coast Eagles at unfair disadvantage compared to eastern rivals
Would the show go on if Melbourne, Collingwood or Richmond were as depleted as West Coast? WILL SCHOFIELD has his doubts.
Let's not pretend there isn't a touch of east coast bias behind the AFL's decision to push ahead with the North Melbourne vs West Coast game on Sunday.
If a Melbourne, a Collingwood or a Richmond side was as depleted by Covid-19 as the Eagles are this week, the outcry would be such that the AFL would postpone the game. As it stands, West Coast will field every available player on its list, plus four top-ups from the WAFL, to make sure the show goes on.
The integrity of the contest has unquestionably been compromised.
Western Australia is just now experiencing what much of the east coast has lived through for the past two years. The strict border policy that kept the virus – and pretty much everything else – out has been softened and, accordingly, infections are rapidly spreading through the community. The relative protection Western Australians have enjoyed is also the reason the community here hasn't developed the same resistance to Covid-19 as states such as Victoria and NSW because, to this point, we've hardly been exposed to it.
When Covid-19 first swept through Victoria, the competition was suspended. When subsequent waves hit the eastern seaboard, bubbles were formed and grand finals shifted to Brisbane and Perth. But, now that it's WA's turn to wrestle with the virus, the mantra from AFL House is "the show must go on".
The AFL knew a situation like that confronting the Eagles would happen.
And they knew it would likely happen to a WA team.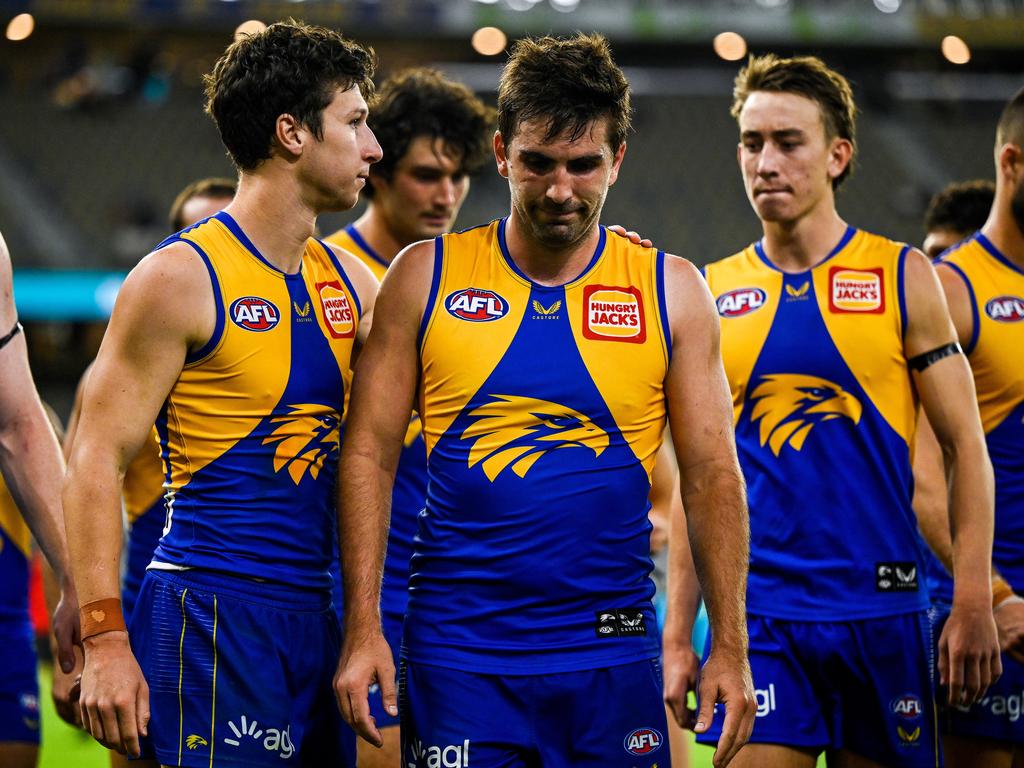 After a round one loss at home to Gold Coast, the Eagles are set to be depleted for their next match against the Kangaroos. Picture: Daniel Carson/AFL Photos via Getty Images
After years of financial haemorrhaging due to postponements and bubbles, the temptation for the AFL to revert to a business-as-usual home-and-away format this season is understandable. But that doesn't make it fair or equitable. The Eagles are now living proof of that.
So, where does this leave West Coast?
If you were to take a glass-half-full view, you'd say that the players lost to league protocols for the Kangaroos game will return in seven days and be better protected from future outbreaks. And then there are the opportunities presented to the top-up players who, without the push by the league to play on, probably figured their careers would be confined to the WAFL forever.
Aaron Black, Angus Dewar, Stefan Giro and Brayden Ainsworth are the Eagles' four confirmed top-up players, and all have taken unique journeys to the blue-and-gold jumper this weekend.
Black, a 2014 Sandover medallist who gathers possessions at will in the WAFL weekly for West Perth, is a great story and highlight. A shorter midfielder, he is the classic example of being 'too short' for AFL recruitment standards. He's the sort of player that if given a chance on an AFL list would likely play 100 games and be considered a very solid player. I hope for him and his family that he plays well and shows the AFL world why there should be more chances taken on mature-aged players.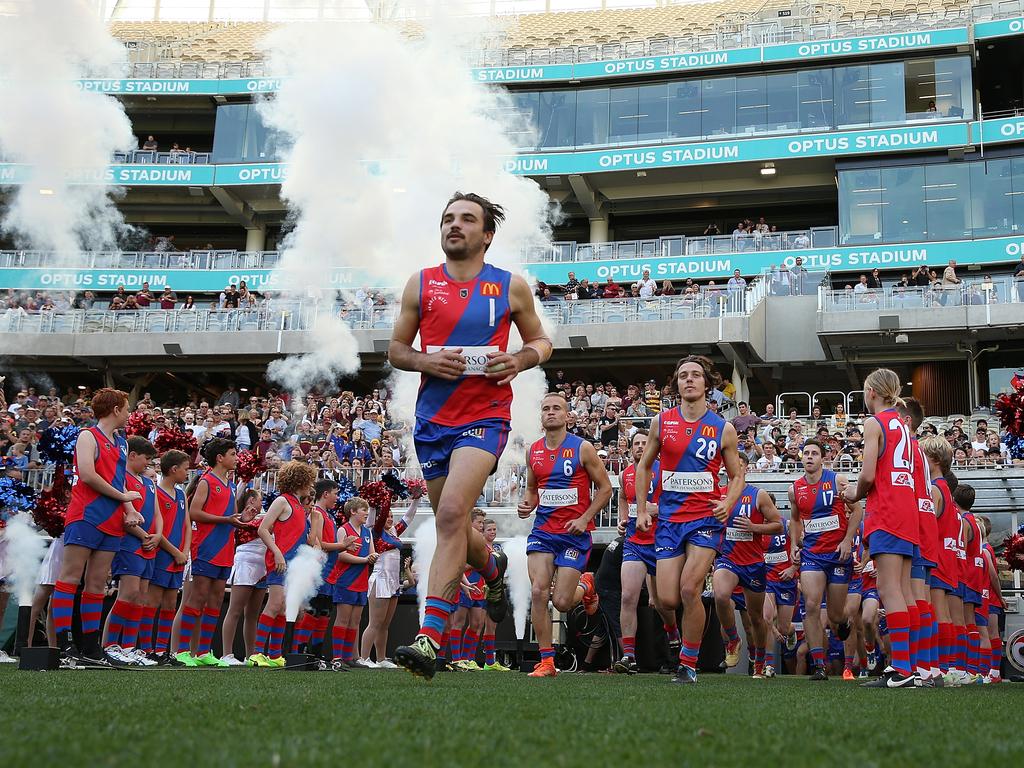 Aaron Black playing for West Perth in the 2018 WAFL Grand Final. Picture: Paul Kane/Getty Images
For Dewar, formerly Angus Litherland, the top level is not foreign. He played six seasons and 25 games for Hawthorn across the club's three-peat era and currently plays for Subiaco in the WAFL. An intercept marking defender with pure speed, I can see Dewar stepping back to the level with ease. He's a real chance to garner some genuine attention from other clubs given his size and experience.
Giro is a hard-running wingman who also has experience at the top level – 14 games across three seasons with the Dockers. An ACL injury in 2019 hindered his development and progression. He was delisted last year and, after signing with WAFL side Subiaco, will be out to prove a few folks wrong. He should fit nicely onto a wing or half forward for the Eagles.
After a promising four years on the Eagles' list, which included 14 senior games, Ainsworth found himself off it last year. He attracted no interest in the rookie draft and signed with the Perth Demons in the WAFL. A player with great potential and promise, he was impacted by injuries and kicking technique issues during his time with the Eagles. Like Giro, he will be motivated to do well. Look for him to play as a midfielder or on a wing against the Roos.
It's a great opportunity for all four players, a positive from a bad situation for the Eagles.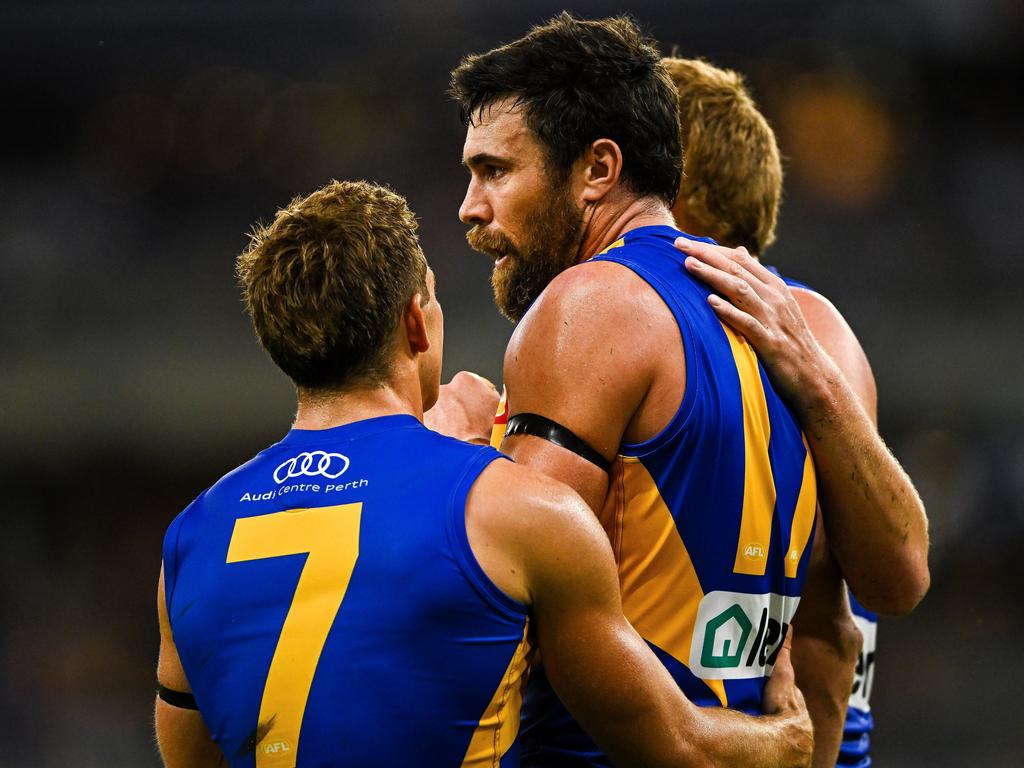 Josh Kennedy is one of at least 13 omissions for the Eagles. Picture: Daniel Carson/AFL Photos via Getty Images
West Coast will have at least 13 changes from its Round 1 loss to the Suns. Clearly, this isn't ideal but those inside the Eagles' building will be focusing on what they can control. Is it out of the question they win this game against North? It's not. They will have no pressure, no expectation and some players in the team with a point to prove.
There is genuine belief among the Eagles that they can cause the upset of the round. With the motley crew that has been assembled, it would be some sort of victory.
That said, if North lose to a West Coast side this depleted, it might be time to pack up their bags and head across Bass Strait for a fresh start.