Will Schofield: Jack Darling is entitled to his vaccination stance, but he also needs to own the consequences of it
Jack Darling's protracted vaccination stand-off is hurting the player, the West Coast Eagles and the league, writes WILL SCHOFIELD.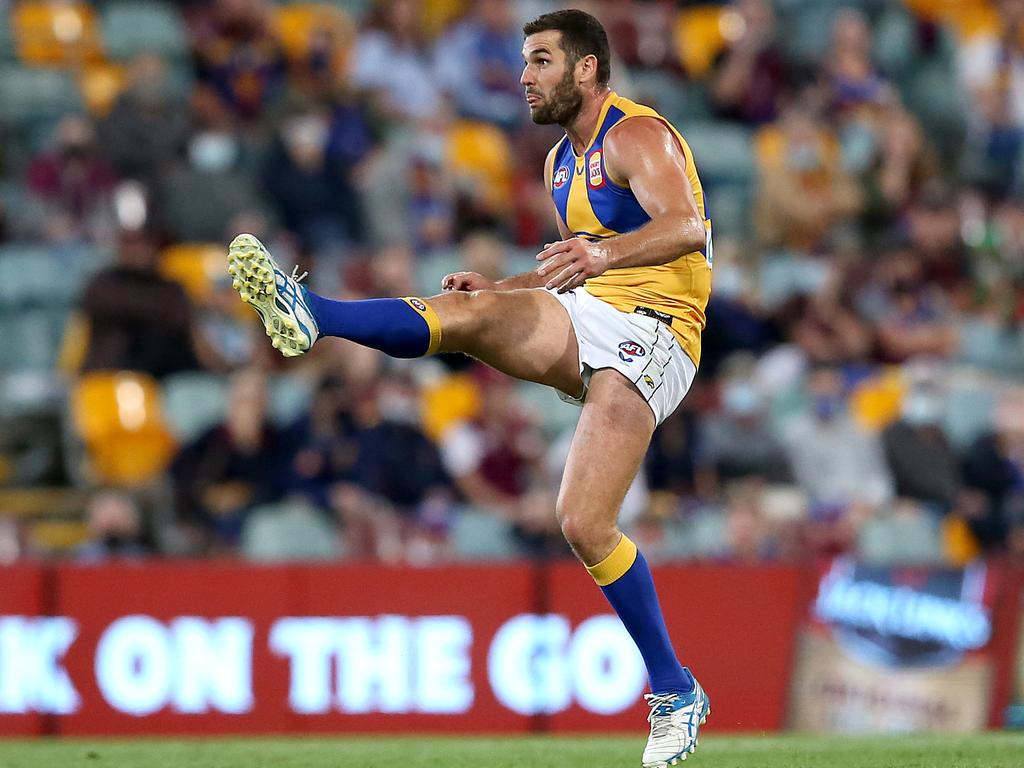 Jack Darling's 2022 season is still under a could of doubt as the star forward's vaccination status continues to cause a headache for the Eagles. Picture: Jono Searle/AFL Photos/via Getty Images
I like to take people at their word and, as it stands, Jack Darling's word is that he is "diagnosed as suffering from a work-related injury" and will be "on sick leave [until] further notice."
That does not align with Darling's unsuccessful application to the AFL for a medical exemption to play unvaccinated, nor with the Eagles' statement confirming that he "has not adhered to the AFL's Covid-19 training and playing mandates."
If Darling's unvaccinated status is indeed the cause of his absence, he needs to stand by his convictions, own his decisions and sit out season 2022.
Do I agree with vaccination mandates? No, not particularly. I support personal choice. People are free to make their own decisions in life. At the end of the day, you need to be able to answer to yourself first whether that be around issues pertaining to relationships, finance, health, careers or anything else.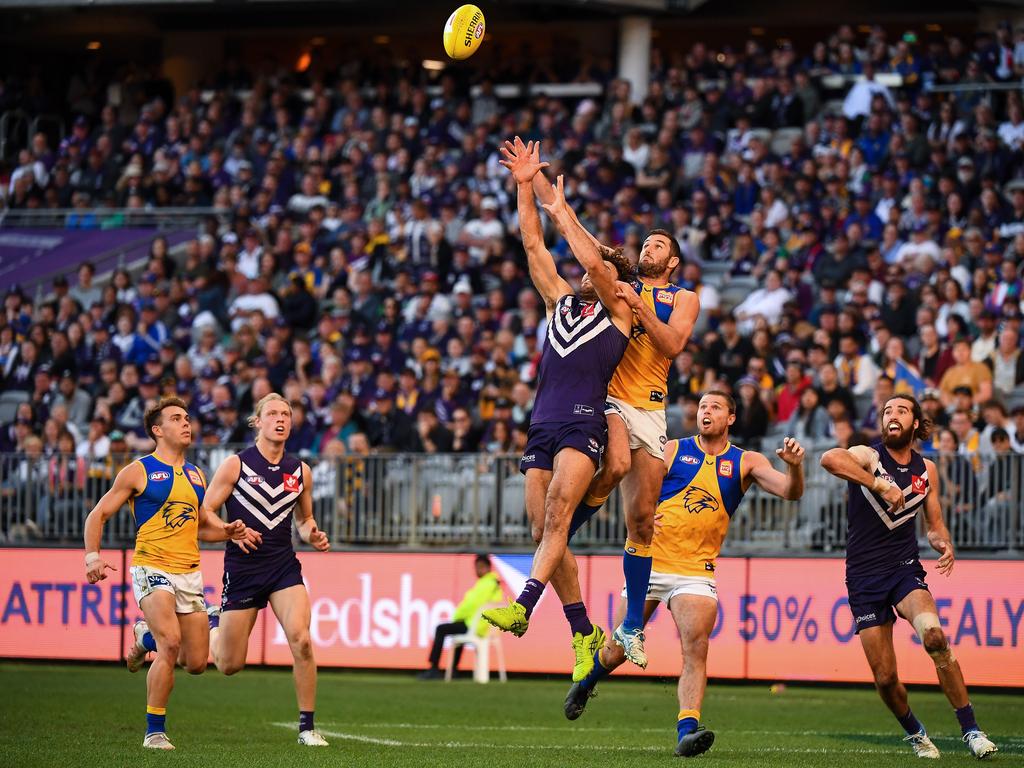 Jack Darling's vaccination status has become a serious point of issue for West Coast, with the dominant forward's future in the AFL still uncertain. Picture: Daniel Carson/AFL Photos
It's not up to you or me to tell Jack what he should do.
It's up to him.
But the vaccine mandates do exist and won't likely be changing anytime soon. And if Darling wants his personal decisions to be respected, he must be accountable for them – and willing to defend them if necessary.
This story is as complex as they come in footy. A high-profile, high-earning leader of the football club. Conflicting stories from the club, the athlete and from those with inner knowledge of the situation. Government and league-imposed rules and mandates. Medical queries and questions. List management. Angry fans.
Mental health.
The list goes on.
Having played with Darling for 10 years, it's clear that losing him for the 2022 season would be a huge blow for the footy club. Indeed, as this messy saga has played out, it has become increasingly obvious that there are no winners at all among the stakeholders involved.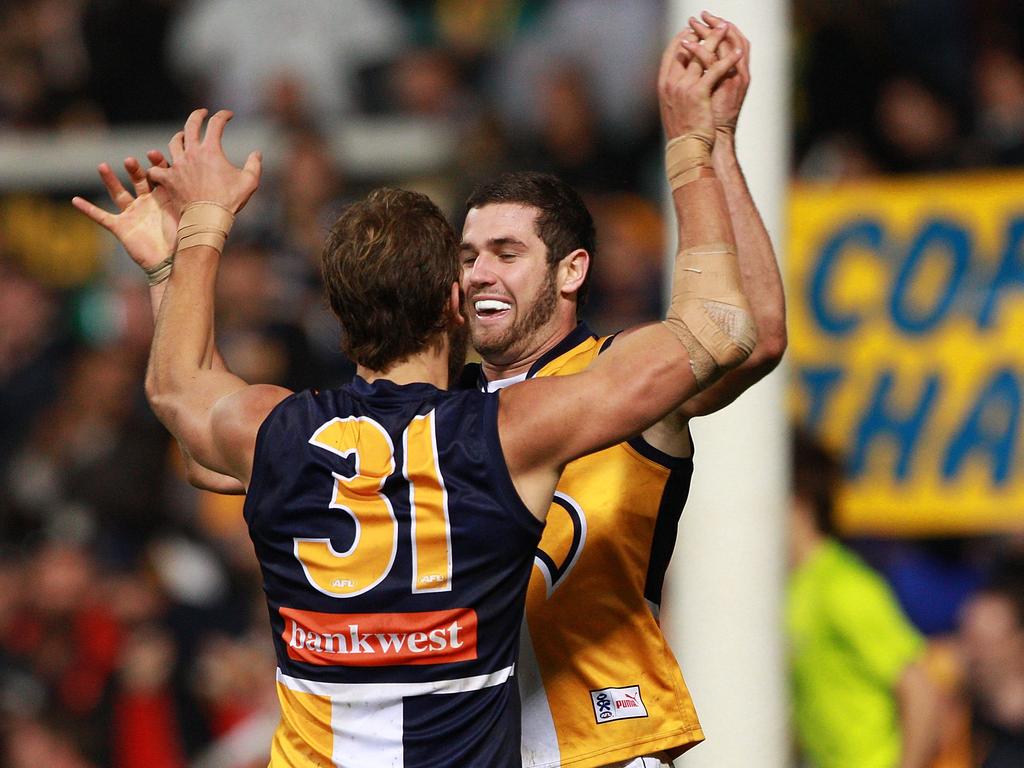 Will Schofield and Jack Darling played together from 2011, through to the 2018 premiership season. Picture: Paul Kane/Getty Images
Darling
Jack Darling is a premiership teammate of mine.
He is hard working, strong willed and highly competitive. When challenged on the field he responds with a physicality and aggression that is almost unbeatable.
If you wanted to see those three traits on display, look no further than Darling's third quarter effort in the 2018 Grand Final: six marks (four of which were contested) and a goal in one of the more dominant displays you'll see by anyone on a footy field, let alone a season decider.
Unfortunately, the focus lately has not been on Darling's football.
The topic of Covid-19 vaccination evokes strong responses from both sides so, no matter his reasons or arguments, many people have already made up their minds up about Darling in the court of public perception.
And, clearly, his career will suffer while he is not playing.
In the footballing prime of his life at 29 – and in a season where Josh Kennedy will go around one last time – the forward line this year would have been Darling's. I know from both training on and playing with him that, at certain stages of his career, he has been the best forward in the entire league. He can't be that if he's not allowed in the building.
There are also the financial repercussions. He is likely to be paid 25% of the minimum CBA base wage. And the impact won't stop there. There are suggestions Darling's club-provided Audi will be taken off him (Audi is a sponsor of West Coast) and, while he isn't playing, any other sponsorship arrangements will presumably be limited.
Given all this, if Darling still feels strongly enough about the vaccine issue to forgo the above, he will earn more respect by unambiguously stating his position rather than backflipping or sidestepping due to public or financial pressure.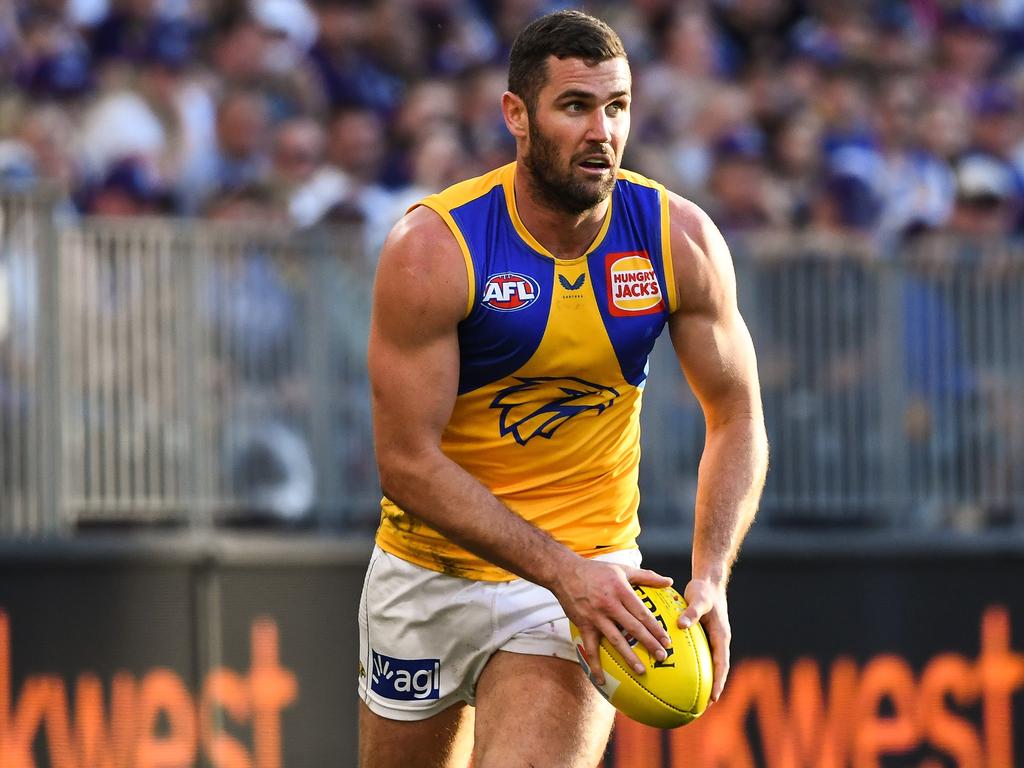 Jack Darling has been restricted from West Coast's pre-season activities due to his vaccination status. Picture: Daniel Carson/AFL Photos via Getty Images
Teammates
The West Coast Eagles playing squad must be especially disappointed with all that has transpired over the past few months. They would be torn – on the one hand wanting to support a mate, on the other wanting to win games of football.
In my experience, the latter will take priority.
That's just the way it goes at the top level.
As a player – for me, anyway – winning was everything. Darling would certainly help West Coast win games of football if available. Without him, they are a worse side.
It's a difficult position to be in as a teammate. You've got a mate who is clearly going through some very difficult times both professionally and personally, all of which is being played out in a very public arena.
And, yet, every season you don't win a premiership is a lost season in the AFL – and that is especially the case here given West Coast's age demographic. Senior players within the football club would be devastated to lose one of their best players for an entire season in circumstances like this.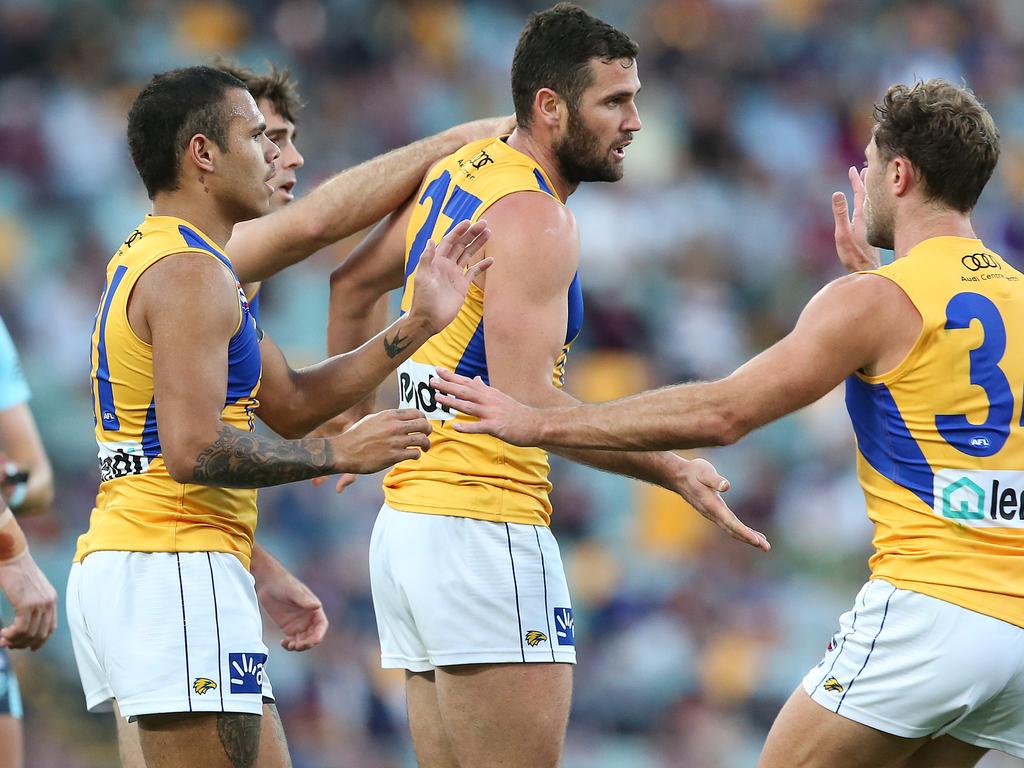 Darling's teammates have kept relatively tight-lipped through Darling's vaccination saga. Picture: Jono Searle/AFL Photos/via Getty Images
Coaches
Adam Simpson and his coaching staff can't win here.
Simpson has said his "hands are tied" and that is pretty much spot on. There is only so much a head coach can do in this situation. And it's not a good one.
Simpson's prime key forward is not at the club training with the team, in perhaps the most important time to be doing so. Until there is a resolution, Simpson must turn his attention to the question of how to replace Darling in the forward line.
Key forwards don't grow on trees, though, especially those of Darling's caliber.
Club legend Kennedy was destined for a back seat role this year, but they'll now need him to find another gear. West Coast will also need to rely heavily on Oscar Allen (currently in a moon boot with a foot injury), Jake Waterman (who could be a real surprise packet out of all of this) and relatively untried up-and-comers Bailey Williams, Callum Jamison, alongside any potential diamonds found from the WAFL.
It's a lose-lose situation for Simpson and his coaching staff this close to the start of the season, with so much still up in the air and a premiership to win without your best players available.
At this point, it would actually make things easier for Simpson if Darling was to come out and say, 'I'm not playing this year.'
At least everyone would know where they stood.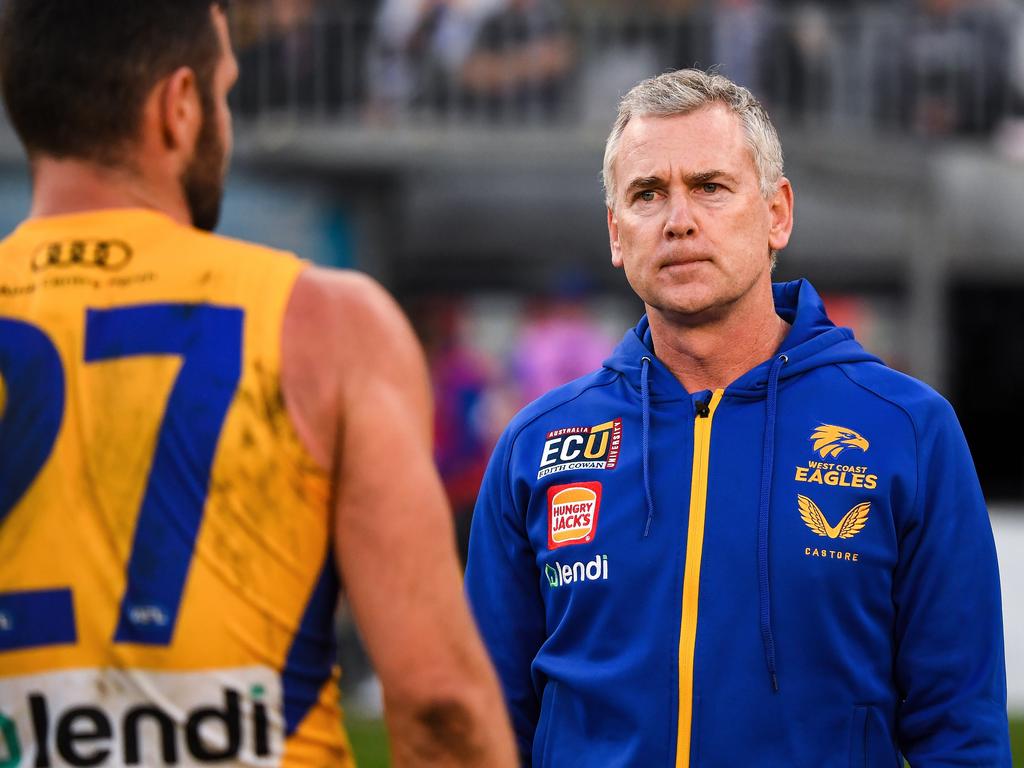 Head coach Adam Simpson's 'hands are tied,' preventing him from intervening in either club or league rules regarding Darling's vaccination status. Picture: Daniel Carson/AFL Photos
The club
If there is one thing I learned as a player at the top level for over a decade it's that footy is a business. People care about you, but in the end everyone is in the business of winning.
It's a strength of the game and has advantages in so many situations.
But not this one.
West Coast are in an incredibly difficult position. They have always been a club that supports their players – no matter the issue. We have seen time and time again Trevor Nisbett backing players and staff through the toughest of times and I believe this case will be no different.
However, the club has a business to run and winning is central to that. At this time of the year, the most important thing is preparing to win games of football. And right now Darling is not helping them do that.
They will show him their support, as they always have, but in the end if West Coast want to win they'll most likely need to find a replacement in the event Darling doesn't return.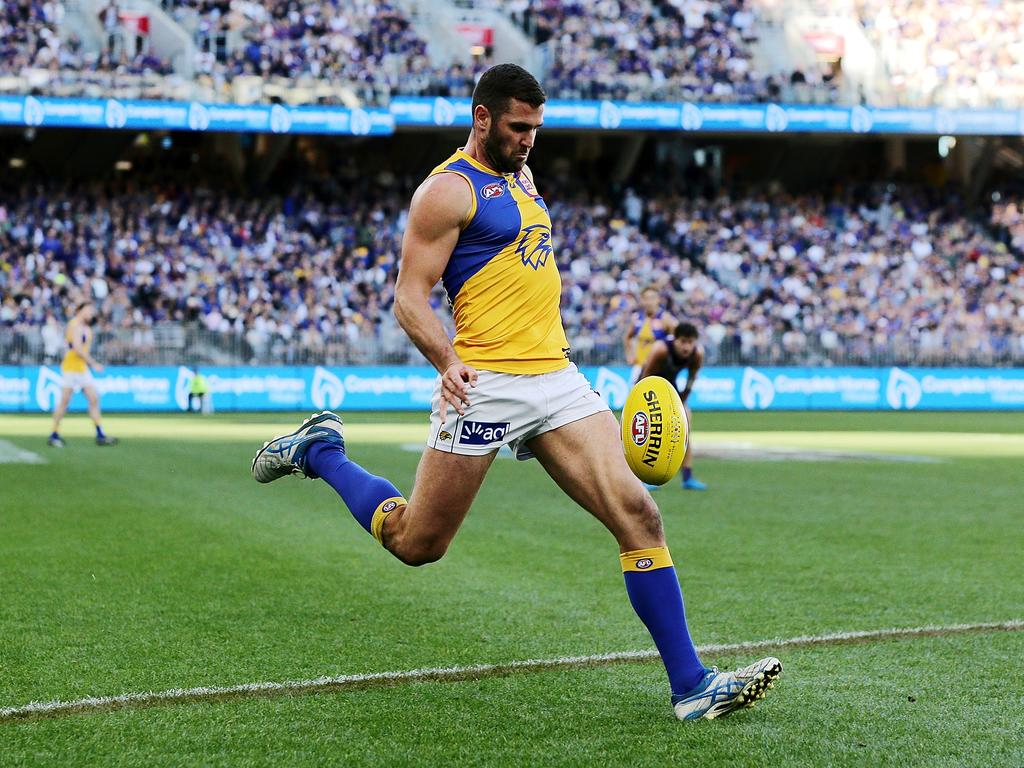 Darling top scored for the Eagles in 2021, with 42 goals for the season. Picture: Will Russell/AFL Photos via Getty Images
The league
The last thing the AFL needs is a high-profile player not abiding by industry-set mandates.
There have been clearer cut cases than Darling's, with Liam Jones and Cam Ellis-Yolmen stepping away from the game recently sighting their reluctance or refusal to get vaccinated.
West Coast's situation may be more complicated given Darling's stated medical issues.
But, whatever the facts in the Darling matter, the AFL has a brand to protect and will presumably do so over the personal choices of a few players – no matter the absolute right those players have to make that choice. It's not a situation the AFL would desire publicly or internally, but they will likely move swiftly to distance themselves from it as quickly as possible.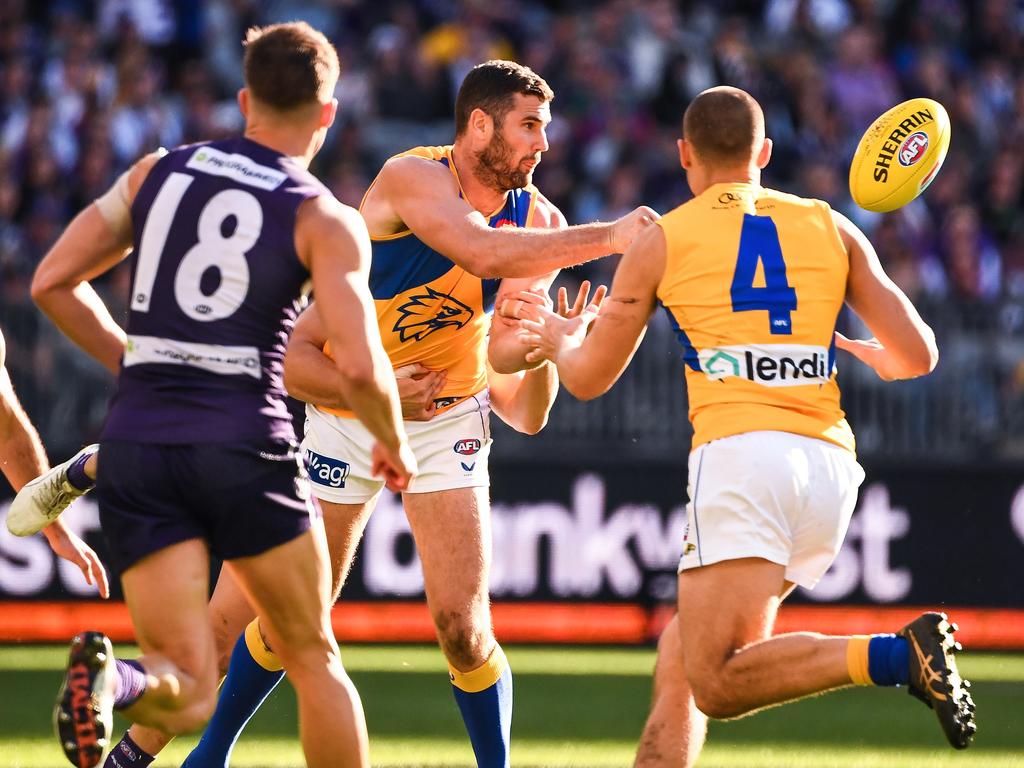 There is no clear-cut solution yet to emerge in Jack Darling's case, given his medical reasons for vaccination hesitancy. West Coast's first game for 2022 is scheduled for March 20. Picture: Daniel Carson/AFL Photos
In the end, the AFL wants all players available and playing as it improves their product.
Darling not playing doesn't help.
My hope would be for Jack Darling to play this year – and the rest of his days at the West Coast Eagles – but at this stage, on every front, it isn't looking good.